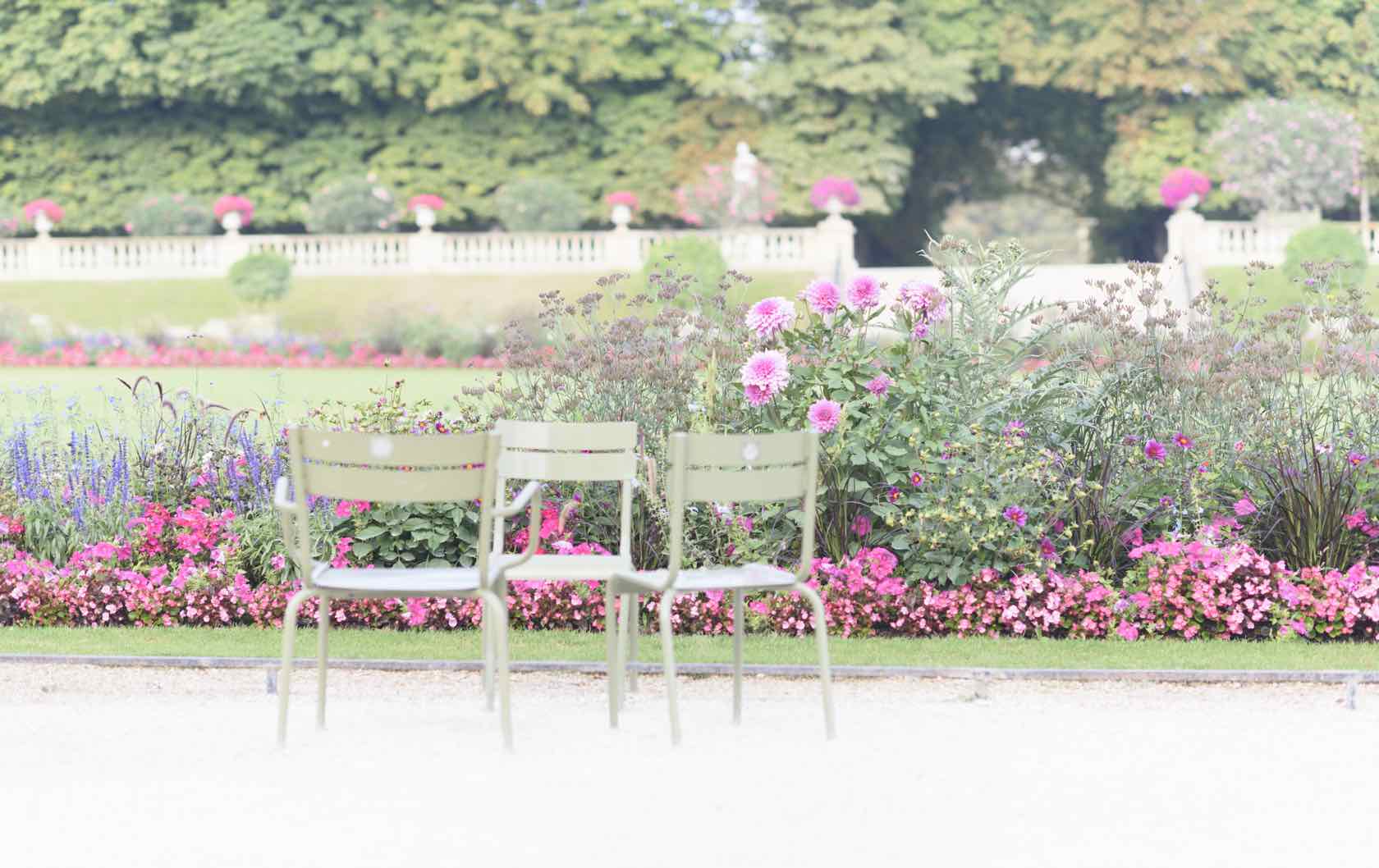 With spring beckoning, we've rounded up 10 of the best places to picnic in Paris. From pretty parks to scenic river banks, the city is full of leafy spots for relaxing alfresco. Pick up a baguette, some cheese, charcuterie, olives, pastries and wine and discover your own little patch of paradise. Paris Perfect has stylish romantic retreats to match.
Best Places to Picnic in Paris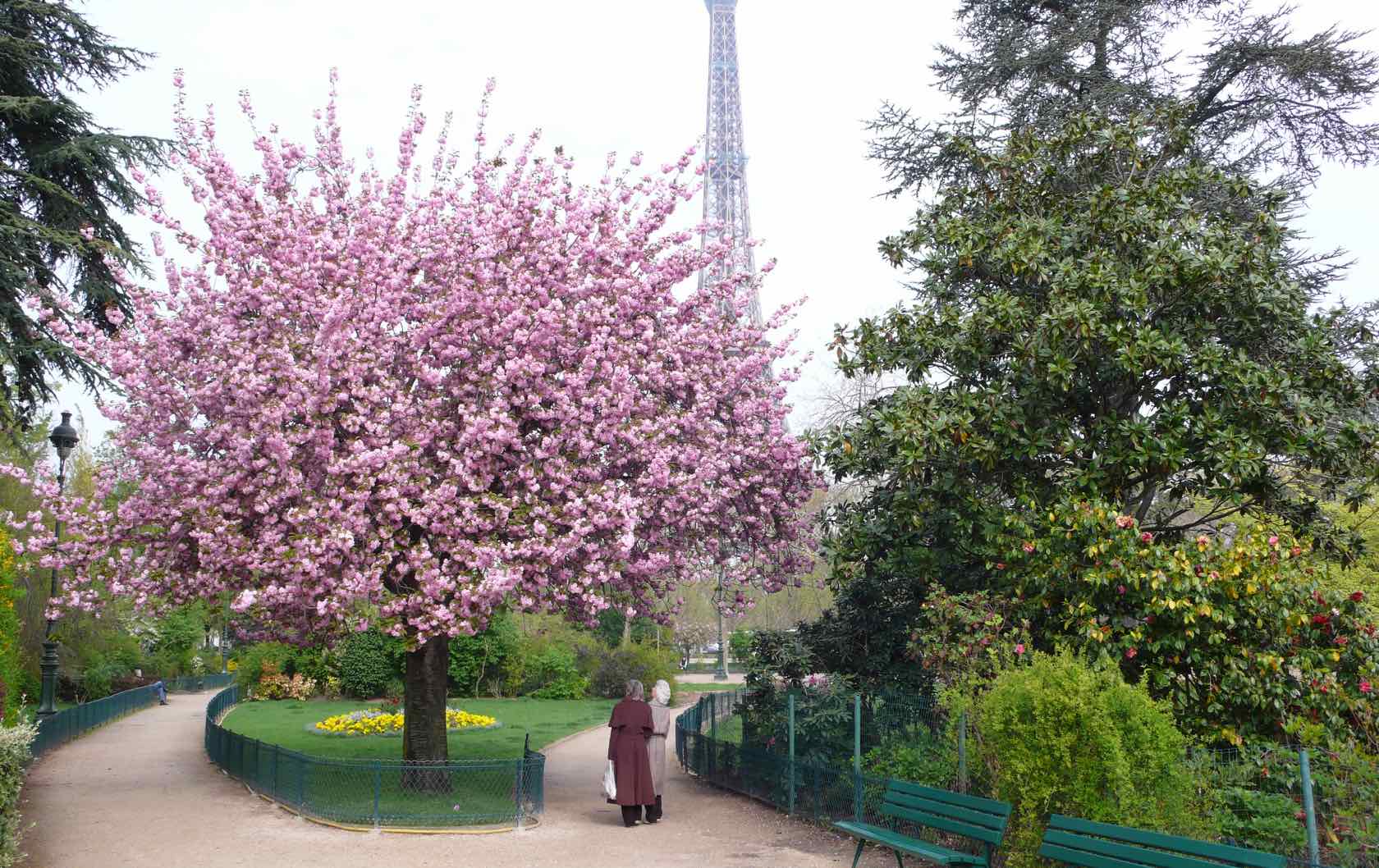 Parc du Champ de Mars
Picnic in Paris with front-row Eiffel Tower views at Parc du Champ de Mars. This long, rectangular park faces the iconic monument and features manicured lawns, boxy hedges and ornamental trees. Soak up the sun by day, with a game of Frisbee, or picnic at twilight when the Tower lights up hourly for five minutes of glittery illuminations. Opened in 1780, this vast green strip extends from École Militaire and was once a marching ground. It also hosts moving monument Le Mur pour La Paix (The Peace Wall). Many of our apartments are very close to the Champ de Mars, including the Viognier apartment, which sleeps five.
Quai Branly, 75007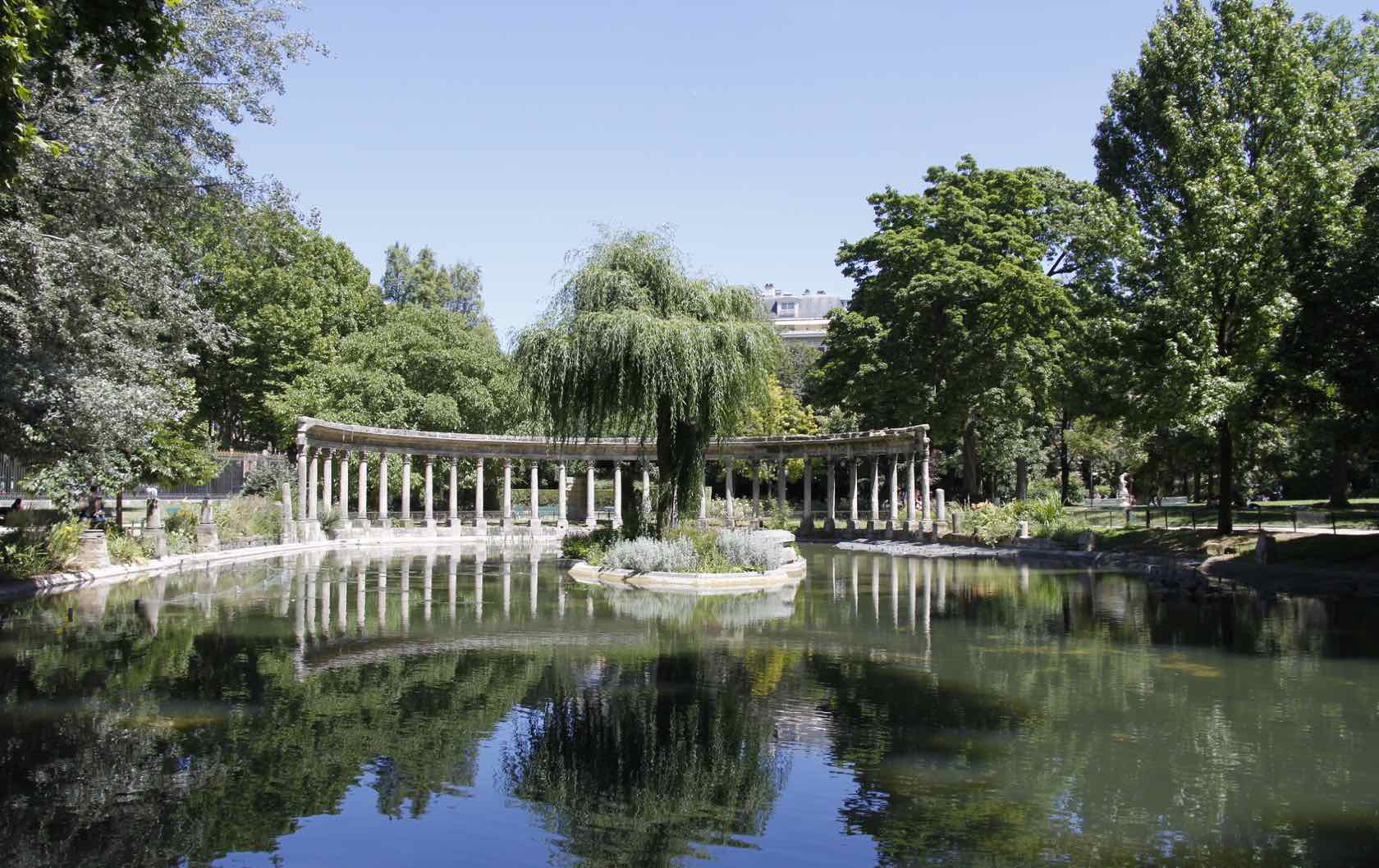 Parc Monceau
A Corinthian colonnade, classical statues, Egyptian pyramid, Venetian bridge, lush lawns and lake – what's not to like about Parc Monceau? This elegant English-style park was laid out in the 18th century for the Duke of Chartres. Set in the 8th district, its playgrounds are popular with nannies and their smartly dressed charges. Elegant Haussmann apartments and grand hôtels particuliers (townhouses) surround the park, making for chic vistas. It's ideal for a chilled picnic after a visit to nearby Musée Nissim de Camondo (63 rue de Monceau), a historic mansion filled with 18th-century French furniture and decorative arts.
35 boulevard de Courcelles, 75008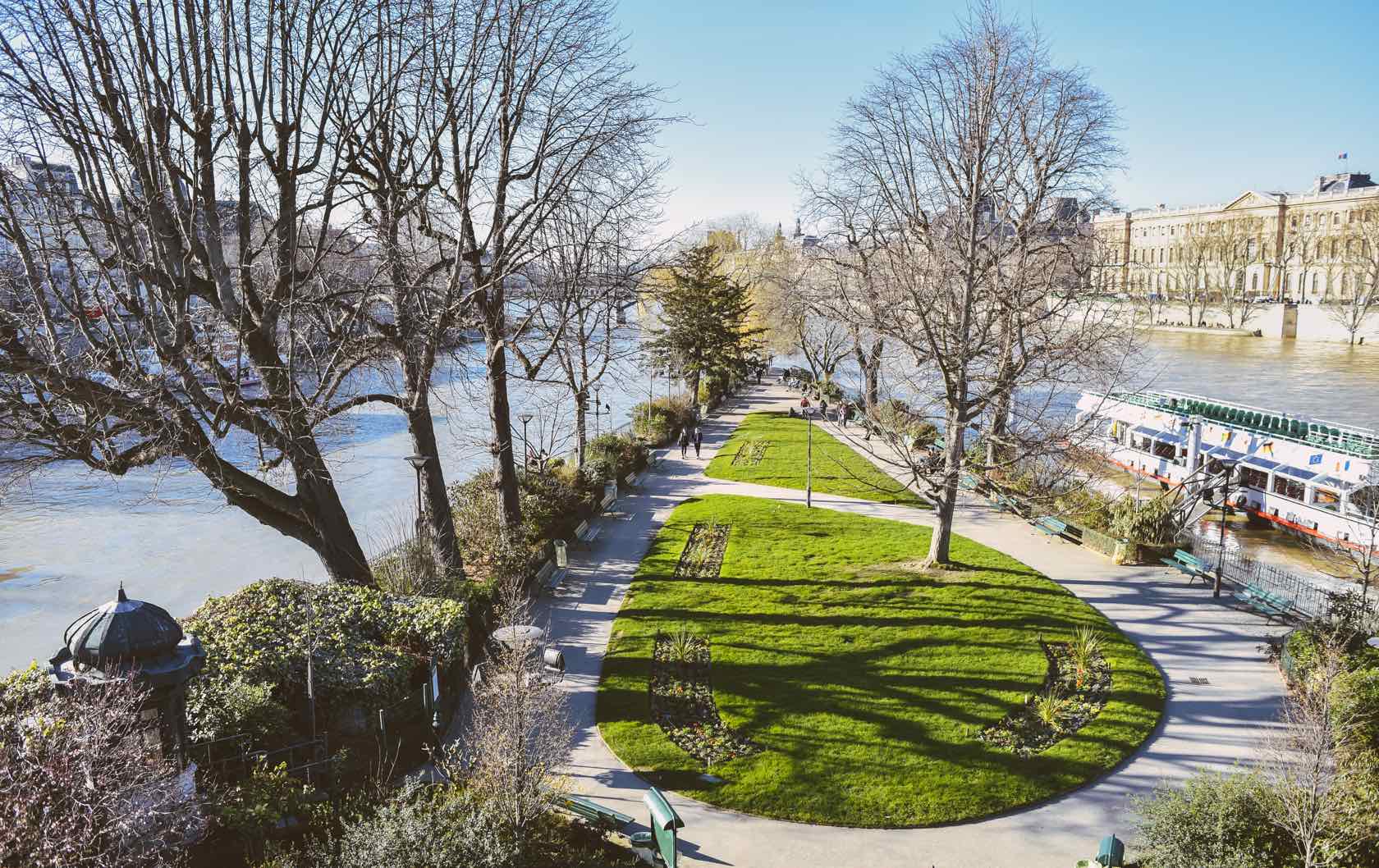 Square du Vert-Galant
For an enchanting island park, escape to the petite Square du Vert-Galant. At the tip of Île de la Cité, on the river Seine, this tiny green teardrop is all about the views. Admire panoramas of the Louvre, Paris Mint and famous bridges Pont des Arts and Pont Neuf. Enjoy a delicious brunch with friends or sip sparkling wine at sunset with Mr (or Ms) Right. Sit on benches or unfurl your rug on the curvy lawn. Stunning Gothic chapel Sainte-Chapelle is a stroll away. Our gorgeous Paris rental apartments at La Place Dauphine, sleeping two or four, are on the island.
Place du Pont-Neuf, 75001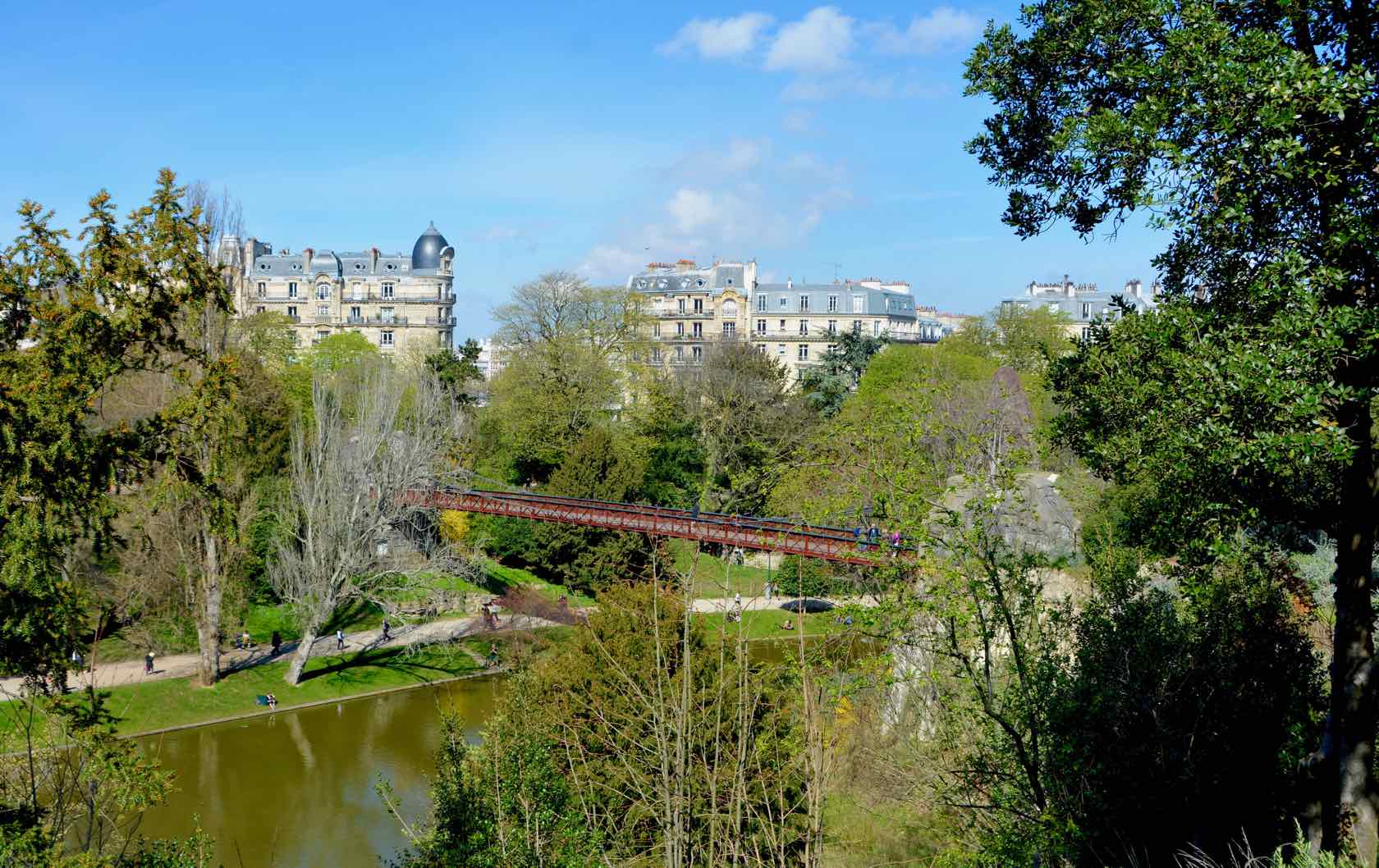 Parc des Buttes-Chaumont
Enjoy Montmartre views and charming follies at dramatic, northeastern Parc des Buttes-Chaumont, the jewel of the 19th. The city's fifth largest park, it's an insider tip for a picnic in Paris, off the beaten tourist track. Converted from a quarry to a garden showcase in 1867, it boasts 61 acres of sloping greenery. Spread out your picnic blanket and unpack a basket of goodies while admiring the artificial lake, waterfalls, grottoes, bridges and lookouts. Full of fabulous trees, the park is home to seagulls and ducks, so watch your sandwiches! Refuel with tapas, drinks and DJs at pavilion Rosa Bonheur.
1 rue Botzaris, 75019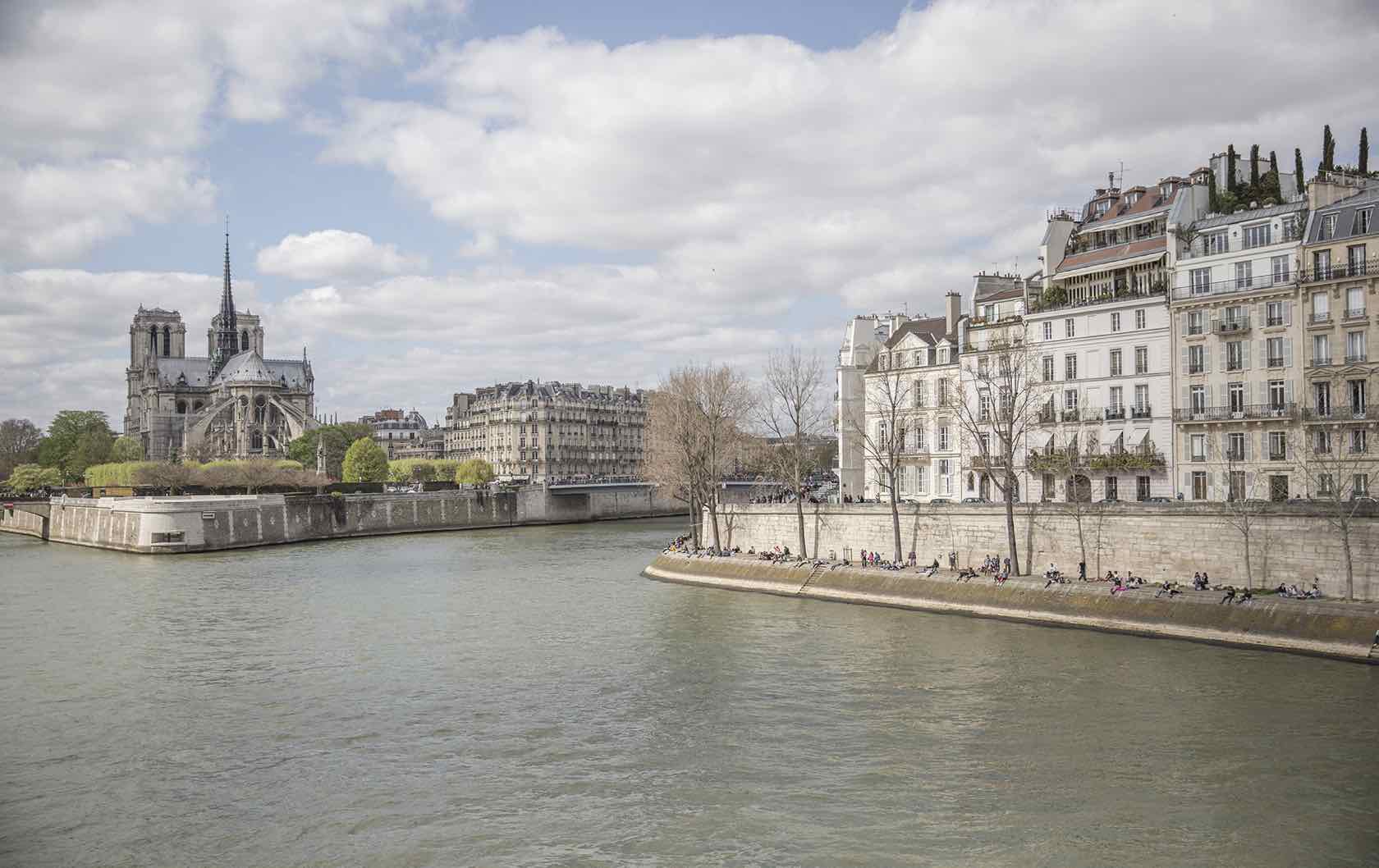 Quai de la Tournelle
Fringing the Seine's Left Bank, leafy Quai de la Tournelle offers views of islands Île Saint-Louis and Île de la Cité. The star of the show is soaring Notre-Dame Cathedral, dominating the latter, a magnificent sight from sunrise to sunset. Sit on the quayside or perch on the steps overlooking the river. This sloping embankment in the 5th arrondissement is known for its famous booksellers, so why not pick up a good book if you're picnicking solo? With passing boats, historic bridges, elegant architecture and plenty of people watching, you won't get bored at this blissful spot. This is the perfect picnic spot when staying at our two-bedroom, two-bathroom Maubert apartment.
Quai de la Tournelle, 75005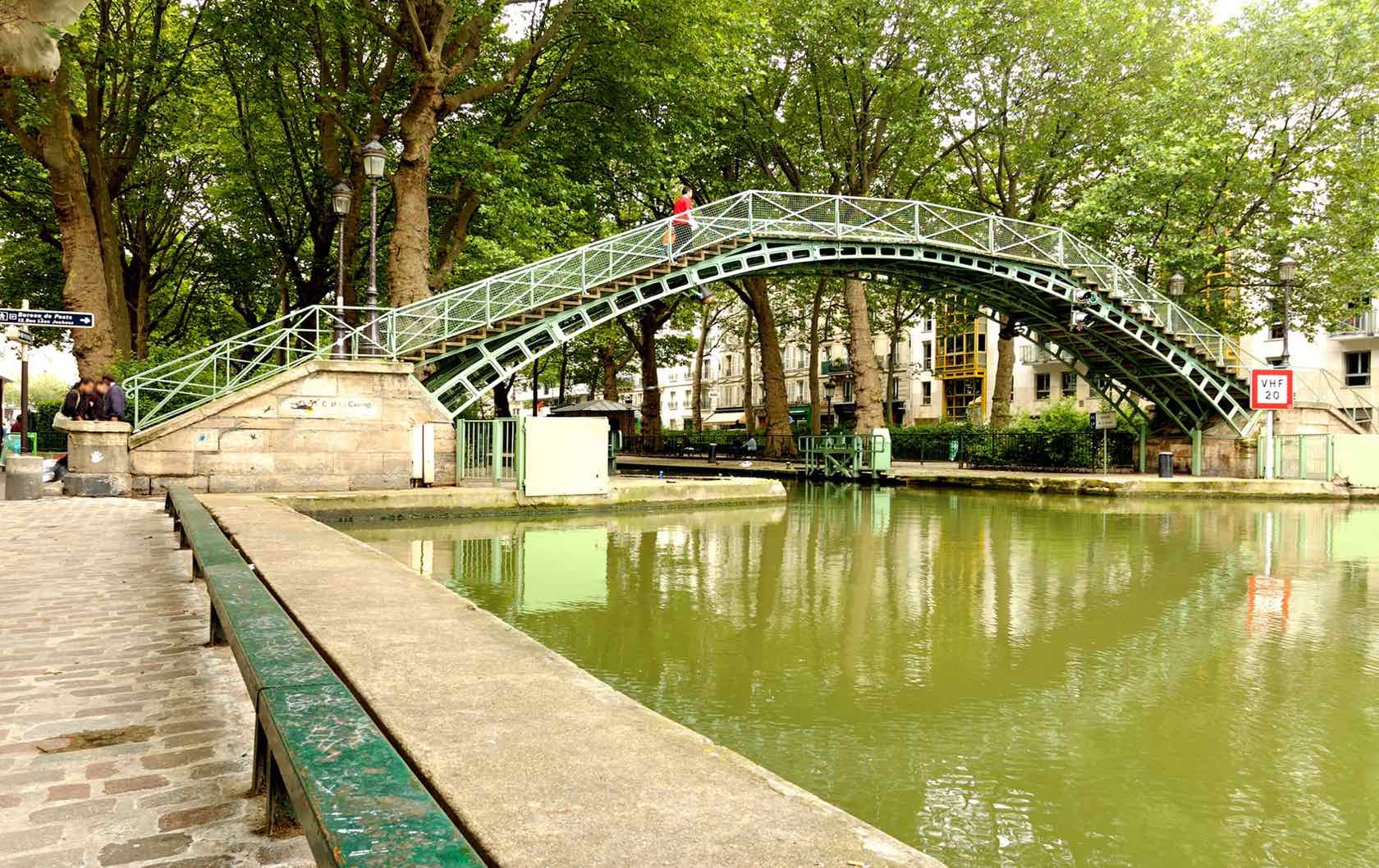 Canal Saint-Martin
Channel Amsterdam on the banks of Canal Saint-Martin in the 10th. Commissioned by Napoleon in 1802, the 4.6km-long canal in the city's north-east connects the Seine to Canal de l'Ourcq. Tree-flanked adjoining Quai de Valmy and Quai de Jemmapes make magical picnicking spots. Watch barges navigate the locks and snap shots of the cast-iron footbridges arching over the water. In movie Amélie the heroine plays skipping stones beside this canal. Jardin Villemin, above rue des Récollets, offers an inviting park perch. Source picnic supplies from bakery Du Pain et Des Idées (34 rue Yves Toudic). Afterwards head to bar/restaurant Le Comptoir Général (80 quai de Jemmapes).
Quai de Jemmapes, 75010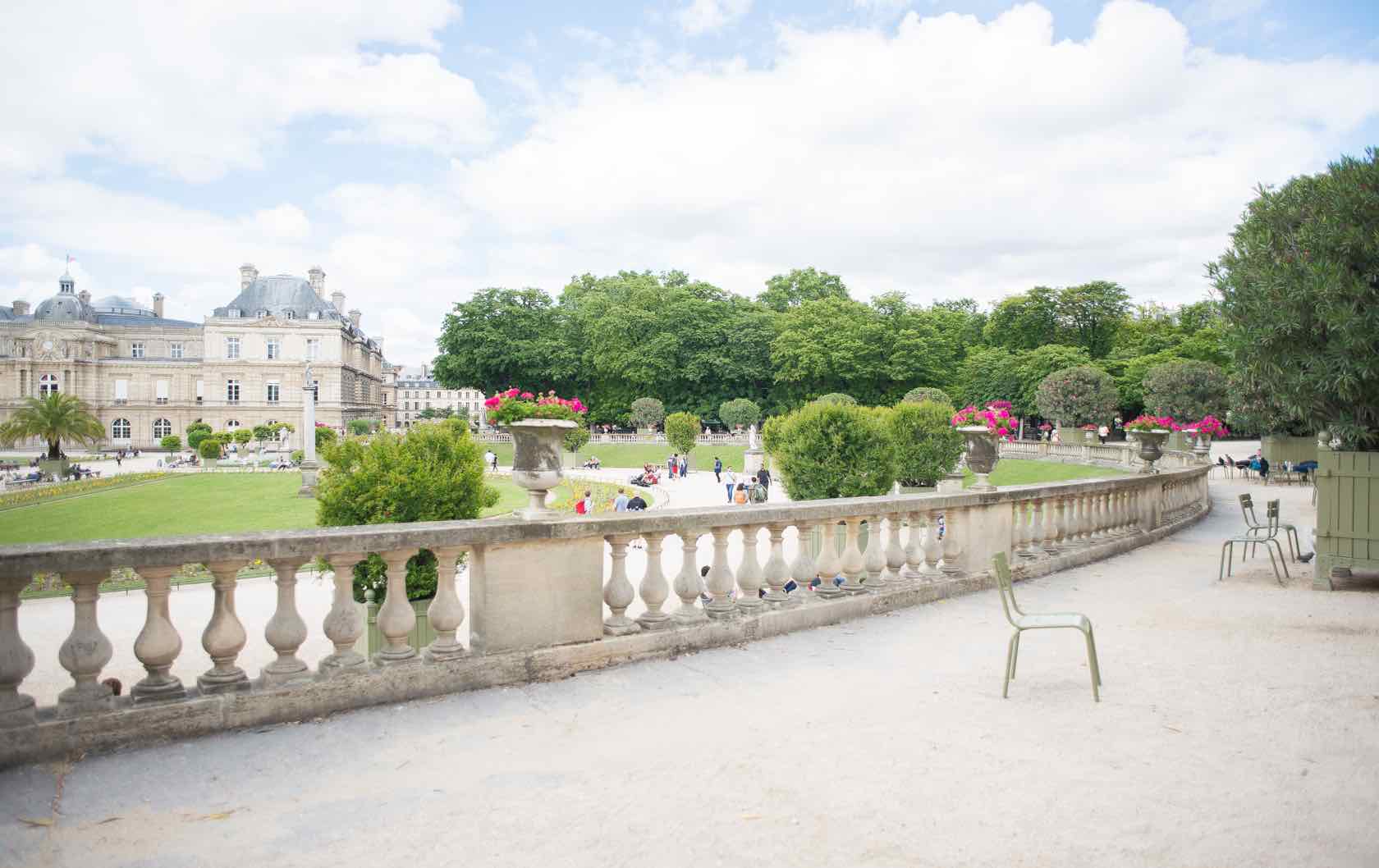 Jardin du Luxembourg
Beautiful, romantic Jardin du Luxembourg lies between Saint-Germain-des-Prés and the Latin Quarter. Offering formal French and English gardens, statues, fountains, lawns and apple orchards, it's a 61-acre oasis in the 6th. Relax on vintage green metal chairs and share snacks from the kiosks. Backdropped by Palais du Luxembourg, this 17th-century Eden was created by Henri IV's widow Marie de' Medici. Napoleon dedicated the park to the city's children, and kids can enjoy the playgrounds, carousel, model-boat pond, puppets and ponies. Free bandstand concerts will appeal to adults. For art pop to parkside Musée du Luxembourg.
Rue de Médicis, 75006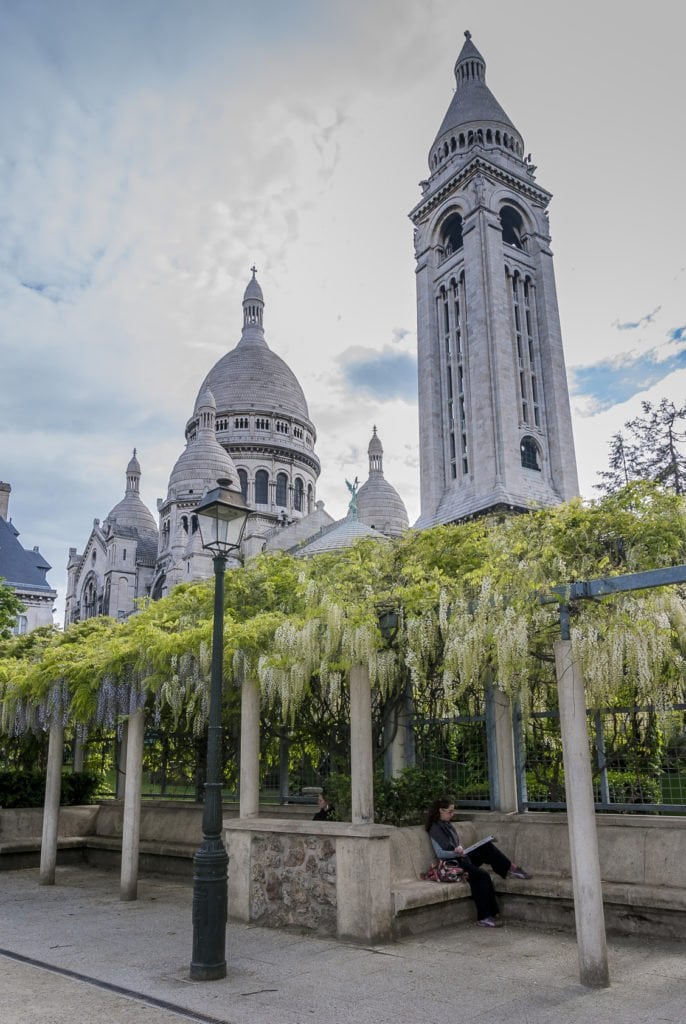 Parc de la Turlure
Atop Montmartre hill in the 18th, intimate Parc de la Turlure beckons, right behind Sacré-Coeur Basilica. Named after a windmill that once stood here, it's also known as Square Marcel Bleustein Blanchet. Come for Insta-worthy views of the impressive white-domed church, minus the tourist mobs. The pocket park includes benches in the sun and seats shaded by a seductive canopy of trailing vines. It's partly sheltered behind a stone wall, adding to its secluded feel. Bring a bottle of bubbly, some Brie and bread. And don't forget your camera!
1 Rue de la Bonne, 75018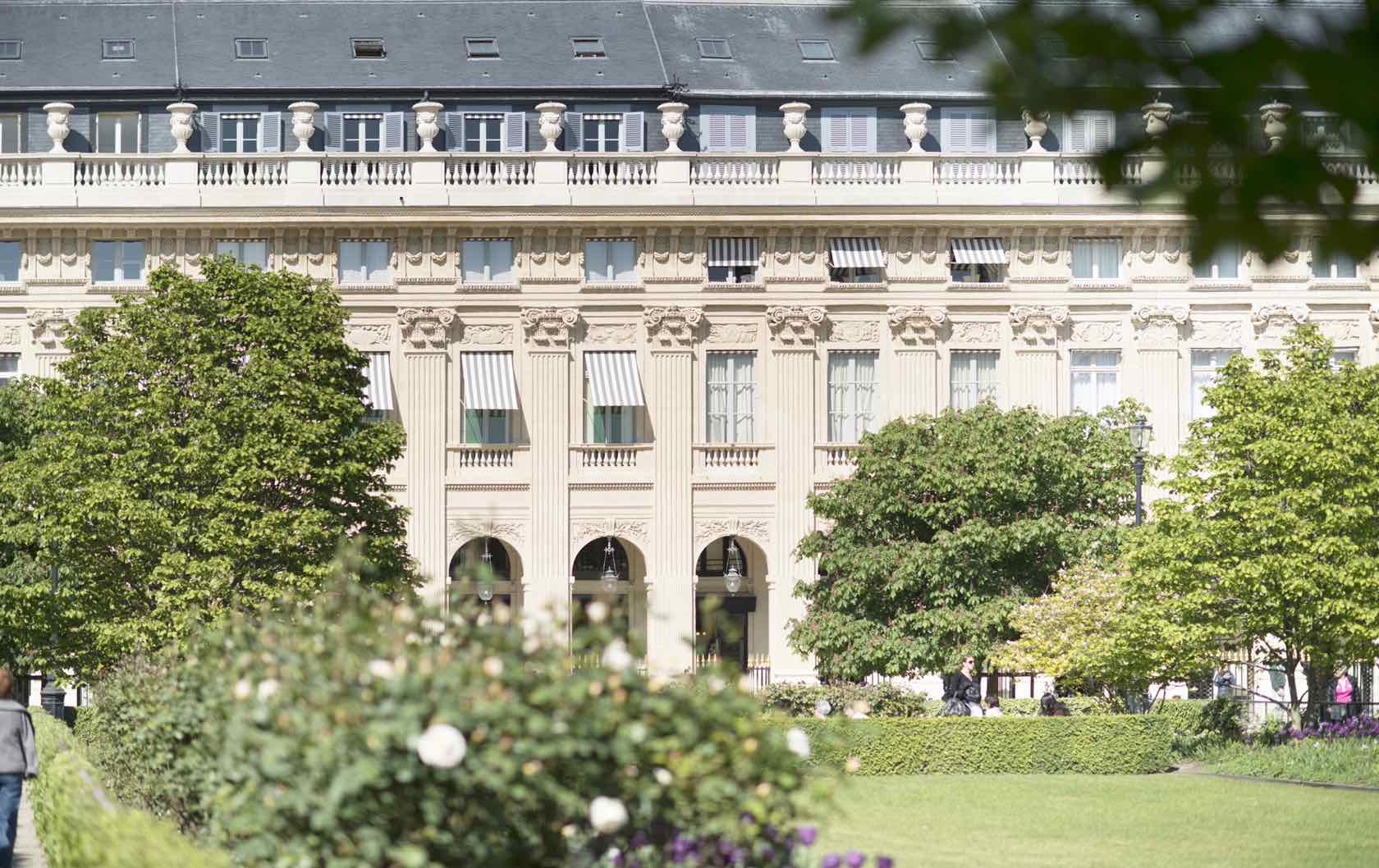 Palais-Royal
Take a break from designer shopping in the 1st with a picnic in Paris at verdant Domaine national du Palais-Royal. A 17th-century arcaded palace with ornamental gardens, it's a chic village-like sanctuary in the city lined with smart hedges. Culture vultures will get a kick out of artist Daniel Buren's striped columns in the courtyard. Luxury boutiques include perfume whizz Serge Lutens and fashion designer Rick Owens (142 and 130-133 galerie de Valois respectively). For coffee and cake, head to Café Kitsuné (51 galerie de Montpensier) or kick back on the terrace at café/bar Le Nemours (2 place Colette).
8 rue de Montpensier, 75001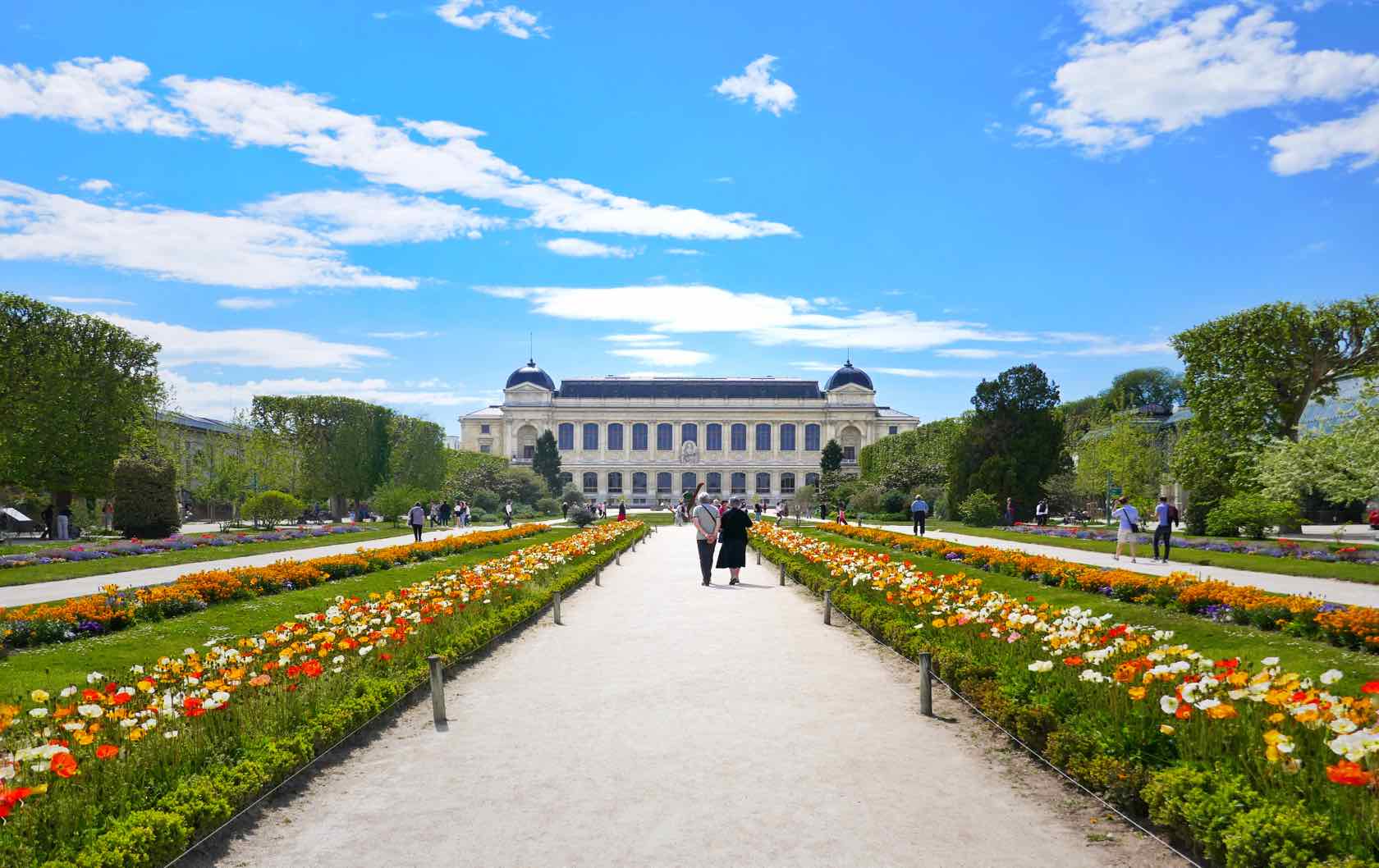 Jardin des Plantes
This 69-acre park on the Left Bank is home to Paris' botanical gardens, the 17th-century Jardin des Plantes. Five Perspective Squares, between two magnificent rows of plane trees, direct the eye toward the jardin. Inside discover 11 gardens, including alpine, ecological, rose and rock gardens, as well as a maze and restored 19th-century hothouses. The Garden of Useful Plants features plants and herbs with medical benefits. Four large buildings (Galeries) host collections on evolution, mineralogy, paleontology/anatomy and botany. You can also visit a small zoo. For Seine river views, wander to the adjacent Jardin Tino-Rossi. 
57 rue Cuvier, 75005
It doesn't take anything fancy to picnic like a Parisian. Just grab some bread, cheese, meat, fruit and wine and you're all set. Give our reservation team a call at 1-888-520-2087 from the USA or email [email protected] and you'll be picnicing in no time!