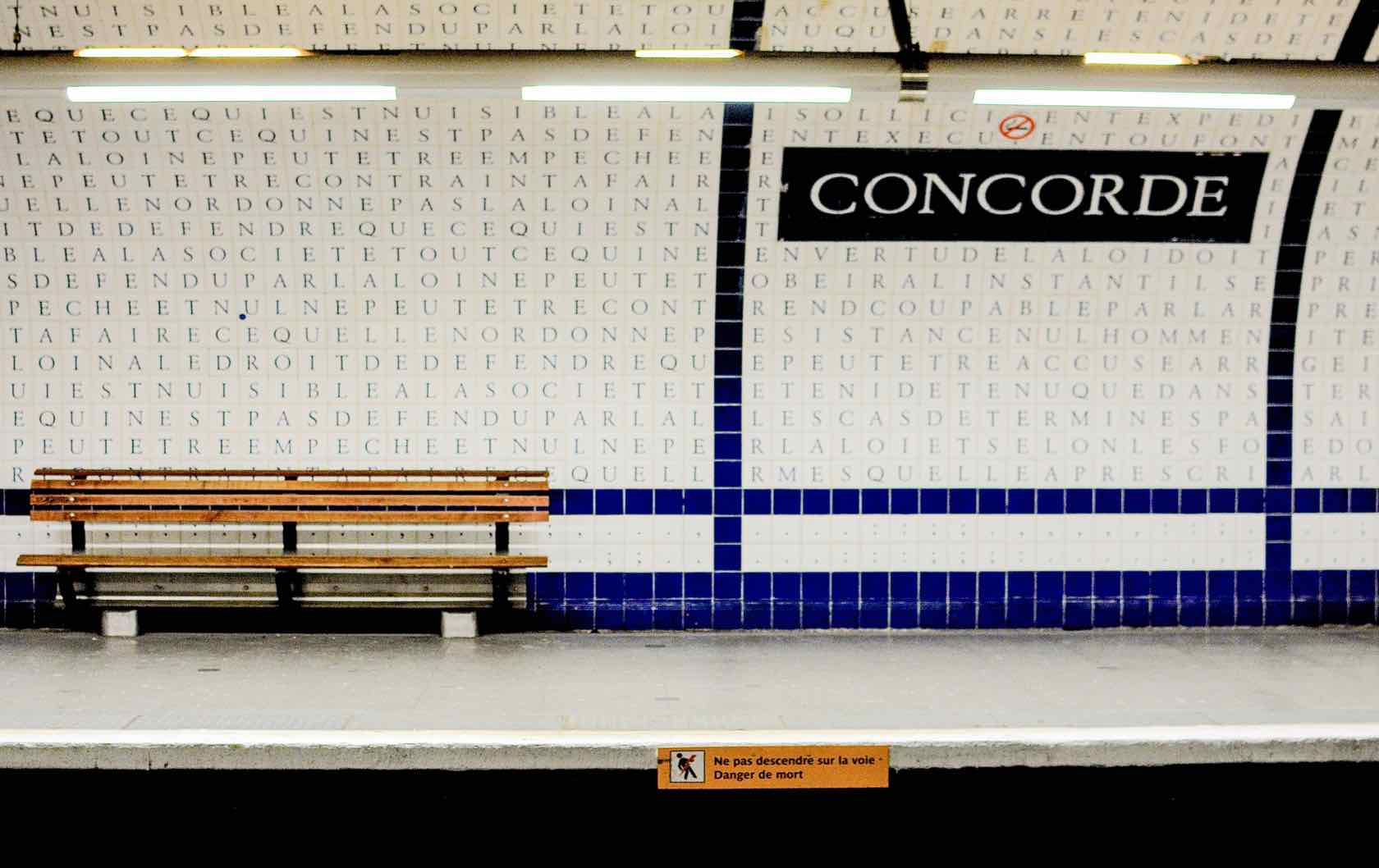 Like underground cathedrals, Paris' Métro stations are beautiful destinations in their own right. While you're traveling on this reliable subway system, look out for heritage and cultural highlights along the way. All of the pretty Paris Métro stations are named for people, places or events in French history. Some have picture-perfect entrances, others display art, curios or creative design inside. Spanning 16 lines and around 302 stations, accessed via a handy Métro map, the network was born in 1900. Here are eight unique stops in the city, all within easy reach of Paris Perfect holiday rentals. Happy travels!
Pretty Paris Métro Stations
Louvre-Rivoli
Opened in 1900 and originally just called Louvre, this cultural gem of a Métro station is one of the oldest in Paris. Its platforms display softly lit replicas of stunning pieces from the Louvre museum it serves, including classical statues. Seek it out before seeing fabulous art and antiquities at the real thing. Line 1, 1st arrondissement.
Liège
Pretty Paris Métro stations don't come more delightful than Liège, decorated in gorgeous blue and white ceramic tiles. The station was originally named Berlin, but was renamed during World War 1 to honor Belgium's heroic wartime resistance. Refurbished in 1982, the tiles capture the landscapes and monuments of Belgian province Liège. This stop is just a stroll from the charming Musée de la Vie Romantique. Line 13, 8th arrondissement.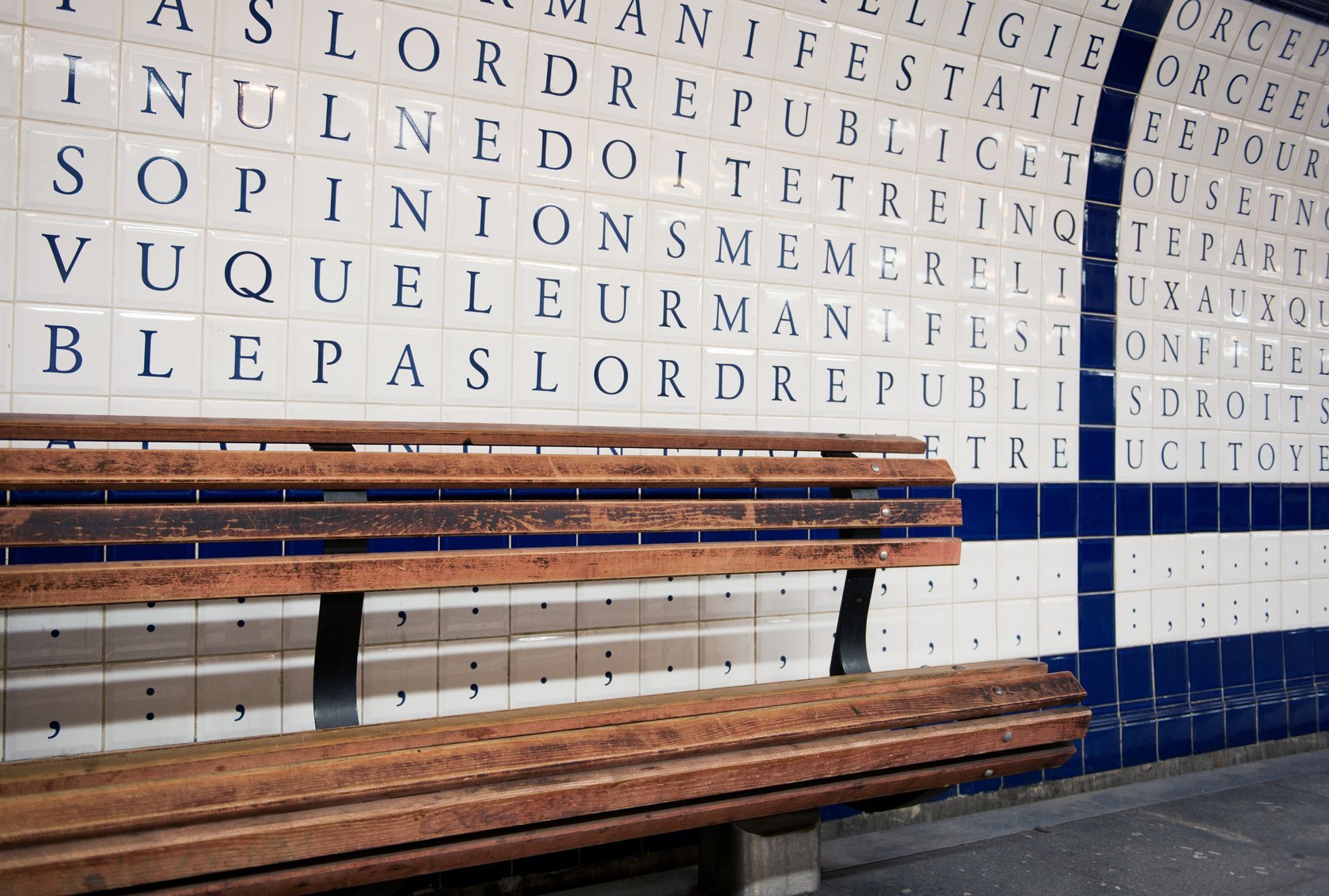 Concorde
Play word search games at Concorde, where Line 12's platform walls are covered in black-and-white lettered tiles. Created in 1989 by artist Françoise Schein, the letters spell out France's revolutionary 1789 Declaration of the Rights of Man and of the Citizen. The station serves major 18th-century square Place de la Concorde, between the iconic Champs-Élysées avenue and Tuileries Garden, featuring an Egyptian obelisk and fountains. Louis XVI and Marie Antoinette were both guillotined here! Lines 1, 8 and 12, 8th arrondissement.
Bastille
For a taste of French history, take the Métro to Bastille station. Tiled walls on Line 1's platforms depict scenes from the French Revolution at the nearby Bastille, a former fortress-turned-state prison stormed by the people on 14 July 1789. The building on Place de la Bastille is gone now, but you'll find remnants of its walls on Line 5's platforms. The five frescoes were created in 1989 by Liliane Belembert and Odile Jacquot to mark the bicentenary of Bastille Day, but this early station dates back to 1900. Lines 1, 5 and 8, 4th, 11th and 12th arrondissements.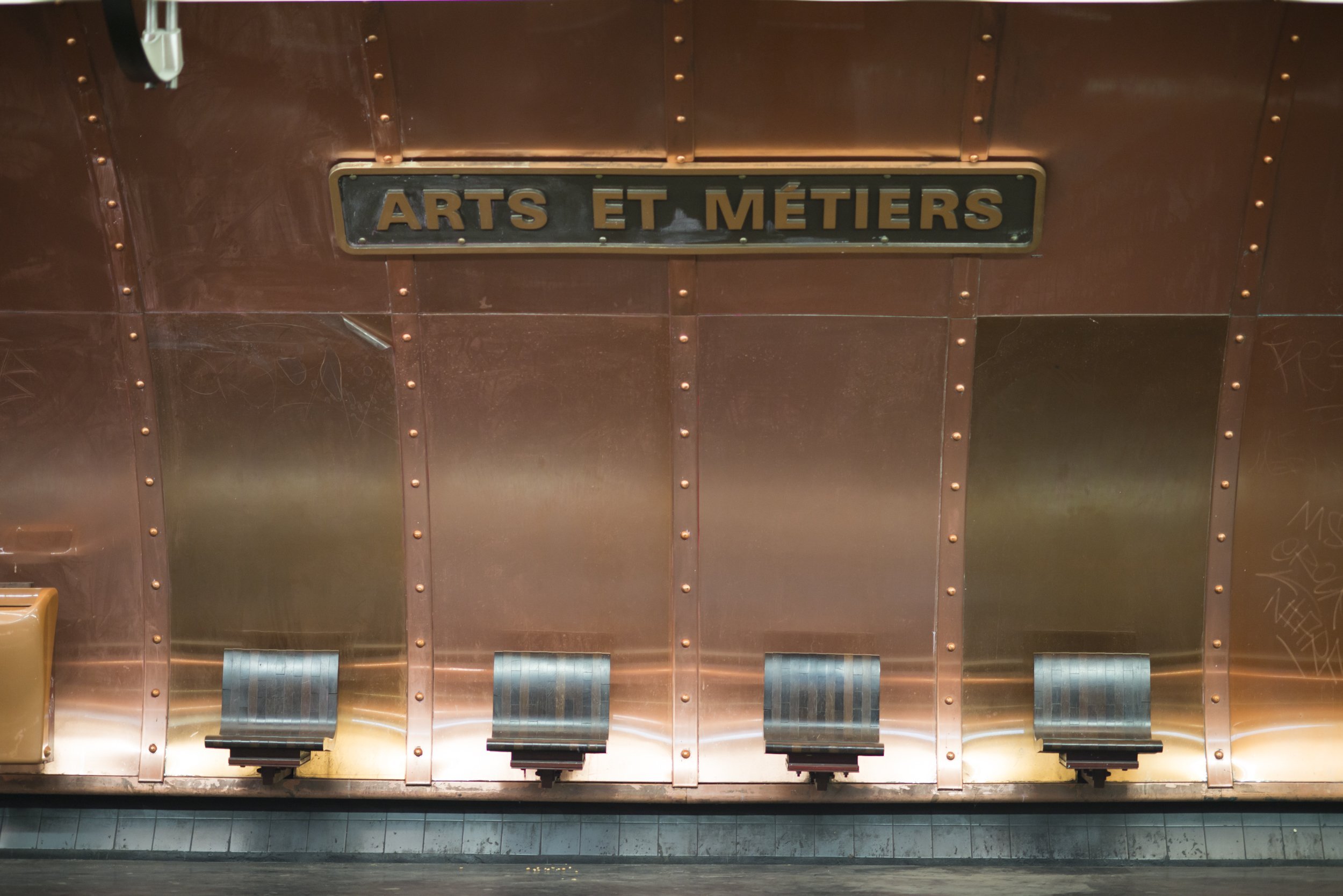 Arts et Métiers
Resembling a submarine interior, with portholes and copper walls, Métro station Arts et Métiers is an inventive folly. Named after science and technology museum Musée des Arts et Métiers, which it serves, it was unveiled in 1904. In 1994, Belgian comic artist François Schuiten designed the current Jules Verne Nautilus-meets-steampunk look, displayed on Line 11's platforms. Lines 3 and 11, 3rd arrondissement.
Pont Neuf
Giant replicas of historic French coins dot the walls and curving ceiling of Pont Neuf, one of the pretty Paris Métro stations, opened in 1926. Named after 17th-century stone bridge Pont Neuf nearby, its interior is inspired by the neighboring Paris Mint – or Monnaie de Paris. Founded in 864, The Mint is France's oldest institution and the world's oldest continuously running coin producer. Today it makes coins, including France's Euros, and medals. The station also hosts two small exhibits of real ancient coins and an old set of scales. Line 7, 1st arrondissement.
Cluny-La Sorbonne
Glittering ceiling mosaics make Métro station Cluny-La Sorbonne in the Latin Quarter a treat. Look out for Les Oiseaux (The Birds) by Jean Bazaine, in vibrant blue, red and pink, as well as the signatures of famous past locals, including French writers Molière, Rabelais and Victor Hugo. Opened in 1930, the station is named after nearby medieval museum Musée de Cluny and the Sorbonne University. Line 10, 5th arrondissement.
Varenne
Visiting Musée Rodin? Preview the French artist's celebrated statues at Varenne. One of our favourite pretty Paris Métro stations, it was opened in 1923 and named after its street location. Check out iconic sculptures The Thinker and Honoré de Balzac (depicting the acclaimed novelist) inside, where benches encourage lingering. Line 13, 7th arrondissement.
Our reservation team is ready get your Paris accommodations arranged. You'll be roaming the Métro in no time! Give us a call at 1-888-520-2087 from the USA or email [email protected].