Paris Métro station entrances are famous worldwide for their beauty. French architect Hector Guimard produced the first generation of entries between 1900 and 1913. His elegant cast-iron and glass creations, with eye-catching lettering, were designed in the Art Nouveau style and became known as the style Métro.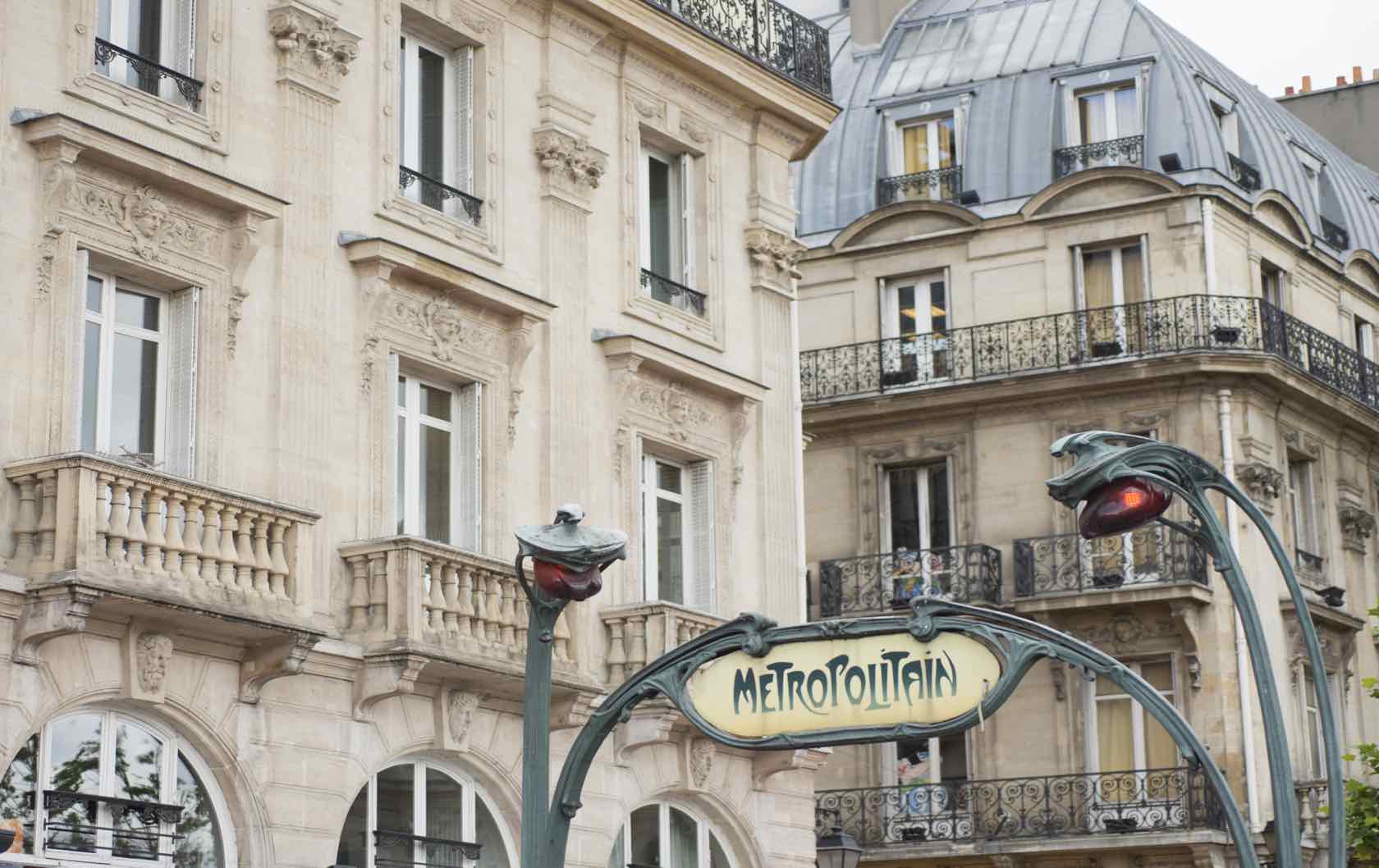 Paris Métro Station Entrances
These romantic portals to the city's underground train system once divided opinion, but now they're protected historical monuments, beloved of Instagrammers. Our chic Paris rental apartments are within strolling distance of many of these heritage gems. Here are eight of the best Métro marvels: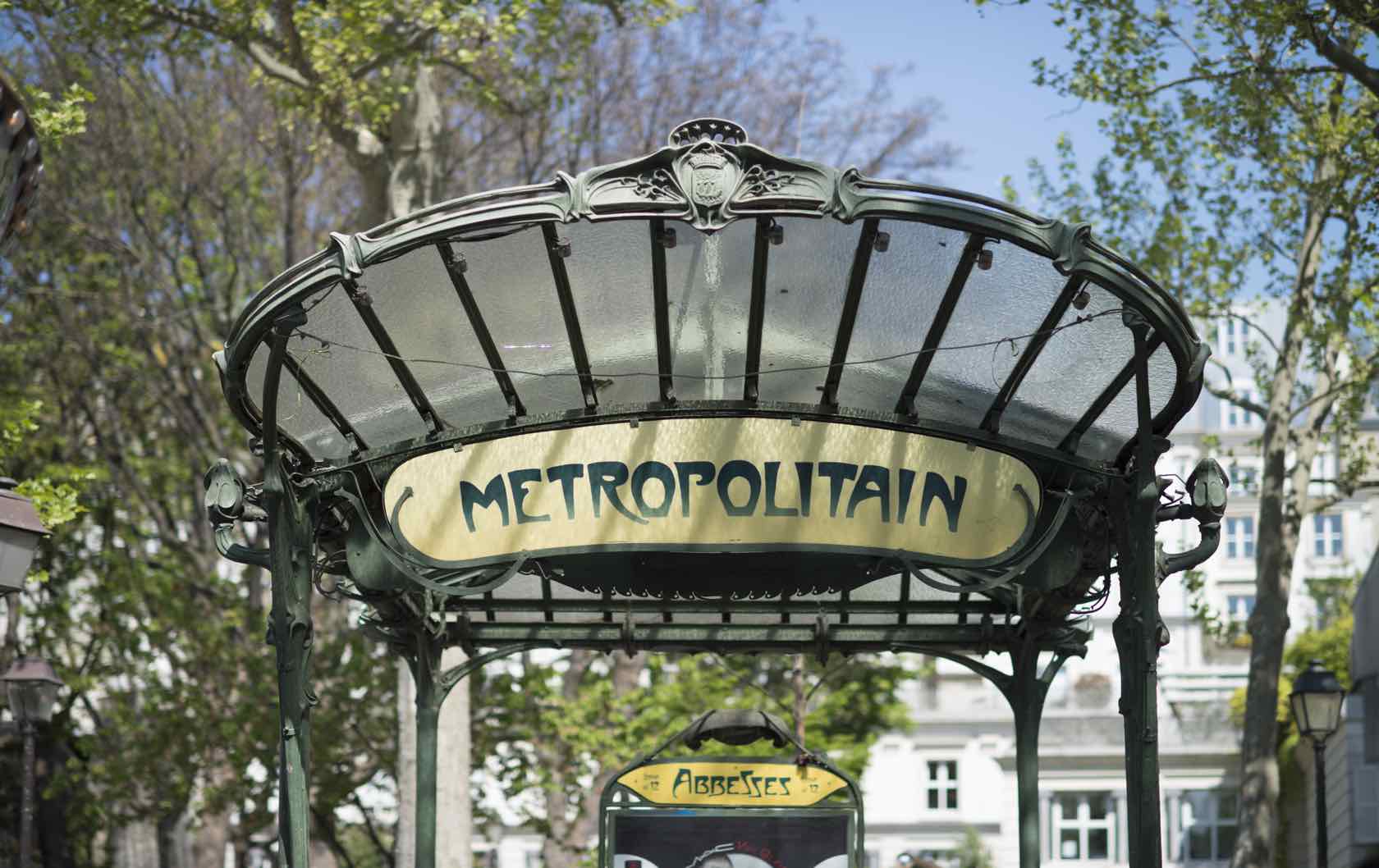 Abbesses
Perhaps the most photographed of the Paris Métro station entrances, Abbesses sports one of only two surviving Guimard édicules – or dragonfly-style kiosks. Flaunting a whimsical Art Nouveau glass cover, supported by swirling wrought iron, its large Metropolitain and station signs feature dreamy fonts. Opened in 1913, Abbesses is Paris' deepest station, 36 meters underground, on the west side of Montmartre's hill. The entry was actually moved here from the Hôtel de Ville station in 1974. See vibrant murals inside the station's spiraling staircase, then visit Sacré-Coeur basilica. Nearby Pigalle station entry is another classic.
Line 12, 18th arrondissement
Porte Dauphine
Porte Dauphine is the second remaining Métro station with a Guimard-designed glass entry roof, nicknamed the "dragonfly" because of its light, airy look. Its canopy awning fans out like wings above a colorful metal structure, lined with opaque floral panels and hung with a vintage Metropolitain sign. The only entry of its kind that's not reconstructed or relocated from elsewhere, it's east of Bois de Boulogne park, ideal for a day out. Inaugurated in 1900, and restored in 1999, the station's interior also includes the original cream tiles.
Line 2, 16th arrondissement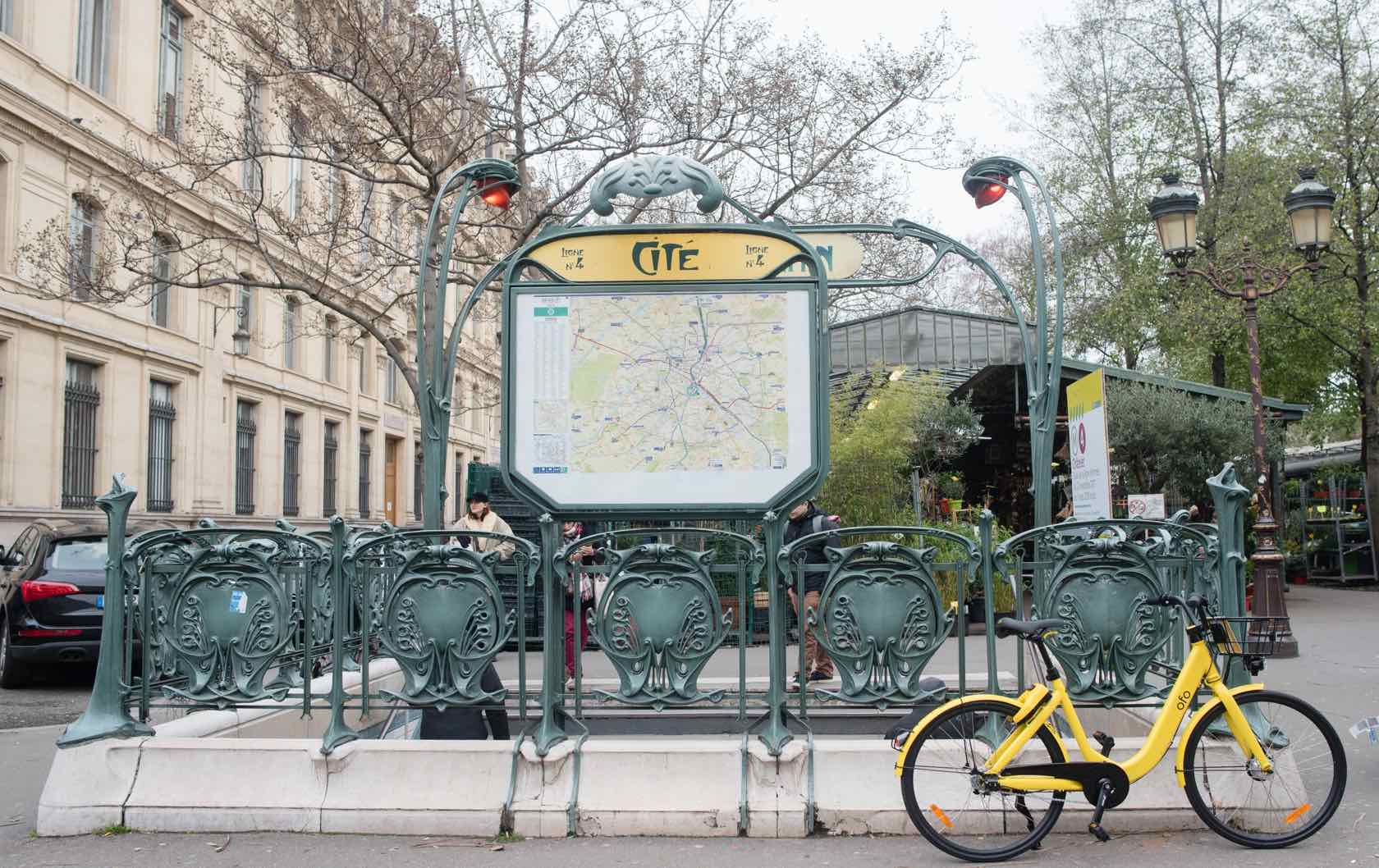 Cité
The only Métro station on Île de la Cité is Cité, which is near Notre-Dame Cathedral and Sainte-Chapelle. It's also next to the alfresco flower market. Admire the signature green Art Nouveau entrance by Guimard, including curved signs with that distinctive, hand-drawn font. Opened in 1910, it was designed like the other remaining Guimard station entries at the turn of the 20th century, when the Métro system was being built. The interior is pretty too, with high arched ceilings, striking staircases and flower-like, drooping pendant light globes.
Line 4, 4th arrondissement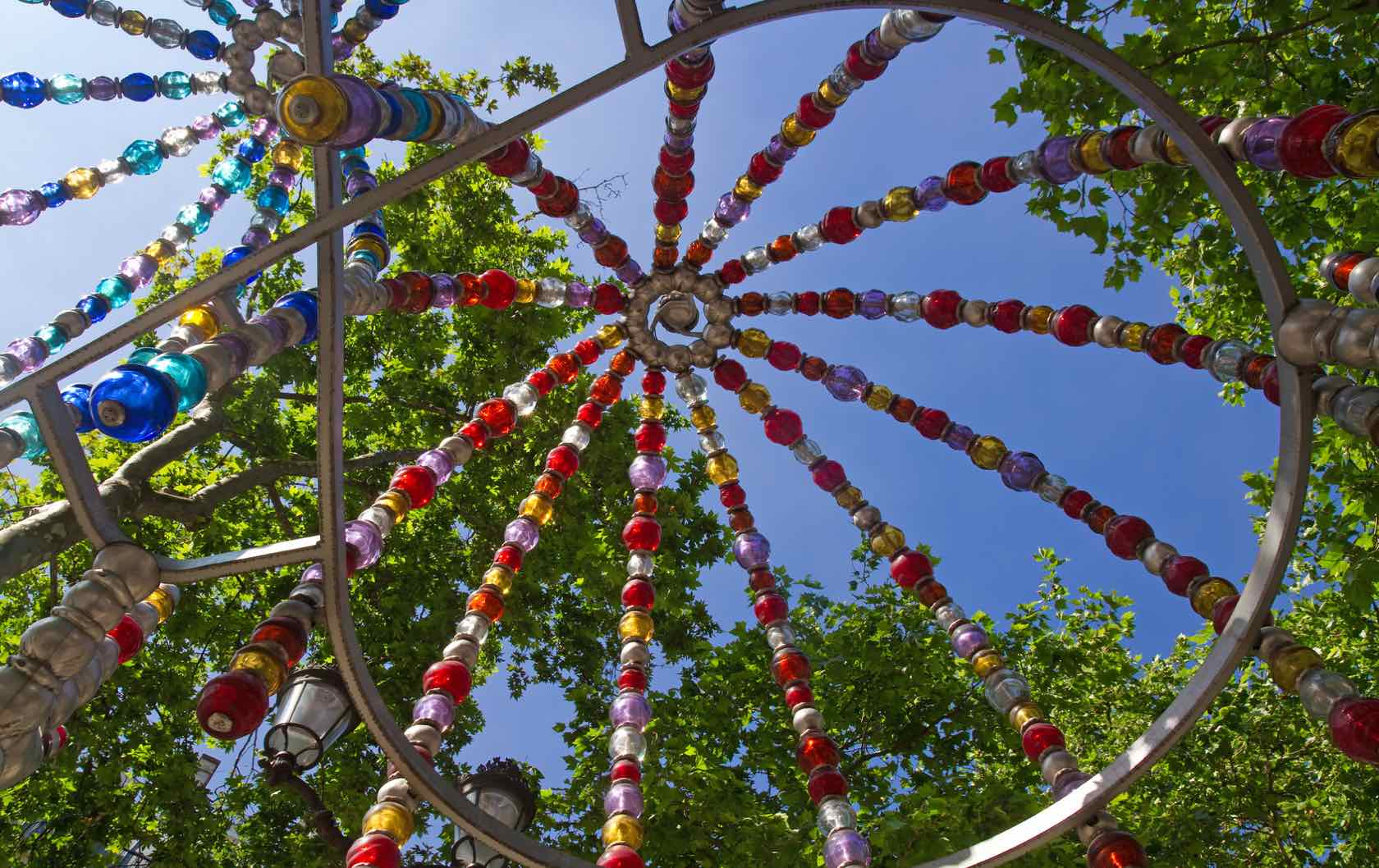 Palais Royal-Musée du Louvre
One of the most memorable Paris Métro station entrances is at Palais Royal-Musée du Louvre, which serves the Louvre museum. At the Place Colette entry, a kooky aluminum canopy hung with large colorful hand-blown Murano glass beads adds a vibrant touch. A cross between a silver crown and a cupola, it brings a rainbow-bright festival feel to the subway. Called "Kiosk of the Nightwalkers," it was created by contemporary artist Jean-Michel Othoniel in 2000 to mark the station's centenary. You'll also see four Art Nouveau Métro entrances at this 1900-born station, one of the first eight to form Line 1.
Lines 1 and 7, 1st arrondissement
Châtelet
The kiosk marking Châtelet station's Place Sainte-Opportune entrance is a modern replica of Guimard's Art Nouveau designs, but it's still charming. Added in 2000 to celebrate the Métro's centenary – Châtelet opened in 1900 – it brings vintage style to the station. Animate your Instagram with a snap, then enjoy retail and restaurant action at nearby Le Forum des Halles. Modern art gallery Centre Pompidou is just a stroll away.
Lines 1, 4, 7, 11 and 14, 1st arrondissement
Saint-Michel
Wandering the foodie Latin Quarter? Swing by Saint-Michel – another of the marvelous Paris Métro station entrances. Opened in 1910, it features a soaring wrought-iron arch, flanked by flower-shaped lights and topped with decorative flourishes. The artistry continues in the trademark Art Nouveau signage and signature green color of the metal railings. The typically Parisian backdrop, of brasseries and leafy trees, adds postcard-perfect appeal.
Line 4, 5th arrondissement
Réaumur-Sébastopol
Unveiled in 1904, Réaumur-Sébastopol station has a tall, narrow Guimard Art Nouveau entry design with a Metro sign. There's no roof, but its two fringing green lampposts with orange bulbs, resembling lily-of-the-valley flowers on sinuous stems, are eye-catching charmers. Visit on the way to the science and technology collection at Musée des Arts et Métiers.
Lines 3 and 4, 2nd arrondissement
 Père Lachaise
Guimard's Métro station entrance designs became protected monuments in 1978, but back in the day some critics disliked their ornate style and complex fonts, and many were dismantled or shipped abroad. They remain enduring symbols of Paris, with the entry at 1903-founded Père Lachaise another atmospheric heritage design to admire before visiting the star-studded cemetery which gave it its name.
Lines 2 and 3, 20th arrondissement
See our previous post for more pretty Paris Métro stations.
Our reservation team is ready get your Paris plans started. Give us a call at 1-888-520-2087 from the USA or email [email protected].