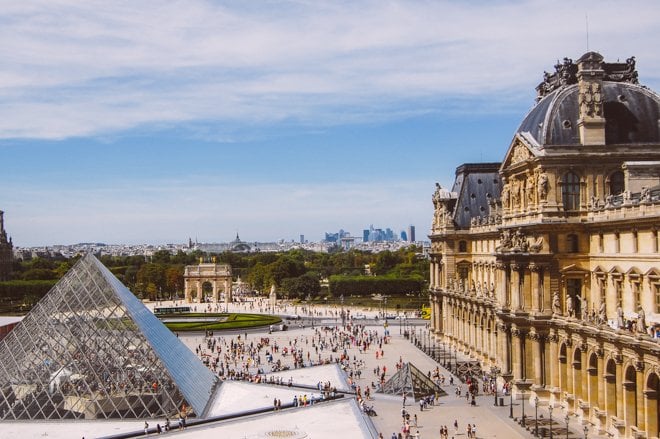 The Louvre museum is equally well-known for two things: its unbeatable art collection and its seemingly inescapable crowds. These two realities go hand-in-hand. Before you even gain access to the 600,000 square-foot museum and former royal palace, all you can often see from afar is a seemingly never-ending line with thousands of other travelers just like yourself. When you've been walking all day long, tedious lines are the last thing on your to-do list. However, there are a couple things you can do to make your Louvre experience smoother, easier, and more enjoyable. First, purchase a Louvre After-Hours Early Evening Tour, not only will you skip the line but it will also be less crowded!
With your Louvre skip the line ticket already in hand, you will be able to speed past the ticket lines, and join the much shorter security check queue, before heading straight for whichever museum wing suits your fancy. Crowds of people will be wasting time standing in the lobby while you are already busy enjoying Egyptian artifacts and Italian masterpieces.
There are two main entrances to the Louvre. The most popular entrance is above ground, through I.M. Pei's glass pyramid in the central courtyard. Entering the pyramid and then descending into a massive central lobby is an impressive sight! The spiral staircase alone is a beautiful piece of architecture, and the pyramid above acts as a huge skylight.
The second entrance lies underground, in the shopping mall below the museum called the Carrousel du Louvre.  You can access this one of three ways: through an entrance at 99 Rue de Rivoli, by descending the staircases on either side of the Triumphal arch at the start of the Tuileries garden, or even directly from the underground metro station. The Metro stop is called "Palais Royal – Musée du Louvre," and all you have to do is follow the exit signs leading to "Carrousel du Louvre." Once you're underground and locate the inverted glass pyramid, you've arrived! There's also an Apple Store, Starbucks, Printemps, and lots of other great shopping options here.
The Louvre is magnificent and breathtaking – it's been said that it would take a person two full weeks of exploring the many galleries of the Louvre just to see every piece on display. Battling the long lines, crowds, and intricate floor plan of this museum can be tiring, and that's why having a time-saving ticket waiting for you in your very own apartment is so worth considering.
To purchase your Louvre skip the line ticket and browse our other tickets for Museums and Galleries, browse our site here,