We love sharing the joys of Paris with all ages and are always on the lookout for new stories from Paris. One of the latest comes from Oliver Gee and Lina Nordin Gee, the husband and wife duo that have teamed up as author and illustrator to create two fun and endearing Paris children's books. You may recognize Oliver from his popular podcast, The Earful Tower, and from his Ultimate Guide to the 7th Arrondissement series here on the Paris Perfect Blog. If you have young travelers in your life, they'll love Kylie the Crocodile in Paris and Roger the Liger in Paris. They are both imbued with Oliver and Lina's infectious energy and charm!
As the titles reveal, these books are lively tales of animal adventures through the streets and iconic landmarks — along with lesser known sights — around Paris. You'll also enjoy spotting your favorite places as Kylie and Roger romp through Paris with Lina's gorgeous illustrations. These are such a fun read – and are perfect for families dreaming of going to Paris or remembering those special moments traveling together.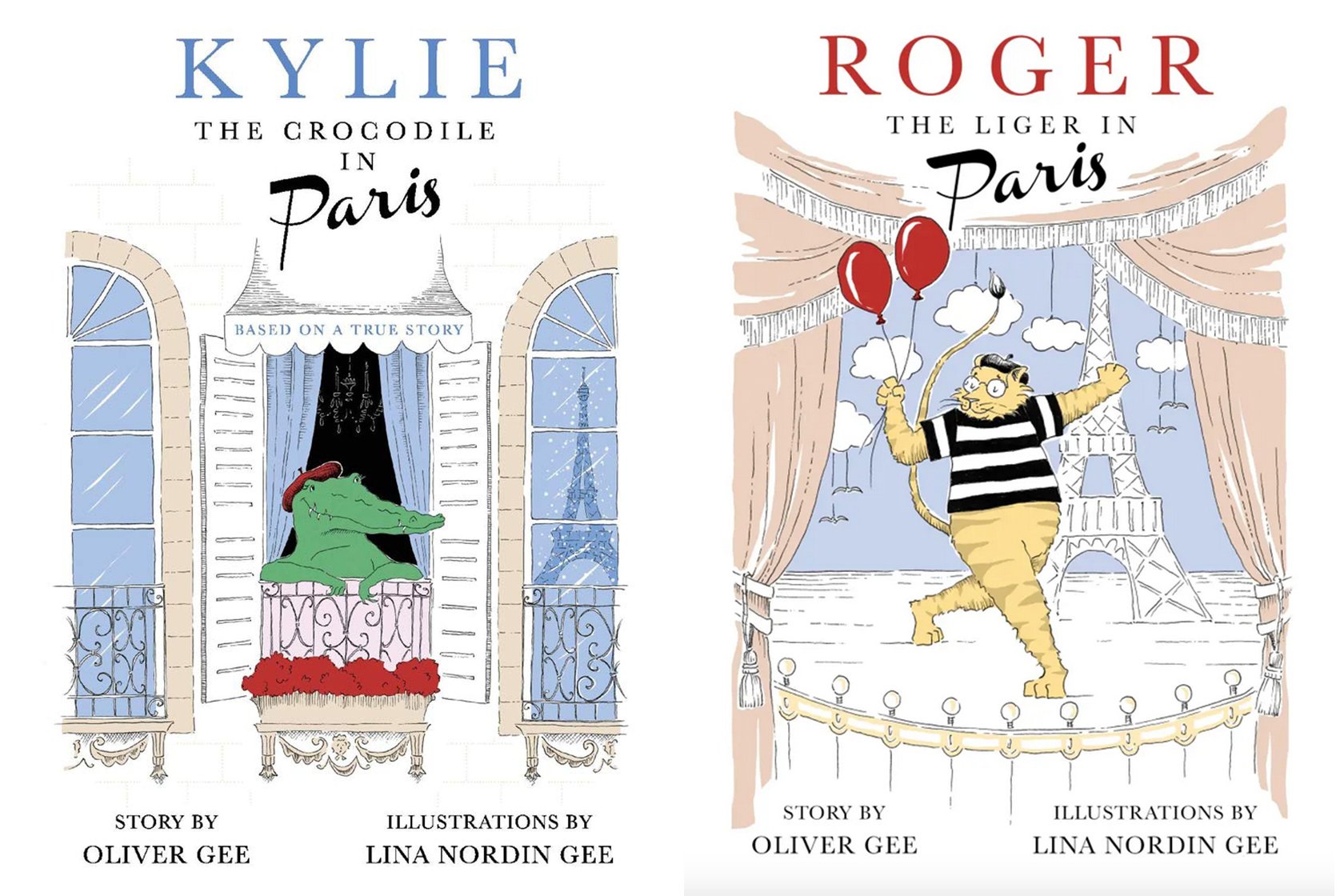 Now, of course, you might just have some questions. Are there really crocodiles in the Paris canals? What exactly is a liger and what's he doing in Paris? You can go behind the scenes with Oliver and Lina on this episode of The Earful Tower where they answer many questions about their charming Paris children's books.
We've asked Oliver to share a little more about how the stories and collaboration began with Lina and how did the City of Light inspires their work.
Listeners of your podcast will know about how Kylie and Roger came to be. But for our readers, could you share a little bit about how your Paris Animal World was born?
It all started on a winter's day several years ago, down by the Canal Saint-Martin. I was interviewing local residents about the canal for my podcast (The Earful Tower) when an elderly lady made a startling confession: She had released baby crocodiles into the water. I had no reason to doubt her. During the Great Paris Lockdown, I started to wonder what might have happened to that crocodile … and so Kylie the Crocodile was imagined, with illustrations by my wife Lina and text by me.
Where do you feel most inspired creatively in Paris?
There's a stretch along the Seine River, on the Right Bank near the Pont Alexandre III, when you're walking towards the Tuileries … and it feels like all of Paris is on show along the bending river. Every time I walk there I get this wonderful feeling like there's nothing wrong in life. I don't know if that's where I feel most inspired creatively, but I certainly feel inspired there.
View this post on Instagram
What are some of your favorite spots in the city to explore as a family?
The Jardin du Luxembourg, the banks of the Seine, and the streets of the seventh arrondissement where we live. Rue Cler never disappoints either!
What's the strangest animal you've actually seen in Paris?
I am constantly amazed whenever I see the green parrots that seem to live in the trees of the Champ de Mars. And the enormous catfish I've seen pulled out of the Seine boggle my mind.
Do you think you'll create a book named after your son Otis? If so, do you have any animals in mind already?
I don't know what animal he would like, but I can tell you that I almost used the name Otis for the owl in our latest book, Roger the Liger. But I went with Oscar instead. If you look closely, you'll see a discarded cola can on the ground on one page, and it's called Otis Cola. That might be as close as little Otis gets to featuring in our books … at least for now.
View this post on Instagram
Visit The Earful Tower website to get your copies of Kylie the Crocodile in Paris and Roger the Liger in Paris, both available with international shipping. Or you can pick them up at English language bookstores around Paris like Shakespeare and Company, The Red Wheelbarrow and Smith&Son.