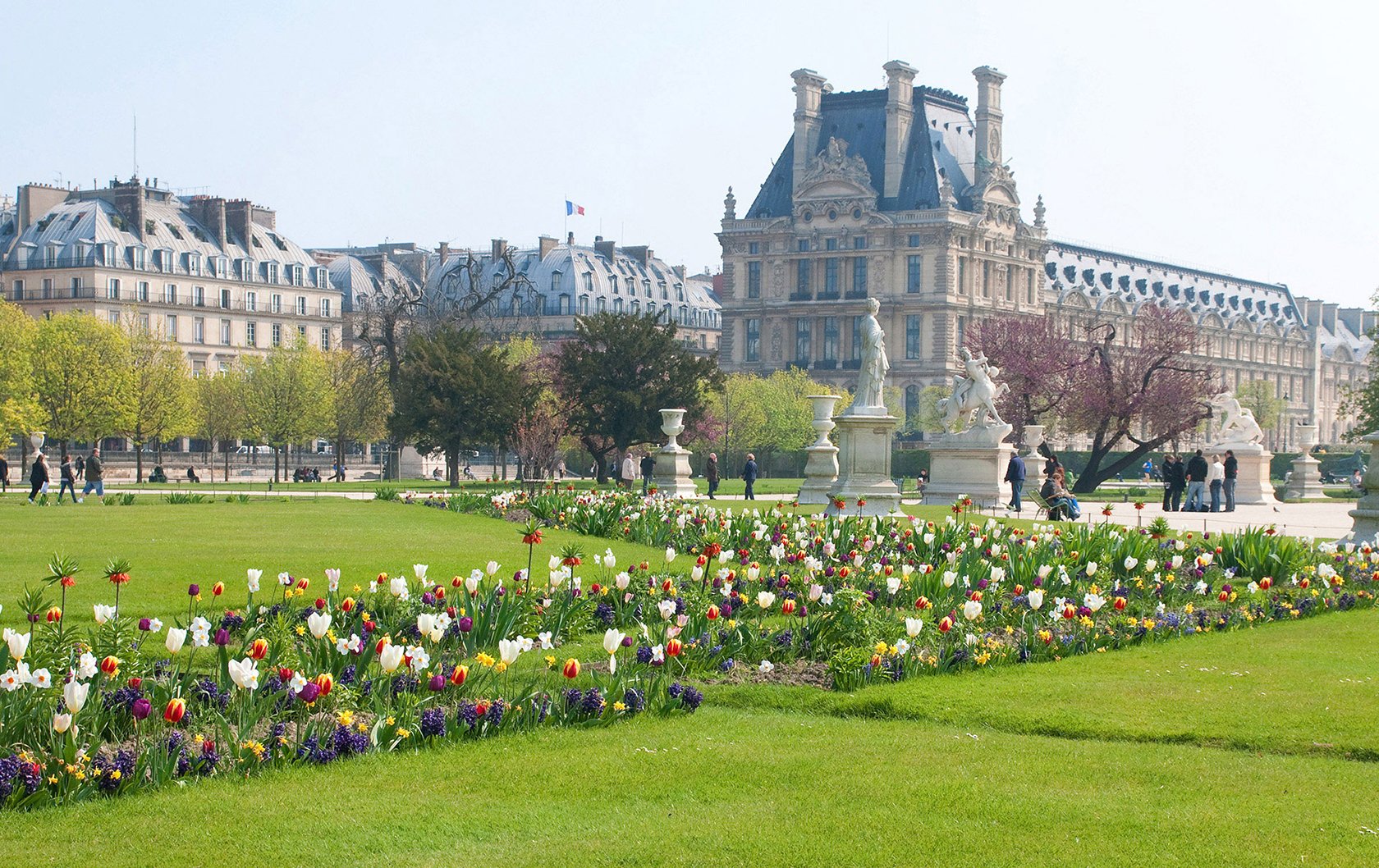 Spring and summer are fantastic times to enjoy walks in Paris, a compact city best appreciated on foot. Admire heritage monuments, alluring architecture and natural wonders from the river Seine to verdant parks in bloom. We've selected five walks in Paris for getting up close and personal with the French capital, all within easy reach of chic Paris Perfect holiday rentals. Don your comfiest flat shoes and hit the streets.
Heritage Stroll: Louvre Museum to Arc de Triomphe
(3.5km, 45 minutes)
One of the most wonderful walks in Paris, this classic route takes in iconic heritage landmarks, beginning at the magnificent Louvre Museum. From the glass pyramid in the art gallery's courtyard, wander through the adjacent Jardin des Tuileries, a pretty garden dotted with trees, topiary and ornamental lakes, named after the old tile factories once located here. Continue past smart galleries Jeu de Paume and Musée de l'Orangerie through Paris's largest square Place de la Concorde, which flaunts an Egyptian obelisk and ornate fountains. During the French Revolution, King Louis XVI and Marie Antoinette were executed here.
Paris's most famous street Avenue des Champs-Élysées unfurls before you, lined with upscale boutiques, brasseries and bars. Longchamp, Louis Vuitton and Dior are among its luxury fashion labels. Pop into department store Galeries Lafayette (no 60), beauty boutique Sephora (72), or macaron shop Ladurée (75) before reaching historic Arc de Triomphe at the western end, honoring France's war dead. Views from the top are spectacular.
Island Wander: Île de la Cité to Île Saint-Louis
(2.7km, 35 minutes)
This short but sensational walk connects two charming small islands in the middle of the river Seine. Start at Square du Vert Galant, a triangular, tree-dotted public pocket park at the western tip of Île de la Cité, which features an equestrian statue of Henry IV. Next cross historic bridge Pont Neuf, before entering leafy Place Dauphine, home to stylish Paris Perfect holiday apartments. Wander the island, taking in former royal palace and prison the Conciergerie, jaw-dropping Gothic chapel Sainte-Chapelle, the ancient Clock Tower atop the Palais de la Cité and quayside Marché aux Fleurs flower market. Keep going to Notre-Dame Cathedral, temporarily closed since the 2019 fire but still a spectacle.
A little bridge links to twin isle Île Saint-Louis, filled with atmospheric old riverside houses. Call in at beloved Berthillon ice cream store (31 rue Saint-Louis en l'Île) before winding up at waterfront Square Barye park at the island's eastern tip.
Art Walk: Saint-Paul Metro to Centre Pompidou
(2.3km, 35 minutes)
Meandering through the Marais, the city's old Jewish quarter, is one of the most romantic walks in Paris. Set off from Saint-Paul Metro station and head east to elegant Place des Vogues – the oldest planned square in Paris and once home to author Victor Hugo who wrote Les Misérables and The Hunchback of Notre-Dame (his apartment is now a house museum). Reach it via rue Saint-Antoine, then turn left up rue de Birague. Detour from the square's southwest corner to scenic courtyard garden Jardin de l'Hôtel de Sully.
Press on to the atmospheric Musée National Picasso-Paris to admire work by the acclaimed Spanish artist who lived in France for many years. Nearby, heritage and modern art sits alongside hunting and nature exhibits in the astonishing Musée de la Chasse et de la Nature. Rue Vieille du Temple is an enchanting street in between for shopping and dining. Culture vultures can stroll on to modern art Mecca the Centre Pompidou, a striking contemporary building rounding off this arty promenade
Fashion Sashay: Musée des Arts Décoratifs to Buddha-Bar
(2.2km, 27 minutes)
Our fashion sashay starts at fascinating decorative arts museum the Musée des Arts Decoratifs on the rue de Rivoli, near the Louvre, which features dazzling clothing, furniture and accessories. Next head up rue de l'Échelle and swing left into chic fashion strip the rue Saint-Honoré, awash with designer boutiques including Vivienne Westwood, Byredo, Le Labo, Saint Laurent and Isabel Marant. For suitcases and bags, don't miss Goyard and Louis Vuitton. Detour to gorgeous Place Vendôme, famous for its luxe watches and jewellery stores, including Gucci, Cartier, Patek Philiippe, Chaumet and Van Cleef & Arpels. Back on rue Saint-Honoré you'll find Dior, Christian Louboutin (for shoes) and Hermès (this legendary strip turns into rue du Faubourg Saint-Honoré after passing across Rue Royale).
To refuel pop to the glam bar or restuarant at Hôtel Costes (7 rue de Castiglione) or make for Buddha-Bar (8-12 rue Boissy d'Anglas) for tunes until late.
Park Promenade: Père Lachaise Cemetery via Parc des Buttes-Chaumont to Metro Oberkampf
(7.5km, 1 hour 40 minutes)
Parks host some of the loveliest walks in Paris. This eastern park ramble kicks off at must-visit cemetery Père Lachaise, final resting place of famous musicians, artists and writers including American singer Jim Morrison. Spend time exploring its leafy lanes and ornate tombs, before heading north to compact, hilly Parc de Belleville, known for its lofty city views. Keep going to dramatic, larger 19th-century Parc des Buttes-Chaumont, topped with an Italianate temple, with a suspension bridge, artificial lake and epic city panoramas. Relax or picnic here, then cut west towards the canals at Le Bassin de la Villette. Stroll south along picturesque Canal Saint-Martin, criss-crossed by green metal bridges and fringed by sun-kissed quays (Quai de Valmy and Quai de Jemmapes), bars and cafés. You may remember it from cult film Amélie. Metro stations beckon around the south end, including Oberkampf.
See our earlier blog post for even more tempting summer walks in Paris.