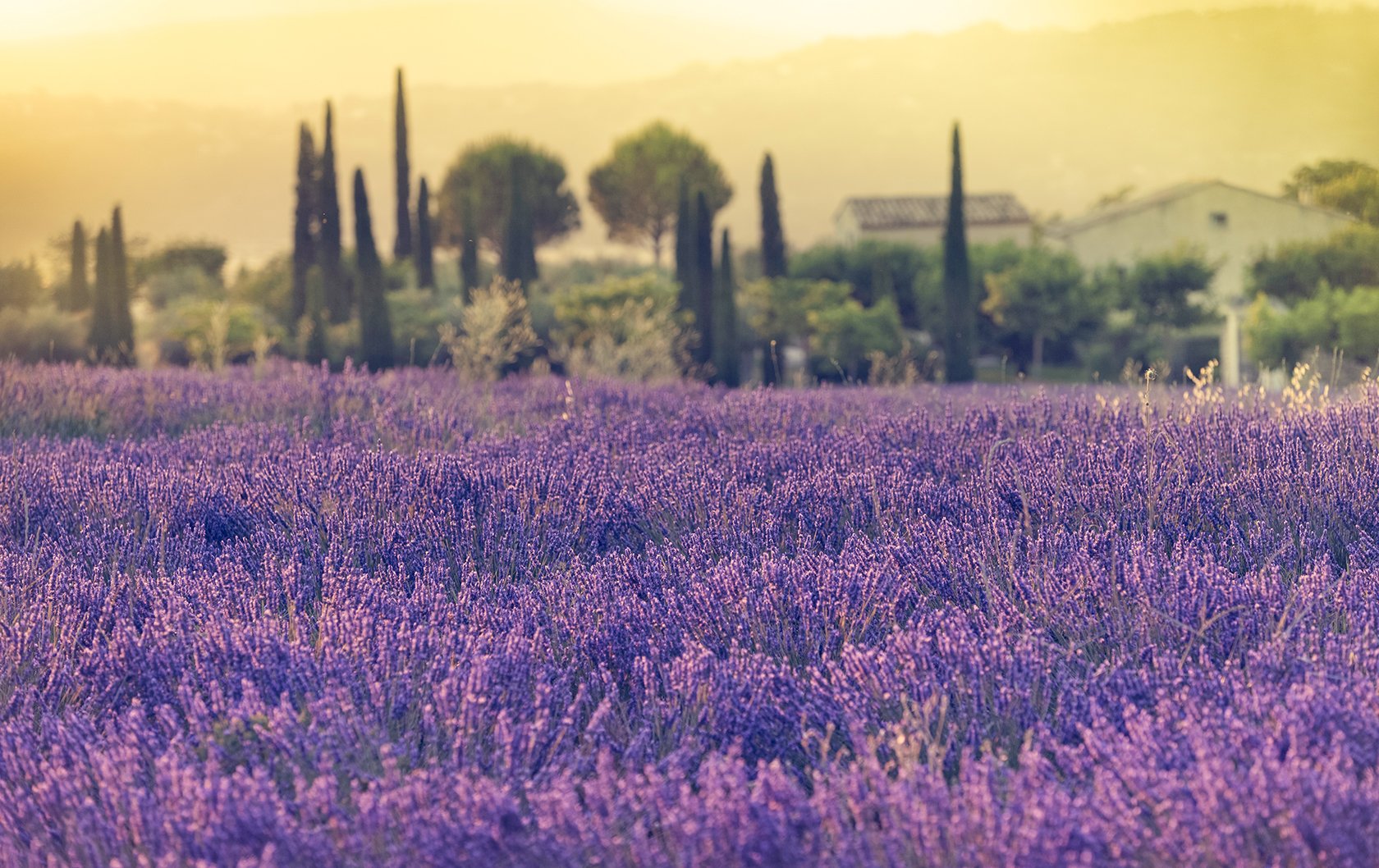 If you've fallen in love with Paris but haven't traveled through the rest of France, there's a beautiful world to discover. With fields of blooming lavender and idyllic beaches, summer is the prime time to experience Provence and the French Riviera. Spend time in Paris and then head to the south of France to explore the countryside dotted with historic villages, see stylish Saint-Tropez, walk along the Promenade de la Croisette in Cannes, learn about perfume making in Grasse and enjoying the simple charms of the Provençal lifestyle. Summer dates are filling up quickly in our villa vacation rentals in Provence and the French Riviera. Whether you're daydreaming or planning a summer escape, check out these stunning villas in France!
Domaine de la Folie
With sweeping views of the Cannes Bay, the stunning Domaine de la Folie villa is the perfect spot for enjoying the beauty and glamour of Provence and the French Riviera. Set in the mountains above Cannes in Mougins, this incredible 6 bedroom, 5 bathroom is tastefully decorated and features plenty of space indoors and outdoors for relaxing in a comfortable home setting. With a great location, you can enjoy easy day trips to Cannes, Nice and the medieval town of Grasse nearby. After exploring, come back for a dip in the private heated pool or lounge in the sun at your beautiful French home away from home.
Villa Grimaud
Discover a space of beauty and tranquility on the French Riviera just 7 miles from glamorous Saint-Tropez at Villa Grimaud. Set in five acres of land, this 6 bedroom, 6.5 bathroom villa is a dreamy retreat with an ideal location for exploring the south of France. Enjoy the Zen-like environment of the villa along with private infinity pool and tennis court all designed to complement the natural setting. With availability during the loveliest season of the year, there's still time to plan a peaceful family getaway at the Villa Grimaud this summer!
La Belle de Gordes
The lavender fields of Provence await! Everything we love about Provence welcomes you from the moment you arrive at La Belle de Gordes, an exquisite villa situated near Gordes, often considered one of the most beautiful villages in France. Gaze out over panoramic views of the Luberon mountains in the distance and inhale the soothing scent of lavender that fills the air. This luxury Provence villa is nestled among 7 acres of private property with a setting that's perfectly designed for complete relaxation. Amid the landscaped gardens you'll find a pool, tennis court and outdoor spaces surrounded by the natural beauty of Provence to enjoy during your stay. This remarkable property books very fast, but there's still time to plan a stay at the end of May or in October, beautiful times to enjoy Provence without peak summer heat or crowds. Will you be calling La Belle de Gordes home for a beautiful vacation this year?