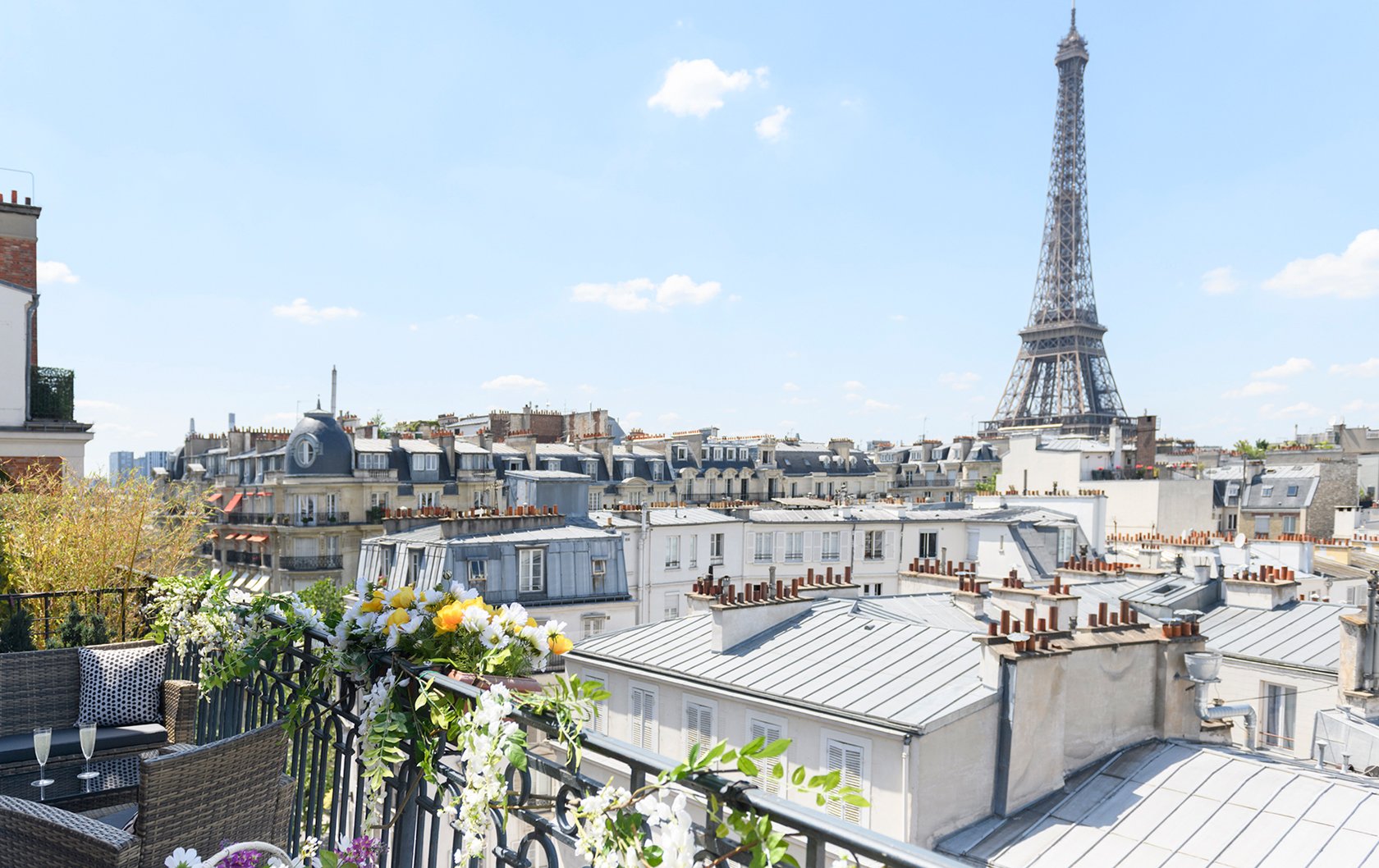 Along with always being on the lookout for the perfect apartments in Paris, our team keeps a close eye on the real estate market. If you're thinking of buying a Paris apartment, you'll want to know the latest news and trends. While the prices for apartments in Paris have increased in the past four years on average between 4% and 7% per year, the recent increases in interest rates, caution by banks and global instability have temporarily stalled the market.
What this means is that apartments are slower to sell for the first time in years, and we are seeing selective price reductions for average apartments. Instead, some would-be sellers are simply not listing their apartments for sale, and are waiting a return of optimism in the market. For the properties that do come on the market there are fine opportunities for buyers. Please contact us at [email protected] to find out more about our excellent search services for buyers.
Background and Review of Paris Apartment Prices and Sales: 2018 to 2023
2018 – 2021:  According to a report by the Chamber of Notaries, the price per square meter in Paris increased by 7.8% from 2018 to 2019. This trend continued in 2020, with an increase of 5.9%. The real estate market slowed in 2021, with a decrease of 1.5% in the price per square meter.
2022: A slower year due to the factor we are seeing around the world: higher interest rates. Initially, Russia's invasion of Ukraine cast a pallor over the market, with subsequent fears of high inflation. This has diminished and most of the concern now centers on interest rates.
However, it's still possible to finance a purchase at less than 4% in France, for a 20 year mortgage, which is a big positive. Please get in touch with us if you're interested in learning more about financing: [email protected]
Sales Volume
Sales volumes in Paris in 2022 were up 2% for appartements anciens, or older apartments. These are the key properties that are the most sought after as well as the best investments. Find out more tips and information about finding the right apartment in Paris here.
2002 – 2022: Volume of Sales in Paris for Older Apartments
*Note: Newer apartments are excluded. The reason is because buildings dating from 1950 to the early 1980s are less desirable and less expensive. It's important to look only at older apartments, most dating from the late 1800s or early 1900s. These are the majority in central Paris and the most desirable.
2023 Trends in the Paris Property Market
Prices are predicted to decline by about 1.5% overall in Paris. However, the best apartments and locations have not seen any decline. In fact, the problem is that sellers have decided not to list their apartments until overall optimism and conditions improve.
2023 Price Per Square Meter in Paris: Slow and Steadily Upwards
The chart below represents the average sale price of older apartments in all arrondissements of Paris. The important point to focus on is the slow and steady upward trend of Paris prices, which have generally exceeded inflation for the past 50+ years.
"They Ain't Makin' Any More": This is a unique city globally, because the arrondissements of Paris are defined in such a way that virtually no new building permits are allowed in this historic city. That limits the supply, particularly the "best of the best" apartments.
The result is the following in terms of prices by arrondissement: below are the average prices per arrondissement. The average is brought down by apartment sales in buildings without elevators, less-desirable apartments such as former maids' rooms and ground floor properties. But the absolute trends are clear: The 7th and 6th arrondissements remain the most expensive in Paris. They have retained their value during difficult economic periods and recovered the fastest afterwards.
The best apartments: Haussmannian style buildings with elevators, high floors and balconies in the 7th sell for up to € 32,000/m2 or $2,972 per square foot.
One exception:  The Île de la Cité and Île Saint-Louis on the river Seine in the center of Paris. For the best apartments in these locations, they capture the crown in terms of pricing. In fact, the sale of a unique apartment with terraces and a layout spanning the Seine on the south all the way to the Place Dauphine was rumored to have sold for over €60,000/m2 or € 5,600/square foot.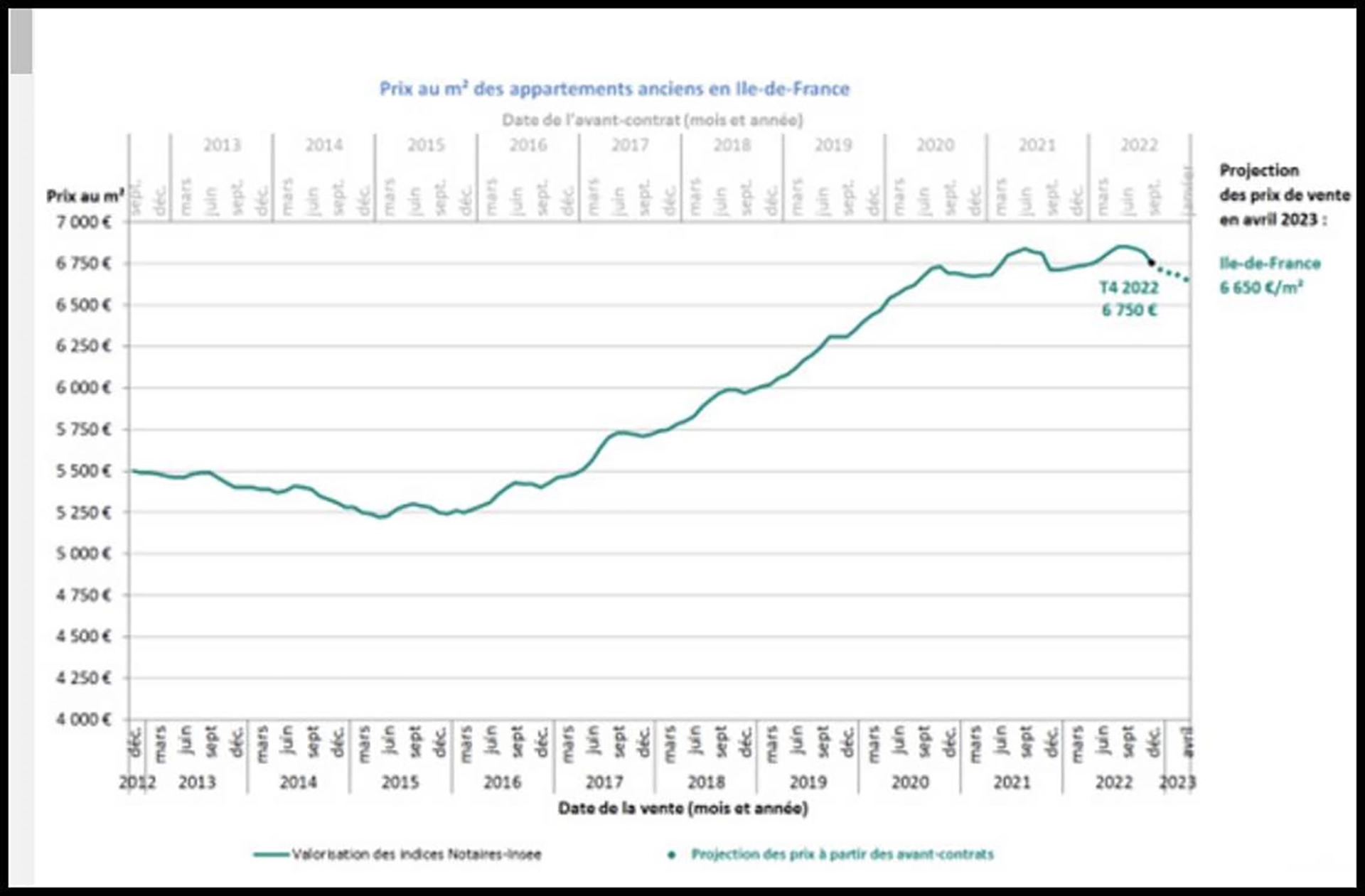 Making the Current Paris Property Market Work for You
One of the key takeaways for 2023 is that there are still many amazing apartments to be had as some sellers cannot afford to wait. With fewer buyers to compete against, there is more choice of apartments for you.
Americans buyers also have an automatic discount when buying in France with the strong dollar, still 10 cents stronger vs the euro than it was in 2021. It's also possible for US buyers to qualify for a French mortgage. The rates remain lower than the US: 3.85 – 4.95% for a 20 year fixed rate – worth checking into!
Our search team at Paris Perfect are experts in finding the perfect apartment for you to buy and we would be happy to speak with you about it. Check out our tips when you start your search and email our team at [email protected] if you'd like to find out more about buying an apartment in Paris.