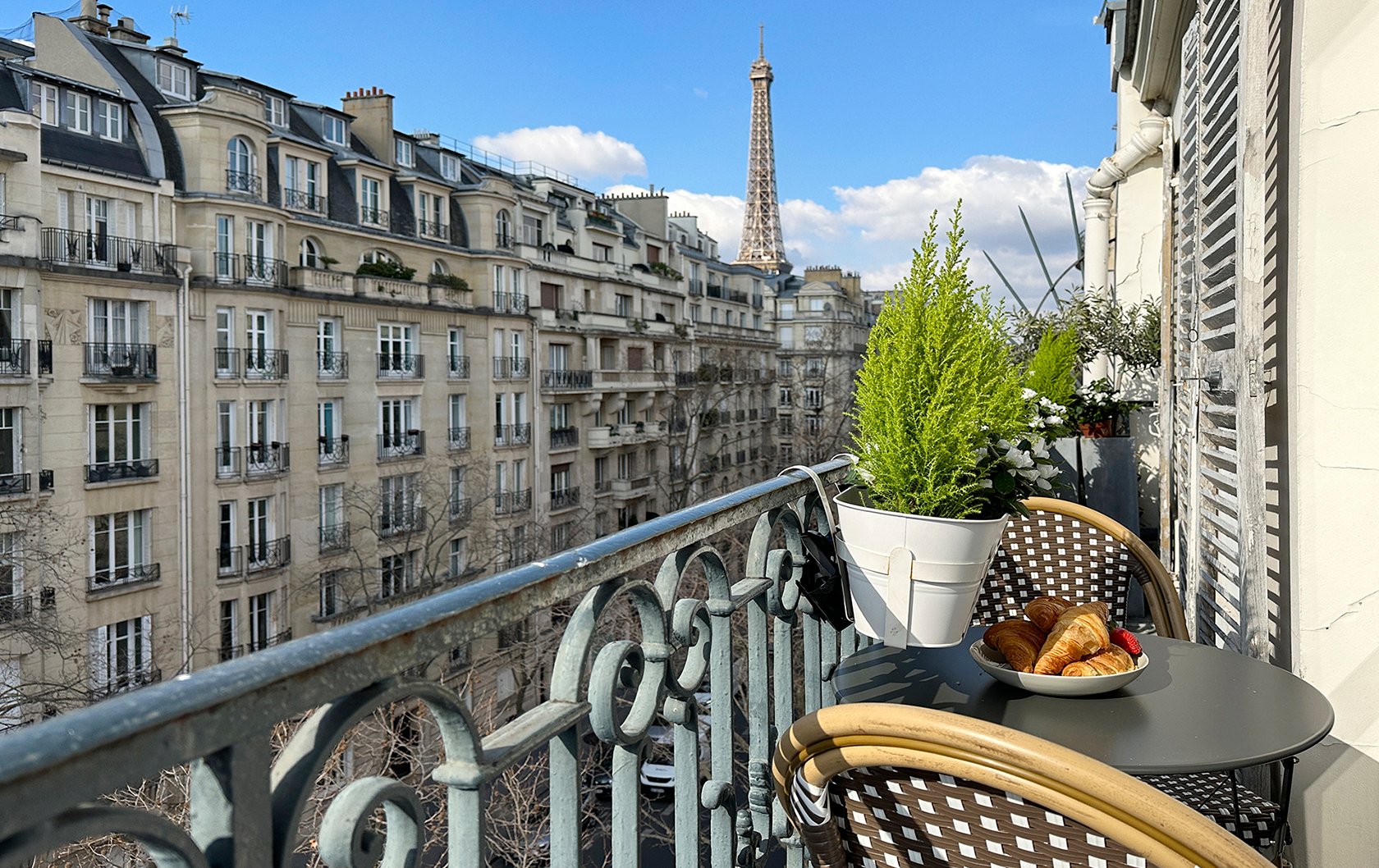 Every once in a while a property so perfect comes along that we know we have to transform it into a dream apartment for sale in Paris. We gather our trusted team of builders and designers and create a stylish and beautifully finished Parisian home. That's exactly what happened with Beaux Rêves, a gorgeous one bedroom, two bathroom apartment in one of the loveliest spots in Paris. Just look at that Eiffel Tower view! If you've been dreaming of owning a home in Paris but don't want the hassle, problems and cost of remodeling or decorating, this is the perfect property for you. We can't emphasize enough how rare it is to find an apartment that is completely renovated and decorated to this extremely high standard. So much thought has gone into it and every single detail is move-in ready – down to the espresso cups. It is completely ready for you to enjoy Parisian living!
A property as special and finely finished as this won't be on the market long. And with the US Dollar is at an almost 20 year high against the Euro, now is a particularly good time to invest in a Paris apartment. Enjoy the photos and information below and contact us at [email protected] if you're interested in finding out more.
Fully Furnished Apartment for Sale with Sumptuous Elegance & Eiffel Views
We knew Beaux Rêves was a dream from the first moment we saw the superb setting along an elegant tree-lined avenue in the 7th arrondissement. The location was key: just two blocks from the rue Cler market street and excellent open-air markets, near our favorite boulangeries, cheese and chocolate shops as well as fabulous bistros and restaurants that locals rave about, which is the best sign of a great place to eat in Paris. With the Champ de Mars garden and tons of transportation connections right at your doorstep, it's truly a perfect location. The Haussmannian building is full of charm and includes an elevator – a must! This is because the Beaux Rêves is located on the most coveted of all floors in historic Parisian buildings: the fifth floor. This is where you'll traditionally find a balcony, and the one at Beaux Rêves is an absolute stunner!
It's the longest balcony we've ever seen and the magnificent view of the Eiffel Tower is why we named this apartment Beaux Rêves, meaning beautiful dreams. There's also a lovely view of the École militaire—Napoleon's military school—and the pretty tree-lined street below. You'll enjoy the Parisian views from the cute bistro table on the balcony. A Parisian dream come true!
When you step inside Beaux Rêves, you'll see that every element is a dream as well. We've completely remodeled it to perfection to create a spacious one bedroom, two bathroom apartment with a separate living room that has two French doors leading to the balcony. Measuring 560 square feet (52 square meters) plus the long balcony, this apartment has an excellent layout. The elegant entryway opens to a central hallway and to the left you'll find the living room with two entrances to the separate kitchen and dining area – both with beautiful light and large French doors to the balcony.
Already beautifully decorated and ready to welcome you home, with Beaux Rêves you can skip out on the hassles, cost and stress of renovating and decorating an apartment. Every detail has been carefully thought out, including a rare two bathrooms and two toilets – almost non existent. The décor has been hand picked with a mix of contemporary furniture and gorgeous antique touches such as the chandeliers, statement mirrors, original Impressionist paintings and marble fireplaces. You'll find our statement Hermès scarf framed above the living room sofa that echoes the room's beautiful design, just one of the inspired touches from expert designer Ann Huff of Huff Harrington.
The artwork is a very special touch throughout the apartment. Many are Impressionist paintings by the master Maurice Fallies and others are contemporary. All of the pieces are original watercolors and paintings, each one beautifully framed and telling a unique story of Paris.
Dining at Home – Parisian Style!
Just beyond the living room, Beaux Rêves has a spacious kitchen and dining room with a large French door that opens to the balcony. We love how there are two entrances connecting the living room and kitchen to create a better flow between the spaces while also separating them.
The sleek kitchen features soft powder blue lower cabinets and white upper cabinets. We've installed the highest quality appliances including refrigerator/freezer, microwave/convection oven, induction burners. Plus the design isn't just beautiful. There's plenty of counter space and storage to store your toaster and other appliances tucked away.
An antique marble mantle and gorgeous mirror create an elegant atmosphere that's even more appealing after dark as the chandelier light is reflected in the mirror. Every space in Beaux Rêves is a place of beauty and each detail has been carefully selected to create an elegant home in Paris.
With some of the best open-air markets in Paris nearby and the incredible rue Cler market street only two blocks away, you'll find everything you need for cooking and enjoying French favorites at home. Plus, just imagine stepping out onto your own balcony to watch the Eiffel Tower sparkle at night!
Your Own Perfect Bedroom in Paris
Just across the central hallway is a gorgeous bedroom that has been beautifully remodeled and decorated. The large window fills the room with light and it's located on inner courtyard for quiet. Find the best quality extra wide queen bed from the French supplier to the top luxury hotels in Paris. And thinking of everything, there's extra storage underneath thanks to the hydraulic lift operated container bed.
The lovely wallpaper adds a soft touch that's perfectly complemented by the built-in closets with traditional molding and mirrors. With the beautiful wardrobes and the large space under the bed, you'll have plenty of storage in this apartment. In every room of Beaux Rêves we've thought of all the little touches like USB ports next to bed on both sides along with plugs. You'll feel right at home!
Designing a Stylish and Functional Modern Apartment for Sale in Paris
When it comes to living in Paris, we know you need a space that captures all the allure and romance of Paris while also being functional and comfortable for modern living. That included a dedicated space for working at home or keeping in touch with family and friends. You'll find the perfect spot for making those Zoom calls or catching up on emails located just off the central hallway.
During the renovation, we were able to create two full bathrooms and included a comfortable sofa bed in the living room so you can easily welcome family and friends who want to enjoy your marvelous Eiffel Tower views and home. The Italian designed sofa converts easily to single beds as needed. Your Paris-loving guests will thank you!
The Beaux Rêves includes two bathrooms: directly next to the bedroom is a bathroom with large shower and sink. On the right after entering the apartment is a separate powder room with beautiful tiled details. Just past the powder room, you'll find a room with the desk area, a full washer and dryer and beyond that the second bathroom with shower, sink and second toilet – a rarity in Paris!
We can't get over how every detail of this apartment comes together to create a bright, welcoming and stunning home in Paris. We know you'll fall in love with it too!
Beaux Rêves has a dream location in the 7th arrondissement, an elegant and highly sought after neighborhood that's noted for its excellent quality of life. With open-air markets nearby and the fabulous open-air market street rue Cler only two blocks away, you'll love shopping for the freshest produce. You'll be spoiled with so many fine cheese shops, butchers, bakeries and, of course, many supermarkets right at your doorstep. And when you aren't cooking at home in your beautiful kitchen, there are some of the city's top restaurants as well as charming cafés nearby.
Whether you're starting the day with coffee on your balcony with a view of the Eiffel Tower or perhaps taking a morning run through the Champ de Mars gardens or along the Seine, the Beaux Rêves is the perfect setting for enjoying the finest of Parisian living every day.
Call the Beaux Rêves Home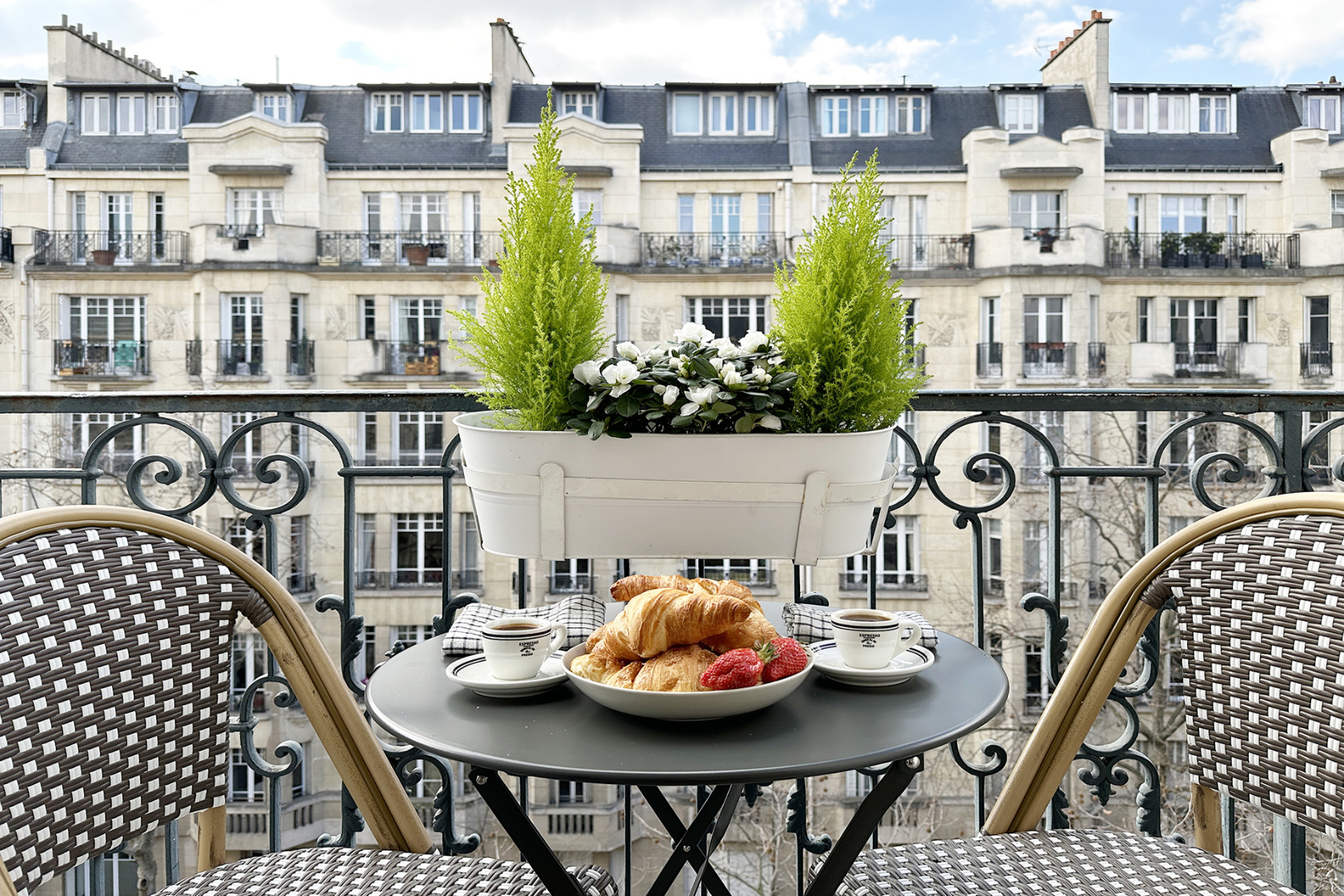 Are you ready to make your beautiful dream of living in Paris come true at Beaux Rêves? Fully remodeled and designed apartments are a rare find in Paris and we know the lucky buyer will enjoy every part of it. Contact our team at [email protected] for all of the details and to schedule an in personal or virtual showing. Don't miss this rare chance to call the truly perfect Beaux Rêves apartment your home in Paris!
If you love the idea of living in Paris and want to find out more, check out Paris Perfect Shared fractional co-ownership and read our 10 Best Tips for Buying an Apartment in Paris.