Weather in Paris
The weather in Paris changes with each season. Find out what to expect during by reviewing the city's temperature and rainfall averages, and don't forget to also check out our packing tips.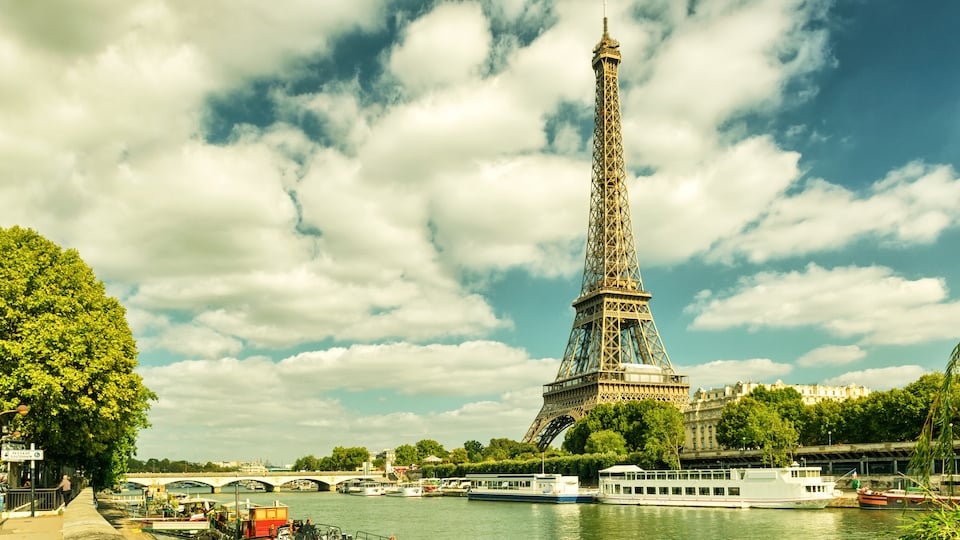 Paris experiences mostly mild weather across four distinct seasons. Average daily highs range from 46°F (8°C) in the winter to 77°F (25°C) at the height of summer. Extreme cold or heat are pretty rare, but rain is not. In Paris, light showers can come and go quickly throughout the day. To get a better idea of what kind of weather you can expect on your trip to the City of Light, have a look at the following table, which lists the city's monthly average temperatures and rainfall days.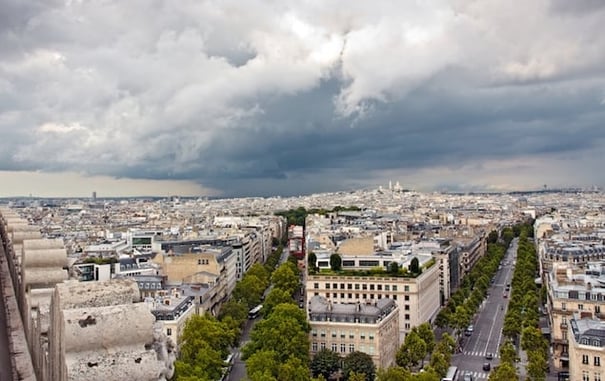 Average Annual Rainfall & Temperature in Paris
| | | | |
| --- | --- | --- | --- |
| Month | Average High (F°/C°) | Average Low (F°/C°) | Wet Days |
| January | 45 / 7 | 37 / 3 | 14 |
| February | 46 / 8 | 37 / 3 | 13 |
| March | 54 / 12 | 41 / 5 | 14 |
| April | 61 / 16 | 45 / 7 | 14 |
| May | 68 / 20 | 52 / 11 | 12 |
| June | 73 / 23 | 57 / 14 | 11 |
| July | 77 / 25 | 61 / 16 | 11 |
| August | 77 / 25 | 61 / 16 | 10 |
| September | 70 / 21 | 55 / 13 | 11 |
| October | 61 / 16 | 50 / 10 | 13 |
| November | 52 / 11 | 43 / 6 | 15 |
| December | 46 / 8 | 37 / 3 | 15 |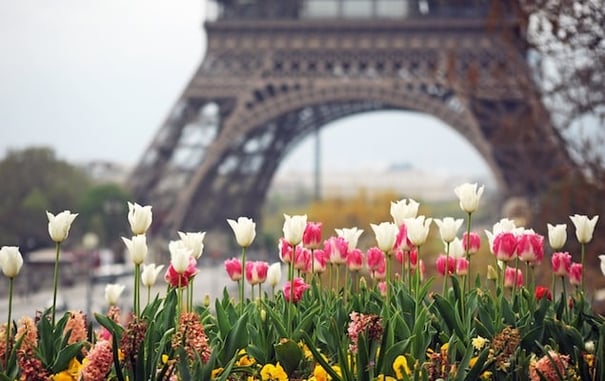 Seasons in Paris
Each season in Paris brings out a different side of the city's personality. Click to see what to wear in Paris in Spring, Summer, Winter or Fall, Bold, beautiful and in bloom, Paris puts on a lush and colorful display for visitors in the spring and summer months. Eventually the warm weather gives way to the cool crisp air and crunchy leaves of autumn, a time when Paris absolutely glows with photogenic hues of yellow, orange and red. In the winter, the city shows off its festive holiday spirit alongside cooler temperatures and wet weather.
Spring (March - May)
A popular time of the year to visit the French capital, spring in Paris starts out chilly with daily highs of around 54°F (12°C) in March. By May the weather warms up to a very pleasant 68°F (20°C) - perfect for spending the day exploring the city's beautiful gardens and parks. You can read about our Top 5 Parks and Gardens on our blog here.
Nights remain pretty cold throughout the season and don't be surprised by light showers. Always carry a lightweight jacket with a zip on hood just in case… Read this blog about What to Pack for Paris in the Spring.
Stay at the La Musique apartment in the Marais, a gorgeous two bedroom apartment so you can explore the neighborhood around you and also enjoy a great home.
Summer (June - August)
This is the height of tourist season in Paris, and it is accompanied by matching high temperatures. Expect daily highs of at least 83°F (25°C), accompanied by brisk nights of around 55°F (13°C). As luck would have it, this the driest part of the year - sunglasses are an absolute must! While these temperatures may not seem very high to some, keep in mind that humidity can make Paris feel warmer. My favorite idea is to picnic in front of the Eiffel Tower on the Champs de Mars Gardens while the sunlight lights up your day until 10pm! We recommend the Calvados apartment nearby, a great price with an Eiffel view! When you're out and about on a sunny summer day in the French capital, be sure to keep a water bottle with you to stay hydrated.
Autumn (September - December)
With locals back from their summer holidays and thinner tourist crowds, there's a great buzz around Paris in autumn. Temperatures cool down quite a bit beginning in October, but if you've packed a jacket, autumn is the perfect time to enjoy long walks through stunning neighborhoods and a stroll along the Seine River. Be prepared for the occasional chilly rain shower and bit of wind. Daily highs range anywhere from 46°F (8°C) to 62°F (17°C), so pack accordingly!
Winter (January - February)
Despite shorter days and decidedly wetter weather, winter is truly a special time of year in Paris. Staying true to its City of Light moniker, the French capital sparkles under the glow of festive holiday lights. Rent an apartment with a City view, such as Chambertin or Cognac and you'll love spending afternoons with a glass of wine and crusty baguette -- cozy and warm at home while the Eiffel Tower lights up right in front of you!
Enhanced by the occasional dusting of snow, visiting Paris in winter can be a magical experience. Expect daily highs of 46°F (8°C) and night time temperatures near freezing. Our advice to stay warm and take advantage of the winter sales in the cosy boutiques and shopping malls. Take a look at our shopping guide here.
Sign up for our Vacation Perfect newsletter and real estate updates.