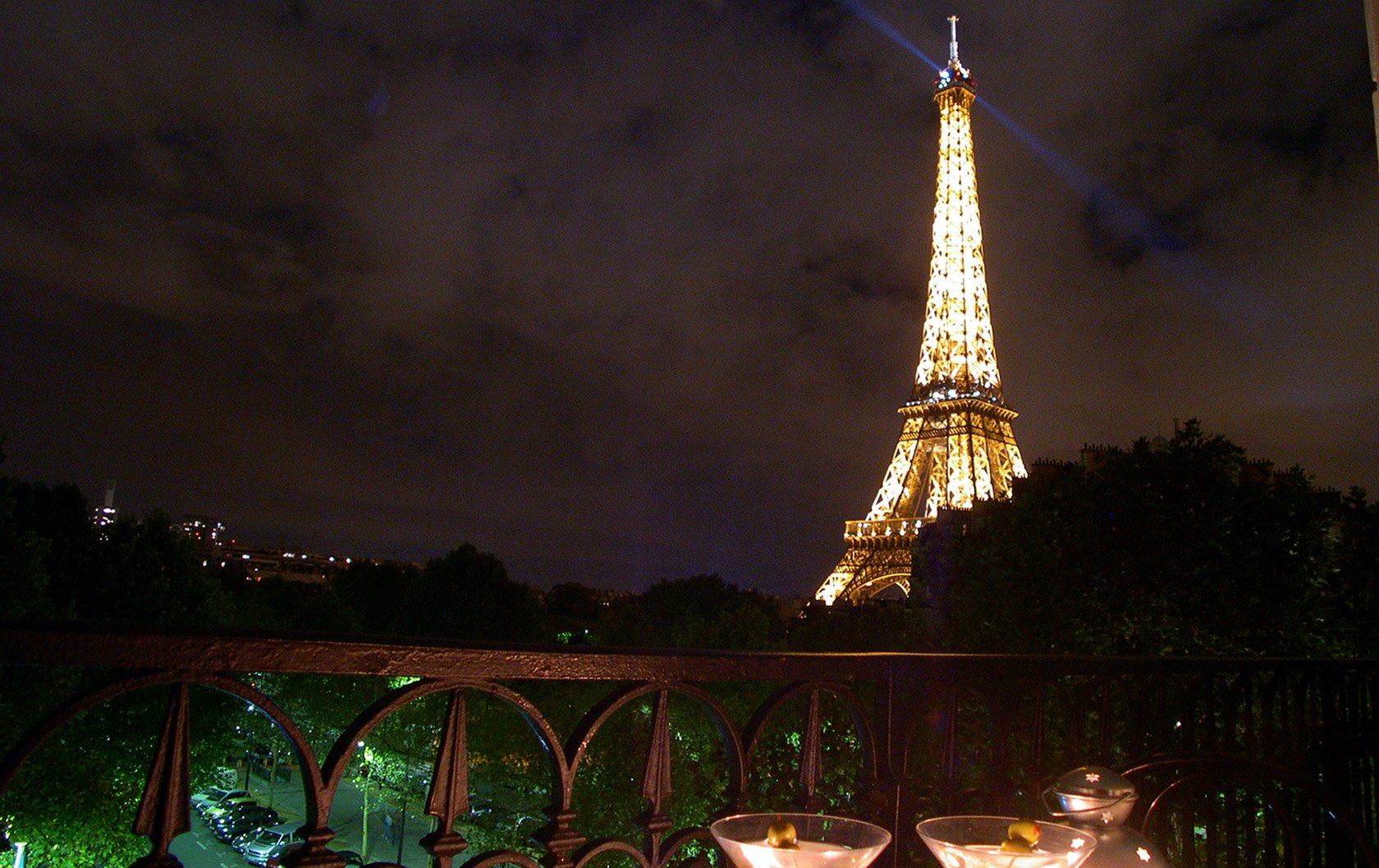 Our Merlot apartment in Paris was redecorated recently and we just took new pictures! We thought you'd be interested to see the evolution in styles and colors over the years. Here are the changes…
Before Purchase:  Original owner's first  Paris apartment.

The first pictures were taken the day we viewed it.  It was owned by a young French lawyer who was being transferred to New York, her dream! It was clean and neat, but lacking charm; furniture was strangely over-sized; pictures on the walls were tiny.  Our initial impression was ho hum … until we stepped t onto the balcony and saw the view!! Price negotiations ensued and the offer was confirmed and accepted in writing just minutes before a full asking price offer came in. Sold! Three months later the works began…
The style of the apartment reminded me of own first apartment out of college, many years ago.  My first real job and apartment, using bits and pieces of cheap furniture, lots of bright paint to make it look beautiful.  The Merlot owner had good quality upholstery, but over-sized and dark. She also had the advantage of cheap furniture from Ikea seen in dining table, mattresses, lamps and more.
The French have an expression  to 'mettre en valeur' or making it show its worth. This was our challenge!
First Viewing of the Merlot Apartment

Before Purchase:  Living room
Small prints on the wall didn't do justice to the room and the furniture felt over-sized.
After First Remodel:  Merlot living room

We reinstated a fireplace on the left wall where the maroon sofa was. Found an antique marble fireplace in the right proportion at the Puces Flea Market in Paris and hung a simple gold leaf antique mirror above it. Notice how the large pictures on the walls make the room seem larger….
First Remodel of the Merlot Apartment Rental
After Second Remodel:  Merlot living room today
More homogeneous look with antique white furniture as the background. Lighter and larger feel.
After First Remodel Towards Balcony:  Louis XV Armchairs in Merlot apartment
It's hard to find comfortable armchairs that fit the smaller sizes of French apartments. We continued to look for something that was completely upholstered, finally finding them in London.
After Second Remodel:  The whole project began when we found a pair of comfortable gray flannel armchairs!
We searched for comfortable armchairs for years – not easy in France where your choices are Louis XXX, super modern or over-sized. We found this beautiful pair at Andrew Martin in London. Elegant and comfortable, upholstered in dark grey flannel. We used the colors as the basis for the new look. Antique white wood, red check curtains and accents to blend the look.
Napoleon II Library Table on the right: Philippe found a beautiful library table near his parent's home in Normandy. You can see it on the left with beautiful gray marble top. A large flat screen TV sits on top, comfort and convenience.
After Second Remodel:  View towards the sofa
We found a canvas painting from an old stage set and hung it behind the sofas.. The soft colors blend with the beiges/grays and reds of the living. The lamps are modern reproductions of torches and were originally in brown oak. We applied white wax from Luberon (I'm becoming their biggest salesperson!) to give them a similar look to the other wood.
The paintings on the right are copies of wine labels.
After Second Remodel:  A warm welcome home in the evening
Before Purchase:  French doors and balcony
After First Remodel:  View of French doors and dining table
After Second Remodel:  Dining area of our Merlot rental today
White antique style dining table expands to seat 8. Pretty red/cream checked curtains. Over-sized prints and a large chandelier. The dresser is as beautiful as ever.
Modern beech-wood table was replaced with a limed oak one and matching chairs.
The antique dresser from Normandy is a beautiful piece that Philippe found at an auction house in Normandy Funny story when we discovered after we bought it that it belonged to a very good friend of his parents who was downsizing and sold it with great reluctance!
Dining En Familie in Paris
Comfortable chairs and stunning front seat views of Paris outside.
Before Purchase:  Bathroom
There was only one bathroom tiled in white with bathtub and the basic French flex telephone shower. The toilet was next to the kitchen. We moved walls, widened toilet and converted it to a second bathroom with step in shower, toilet and sink.
The bathroom: The neighbor on the opposite side of the bathroom wall  was actually in the adjacent building, but the insulation was so thin that she could hear the owner getting ready ready for work every morning. She came over during the works and asked if we could do something about it.  As she said with an embarrassed blush: "J'entends tout…tout!" We insulated the walls and it worked beautifully; she has never complained about noises emanating from the bathroom since.
First bathroom totally transformed!
We found antique marble bowls in London, had them drilled out and modified for sinks. Found a copy of an antique freize of a mythical fish for the far wall and used used pale limestone tiles for the walls and front of bathtub. Built a sink counter of Pierre de Calisa limestone with glass shelf underneath.
The bathtub has a fixed shower head on the far left (not shown) and a flexi head as well. We moved the walls and made room for a cupboard where we installed the washer and separate dryer. What a change! The bathroom has stood the test of time.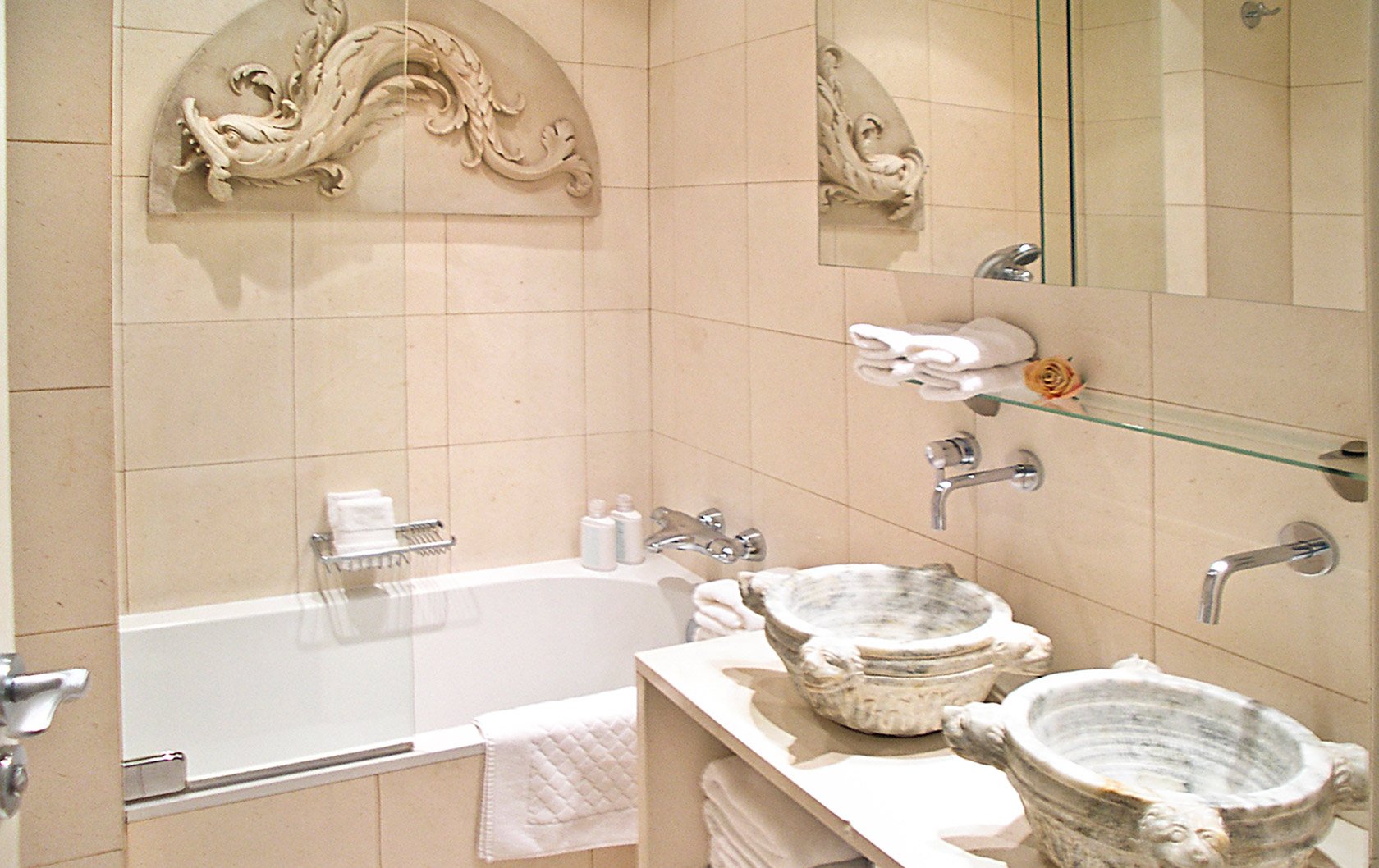 After Second Remodel:  Bathroom 2
We transformed the original WC into a shower room by moving the walls. Tiled it simply with pale green mosaic tiles and another marble bowl, this one found in Italy. Just the right size for this room.
Before Purchase:  Second Bedroom
We all remember our days of mattresses on the floor! A queen-sized mattress was a little wide for this room….
The 2nd bedroom today
Single beds on opposite walls created a charming second bedroom. We bought an armoire which wasn't installed when we took the picture; it sits on the right wall next to the bed.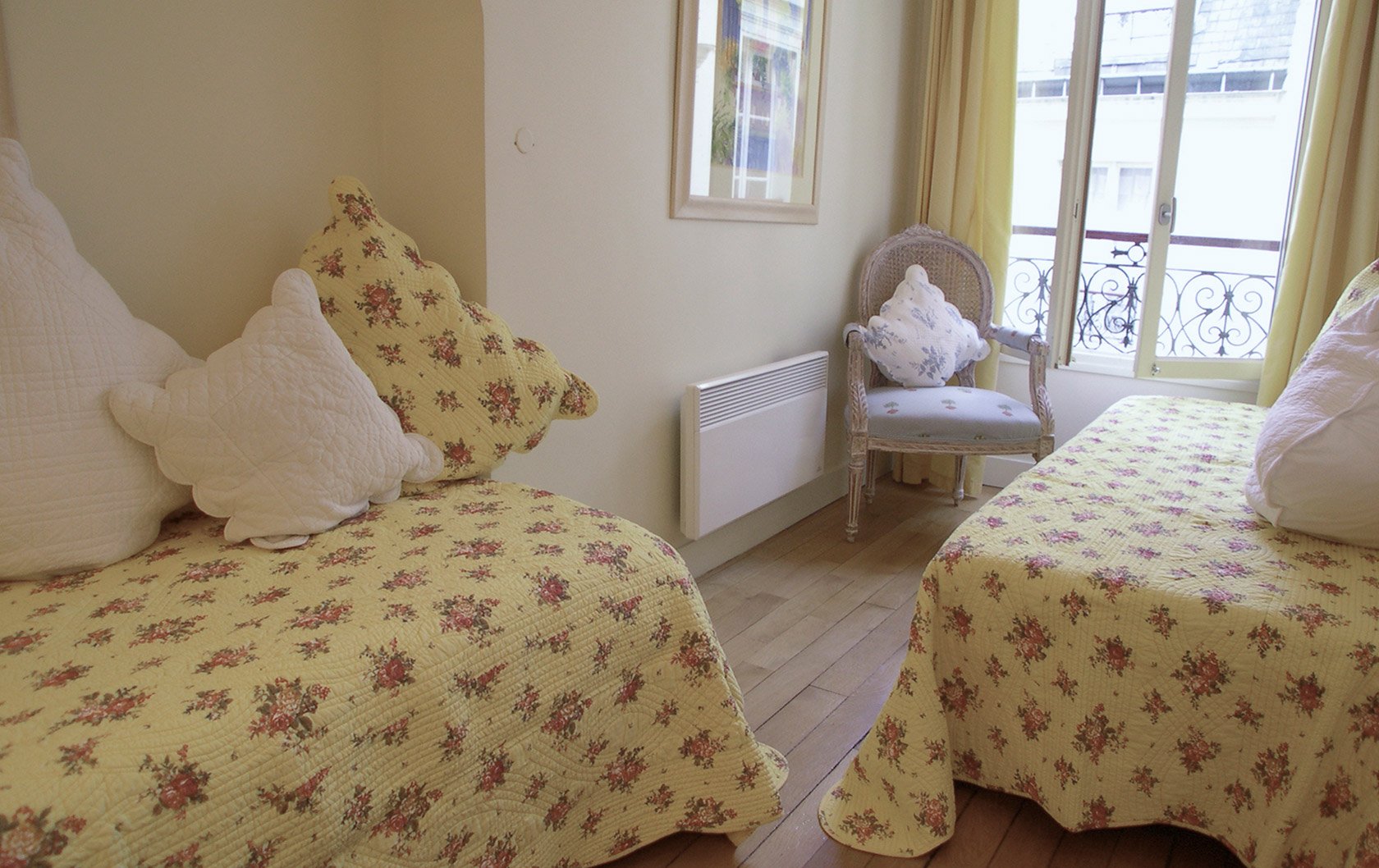 Small improvements in the second bedroom include a white French armoire and pretty antique nightstand. Petit Poule Francais: brass lamp in second bedroom. A chicken carrying a workbasket…
Before Purchase:  Master Bedroom
First Remodel:  Master Bedroom
Master Bedroom today
We softened the colors of the master bedroom, replacing the Venetian style headboard with an antiqued white one. I antiqued it myself early one morning with white wax. For more information on how to antique furniture, click here.
Pretty cream curtains and an antique pelmet from Italy complete the new softer look for this romantic bedroom. We also installed air conditioning throughout, a rare plus in Paris.
Before Purchase:  View from hallway into the kitchen
A pretty drab sight. This dark hallway needed to show off the original parquet floors and we think uplights and a large mirror were needed.
After Remodel:  View of hallway towards kitchen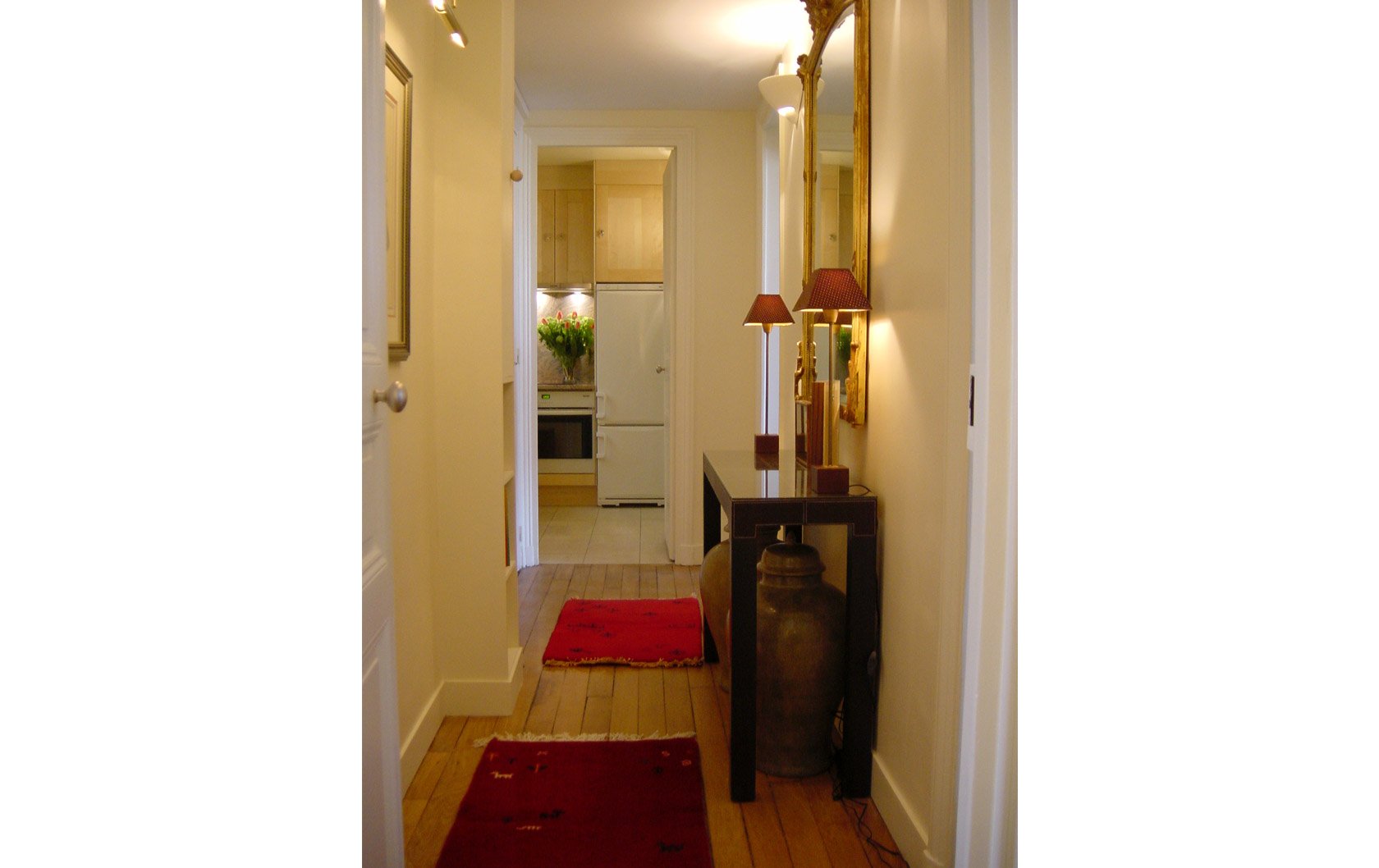 Better lighting, large elegant urns under the leather console table, pretty lamps.
Before Purchase:  Kitchen
No counter-space or storage in the old kitchen.
After First & Second Remodel:  Kitchen has stood the test of time!
The remodeled Kitchen has stood the test of time: Beautiful and practical. We moved the washer to the bathroom and installed a separate dryer. In its place is a full sized refrigerator/freezer combination.  Our favorite granite is this one, with beautiful swirly veins in pink and gray.
The view is eternal
After many years of trial and error ourselves, we appreciate and admired the talent of interior designers. But the main credit for Merlot was already done for us: Gustave Eiffel designed one of the most amazing architectural wonders in Paris that you can gaze at from the french doors and balcony.  Haussman carved out the beautiful tree-lined Boulevard below.
Morning views from Merlot's balcony
After Sunset in Paris: Night Views from the Balcony
We hope you get a chance to stay here and enjoy!
Madelyn
p.s. on the fireplace:  Actually there was an antique style white porcelain stove on the left in the living room which served for heating and as a stove in ancient times. Philippe didn't think it was worth anything so sold it for $50 to a junk man. I have never forgiven him!
Antique White Porcelain Stove: Coal filled the lowest compartment and the brass doors in the middle were for baking. Philippe said it reminded him of his early days working in pathology and sold it without realizing  it was a wonderful piece of history.
We hope you enjoyed our decorating efforts!