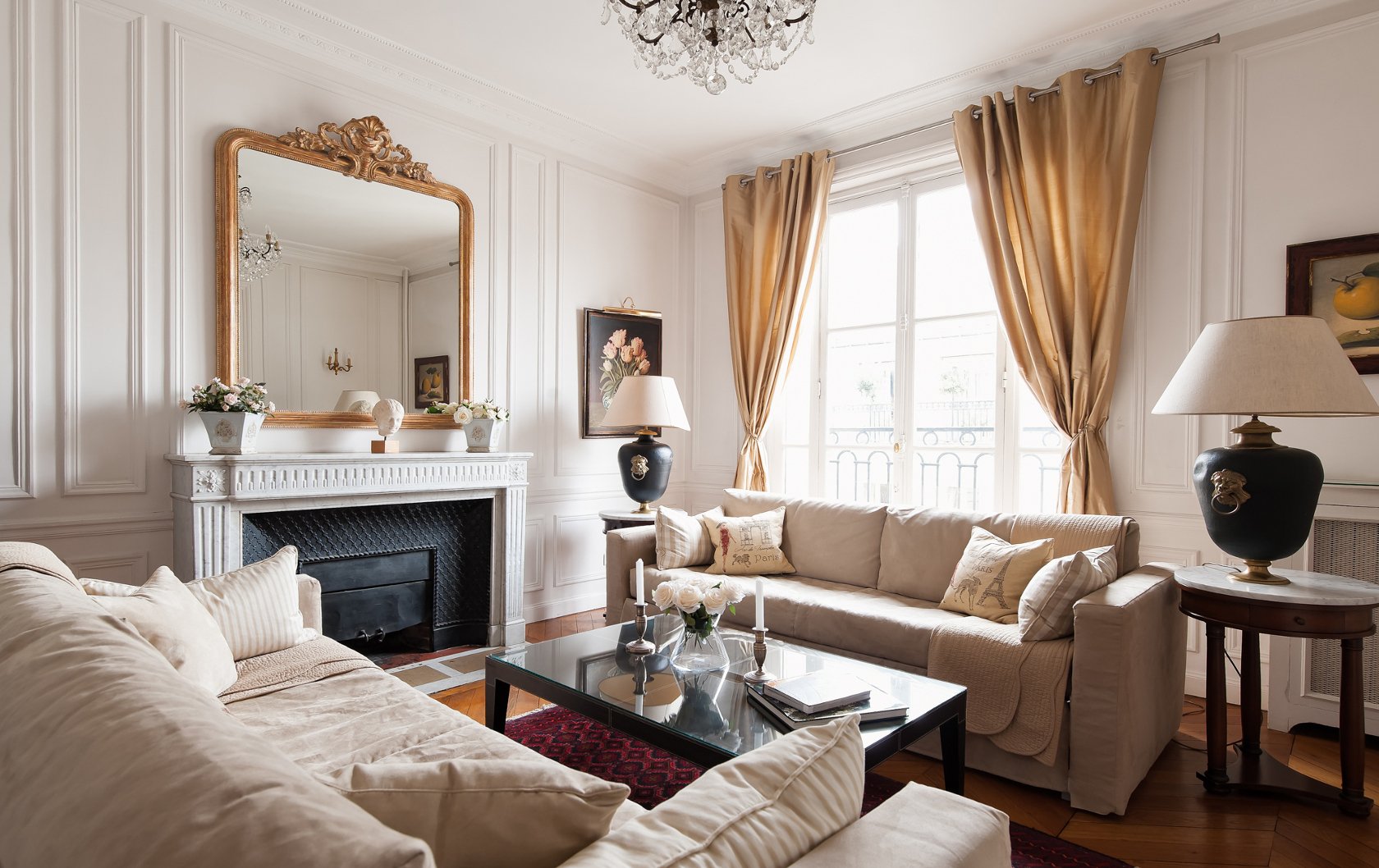 As much as we dream of it, we can't all live in gorgeous 19th-century Parisian buildings. We can't all have the marble fireplaces, the floral ceiling moulding or the original wood flooring. Thankfully we can visit Paris as often as possible and, in the meantime, make your home feel Parisian.
How to Make your Home Feel Parisian
In our opinion, the Paris Perfect home has the quintessential French touch of livable elegance. Just like Parisian fashion and beauty, one shouldn't try too hard. Rather, a room should come together organically. Nothing is too matchy-matchy and even among antique furniture and golden frames, the entire space should feel comfortable and inviting.
With these 5 décor pieces, you can welcome the romance of Paris into your home! These are easy additions that don't require a second mortgage or laborious construction projects and they'll keep your wandering spirit at bay before your next tip to Paris!
Floor-to-Ceiling Curtains
Even if your home isn't graced with tall, elegant French windows, you can still fake the effect by installing floor-to-ceiling curtains, regardless of your actual window height. The curtains will create an illusion of a larger space and act as a structural frame to the room. If you're handy with a sewing machine, consider creating the curtains yourself with fabric bought in Paris; It could be a home décor project and souvenir all-in-one! Madelyn shares the best places to buy fabric in Paris in this blog post: Where to Shop For Fabrics, Curtains & Tassels in Paris.
Gilded Frames
A gilded mirror above a marble fireplace is a quintessential Parisian scene – but if you lack the 200-year old fireplace, simply hang it above a dresser or buffet table. A grouping of prints or photographs all framed in gold would also make an incredible statement anywhere in the house. Visit flea markets or swap meets in your area and keep your eyes peeled for frames or mirrors in any color. If the frame has a beautiful shape but the wrong color, all it needs is a little gold paint! You can also visit any one of the amazing flea markets here in Paris! Take a peek at one of the lesser known markets in this blog post: Treasures and Trinkets at the Vanves Flea Market.
Chandelier
Chandeliers don't have to be large or ostentatious and they're not singularly reserved for ballrooms and palaces, and they do make your home feel Parisian. They come in all shapes and sizes and adding one will impart a delicate sparkle to your space. A perfect spot to add one is over your dining room table! You can find chandeliers pretty easily in home décor shops, but if you're set on something truly antique, check out the famous Marché aux Puces de Saint Ouen on your next trip to Paris – it's the largest antique market in the world!
Vintage Oriental Rug
Slightly faded oriental rugs make for the perfect canvas. Put your traditional furniture on top of it for a thoroughly old-world effect, or even place your modern pieces over it for a more eclectic vibe. Also, don't be afraid to layer rugs! It may seem strange, but here's a helpful guide for how to do it like a pro: 8 Tips for Layering Rugs.
Fresh Flowers and Wine
Sometimes, it's as simple as adding a few finishing touches. Parisians love their fresh flowers and wine. For a clean look, opt for a simple bouquet of tulips, roses, peonies, or any other seasonal flower. For something more sumptuous, indulge in an arranged bouquet, but always keep it feeling effortless and a tad bit imperfect to really make your home feel Parisian
_____________
For even more Parisian inspiration, check out our Pinterest page and browse our many beautiful vacation apartment rentals!