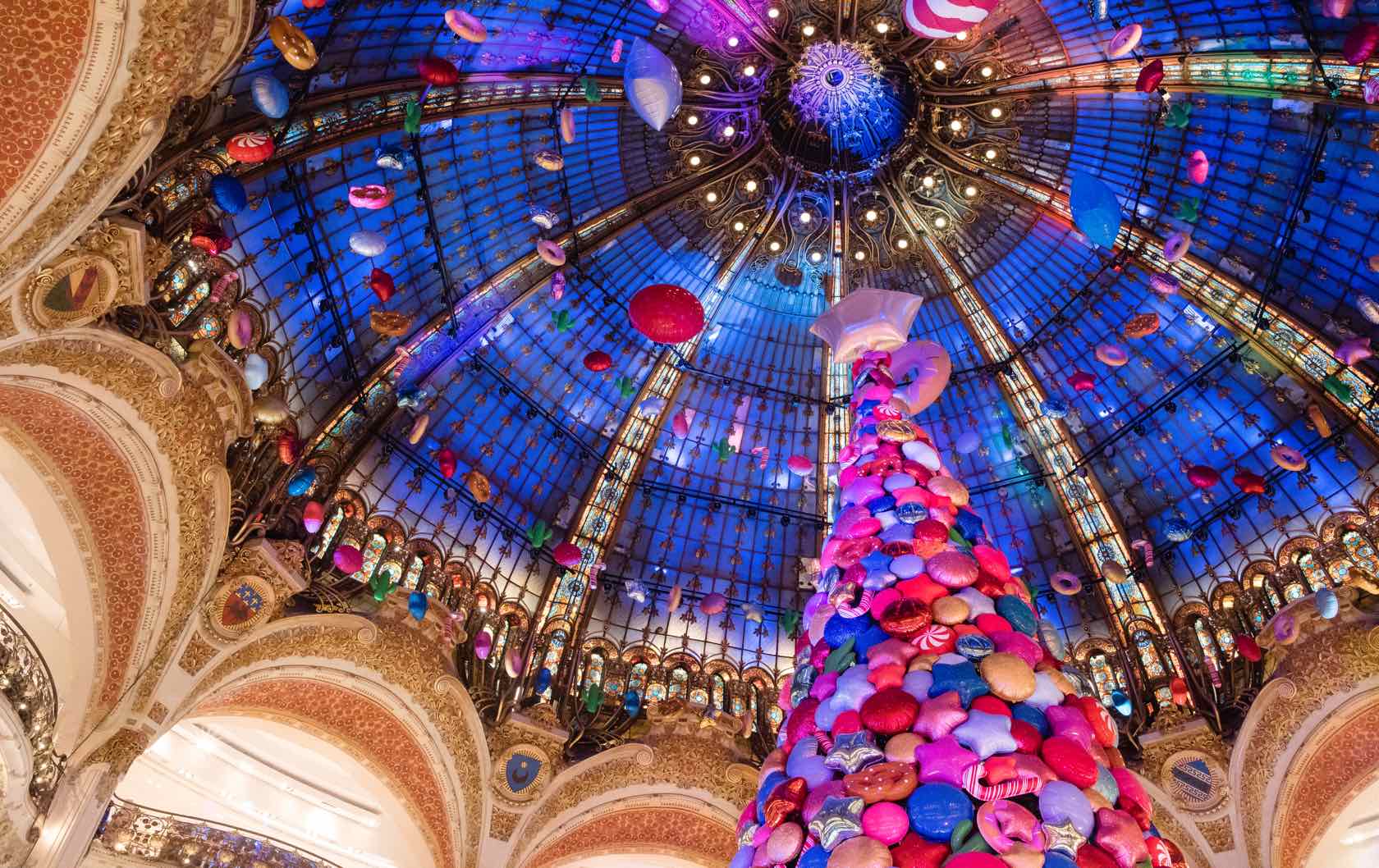 Christmas may be the most beautiful time of year to be in Paris! The City of Light dazzles with festive holiday illuminations, choirs, concerts, and events to delight everyone, young and old alike. Christmas in Paris tends to bring out the children in all of us, so whether you're traveling with children or not, take a moment to enjoy all this fabulous city has to offer at Christmas time.
Christmas in Paris
Here are some of our favorite holiday happenings to make your Christmas in Paris extra special.
Ice Skating
There are many places around the city to ice skate, including Hotel du Ville and the Grand Palais.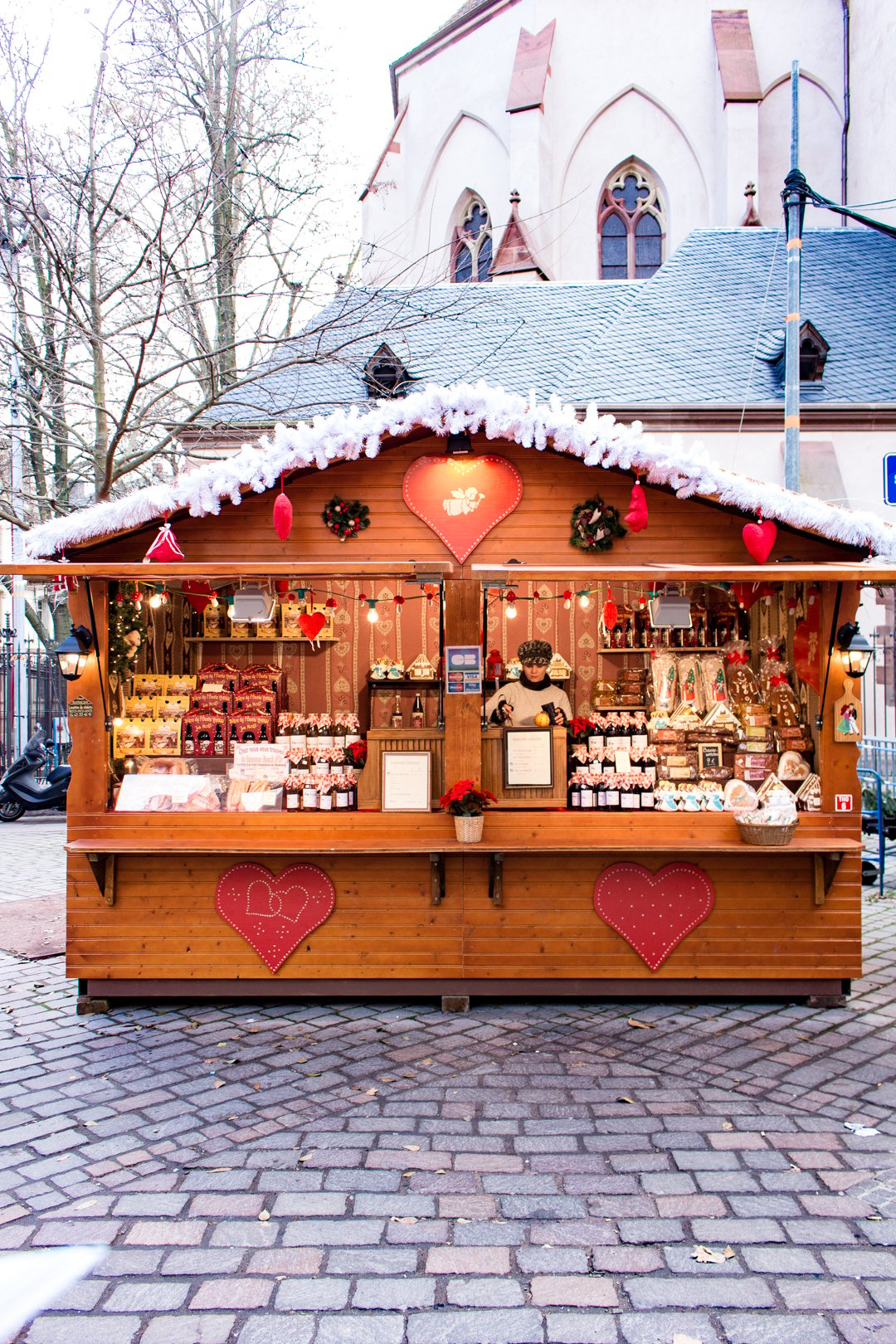 Christmas Markets
Wooden chalets line the streets with festive holiday markets, or Marché de Noel. Vendors set up a beautiful array of festive goods to tempt you with unique gift items and handcrafted specialties. You'll find artwork, jewelry, toys and delicious sweets.  Warm up with some Vin Chaud. There are nearly a dozen different markets to choose from. You'll find a full list of the markets here.
Christmas Lights
Paris sparkles in all her glory as thousands of lights illuminate buildings, bridges, churches, and monuments.  It gets dark early in winter, so plan to stroll in a different neighborhood each evening to take in the holiday magic.  We love the grand department store Galeries Lafayette, which is bathed in lights both outside and inside. And don't miss the child-pleasing, elaborate animated window displays. They put a riser in front of each window so even the smallest children can get a good view.
The trees along the Champs Elysees are enrobed in thousands of twinkling lights, and climb aboard the huge Ferris wheel near Place la Concorde for a dazzling view of the city lights. And while you're strolling, stop and enjoy a steaming Nutella crepe or roasted chestnuts from the street vendors.
Notre Dame
Yes, it's touristy, but is a beautiful place to visit, and not nearly as crowded as visiting in summer.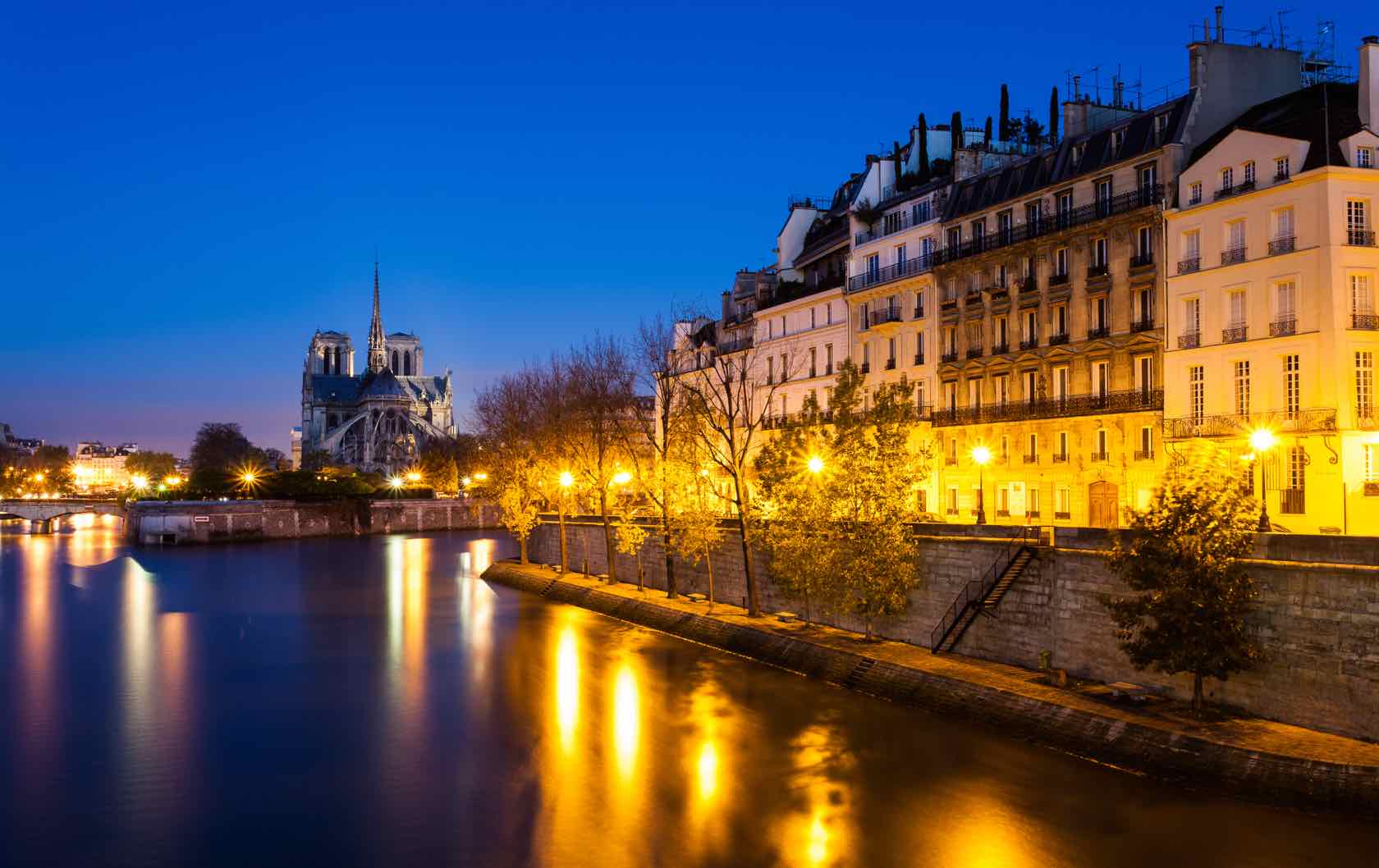 There's a lovely tree on display in the front courtyard, and we hope the beautiful lighted Nativity triptych panels are still on display.  Walk around to the back of the altar and look up, as the Nativity story is retold in beautiful lighted panels that come to life one story at a time.  Photos don't do justice!
Here is the link to main Notre Dame Cathedrale website in English, which lists upcoming Christmas concerts and choirs, as well as the Mass schedule.  Please check the Notre Dame website for alternatives due to the 2019 fire.
Traditional Holiday Food
Réveillon is the term for the traditional holiday family dinner on Christmas Eve or New Year's.  Christmas in Paris is all about eating "en famille", enjoying the best France has to offer. Fresh oysters from the Brittany coast and fois gras from the Dordogne, along with champagne, are served as appetizers, often followed by beef or duck. Our family enjoys daube de boeuf, which is a slow-simmered beef stew, marinated in wine and herbs. For dessert, the tradition cake is the Buche de Noel, or Yule Log. Pierre Herme is one of our favorites, but for good value, Picard always has good pastries as well.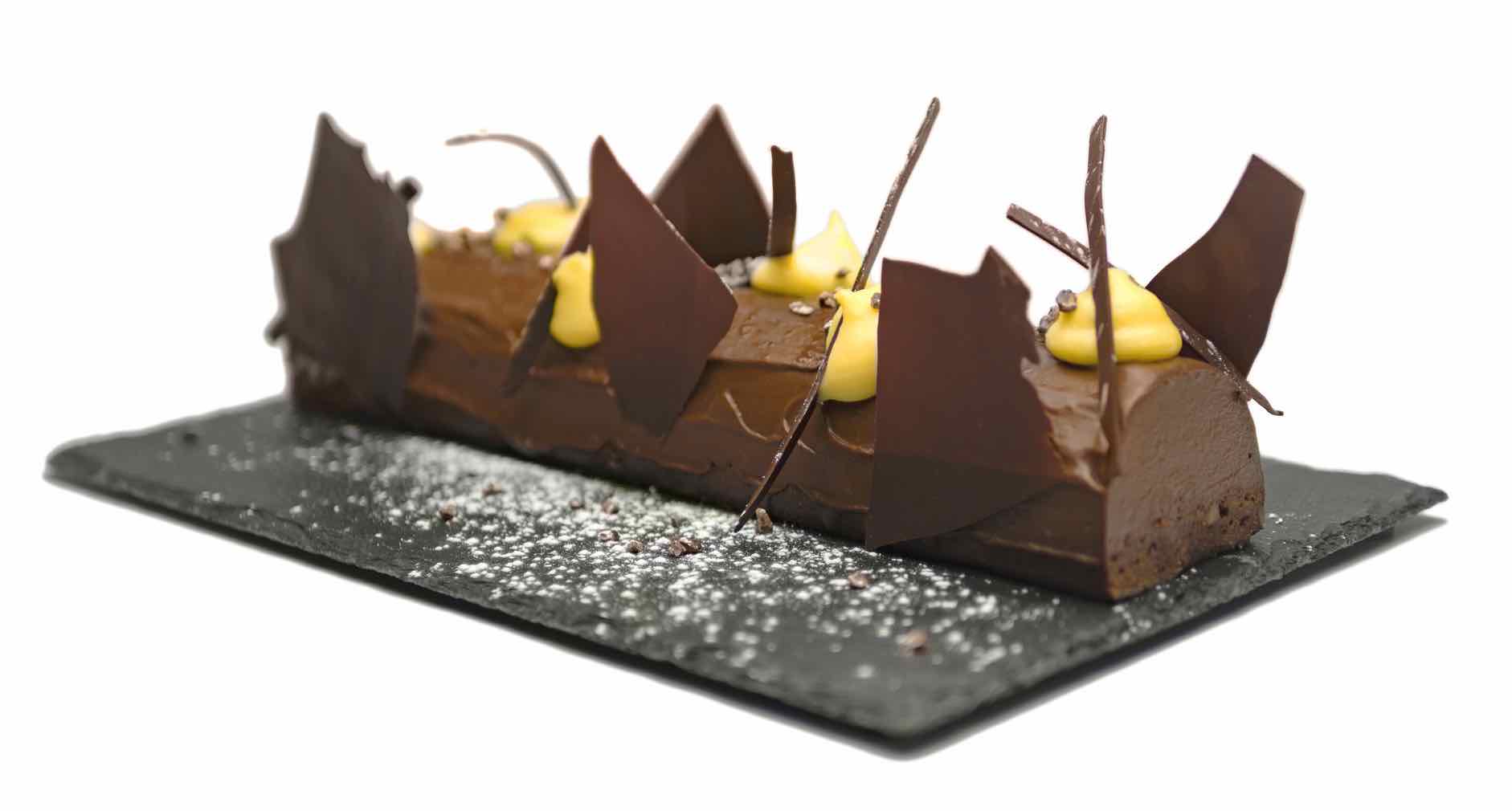 We think this is an interesting twist on the traditional Yule Log, non?
Many restaurants will be closed on Christmas Day, so make reservations for Dec. 24 if you want to enjoy a nice holiday dinner out.  Enjoy 3-star dining just across the river from our Paris Vacation Rentals at the Four Seasons George V or the Plaza Atheneé.  A beautiful walk across the Alma Bridge.
Or if you're staying in one of our luxury apartments, you can prepare your own holiday feast in your fully equipped kitchen to enjoy with your loved ones.  And remember, you don't have to slave away all day in the kitchen; you can purchase many holiday items as "take out" (emporter). The Rue Cler market in the 7th is a favorite.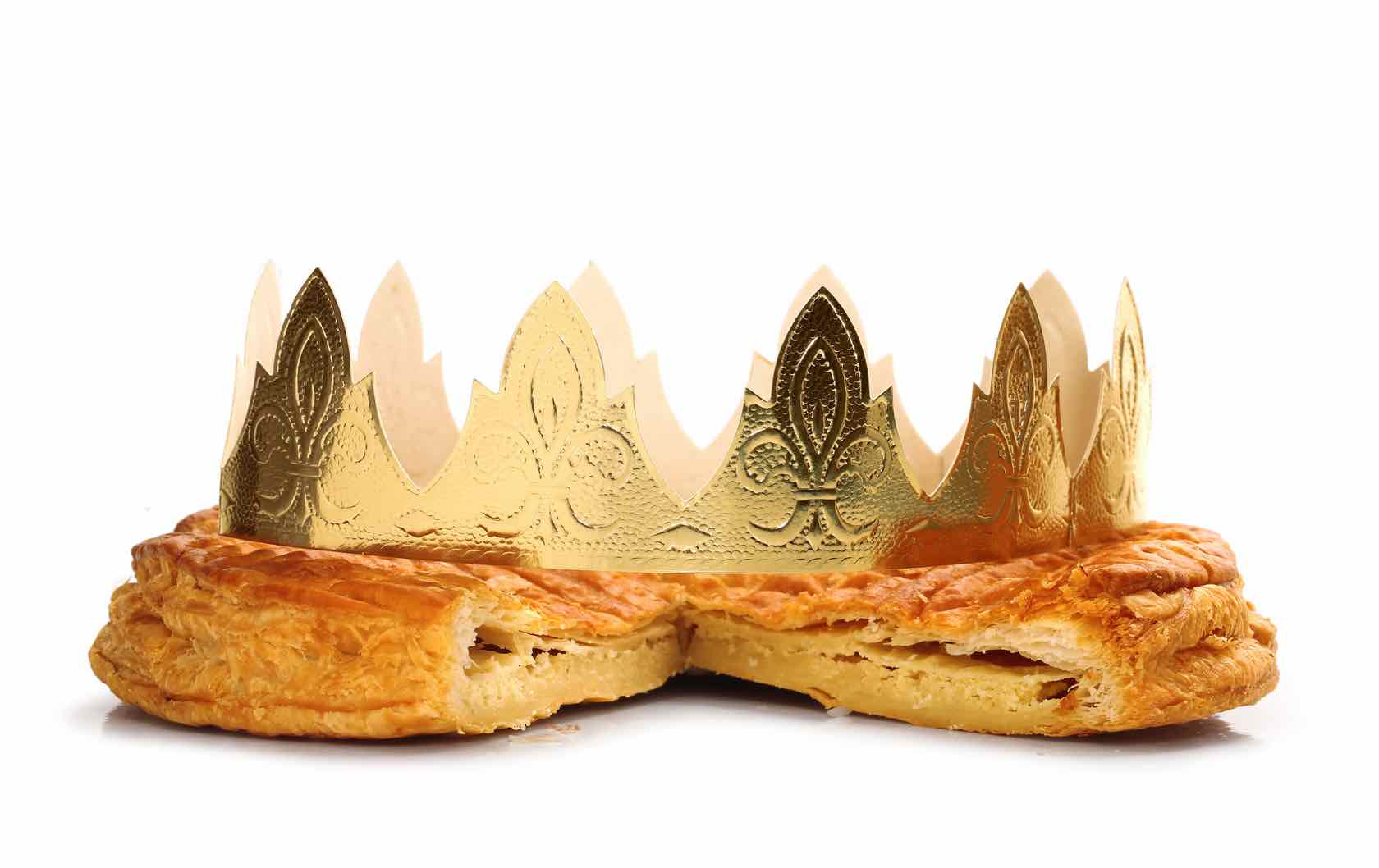 And for the Epiphany on Jan. 6, you must try the Gallette des Rois, or King's Cake. You'll see these round golden cakes in the windows of almost every patisserie and boulangerie.
The cakes are made of puff pastry, with almond pastry cream, sometimes adorned with dried fruits, and are often given as gifts to commemorate the Wise Men's gifts to the Christ child.
Disney Christmas
If you're looking for a treat for the children, Disneyland Paris has Santa, special holiday shows, festive decorations, and brilliant lights the kids are sure to love.
From all of us at Paris Perfect, we'd like to say thank you to all our guests, friends, and followers. We wish you a joyous holiday season and blessings in the New Year, whether you're spending Christmas in Paris or elsewhere.
Joyeux Noel & Bonne Année!
Madelyn, Philippe, and the entire Paris Perfect Team