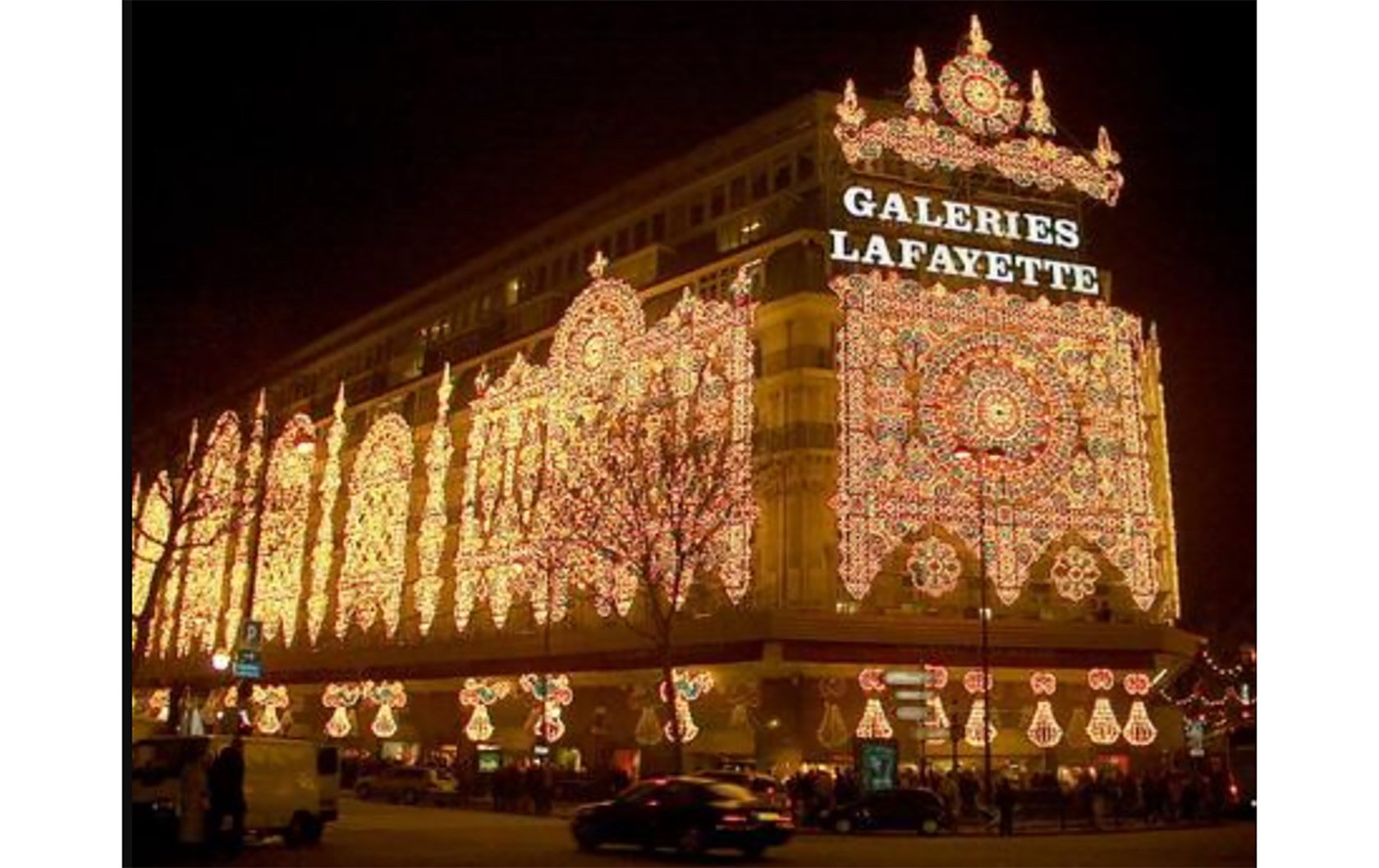 Galeries Lafayette
Galeries Lafayette is the place to go if you're looking for a last-minute gift for a loved one or a typical French souvenir.  Visit the information desk upon arrival and speak to one of the many multilingual greeters who will explain the layout of the store and the Christmas services offered.  They even have porters to help you carry your purchases!
Even if you've finished your Christmas shopping, it's worth a trip to Galeries Lafayette just to see the beautiful decorations and window displays.  The exterior is illuminated by 2123m2 of lace lighting and the interior features a giant Christmas tree and more festive lighting.
Address: 40, blvd Haussmann, 75009, Paris
–  Gift store is located on the 6th floor of Lafayette Coupole (the main Galeries Lafayette store)
–  Christmas shop is located on the 2nd floor of Lafayette Maison
Christmas Opening Hours  3rd – 24th December:
Monday – Saturday, 9:30am to 9pm and Thursday until 10pm
Sunday 10:30am – 8pm
Closed Christmas Day
Specific opening and closing hours:
Friday, December 23rd:  9:30am to 7pm
Saturday, December 24th and 31st:  9:30am to 6pm
Printemps
It seems everyone in Paris is talking about the incredible displays in the storefront windows of the Printemps store.  Paying homage to designer Karl Lagerfeld, the eleven windows feature miniature sculptures and elegantly dressed animated puppets.  The amount of work that has gone into creating these displays and the attention to detail is simply amazing; I definitely think they're among the best department store windows I have ever seen!
Address: 64, blvd Haussmann, 75009, Paris
Christmas Opening Hours:
Monday – Saturday:  9:35am to 8pm and Thursday until 10pm
Sunday 4th, 11th & 18th December:  10am – 8pm
Closed Christmas Day