My father was a pilot in the Air Force and my large family moved so often I can't count all the places we lived. While I loved discovering new towns and cities, I think it created a nesting instinct in me that won't go away. I naturally want to improve and remodel rooms to make them welcoming and cozy. And when an owner contacts me for advice, I can't keep myself away.
On that note, I thought you would enjoy this dramatic transformation of an apartment in Chelsea. A friend asked if we could help and I couldn't resist. The apartment was so sad, but had so much potential. I love the neighborhood, which is a trendy part of London and knew we could do something spectacular.
Philippe was unhappy about how much time I spent working on colors, design and furnishings, but for me it was pure pleasure.
Well, we gutted and completely reversed the layout. In fact, dramatic doesn't begin to describe the change! Read more about the Churchill vacation rental in Chelsea – Earl's Court in London.
Front Room Before: It was the master bedroom, but had the largest windows and the best light.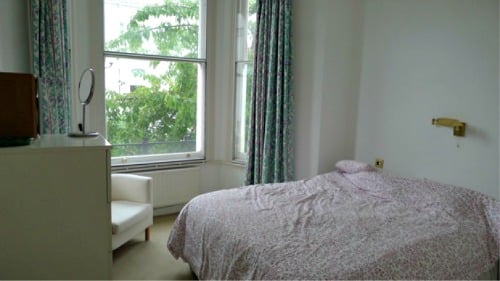 Front Room After: We opened it up to create a kitchen and open dining room, with desk in the alcove.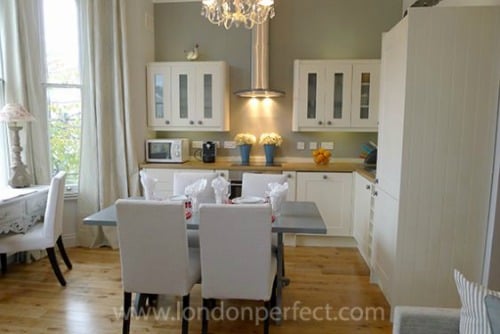 The tin letters that spell Cuisine … I found in Paris and are my favorite touch.
Second Bedroom Before — so depressing and small!  it felt like a cell.

Removed the Dividing Wall and Converted to Open Living and Dining Room.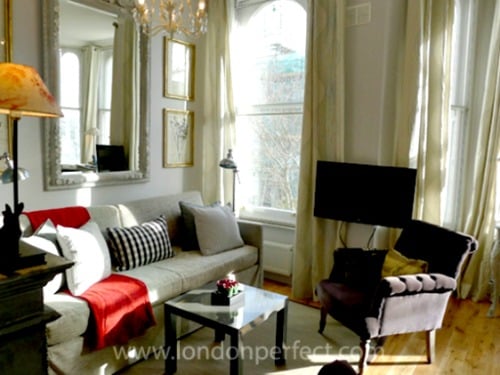 Love the antique herb pictures we found at a flea market in France. Beautiful mirror opens up the room.
Only One Bathroom.  Before:  Sorry, the lucite fish aquarium lid had to go…
Created 2 full Bathrooms!
Living Room was in the middle of the Apartment with one small window. Very depressing.
Became a cozy 2nd bedroom!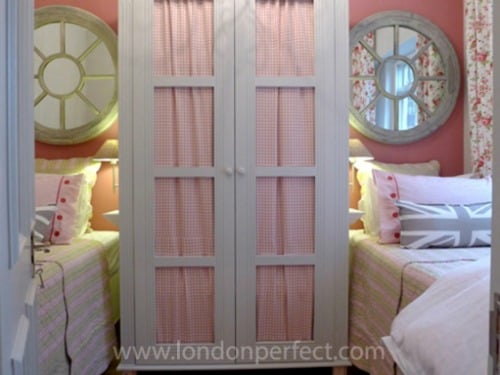 The Living Room was also a corridor to the dining room and kitchen
We walled it off and used a lovely Truffle Color paint by Dulux.
Dark dining room and kitchen transformed to beautiful master bedroom with en suite shower room.
Lovely master bedroom with en suite bathroom with shower, sink and washer & dryer
I hope you enjoy the changes and you can view more pictures of our latest project here!