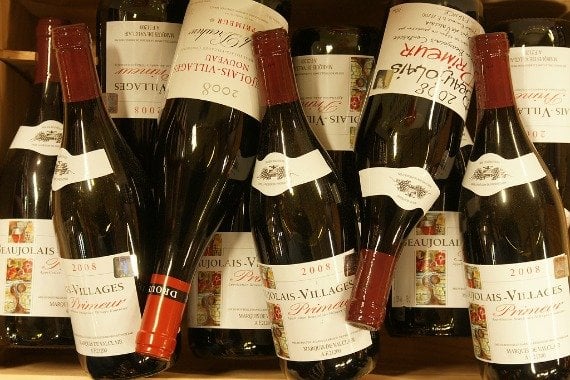 What's the first thing that springs to mind when you hear the word Beaujolais? I bet it's that easy drinking, vibrantly fruity and purple drop that is popular for about three minutes in November, known as Le Beaujolais Nouveau. Yet, whilst the arrival of the nouveau vintage of Beaujolais Nouveau is a great excuse for a glass or two each November, there is so much more to this wine than bright labels and themed celebrations.
Such as:  Did you know that Beaujolais can be red, white and rosé?
You see, if you're prepared to spend some time getting acquainted with Beaujolais, you're in for some delightful surprises. But first, an introduction: Like most of France's wine country, the region of Beaujolais is full of gentle, rolling hills and charming, quaint villages. Situated south of Burgundy and north of the Rhône, the granite soils found here provide the perfect match for the grape variety Gamay.
Gamay accounts for an incredible 99% of all wines made in Beaujolais (the remaining percent is Chardonnay for Beaujolais Blanc). A red grape, Gamay clearly thrives in this part of the world, since it is planted not only in Beaujolais but also in the alpine Savoie region of France and across the border into Switzerland.
Like Pinot Noir, grown in neighboring Burgundy, Gamay produces a wine which is high in acid and light in color. Yet Gamay also has lighter tannins, which means that wines made from this variety can be drunk young and are often improved by being served slightly chilled.
The aforementioned Beaujolais Nouveau is its most famous incarnation, and, thanks to the characteristics outlined above, an exception to the rule. Since it is not very often that you can find a red wine that is released in the year of its production.
Yet that's exactly the selling point. During the 1970s and 1980s, the world had a seemingly insatiable thirst for the light and tart wine that was rushed through fermentation and into your wine glass in less in three months!
Thanks to a vinification process called Carbonic Maceration, the grapes in Beaujolais Nouveau are fermented whole. As you may know from experience, this can result in a fruity (raspberries, cherries), and sometimes candied (pear drops), wine with very little tannins. Beaujolais Nouveau, therefore, is a wine which is definitely not destined for ageing.
There exists, however, a whole class of Beaujolais which is. Have you heard of the following, rather poetic-sounding, French wines?
Brouilly, Chénas, Chiroubles, Côte de Brouilly, Fleurie, Juliénas, Morgon, Moulin à Vent, Régnié and Saint-Amour.
These are the names of the 10 villages which make a Cru Beaujolais. The winemakers here are single-handedly responsible for the world's changing attitude towards the Gamay grape. Thanks to the unique terroirs (that magical French word that refers to the specific soil and climate which contribute to the characteristics of a good wine) of these ten villages, terms such as generous, vivid, rich, fragrant, delicate and earthy are being used to describe these world class drops.
Moulin à Vent, named after a rather iconic local windmill, is considered the most prestigious of all, whilst the romance conjured up by a wine named Saint-Amour ensures its everlasting popularity come the 14th of February each year.
Cru Beaujolais will often show characteristics of oak-aging, with delicate tannins and a complex structure. These are regal wines that get better with age.
Beaujolais is also a perfect match for some of our favorite French bistro fare, a cheese and charcuterie platter, which you can enjoy shopping for at the Paris open-air markets and charming market streets.
We hope you'll agree that Beaujolais was an easy choice when it came to naming one of our most popular Paris Perfect apartments. This two-bedroom apartment on the Left Bank is an eternal classic, just like a Cru Beaujolais. The deep tones of the living room furnishings are reminiscent of the color of great Gamay wines, whilst the elegant interior evokes a romanticism only fitting for a wine with vineyards named after love!
We can hardly think of a more perfect setting for an intimate picnic à deux than your Paris home away from home, with the sublime view of the Eiffel Tower as your backdrop. Paris isn't called the City of Love for nothing after all!
_______________
Chrissie McClatchie is an Australian wine specialist who has been living in Nice, France for the past seven years.
(Image Credits: jeffcutler, Sergey Melkonov, Ram'ier)