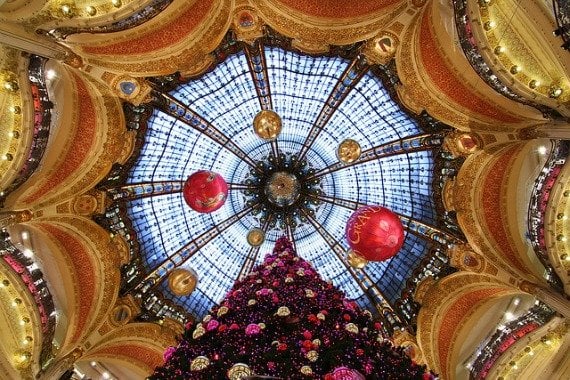 The holidays in Paris are simply enchanting! With the Christmas Markets, festive atmosphere and outstanding shopping, it's a fun and exciting time of year to visit the City of Light. Although you might not think of it at first, winter is also your chance to experience a more intimate side of Paris. Sure the temperatures are cooler, but that means it's just perfect for showing off those stylish winter boots, wrapping up in a warm scarf and enjoying a brisk walk along the Seine. Warm up afterwards with a vin chaud or rich hot chocolate at a café and savor Paris without the crowds. Go the Louvre and spend time lingering over that famous smile of the Mona Lisa without being jostled around or stepped on. Love shopping? Well then Christmas shopping in Paris is a dream. You'll want to stay on after the holidays so you don't miss the Paris Winter Sales in January. There's so much to see and do during the holiday season in Paris. Read on to find out more of our favorite things about Christmas in Paris.
With our Paris Christmas Market Sale you can book now to enjoy an intimate winter stay in Paris this year with discounts up to 20%. Find out more!
Festive Christmas Markets in Paris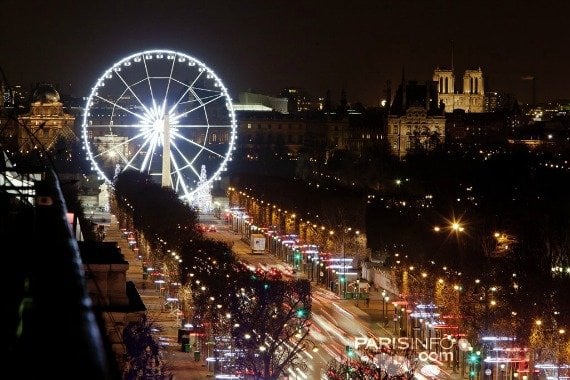 The holiday cheer arrives in Paris with the opening of the Christmas Markets around the middle of November. The Champs-Elysées Christmas Market is one of the earliest to start, and it sets a grand scene stretching along the famous boulevard starting with a gleaming Ferris wheel at Place de la Concorde. If you're planning a winter trip to Paris in November or December, don't miss the chance to experience this fun and festive holiday tradition in France. You'll find charming wooden chalets selling crafts, gifts and delicious food throughout Paris. There might even be one just around the corner from you Paris Perfect vacation rental! The majority of the Christmas markets open throughout December and run until the holidays, but there are some that open earlier in November to kick off the holiday spirit!
Read about our favorite Christmas Markets in Paris here.
Holiday Shopping in the World's Most Fashionable City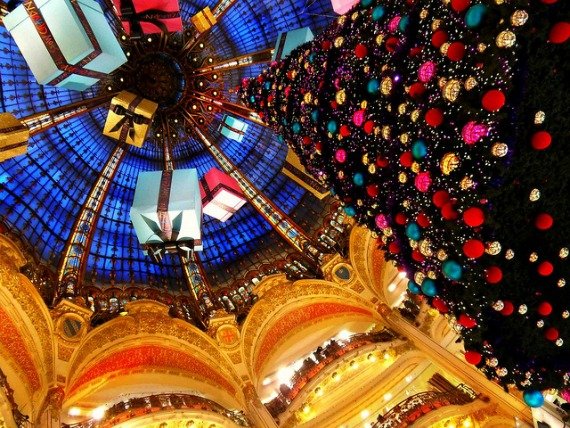 Looking for something special for your family and friends for holiday gifts this year? Why not find unique presents from Paris this year? You'll be very popular, that's for sure! Paris is not only a fashion capital but also one of the best shopping cities in the world. Make your list, check it twice … and hit the streets of Paris for holiday shopping like you've never experienced it before!
Magical Christmas Windows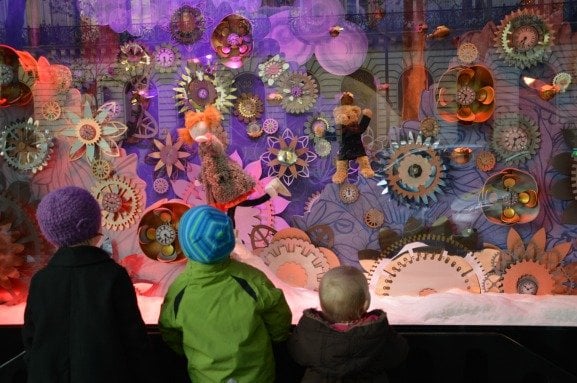 The Grand Magasins, or department stores, are one spot you won't want to miss for shopping. The holiday windows at Galeries Lafayette and Printemps deserve a mention all their own since they're fun for the whole family – even if you're just window shopping. Join the crowds gathered on the sidewalks ooohing and aaahing over the lavish and creative designs. Last year's Christmas windows at Galeries Lafayette, including the soaring tree below the glass dome central court, were designed by Swatch and were absolutely enchanting. Next door the holiday windows at Printemps last year had a dramatic touch courtesy Prada.
This year Galeries Lafayette promises to be another burst of holiday fun with a monster theme, and word on the street says they've even turned the Christmas tree upside down. Those crazy monsters! The Christmas windows at Galeries Lafayette will be on display from November 5, 2014 until January 4, 2015.
Christmas & New Year's at the Moulin Rouge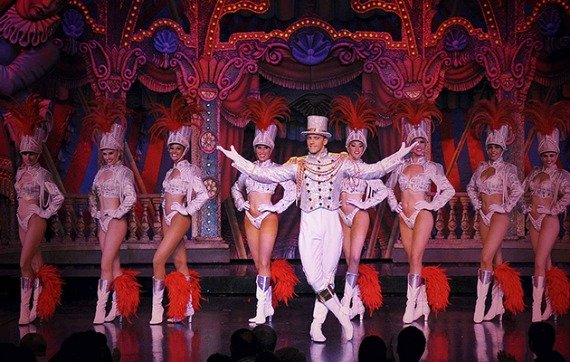 Enjoy a spectacular show and a special Christmas dinner or ring in the New Year in an unforgettable way at the Moulin Rouge. The special Christmas Time menu is available from December 19th, 2014 to January 4th, 2015, with the exception of an over the top fabulous New Year's Eve menu on December 31st. Contact us at [email protected] to find out more and to book your reservations while there are still some spaces available.
Ice Skating in the City of Light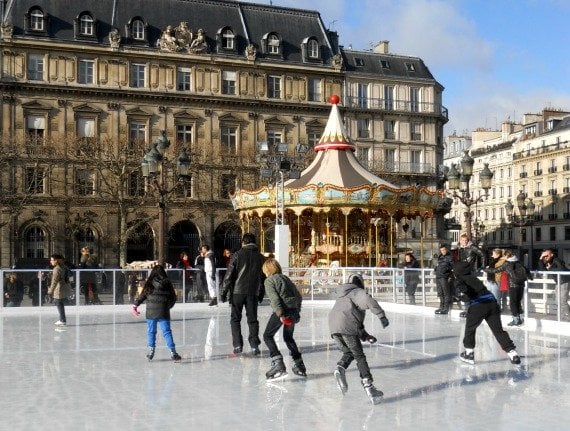 Need to burn off a few calories from one too many macarons … if there is such a thing? From mid December to the end of March a large ice rink is set up in front of the beautiful Hôtel de Ville. You'll also find ice rinks at many of the Christmas Markets in December, especially the Trocadéro Christmas Market where you can ice skate with the Eiffel Tower as your backdrop. We'll share the best ice rinks in Paris once the dates are announced for the 2014-2015 winter season, but even if you're planning a trip to Paris after the holidays in January or February you can count on the ice rink at the Hôtel de Ville being open.
Christmas Mass at Notre Dame Cathedral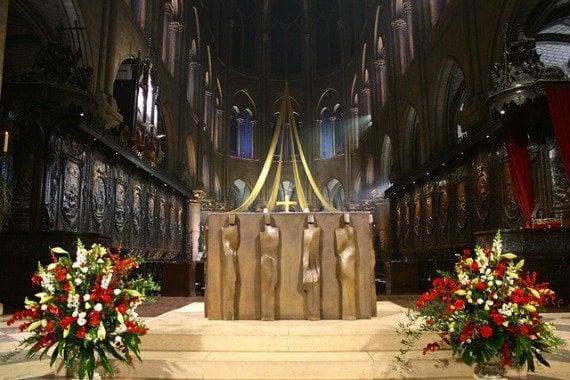 Step into the grandeur of the Notre Dame Cathedral and it's hard not to feel a moment of awe below the soaring ceiling and the stained glass windows. Attending mass at Notre Dame even during the holidays requires no reservation, simply show up 10-15 minutes before the mass begins and take a seat. On Christmas Eve the series of masses start in the late afternoon and there are usually several leading up to the midnight mass. Christmas day begins with the chiming of the bells of Notre Dame, which you'll hear throughout the day marking the celebrations of mass. Visit the Notre Dame website to find out more information.
Even if you don't make it for Christmas Mass at Notre Dame, do stop in over the holiday season to see the beautiful nativity scene and get a good photo of the Christmas tree out front. It's always a festive setting for family holiday photos!
Warm Up with Spiced Wine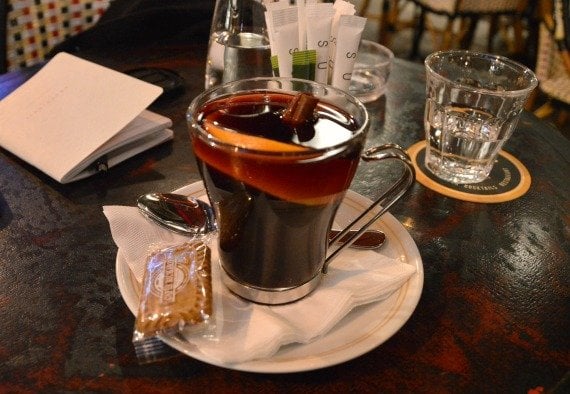 After the holiday shopping and ice skating you'll need something to warm you right up. Stop in a sidewalk café, which are well heated during the winter months, and ask for a vin chaud – or mulled wine. It will often be served in a glass with slices of orange, a cinnamon stick and honey or sugar if you'd like it a little sweeter. It's so good it always makes us wonder why mulled wine isn't a winter tradition everywhere in the world!
Hot Chocolate Tour of Paris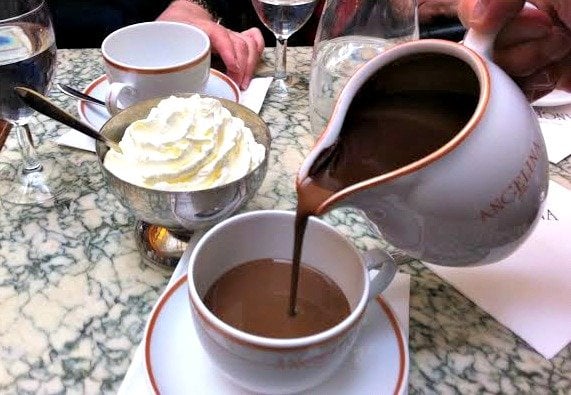 What better time of year than when the weather is cool to try out the best spots in Paris for chocolat chaud? Our Paris Perfect Hot Chocolate Challenge took us to Angelina, Café de Flore, Café de la Paix and Pâtisserie Viennoise. Those are some of our favorites, but you'll have to do your own taste testing challenge to find yours. It's hard work, but someone has to do it …
Stay for the Winter Sales!
Who doesn't love a good sale? In Paris they really know how to make shoppers happy with the huge seasonal sales. Just after Christmas you can stay on to shop for fabulous bargains at the Paris Winter Sales that will run from January 7th to February 10th, 2015. From deep discounts on designer labels at the Grand Magasins to bargains along our favorite hidden shopping street rue du Commerce, it's a wonderful time to hit the streets shopping in Paris.
(Image Credits: spacejulien, Champes-Elysées image courtesy Paris Tourist Office – Photographer: Jacques Lebar,  Pedro J. Concha, Trevor Huxman, Soldes courtesy Paris Tourist Office – Photographer: Amélie Dupont)