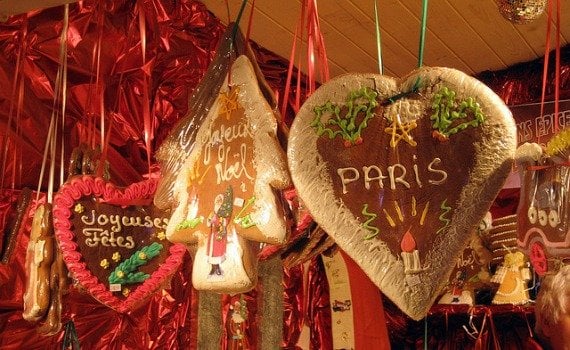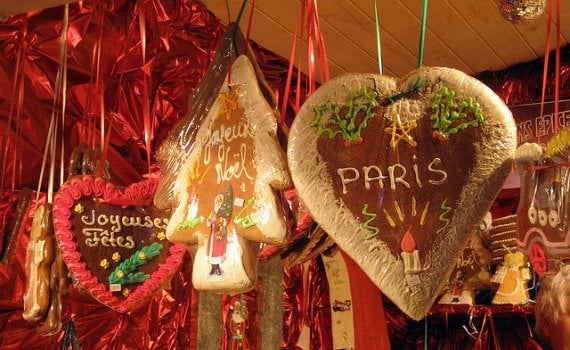 The holidays are approaching and that means it's nearly time for the festive Christmas Markets to start appearing in some of the most iconic spots in Paris. This tradition dates back to the 1400s in France and is a much-loved part of the Christmas season. Wrap up in a warm scarf and sip a spiced vin chaud while strolling through the markets lined with wooden chalets selling traditional crafts and gifts from around France. With games and lights and delicious foods to try, it's fun for the whole family! From the exuberant Marché de Noël along the Champs-Elysées to the charming little Christmas markets dotted throughout the city, here's a look at the best Christmas Markets in Paris. Enjoy a good dose of holiday cheer this year in Paris!
Marché de Noël des Champs-Elysées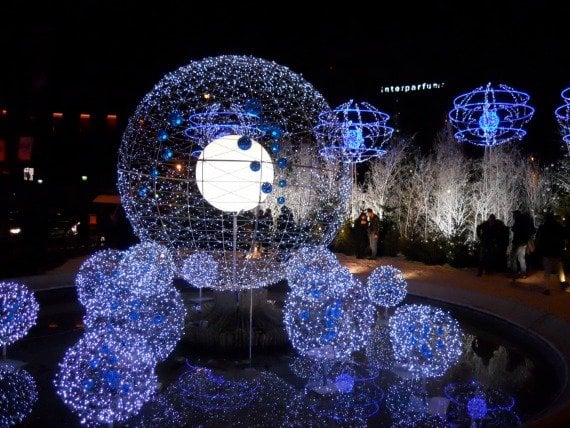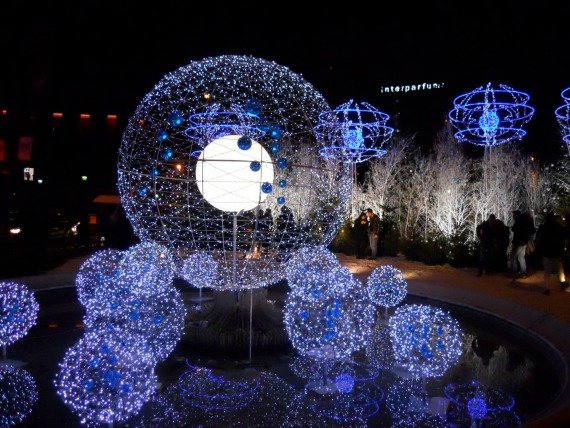 One of the best Marchés de Noël sets up along the Champs-Elysées with twinkling lights and over 150 wooden chalets lining the famous boulevard from the soaring Ferris wheel at Place de la Concorde to Rond Point des Champs Elysées where there's always an impressive and creative display of lights. The atmosphere is festive and bustling with Parisians and visitors alike strolling along, peeking in to see what's on display at each chalet and enjoying sampling delicious foods or warming up with a vin chaud. Take a stroll down the Champs-Elysées Christmas Market from last year to get an idea of how much fun it is!
This Christmas market is not only one of the largest in Paris, but is also the earliest to start. From mid November you can get in the holiday spirit and enjoy some excellent Christmas shopping at the Champs-Elysées Christmas Market.
Details: Open daily from 14 November 2014 to 4 January 2015
Location: Along the Avenue des Champs-Elysées from Place de la Concorde to Rond Point des Champs Elysées
Nearest Transport: Champs Elysées – Clemenceau or Concorde
Trocadéro Christmas Market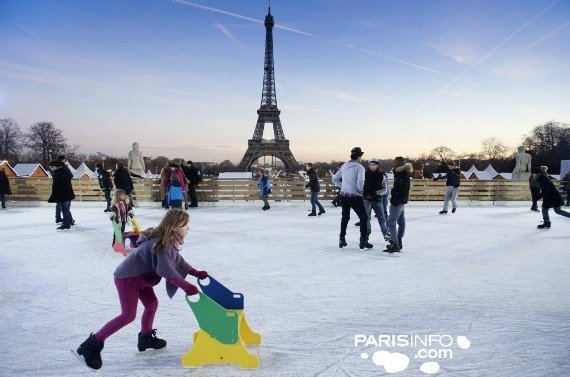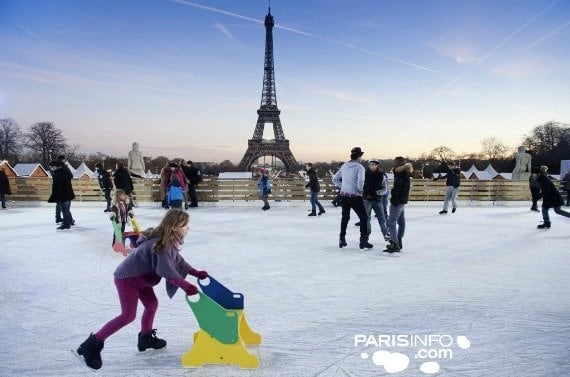 With the Eiffel Tower soaring just across the Seine, the Trocadéro Christmas Market has a spectacular setting, especially at night when the Eiffel Tower sparkles while you're strolling along the chalets or taking a spin around the ice rink. This market features about 100 chalets and is a fun setting for kids. The Trocadéro Christmas Market opens mid December and is just a short stroll across the Pont d'Iena from our vacation rentals in the 7th arrondissement.
Details: Open daily from mid-December to beginning of January. (Dates to be announced.)
Location: Jardins du Trocadéro (just across the Seine from the Eiffel Tower)
Nearest Transport: Trocadéro or Champ de Mars/ Tour Eiffel on the RER
Christmas Market at the Notre Dame Cathedral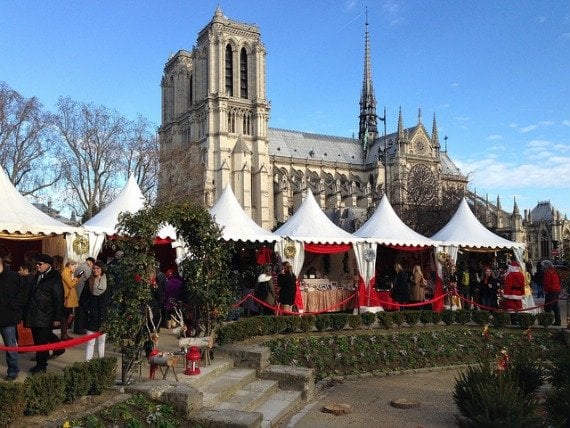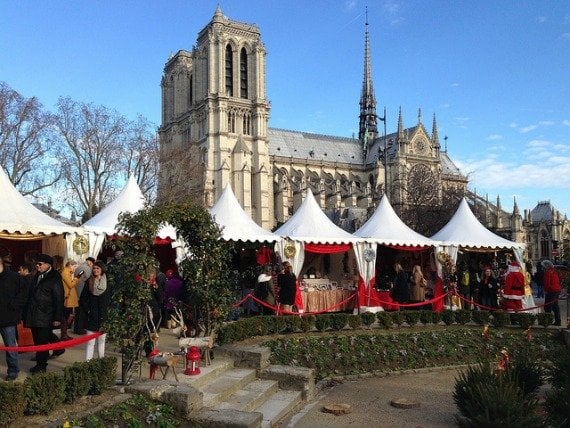 A newer arrival on the Christmas Market scene, there will be a market near Notre Dame Cathedral devoted to crafts, handmade items and gourmet foods. This market takes the cake (or should we say the bûche de Noël?) for the best backdrop. You'll have a chance to see the Christmas tree in front of Notre Dame and pop inside to see the nativity scene, too. Warm vin chaud, the scent of roasted chestnuts and Notre Dame … yes, that's pretty much Christmas perfection!
Details: Open daily from mid-December until Christmas (Dates to be announced)
Location: Setting near Notre Dame to be confirmed
Nearest Transport: Metro/RER St Michel or Cité
Saint Germain des Prés Christmas Market & Santa's Village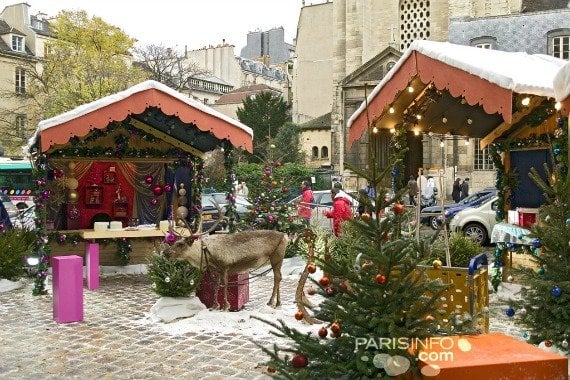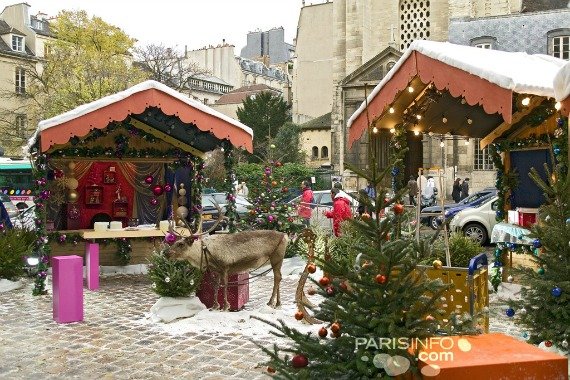 Just steps from the famous Café de Flore and fashion stores like Louis Vuitton you'll find a charming little Christmas Market set up alongside the St. Germain des Prés abbey in the 6th arrondissement. Starting earlier in December, this market is a fun stop while out holiday shopping in Saint Germain. Warm up with a vin chaud and the festive atmosphere before heading back to your Paris Perfect vacation rental nearby.
Details: From 6 December 2014 until 2nd January 2015
Location: Place Saint Germain des Prés (along the abbey)
Nearest Transport: Metro Saint Germain des Prés
Saint Sulpice Christmas Market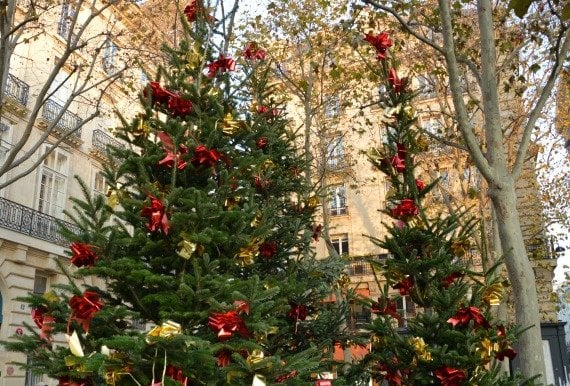 A lovely Christmas Market sets up on Place Saint Sulpice in the 6th arrondissement at the beginning of December and runs through Christmas. Pick up your bûche de Noël at Pierre Hermé nearby and enjoy strolling through the market to get in the holiday spirit. The streets surrounding Saint Sulpice are fabulous for shopping, too!
Details: From 1 – 24 December 2014
Location: Place Saint Sulpice
Nearest Transport: Metro St-Sulpice
Montmartre Christmas Market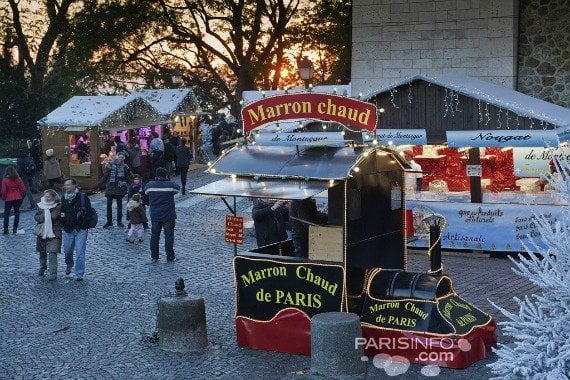 The lovely Place des Abbesses is home to one of Montmartre's quaint Christmas markets, which is the perfect spot for some holiday shopping and some warm roasted chestnuts (marron chaud) to keep you warm on the walk up to Sacre Coeur. Christmas markets like this one set such a festive backdrop to strolls through Paris, which we love doing all seasons of the year!
Details: From 29 November 2014 – 1 January 2015
Location: Place des Abbesses
Nearest Transport: Metro Abbesses
More Christmas Market Fun!
Looking for even more Christmas spirit? There are even more Christmas Markets to explore in Paris at the Gare de l'Est, Place de la Republique, near the Gare Montparnasse and the huge market at La Défense, which has over 350 chalets. Children will enjoy discovering the Christmas village at Disneyland Paris, too! Find out about more Paris Christmas Markets here.
(Image Credits: visitingeu, Champs Elysées courtesy Paris Tourist Office – Photographer: Jacques Lebar, Notre Dame Christmas Market by Heatheronhertravels.com, Trocadero Ice Rink and Montmartre Christmas Market courtesy Paris Tourist Office – Photographer: Daniel Thierry, Saint Germain Christmas Market courtesy Paris Tourist Office – Photographer: Marc Bertrand)