If you enjoy antiques, funky furnishings, art, old clothing, jewelry — anything under the sun — then the Puces, or Paris flea market, is a top place to visit in Paris! I spent a Saturday there recently and discovered some wonderful new boutiques. The most exciting of all was an amazing vintage clothing boutique called Les Merveilles de Babellou. They have two shops at the Paul Bert Market, which is one of the furthest down the Puces on your left. Go as far to the back as you can and you're in Allee 1 and the Babellou stores are at Stand 13 and Stand 77.
Not sure which French Designer created the blue chiffon silk gown below, but my first thought was of Princess Leah in Star Wars!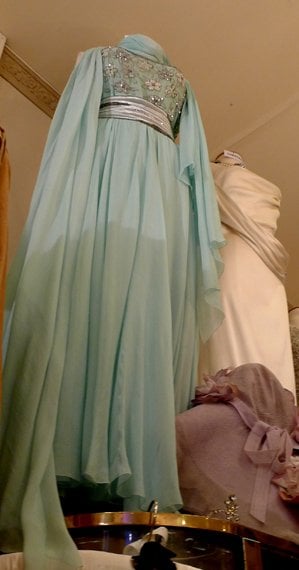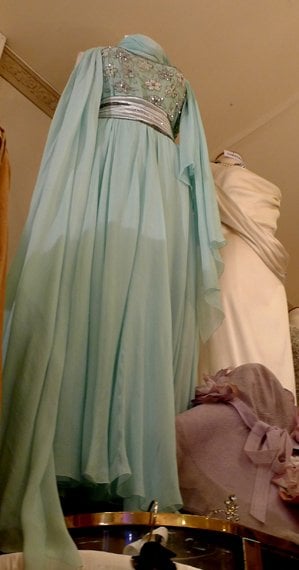 This shop is also the perfect place to find just the right handbag for every occasion. The display was a riot of colors with many fine and tempting purses, clutches and handbags to choose from.
I was smitten by the beautiful color coordinated accessories by the great French designers. Where to find that perfect French accessory? At the Puces!
The assistant explained that the two outfits below were precious and semi-precious accessories for dancers at the famous Moulin Rouge in another age.  I didn't dare ask the prices!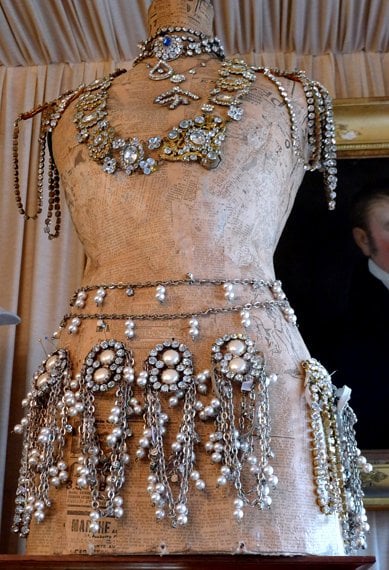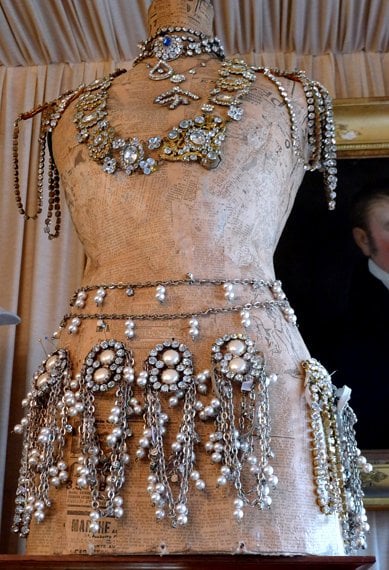 Wandering along the Serpette Market, I couldn't resist taking a picture of these gold crowns!  You'll find plenty of antique jewelry stores in the Puces of Paris.

And now back to one of my favorite fabric, antique tablecloths and Victorian children's clothing stores. Find it in the Biron market, first on your right as you head down rue de Rosiers, somewhere in the middle. I never remember the address, but simply wander up and down through dozens of allies and hundreds of shops to find it…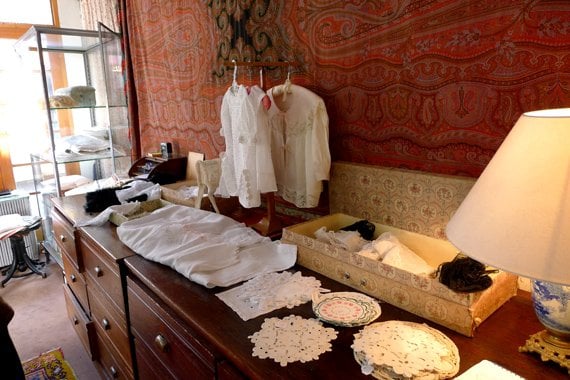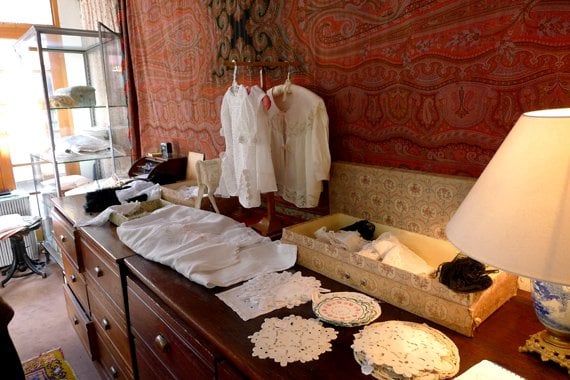 There's so much to continue to discover at the Puces flea market in Paris. Even if you've been once and think you've seen it all, the next time you'll find another treasure trove to discover. To find out more, visit our Paris Perfect Flea Market Guide.