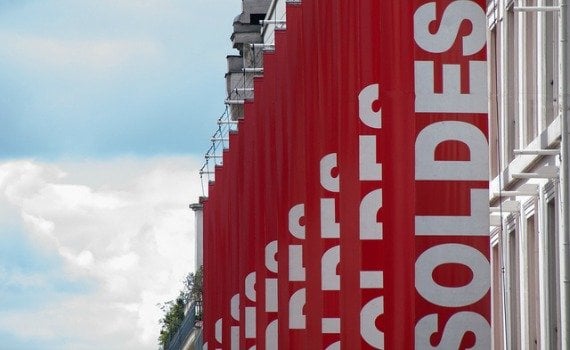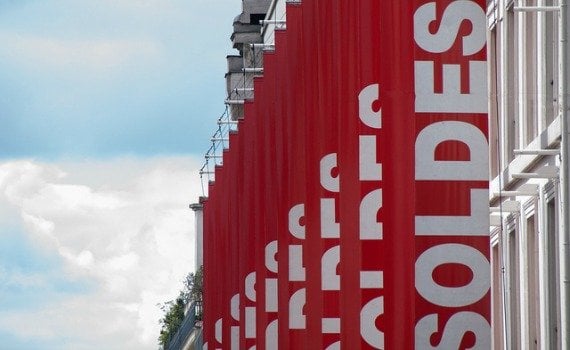 Paris is a dream for shoppers. But in that dream have you ever envisioned walking into stylish Parisian boutiques and finding fabulous sales? You can make that dream come true by coming to the Paris Winter Sales! The annual sales — or les soldes — take place in Paris twice per year with dates set by the government and announced in advance. This is a huge deal! You'll find signs reading soldes in nearly every shop, from luxury designers to cute little boutiques. We're not just talking little discounts, we're talking massive savings by the end of the sales period of even 50 to 75% off.
So savvy shoppers, mark your calenders for January 7th to February 10th, 2015!
Paris Sales Shopping Tips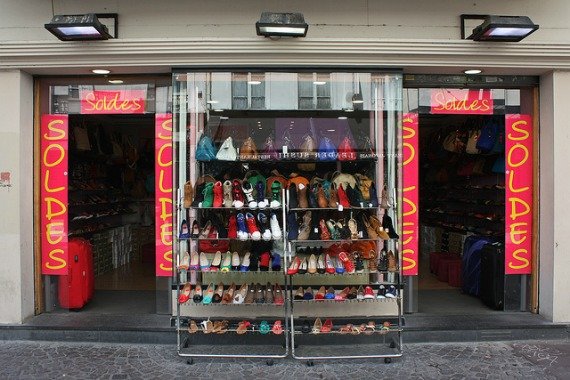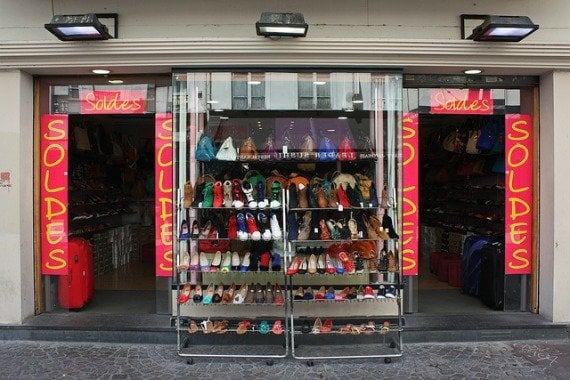 You want to find the best deals during the Paris Sales, but you also want to enjoy yourself. After many years of experience, here are some of our tips to avoid getting overwhelmed by all the shopping options and find the best deals during the Soldes.
Shop early for the best choices
To increase your chances of finding your size in a style you love, then the best option is to visit Paris at the start of the sales. Many Parisians scope out their favorite outfits and know exactly where to go when the doors open!
Get the best prices at the end of the sales
If you're not so concerned about getting a particular size or item, then you could wait until the end of the sales as most stores apply even deeper discounts. This tactic is often better for homewares than for clothing and shoes since it seems the size you need is always snapped up quickly.
Avoid peak shopping times
Start your Paris sales shopping in the morning when the stores open as you'll likely find find less crowds than you will in the frantic mid-afternoon or evenings.

Dress with comfort in mind
Dress with layers that are easy to change in and out of in the dressing room and most importantly wear comfortable shoes. You don't want to be thinking about sore feet or messing with complicated layers with crowded dressing rooms.
Learn your European sizes in advance!
With busy shops during the sales it's wise to know your European sizes by heart so you can save time and avoid that little complication when finding your right size. You can find some good guidelines here. If in doubt, print out the chart and stick it in your bag or pocket to carry with you while shopping the sales.
Double-check the refund policy
Many stores won't allow you to return sale items so be sure to check the policy before you make a purchase or consider buying something without trying it on.
Where to Shop the Paris Sales
If you already know your favorite shopping spots in Paris, they're even better during the sales! If you're looking for a good place to start with a massive selection all under one roof, then you'll want to visit the Grand Magasins, which are the big department stores. Side by side in the 9th arrondissement just by Opéra Garnier are two of the best – Galeries Lafayette and Printemps. However, don't miss the Left Bank's excellent department store Bon Marché as well. Not sure where to begin your shopping adventure? Check out our Paris Shopping Guide for more ideas!
Discount Shopping During the Paris Sales
True shopping enthusiasts will know the fabulous deals that can be found year round at La Vallée Village outlet mall just a short drive outside Paris. During the winter sales the discounts at La Vallée Village are absolutely unbeatable!
(Image Credits: Dave King, istolethetv, minato)