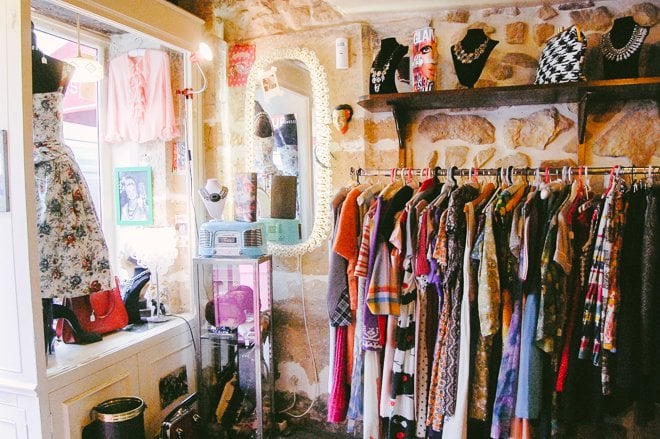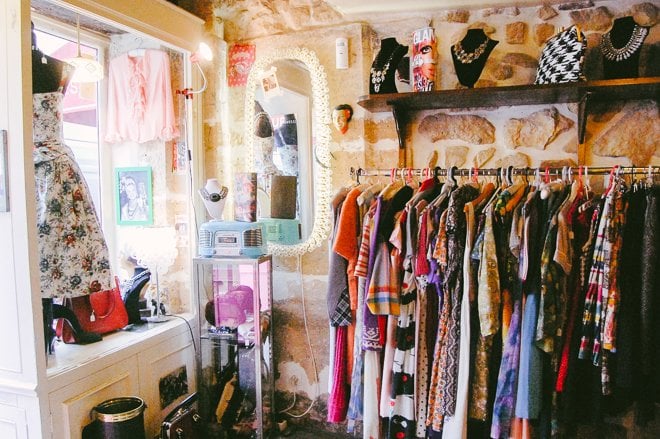 Take a moment and picture this: you're riding on the back of a charming Frenchman's motorbike through the side streets of Paris, looking fabulous in the perfect vintage frock, your elegant headscarf whipping in the wind behind you. Some of us – I would even venture to say most – have had a similar romantic travel fantasy. Wouldn't it be grand to be Audrey Hepburn or Grace Kelly for a day, or go back in time to 1920s Paris at the stroke of midnight? Or maybe you picture yourself more of a cool Anna Karina or Brigitte Bardot type.
Even though we know these romantic sentiments to be a bit unrealistic, at least we can still try to look the part! Luckily, there are no shortage of vintage stores in Paris, offering everything from full-skirts, sequined shift dresses, quirky knitted sweaters, worn-in Levis and funky hats. Here are four vintage stores you can visit in just one afternoon! All of these are centrally located in the 3rd and 4th arrondissements, just a hop, skip, and a jump from the bustling heart of le Marais and the funky vibes of the Centre Pompidou.
Vintage Désir – For the budget shoppers
Don't be fooled by the word "coiffeur" on the facade! Evidence of this shop's former life as a hair salon still remains, but that just makes it more charming. Situated in the center of Rue des Rosiers, one of the busiest streets in le Marais and home to the best falafels and Jewish bakeries, this little gem has some of the best prices. Although the space is tiny, the clothing here is well organized and all of the dresses have had their shoulder pads removed and their hemlines shortened, convenient for the modern shopper who doesn't fancy a trip to the tailor. To give you an idea for the pricing, you can find lightweight dresses here for €10 and coats for about €20.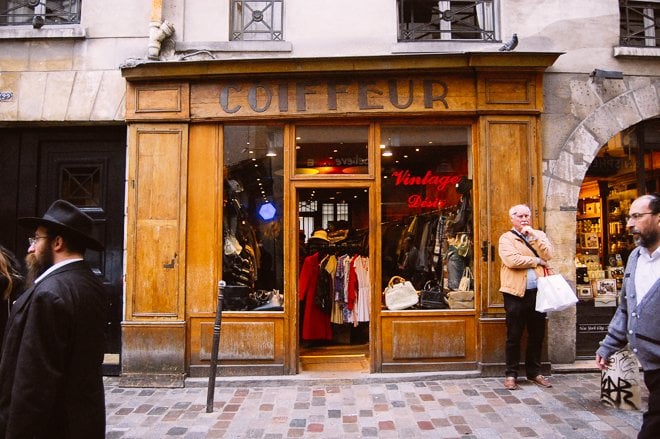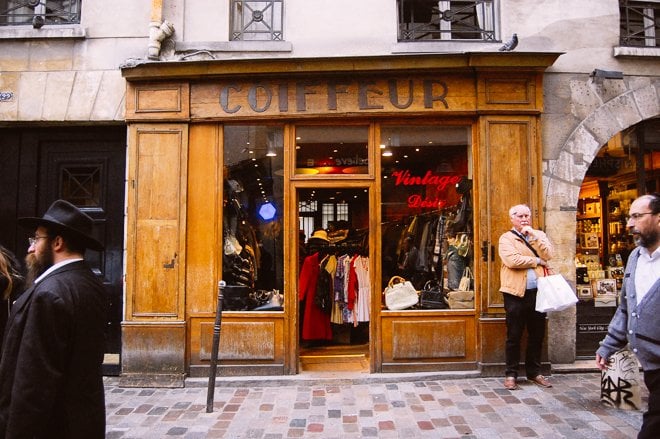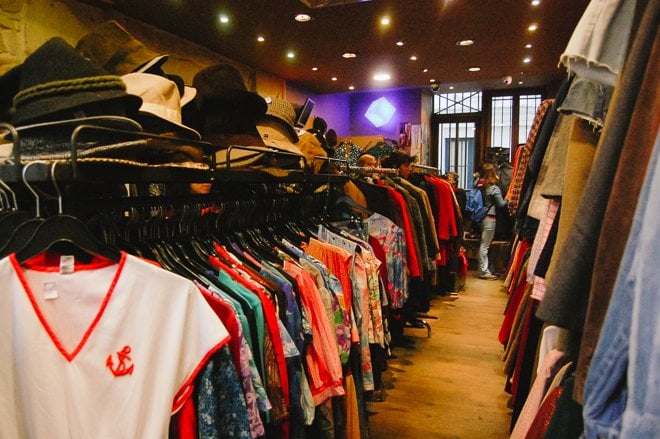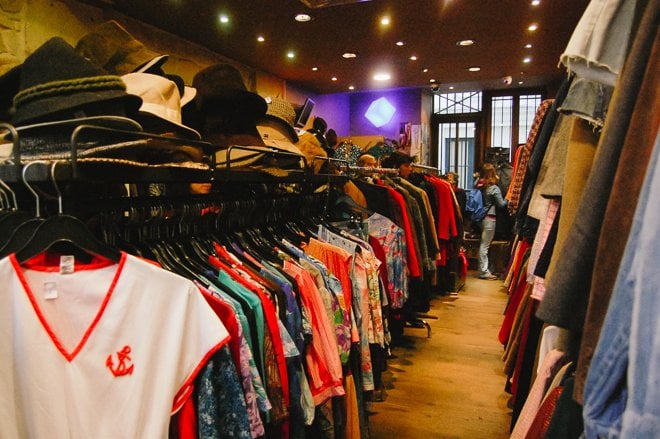 FREE'P'STAR – For the Adventurers
Half vintage, half second-hand, this store has an interesting mixture of old and new. You can find a Zara sweater here for €2 or a silk blouse for €5. But the things that make freepstar amazing are also the things that make it terrible on a busy day. If you're feeling sprightly, take a dive in the huge €1 bin, you can come away with quite the steal. If your adventurous spirit remains after the euro-bin, squeeze down the minuscule spiral staircase to the basement, where you can find even more. It may take a bit of digging and creative thinking, but if you approach it with a humorous attitude, it can really be a blast.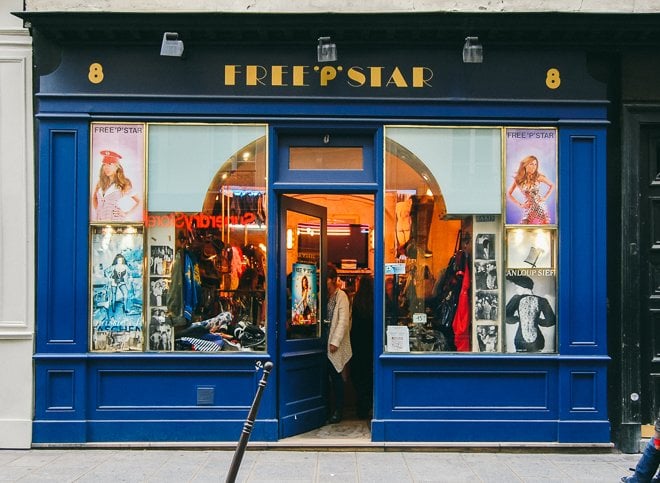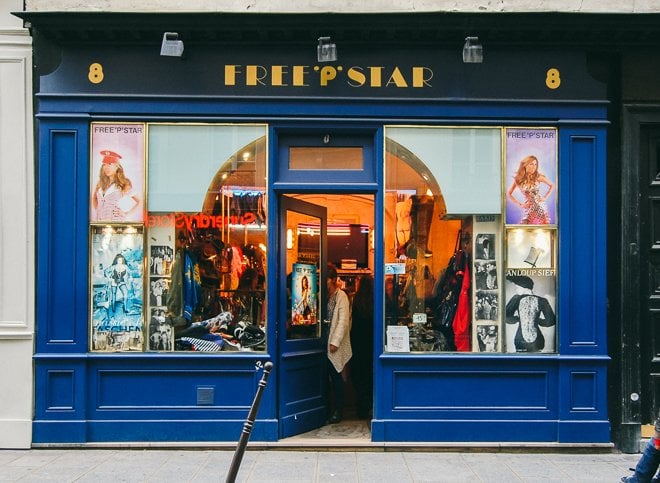 Mam'zelle Swing – For the Romantics
You'll see this store from a mile away because of its florescent pink exterior, and if you think the storefront is exciting, just wait until you see inside! This is the perfect place to find that one-of-a-kind piece. You'll pay slightly more here, but it'll be well worth it when you feel the higher quality of the garments. Less polyester and shoulder pads, more natural fibers and nipped-in waistlines! This is where you go to become a movie starlet. You'll be pleased to know that there's plenty of open floorspace here, so you won't feel claustrophobic or overstimulated – everything is arranged beautifully.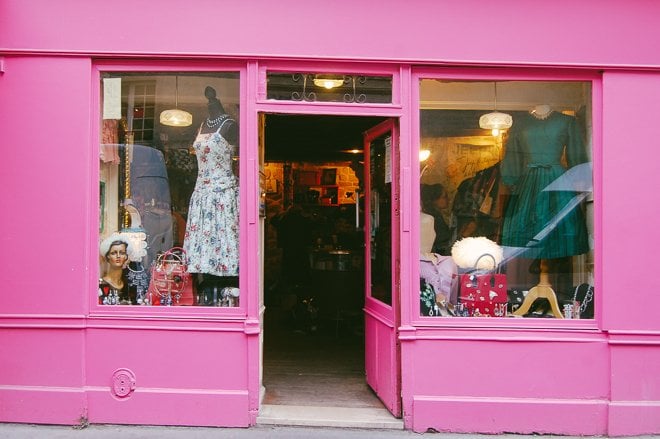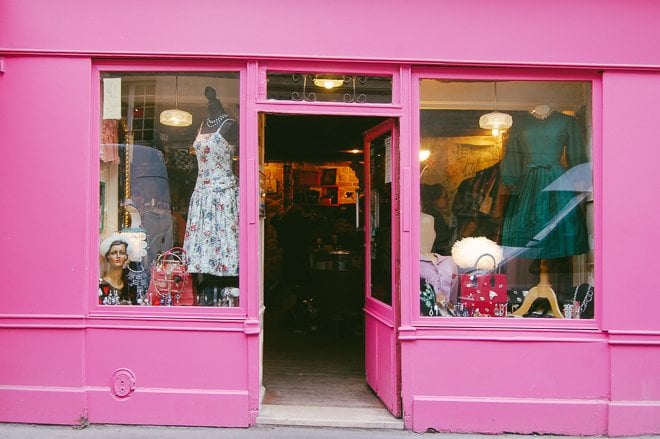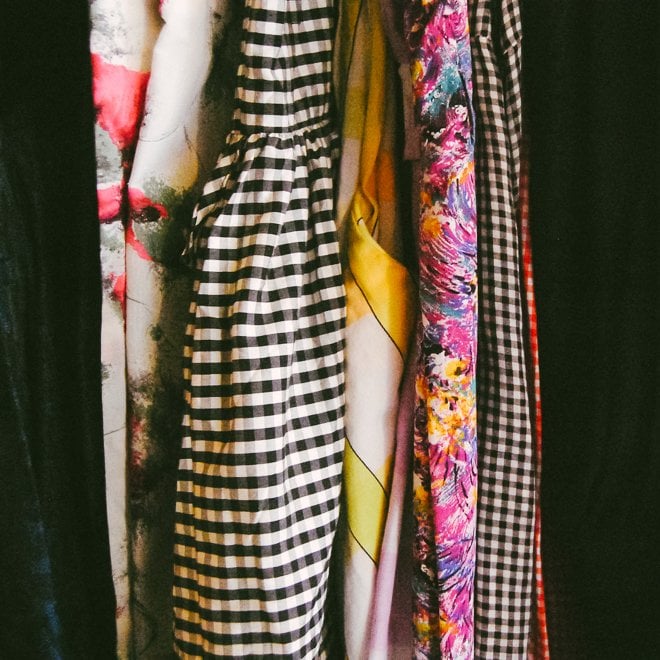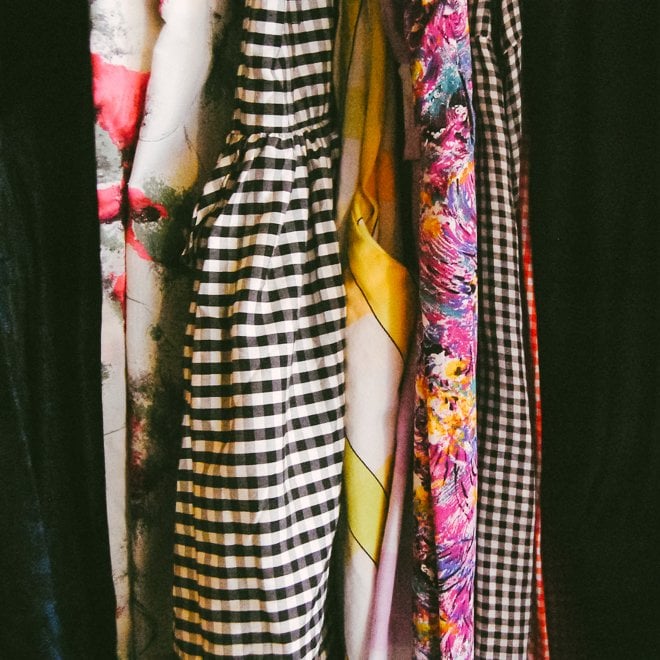 Kilo Shop – For those who like variety
Boasting two gigantic floors, a satellite mini-store, and multiple locations throughout the city (and the world) this veritable warehouse of vintage clothing literally has everything in almost any color imaginable. Kilo Shop doesn't discriminate against genders either – most of the lower floor is dedicated to menswear. They're also unique in that you pay for items based on weight. Each type of garment (jackets, blouses, pants) has a price per kilogram, and there are scales dispersed throughout the shop.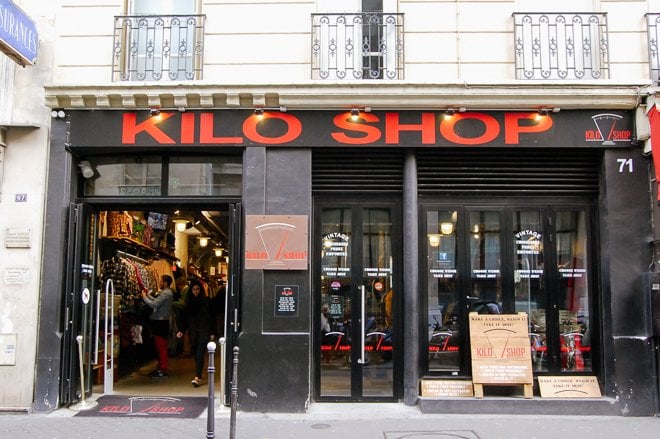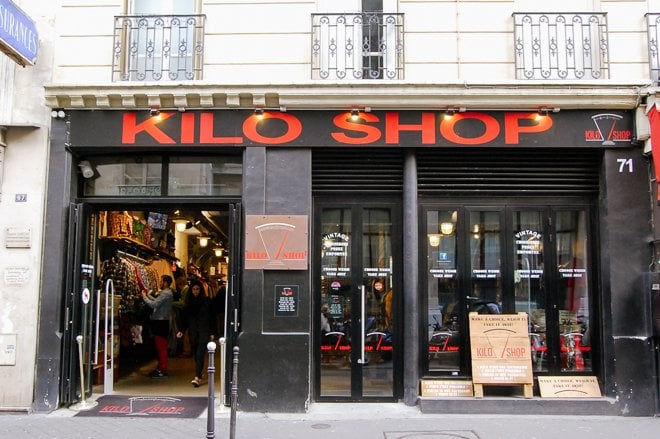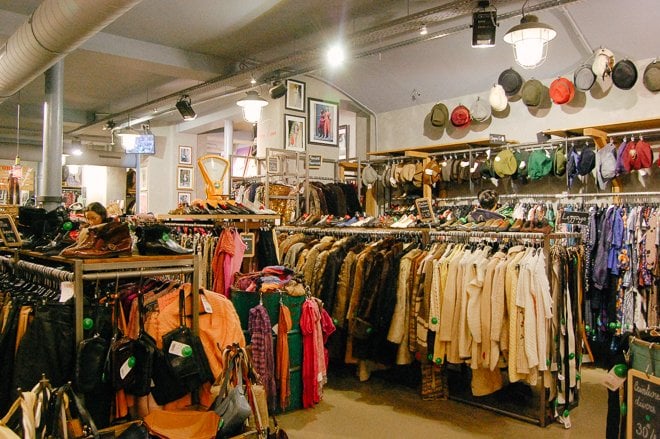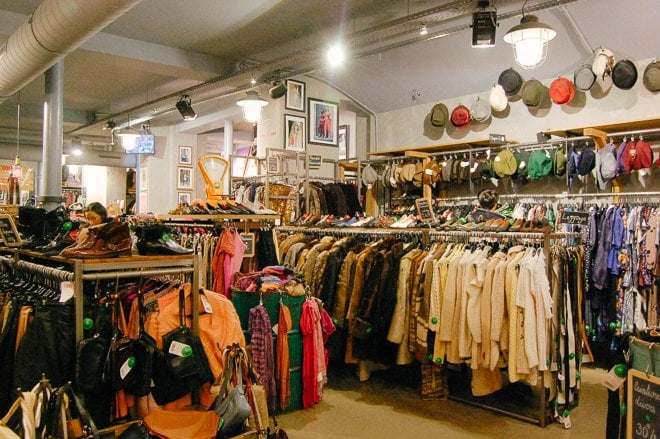 You can find these stores on the map above and listed below. Some major attractions that are nearby are the Hôtel de Ville, Centre Pompidou, and Musée Carnavalet. There's also tons of great shopping and restaurants along these streets in Le Marais … so get out and enjoy hunting for vintage treasures!
Vintage Désir http://www.yelp.com/biz/vintage-désir-paris-2
32 rue des Rosiers, 75004 Paris, France
Metro Saint Paul, Line 1
Open Everyday 11:30 am – 9:00 pm
FREE'P'STAR http://www.freepstar.com
8 rue Sainte-croix de la Bretonnerie, 75004 Paris, France
Metro Hôtel de Ville and Saint-Paul, Line 1
Mon – Fri: 11:00 am – 9:00 pm
Sat – Sun: 12:00 pm – 0:00 pm
Mam'z'elle Swing http://www.mamzelle-swing.com
35 rue du Roi de Sicile, 75004 Paris, France
Mon – Sat: 2:00 pm – 7:00 pm
Kilo Shop http://kilo-shop.fr
69-71 rue de la Verrerie, 75004 Paris, France
Mon & Sun: 2:00 pm – 7:45 pm
Tue – Sat: 11:00 am – 7:45 pm
____________________
Hannah Wilson is a young twenty-something blogger who decided to swap the constant sunshine of her California hometown for the grandeur and charm of Paris. She loves discovering unique shops, parks, cafés and restaurants in Paris, and currently lives in Versailles with her Swedish husband. You can see more of her life at www.FrenchCalifornian.com.
(Image Credits: All images by the Author)