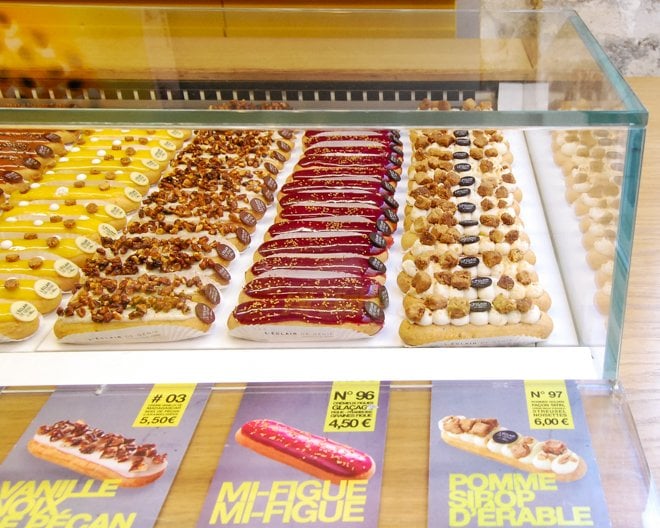 Without having any real source to back me up, I'm going to guess there are about 2 billion bakeries and pastry shops in Paris alone. On any given morning, there's probably enough baguettes in Paris to span the circumference of the globe. It's really quite an anomaly that Parisians aren't obese for all the carbs they must consume!
Gross exaggerations aside, pastry shops are one of the best things about this city. Not only are there traditional boulangeries on every street corner, but there are lots of specialty shops that focus on one particular type of pastry. These specialty pastry shops are typically headed by an elite chef. L'éclair de Génie is one such pastry shop, headed by Christophe Adam, a man who's travelled the world, working under the best chefs in Michelin-starred establishments and luxury hotels. He's also managed to write a few books while creating some of the most gorgeous and unique éclairs out there!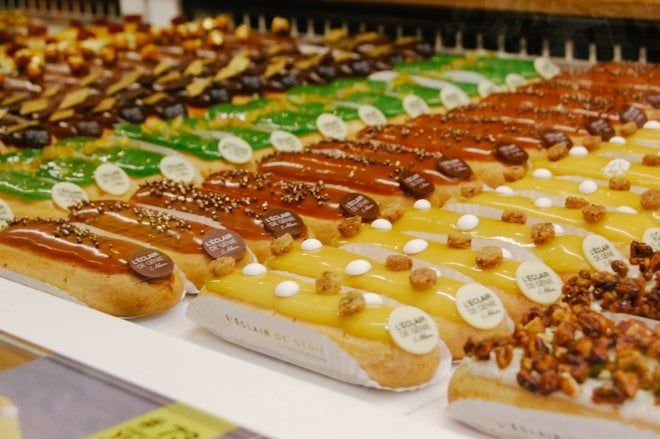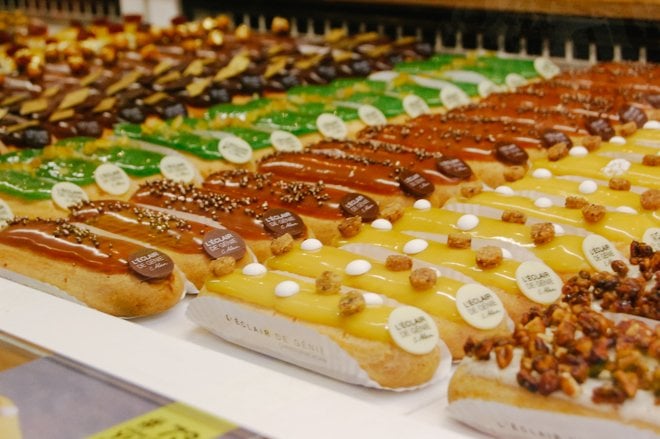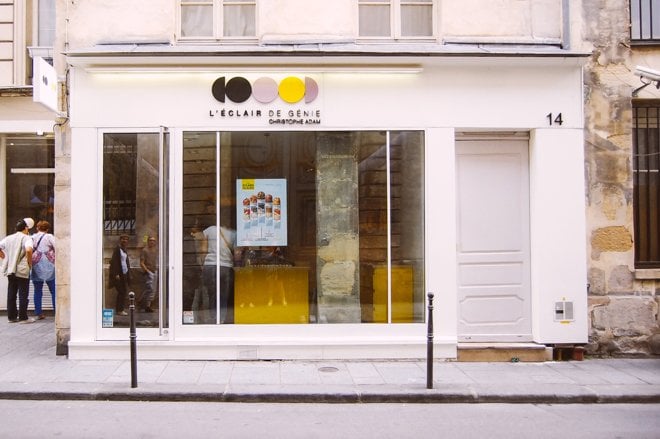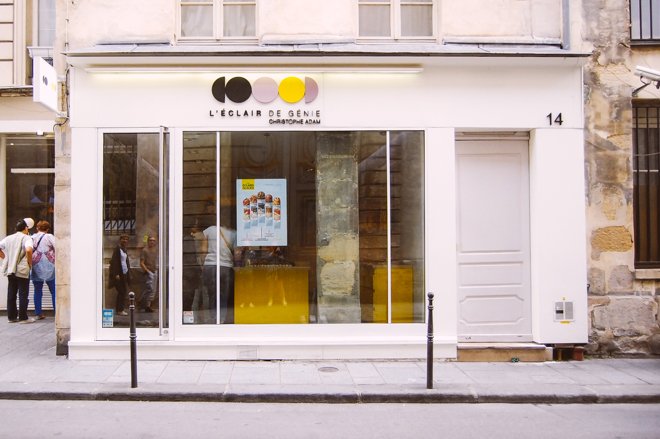 Now let's take a moment to learn about éclairs, but bare with me for a moment, because the following story may seem entirely unrelated. While researching Disneyland Paris recently, I came across something that genuinely made me giggle. I discovered that the French translation for Buzz Lightyear is Buzz L'Éclair – imagine my amused confusion. This prompted immediate research into the word, which I had assumed to exclusively stand for the famous French pastry. As it turns out, the word éclair can also mean lightning or thunderbolt, and can be used to suggest that something is happening lighting-fast. Interesting, right?
Now, here's how lightning bolts and pastries come together: An éclair pastry is an elongated piece of airy pastry dough with a "lightning bolt" of cream running down the middle. The most common éclair flavors are chocolate, vanilla and coffee, which are offered at most French bakeries. If you want to learn more about puff-pastry sweets, read this blog post about cream puffs.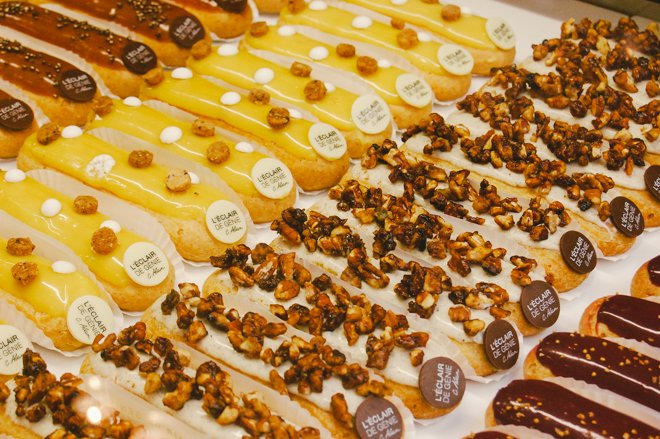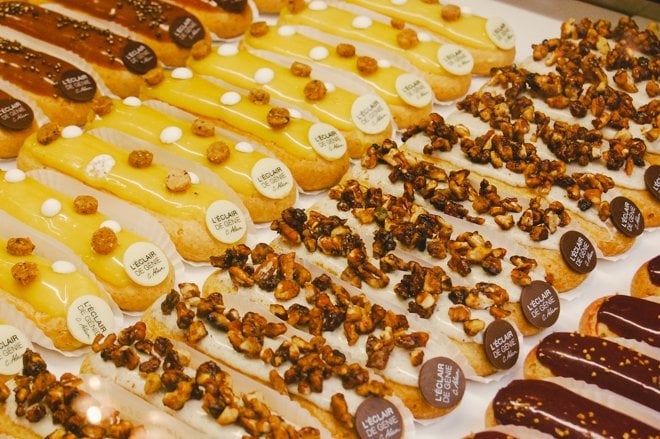 The perfect éclair, in my humble opinion, has a rich filling complimented by sweeter icing. What makes it even better are decorations or garnishes on the top. L'éclair de Génie knocks it out of the park – their pastries are works of art. They have lots of unique flavors, all topped with colorful icing and garnished with dainty ornamentation. The raspberry and dark chocolate éclair pictured below looked like it was made from blown glass, and the color was so intense that it left a berry stain on my lips.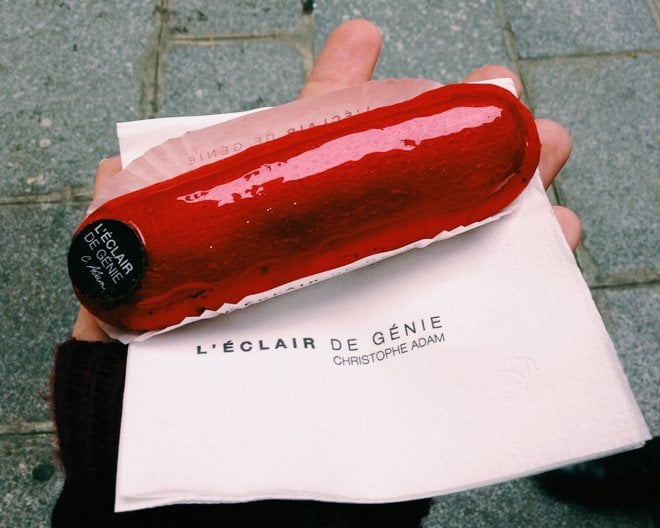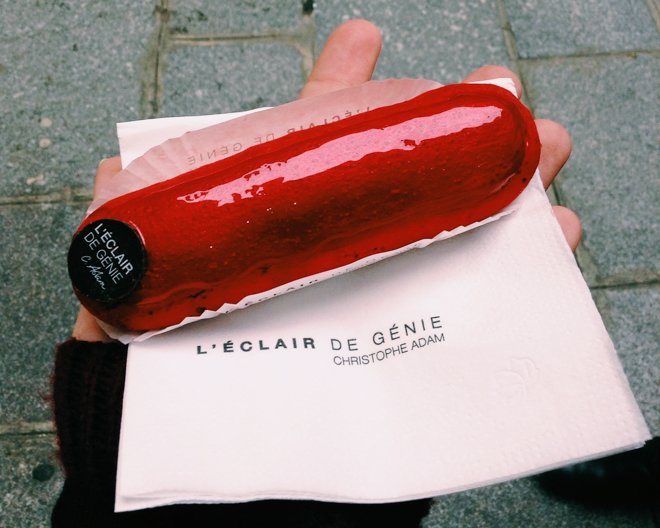 I later tried the Salted Caramel éclair, which was sprinkled with little bronze candies that reminded me of constellations. I requested a box and carried the little treasure over to Place des Vosges. I found a spot in the grass and enjoyed my delicious éclair, a splashing water fountain and opera-singing street performer as my soundtrack.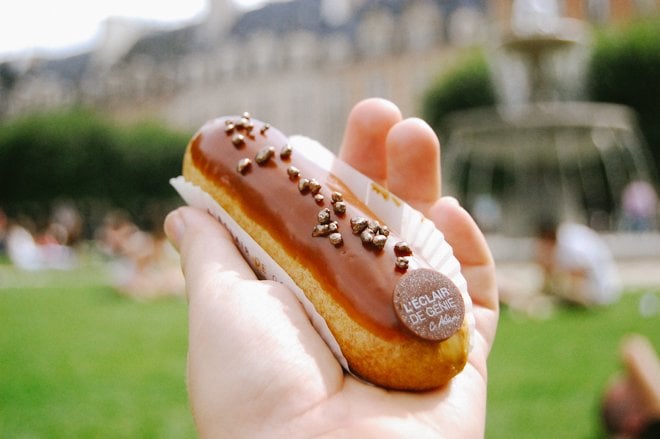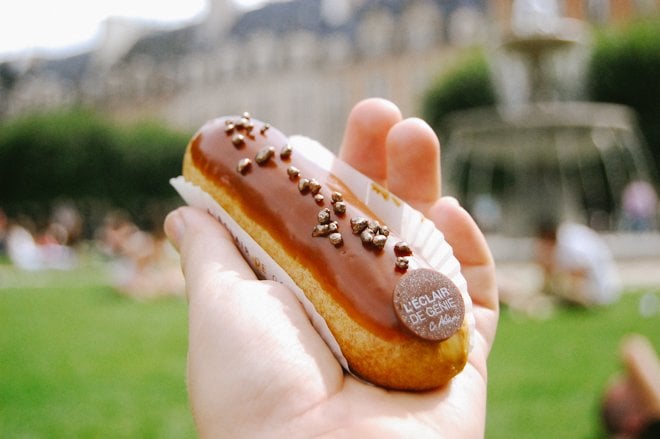 L'éclair de Génie is situated in the lower Marais, not far from some of the coolest shopping streets of Paris. Rue des Rosiers is steps away, where you can find the best fallafels and Place des Vosges is only three blocks away, a beautiful square where the romance is palpable. At the moment, some of the flavors being offered are salted caramel, passionfruit-raspberry, lemon-yuzu and apple-vanilla. The flavor offerings will change with the seasons, but that's what makes L'éclair de Génie so special!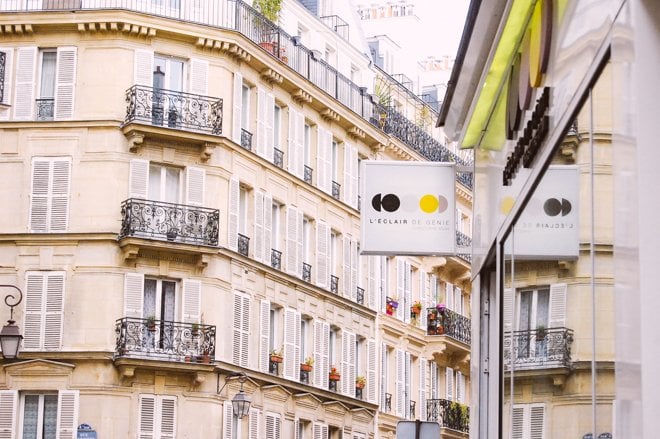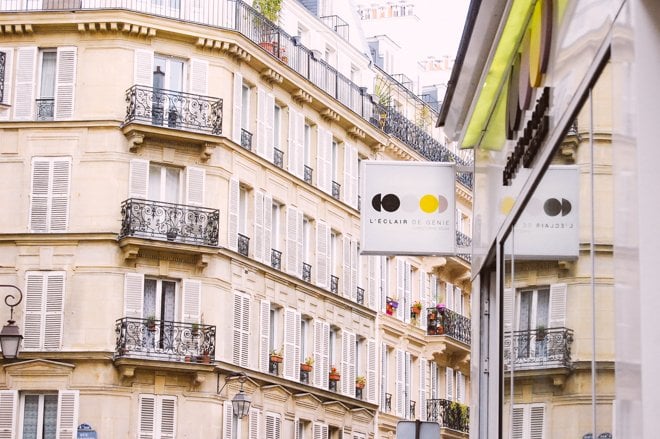 L'Éclair de Génie Marais
14 rue Pavée
75004 Paris
Website
Metro Saint Paul (Line 1)
L'Éclair de Génie Odéon
13 rue de l'Ancienne Comédie
75006 Paris
Metro Odéon (line 4 and 10)
(Image credits: All images by the Author)