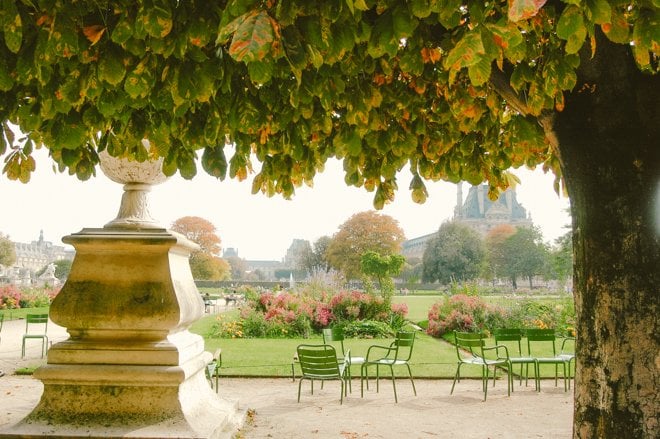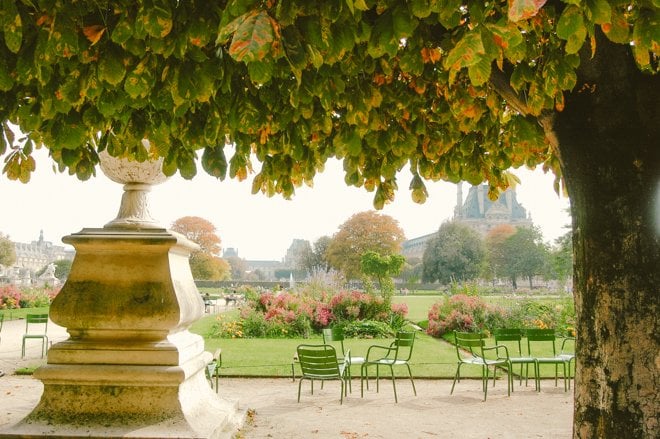 Before the Parisians don their furs, before golden leaves coat the crooked streets and grand boulevards, Paris enjoys its last round of picnics for the year. Parisian picnicking is a well-honored pastime in which I've indulged more than I should admit. We're sure you'd love to experience a true parisian picnic for yourself, if only you knew where to begin!
Let's start with the essentials: What to bring?
No true Parisian picnic is complete without a glass of wine to toast to the fine weather. While summer begs for a sweet rosé, a sultry red would fare well with an Autumnal picnic. For a personalized and hand-delivered French picnic basket full of fresh goodies from the market, check out the delightful array of options Paris Picnic has to offer! With a fresh baguette, some Brie (or perhaps Camembert), fresh fruit and a couple of chocolates for your sweet tooth, you'll be ready to go.
Ahh, but of course. What to wear?
After all, you will be sitting and eating outdoors. The French – and in particular, the Parisians – have attained an effortless level of chic few mortals can replicate, but you are in luck. Just remember: it's in the simplicity. Black pants and cotton shirts look infinitely smarter with an elegant scarf wrapped around your neck. But don't be afraid of looking fancier, either! You'll spot some French women in dresses and tights, even on picnics. Whatever your style, remember that the temperature can change in mere seconds. It may be sunny, but it's still fall, so bring layers.
Now – most importantly – where does one go for a picnic in Paris?
Fortunately, Paris is more than a glittering, stately city. If you keep your eyes open, you'll find beautiful green space in all of the arrondissements, beginning, of course, with the parks.
Champs de Mars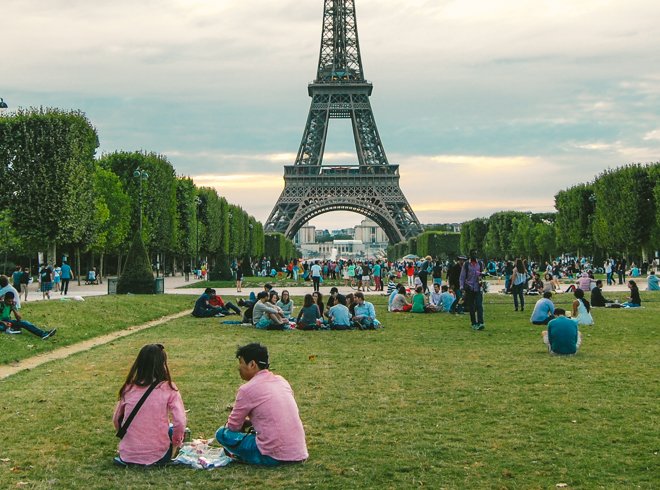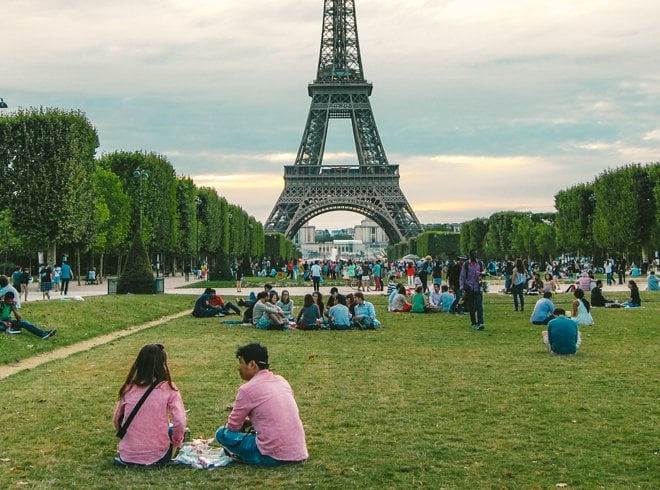 This particular park is a classic, and very close to a variety of Paris Perfect apartments. Enjoy a lunchtime picnic out in the sun or under the shade of the trees, then meander back to your apartment for the evening. Conversely, you could enjoy a dinner picnic while waiting for the Eiffel Tower's lights to illuminate the night sky. Once night has fallen completely, the tower begins to sparkle, every hour on the hour! It really is a magical sight.
Esplanade des Invalides
While you're in the 7th, take the time to lounge in Esplanade des Invalides, an expanse of green space usually home to young men playing football, couples basking in the sun, and friends catching up over wine. It's conveniently located near le pont Alexandre III, so you'll have nature as well as stunning Parisian beauty to admire. It can sometimes get a bit breezy here, so make sure to bring a light jacket or scarf!
Bois de Vincennes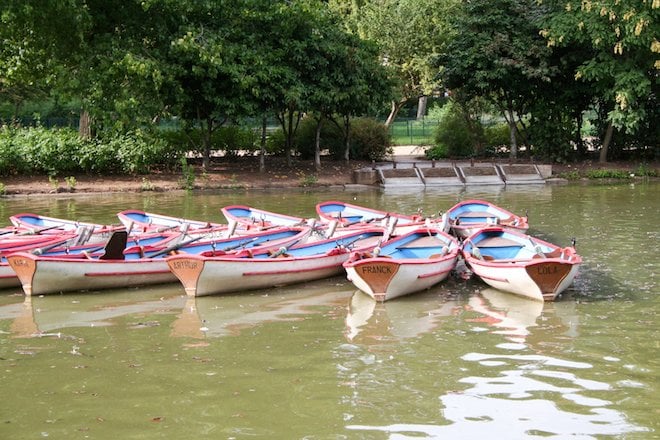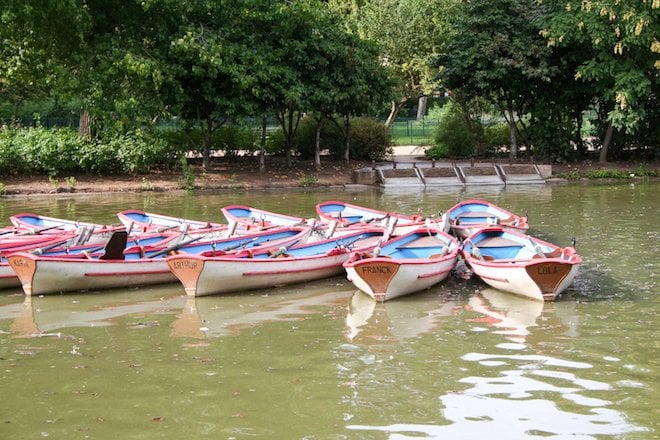 Why yes, I would like a château with my picnic, merci. This lovely spot in the 12th was originally created by Napoleon III, and houses Château de Vincennes, a former home of the Kings of France.
Perhaps my favorite, this particular park may be far-flung, but certainly worth the trek. The best part? You can rent rowboats along Lac Daumesnil and drift away with the fading sun – just bring your picnic supplies along for the ride.
Parc des Buttes-Chaumont
Arguably the most enchanting, Parc des Buttes-Chaumont is certainly far from the touristy areas, as it resides above Belleville in the 19th arrondissement. With its waterfalls, quiet corners and lush, overflowing gardens, it reminds me of a fairytale, with shockingly stunning views of the city from its topmost gazebo. Perfect for a more romantic afternoon picnic.
Along the Seine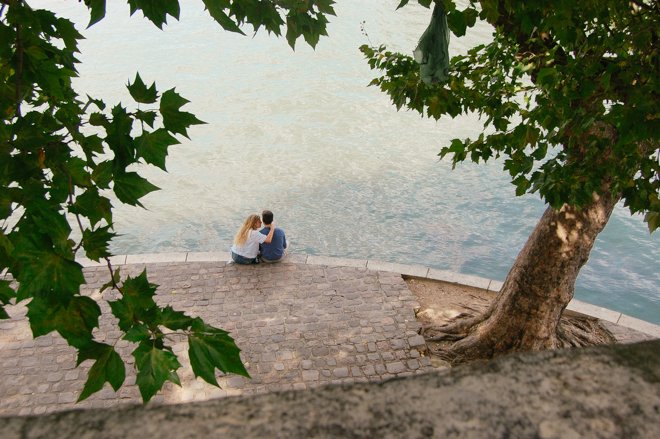 Once upon a time, before Paris became an iconic city of light and love, it was a fledging town centered around one sole life source: the river. The Seine is the heart of the city. If you dine here, you'll never be far from a new museum or monument to admire, and you're not likely to get lost with the river as your guide. The pleasant green space on Ile de la Cité always has people picnicking, watching as the boats pass, setting the scene for painters and photographers on the edge of the Latin Quarter above.
Bois de Boulogne

One of my best friends used to live on the outer edge of Bois de Boulogne, and we'd delight in picnic spreads nearly every weekend in warm weather, so it remains lodged in my heart. But I wouldn't only visit for nostalgia's sake. Similar to Bois de Vincennes, this park is vast, and filled with trees and grassy fields to quiet the city's noise. From water lilies to roses, open fields to benches shrouded in leaves, Bois de Boulogne would be perfect for an afternoon picnic.
_____________
Regardless of where you sit, there's something enchantingly luxurious about picnicking with the Parisians. Perhaps it's the quintessential effortlessness of the French, or the enticing realization that you can sip your wine on a Tuesday afternoon, lounging in the sun, entirely free of judgment. Perhaps it's simply that nothing pairs better with a picnic than French food.
Whatever the reason, picnics are a fantastic way to live as the Parisians live. Experience them for yourself this fall before the brisk winter mutes the city.
While sprawled out on your picnic blanket, watching the hazy sky, with the taste of wine fresh on your lips and the sound of the lyrical French language fresh in your ears, you can blend in with the locals – if only for a moment – and become one with this elusive city.
(Image Credits: All images by the Author and Hannah Wilson, unless otherwise noted.)