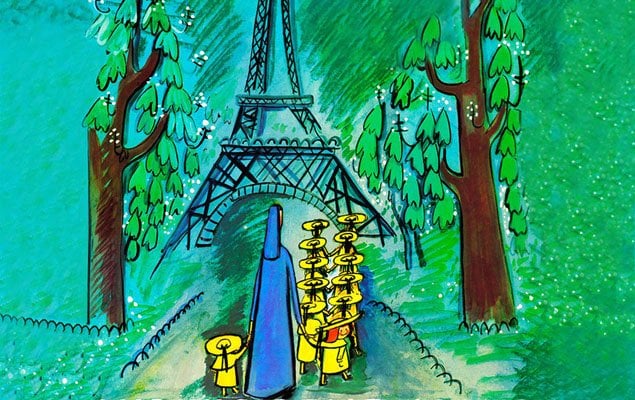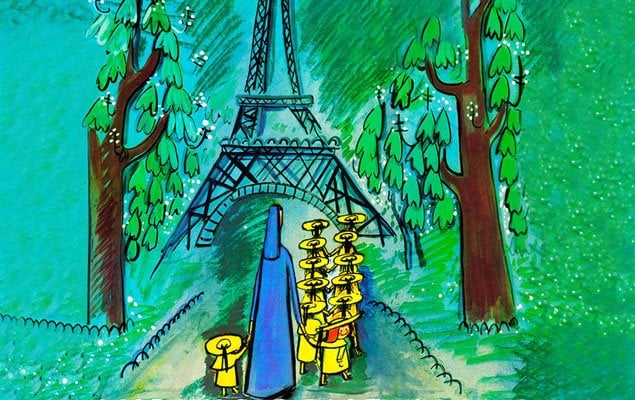 I have adored the Madeline books by Ludwig Bemelmans since I was a little girl!  Not only because we share the same name (hers spelled with an "i" and mine a "y"). But because she created the adventures I wanted to lead! And even better, she never really got into trouble. Truth be told, that's what impressed me the most.
The similarities didn't end there, because we were a family of six girls and when we walked "in two straight lines," as my father prescribed, it was just like Madeline in her house in Paris.
When we lived in Naples, Italy and my youngest sister Lisa started walking, we would hold hands two by two and follow our parents through the narrow streets. The Italians would stop us and ask if we were a school! "Sono una scuola?" They laughed at my father's response that we were a 'famiglia' and the baby's name was 'Basta', meaning 'Enough'!
Last week our son Olivier presented me with a Madeleine book he'd seen in a bookstall in New York and I was so touched! He remembered how much I talked about them and kept his eyes peeled until he found one in good condition.
Olivier didn't realize just how much it meant to me until I overwhelmed him with my stories.  Besides the 'never punished' part, I loved how Madeline was completely fearless.  Here's the line and picture I never forgot: "To the tiger in the zoo Madeline just said, 'Pooh- pooh!'" Wow, now that is courage!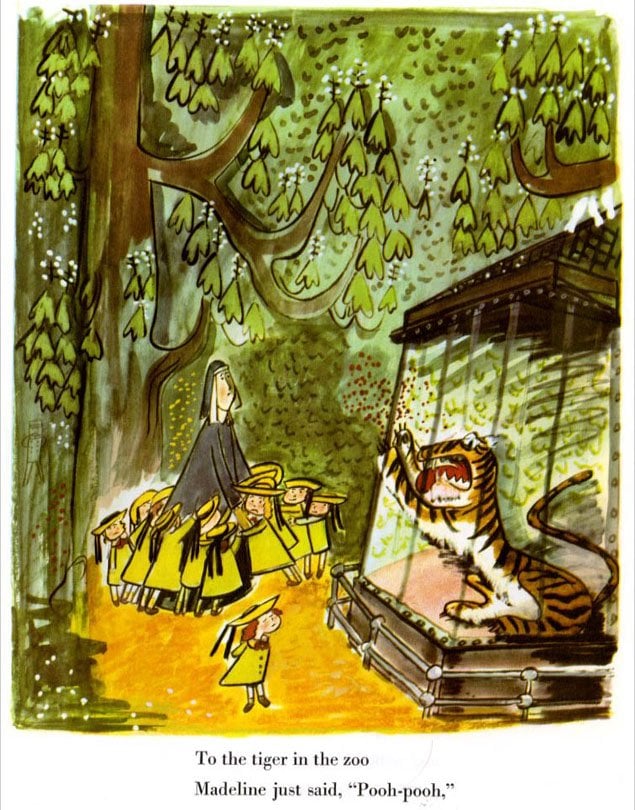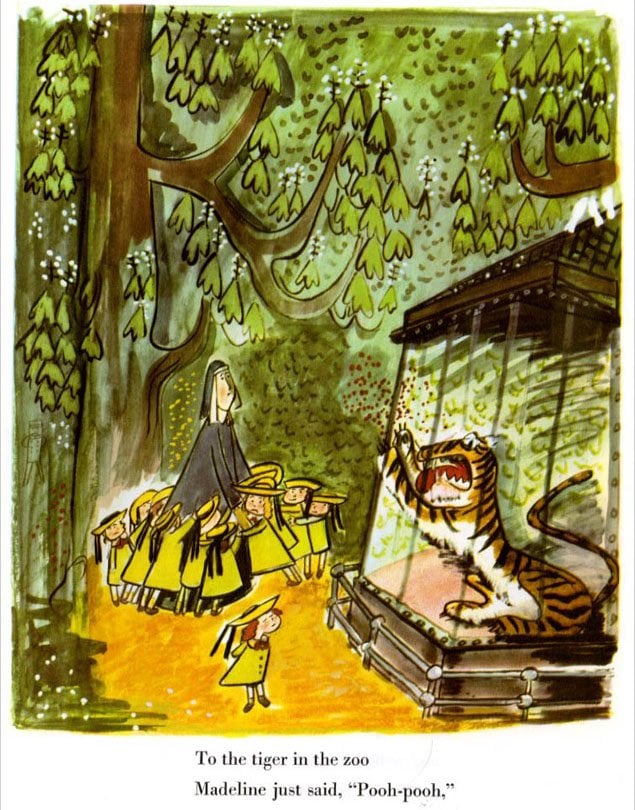 Best of all, she had wonderful adventures and always saved the situation!
My favorite book is the one Olivier found, Madeline's Rescue.  Madeline falls off the Pont Neuf on Ile de la Cité, my favorite bridge in Paris.
Did she get spanked for stepping too close to the edge, or standing on the wall (as I would have done?) Noooooo……. not at all!  In Naples at age 3 or 4, I climbed over a 6 foot chicken wire fence on our 3rd floor balcony — which my parents installed expressly to keep us from climbing over.  My mother used to tell me about her heart-stopping moment when I called to her to 'Watch me swing back and forth'!   Since I was on the outside of the fence, risking a deadly fall into the street, she gently talked me into climbing back over.  No rewards like my namesake, but at least I didn't get spanked!
I have to admit I usually deserved the punishment, from carefully swiping all the chocolate icing off my mom's fresh-baked cakes to hiding when it was time to help with dishes to instigating huge fights with my sisters. Was it because I was the middle child, or just plain obstreperous? Writing back to her parents in Kansas, my mother announced their family routine:   "If I hear one of my six girls crying, we spank Madelyn first and then find out what happened.'  Unfortunately, they were usually right and I was the one who needed — in today's terms — the naughty step.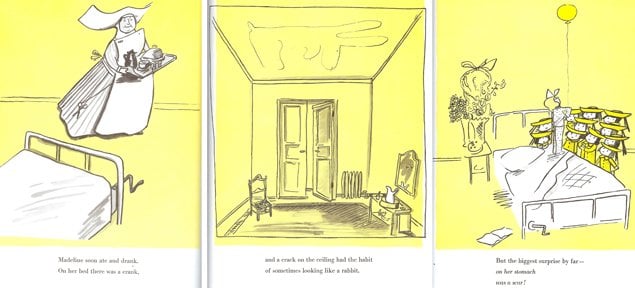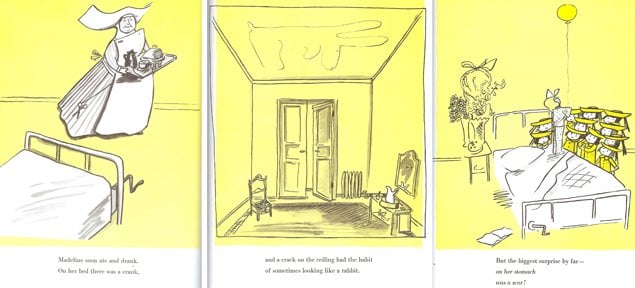 Attending kindergarden in a Catholic School in Naples, Italy run by strict Italian nuns was my first experience of rebellion. As the only one among my sisters who was left handed, there were problems. It was against the rules to write with your left hand.  In fact the word sinister comes from the word meaning left, "sinistra." I refused to switch, so I spent two years repeating kindergarten, refusing to change hands.  they would hand me my writing book and ask me to copy letters, dots (puntini) and other — but I refused even when they asked my incredibly sweet sister Kathleen to plead with me to change hands. No grazie! I read much later that forcing a child to switch hands can cause disruptive behavior; I definitely  proved that theory.
As I grew older, I tried to locate the order of nuns who ran Madeline's orphanage — asking myself why my Italian and Irish Catholic nuns were so strict.  At least the priests had a sense of humor:  in 6th grade, Father Canning  lectured us about The Steps to Sainthood: "One of the qualities of sainthood is to start as a great sinner. An example is Mary Magdalene, who was a great sinner before she became a Saint. And just like that Magdalene, your classmate Madelyn has fulfilled the first of these qualifications!"
My dream of living in Paris came true, meeting a crazy heart surgeon turned entrepreneur named Philippe. And I still think of Madeline when I cross Pont Neuf and turn into the gorgeous Place Dauphine  where I dream her orphanage still stands today.