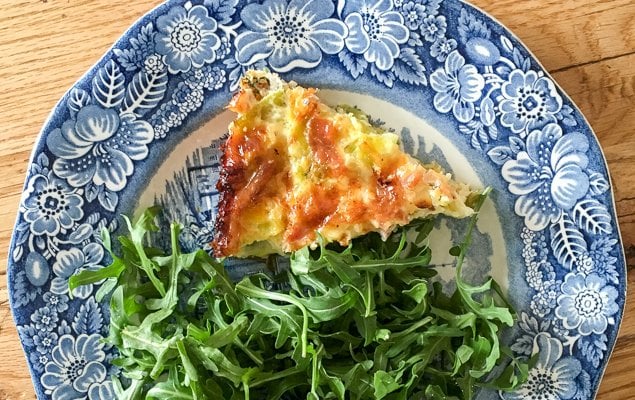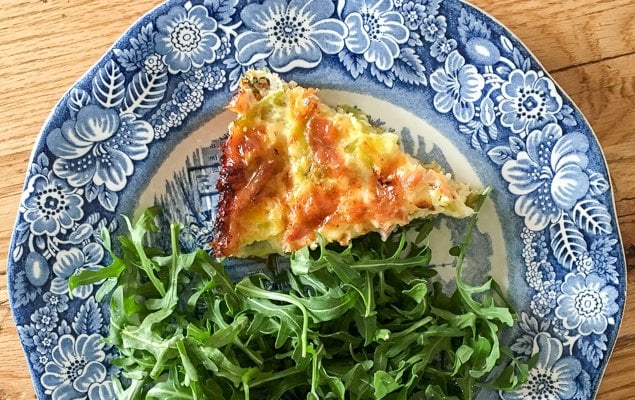 There are two sure signs of Spring approaching in Paris: the bursting of magnolia blossoms and tulips in every park, and an increased buzz of activity in every farmer's market. The new variety of spring produce is an unmistakable indicator of warmer weather to come. Asparagus, spinach, spring onions, beets, greens, peas, and radishes – all are spring vegetables with a particular bite that tastes like a joyous welcome to the new season.
As you wait out the final days of winter, try your hand at this easy crustless quiche featuring a spring favorite – leeks. Sweet and buttery when cooked, leeks pair well with the assertive flavors of gruyère cheese and prosciutto. Dill is a bright spring herb with a delicate flavor that rounds out the quiche. Crustless means no more extra time spent preparing, chilling, and baking a homemade crust, or messing with store-bought pâte brisé. You'll be surprised at just how delicious and filling quiche is without it!
Crust-Free Leek & Prosciutto Quiche with Gruyère Cheese & Dill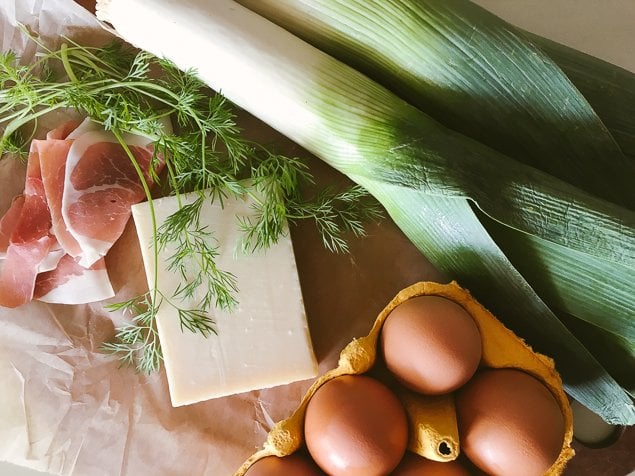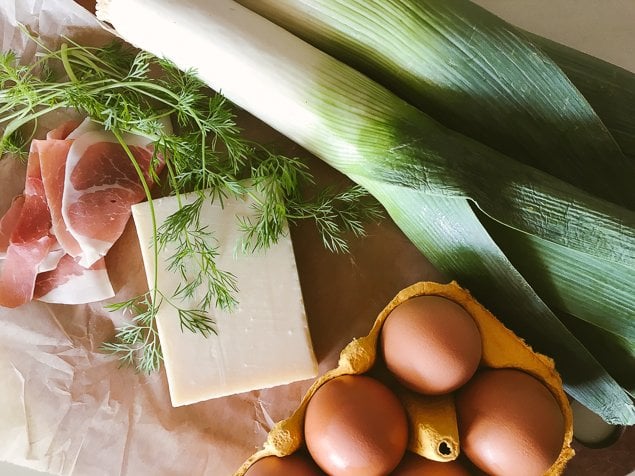 Ingredients:
1 tbsp olive oil
2 medium leeks
1 bunch fresh dill, about 2 tbsps chopped
2 oz prosciutto, chopped
3 oz gruyère, shredded
3/4 cup milk
4 eggs
1/4 tsp salt
Instructions:
Preheat oven to 400 degrees F (200 degrees C). Use a few drops of olive oil to grease a glass or glazed ceramic baking dish (approx. 9" round or 8×8" square), and pour the rest of the oil into a medium pan for sautéing the leeks.
Trim off and discard both the root ends and dark green leaves of the leeks, and then cut each leek in half lengthwise. Gently separate the layers under running water to rinse off any dirt. Proceed by slicing the leek halves into 1/4" slices, forming thin half-moon shapes.
In the pan over medium heat, cook leeks until softened, stirring occasionally – about 7 minutes.
Turn off heat and stir fresh dill into the cooked leeks. Set aside.
In a medium bowl, whisk eggs, milk, and salt until combined.
Transfer the leek and dill mixture to your baking dish, mixing in both the chopped prosciutto and shredded gruyere until evenly distributed. Pour egg mixture into the dish.
Bake for 40-45 minutes, until quiche is set and a light golden brown crust forms on top. Remove from the oven and let cool for at least 15 minutes before serving. This quiche is equally delicious served at room temperature as it is when warm.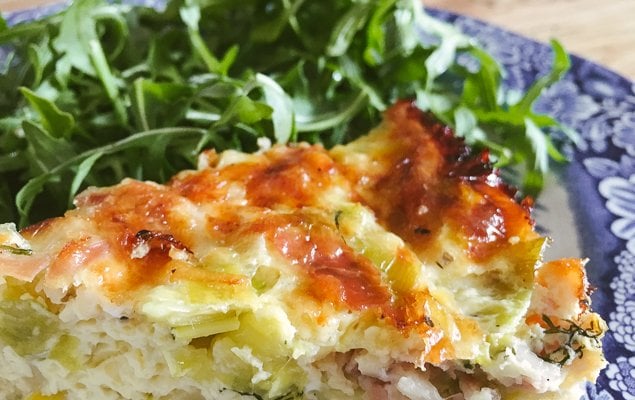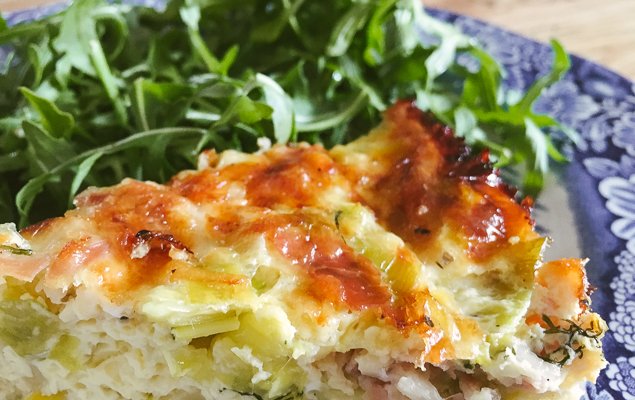 To complete this light meal for any time of day, serve with a simple arugula salad dressed with a drizzle of olive oil and squeeze of lemon. If you love wine, try pairing this with Sauvignon Blanc or Sancerre to bring out the fresh, aromatic flavors of the dill and cut through the richness of the cheese and egg, or opt for a light red – Pinot Noir, Gamay or Beaujolais – to bring out the nuttiness of the Gruyère.