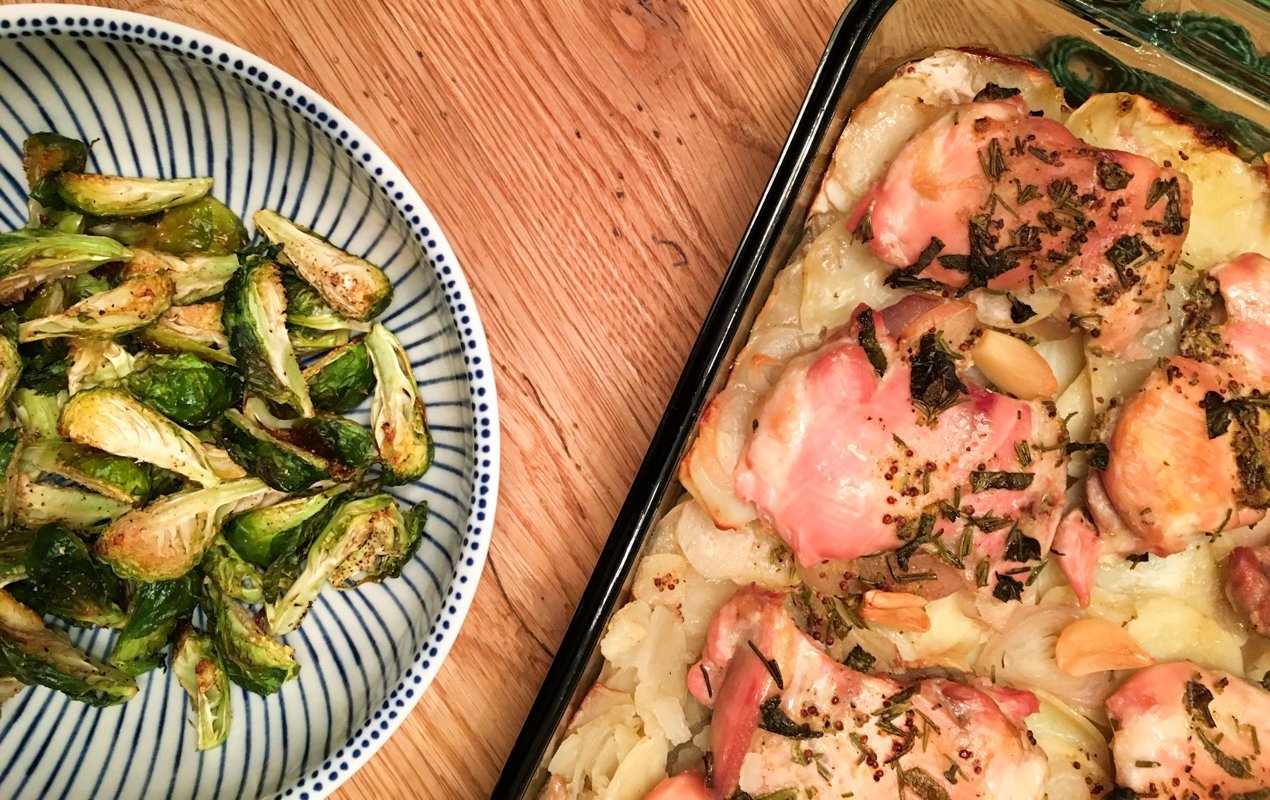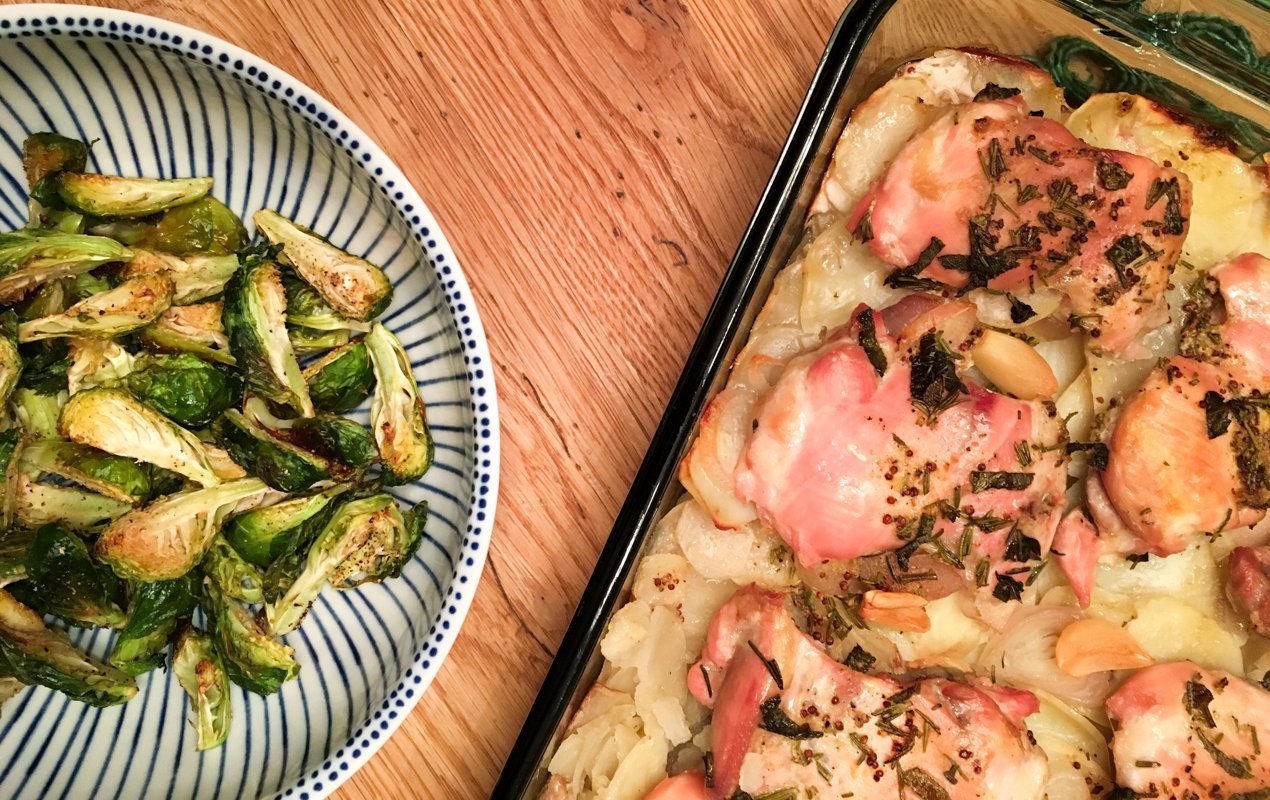 Dijon is France's top choice when it comes to mustards. This one-dish chicken and potato roast utilizes two varieties of moutarde: the smooth, pungent Dijon and the slightly sweeter whole grain Dijon. Both are made with white wine as their acid content, which produces a long-lasting heat and depth of flavor. The combination of mustard with other classic French aromatics like woody, leafy herbs, garlic and shallots are key to the balanced and lively seasoning in this recipe.
Try adding fresh tarragon – one of the fines herbes of French cooking – in combination with the other herbs to add a subtle anise-like flavor component!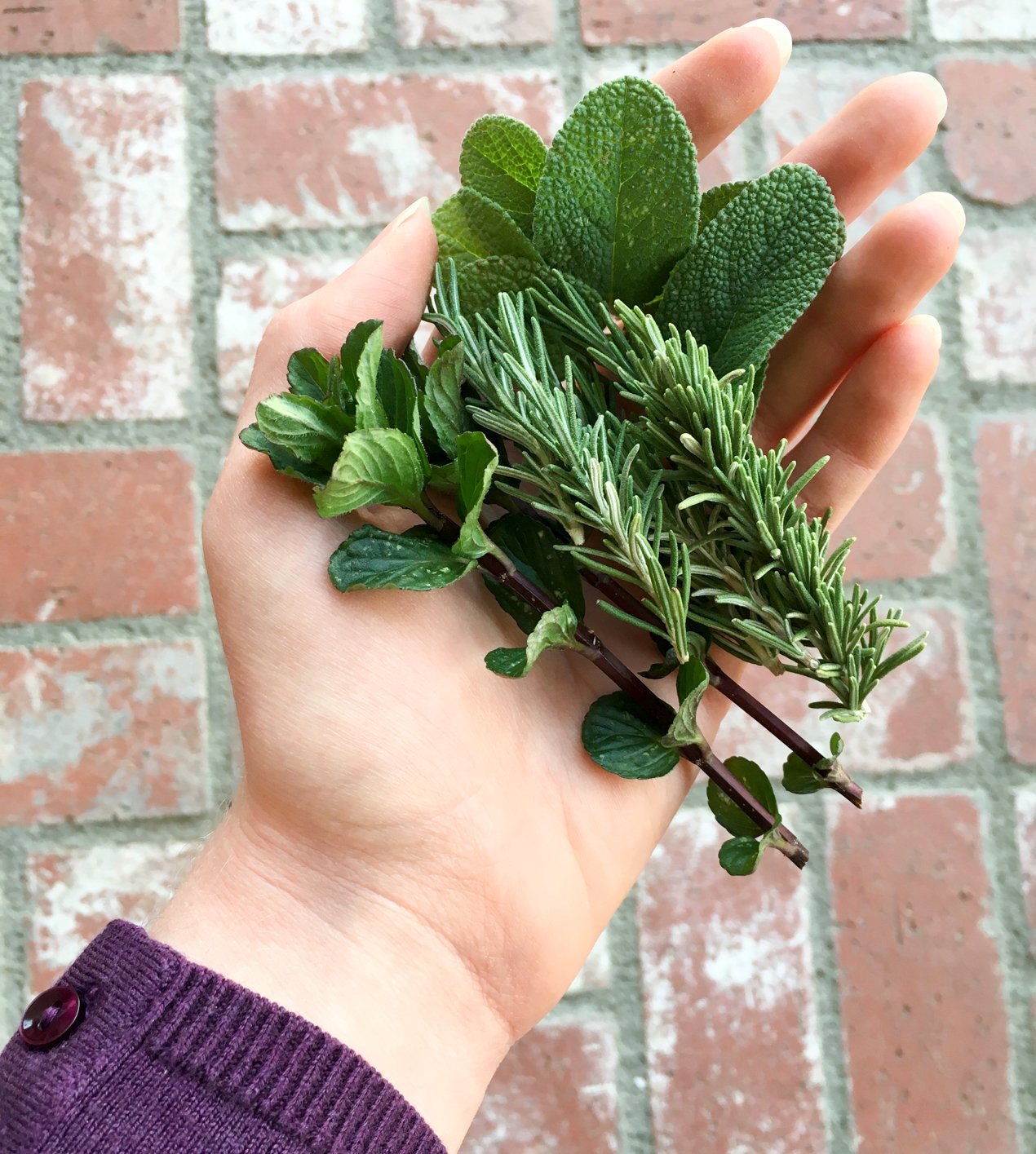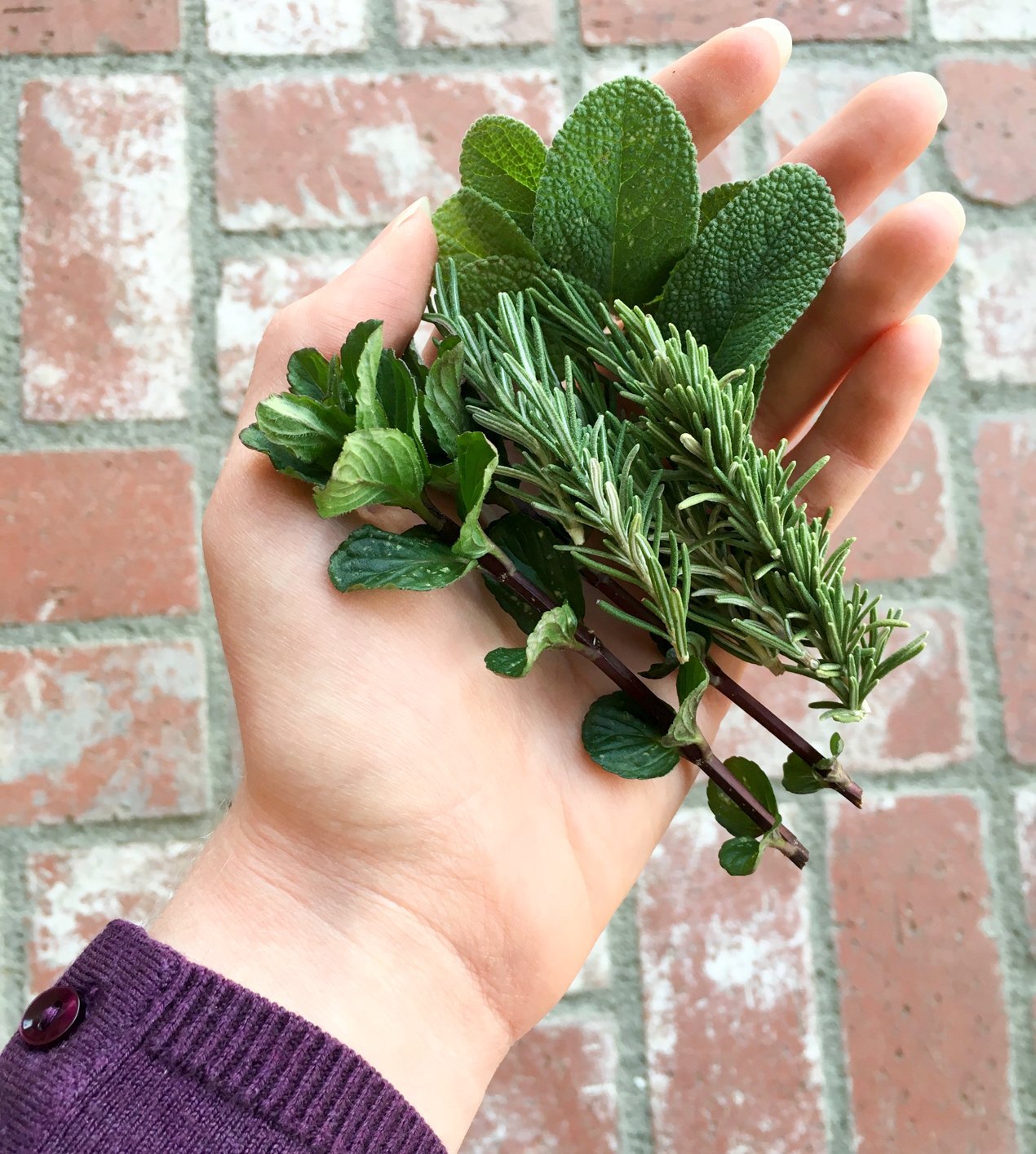 Mustard & Herb Roasted Chicken & Potatoes
Serves 4-6 (For serving a smaller group, this recipe easily devides in half. Just use a smaller baking dish to ensure the potatoes don't dry out.)
Prep Time: 25 minutes
Cook Time: 75 minutes
Total Time: 1 hour, 40 minutes
Ingredients:
1 tbsp olive oil
4 large yellow potatoes, peeled and thinly sliced
2 pounds boneless, skinless chicken thighs
2 shallots, sliced
6 crushed and peeled garlic cloves
A handful of fresh herbs (such as oregano, sage and thyme), roughly chopped
Salt & pepper to taste
For the Dijon Vinaigrette:
2 tbsp white wine vinegar
1 tbsp olive oil
1 tsp Dijon mustard
1 tsp whole grain mustard
1/2 tsp salt
1/2 tsp pepper
Instructions:
Preheat oven to 400°F (200°C). Grease a glass or glazed ceramic baking dish (approx. 9″ x 13″) with 1 tbsp olive oil.
Evenly layer sliced potatoes in dish, then sprinkle with salt and pepper. Scatter sliced shallots on top of potatoes. Place chicken thighs on top of potatoes and shallots. Sprinkle with chopped herbs and wedge garlic cloves in between the pieces of chicken.
In a small bowl, whisk together the remaining ingredients to make a vinaigrette. Pour over the chicken, making sure to coat each piece evenly and completely.
Cover dish with aluminum foil and place in preheated oven. After 45 minutes, uncover dish and return to the oven, cooking until potatoes are tender when pierced with a fork and chicken is cooked through, about 15-20 more minutes. Remove from the oven and cool for 10 minutes before serving.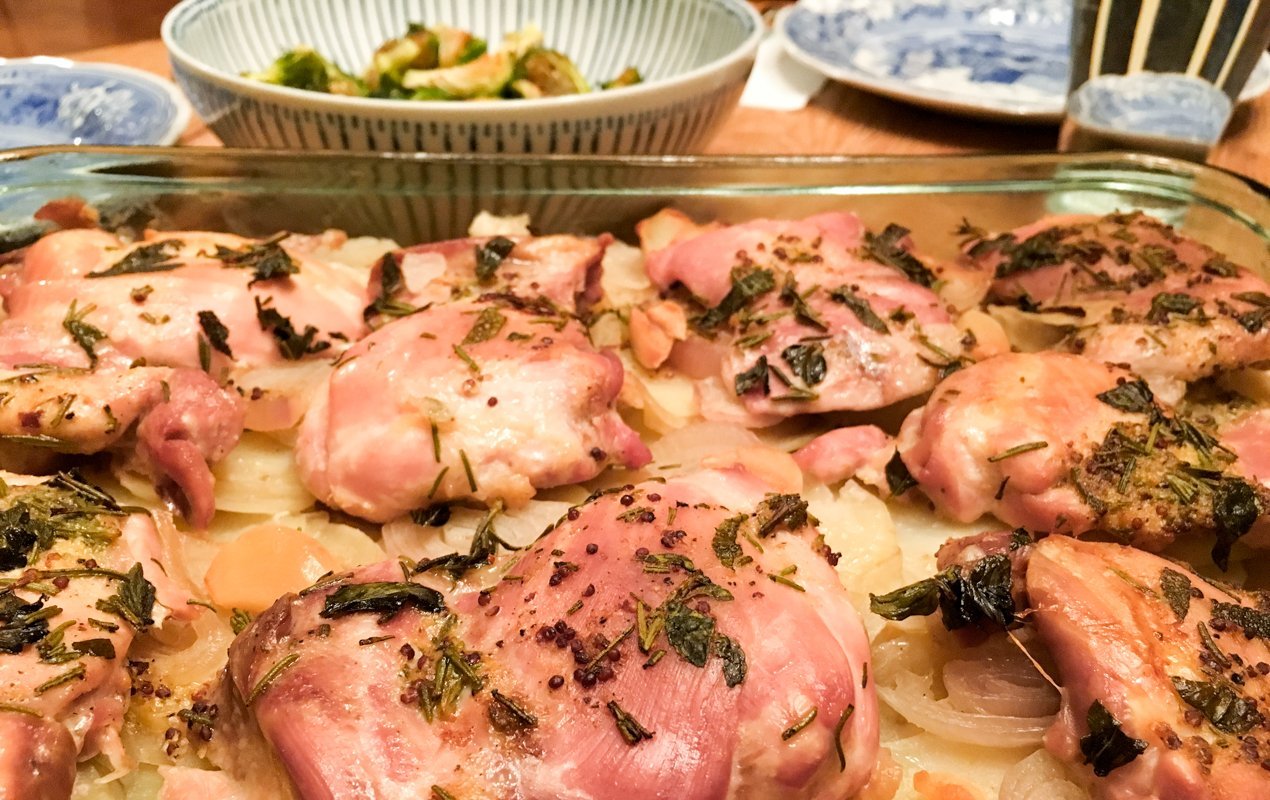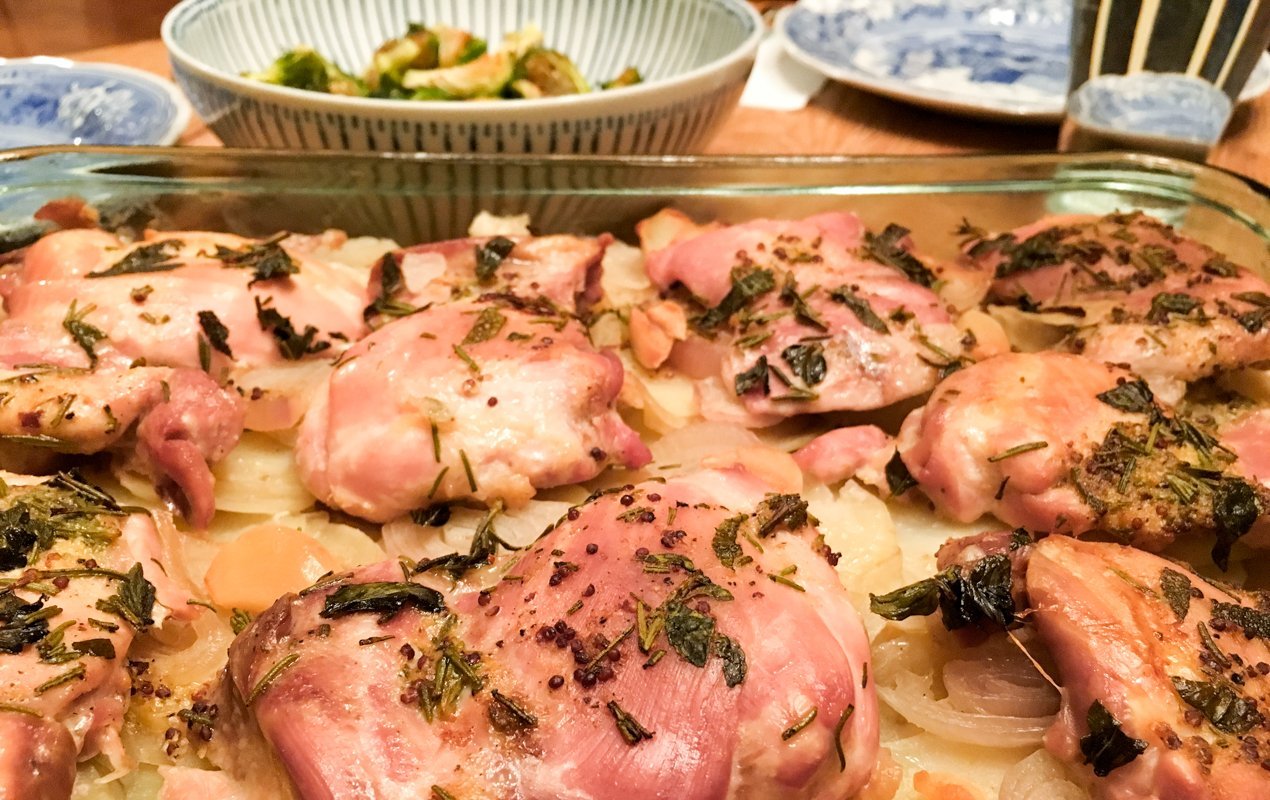 Serve this dish with a simple green vegetable side such as roasted brussels sprouts or broccolini, or enjoy as an easy one-dish meal!
(All images by the Author. Recipe adapted from Elise Bauer.)
Summary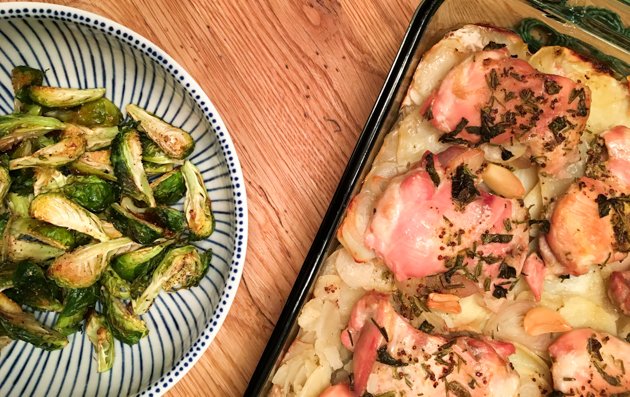 Recipe Name
Roasted Chicken with Dijon Mustard & Fresh Herbs
Published On
Preparation Time
Cook Time
Total Time
Average Rating





Based on 1381 Review(s)