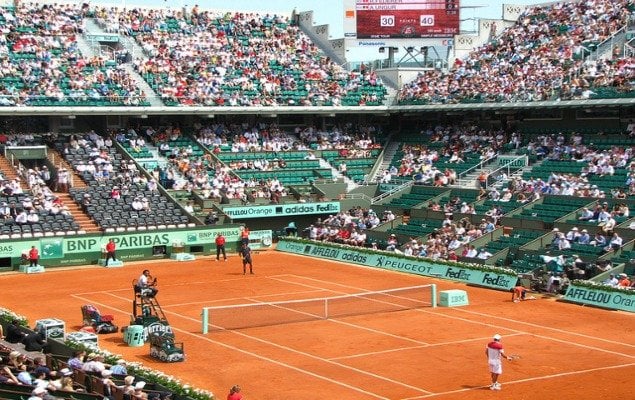 What Wimbledon is to England, and the US Open is to America, Roland-Garros is to France. Also known as the French Open, it is one of the four most famous tennis tournaments in the world, and this summer, you'll have 21 opportunities to see some of the best athletes compete on the court. Between May 16 and June 5, the doors of Roland-Garros stadium will be open to tennis enthusiasts, athletic aficionados and tourists with a desire to see the games up close and personal.
Located at 2 Avenue Gordon Bennett, Stade Roland-Garros has hosted the French Open since 1928, and will host over 200 tennis players on their quest to a Grand Slam victory. Though this historical stadium is thrilling, the line-up for this year's tournament is at the center of it. Of course you can expect to see the faces of Venus and Serena Williams on the court, but such players as Roger Ferderer, Angelique Kerber, Novak Djokovic and France's very own rising-star, Kristina Mladenovic, are also on the entry list 2016. After Rafael Nadal's win at the Monte Carlo Masters early this April, you can't miss out on seeing if he'll take home the ultimate prize.
Although many of the tickets are already sold out, resale tickets are available on the official website, letting you into such events as the Qualifyings, the Roland-Garros Kids' Day and the Ladies' and Gentleman's Finals from 20€ to over 1,000€. If you have the desire to see the Finals, but can't seem to get into the inside courts, tickets to watch the game on the outside courts via giant screens are available from 10€-12€. The screens can also be viewed from the walkways around the stadium for non-ticket holders. You might not be inside of the stadium, but hey, at least it'll give you a break from all of the "professional booers!"
The matches usually begin at 10am, so it's important to get there early in order to beat the stampede of tennis-goers. A good tip to have is to also bring a hat and food. Despite what you might have heard about Paris being 50% rain, it can actually become quite hot in the summer months, and since Roland-Garros allows you to bring your own food, you'll get the chance to have a delicious, homemade lunch for less than what you'd spend at the stadium. More information on tickets and events can be found on the website, as well as a link to the official store. Who knows? You might want to come in style.
(Image credits: Tim Schofield, Yann Caradec (1 & 2), and Passion Leica.)