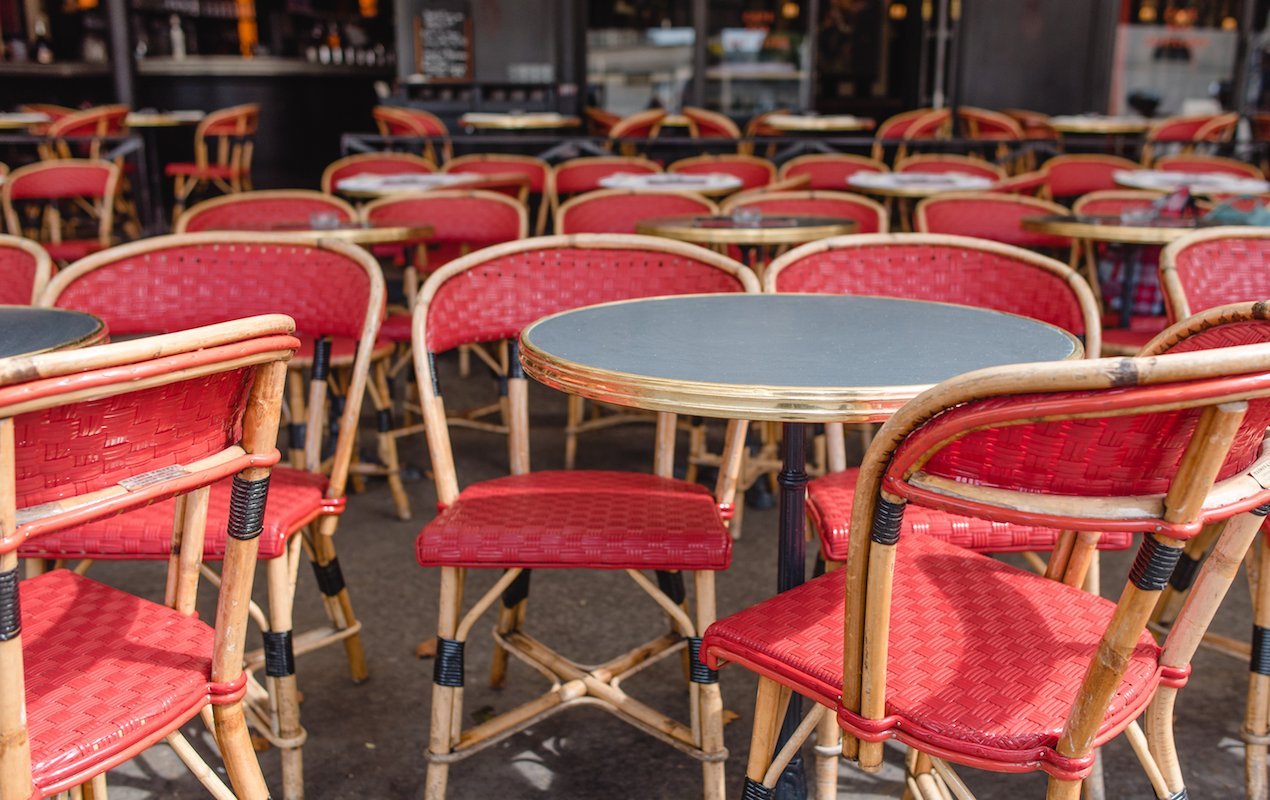 In Paris, there is hardly a shortage of sights to see, food to taste and wine to drink, but sometimes one of the best things to do is head to one of the Paris cafés for people watching. With cafés on nearly every street corner, you can easily find somewhere to hunker down for an hour or two, but for extra special moments, here are some little gems, straight from the experts on all things Parisian…our Paris Perfect team!
Paris Cafés for People Watching
Read on to discover who we are, what we do, and what are our favorite Paris cafés for people watching.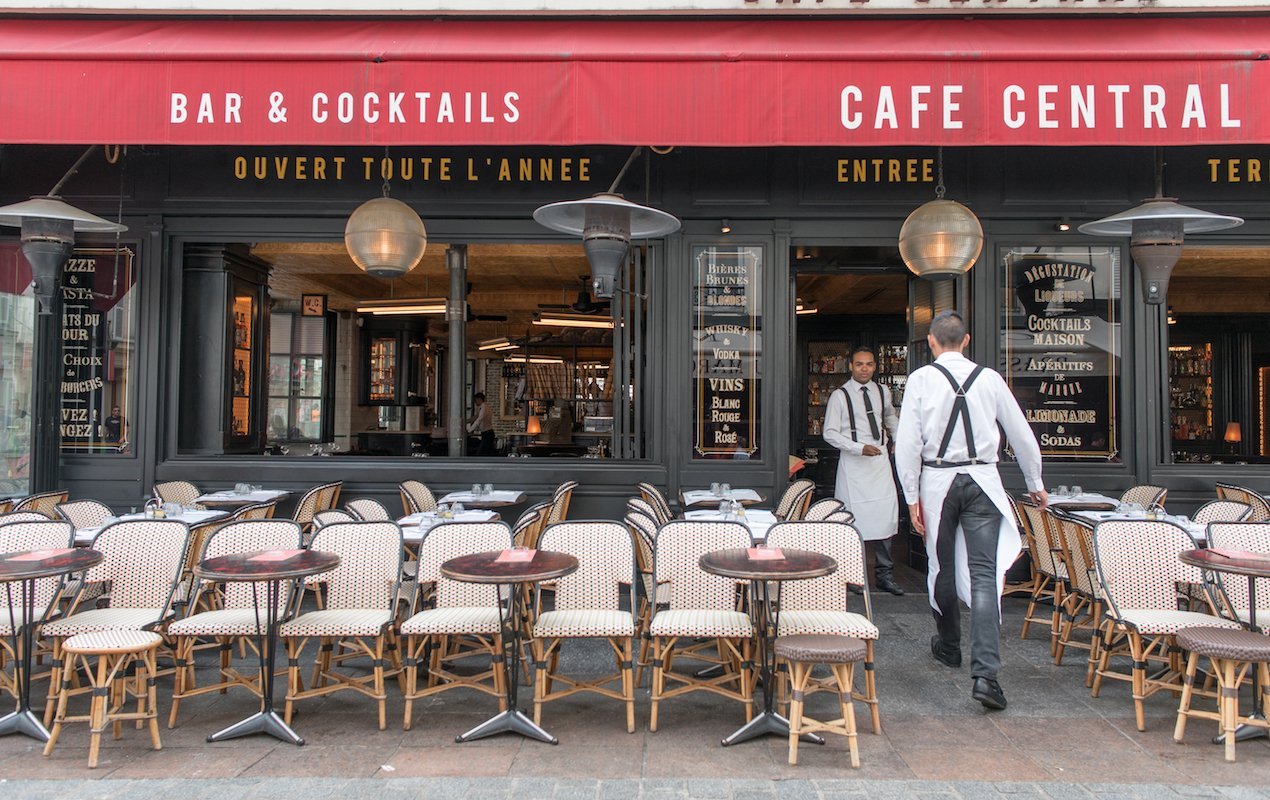 Café Central
If there is one café specifically made for people watching, Café Central is it. Sitting on the corner of Rue Cler and Rue du Champ de Mars, it is ideally located for this quintessentially Parisian pastime. The café has a long row of chairs turned outward, which makes it so that pairs sit next to each other instead of across in order to look out onto the pedestrians strolling by. It is a very relaxed café perfect for afternoons right through to the evening. According to John, they serve one of the best burgers around, Le Madam's Bacon Cheese.
If you prefer to see the City of Light at night, Café Central has a fantastic drink selection and even do absinthe in the traditional way. The waiter brings over a strangely beautiful copper water tap. Setting fire to a cube of sugar and waiting patiently for the flame to drop below the cube before turning the tap, the smallest amount of water completely melts the sugar into the drink and voilà, the perfect digestif!
40 Rue Cler, 75007 Paris
Metro: Ecole Militaire (Line 8)
Open Mon.-Sun. 7am-1am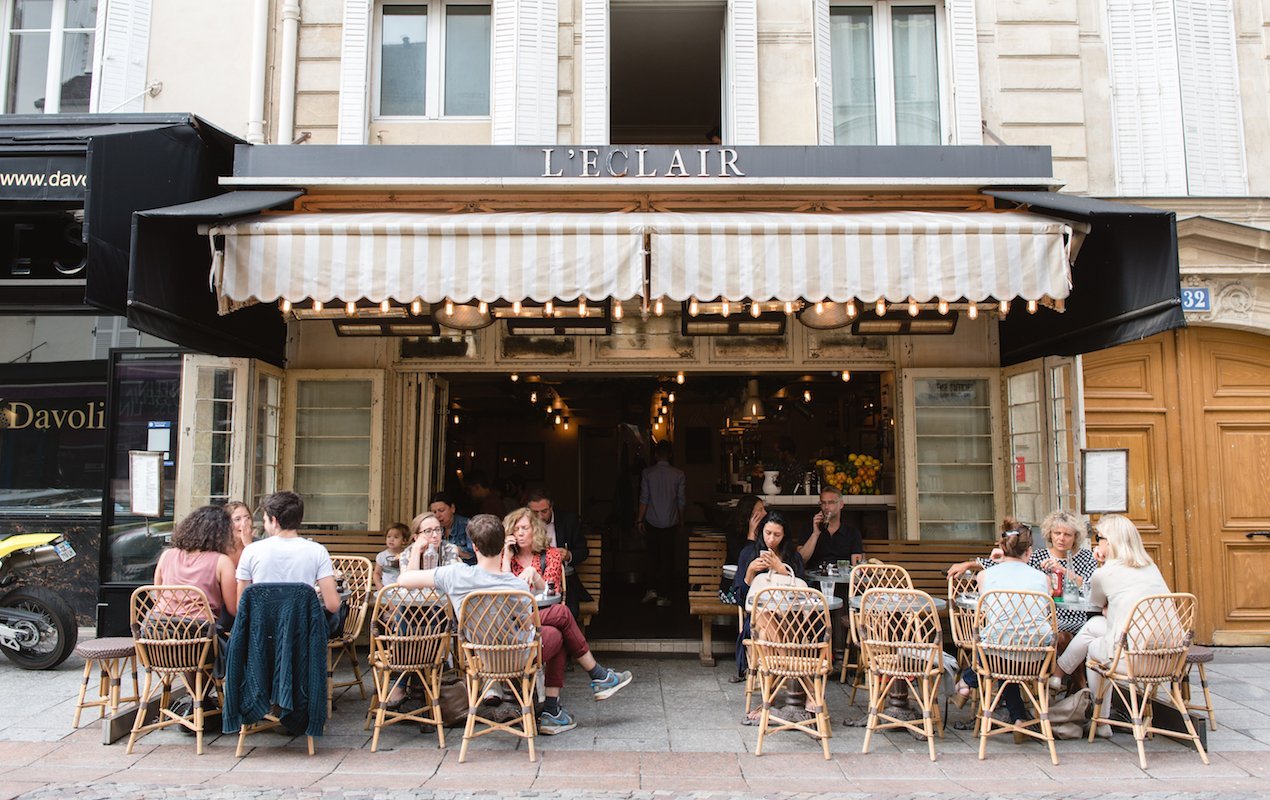 L'Éclair
For another option on rue Cler, head to the trendy L'Éclair. Hannah loves the charming vintage-industrial, southern-American-inspired feel of the place, and her favorite thing on the menu are the cocktails à partager, or massive 4-person cocktails in a bowl to share with friends. It comes with four straws, but it could easily be tackled by just two tenacious individuals. This is the perfect place for an apéro session before dinner elsewhere; they have tasty appetizers and lots of creative cocktails to choose from, as well as wine by the glass or bottle for every budget. On weekend nights, this place is packed, so get there early to snag one of the coveted tables on the terrace so you can enjoy the fresh air but also have the best view of the pedestrian street. When it's cold out, their terrace is equipped with space heaters so the fun never stops, even in winter!
32 rue Cler, 75007 Paris
Metro: École Militaire (Line 8)
Open: Everyday 7am-2am
Café Panis
As our Travel Designer, Lizani has the inside scoop on the best…everything! For an afternoon of dynamic people watching with a gorgeous backdrop, she recommends the Café Panis. This quintessentially Parisian locale in the heart of the city has a perfect view of the Notre Dame, particularly from the table next to the window, to the left of the entrance. From this charming café you can observe the throngs of tourists zooming past, but if you're searching for a bit more peace and quiet, just be sure to find a table inside. If you feel like picking up a book to tuck into, you can walk across the street to one of the bouquinistes or head around the corner to the famous Shakespeare and Co. bookstore.
21 Quai de Montebello, 75005 Paris
Metro: Saint Michel-Notre Dame (RER C, RER B, Line 4)
Open: Mon.-Fri. 7am-1am, Sat.-Sun. 8am-1am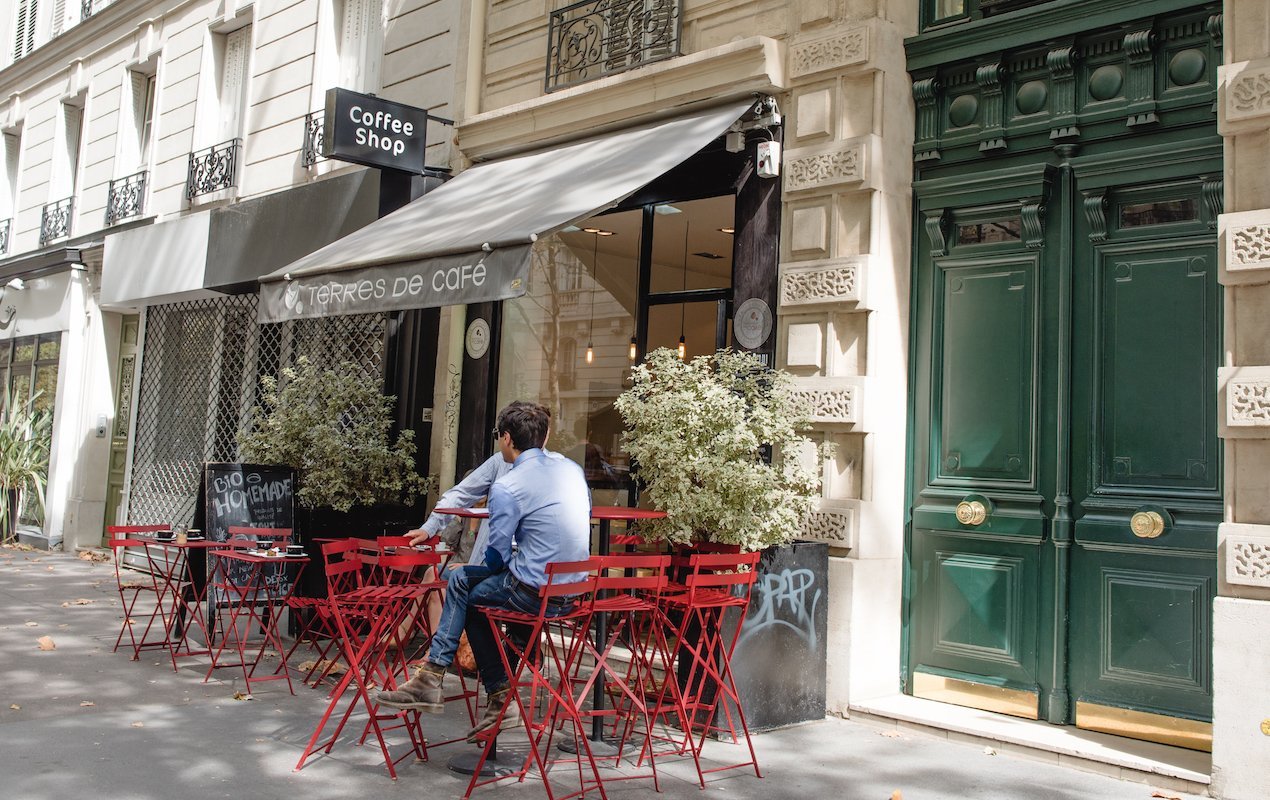 Terres de Café
From the ambiance, to the food, to the service, there is nothing Verity doesn't like about Terres de Café. Found in the 7th arrondisement, this café is really close to all our apartments – in fact, it's right next door to the Puligny.
On a clear day the sun bathes the tables outside, giving a calm vibe. Inside, the café is light and bright, with wooden furniture and glass windows so you can still watch the world go by. Verity has been coming here for so long that the barista knows exactly which coffee she takes, a personal touch she loves.
But what's a café without quality coffee and pastries! The style of coffee has an Australian influence. With flat whites and banana bread on the menu, it is the perfect blend of French and Australian cafés. The banana bread and carrot cakes are delicious, homemade and wholesome. Verity recommends the petit dejeuner menu, which includes coffee, freshly pressed juice and a slice of whatever takes your fancy.
This café is closely followed by Café Kozy, which is just around the corner from École Militaire metro station on Avenue Bosquet. Very similar vibe and coffee is nice and strong.
67 Avenue de la Bourdonnais, 75007 Paris
Metro : Ecole Militaire (Line 8)
Open Mon.-Sun. 9am-6 :30pm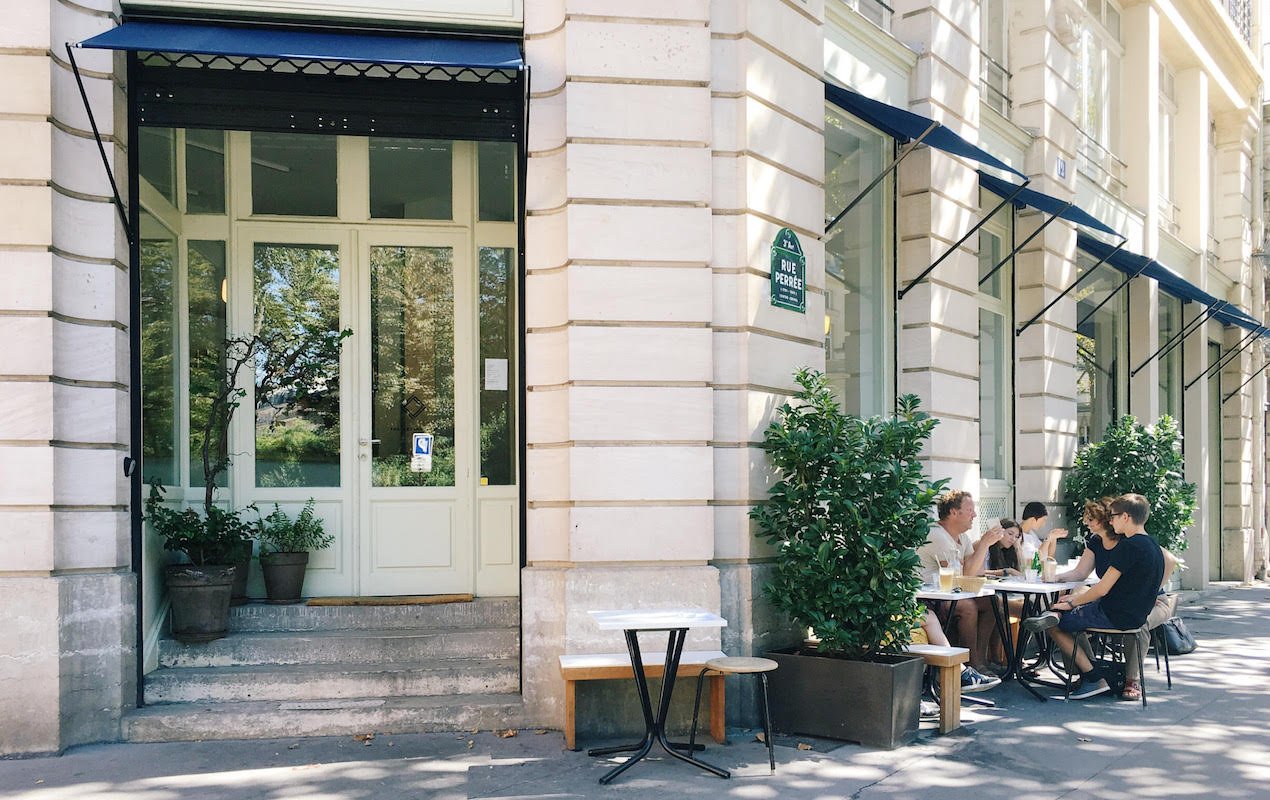 The Broken Arm
From café to high-fashion boutique, The Broken Arm marries two of the best pastimes in Paris. With a smattering of bistro tables and large picture windows, this is a favorite of Laura's for Parisian-style people watching. On sunny days, she recommends grabbing a spot at one of the outdoor tables overlooking the Square du Temple, a park that provides a beautiful backdrop to your time here.
This café boasts top-notch coffee, freshly made juices, and a creative variety of menu items, such as the quail terrine and cornichons or the sourdough toast with cured noir de bigorre ham, sun dried tomatoes, leafy greens and roasted garlic. Best of all, this café is located on a fairly quiet street in the trendy Haute Marais neighborhood, meaning you'll get brief peeks into the lives of some of the coolest Parisians.
12 Rue Perrée, 75003 Paris
Metro: Temple (line 3)
Open: Monday-Saturday 9am – 7pm
Big thanks to our Paris Perfect team for sharing their favorite Paris cafés for people watching!