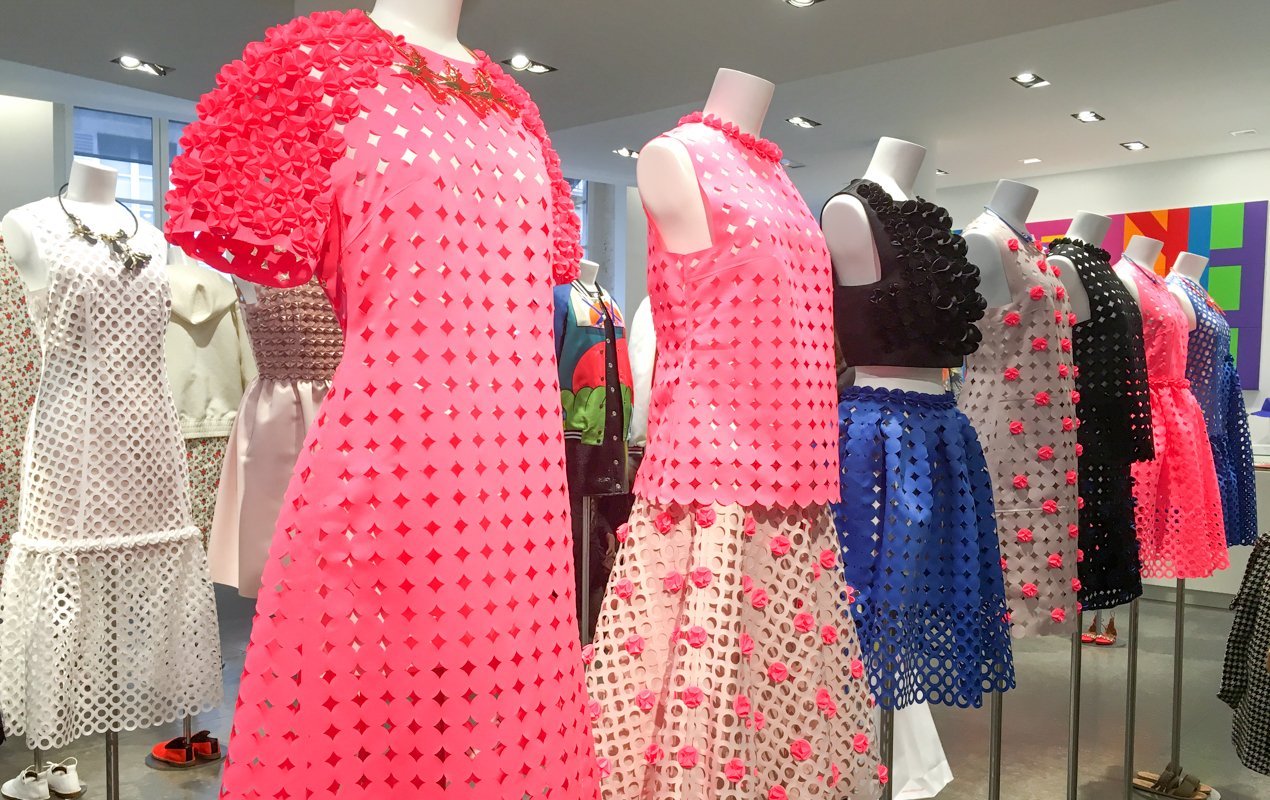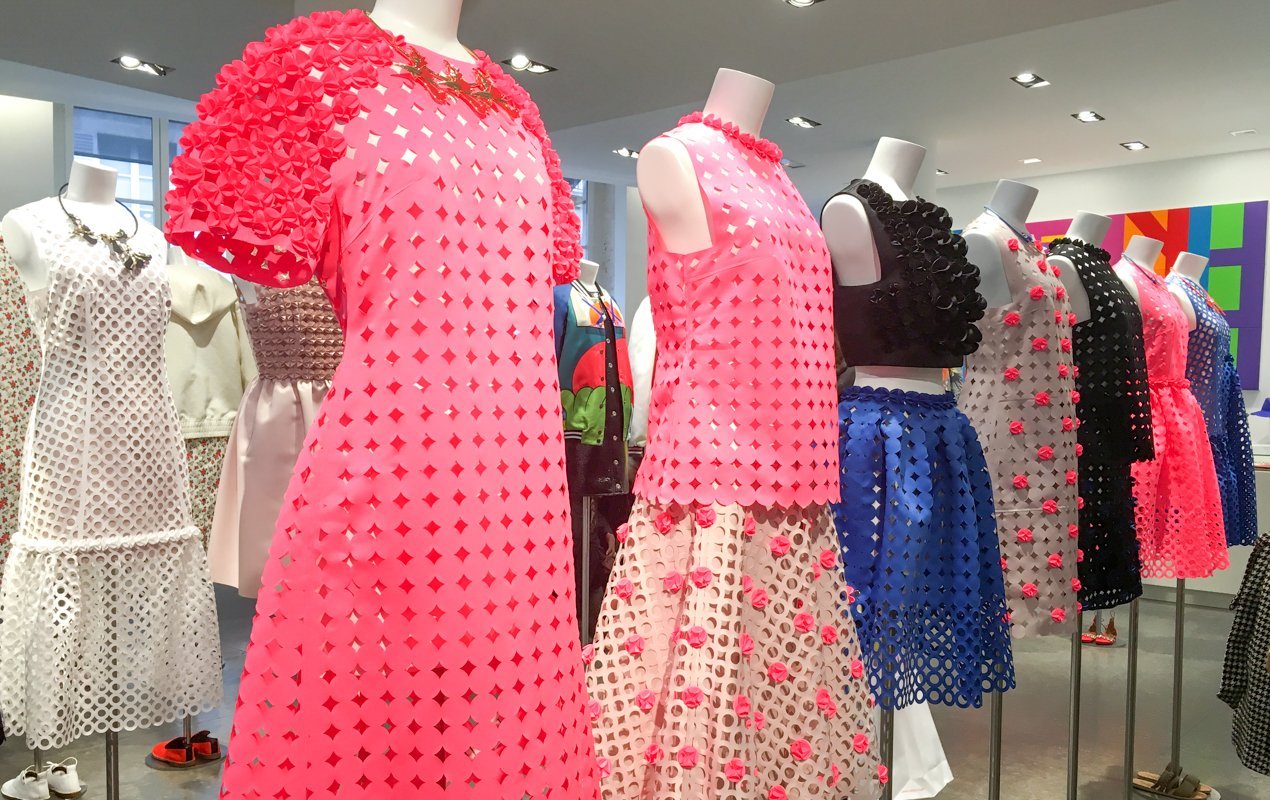 There is no doubt that Paris is a shopper's paradise – from historic department stores to the best selection of high-end designer boutiques, this city has it all! If you're in the market for a something a little more unique, cutting edge or quirky, then you're also in the right place, there is a plethora of concept stores for you to choose from. Whether you're into pineapple lamps, limited edition sneakers or truly avant garde designer garments, this list of the trendiest fashion-lifestyle concept shops in Paris is for you!
Merci – Trendy Department Store + Cafe & Restaurant
Merci has a little bit of everything – clothing, homewares, furniture, art, stationery, jewelry, skincare and even food. I like to think of Merci as Paris's "cool" department store. If you're not "in the know," you might walk past the store without realizing it's there, since you must enter through a courtyard. This courtyard is typically adorned with some plants and a vintage car, and through the huge picture window you can see tall bookcases of the Used Book Café, occupied by a handful of uber stylish Parisians snacking on carrot cake or sipping cappuccinos. This is without a doubt one of the most Instagram-worthy scenes in all of Paris. This shop entrance attracts the iPhone-wielding, internet-addicted hipster with the force of a black hole, and none can resist.
The shop has a rotating theme that changes every few months or so, with a slew of new products and decoration that are installed in the main foyer, an airy space with tall ceilings and a huge skylight. Some past collections include "Beard, Moustache & Pyjama," in which classy nightwear and grooming tools were featured, as well as "So Wax," which featured exuberant batik textiles and young African designers.
Address:
111 Boulevard Beaumarchais, 75003 Paris
Metro Saint Sébastien Froissart (line 8)
Website
Leclaireur – Hottest Designer Pieces for the "It Girl"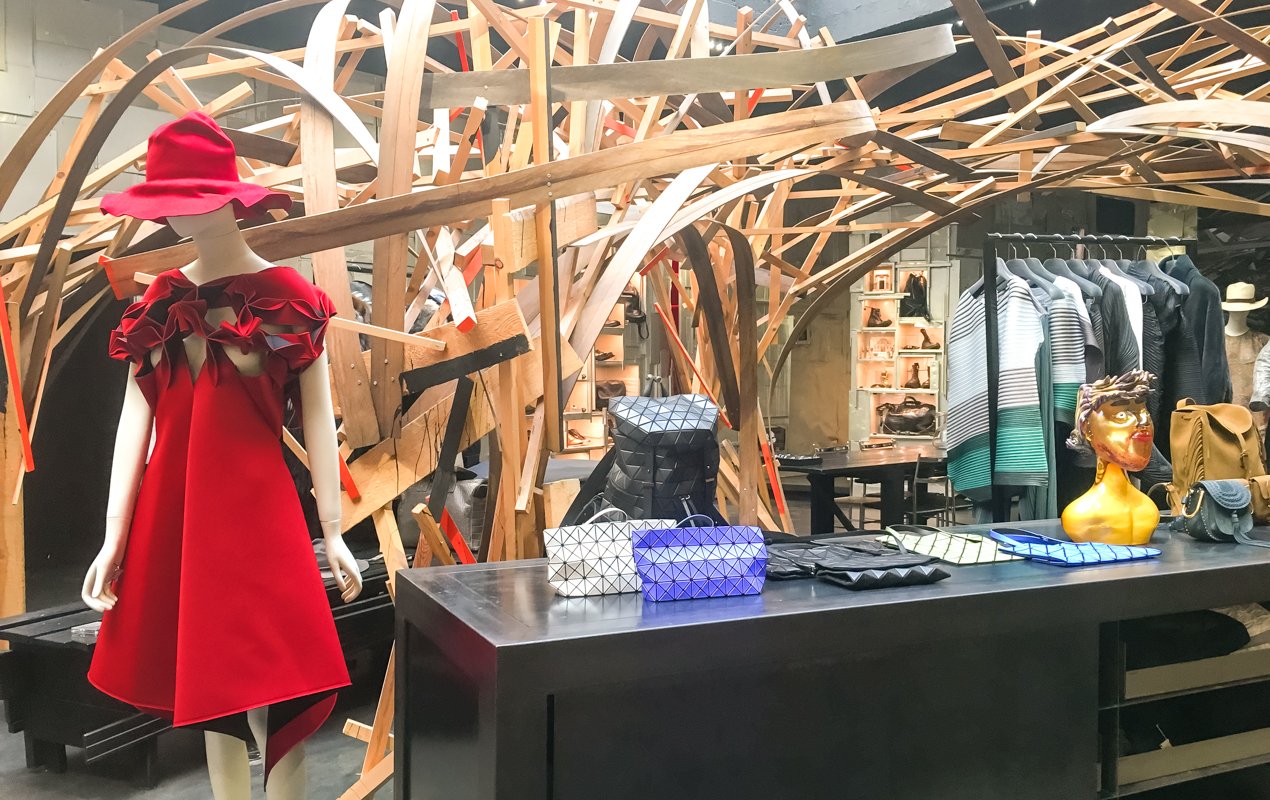 Stepping into a Leclaireur boutique is like stepping into a contemporary art installation. They have multiple locations throughout Paris and even though every single boutique has it's own vibe, they all exude the same aesthetic – slightly dark and moody, and extremely cool. The boutique on rue Sévigné, just next to the Musée Carnavalet, is covered wall-to-wall in silver paneling and TV screens, with a huge wooden archway right in the middle. This is where you go to find the piece that nobody else will have, where super models and the "It Girl" of the moment could find their statement pieces that would later be photographed by paparazzi and put into fashion magazines. With that said, don't plan to buy anything here if you're on a tight budget! Even if you don't plan on purchasing anything, it's still a fascinating place to explore.
Locations:
40 Rue de Sévigné, 75003 Paris
Metro Saint Paul (line 1) or Chemin Vert (line 8)
and
10 rue Boissy d'Anglas 75008 Paris
Metro Concorde (lines 1, 8 & 12) or Madeleine (lines 8, 12 & 14)
and
10 rue Hérold 75001 Paris
Metro Palais Royal Musée du Louvre (line 1 & 7)
More locations on their Website.
Colette – The Fashionista's Favorite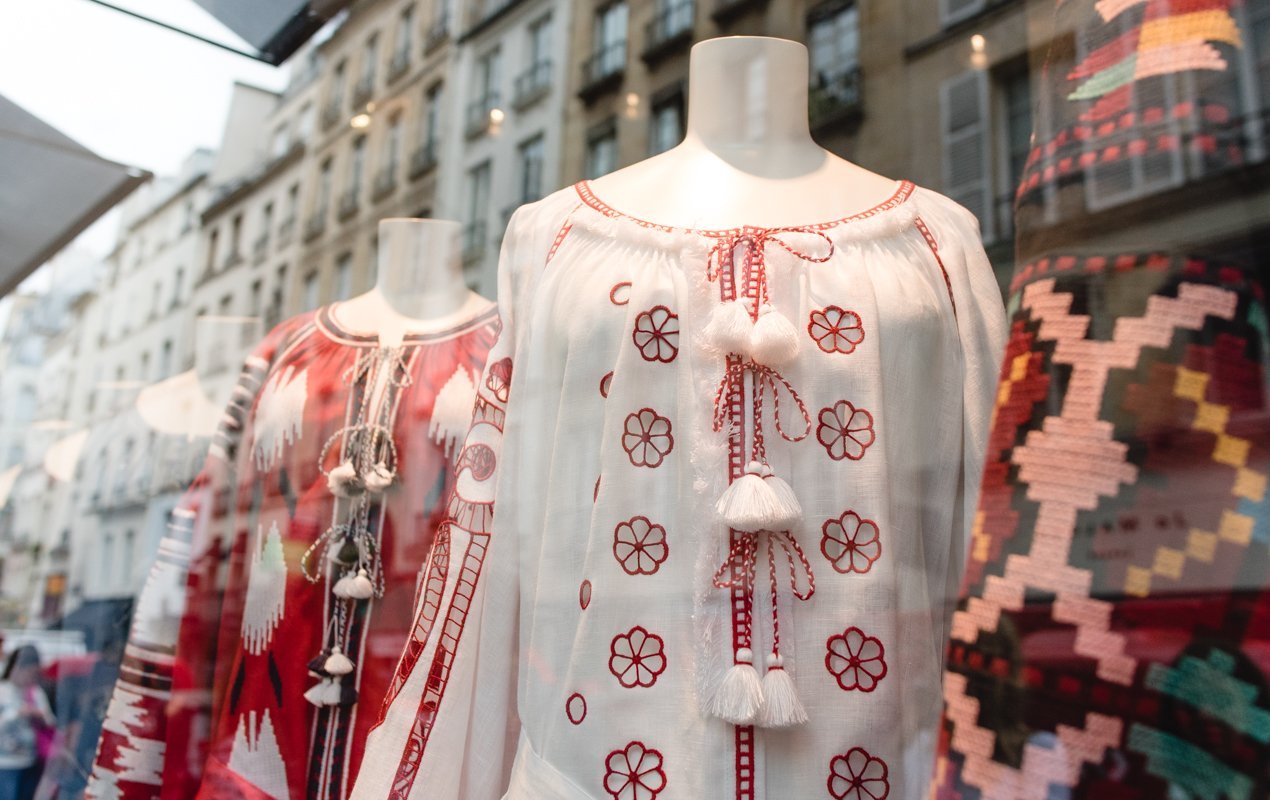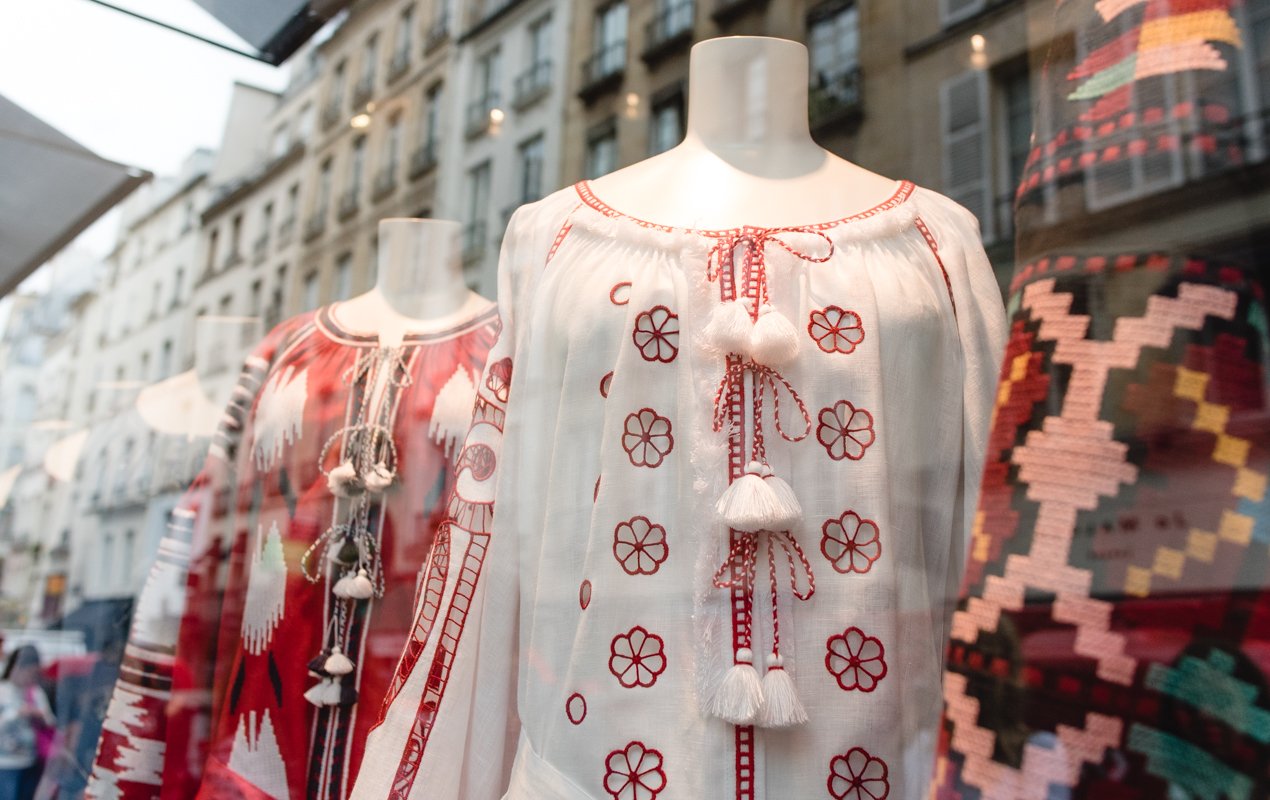 I've never seen a trendier store than Colette – they know what's hot before anybody else does, whether the trend is flowy 70's peasant tops or neon colored sneakers. Here is where you'll find fashion and art books as well as niche magazines, iPhone cases made from solid wood or even encrusted with diamonds, cult beauty products, limited edition sneakers and artist-designer collaborations. It's not just a boutique, it's a microcosm of the fashion week, style blogger culture.
There is a wide range of prices here. The clothing is a on the higher end, but plenty of the beauty products, books, magazines and accessories (like candles and phone cases) are very affordable.
Address:
213 Rue Saint Honoré, 75001 Paris
Metro Tuileries (line 1)
Website
Bensimon – Clothing & Home Décor with Scandinavian Twist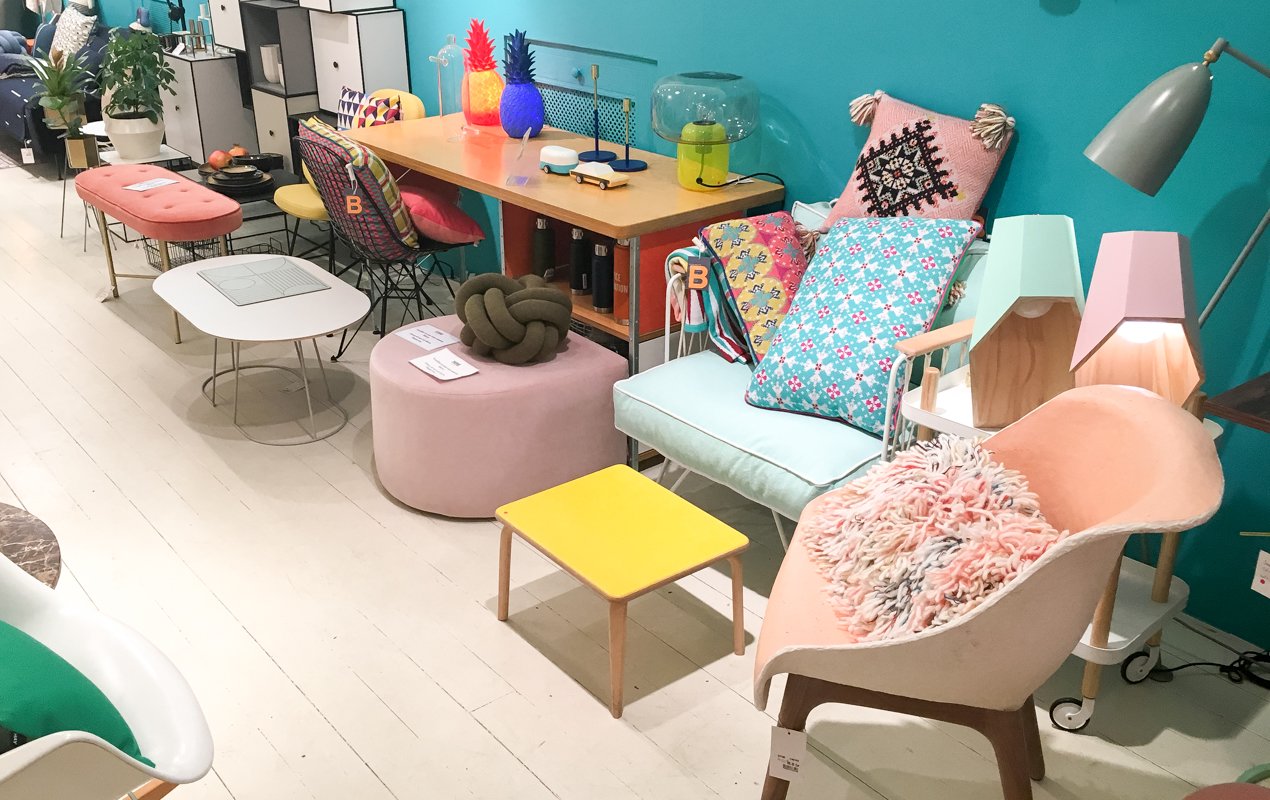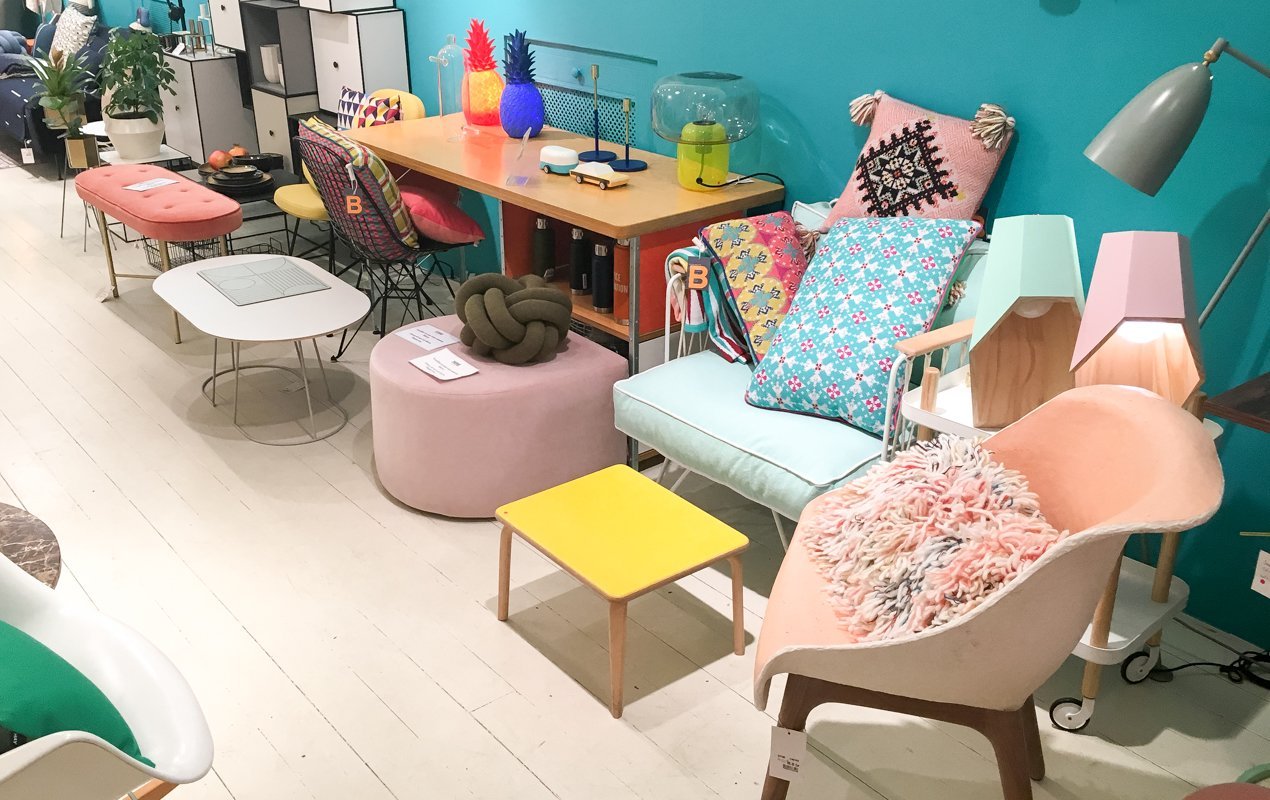 Bensimon has multiple locations throughout Paris. Some boutiques are dedicated to clothing, casual yet high quality tees, button-up linen shirts and sneakers that are a perfect fit for the active yet well-off world traveler. Other boutiques, like the one pictured above, showcase home décor in varying pastel shades and curving Scandinavian shapes. They even have an art gallery and a bookstore in other areas of the city, so they really cater to an entire lifestyle.
Locations:
8, rue des Francs-Bourgeois, 75003 Paris
Metro Saint Paul (line 1)
and
57, rue du Cherche-Midi, 75006 Paris
Metro Sèvres Babylone (line 10 & 12)
More locations on their Website.
Fleux – Quirky Knick Knacks & Home Décor
Spanning three storefronts just a stone's throw from the funky Centre Pompidou, this is the perfect place to find unique souvenirs and gifts. Here you'll find colorful mugs, candles, trinkets, decorative objects, phone cases and retro telephones, among many other things. Expect to chuckle at least once while browsing the wares here, since there's quite a few objects with a humorous slant, such as a throw pillow with a pug on it, as just one example. They have some nice Parisian themed items, such as candles with scents named after different elegant places in Paris, but don't worry, you won't find any of the generic touristy junk. For more on Fleux, see our blog post all about it: Where to find Unique Parisian Souvenirs in the Marais.
Address:
39 + 52 Rue Sainte Croix de la Bretonnerie 75004 Paris
Metro Hôtel de Ville (line 1 & 11)
Website
_____________
We can't showcase every single concept shop in Paris, so here are a few honorable mentions:
Centre Commercial – European-made clothing, secondhand furniture & bikes, and artwork
Bonton – Clothing, toys and decoration for babies and children ages 0-12
If you're in the mood for something a bit more traditional, check out our guide to the Best Streets for Designer Shopping, or see our general Paris Shopping Guide.
(Image Credits: All images by the Author. Top featured image of Colette.)