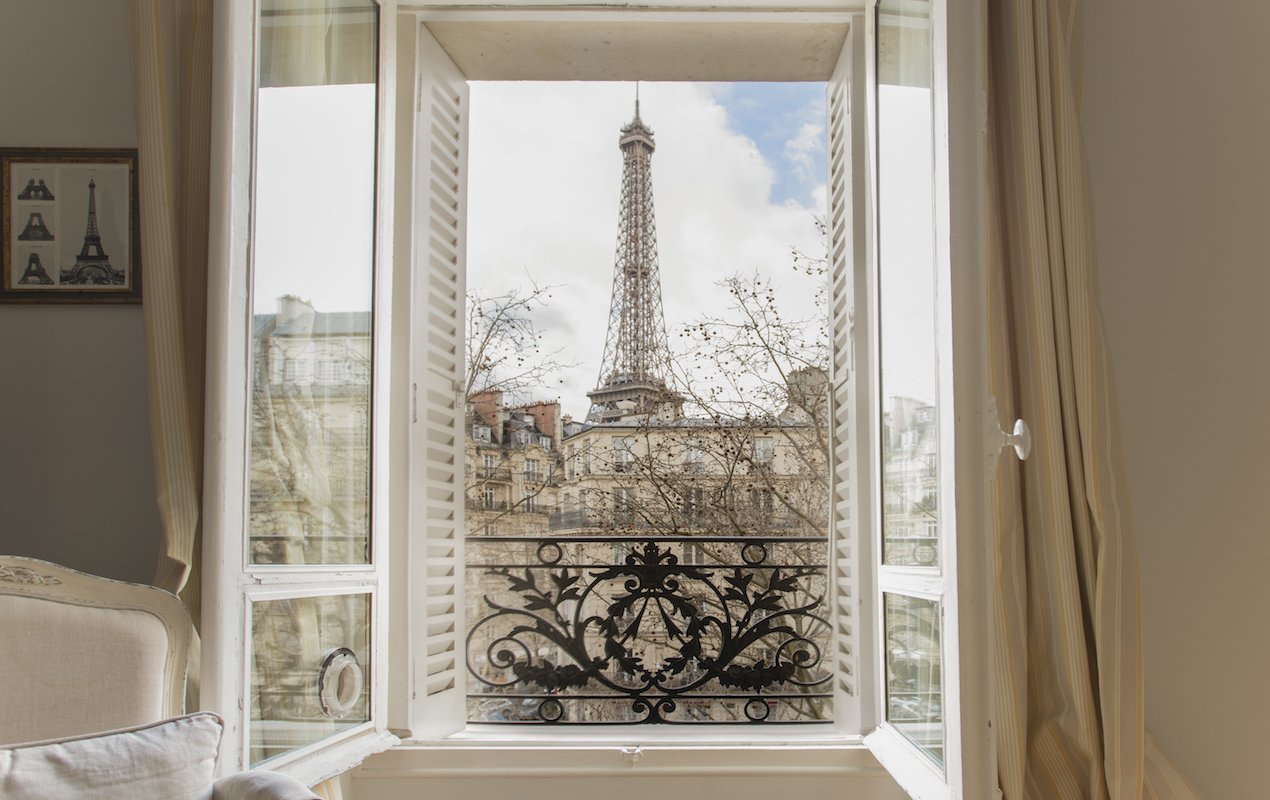 I live in the Paris region, but was lucky enough to score a week-long stay in the Jasnieres apartment. One of my closest friends was coming to visit me in Paris, and I wanted to give her the best, most magical experience possible, and what better way to do that than with an incredible Eiffel Tower view?!
Staying in the Jasnieres made our Parisian experience 1,000 times more memorable and special thanks to the unbeatable view and comfortable interior.
As soon as I saw photos of the view from the Jasnieres, I knew I had to see it for myself. As soon as I walked in, I was not disappointed. The tower is so close, you feel as if you can almost reach out and touch it. One of our favorite things to do was admire how the view changed depending on the light. On a cloudy day, the scene looked soft and diffused. During an amazing sunset, the scene looked brilliant and saturated with color. You can see more incredible views from the Jasnieres in this blog post: Breathtaking Views of the Eiffel Tower at the Jasnieres.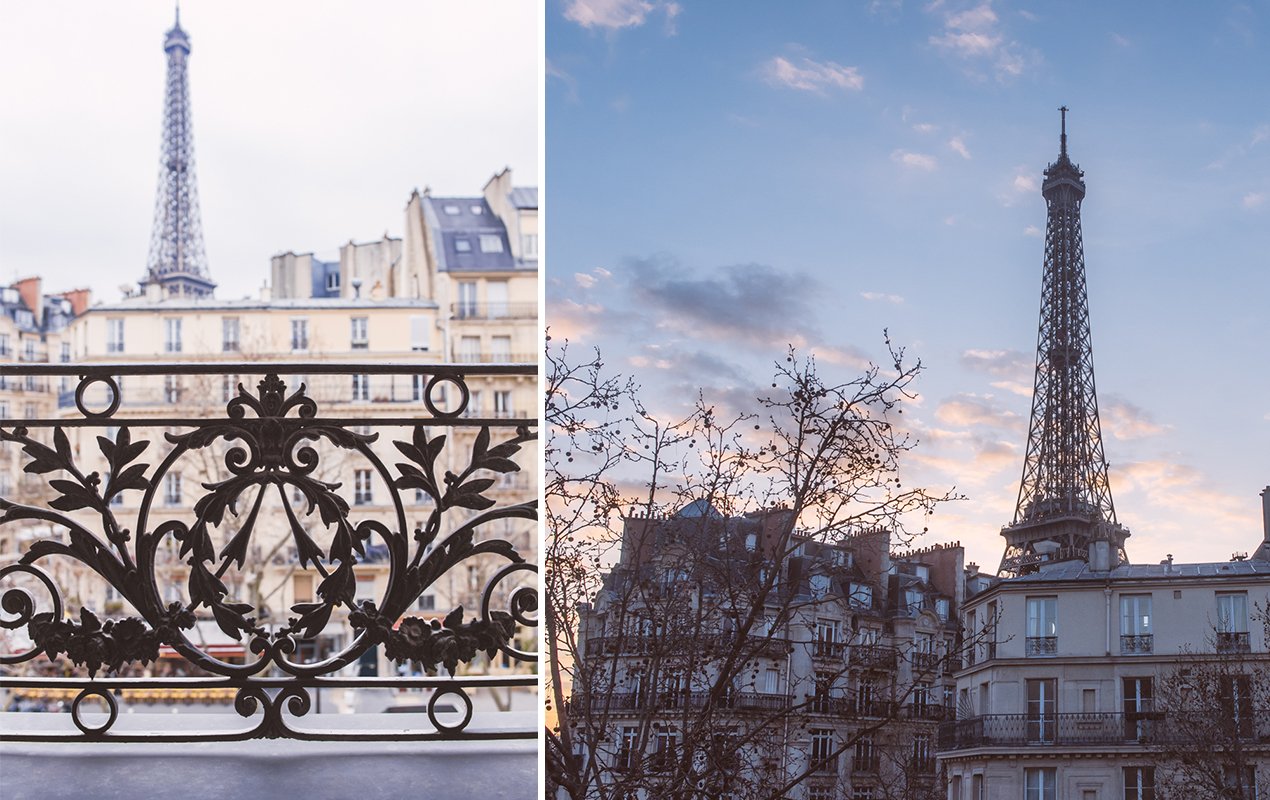 Upon arrival, one of the first things I did was set up my personal space. I created a little office area on this desk in the dining room, which doubled as a kind of vanity for putting on makeup in the morning. It feels so nice to be able to settle in to a new place like it's your home, and the Jasnieres provided many opportunities to do just that.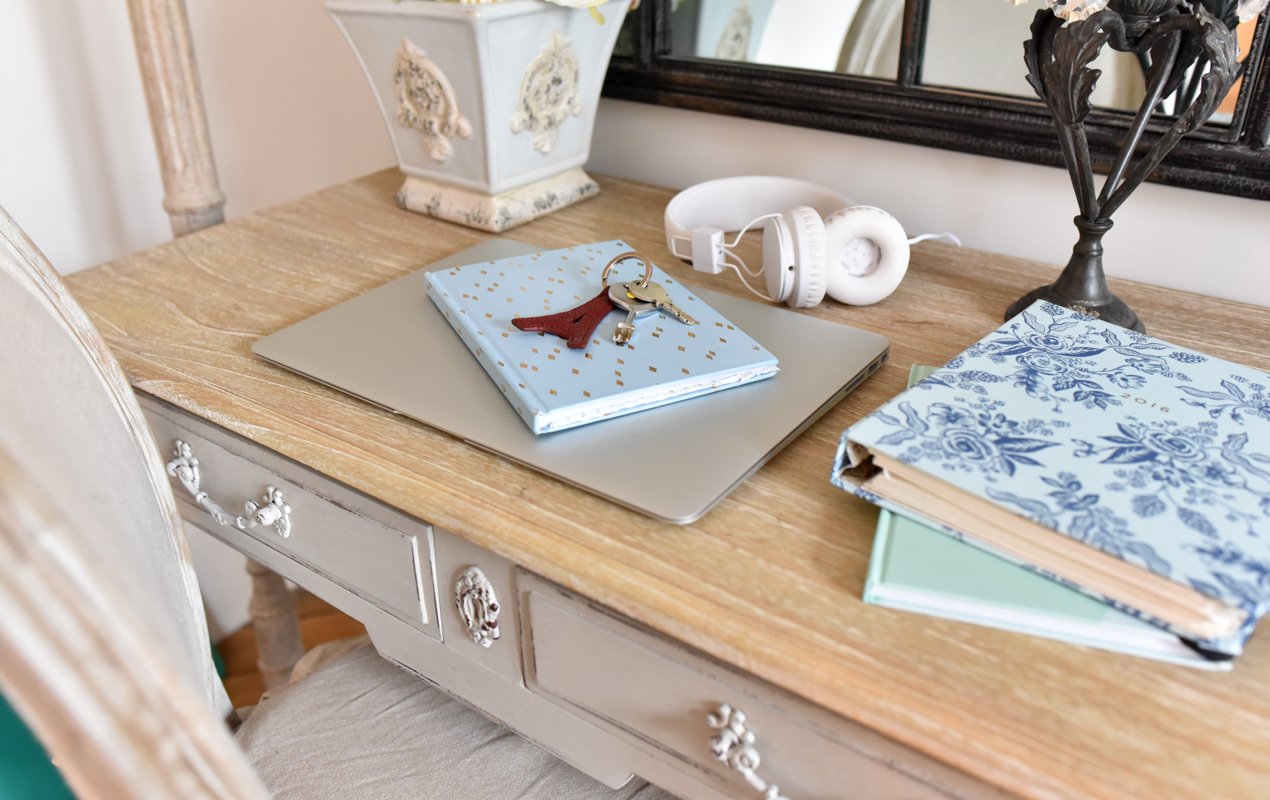 My friend wouldn't be arriving to meet me at the apartment for a few hours, so I ventured out to the nearby rue Cler to stock up on goodies. I went to the fromagerie and obtained two types of cheese for my friend to sample, one hard and one soft. The young man in the cheese shop was so knowledgeable and was able to suggest different cheeses depending on my preferred flavors and textures. That's one of the best parts of France, the specialized food vendors who are experts at what they sell! I highly recommend visiting every single one of the food shops on rue Cler and sampling the best from each! For a full list of all the incredible vendors on rue Cler, see this page.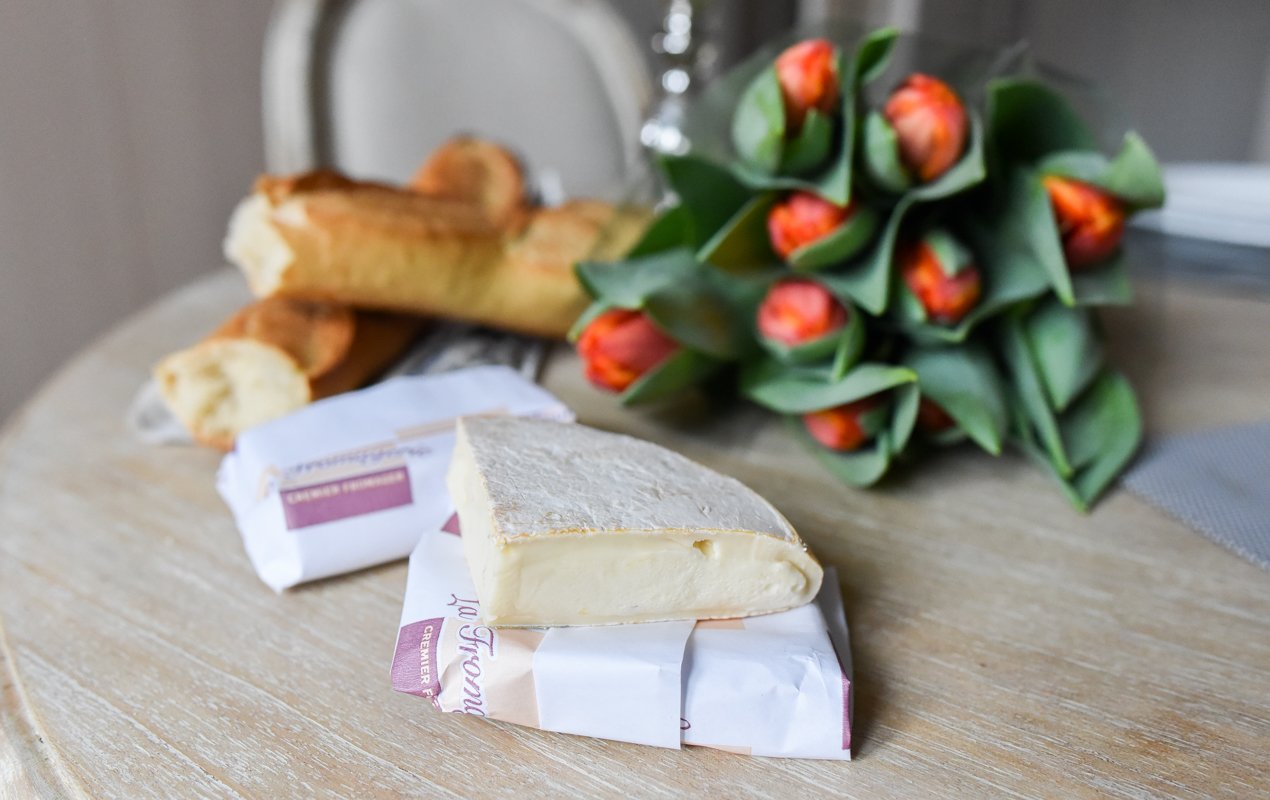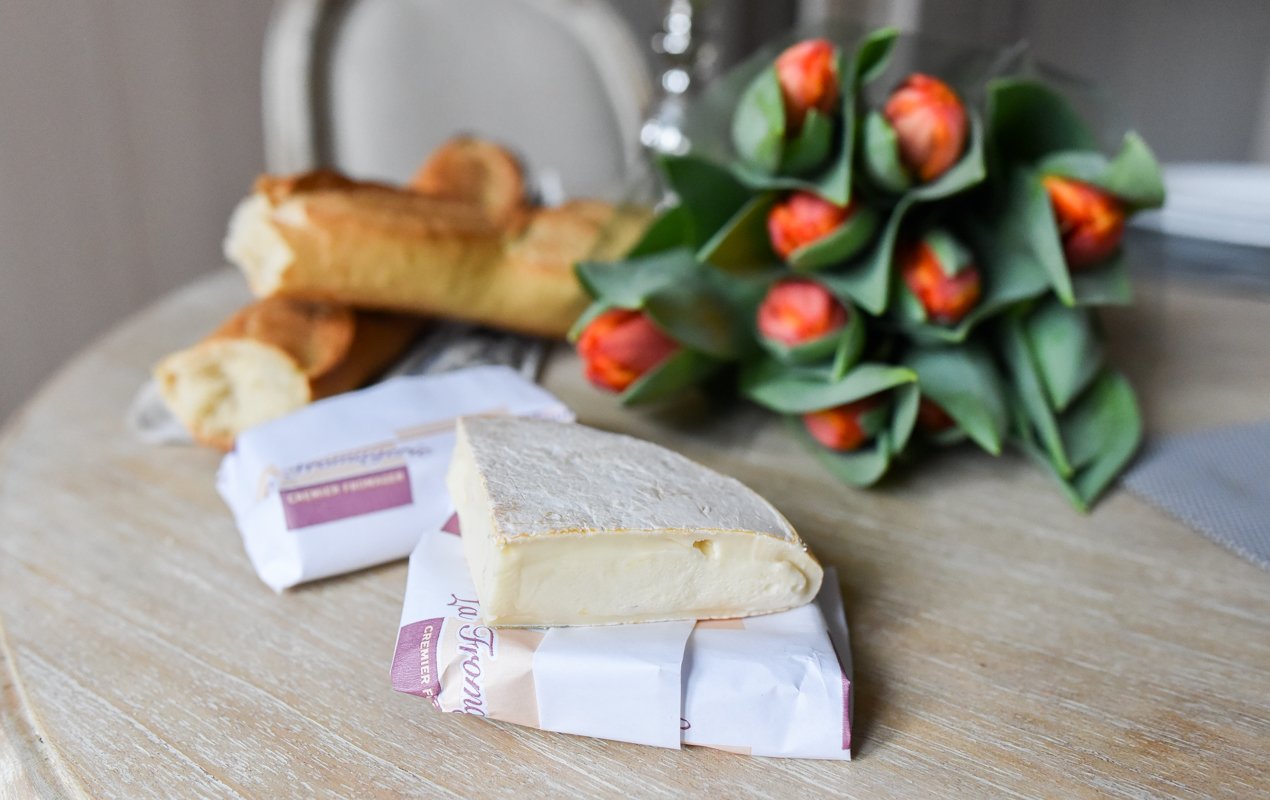 I also picked up a bouquet of fresh tulips to brighten up the apartment even further, as well as some ratatouille and rice to re-heat for dinner from an amazing shop called Davoli – you seriously have to go there! They have cured meats hanging from the ceiling, various types of foie gras and paté, as well as tons of prepared foods that are super easy to heat up for lunch or dinner in any of the Paris Perfect apartments, since they all have fully equipped kitchens.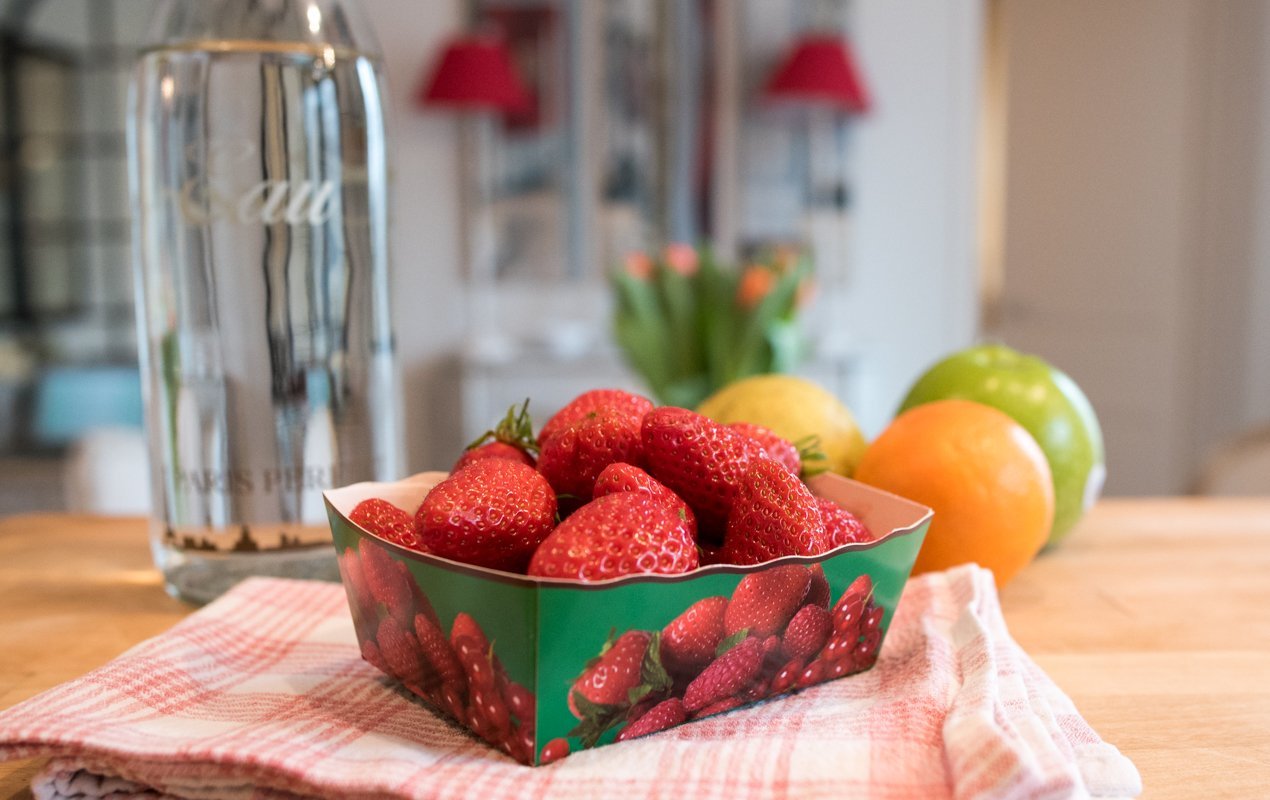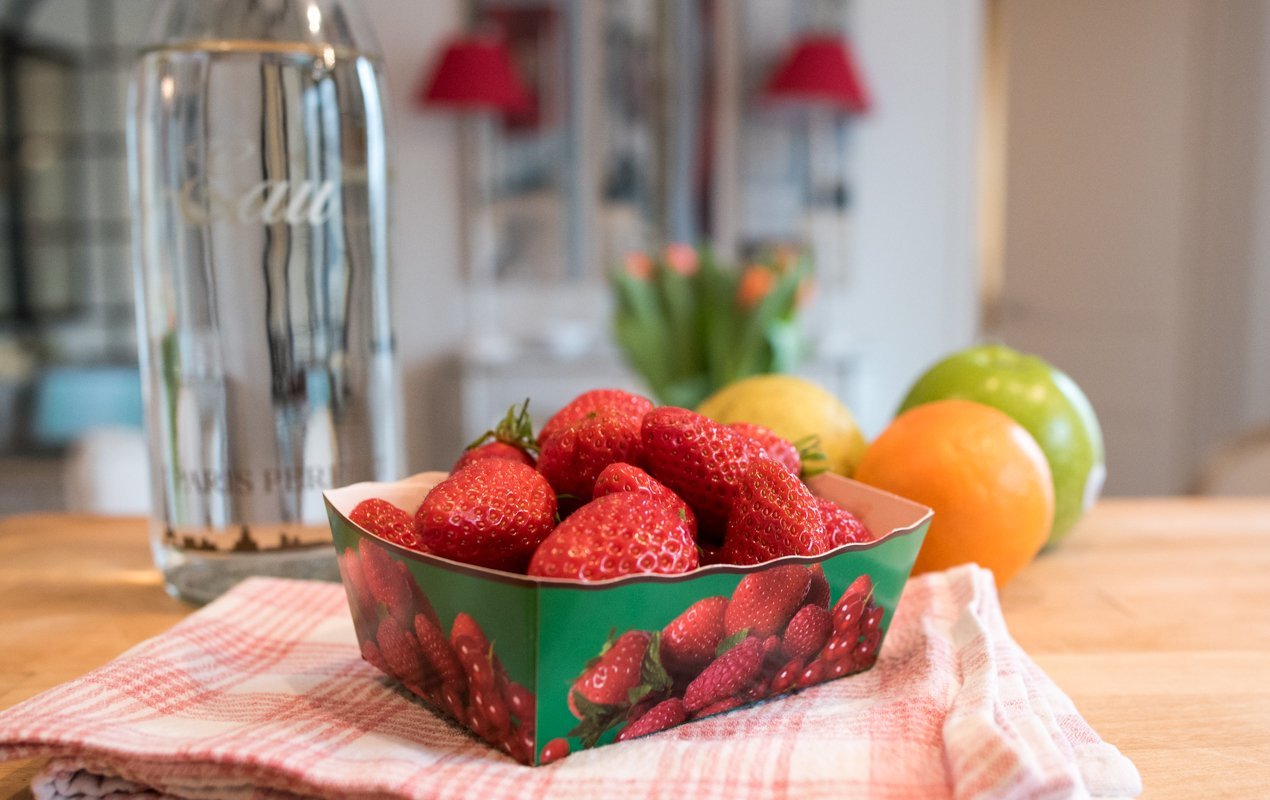 Even though the bedroom is large enough to sleep two people, I decided to let my friend have that fabulous room all to herself. It's on the corner of the building, so you get two windows looking directly out to the Eiffel Tower and the charming streets below! There's nothing more magical than falling asleep to and waking up to such a view.
I slept on the pull-out bed in the sofa, which was actually very comfortable! Even though I let my friend have the bedroom, I was still graced with an equally awesome Eiffel Tower view – you can't escape the view in the Jasnieres!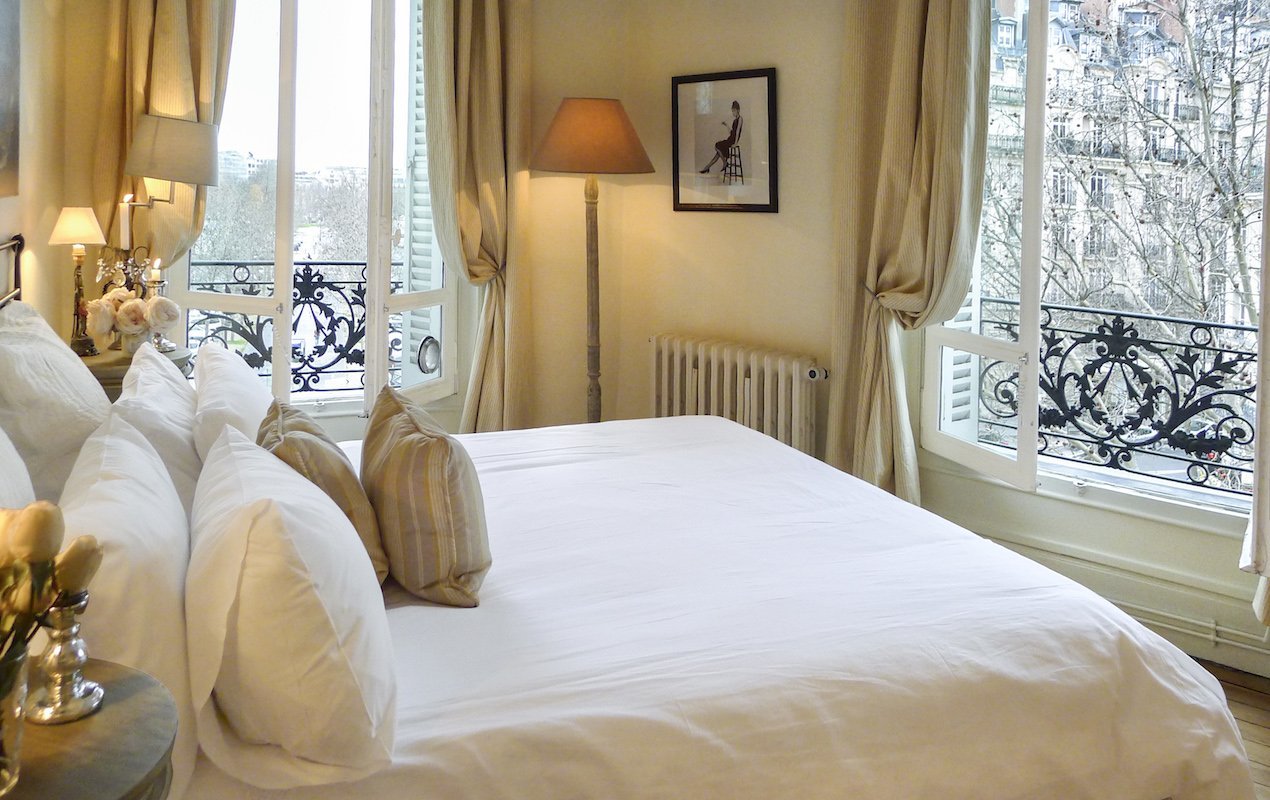 One of our best memories from the Jasnieres will be the nightly Eiffel Tower show. I'll never forget the look on my friend's face when she saw the tower sparkle for the first time. We were eating dinner and drinking some white wine in the dining room, when suddenly, the lights started to twinkle; She just about fell off her chair! She sat there entranced until it stopped, and made sure to catch the light show again for the next two hours before bedtime – if you didn't know, the Eiffel Tower sparkles for 5 minutes on the hour, every hour, when it's dark outside.
It's one thing to see the tower sparkle from the street, and an entirely different thing to see it sparkle while sipping wine, in a warm apartment, while wearing your comfiest pajamas!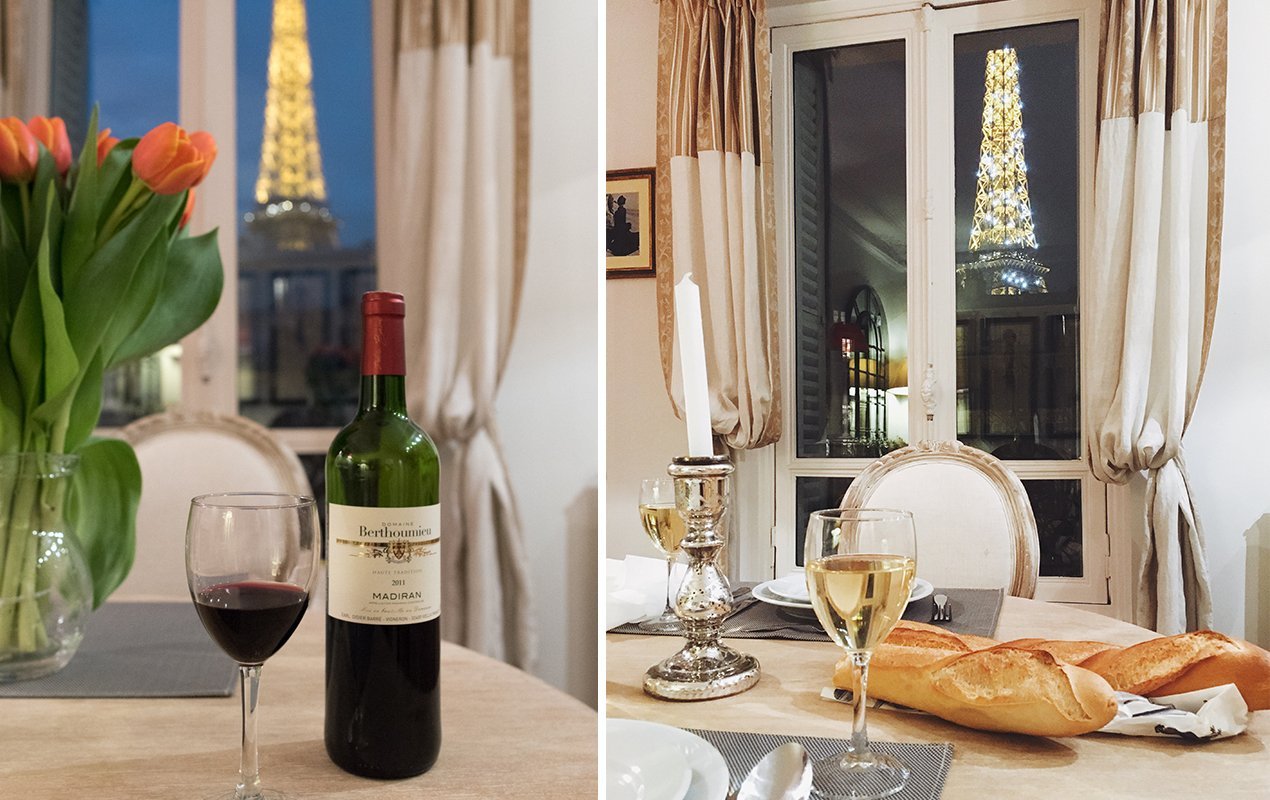 If you ever get the chance to visit Paris and stay in an apartment with an Eiffel Tower view, DO IT! It'll be an experience you'll never forget.
Take a look at the Jasnieres apartment page here for more photos and availability, or continue living vicariously through me by reading about my previous apartment stay: My Paris Perfect Week in the Bellet Apartment.
(Image Credits: All images by the Author or Paris Perfect.)