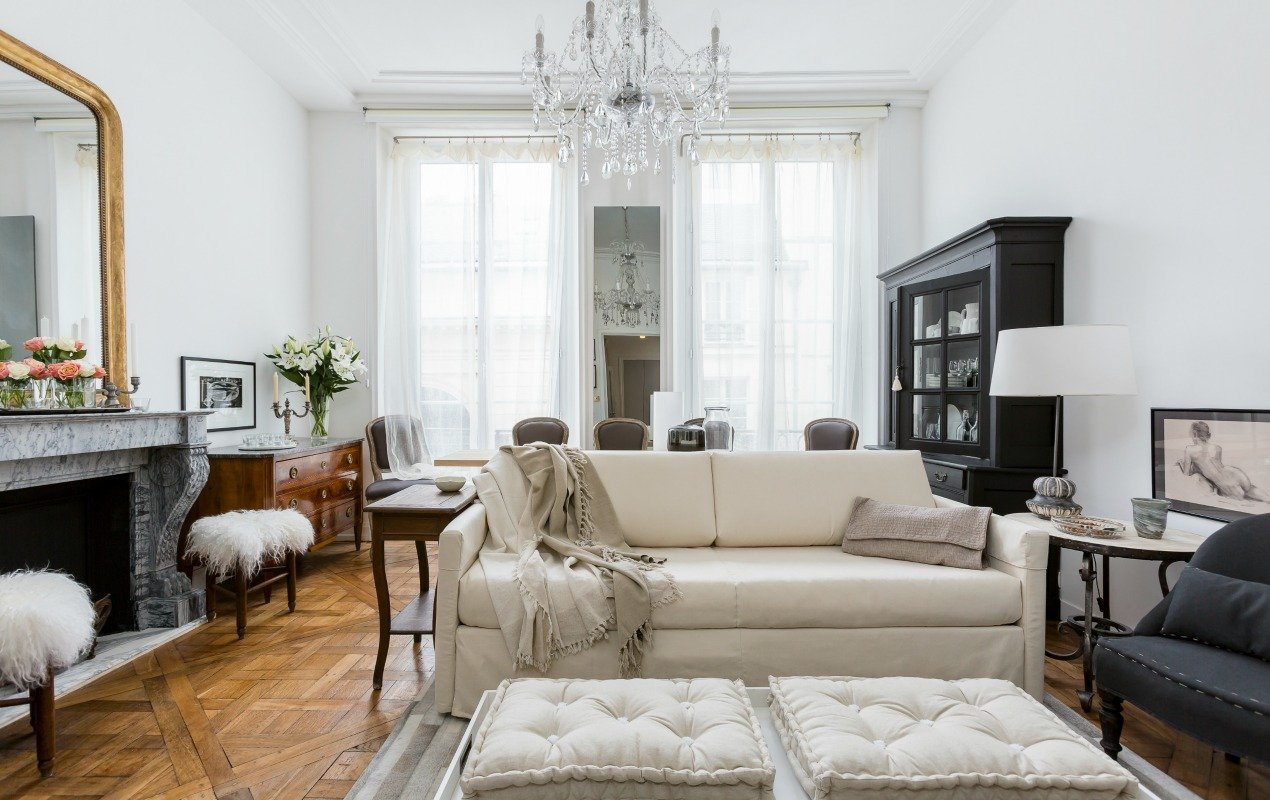 Just imagine a Paris destination where a stroll down any avenue can result in a world-class shopping expedition, a visit to one of the city's most famous museums, a collection of vibrant cafes or even a panoramic view of the Seine riverfront. This experience is waiting at one of our newest and most enticing vacation rentals, the Prosecco. This gorgeous one bedroom apartment has been beautifully finished by talented decorator Molly Poiset, who created a chic Parisian getaway that we are all dreaming of calling home.
We know our guests are going to love the comfortable and beautifully appointed living spaces, with their Parisian design elements and stylish decorative touches. This apartment has so many lovely nooks to explore, but first we have to tell you how incredible the location is!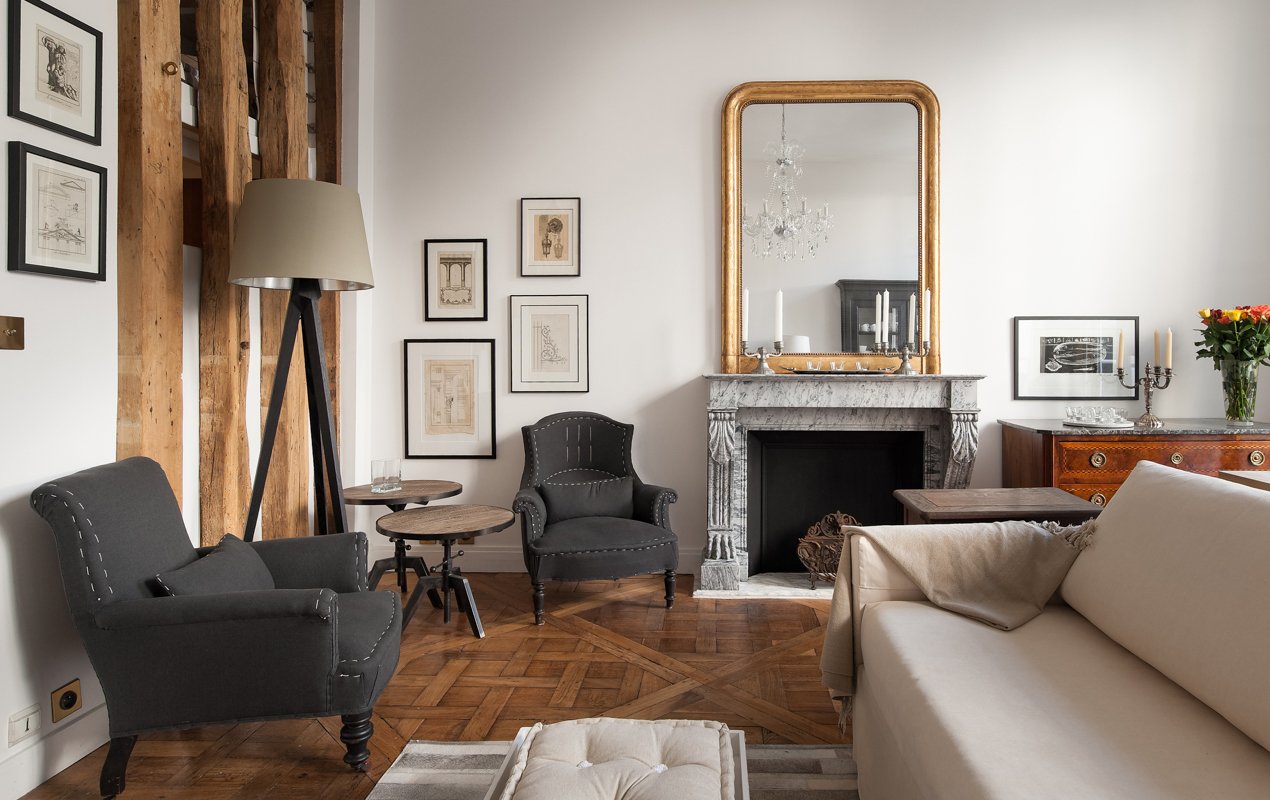 We're experts at finding exquisite properties in Paris's most remarkable locations, and the Prosecco immediately grabbed our attention for its amazing locale in a unique corner of the 7th arrondissement. This particular area of Paris is quiet, calm and peaceful, but just around the corner in every direction lies a host of grand museums and instantly-recognizable attractions.
Spend fascinating days exploring the Rodin Museum and Invalides without ever walking further than a city block, or take a leisurely stroll to the riverfront and the majestic Pont Alexandre III. Stunning sites like the Petit Palais, the enchanting Tuileries gardens, and the impeccable Louvre are found just across the river, and a collection of gourmet shops and enticing cafes are dotted throughout the local landscape. Walk just a few blocks south and you'll find one of the best coffee shops in Paris, Coutume Café, then walk a little more eastward and find the famed Bon Marché department store and the Grand Épicerie gourmet food market!
All you have to do to access some of the world's very best shopping is simply stroll through the charming streets or hop onto the 63 bus and enjoy the picturesque journey to Saint-Germain-des-Près! An array of posh shops and historical literary cafés await you here. Enjoy a glass of champagne on the terrace of Café de Flore or in the courtyard café Ralph's and allow yourself to feel fabulous in this Mecca for fashionable Parisians. For more on this incredible neighborhood, see our guide here.
The sheer amount of top Paris attractions that are within walking distance are nothing short of breathtaking at the Prosecco, but we were also allured by the stunning interior which is a perfect combination of the artistic, elegant, and culturally significant aspects of the surrounding neighborhood. Classic Parisian elements like the marble mantle and large gilded mirror are complimented by slightly funkier design elements such as a pair of fluffy stools and matte brass light fixtures. The sense of style here is undeniably chic.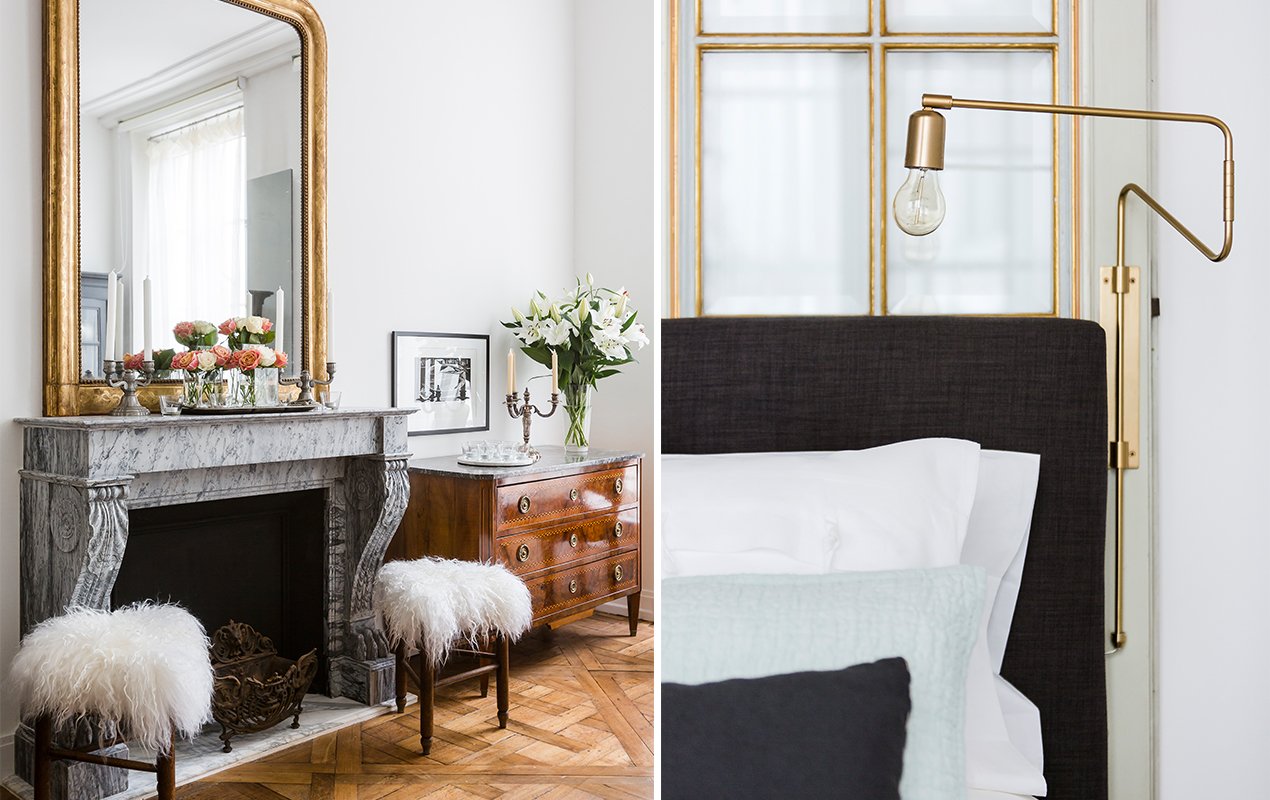 Professionally decorated and outfitted with a seamless blend of contemporary amenities and classic antiques, guests will feel right at home as soon as they step inside, thanks to a gracious living and dining area that's brightened by a delicate chandelier, as well as a flood of natural light. With all the warm wooden tones and the feeling of refined elegance, you can see why we named this space after the Cognac-based, orange-flavored liqueur Prosecco.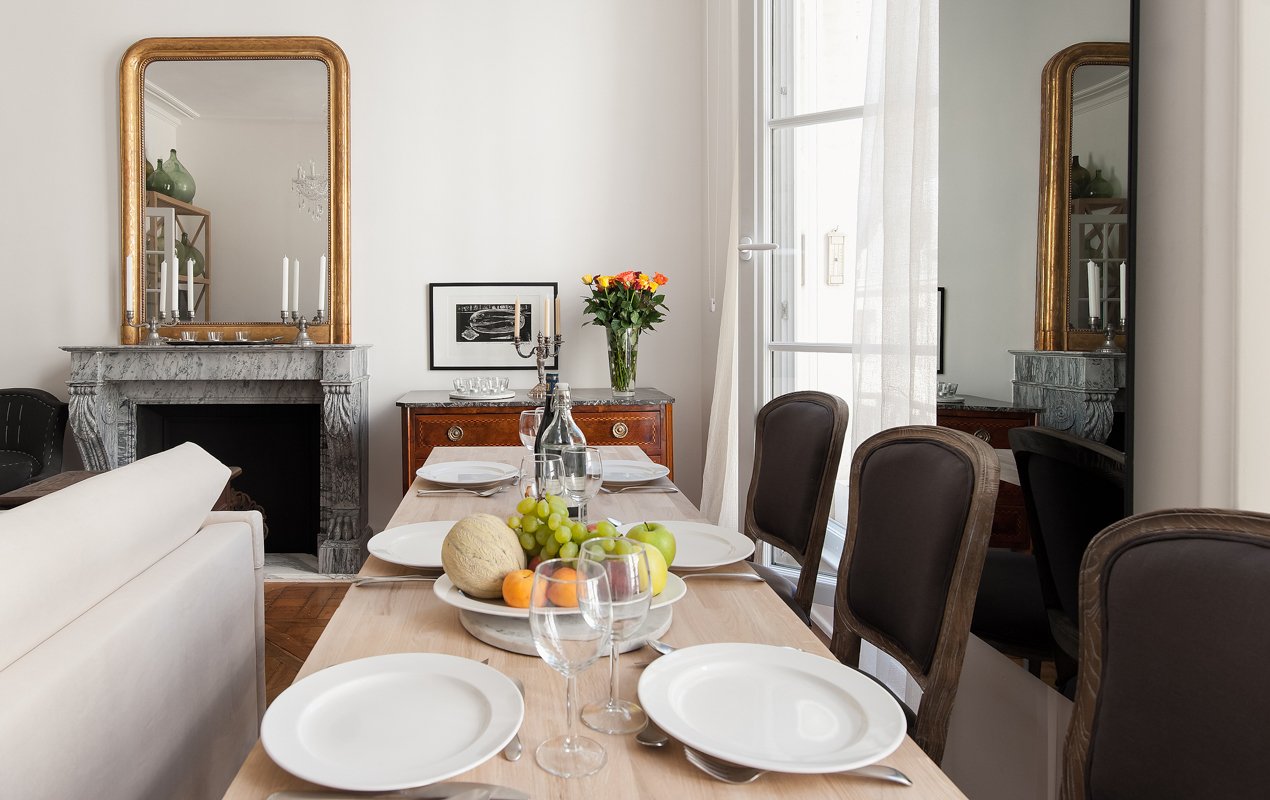 Relax in the cozy living area with enticingly soft furnishings and flat screen TV, or spend your time in the dining area sampling a bevy of goodies from the local markets. The nearby kitchen will delight any chef, with well-stocked cupboards and a suite of top-of-the-line appliances, while the full bathroom rivals any five-star hotel accommodations, with sleek fixtures, a marble vanity and an expansive glass-lined tub and shower.
We were certainly impressed by the sheer amount of space within the Prosecco, which includes a beautifully inviting bedroom with king bed (or two single beds), as well as a quaint and cozy loft with multiple spots to stretch out and relax. With little extras like a built-in wardrobe, a long hallway, and a staircase that leads up to the loft haven, parties of up to 4 people can find ample places to enjoy a bit of serenity, despite the Prosecco's one-bedroom status.
Due to its ample and well-appointed space, as well as its distinctively amazing locale, we have a feeling that the Prosecco won't be available for long. As such, we encourage all our guests to discover this new Parisian jewel, and book their vacation now, before it becomes one of our most coveted Paris vacation rentals!
See the Prosecco apartment page here for more information and availability, or send an email to our reservations team at

[email protected]

.
(Image Credits: Paris Perfect and Hannah Wilson.)