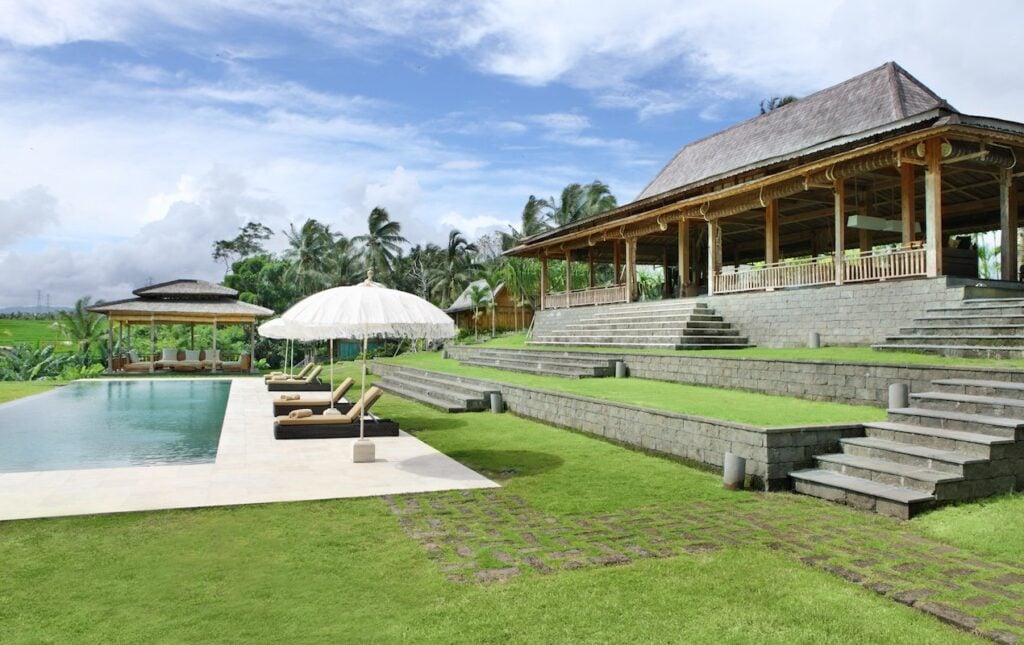 Ready for your next "Perfect" Adventure? Allow us to introduce you to our Bali Villa.
As you already know, we pride ourselves on representing the most outstanding vacation rentals in top travel destinations in Paris, London, and Italy, but we couldn't resist the call of Bali, especially when we were introduced to this incredible villa.
With all the style and amenities of a five star resort, but boasting a location that is truly private, this incredible and secure compound that includes one central villa as well as four independent residences is simply one of the grandest destinations for private events in the world.
The setting is a perfect representation of the authentic Bali that first lured elite vacationers decades ago.
You won't find any high-rise hotels or crowded tourist resorts in this corner of the island. Instead, you'll be surrounded by a serene landscape of rice fields and distant Balinese villages, with views of the sea and the stunning slopes of Gunung Batukau, the second highest peak in Bali.
Head through the private entrance of the compound, and you'll be greeted by an incredible collection of buildings that have been hand-crafted following Indonesian traditions. The Bali Villa isn't a stylistic recreation – it's a thoroughly authentic creation that utilizes historic Javanese teak constructions that were transported to the island and outfitted with miles of accoutrements that exude comfort and style.
The property consists of a living area with a table that fits up to 14 people, an equipped bar area, large sofa and pool table, as well as five outlying and outstanding villas with lush green views and beautiful blends of natural furnishings and vibrant décor. With modern extras provided in each villa – including plush king sized beds, flat screen televisions with satellite TV and DVD players, unlimited Wi-Fi, and private bathrooms with separate baths and showers – guests will truly feel like they are staying at a top-rated international boutique hotel, while having the perfect amount of privacy.
We adore the one-of-a-kind sleeping quarters and gathering areas, but we were truly blown away by the assortment of amenities for guests waiting just outside the Villa doors.
Our Bali Villa features a decadent swimming pool with beach chairs with mattresses, tables and parasols, big wood armchairs with soft pillows, and an adjacent Balé (or gazebo for lounging) in teak wood. There's also an on-site spa with two massage tables, a treatment bath, and a warm water shower, as well as a fitness center with multi-function appliances, training bike and independent restrooms and shower.
This is all in addition to the long list of inclusions that the property provides!
Bali Villa guests will receive airport transfer service to the property, and will be greeted by the Villa Manager upon arrival. A host of other luxuries are waiting at the estate, including four butlers in charge of housekeeping, meal preparation and service, two security guards on duty 24/7, a car and driver available at a guest's convenience, and a chef that's trained in local and western cuisine, who manages the market shopping as well as the meal preparation.
When we realized the scope of the property – and the incredible amenities that were on the premises – that's when we realized that Bali Perfect is an absolute dream for our destination wedding and private party guests.
Just imagine having your wedding in one of the most picturesque and private locales on the island, miles away from other tourists or distractions, in your own all-inclusive resort.
After the ceremony amidst a lush green and deep sea backdrop, your guests will be treated to a decadent reception that ends with a brilliant night's sleep in one of the stunning private villas.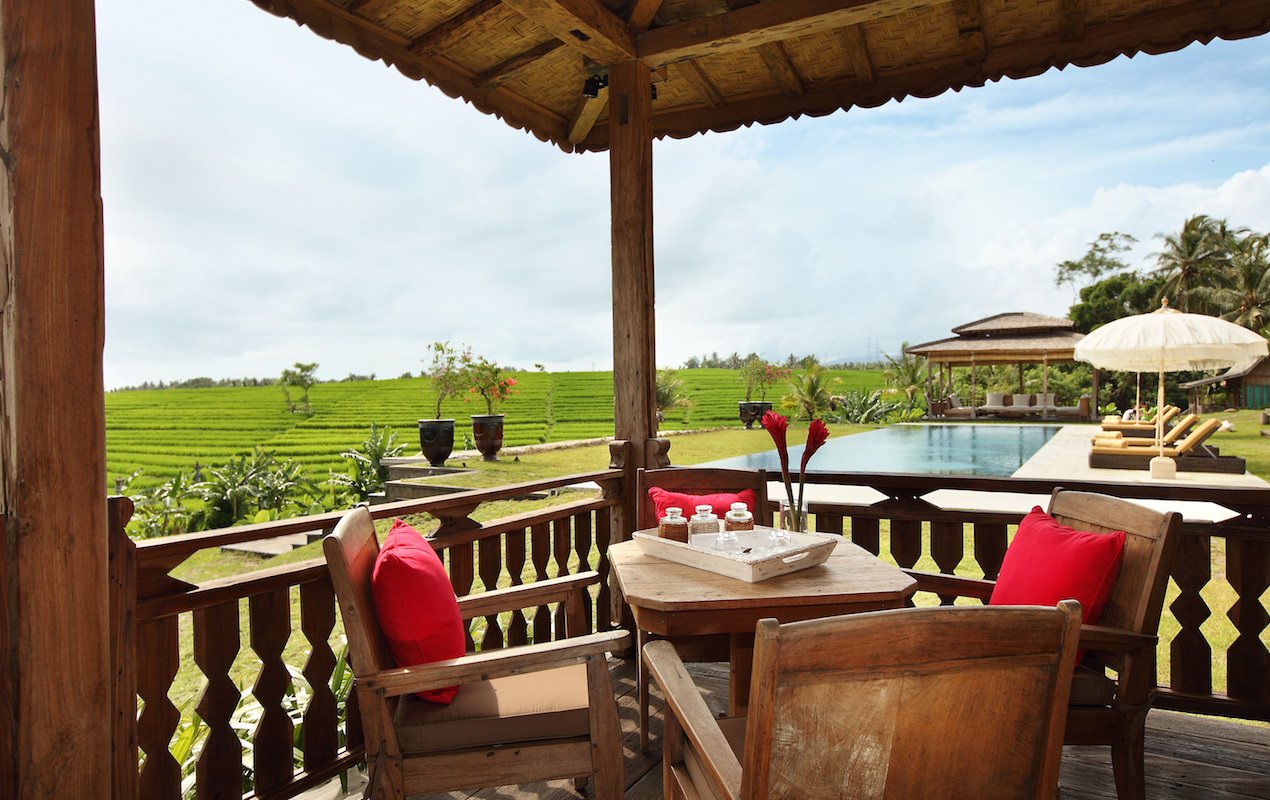 Private parties will also be pampered and treated to a decadent experience, regardless of whether it's a family reunion or celebration, a special trip for just close friends, a corporate getaway with company heads or anything in between.
By reserving all 5 rooms within the Bali Villa, guests will be treated to the experience of a lifetime while being surrounded by just their closest friends.
It should be noted that while Bali Villa feels worlds away from the rest of the tourists, it is conveniently located close to the top attractions, including the famous sea temple Pura Tanah Lot, the incredible beaches and the lush rainforests of Gunung Batukau, the Greg Norman designed Nirwana Bali Golf Country Club, exciting shopping and nightlife at Seminyak, and the cultural and artistic center of Bali at Ubud.
Essentially, Bali Villa is the best of all worlds.
It's perfectly secluded and quiet, but nevertheless close to the natural and cultural gems that the island is known for. It creates the authentic Bali experience that can be lost in translation at a standard resort, while providing a suite of modern amenities that discerning travelers expect and deserve.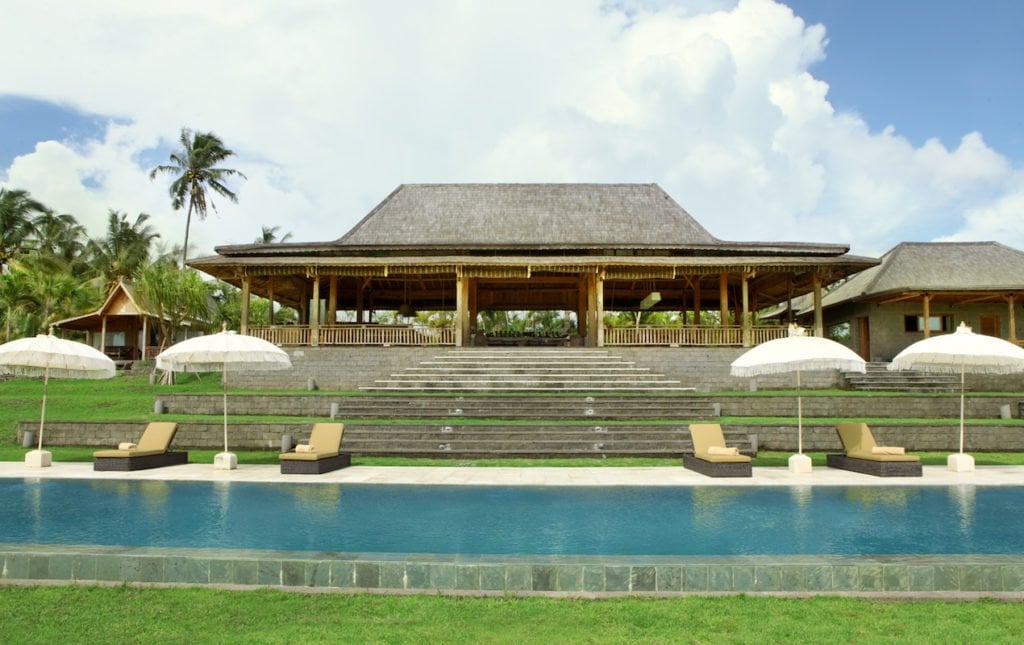 As a result of these attributes, we can confidently say that the Bali Villa meets the definition of "Bali Perfect."
Last but certainly not least, when you stay at Bali Perfect, you have access to the Paris Perfect service that has made us a top name in the travel industry. From helping you plan your getaway to assisting with vacation itineraries, we adore making sure that your vacation exceeds all expectations.
You'll never be bothered by the crowds at the Bali Villa, but you will feel the tropical, saltwater-laced breeze, warm sunshine by the sparkling pool and decadent relaxation that only a private resort can provide.
Book your private escape, family or friends retreat, or dream wedding today to discover how truly "perfect" Bali can be. Simply email us at

[email protected]

to get started! Or, check out the website by clicking here.