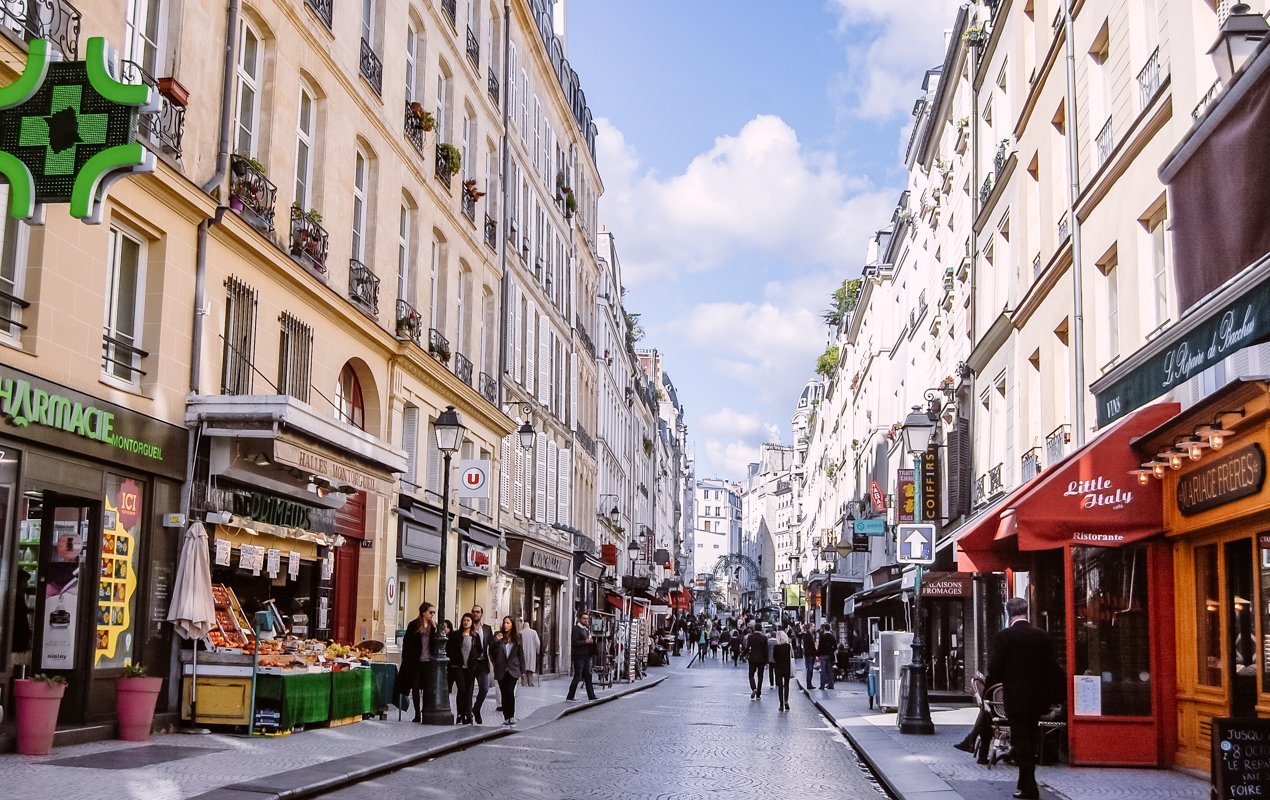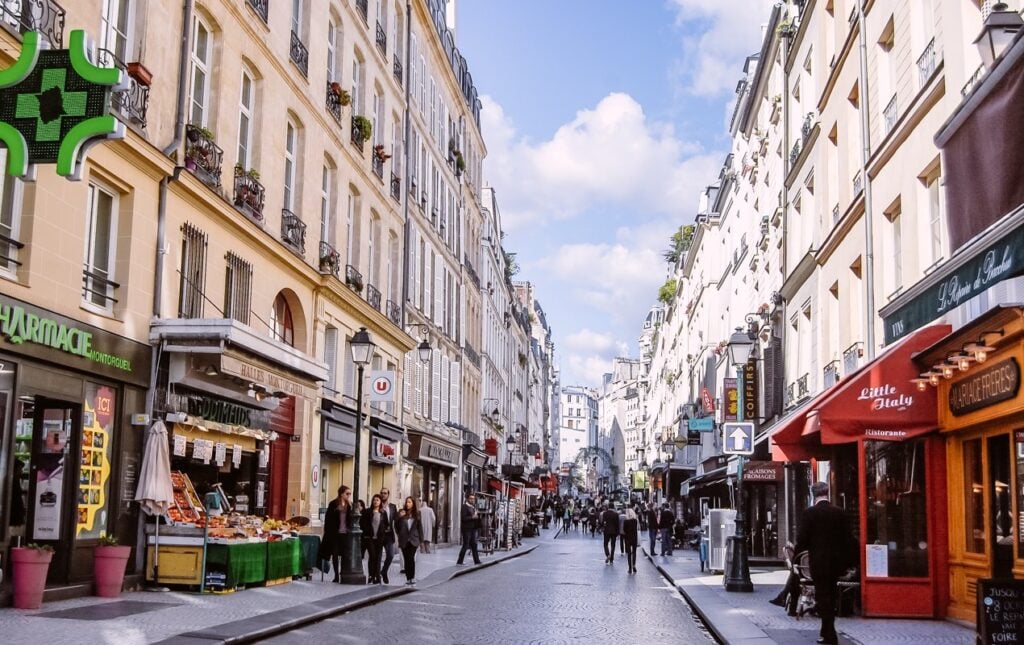 There are only a handful of permanent food market streets left in Paris, rue Cler being our favorite since it's close to many of our rentals, but another local favorite is rue Montorgeuil (pronounced mon-tor-guh-ee) in the 2nd Arrondissement. From the 12th century until the 1970's this area of Paris, known as Les Halles, was the primary market that served the entire Paris region. Here, you could buy practically anything: produce, meat, seafood, cheese, and even non-food items like leather, metal and ceramic goods as well as fabric. Émile Zola even wrote an entire book about the old Les Halles market, which he titled Le Ventre de Paris, or the Belly of Paris.
Thanks to its past, you can still find many excellent culinary supply shops, great restaurants and of course, the food market along rue Montorgeuil! There is a biweekly open-air market (Marché Saint-Eustache-Les-Halles) that takes place along the nearby rue Montmartre, but today we'll focus on the brick-and-mortar establishments along or in the immediate proximity of rue Montorgeuil.
Food Shops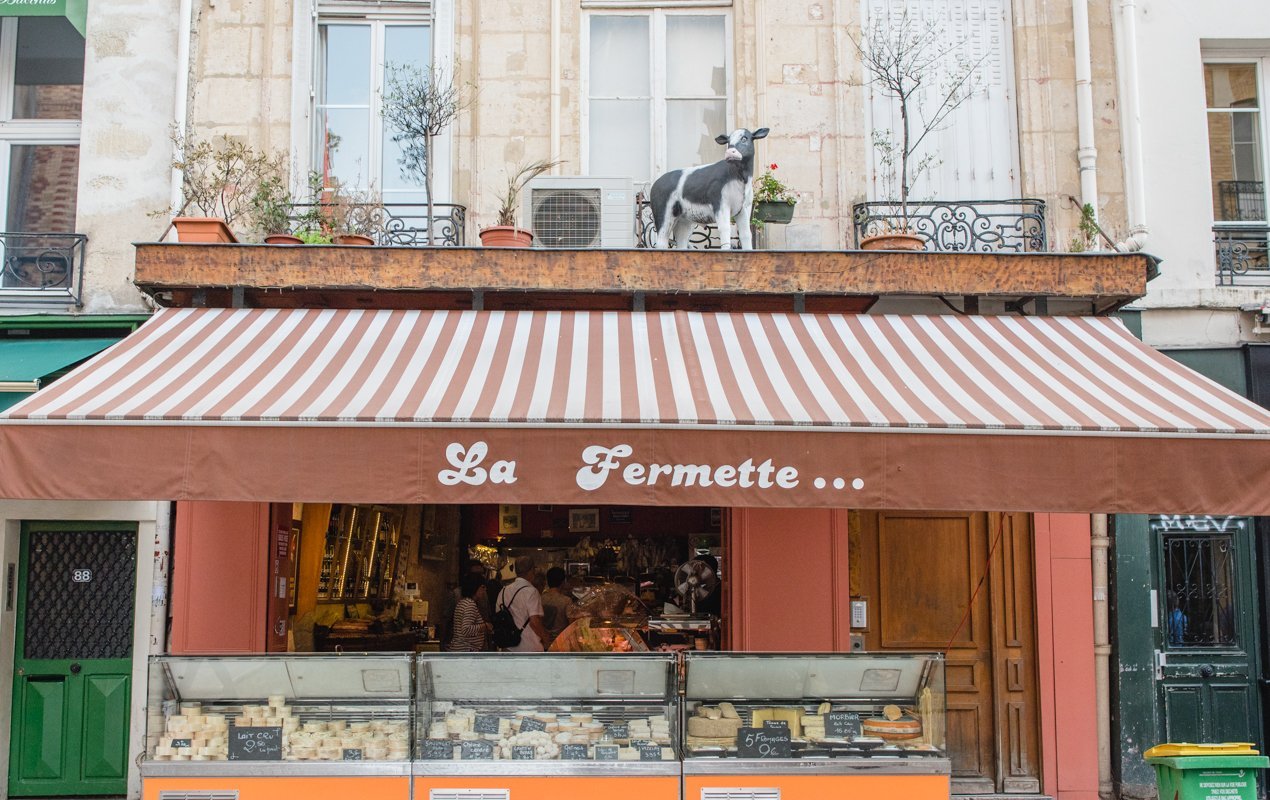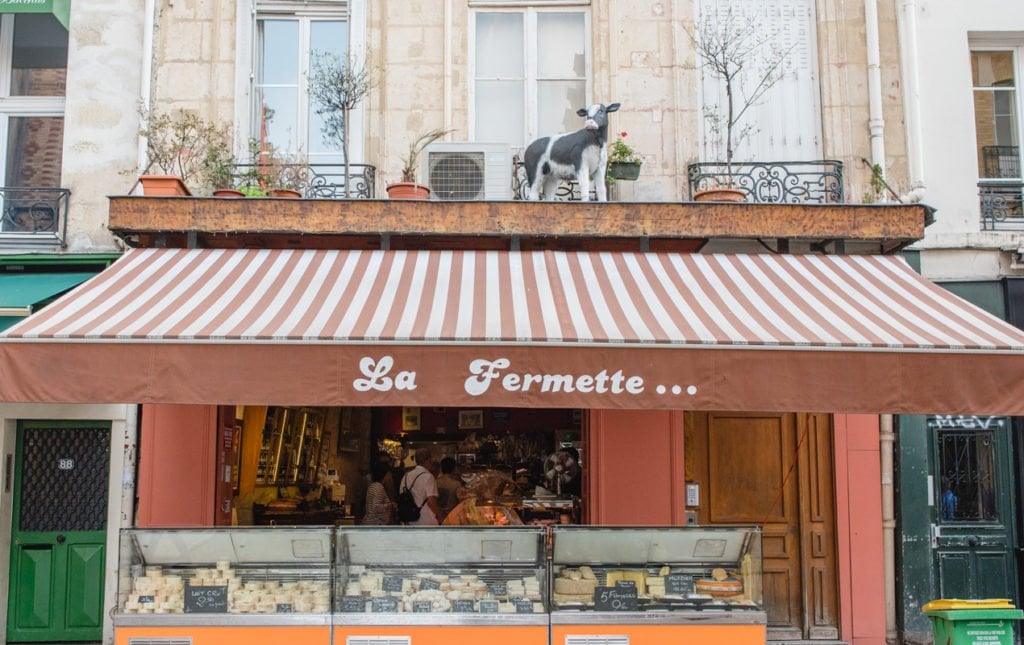 First and foremost, rue Montorgeuil is a food market street, although in recent years there seems to be a trend toward more hip restaurants and boutiques. You'll find a few butchers, a handful of wine shops and even an Italian delicatessen, but listed here are some standout addresses:
La Fermette – Keep a look out for the charming cow figurine above the orange striped awning of this retro cheese shop. Great place to pick up some aged Comté or soft Camembert. 86 rue Montorgeuil, 75002 Paris.
Le Palais du Fruit – The only store purely dedicated to fruits and vegetbles on the street. 62-74 rue Montorgeuil, 75002 Paris.
Alain Tribolet – a nice butcher with lots of different types of meat to choose from. 54 rue Montorgeuil, 75002 Paris.
Naturalia – This is a great grocery store if you need organic, vegetarian, vegan or gluten free foods. Check out this blog post for more info on grocery stores in Paris: Where to Shop for Groceries in Paris. 11-13 rue Montorgeuil, 75002 Paris.
Sweet Shops and Bakeries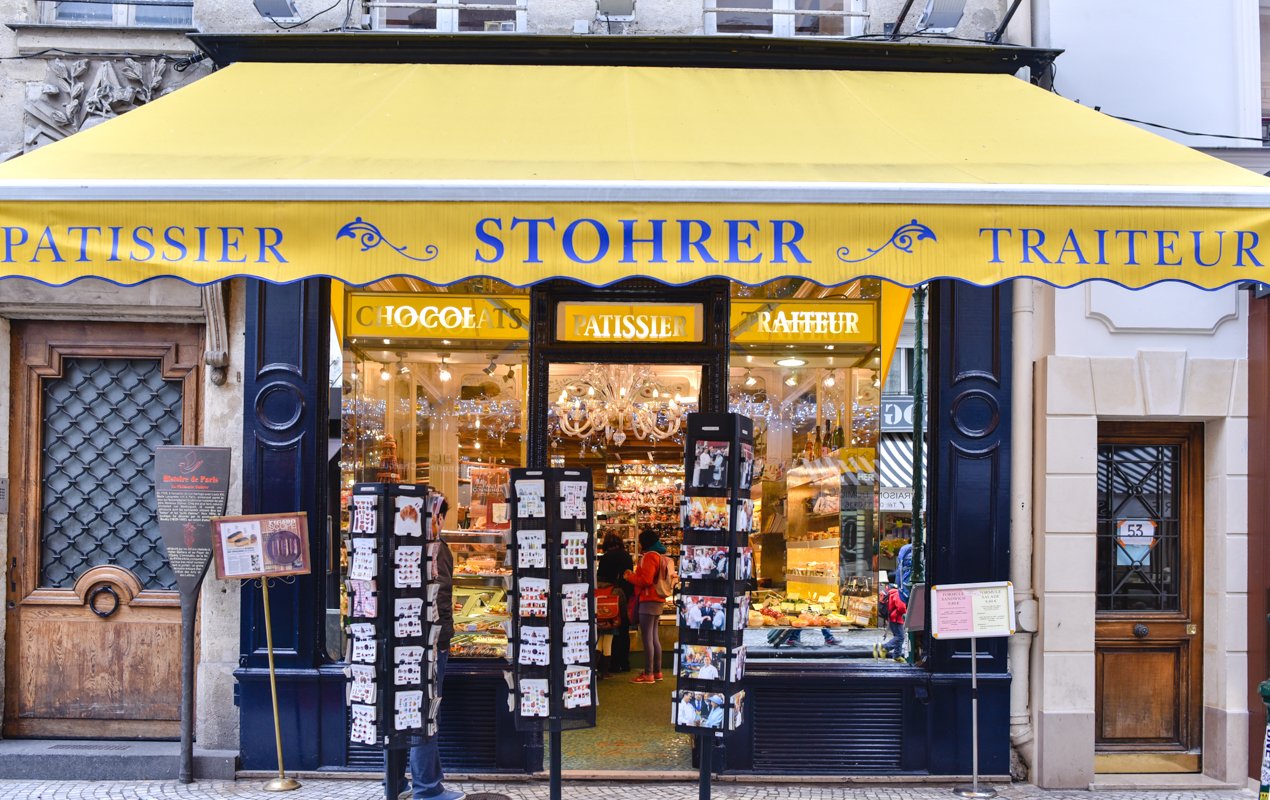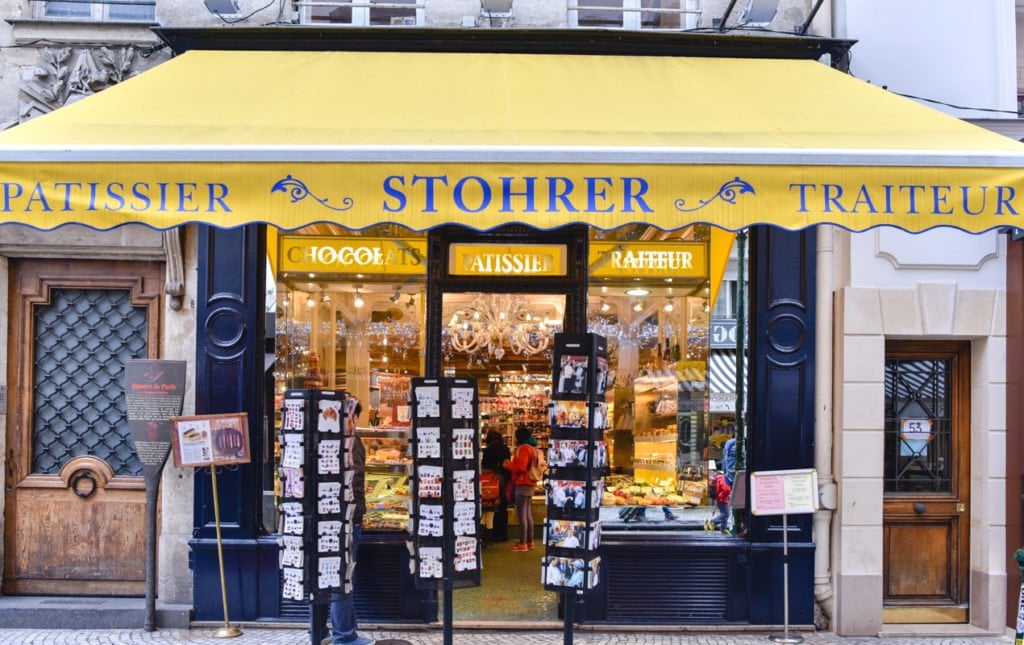 Stohrer – Claimed to be the oldest bakery in Paris and former caterer to the king, you can still visit this shop for sweets, old-fashioned savories and their famous baba au rhum, a small cake soaked in a rum-infused syrup and topped with whipped cream. 51 rue Montorgueil, 75002 Paris.
Fou de Pâtisserie – This is Paris' first pastry concept shop, where the most skilled and creative pastry chefs from around the city bring their finest creations. Check out this blog post we wrote about it: The Most Unique Pastries of Paris in One Shop! 45 rue Montorgeuil, 75002 Paris.
Boulangerie Blouet – This bakery consistently gets good reviews from its clients, and you'll often see a line out the door in the evening as people are picking up a last-minute dinner baguette before heading home from work. 4 rue des Petits Carreaux, 75002 Paris.
Eric Kayser – This is one of the most popular bakery chains in Paris. Consistently good quality with a wide selection. 16 rue des Petits Carreaux, 75002 Paris.
Where to Eat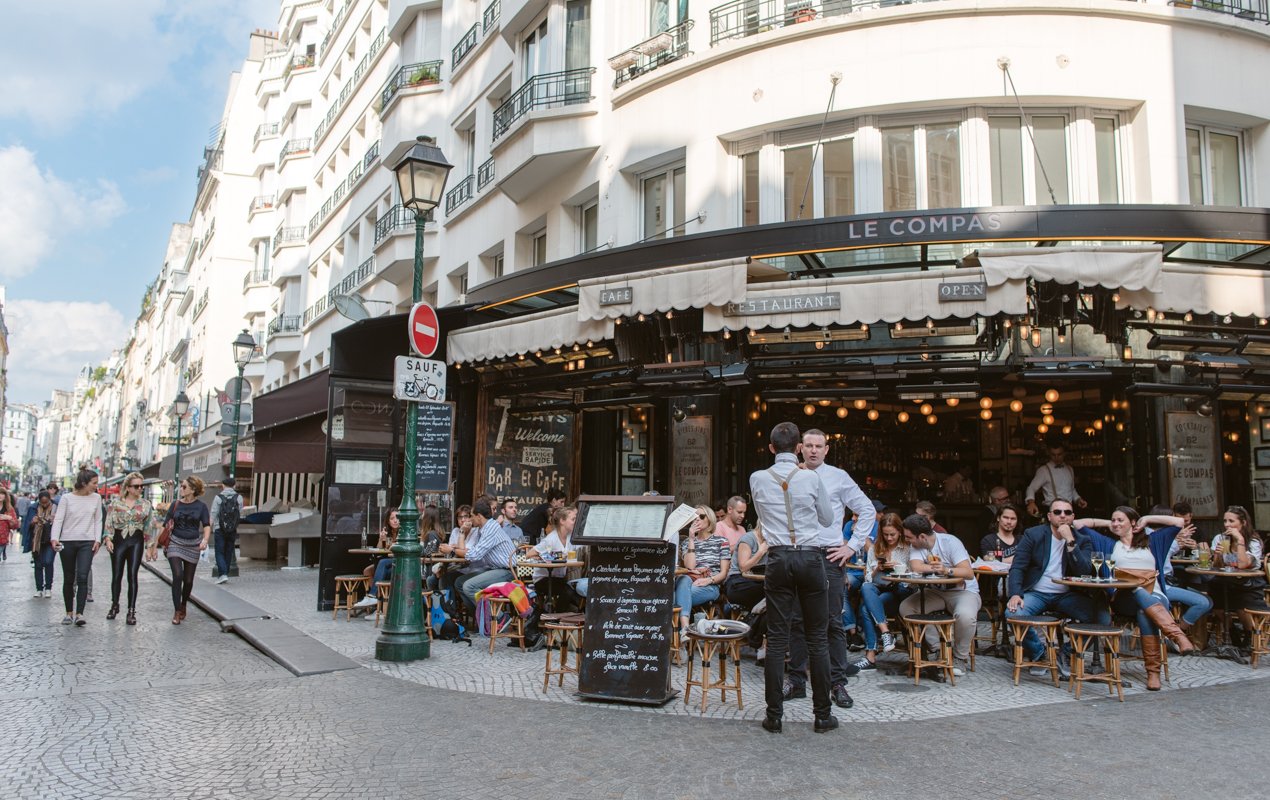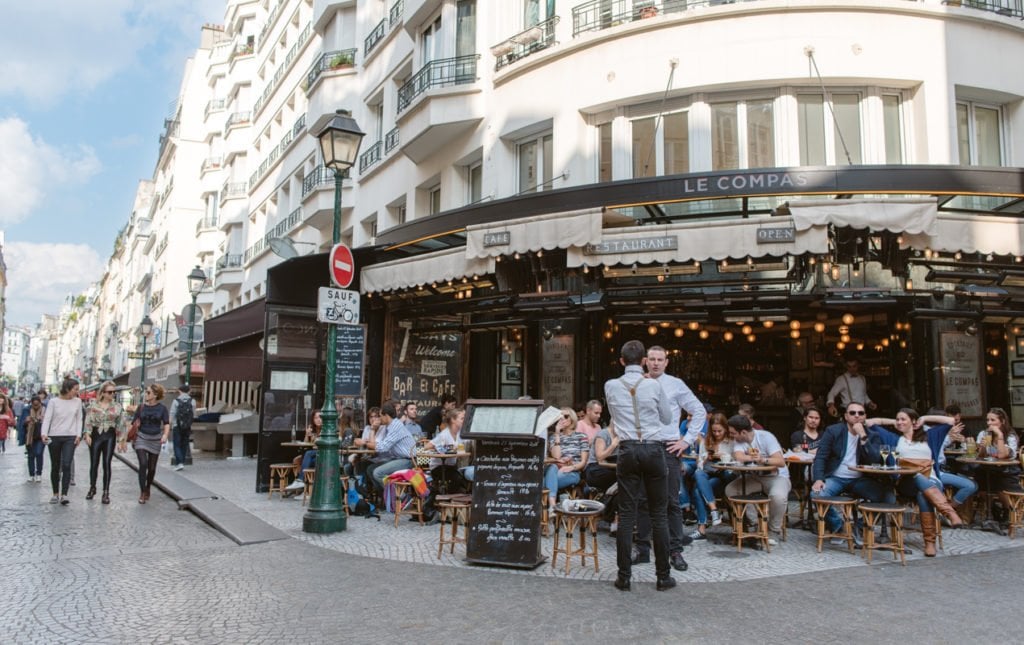 Bistrot des Petits Carreaux – This is a super traditional little bistrot, with things on the menu like steak frites, Andouillette and crème brulée, but you simply must order their confit de canard! It's so tasty, especially with the perfectly crispy potatoes that come with it. 17 rue des Petits Carreaux, 75002 Paris.
L'Escargot – Established in 1832, this is the perfect place to try escargot, if you dare! They also have lots of fine delicacies like caviar, foie gras and oysters at reasonable prices. The food here is a little fancier than the average bistrot. You'll know you've arrived when you see the golden snail statue above the entrance! 38 rue Montorgueil, 75001 Paris.
Le Pain Quotidien – This Belgian chain is a great spot for lunch. They have a wide selection of salads, soups and sandwiches. It's quick, casual and good quality. 2 rue des Petits Carreaux, 75002 Paris.
Le Compas – This restaurant has a huge terrace, making it the perfect place to grab a café or apéro (pre-dinner cocktail) and watch the world go by. 62 rue Montorgueil, 75002 Paris.
Specialty Stores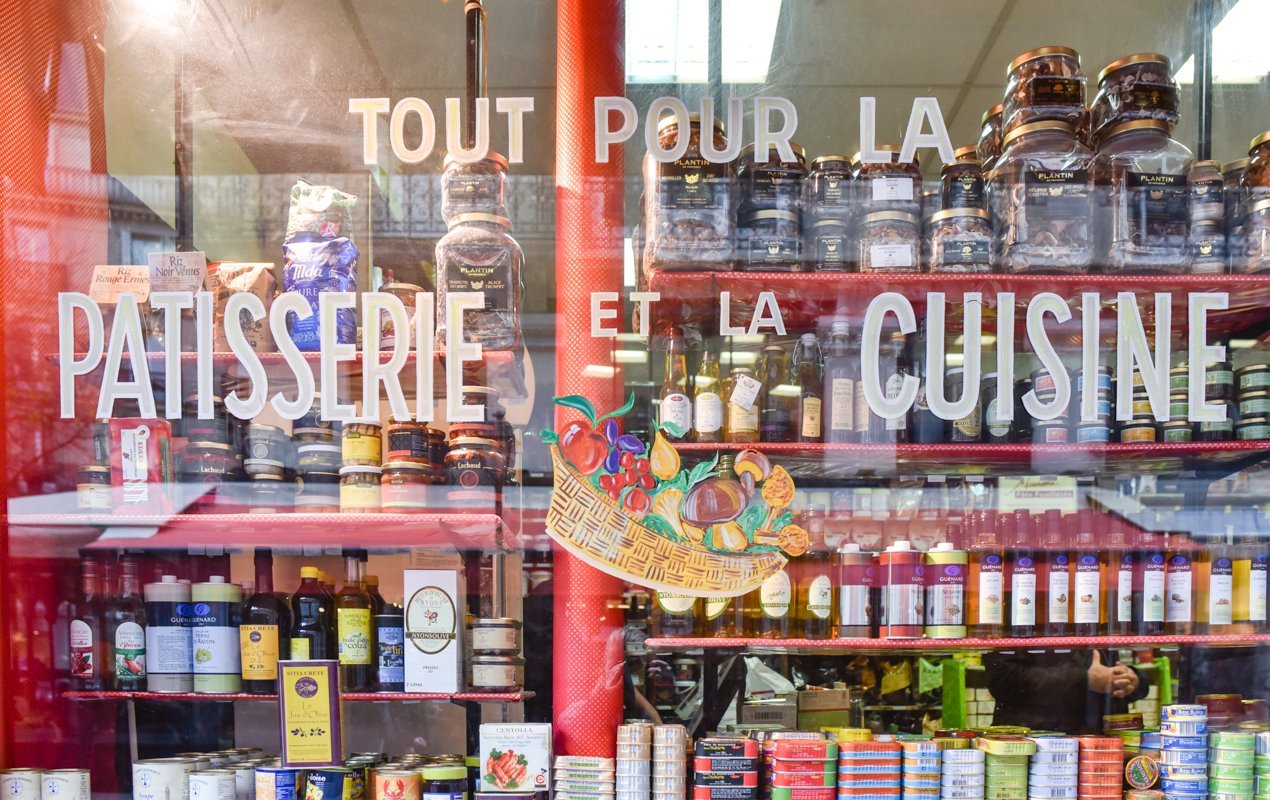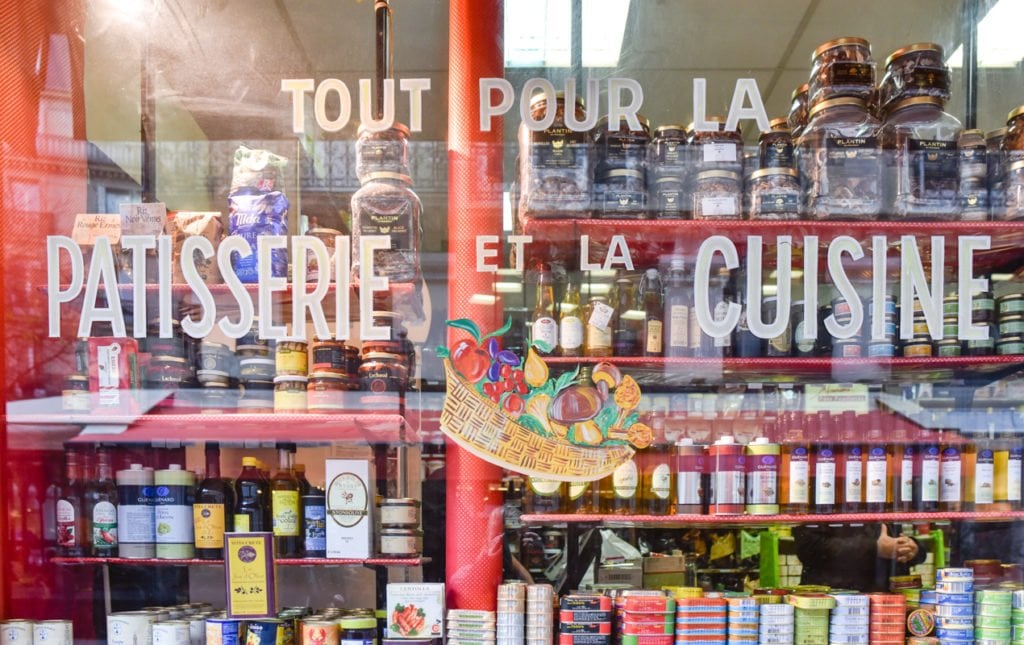 G. Detou – The name of this culinary supply store is a play on words – it's written in the form of a person's name, but when prounounced it sounds just like "J'ai de tout," which means "I have it all!" This store really does have it all when it comes to specialty ingredients: Valhrona cocoa powder and nibs for baking, artesianal mustards, pickles, olive oils and vinegars, fleur de sel caramels, French green lentils from Puy, etc. This is THE place to go if you're a foodie who loves cooking or baking. 58 rue Tiquetonne, 75002 Paris.
Nose – Here you'll find a selection of fine perfumes and colognes, many of which you won't find in the typical department store cosmetics section. If you're in the market for your next favorite scent, ask for the "diagnostique" experience, which involves filling out a questionnaire, then smelling various perfumes until you finally narrow down your favorite!  20 rue Bachaumont, 75002 Paris.
Kiliwatch – This large clothing boutique has a mix of new and vintage finds, and is a favorite among Parisian Bobos, or Bourgeois-Bohèmes, a stereotype that describes someone who has lots of money but chooses to dress like a starving artist. The vintage section is well organized, but the shop can be a bit overpriced – still fun to look around though! 64 rue Tiquetonne, 75002 Paris.
Anaïs Fleuriste – Visit this corner flower shop for beautiful bouquets of tulips, roses, anemones and more. This florist is so good, it even received a stamp of approval from flower specialist Georgianna Lane in her book, Paris in Bloom! 52 rue Montorgeuil, 75002 Paris.
Mariage Frères – Get yourself some high quality tea from this historic tea company. Their black tins are delightfully vintage-feeling, and they have at least 100 different varieties to choose from. From their grand crus to their flavored blends, there's a tea here for everyone. Learn more about Mariage Frères in this blog post. 90 rue Montorgeuil, 75002 Paris.
What's Nearby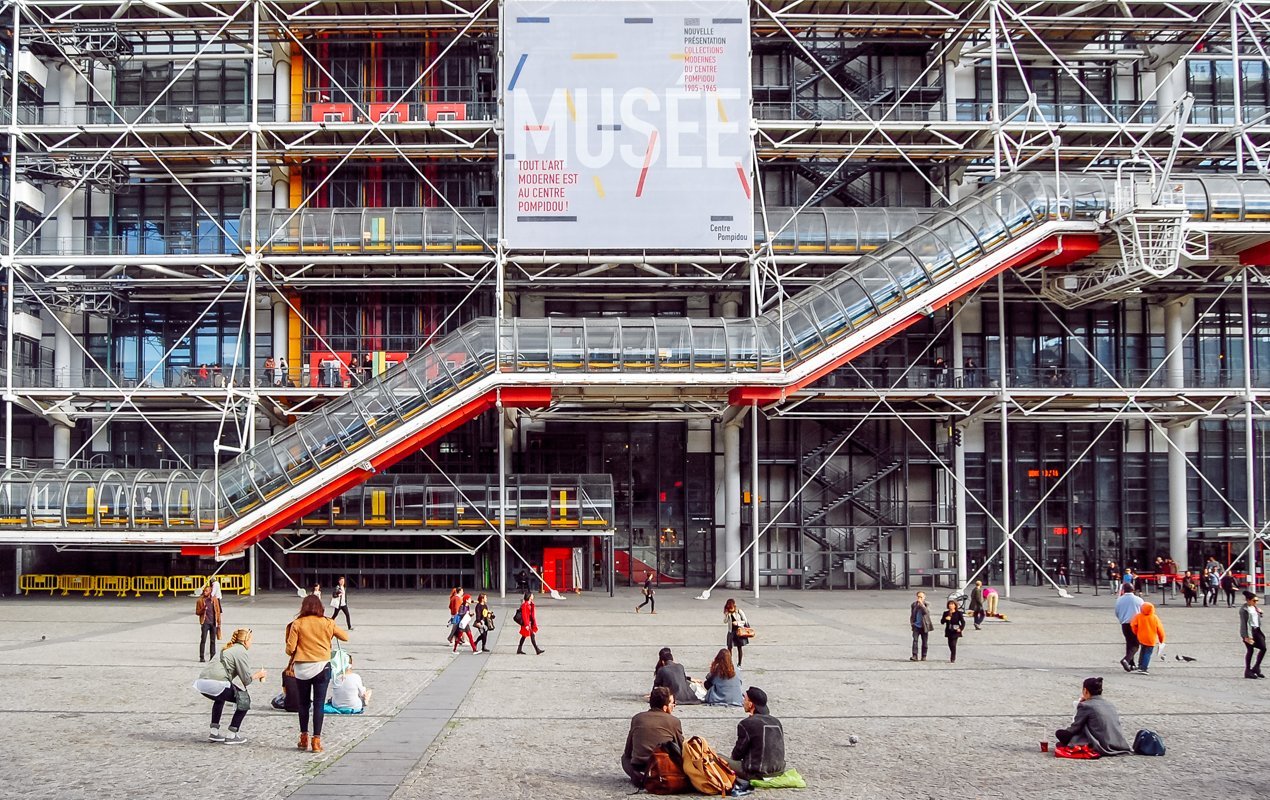 Rue Montorgeuil is very close to the geographical center of Paris. The beautiful Saint Eustache cathedral is worth a wander through, while the Centre Pompidou isn't far away, filled with modern and contemporary art. To the southwest you'll find the Palais Royal gardens and the Louvre museum, and if you head straight down towards the river, you'll stumble upon the Pont Neuf, which connects you to Place Dauphine on the Île de la Cité!
Practical Info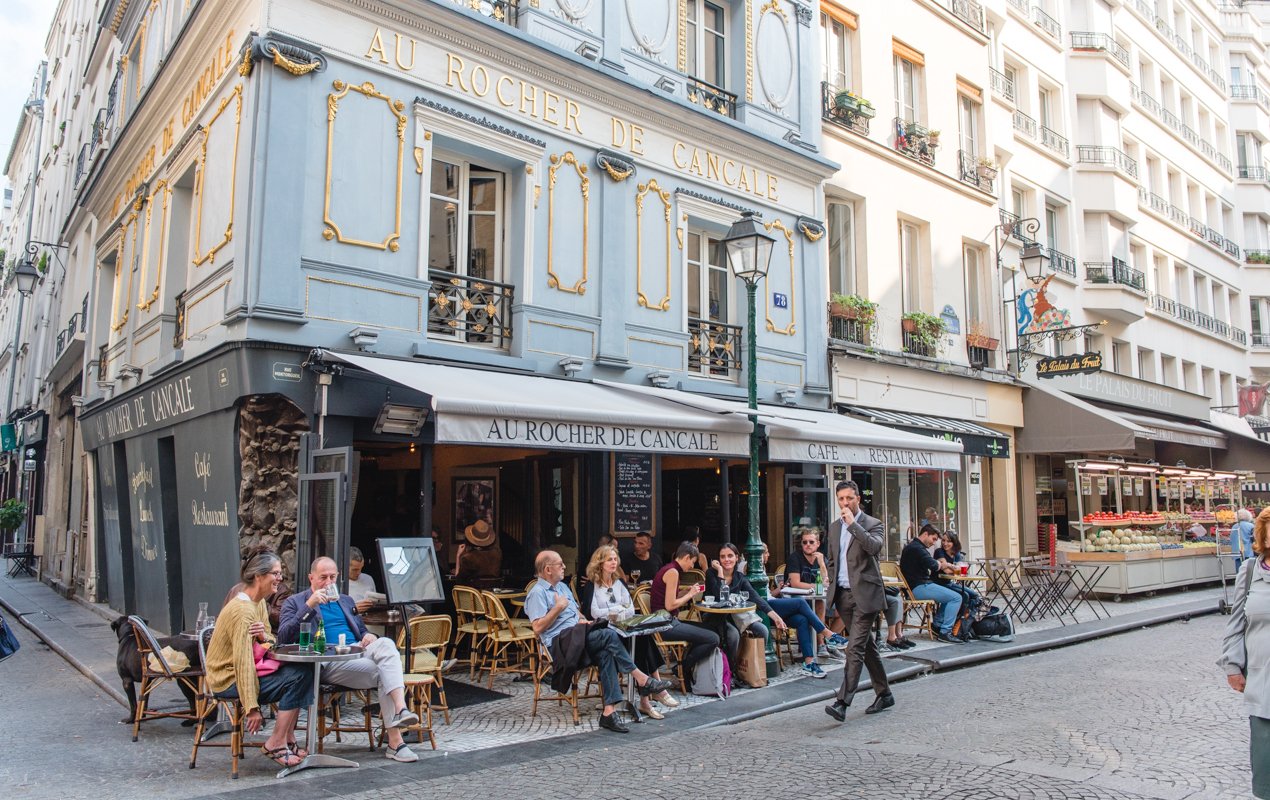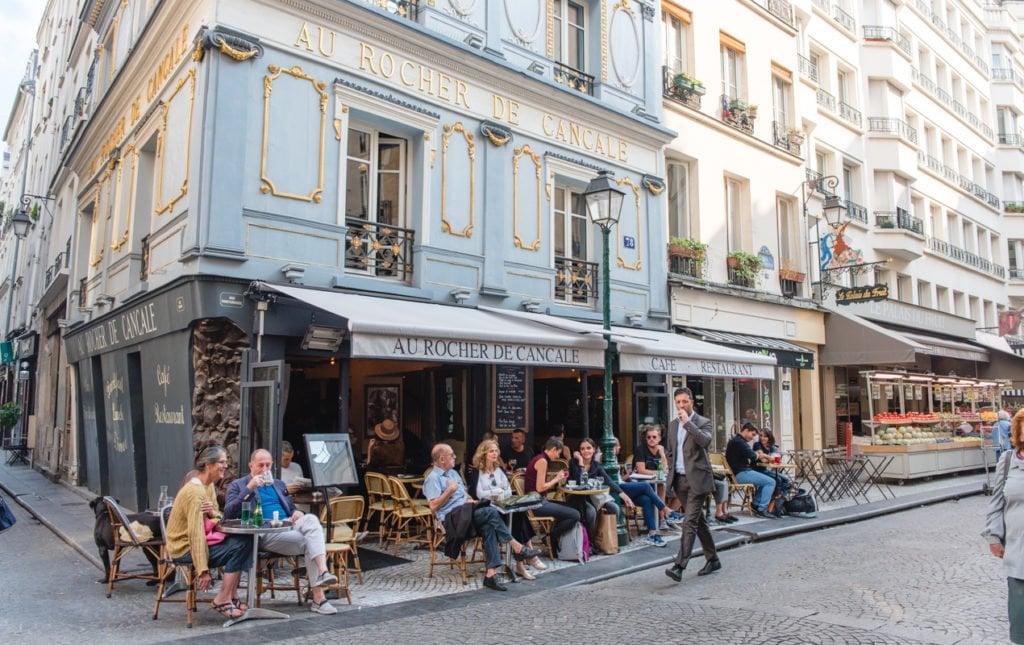 Rue Montorgeuil straddles the border between the 1st and 2nd Arrondissements and its boundaries are marked by Rue de Turbigo and the Sentier metro station (although, technically the topmost portion of it is called rue des Petits Carreaux). Here are the best metro and bus lines to use:
Sentier (Line 3)
Les Halles (Line 4 – be sure to make use of the exit maps on the wall so you surface to street-level in a convenient spot, because this station has many different exits)
Etienne Marcel (Line 4)
Bus lines 29 (Turbigo-Etienne Marcel), 20 (Sentier) and 39 (Sentier)
(All images by the Author.)