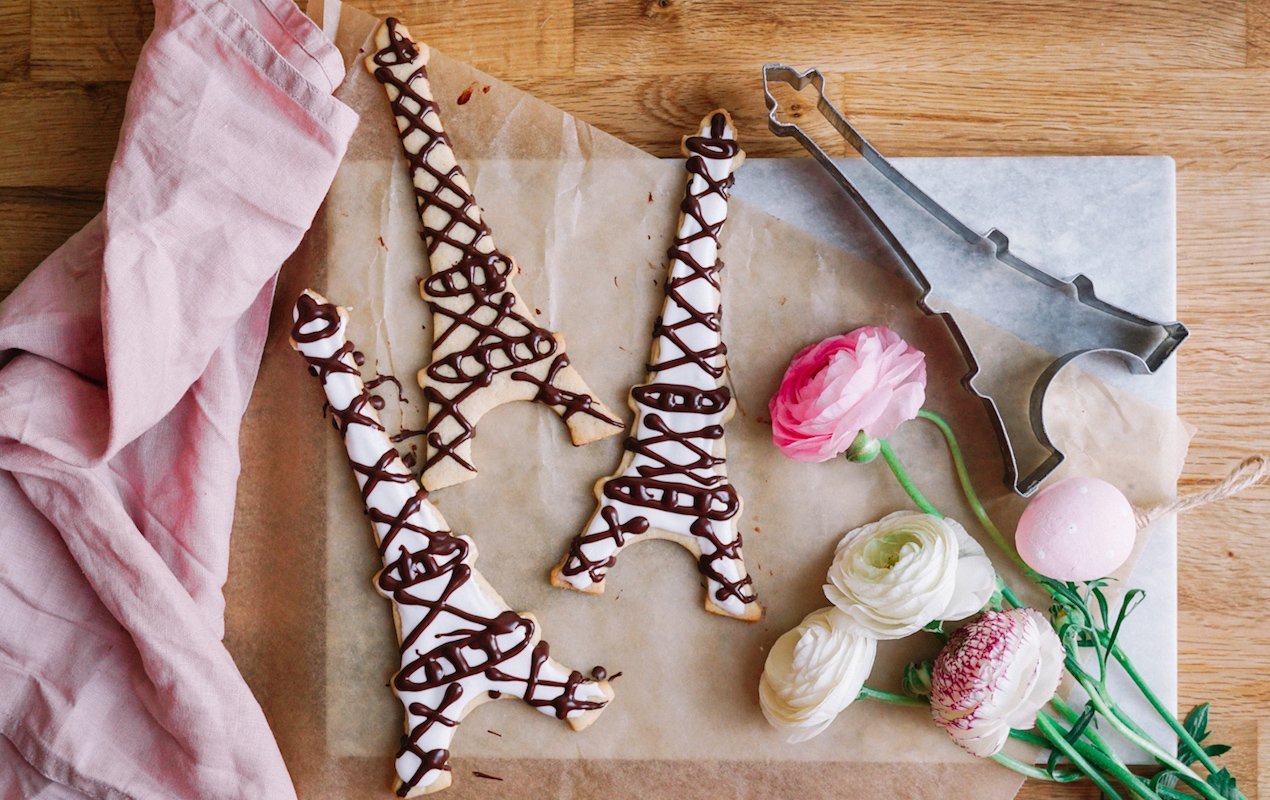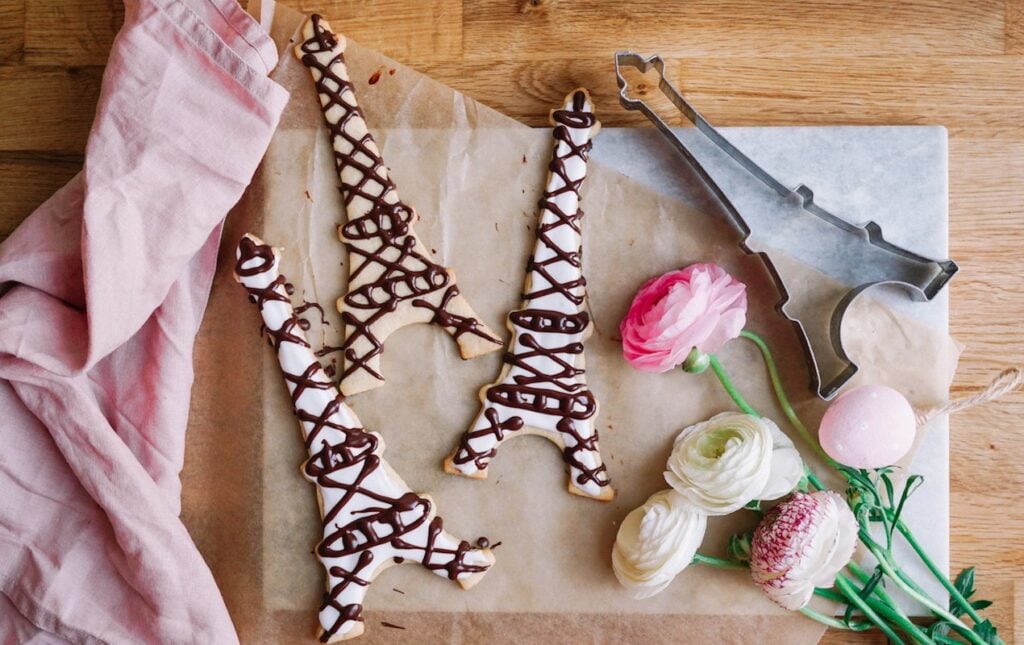 Every time I visit Paris, I get excited about seeing the Eiffel Tower. Even if you are not nearby, you can sometimes peek the top of it sticking out over the Parisian rooftops, just as a reminder of that you are in one the most beautiful cities in the world. I bet even the coolest Parisians still have moments of awe with its magnitude and beauty.
Just in time for Easter, I decided to have a little fun with this recipe by combining traditional sugar cookies with the shape of the most iconic Parisian landmark. I call it my ode to the Eiffel tower… and the cookies are really good, too!
This recipe is adapted from a simple sugar cookie recipe from the blog In Katrinas Kitchen, to which I added some royal icing and decorated with melted dark chocolate. Piping chocolate is not easy and the cookies might not be an exact replica of their steel original, but there is certainly no doubt about what they represent. Besides, they're just sugar cookies, amusez-vous bien, have fun!
If you're interested in sourcing the Eiffel Tower cookie cutter? In Paris, I have seen them sold at La Cuisine Paris and La Grande Épicerie (in French, a cookie cutter is called a découpoir), though I'm sure you can find them in any of specialty baking shop. Online, I have seen similar on Amazon, but there are several options if you search for them. For reference, my cookie cutter is about 7.7 inches (19.5 cm) tall.
Eiffel Tower Sugar Cookies with Royal Icing & Dark Chocolate
Prep time for the cookies: 15 minutes
Cook time for the cookies: about 6-8 minutes per baking tray, in total about 20-25 minutes
Time for resting and icing/decorating: 45-60 minutes
Total time: 1 h 20 min – 1 h 40 min
Makes about 20 Eiffel tower cookies.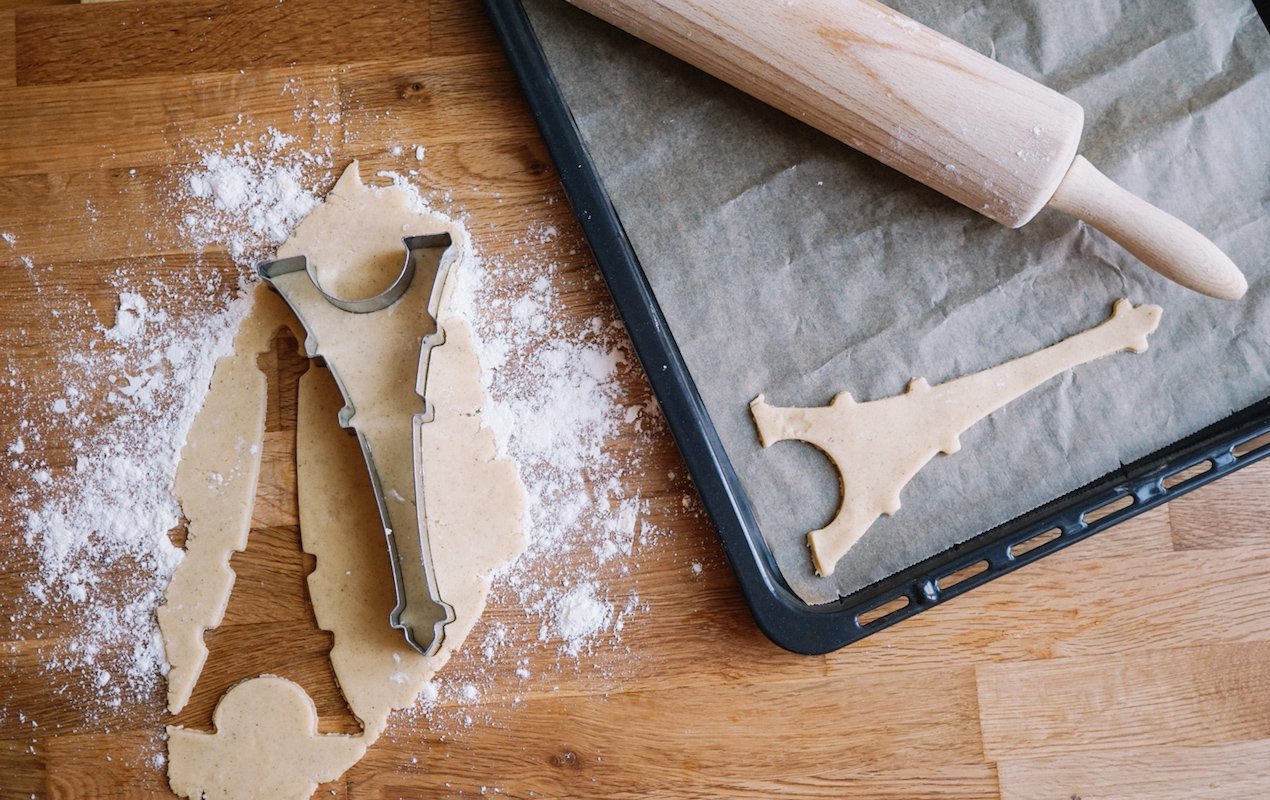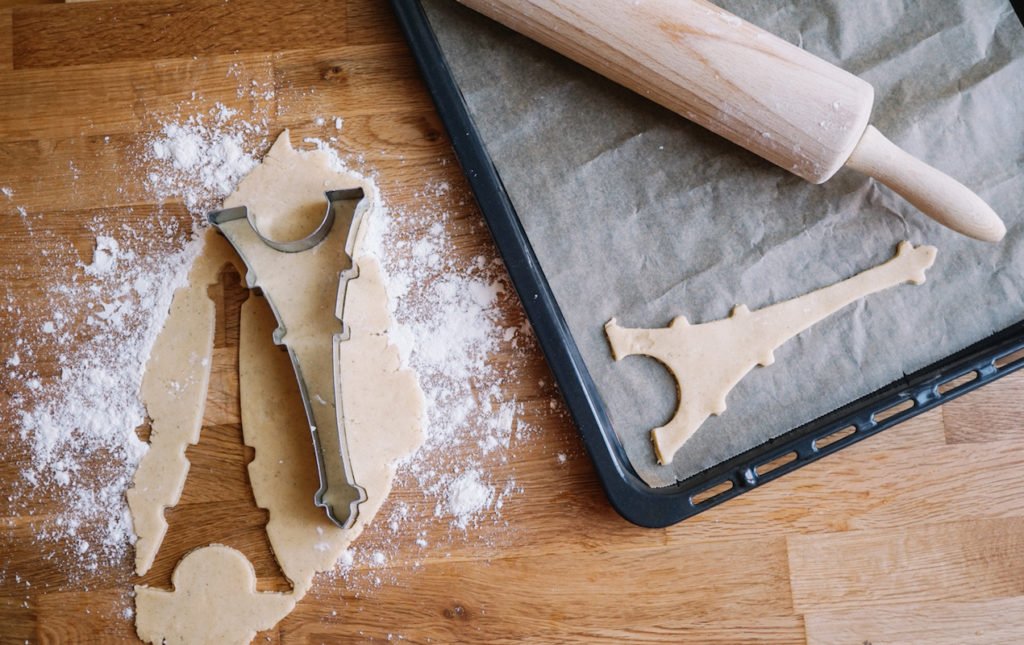 Ingredients
For the Cookies:
1 cup (225 gr) unsalted (or lightly salted) butter (does not have to be room temperature)
1 cup (200 gr) granulated white sugar
1 tsp real vanilla paste (or extract)
1 egg
2 tsp baking powder
3 cups (385 gr) all purpose flour
For the Icing:
2 egg whites
3 1/4 cups (400 gr) powdered sugar (confectioners' sugar)
2 tsp lemon juice (or more)
6.2 ounces (175 gr) dark (70 % cacao) chocolate
Instructions
For the Cookies:
Preheat your oven to 350° F (175° C).
In the bowl of your mixer cream the butter and sugar until smooth, at least 3 minutes.
Beat in the vanilla and egg.
In a separate bowl combine baking powder with flour. Then slowly add the dry mixture into the wet ingredients; add just a little at a time. The dough will be very stiff. If it becomes too stiff for your mixer, turn out the dough onto a countertop surface. Wet your hands and finish off kneading the dough by hand.
This dough does not have to be chilled, so you can go straight onto rolling it out. Divide into four batches (cover the dough you are not working on with Saran Wrap). Roll out onto a floured surface and cut. You want these cookies to be on the thicker side (closer to 1/4 inch or 0.6 cm rather than 1/8 or 0.3 cm).
Bake in the oven for 6-8 minutes. They should be soft and still quite pale. Let cool on the cookie sheet until firm enough to transfer to a cooling rack.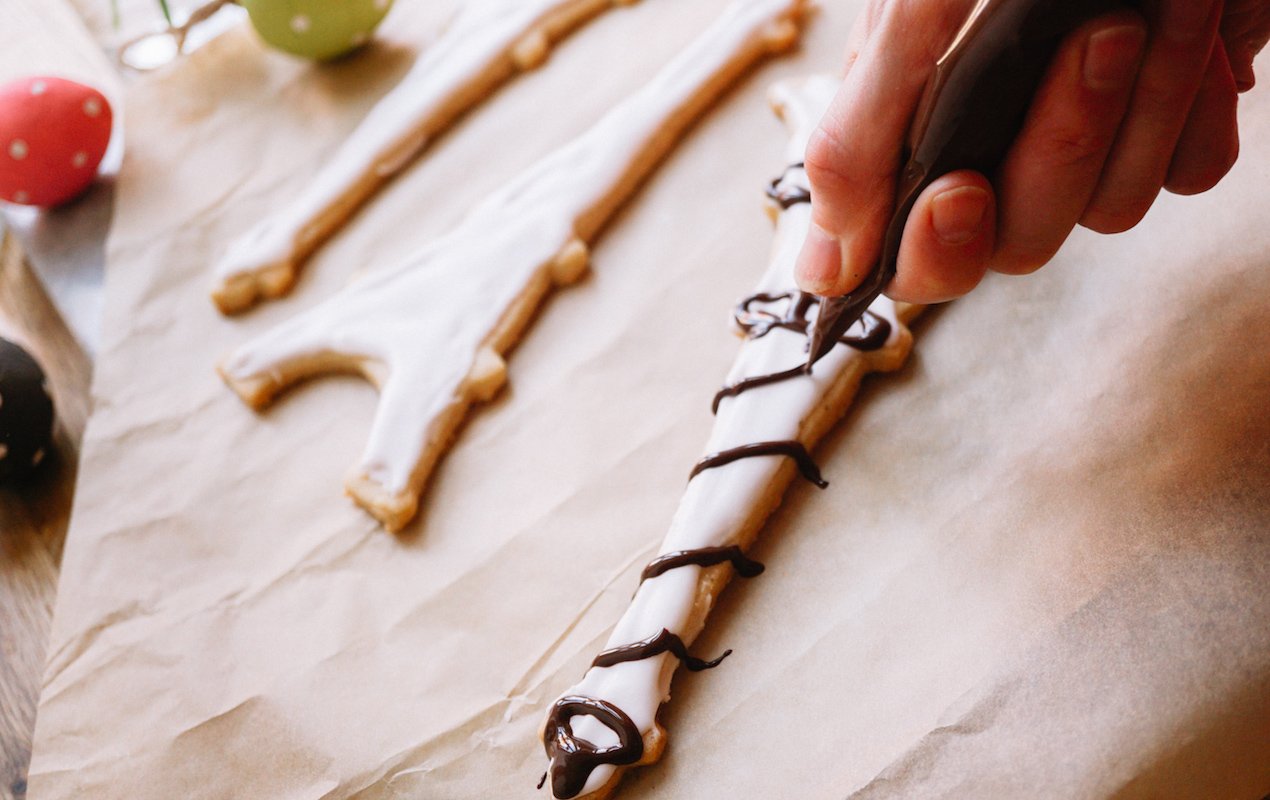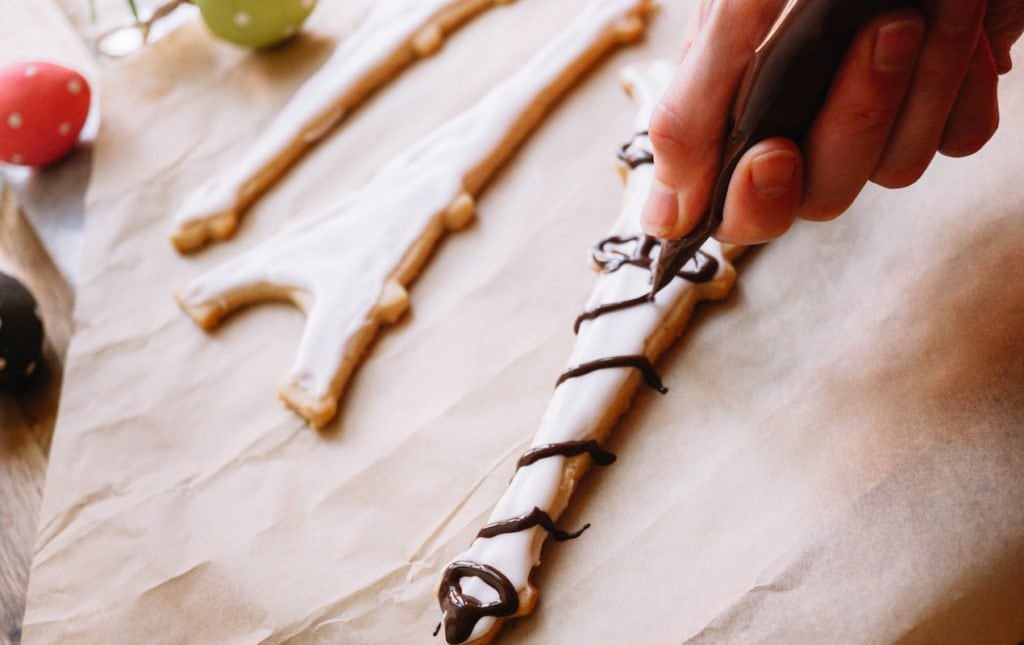 For the royal icing and chocolate decorating:
Beat the egg whites until they fluff up slightly (but they don't have to get stiff).
Sift the powdered sugar into the egg whites and add the lemon juice. Mix at a low speed until everything is blended. Add slightly more lemon juice if the icing is too stiff. The consistency should be soft, but not too runny. (You can always try to pipe a small batch of the icing first.)
Put the icing in a piping bag and pipe onto the cookies. Let the icing dry a little.
Melt the chocolate (broken into pieces) in a bowl over simmering water. Be sure not to let any moisture into the actual chocolate. When completely melted, pour into a piping bag. You might want to put the bag in a tall container or glass and drape the top over the edges so you don't have to touch the bag directly – It can get really hot.
Wear an oven glove when piping the chocolate over the cookies.
If your icing and chocolate doesn't look perfect, that's ok, but if you need inspiration on how to pipe the chocolate, have a look at this simple sketch.) If you've never decorated with a piping bag before, practice a little bit on a piece of parchment or wax paper before piping directly onto the cookies.
Bon appétit! If you end up creating these cookies at home, send us a photo over on our Facebook page!
Summary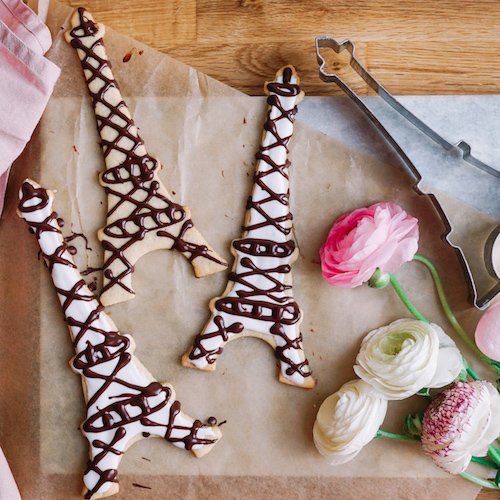 Recipe Name
Eiffel Tower Sugar Cookies with Royal Icing & Dark Chocolate
Published On
Preparation Time
Cook Time
Total Time
Average Rating





Based on 42 Review(s)