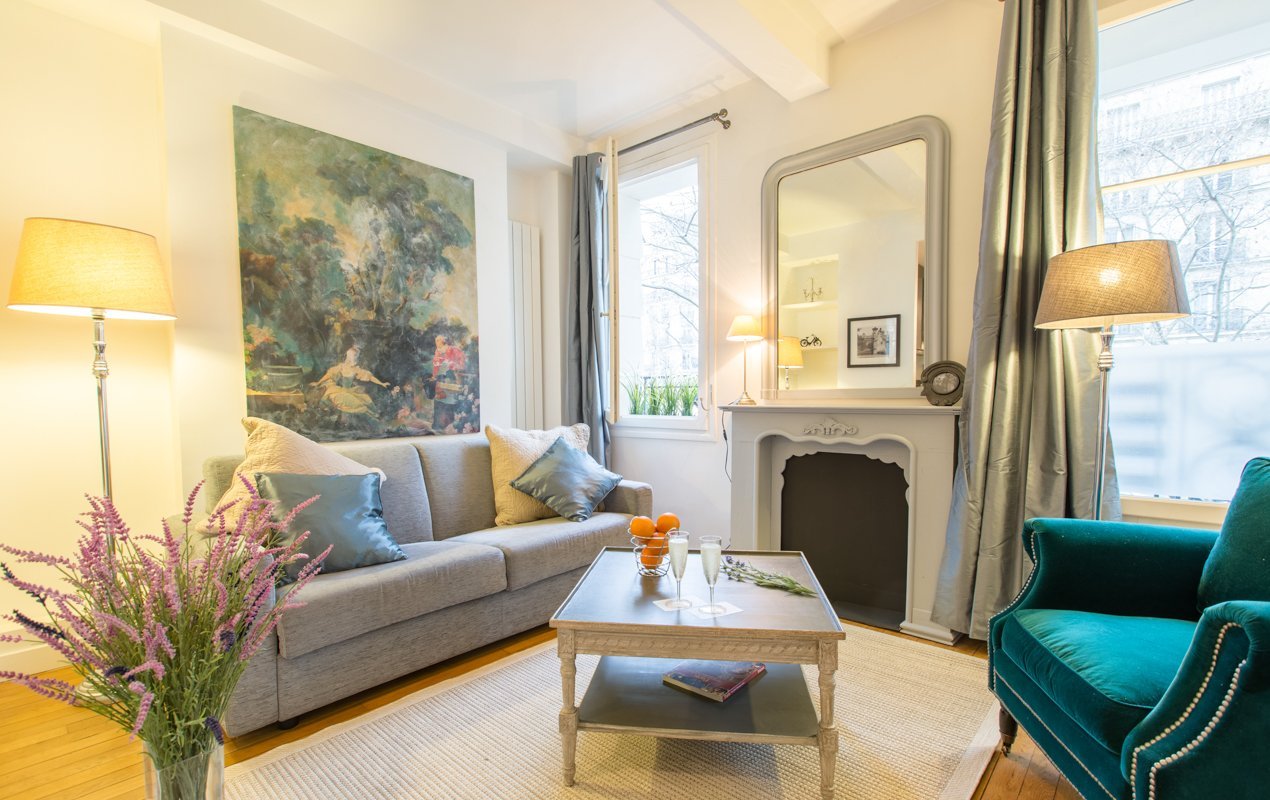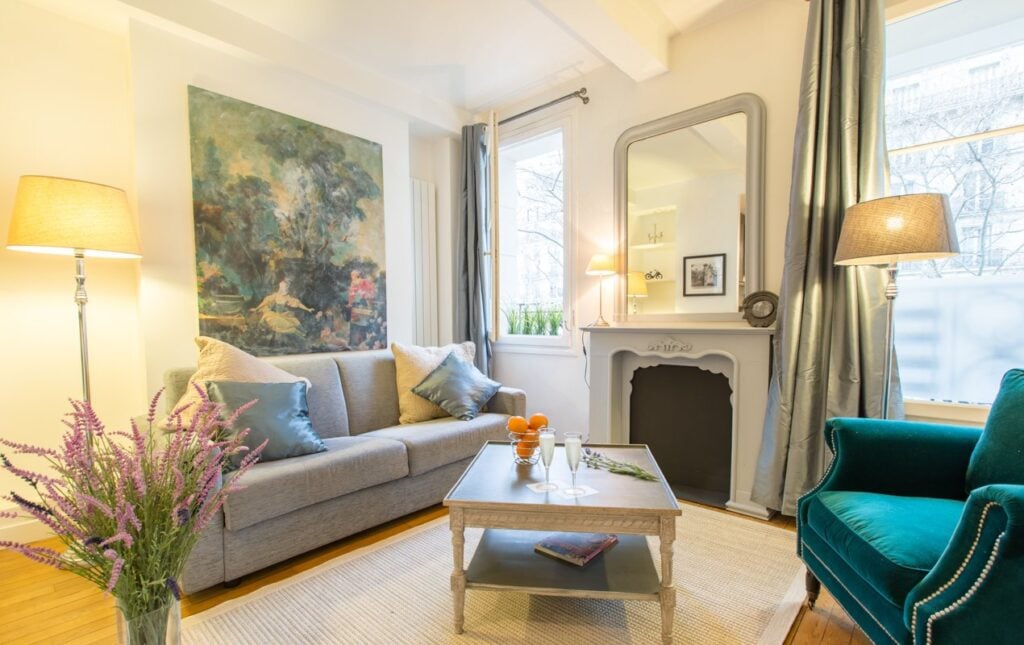 Every beautiful apartment has a story – it's part of what makes Perfect Experiences special. How is it decorated? What is there to enjoy and appreciate? When taking time off to stay in a lovely apartment in a new country, the comfort of your accommodation is just as important as exploring outside of it.
Our Blaye apartment has a story of its own. It's a lovely one-bedroom apartment with a cozy living room, comfortable sofa, lovely dining room to seat four, and a newly remodeled kitchen. The kicker is the lovely Eiffel Tower view at night and its star location near the open air markets on Avenue du Prèsident Wilson, Rue Cler and Rue de Grenelle. But this isn't how it's always looked!
Keep reading to find out more about the re-design of the Blaye apartment.
The Blaye – Before
If you enjoy home design as much as me, you know that décor trends seem to shift with increasing frequency. Such was the case with the Blaye apartment, which we remodeled for the owners a few years ago. They wanted a look that was pared-down and masculine, with lots of rich grays, bold blacks and consistent colors throughout.
Thanks to our General Manager, Hilde, who helped restrain my habitual habit of mixing too many different colors of wood and fabric; the result was simple and elegant with lots of bold contrast.
However, every time I studied it, I wasn't quite satisfied. There was something about it that was lacking, but I couldn't put my finger on it. Perhaps it was too black-and-white for my tastes. The bedroom also felt a little inconsistent with the living room.
The owners didn't want to spend a lot on redecorating. Fortunately, I had a stock of furniture from previous apartments that weren't being used. So, I went "shopping" in our various storage rooms or "caves" scattered among different buildings, and was able to source almost everything we needed from there!
New Wall Art
I began with the cave that we used to store pictures; many of them have had great 'lives' when a certain style was popular, but are resting or waiting for another appropriate wall. I came on a large pastoral theatre backdrop; a Rococo scene which hadn't found a proper wall to flourish on.  It had pretty blues and greens, which could be wonderful accent colors instead of the old red.
The only thing I wasn't quite sure about – was it too large, and would it blend nicely with the contemporary sofa? But after putting the room together, I think it works out wonderfully! We added some light blue and green pillows to soften the square lines of the sofa and pull out some of the hues in the art.
A Touch of Color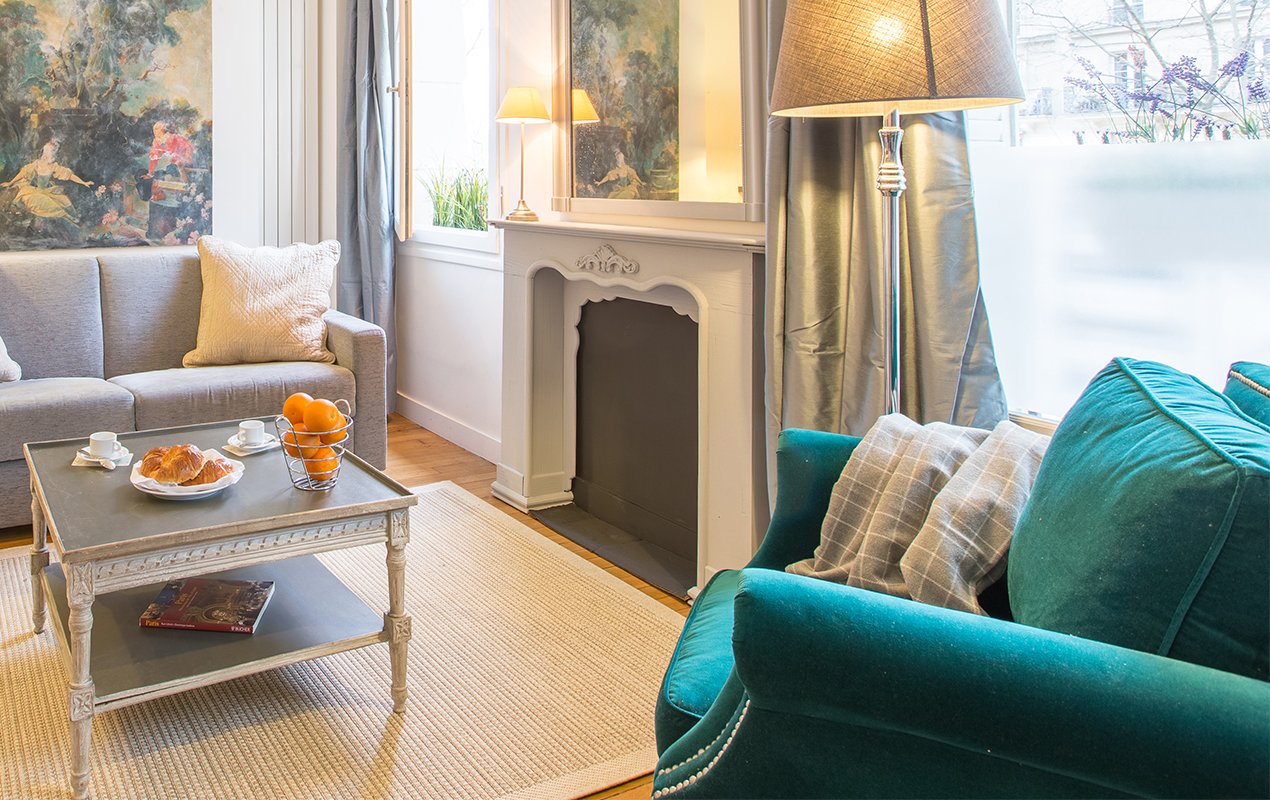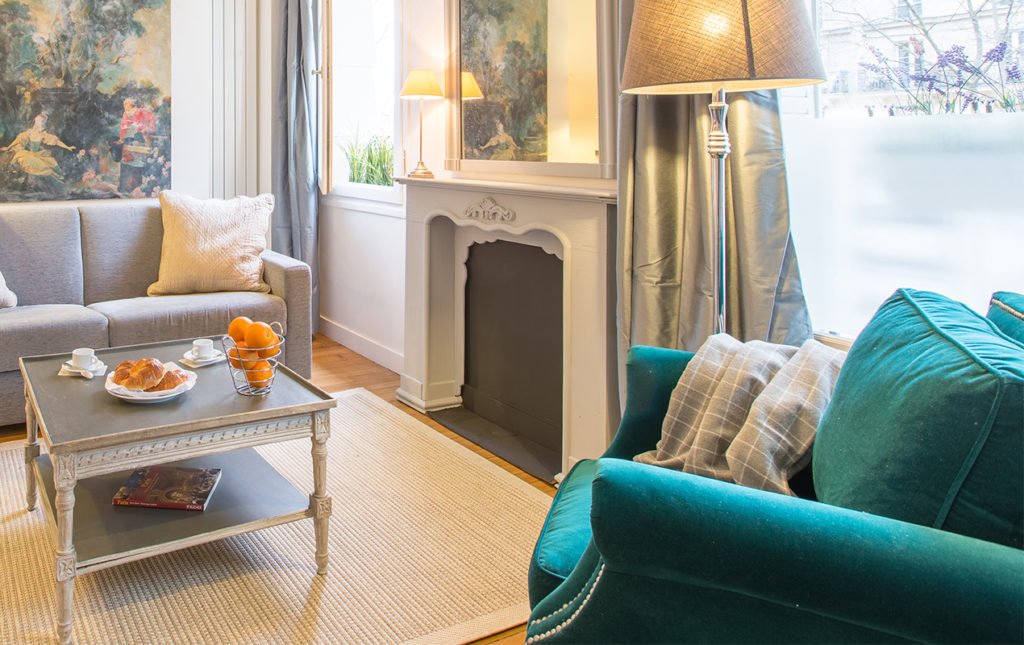 We then found some beautiful – but more importantly, comfortable – armchairs in a saturated teal. We weren't quite sure if the color would be too bold for the space, but found that it pulled the greens and blues out of the wall art very nicely! It's situated next to the window, making it the perfect little reading nook. I want to sit there and read The Count of Monte Cristo!
Creating a Faux Fireplace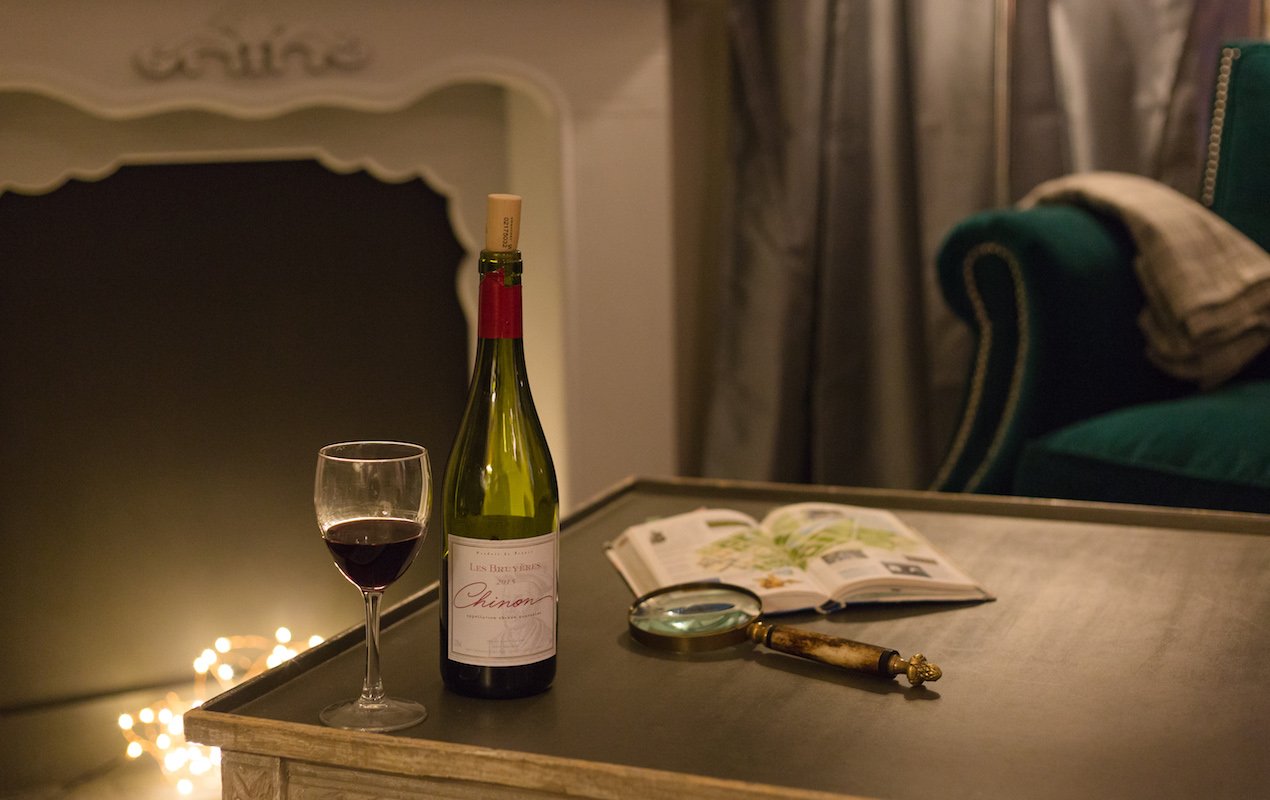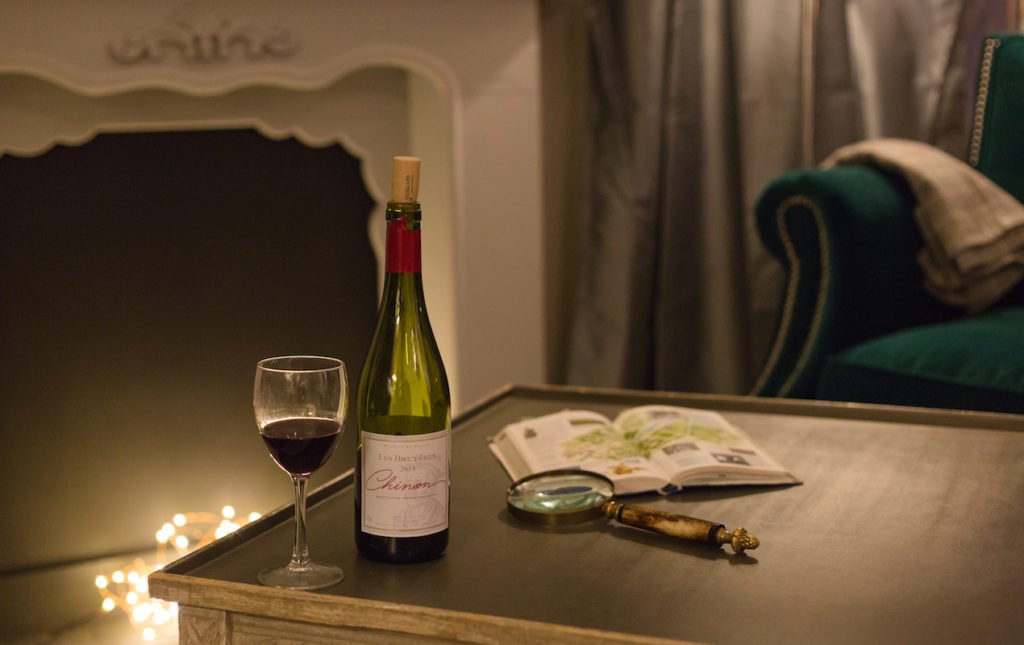 Next up: creating balance and adding warmth to the room. On one side we had the large Rococo painting, and on the other, a bold blue armchair. I wanted another focal point to really balance the two together and bring in more Parisian elegance. I discovered an unused fireplace mantel in one of the caves and knew it was exactly what we needed! We painted it gray, then found a big mirror in another cave to go above it. Wow – what a difference it made to the living area. The mirror reflected light and made the room seem much larger. Then, to give it the cozy feel of a traditional fireplace, we added some electric lights to place inside.
Adorning the Windows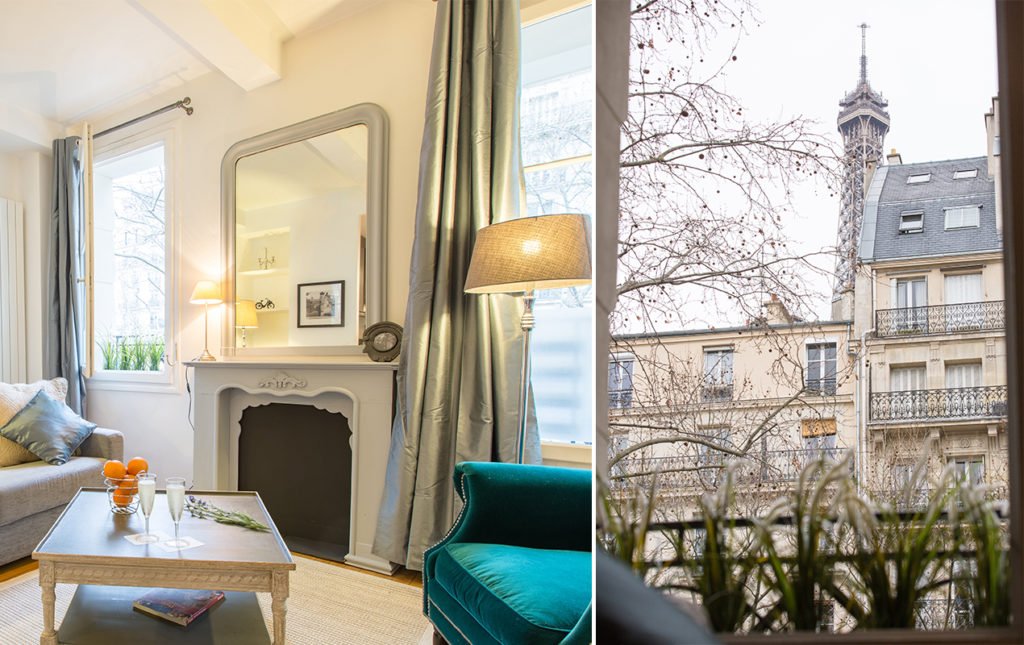 I liked the idea of long dark curtains, but wanted them to be softer in terms of color and feel. I found some gray-green curtains in a silk shantung type fabric to frame each window. I love how the subtle shine of the fabric adds even more elegance to the space.
I also found some planters to hang between the windows and the Art Deco iron railing to add a nice touch of organic texture and color to the windows.
Final Touches – Living Room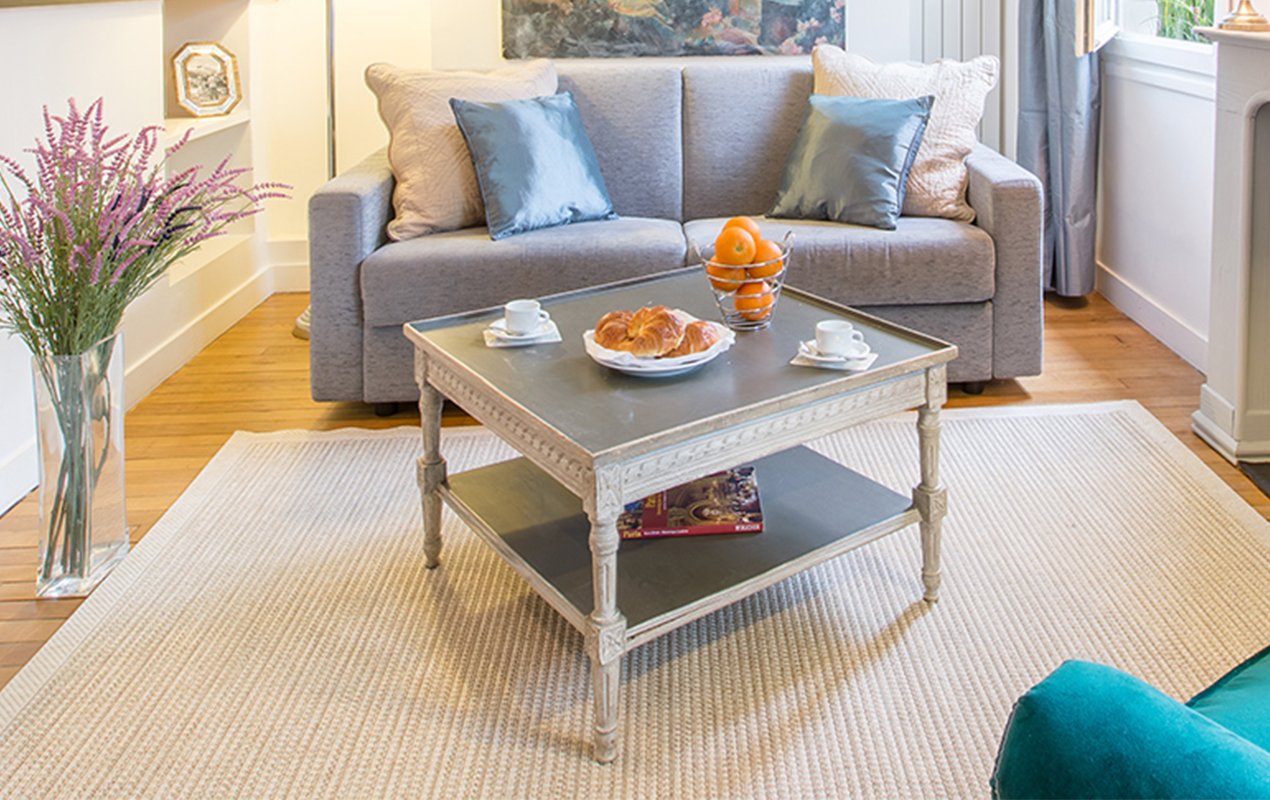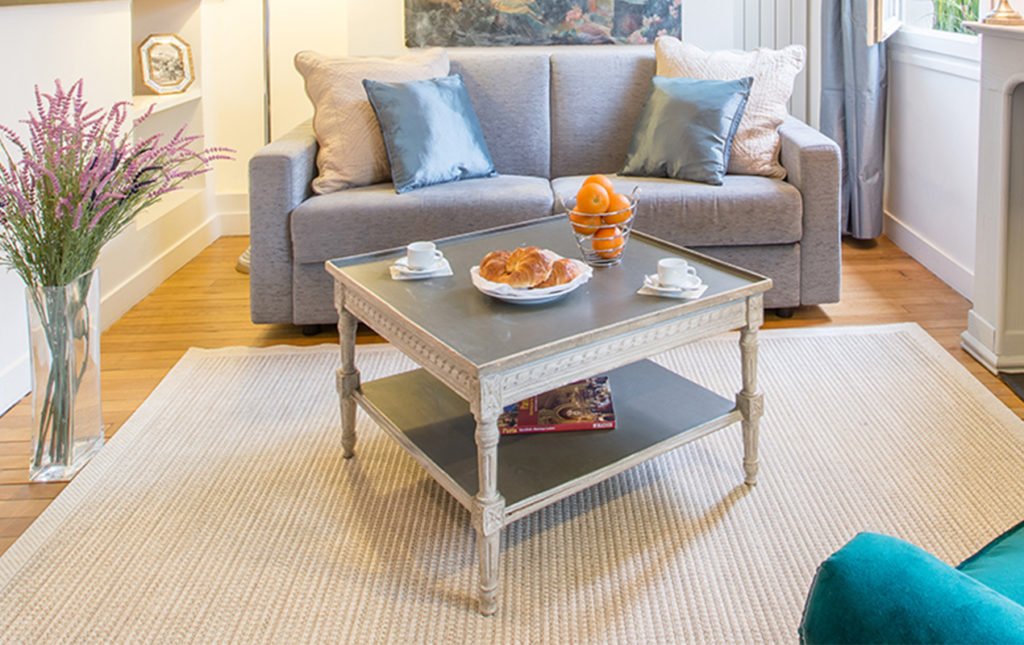 We changed out the blockier wooden coffee table for a more delicate French-style one. We also added an off-white rug to add more lightness and texture to the space.
The Bedroom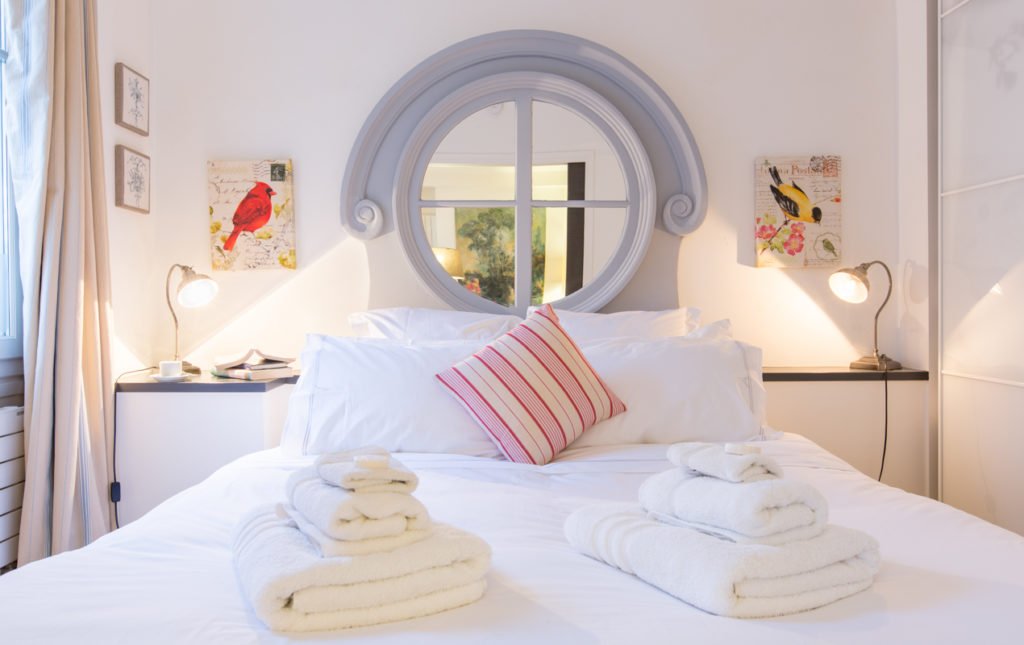 I loved the original 'oeil de boeuf' or 'cow's eye' mirror that we had above the sofa, because of its unique shape and the story behind them. These types of mirrors are a copy of the windows that you'll sometimes see on the top floors of elegant Parisian buildings – they were windows to the old servant's rooms, which have now mostly been converted to tiny studio apartments rented out by students or storage rooms owned by the tenants below.
Placing it behind the bed created a sort of headboard effect, while also maximizing sunlight. When I first got it, I'd painted it in a black and red faux antique finish, and it was placed above the sofa. For this redesign, I painted it gray and placed some pretty bird pictures on both sides.
I also changed the decorative cushion to cream with red stripes to compliment the pops of red in the bird pictures.
The Kitchen
The kitchen is very nice and practical – it didn't need much. I simply hung an old poster in front of the bar depicting a martini, then found some cute containers for kitchen accessories. The best thing I found for this kitchen were some beautiful hanging pendant lights made in France shown below. Made by-hand, the order has taken a little while, but they're on their way. What could be more French: an escargot, lapin and grenouille!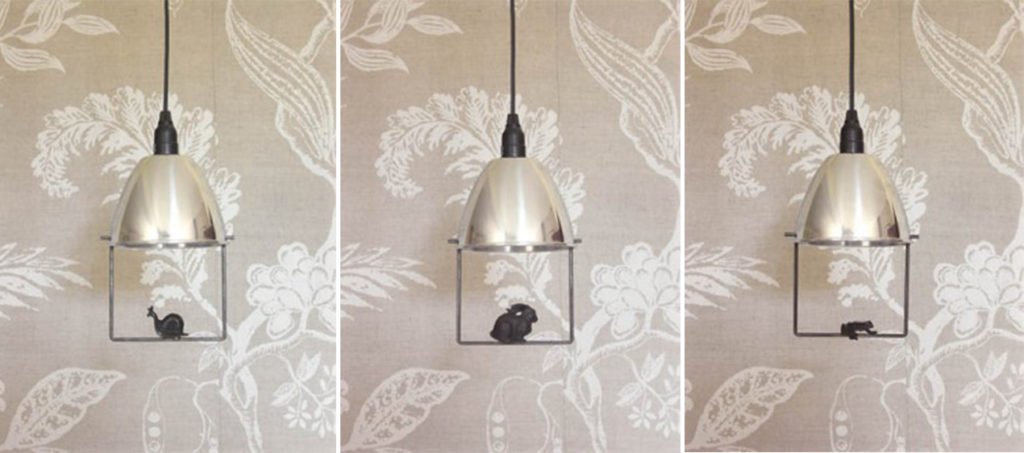 _____________
If you're interested in renting the Blaye apartment for your next Paris trip, see the apartment profile here, or contact our reservations team at

[email protected]

 to book!