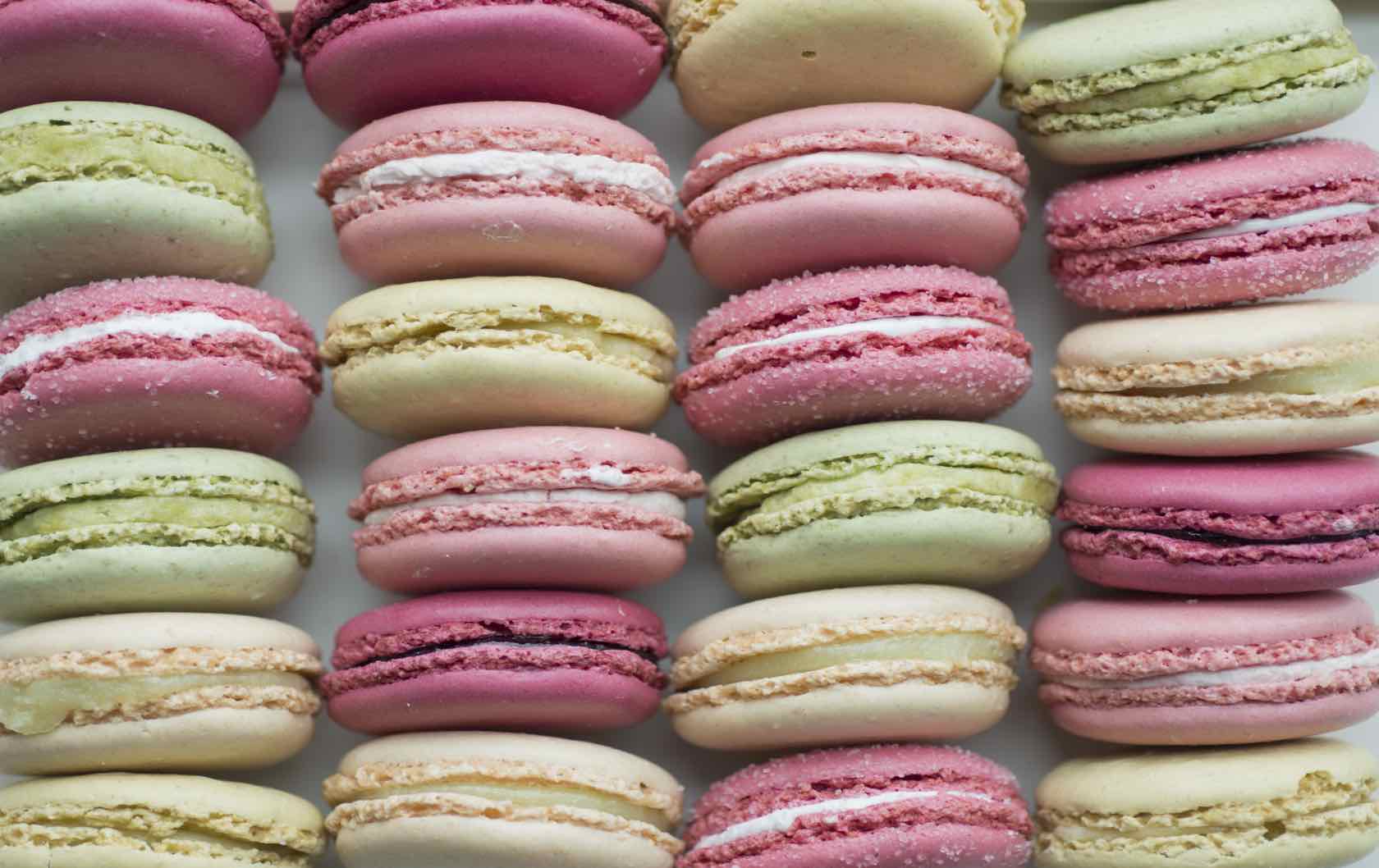 Staying in an apartment in the 7th arrondissement is a perfect Parisian experience – especially if you love good food. This buzzing neighborhood is so close to the Eiffel Tower, you're always easy wandering distance from the famous landmark and its Champ de Mars gardens, while on the other side of the neighborhood, the Esplanade des Invalides awaits – that is, if you're not side-tracked along the way by all the goodies along Rue Saint Dominique, the major connecting road that runs through the 7th arrondissement.
The Eiffel Tower side, closer to the Avenue de la Bourdonnais, is essentially the restaurant side of this long, gourmet street. We'll cover that later, but first, let's become totally side-tracked as we take a sweet stroll along the segment of the street that is most concentrated in pâtisseries, chocolate shops and Salon de Thé tearooms in just three blocks, starting at the top of our favorite market, the wine and cheese paradise of Rue Cler.
Best Pastry Shops on Rue Saint Dominique
As you crisscross back and forth on Rue Saint Dominique, you'll discover these rather special patisseries and chocolate shops en route to the Esplanade des Invalides, an open-air playground for local boules and football players and a great spot for picnics.
So without further ado, c'est parti!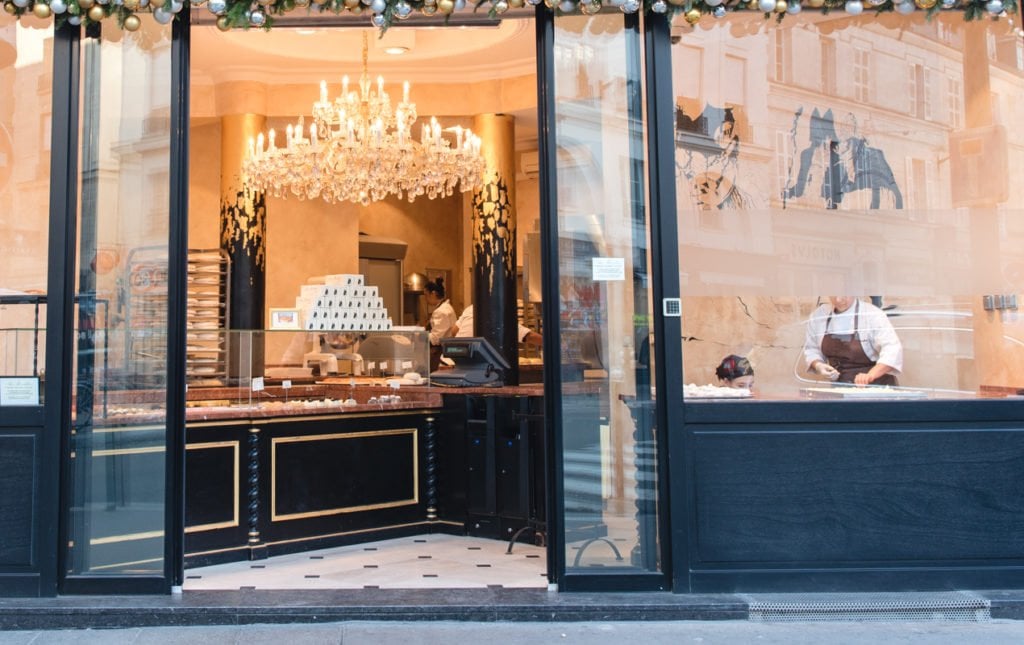 Aux Merveilleux de Fred
On the corner of Rue Cler and Rue Saint Dominique is where our pastry tour begins. This pretty shop faces the Church of Saint-Pierre du Gros Caillou with its Neoclassical, greek-temple-esque columns. Approach the huge picture windows and marvel at the Merveilleux meringue-and-Chantilly-cream domes being prepared by expert hands. Door wide open, it's not difficult to be lured in to this chandelier-lit bakery, where Frédéric Vaucamp has brought back the 18th century specialities of Northern France and Flanders.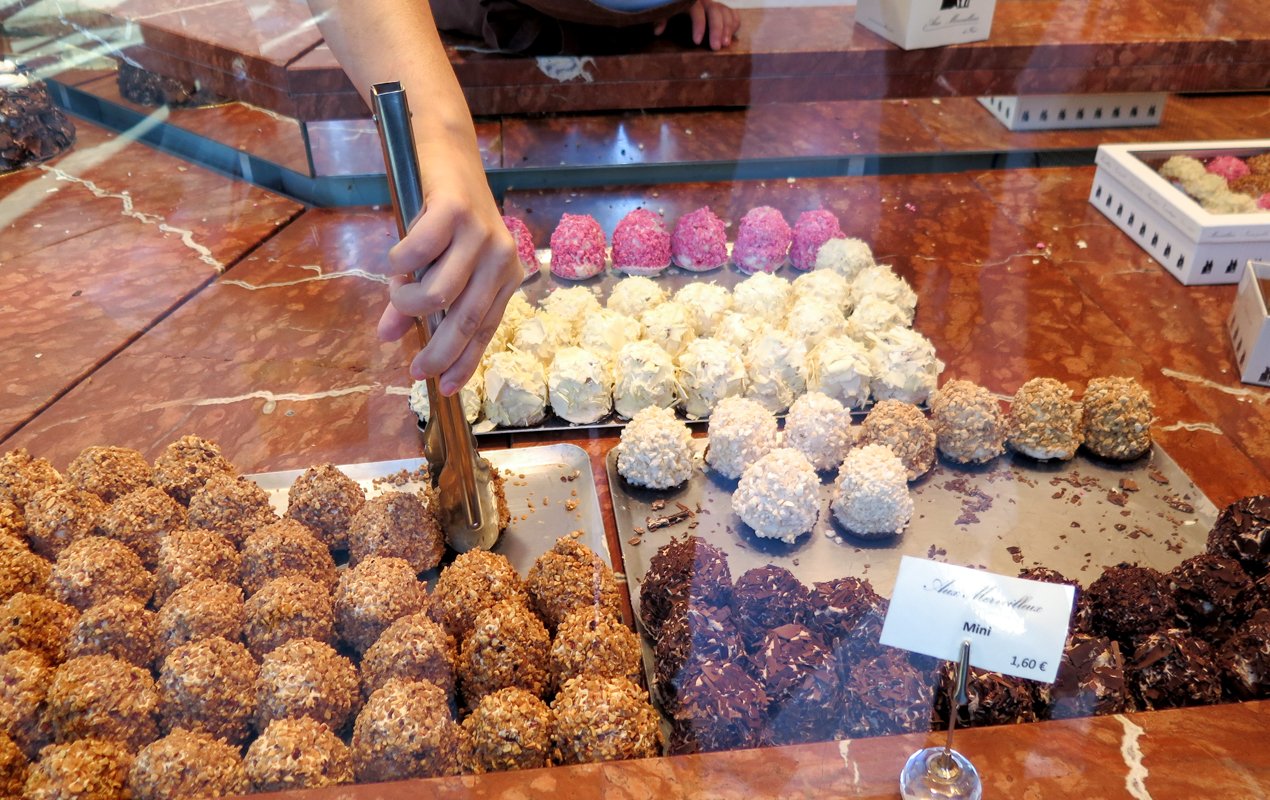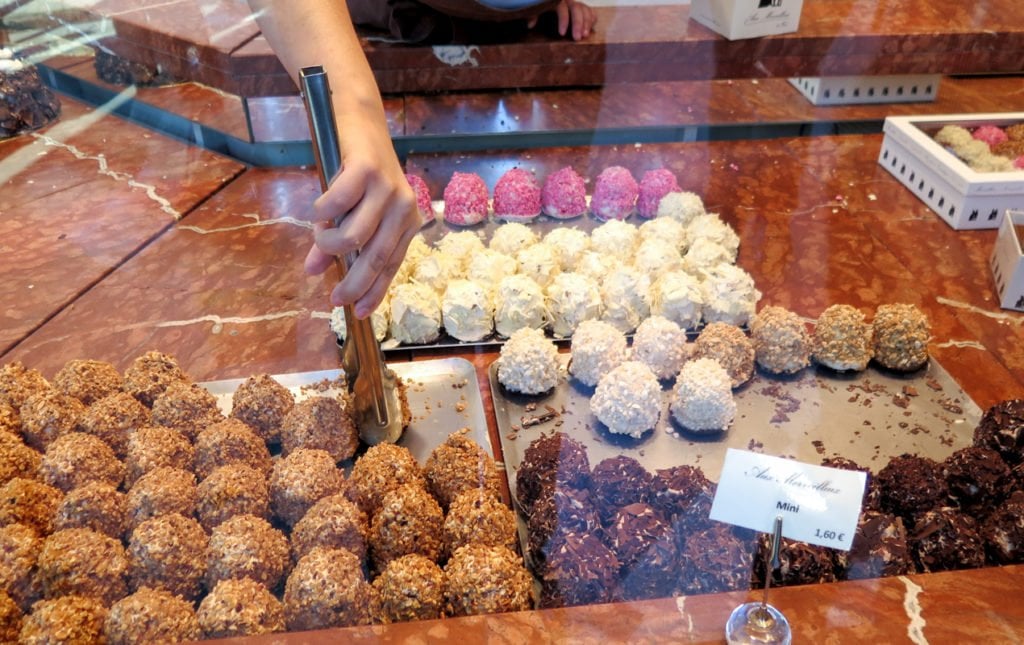 Choose from six large, individual or mini Merveilleux meringue cakes: each take a theme from French society– including the Sans-Culottes ("without breeches or pants", referring to the common people who largely took part in the French Revolution) with its simple yet sophisticated caramel whipped cream. Cinnamon lovers will enjoy the Incroyables (cinnamon speculoos cream), the Merveilleux with chocolate, and roll up for the Unthinkable or Impensable with its crispy creamy coffee meringue. If you prefer a cherry in your cake, go for the Excentrique.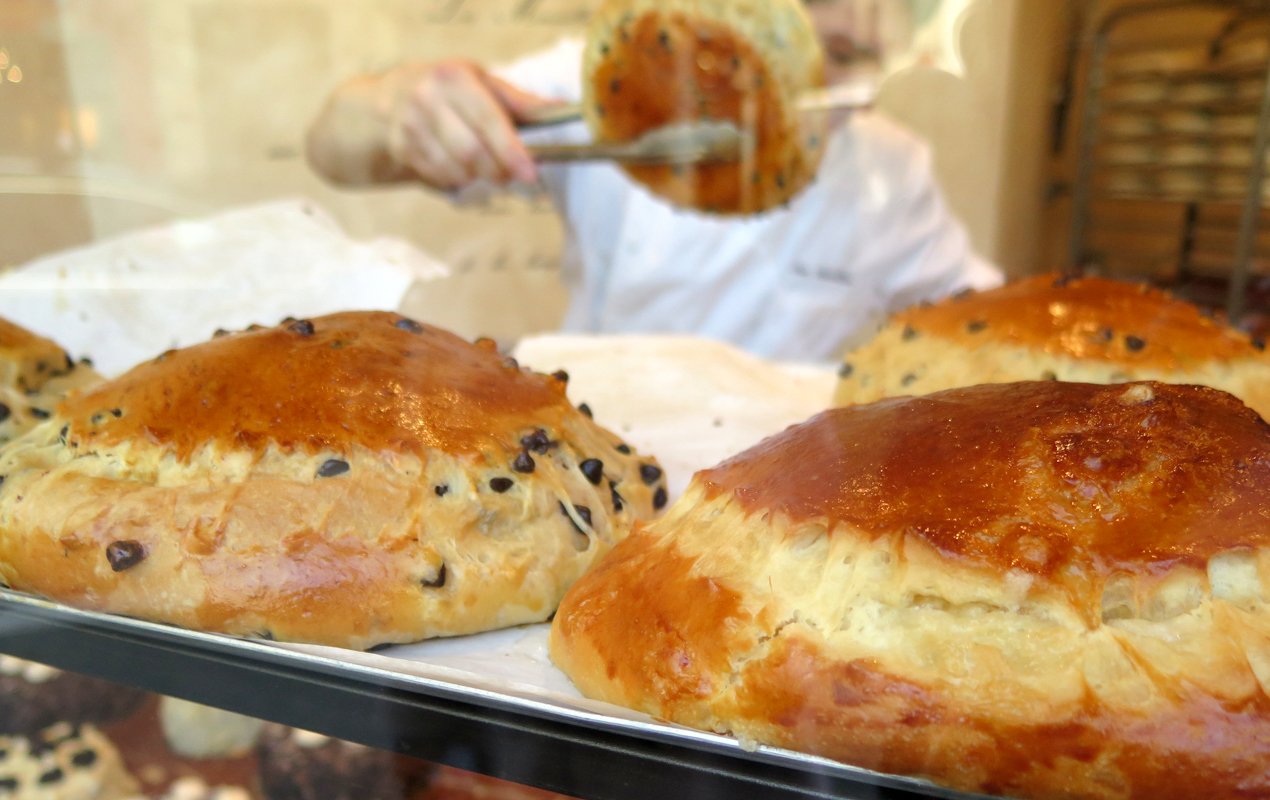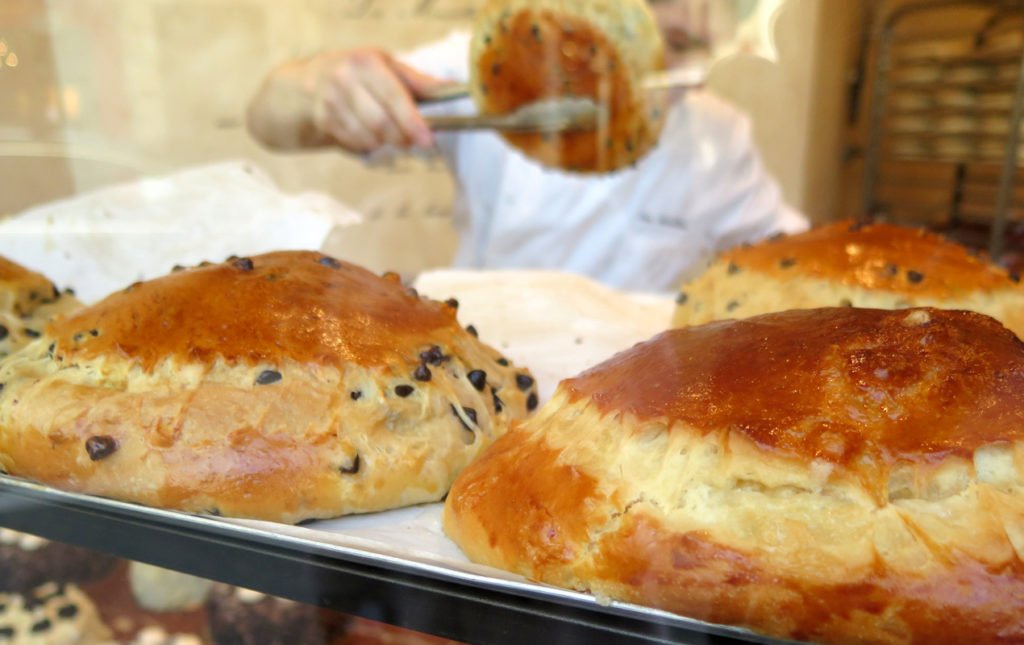 Don't forget to stock up in advance for tomorrow's brioche breakfast of Cramiques, either studded with traditional raisins, sticky "plain" sugar, or with dense, dark chocolate chips.
94 rue Saint Dominique, 75007 Paris
Tuesday-Saturday 9am-8pm
Sunday 9am-7pm (Closed Monday)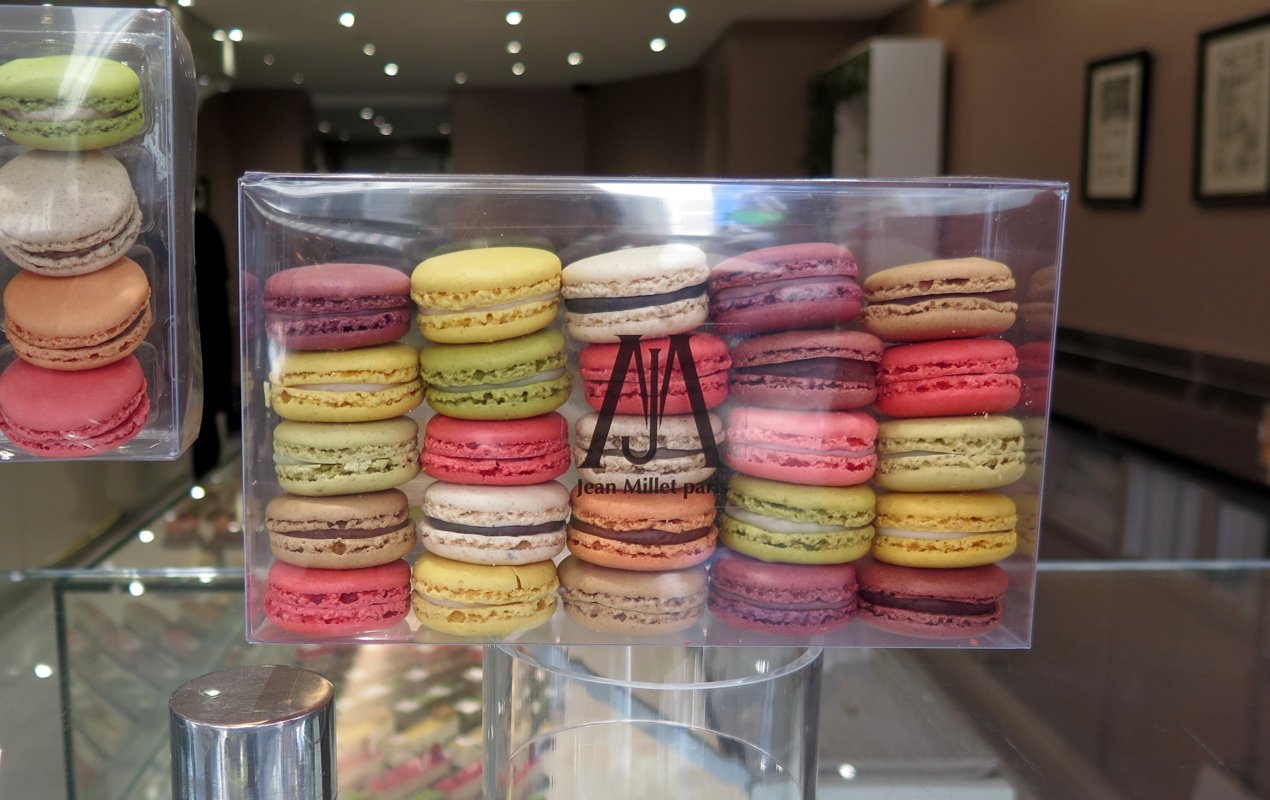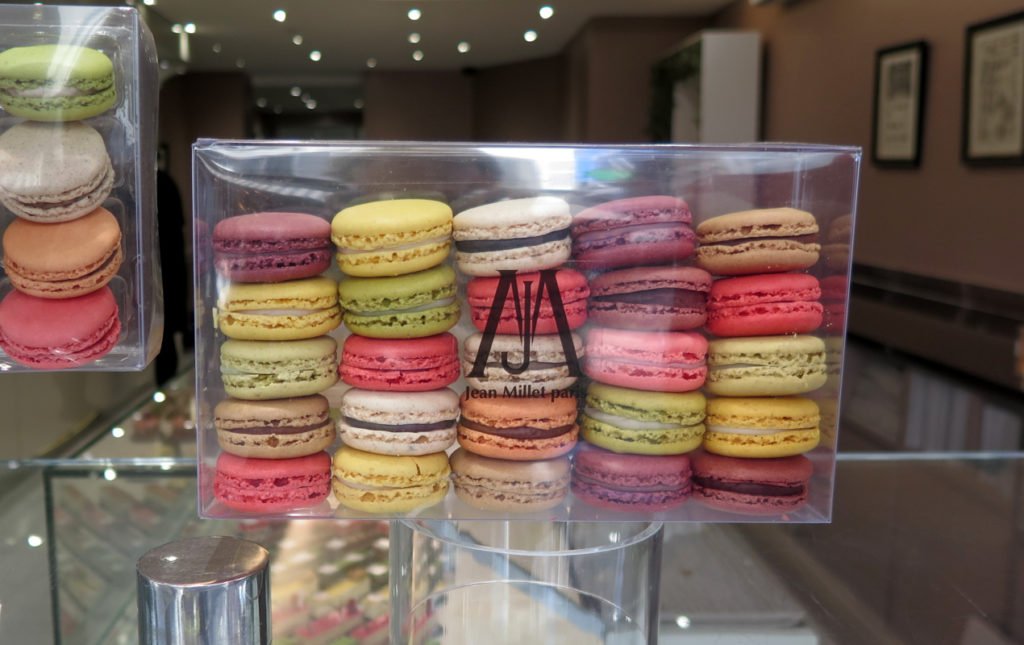 Jean Millet Paris by Sadaharu Aoki
For the past 20 years, award-winning pastry chef, Sadaharu Aoki has been amazing Parisians with his distinct Japanese influences on French pâtisserie. The window is enticing enough with Matcha Green Tea croissants and colorful macarons but why not step inside to taste the yuzu citrus and the black sesame macarons in the tranquil tearoom? Many macarons are tea-infused with Hojicha grilled Japanese tea, and Genmaïcha, a green tea combined with roasted brown rice.
Green tea is given another voice with his popular pastry, the Bamboo. It's Chef Aoki's Japanese take on the classic Parisian Opera cake, with each delicate layer consisting of joconde biscuit, buttercream, chocolate ganache, syrup and glaçage (glaze) – but in place of the traditional coffee syrup, chef Aoki exchanges it with Matcha green tea and a splash of Kirsch liqueur, adding that special je ne sais quoi to the opera notes – it has its own pentatonic scale!
103 rue Saint Dominique, 75007 Paris
Tuesday-Saturday 11am-7pm
Sunday 10am-6pm (Closed Monday)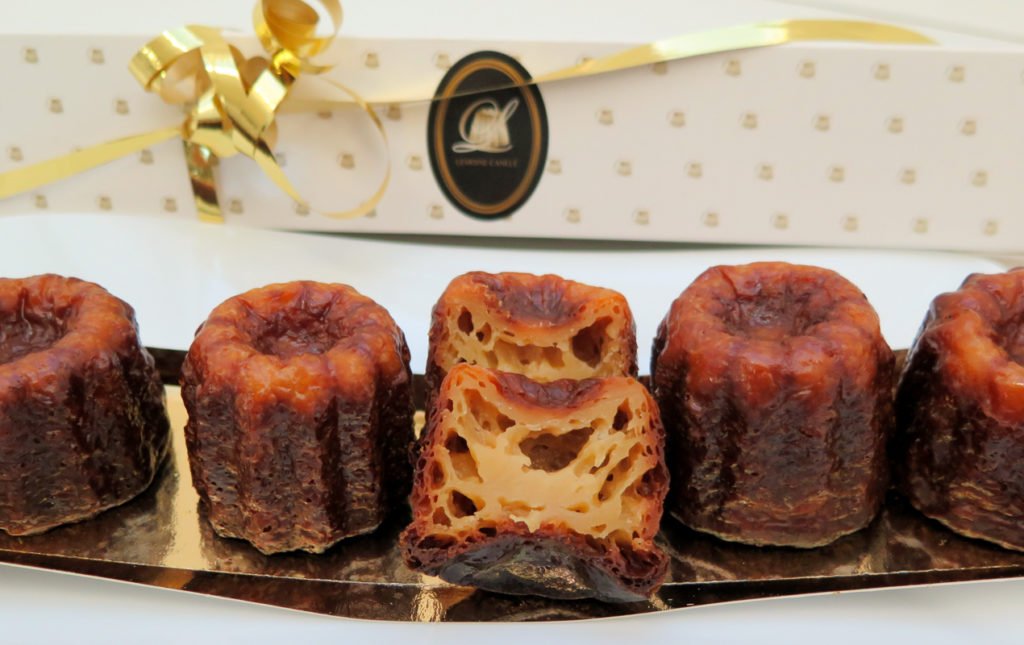 Lemoine
Stop here for a taste of the other speciality of Bordeaux, the Canelé. As winemakers used egg whites to clarify their wines, the local nuns came up with this delicious idea to use up the egg yolks in the 18th Century and the Canelé was born. Over the years the name has changed but it's still a fascinating little caramelised crunchy fluted cake with an eggy vanilla and rum interior. The good news is that they can keep for a few days, so prepare your doggy bag for later as there are still many treats to try yet!
74 rue Saint Dominique, 75007 Paris
Monday-Sunday 9am-8pm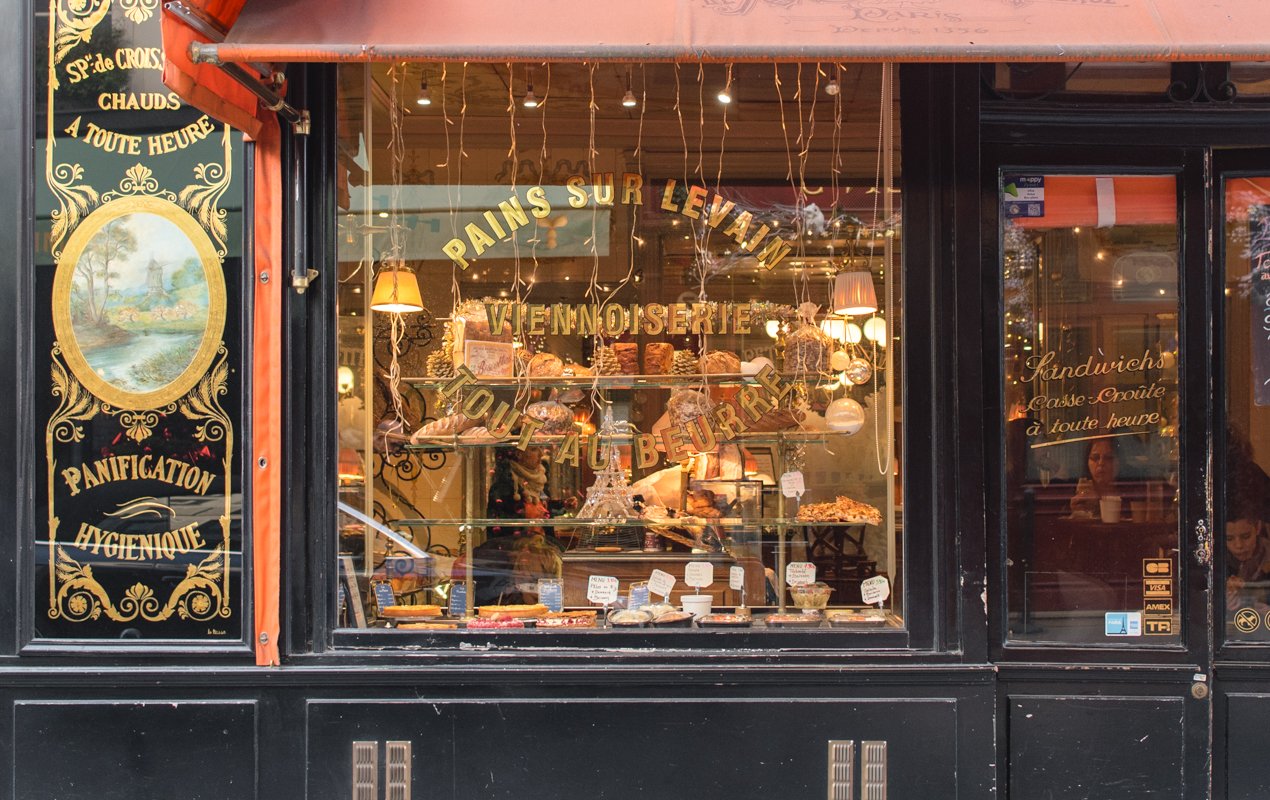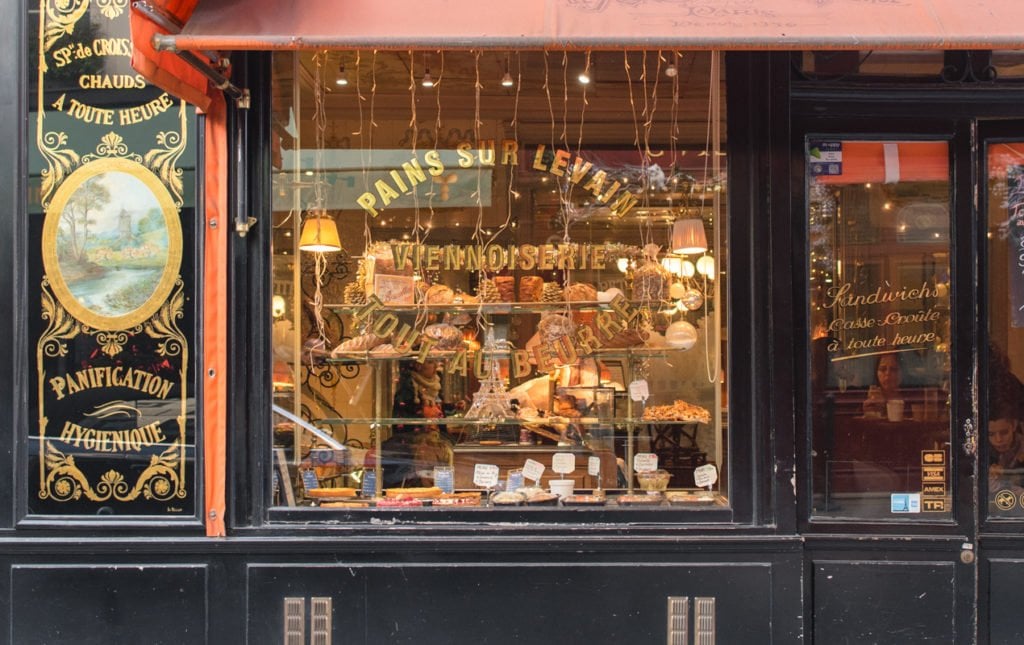 Le Moulin de la Vierge
The bakery window says it all: "Viennoiserie – Tout au Beurre". Viennoiseries, which cover croissants, pains au chocolat, pains au raisin, apple chaussons to name a few, are typically eaten for breakfast and all deliciously flaky made with the best butter. More buttery treats come in the form of little Financiers (friands) teacakes, plus their selection of traditional pastries. Rows of fresh crusty bread, flutes and baguettes wink at customers behind the lamps on the counter. The traditional signage and decorated interior are reason enough to visit this historic bakery!
64 rue Saint Dominique, 75007 Paris
Thursday-Tuesday 7.30am-8.30pm (Closed Wednesday)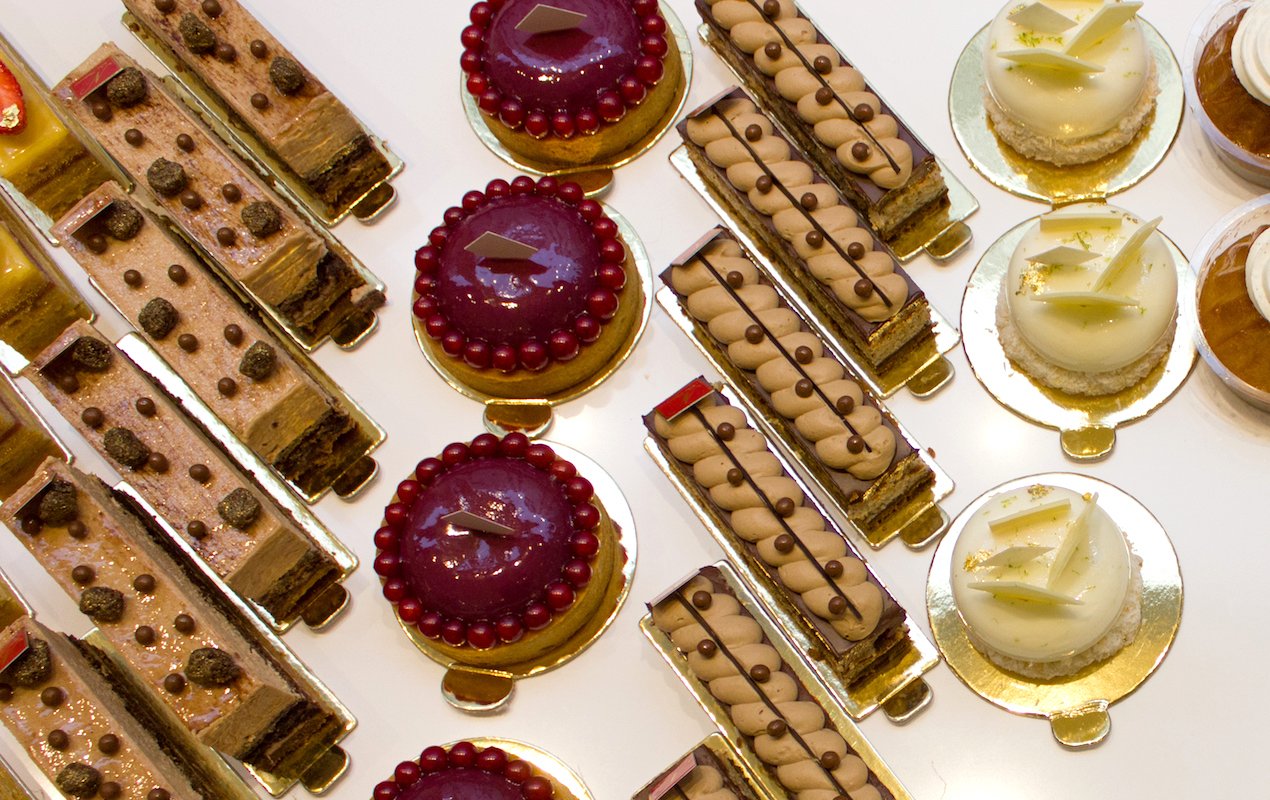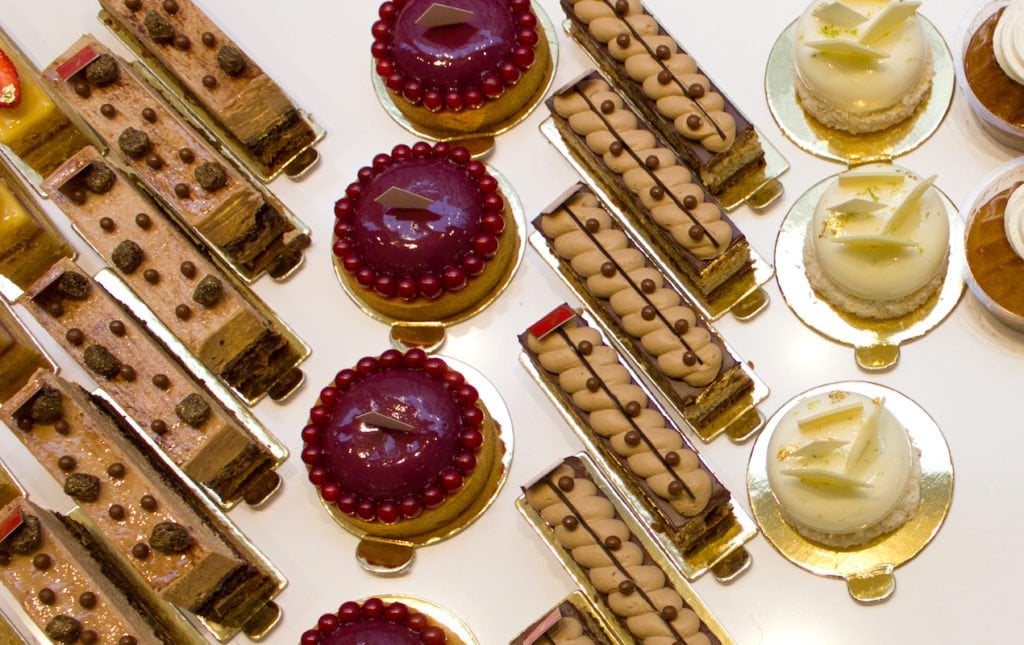 Notre Pâtisserie
Turn right into Rue Amélie and you'll see why it's worth the slight detour just off rue Saint Dominique. Decked out in turquoise blue and white, is this most welcoming new pâtisserie dreamed up by pastry chef partners Christophe and Francesca. Christophe Rhedon, a former pâtisserie teacher from the prestigious Lenôtre school and a Meilleur Ouvrier de France, emphasizes that "Our Pâtisserie," is the result of a family team input, right down to the chic choice of Parisian wallpaper and teapot knickknacks. You'll also be lured in to watch the chefs in full swing producing their picture perfect pastries and brioches from the lab in full view behind the counter.
It's also the perfect Parisian setting for making macarons, you can book a macaron making class here.
7 rue Amélie, 75007 Paris
Tuesday-Friday 8.30am-7.30pm
Saturday 9am-7.30pm; Sunday 9am-1pm (Closed Monday)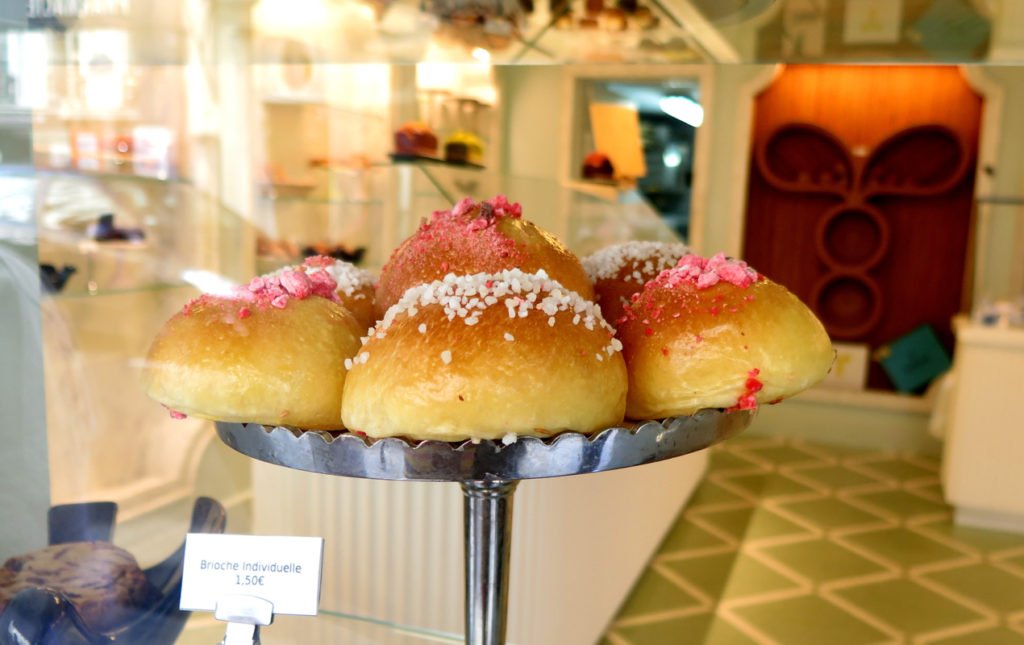 Gâteaux Thoumieux
As the word, "Thoumieux" implies with its play on French words, everything's better! Just across the road from Chef Jean-François Piège's famous eponymous brasserie, his cake shop has been taking Paris by storm since 2013 with the famous Chou Chou (a chou bun with a mini chou hidden inside).
Pastry chefs Sylvestre Wahid and Alex Lecoffre play with seasonal inspiration to create artistic treats using natural sugars and honey as well as some gluten free options. You'll love their strawberry, mango cheesecake or lemon cake with a white chocolate crust. Don't miss their fresh brioche buns – although my firm favourite still has to be the Chou Chou, which comes in various seasonal combinations.
58 rue Saint Dominique, 75007 Paris
Tuesday-Saturday 8am-8pm
Sunday 8am-6pm (Closed Monday)
Henri le Roux
Not only is this one of the top chocolate shops in Paris but Henri Le Roux is also known as Caramélier. Fans of salted caramel have Henri Le Roux to thank, as he created the CBS® (Caramel au Beurre Salé) in 1977 in Quiberon, the location of his first chocolate shop in Brittany and where salted butter is added to many local specialities. Ever since, salted caramel has appeared the world over and so he wisely registered it in 1981.
Don't leave Paris without a taste of the CBS, with its deliciously dark and soft half-salted caramel with crushed walnuts, hazelnuts and almonds giving it such a unique texture – and now celebrating its 40th birthday! There are dozens of additional flavors to choose from, including the latest subtle Sakura cherry blossom caramel to welcome the arrival of Spring. Peruse the mouth-watering range of chocolates (including one with truffle), as well as the caramel (Caramelier) and chocolate (Bonsoncoeur) spreads that are a special luxury on crêpes or on simply the best baguette!
52 rue Saint Dominique, 75007 Paris
Tuesday-Saturday 11am-2pm; 3pm-7.30pm (Closed Sunday & Monday)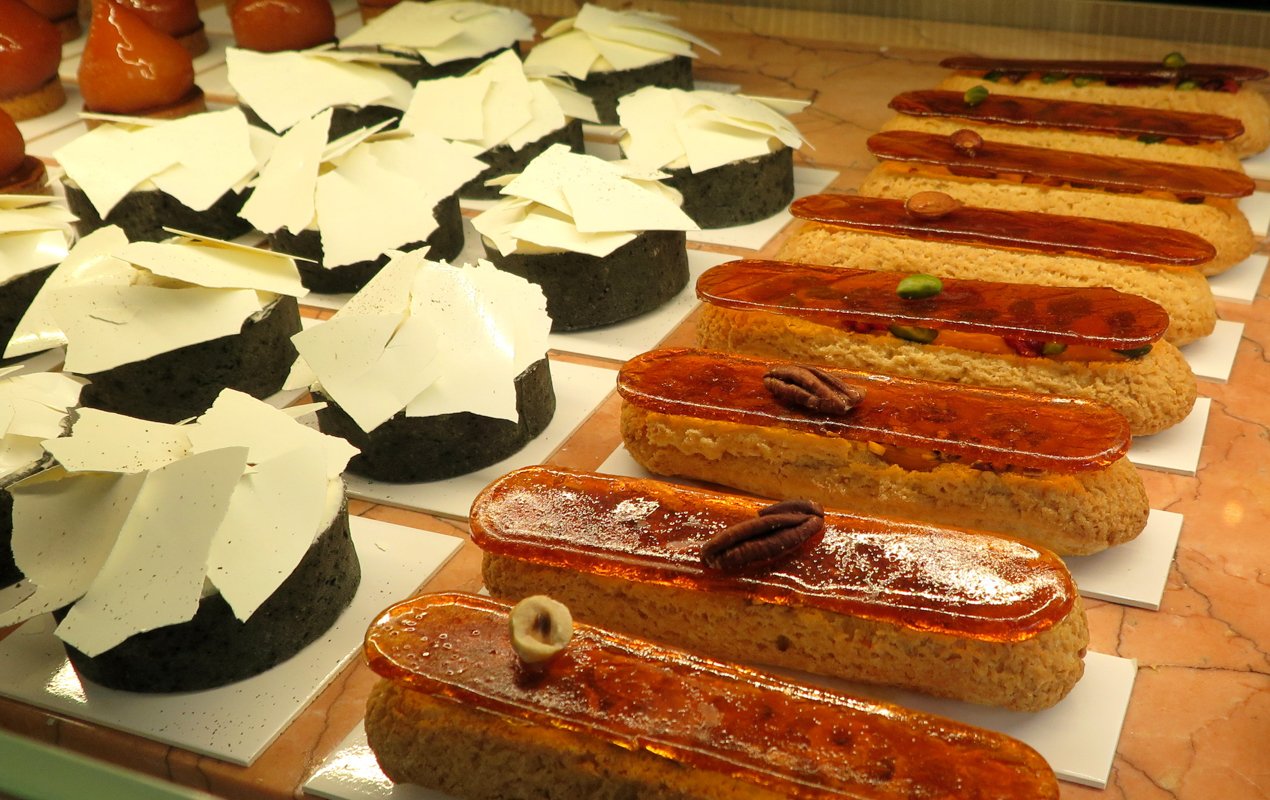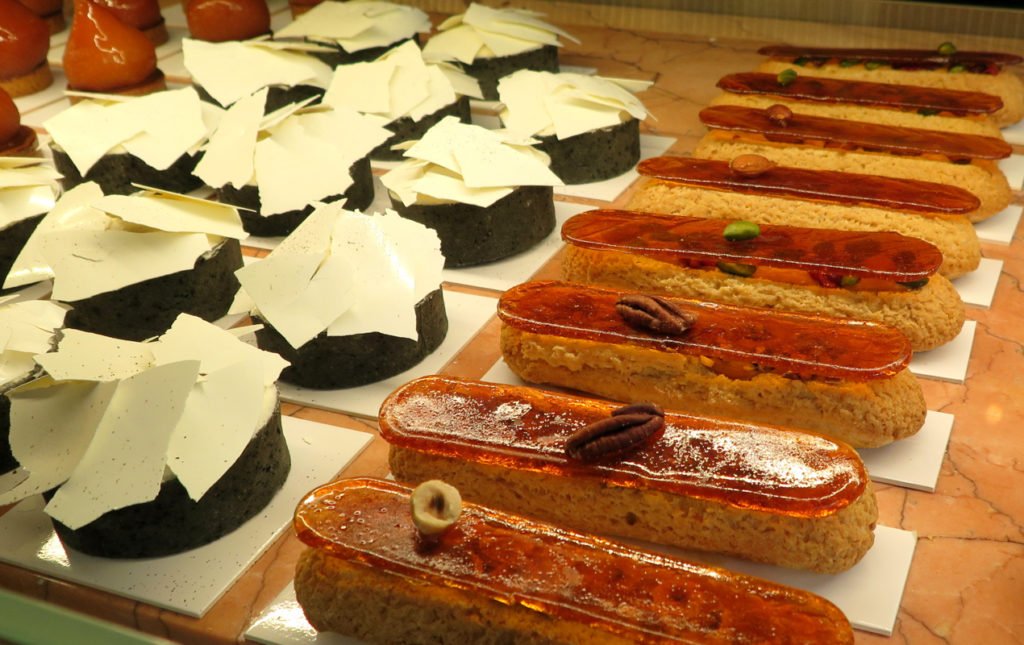 Karamel
Stick with me, as caramel continues to unwrap at the next block! Karamel is the new concept tearoom and patisserie created by another caramel-loving Breton, Nicolas Haelewyn, after a career at Ladurée with the last 5 years as international pastry chef.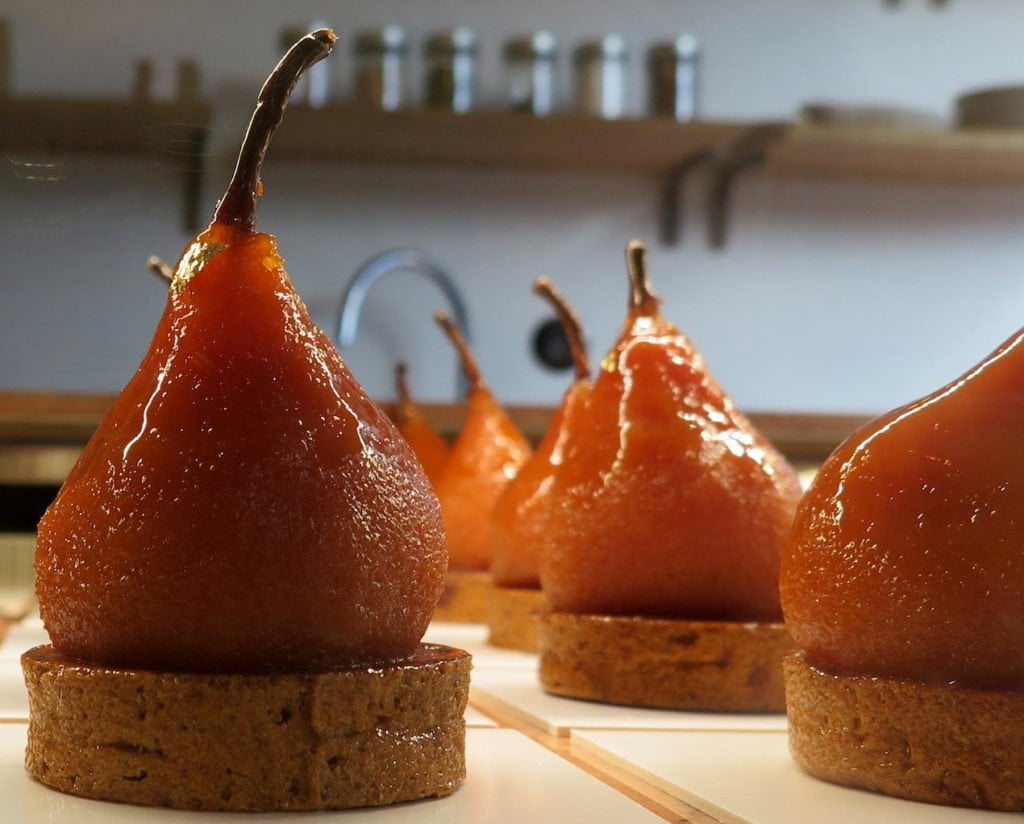 Sitting in front of a long glass case of traditional looking pastries, it's difficult to choose just one, as each masterpiece is intriguing – from the giant 1001 Karamel Mille feuille to some more dainty-looking treats. While I'm pondering, I'm thrown off track with tasting cups of a huge tureen of Teurgoule (or Terrinée), a dark-skinned slow-cooked caramel rice pudding from Normandy as my friends already tuck in to their pastry choices, visibly not intending to share. Likewise, I guarded my rather curvy caramelised pear on a tartlet; I won't take away the surprise but open it up and Oh-là-làs are guaranteed! Sharing this somehow wouldn't have been the same.
67 rue Saint Dominique, 75007 Paris
Monday-Friday: 7.30am-7.30pm
Saturday 9am-7.30pm
Sunday 9am-1pm
Finally, after all that walking and mouth-watering, take your pastry boxes to the Esplanade des Invalides, pick a bench, watch the world go by and try not to consume everything in one sitting!
For even more ideas of things to see and do on Rue Saint Dominique, including shopping and dining highlights, see this blog post: The Best of Rue Saint Dominique – The Hottest Street in the 7th!