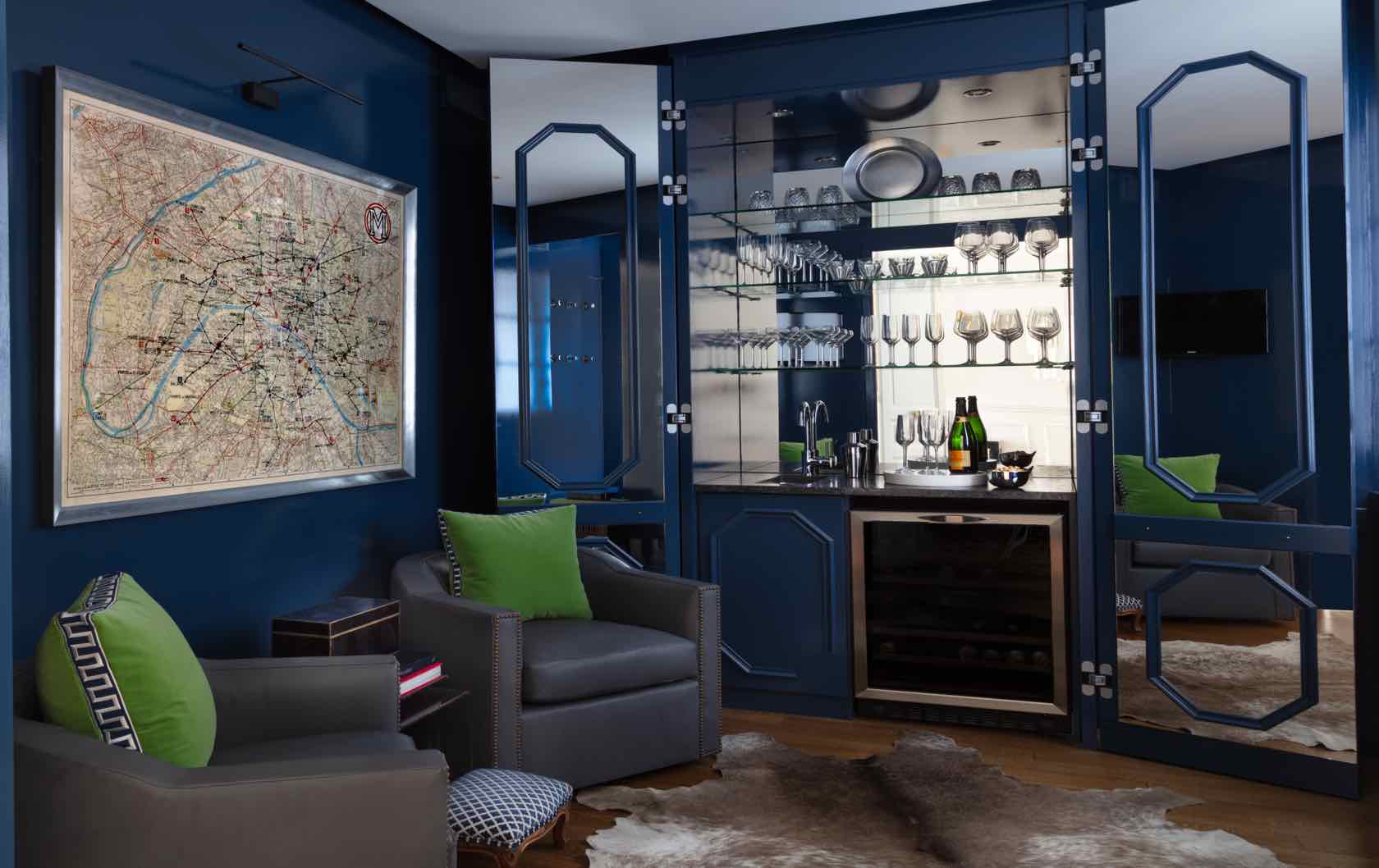 We love a great transformation story, and we know you do too! We've been following Wendy and Mike Concannon as they embark on buying and renovating a Paris apartment. The process is complete, and we're delighted to add the gorgeous three bedroom, two-and-a-half bathroom Saint Pourçain apartment to our roster. If you've ever thought about buying and renovating a Paris apartment then this is your lucky day! Wendy and Mike are sharing their journey in this interview.
Buying and Renovating a Paris Apartment
Where are you from and what led you to purchase an apartment in Paris?
We live in Chestnut Hill, Pennsylvania, outside of Philadelphia, where we were both born and have raised three children, who are now adults. I am an executive in the travel industry and Wendy is a professional photographer. We both travel a great deal for business and pleasure, and after an expat stint in London a few years ago, we started thinking about purchasing a property in Europe.
We loved the idea of a second home that could be used as a base for travel in Europe and beyond. For the past five years, I have been working for a Paris-based software company, so we have been spending more and more time here.  No surprise, the more time we spent in Paris, the more we loved it. Paris is a chic capital city, with lots of history and tons to do. Plus, it is a great walking city. It was an easy decision.
Did your family and friends think you were crazy? 
Not really. We are all living in such a global world today. Because we had previously lived in Europe and have been spending a lot of time here recently, it seemed like a natural next step for us. The main question we get a lot is about the difficulty. And the answer is no, not difficult, but it was a lot of work. A very big project, but also very doable.
You've chosen a gorgeous, up-and-coming neighborhood, a few blocks from the Opéra. What led you to choose it?
When we began looking we were open to any neighborhood in Paris that met our criteria including  the most important "thanksgiving test"  – could we comfortably fit our family of 5 for a long holiday.   As we became more educated on the arrondissements and the city layout, we began to understand the value of being close to the center  – for both ourselves and our guests.  While we didn't set out to be here, ending up in the second arrondissement is the best thing that could have happened.
What do you love most about your neighborhood?
First thing is proximity. We are close to everything: the Opéra, Palais-Royal, Place Vendôme, Rue Saint-Honoré and the Louvre. We are right in the heart of Paris and can get anywhere by foot or by Metro. I often run in the mornings to Sacré-Cœur or the Eiffel Tower. Wendy loves that she can walk right out the door and photograph in the parks and the passages unique to the 2nd. We also have a metro stop 20 yards away and another three stations within five minutes. We can get everywhere on one train.
The second best thing about our neighborhood is that it is the real Paris–all locals living and working in this very authentic neighborhood.
How many apartments did you visit before finding 'the one'?
We looked at over 20 apartments all over the city, over the course of a few visits. The looking was a very fun part of the project. Not only did we get to see the different types of apartments, but the process helped us learn about the neighborhoods and helped us refine our search.
We worked with a great real estate agency, who identified a ton of prospect properties and helped us with every step of the process.  But in the end, we found our apartment late one night while perusing a site for commercial properties.  We called Vingt and had them go check it out (while we looked on via skype), and made an offer sight unseen. We literally bought our apartment off the internet
What did you love most about the features? The least?
The location, size and price were all perfect, with very cool traditional Hausmann features: parquet floors, moldings, big French windows with street views. One of my personal requirements was a working fireplace; this apartment has four.
But the property had been used as a commercial space for the last 50 years. The family we bought it from had originally used it as a printing house. When we bought it, it was being used as offices for a counseling center. It had one small toilet, a makeshift kitchen and ancient wall-to-wall carpeting. Plus an old gas heating system that needed to be removed. It needed a lot of work.
What changes did you make to the layout? 
While pretty large by Paris apartment standards (110 square meters / 1,184 square feet) and with a good footprint, it had an impractical layout with one big room in the back, smaller rooms in the front and a non-working kitchen off to the side. The front has the street view and the light, so we knew this should be the living space. In addition, we wanted three bedrooms so we could comfortably fit our growing family of five (the Thanksgiving test).
So after many renditions, drawings and revisions, we decided on an open kitchen living space in the front, a master bedroom suite in the front and second suite in the back with bedrooms and full bathroom. We also found space for the very important (and rare) central air conditioning unit in the old 'ice box' in the kitchen and the stackable American style washer and dryer in the new hallway.
Most interesting ideas?
The Bar. When we decided on the open living room/kitchen plan, we were left with extra space where the kitchen originally stood. We could have made this room into another bedroom, but we decided to add to our living space instead.  There is also an extra bathroom off this room, so it made it perfect for a den–a great place to sit, relax, watch TV away from the rest of the apartment. We completed this room with a mirrored bar with a sink and wine fridge. Wendy and I like to sit here before dinner for a drink or use it as an office to work or take calls. It's a great space.
Tell us about your color and décor choices.
We wanted the interior of the apartment to have a clean and modern look with a nod to tradition. It needed to be elegant, but it also had to be super comfortable and very functional. Once we knew the kitchen was going to be an integral part of the living space, we knew it had to be special. Bultaup was able to meet all of our design, form and function criteria.
Along with the kitchen, other modern touches included sleek mid-century modern furniture upholstered in pewter gray velvet, chrome glass top tables, leather swivel club chairs and original art framed in acrylic. We mixed in some antiques–deco wall sconces found at the Paris Flea (les puces), a pair of French bergere chairs, an English stool with turned legs and other pieces to give the apartment a timeless feel. The original rug we had planned for the entryway did not fit.  As luck had it we found something even better at Galerie Triff in the 6th –a colorful Turkish Kilim rug that was the perfect touch. Another great Parisian find was Serie Rare hand-forged bronze hardware, where we found handsome door knobs and window hardware. The fabrics and trims were a mix from Paris, UK and US designers.
Any problems during the building work?  Any last minute changes?
Not really.  We had a great architect and builder team in Henry Personnaz of HPDesign Studio. We all worked very closely together on the plans and the changes. The work was completed in under four months–right on schedule. We visited the apartment a few times during construction, but basically managed the project from Philadelphia. Lots of pictures and phone calls daily.
We are proud you selected Paris Perfect to manage your apartment for you; we understand we had some tough competition. What made up your minds?
This was an easy choice. We wanted a firm that represent the top properties in Paris. But most important, we wanted a partner – a company we could trust and work with on all aspects of the apartment moving forward. At the end of the day, Paris Perfect ended up being all this and more.
What advice would you offer to others who love the city and are thinking about buying and renovating a Paris apartment?
I would tell them that buying an apartment in Paris–or anywhere in Europe–is a very real option. Do your research. Find the right people to help you. Be patient and flexible, because things will go wrong. It is a long and sometimes stressful process, but very worth it.
For your next stay in Paris, our friendly reservations team are on hand to help you select the Saint Pourçain or one of our other stunning family vacation rentals. We can also help with shopping, itineraries, tours, dining reservations, and customized private experiences! Email us today for more information.