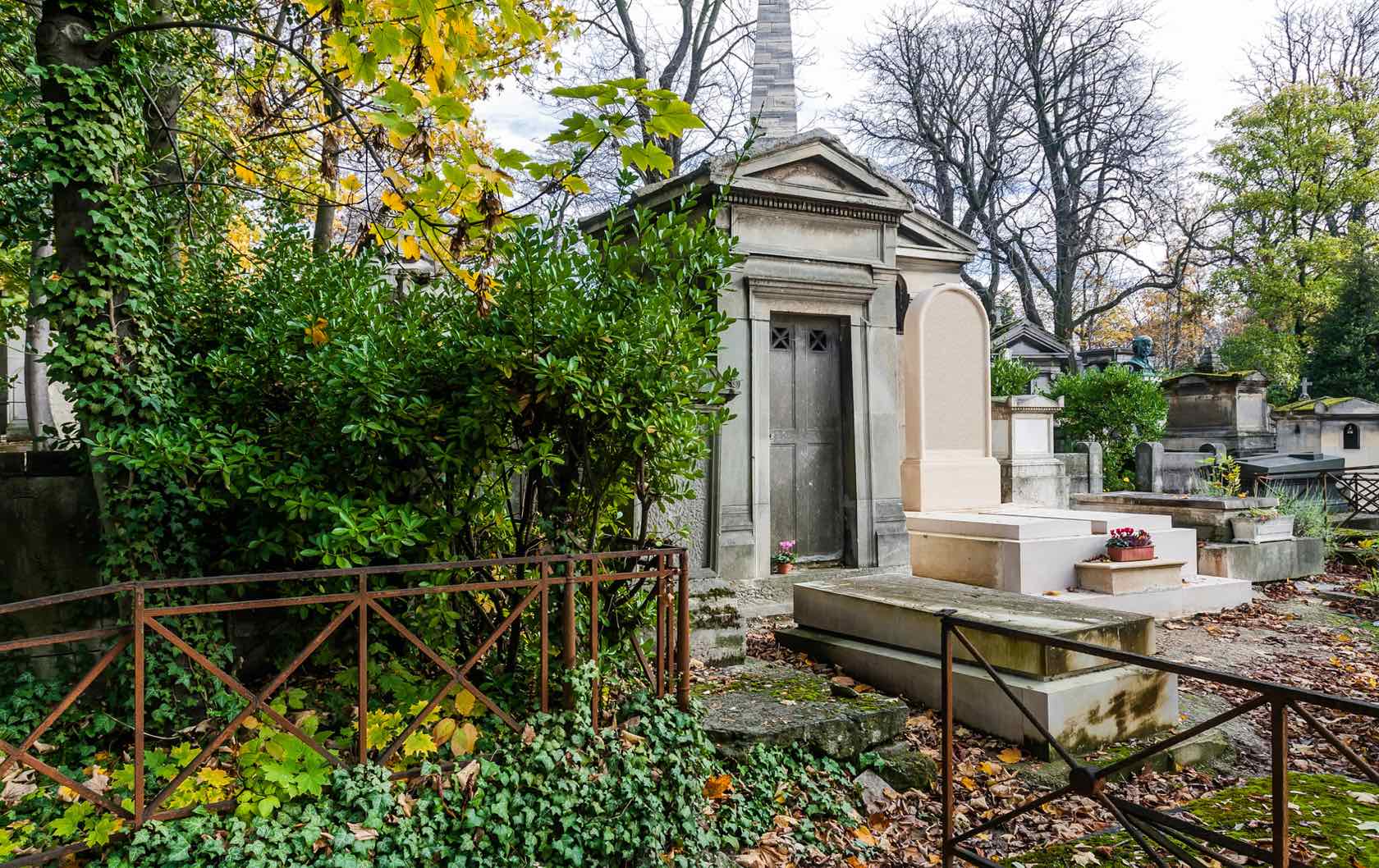 Offering natural beauty, rich history and striking sculptures, Paris cemeteries are serene spots for a stroll. There are 14 within the city limits, home to the graves of famous names. For our guide to Paris cemeteries, we've selected 10 of the best, from iconic spots to insider secrets.
A Guide to Paris Cemeteries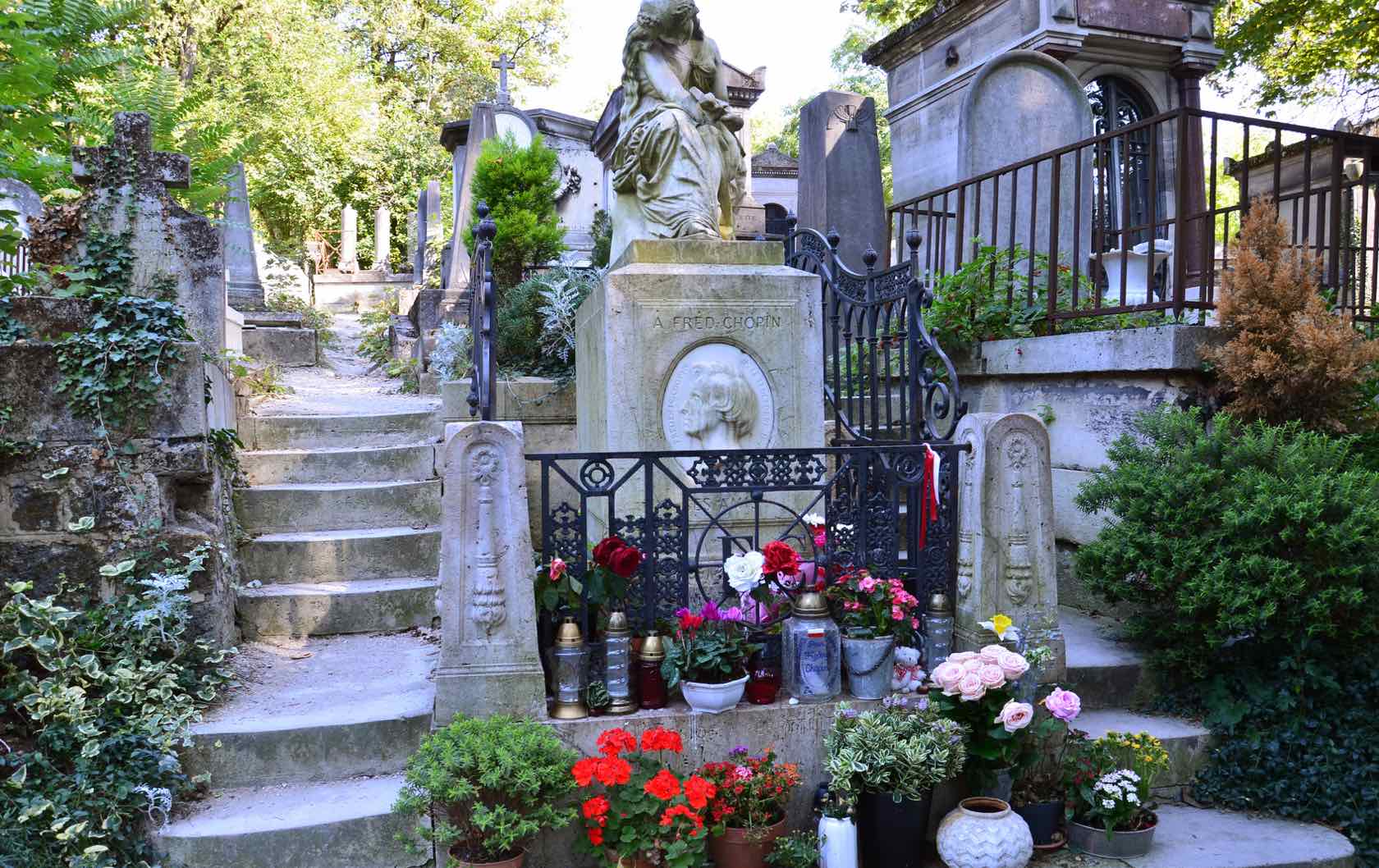 Cimetière du Père Lachaise
Opened in 1804, the largest and most famous of the Paris cemeteries is Père Lachaise in the city's east. Music fans should make a beeline for the grave of US rocker Jim Morrison, which attracts groupies. Walk this sprawling garden-style cemetery's cobbled paths to see ornate tombs, moving memorials and atmospheric trees. The list of 'celebrity dead' includes composer Frédéric Chopin, singers Édith Piaf and Maria Callas, playwright Molière, artist Camille Pissarro and writers Honoré de Balzac, Marcel Proust, Colette, Gertrude Stein and Oscar Wilde. See our detailed Père Lachaise guide.
16 rue du Repos, off boulevard de Ménilmontant, 75020
Cimetière de Montmartre
Tree-dotted, 1825-founded Montmartre Cemetery is Paris's third largest cemetery, officially known as the Cemetery of the North. Set in an abandoned quarry, it was a mass grave during the French Revolution but is the resting place of artists and writers from this creative neighborhood. Stroll the 11-hectare grounds to spy legendary names among the 20,000 burial plots, including French novelists Émile Zola and Stendhal, artists Edgar Degas and Gustave Moreau, composer Hector Berlioz, film director François Truffaut, dancer Vaslav Nijinsky and singer Dalida. It's a short walk west of Sacré-Coeur basilica.
20 avenue Rachel, 75018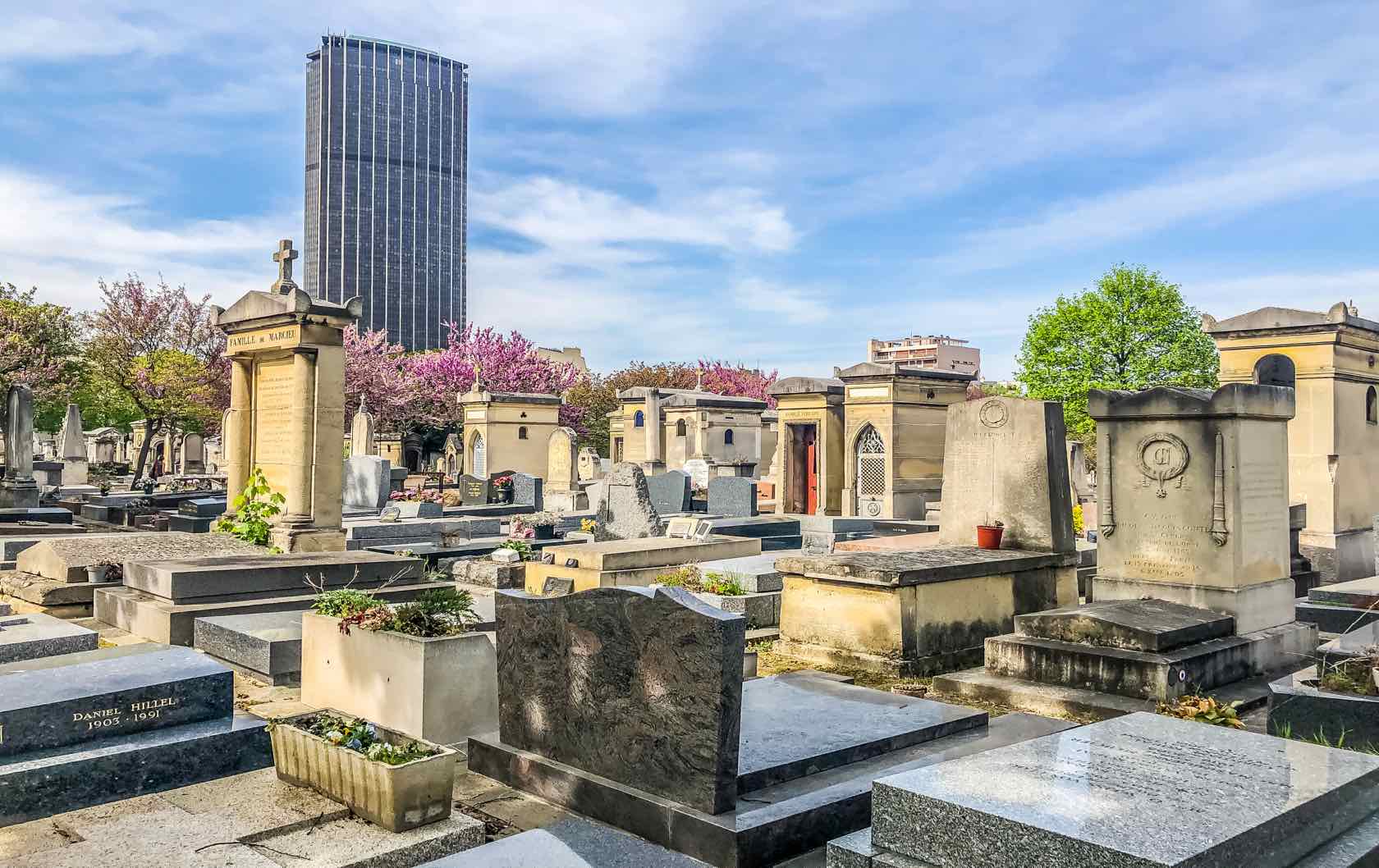 Cimetière de Montparnasse
Wander tranquil southern Montparnasse Cemetery on the Left Bank. French philosopher-writers Jean-Paul Sartre and Simone de Beauvoir are buried here, alongside poet Charles Baudelaire, author Guy de Maupassant, industrialist André Citroën, Irish writer Samuel Beckett and singer Serge Gainsbourg. In the 14th arrondissement, the city's second largest necropolis holds over 35,000 graves, including commemorative tombs for victims of the 19th-century Franco-Prussian war and Paris Commune. Opened in 1824 on former farmland, it contains a listed tower from an old flour mill.
3 boulevard Edgar Quinet, 75014
Cimetière de Passy
Enjoy views of the Palais de Chaillot, Seine and Eiffel Tower from Passy Cemetery, one of the smaller Paris cemeteries, behind Jardins du Trocadéro. Commissioned by Napoleon 1 in 1820, it became popular with aristocrats and has a heated waiting room! Shaded by horse-chestnut trees, it's filled with monumental 19th-century graves hosting illustrious names including French composers Claude Debussy and Gabriel Fauré, Impressionist painter Édouard Manet, and fashion designer Hubert de Givenchy. Bao Dai, Vietnam's last emperor, and American newspaper publisher James Gordon Bennett Jr. are buried here.
2 rue du Commandant Schloesing, 75016
Cimetière de Picpus
Hard-to-find Picpus Cemetery in the 12th is Paris's largest private cemetery, hidden behind a nondescript wooden door. It was created from convent-seized land during the French Revolution and contains the mass graves of noblemen and nuns guillotined during the Terror (this section is closed to the public). Lafayette, a French aristocrat and military officer who fought for the Continental Army in the American Revolutionary War, is buried in Bunker Hill soil in a walled corner plot under an American flag. Versailles architect Richard Mique is also here. Afterwards walk the 4.5km Promenade Plantée nearby.
35 rue de Picpus, 75012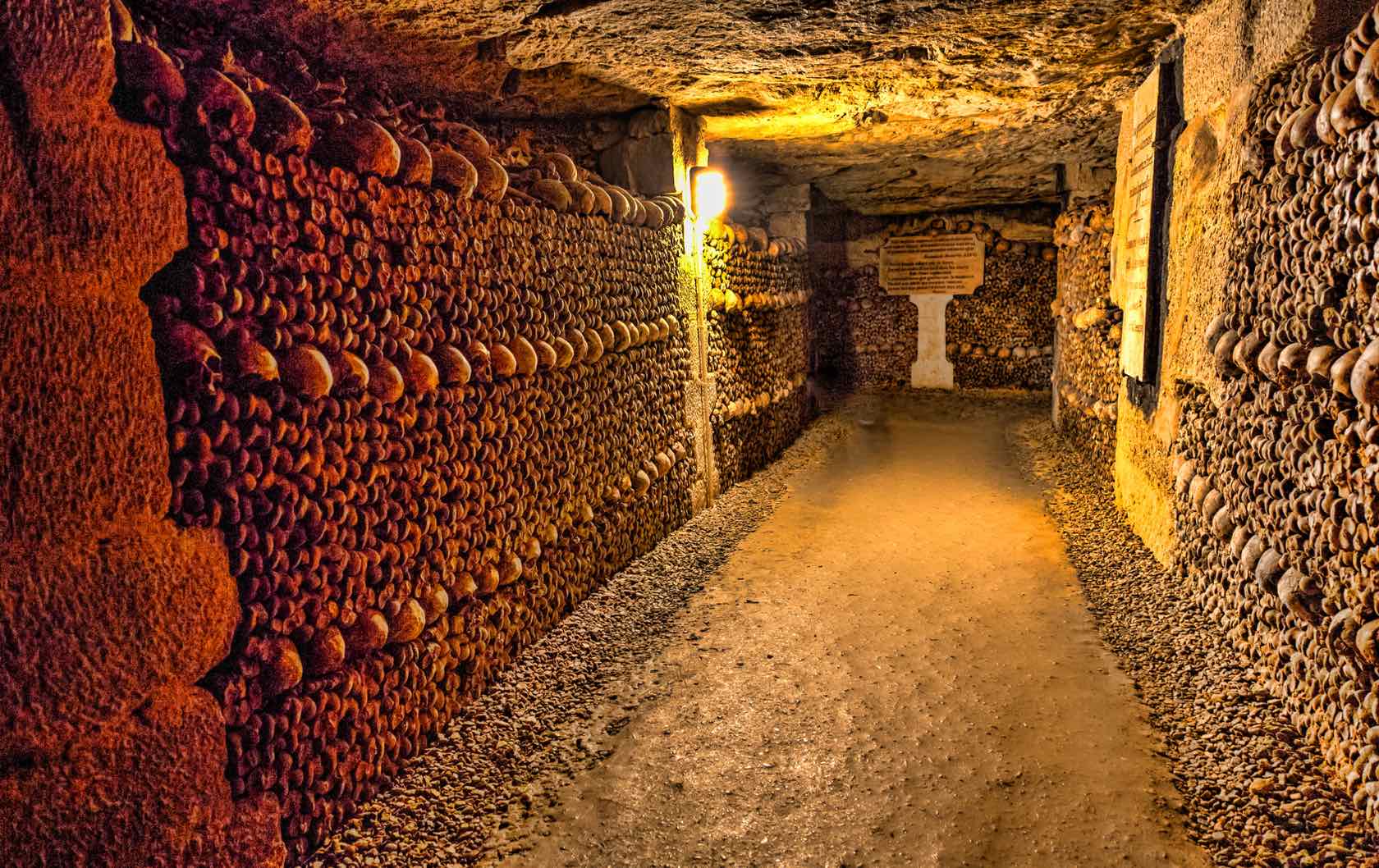 Les Catacombes de Paris
No visit to Montparnasse is complete without a journey into The Paris Catacombs, a spooky labyrinth of underground tunnels in former quarries. History buffs can wander this 20-meter-deep maze, consecrated in 1786, where subterranean ossuaries contain the bones of around six million Parisians. Famous dead believed to rest here include French Revolutionary figures Jean-Paul Marat and Maximilien de Robespierre.
1 avenue du Colonel Henri Rol-Tanguy, 75014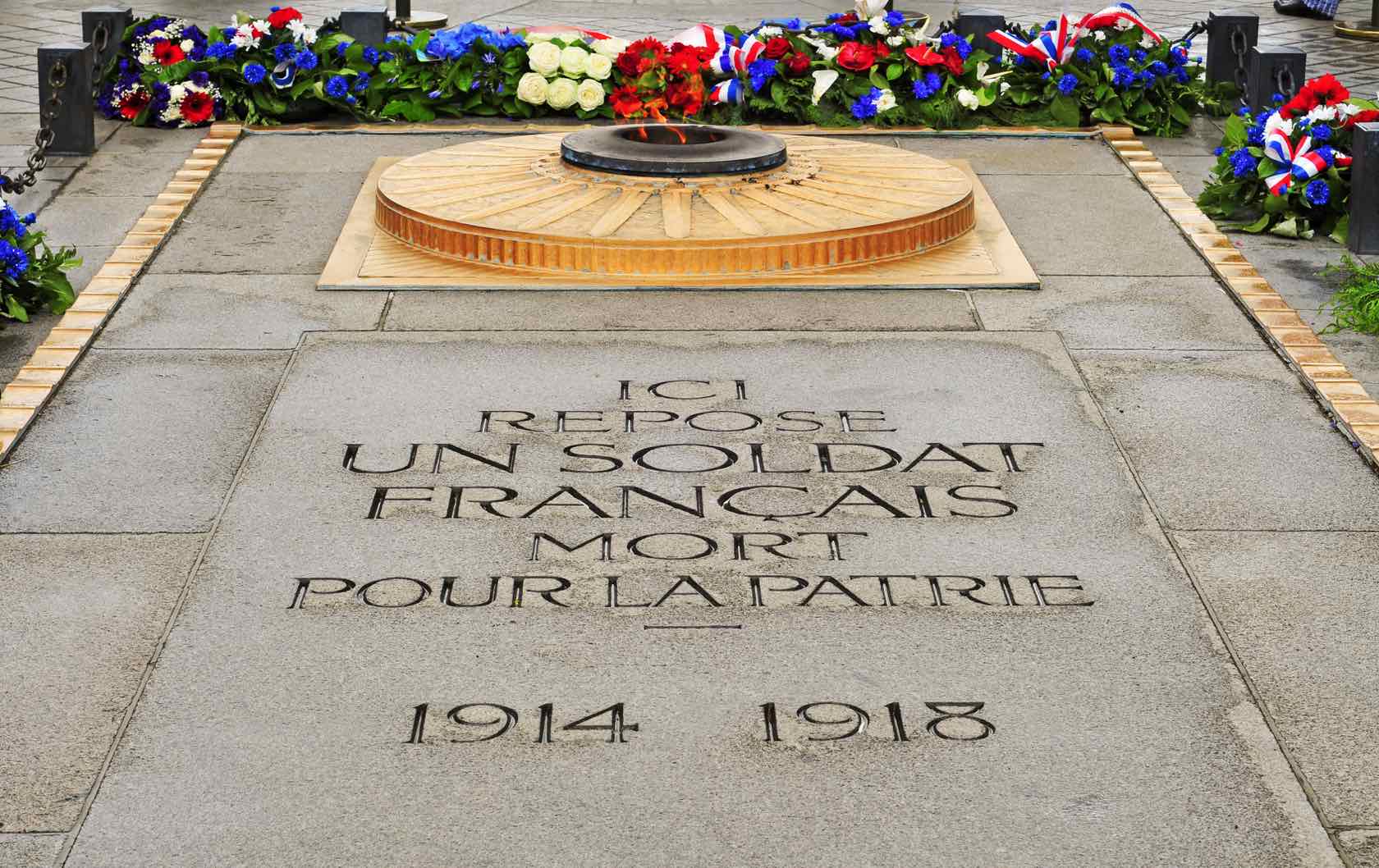 Tomb of the Unknown Soldier
From atop the Arc de Triomphe you can admire sweeping Paris panoramas, but did you know that below it lies the World War 1 Tomb of the Unknown Soldier? Buried at the base in 1921, the soldier is honored each evening at 6.30pm when the eternal flame of remembrance is rekindled. Inaugurated in 1836 and commanding the western end of avenue des Champs-Élysées, the huge arch is dedicated to the armies of the French Revolutionary and Napoleonic Wars. Napoleon commissioned it to commemorate his victory at the Battle of Austerlitz. To visit, see the website.
Place Charles de Gaulle, 75008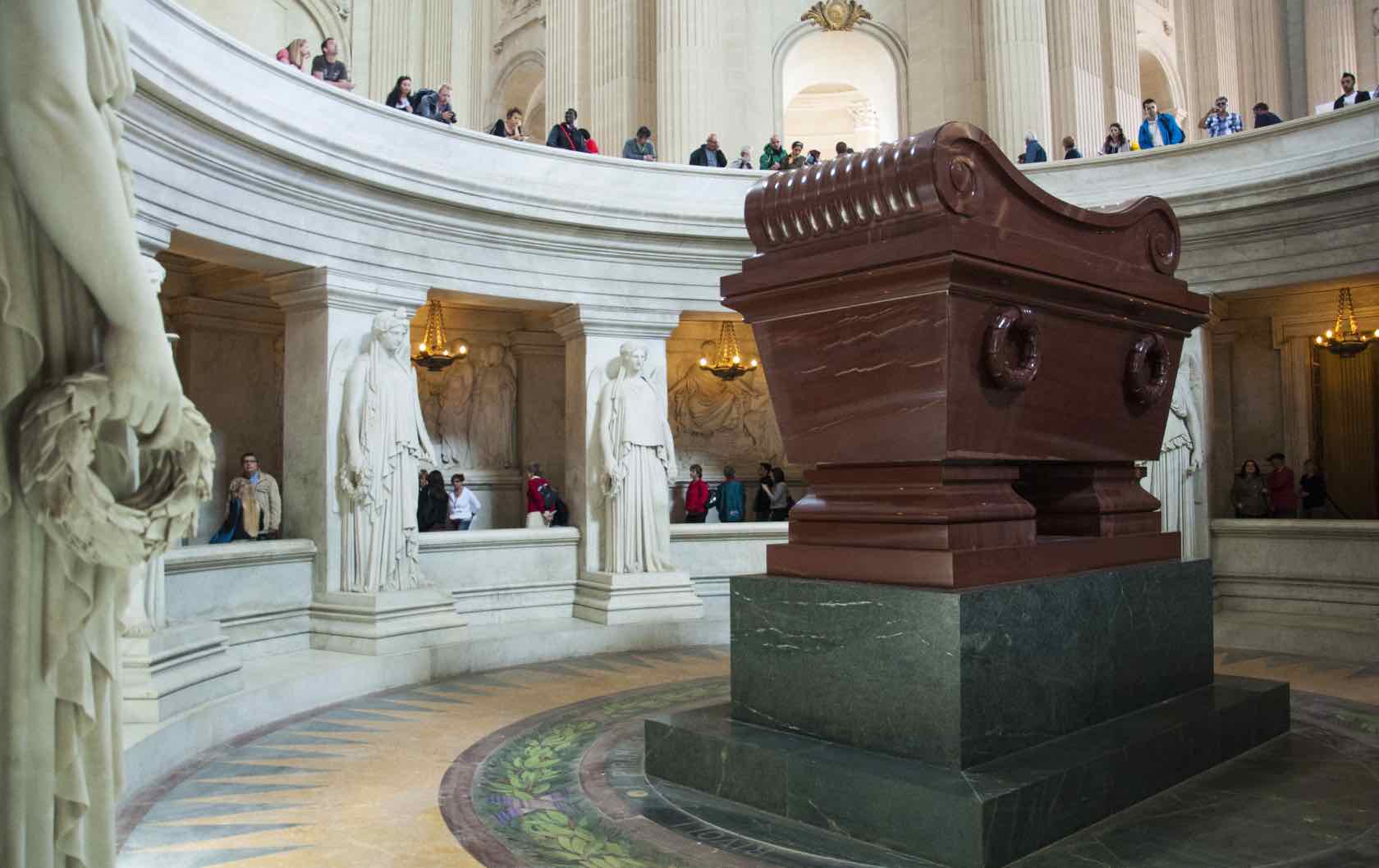 Tomb of Napoleon
Dedicated to France's military history, Les Invalides (Hôtel National des Invalides) in the 7th district includes the Musée de l'Armée, a church and the Dôme des Invalides. The dramatic gilded dome houses the Tomb of Napoleon 1 (Napoléon Bonaparte), an ornate sarcophagus one level below displayed on a granite pedestal on a circular mosaic floor. Inside the emperor's remains sit within six concentric coffins! Surrounding figures represent his military victories, while two giant statues guard the crypt. Members of Napoleon's family and military heroes are also buried here. Paris Perfect vacation rental Lalande is nearby.
129 rue de Grenelle, 75007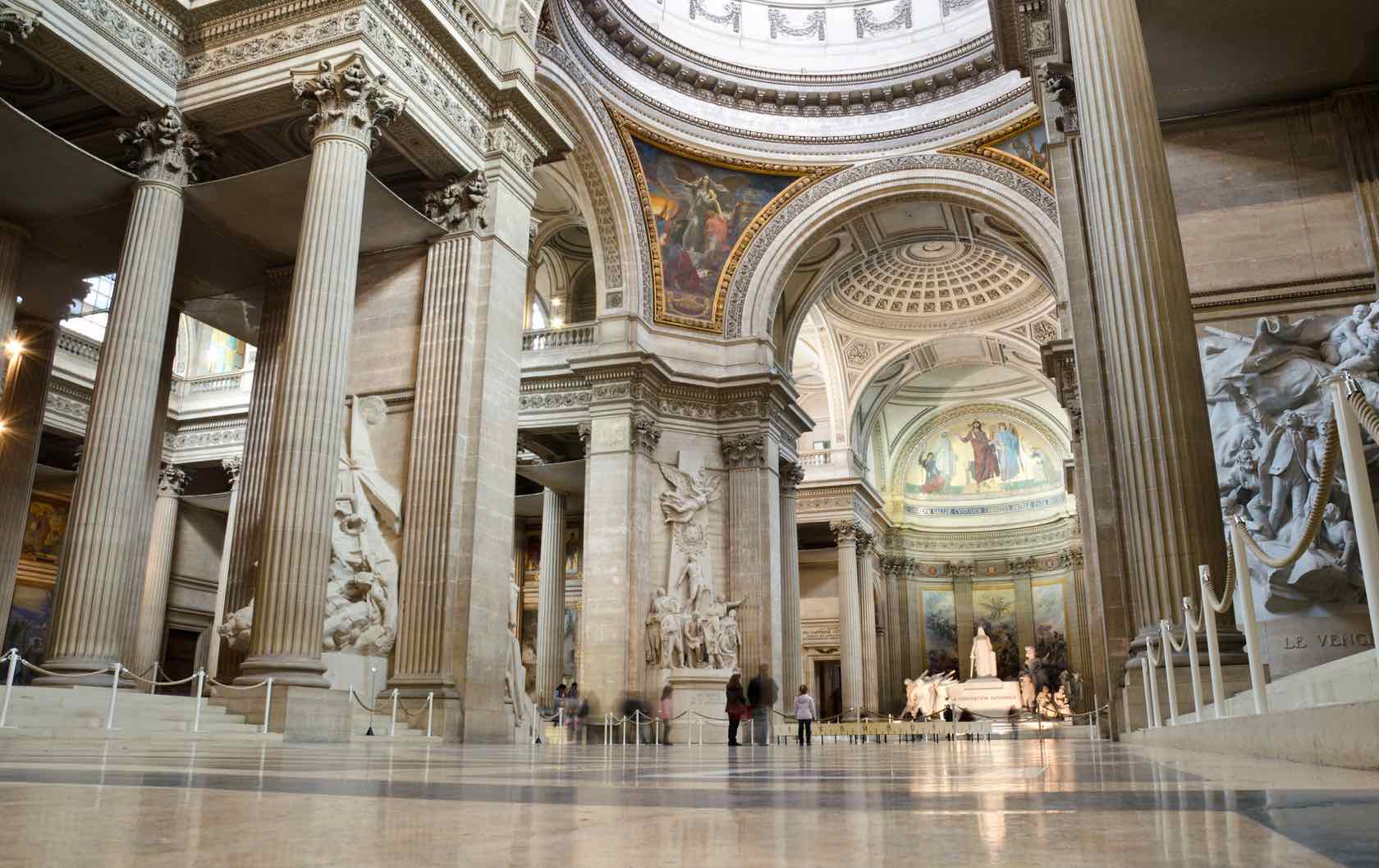 Panthéon
The iconic dome and neo-classical columned façade of this former church-turned-mausoleum in the Latin Quarter make it a tourist favorite. Since the Revolution the Panthéon (1790) has been a final sanctuary for distinguished citizens who have shaped national identity. Eminent personalities buried in tombs in its crypt include writer-philosophers Voltaire and Jean-Jacques Rousseau, novelists Alexandre Dumas (who wrote The Three Musketeers), Victor Hugo and Émile Zola (whose original gravestone is at Montmartre), inventor-educator Louis Braille and Marie Curie, pioneering researcher into radioactivity. Stay nearby with Paris Perfect at Saint Veran or Alicante.
Place du Panthéon, 75005
Cimetière des Batignolles
In northern Paris large and leafy Batignolles Cemetery, dating from 1833, is peppered with interesting tombs and sculptures. A stroll from Porte de Clichy metro station in the 17th, it hosts some celebrated names but is less visited than many higher profile Paris cemeteries as it sits beside a major highway. Culture vultures can seek out the graves of poets Paul Verlaine and Surrealist André Breton and painter Édouard Vuillard. Combine a visit with a trip to Porte de Clignancourt Flea Market.
8 rue Saint-Just, 75017
You can find Paris Perfect vacation rental apartments within easy reach of most of these spots. Our reservation team is ready to reserve your Paris accommodations. Give us a call at 1-888-520-2087 from the USA or email [email protected].