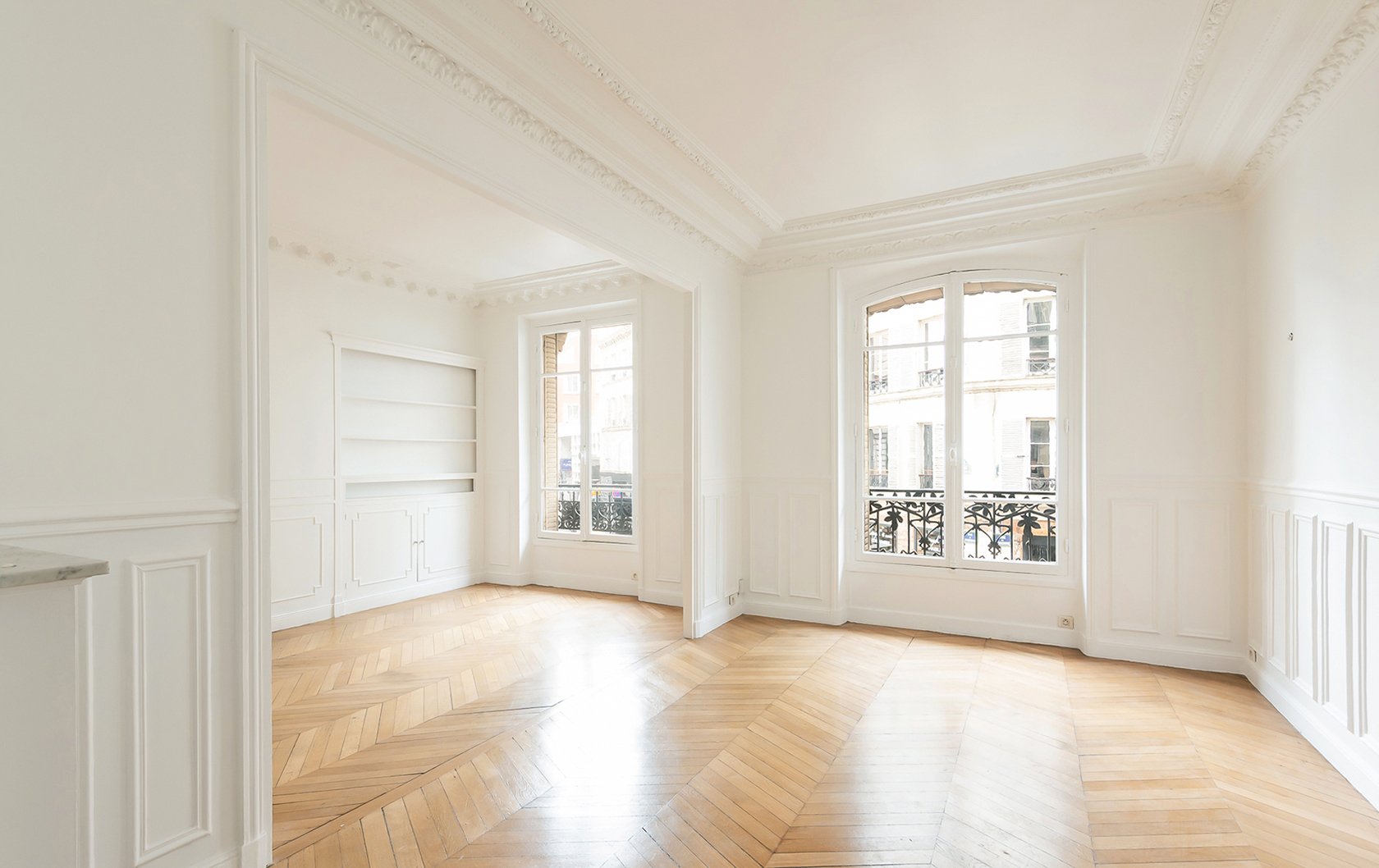 The search for the perfect apartment to buy in Paris really is an art form. It's not an easy task to find the real gems and then navigate the process from search to sale and finally remodeling it into your beautiful new home in Paris. We love every step of the process and there's nothing we enjoy more than finding just the right apartment for just the right owners. From knowing the process inside and out to experience remodeling over 40 apartments, our team can help you with your Paris property search.
For a behind the scenes look at the process of buying an apartment in Paris, we sat down with Wendy, who has recently worked with our team to purchase a gorgeous 3-bedroom apartment in an excellent spot in the Marais. Here's a sneak peek at their beautiful new home set in an elegant Belle Époque building from 1904 overlooking the historic Marais neighborhood just around the corner from the Marché des Enfants Rouges and surrounded by great restaurants, cafes and a charming Parisian atmosphere.
Paris Perfect: Congratulations on your beautiful apartment, Wendy! Thank you for sharing more about your search experience. When did you decide to buy an apartment in Paris? Was it always your dream?
Wendy: Thank you! Since my first trip to Paris in 1984, I have been in love with the city. Since then, it has been my favorite destination – for any occasion. But I never dreamed I would one day own an apartment there, I guess I did not think it would ever be remotely possible.
We have rented apartments in Paris for the past 10 years, and in my online searches for places to stay, I became familiar with Paris Perfect and their excellent reputation. We came to Paris for 10 days in late December 2021, and after our usual activity of looking at real estate ads in the windows of agencies (we always do this, no matter the destination), we turned to each other and said why not? We continued to window shop real estate ads on our way around Paris for 10 days, and the dream started taking shape. I think the pandemic changed everyone's way of thinking about life, and for us, it became, why not?
When we got back home, we continued investigating Paris real estate online, finding out about some details about the process. We contacted multiple agencies/people who help foreigners (particularly non-French speaking Americans) buy property in Paris. After I contacted Paris Perfect, we felt immediately that the team was trustworthy, knew the whole market and would help us every step of the way. After my initial hour-long conversation for more information, we decided your team was perfectly suited to help with our search. I know we could not have done this without your help. We have bought and sold many properties over the years in the US (including 5 real estate transactions since 2019). But the process is very different in France, not the least of which is the lack of an MLS, or multiple listing service.
How did a search agent help in the process? Any pitfalls you think you avoided?
A search agent made the search process so much more efficient. Without a MLS in Paris, we would have had to contact so many agents to view each one's own listings. A friend who just signed a promesse de vente to buy a place there spent over a year on her search, using 12 different agents (because she visited apartments with a seller's agent, not a buyers agent). We found our place on our first search trip. And had a signed promesse de vente a week later. Before our search trip, your team referred us to your recommended English speaking notaire, or notary, and we were able to have our many questions answered about the legal details involved in purchasing an apartment in France, and also about possible future tax implications. Without that advance knowledge, our search and purchase process would have been much more drawn out.
Did you know exactly what you wanted when you started the process or where you pretty open?
As far as our search, we knew we wanted two bedrooms, a building with an elevator, and when we look out of the windows, we want to see beautiful old Parisian buildings. And we wanted it to "feel" like a classic Parisian apartment. A location centrally in the city was important, but not a particular arrondissement. We have stayed in many different areas over the years, and liked them all. And as luck would have it, we ended up just down the street from my favorite chocolate store in Paris – Jacques Genin. And so close to a wonderful market (Marché des Enfants Rouges) and Poilâne for amazing bread.
Were you surprised with what you purchased or was it what you had wanted in terms of size, cost, neighborhood?
We ended up with a larger apartment than we thought, which is great. In addition to two bedrooms, we will also have an office with a couch for "overflow" guests, a really large walk-in closet/storage room, and our kitchen is quite large by Parisian standards. The apartment has original details we love, with beautiful crown moldings throughout.
Do you have plans to renovate and decorate? Will you spend a lot of time in Paris?
After we had our offer accepted, your team then referred us to an English-speaking architect, who has a contractor she works with. Our plans for the renovation include redoing the bath and kitchen (1968 vintage), adding a second bathroom, replacing some of the windows, replacing floors in two bedrooms. We want to keep all of the original details, of course. We plan to spend 6-8 weeks in both the spring and fall in Paris. And hopefully a few weeks during the winter holidays.
Thank you, Wendy, for sharing your Paris apartment search experience. We can't wait to see the final results after your remodel is complete!
Our Property Search Services
Interested or currently in the market for your own home in Paris? Our team can help you every step of the way, from finding your dream apartment in Paris to successfully navigating the purchase process as well as advising you on remodeling and returns on investment if you are interested. Read more about our Property Search Services and tips for buying an apartment in Paris. Simply contact us at [email protected] to find out more!