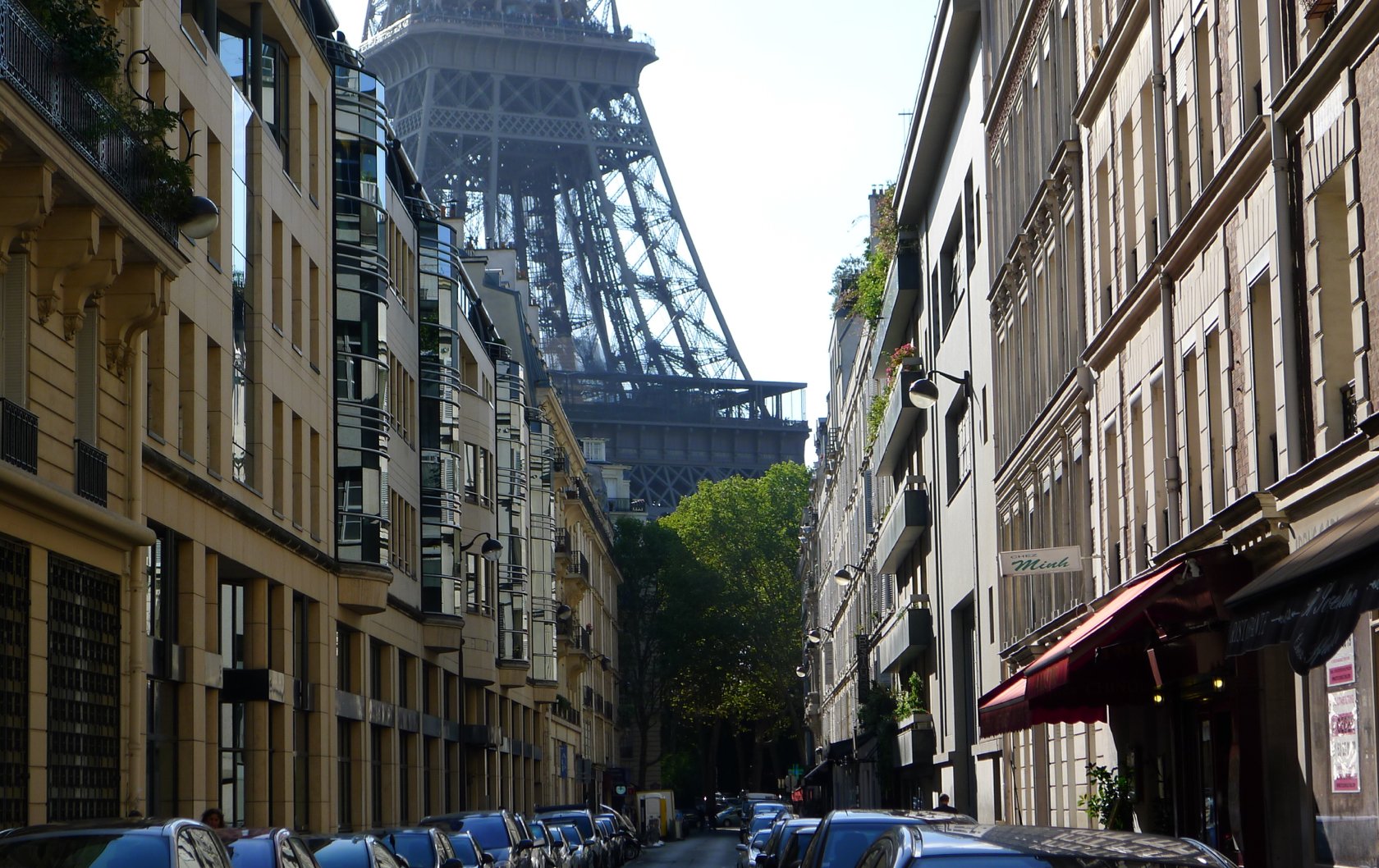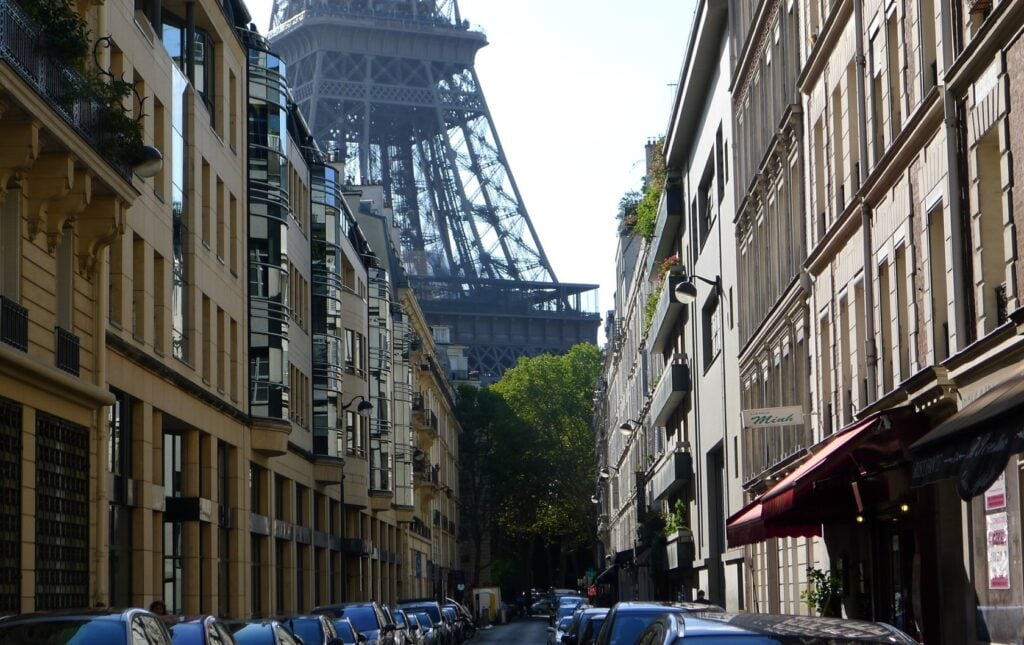 We had an exceptional response from our first fractional offer — the lovely Cairanne apartment. Many of the buyers know the 7th arrondissement of Paris, as they've stayed there and love it as I do. One interested couple asked what I personally love about life in this neighborhood, in the heart of the Left Bank. Explaining why is easy. It's all in pictures that I, and others, have taken of our favorite streets, shops, markets and moments! The hardest part is choosing my favorites. In pictures, here are the reasons I love the 7th arrondissement of Paris, the prime location of our fractional apartments!
Why I Love the 7th Arrondissement of Paris
I always smile when I think of the decades-old discussion with Philippe about which boulangerie makes the best bread in Paris.  In fact, we filmed a video with 3 croissant experts doing a blind tasting of the local patisseries … and people loved it! (Spoiler, my very French husband who knows all about croissants lost the contest!) Luckily Beaune is next to both our choices. Patisserie Eiffel at 187 rue de Grenelle makes the best croissants and pastries. My favorites are their gateaux a' l'opera, tarte aux abricots, and pain au raisins for breakfast. The other is Poujauran on rue Jean Nicot. They make the best country and sourdough breads in Paris, as well as fantastic quiches to bring home for lunch or dinner.
I fell in love with rue Cler almost 25 years ago, when only locals knew about its wonderful gourmet food shops and when there was still a chevaline, a butcher selling only horse meat. The butcher is gone, but the street still has many food stores, such as the Marriage Freres tea shop and beautiful cafés. Rue Cler hasn't lost its charm, as it still has the beautiful, old cobblestones on this pedestrian street.
Davoli is without a doubt Philippe's favorite store for choucroute in all the world!  It's a wonderful winter dish from Alsace. Philippe has shopped there so many times that the owners recognize him and ask if they should pack it up for the trip to to his parents' home in Normandy. When the kids were growing up, they'd make a package for us to take to our home in London. They even know to include more of his favorite ham with the cabbage. It was a big occasion to invite our London friends for dinner knowing that Philippe was arriving with the choucroute from Davoli! Living in Paris means you'll enjoy the same daily pleasures, finding a favorite food store and enjoying a special meal with the ones you love.
I like the Fontaine de Mars brasserie because the food is unpretentious, well-priced and just plain good!  The location is unbeatable, next to the beautiful Fontaine de la rue de l'Exposition. The service is  excellent. They're proud to say that even Barack Obama ate here when he was President.
Every Season is Special: Enjoy Every Season When You Join the Paris Perfect Shared fractional club.
I find myself running errands and coming across perfect scenes. A bookseller is clever enough to bring a folding chair and relax next to his stand in the sun.  It brings a smile to my day, as it will to yours.
Is there more beautiful site than a light fog hovering over the beautiful yellow leaves that have fallen from the trees along the Boulevard des Invalides? The fractional apartments are steps away.
It doesn't snow often in Paris, so when it does, it's sheer magic! In the middle of this beautiful city, you have so many choices. Walk along the river, or to the Champs de Mars, which is just four blocks away. Enjoy the Eiffel Tower and its gardens under a blanket of snow. Cross the river to the Triangle d'Or in the 8th arrondissement and have lunch at the Four Seasons. Or simply go around the corner to rue Cler and watch the children laughing on their walk to school. Select some great cheeses at Marie Anne Cantin, excellent dishes and delicacies at the Jeusselin delicatessen, then baguettes and dessert at Patisserie Eiffel. After, go home and snuggle on the sofa with a good book.
There's no better way to savor life!
Day and Night Brings New Discoveries and Delights in the 7th Arrondissement of Paris.
The 7th arrondissement in Paris is special to me because young chefs, pastry makers and bakers have been opening their stores on the side streets. One restaurant, Pertinance on rue de l'Exposition, just won its first Michelin star in their first year in business. This street is a stone's throw away from our fractionals and has half a dozen excellent and affordable restaurants. Our current favorite is Philippe Excoffier, the former head chef at the American Embassy. The restaurant deserves every accolade for his original dishes.
Savor those simple moments during an afternoon walk. Even the window displays are worth a second look. It's magic in the 7th arrondissement of Paris.
You can walk in a different direction every day, and you'll never see the same thing twice. I call it my Paris Decision Tree, a memory of my days in graduate school when we assigned probabilities to a series of events. Each branch or node took us to a different place.
This couple has certainly lived in the 7th arrondissement of Paris for decades; they remind me of my in-laws, carefully selecting the ingredients for that day's main meal.
Another fabulous restaurant on rue de l'Exposition is Potoka. The head chef Sebastien hails from the Basque region of France, near the border of Spain. He believes that unusual combinations and the freshest of foods make for great cuisine. We agree!
Invite friends to stay and follow my tips for shopping at the largest antiques market in the world, the Paris Puces and the Marche Vanves.  Here are my directions to the Paris flea market.
Another one of my daily delights includes walking enough to earn a delicious dessert. What to choose, what to choose??? You're spoiled for choice in the 7th arrondissement of Paris.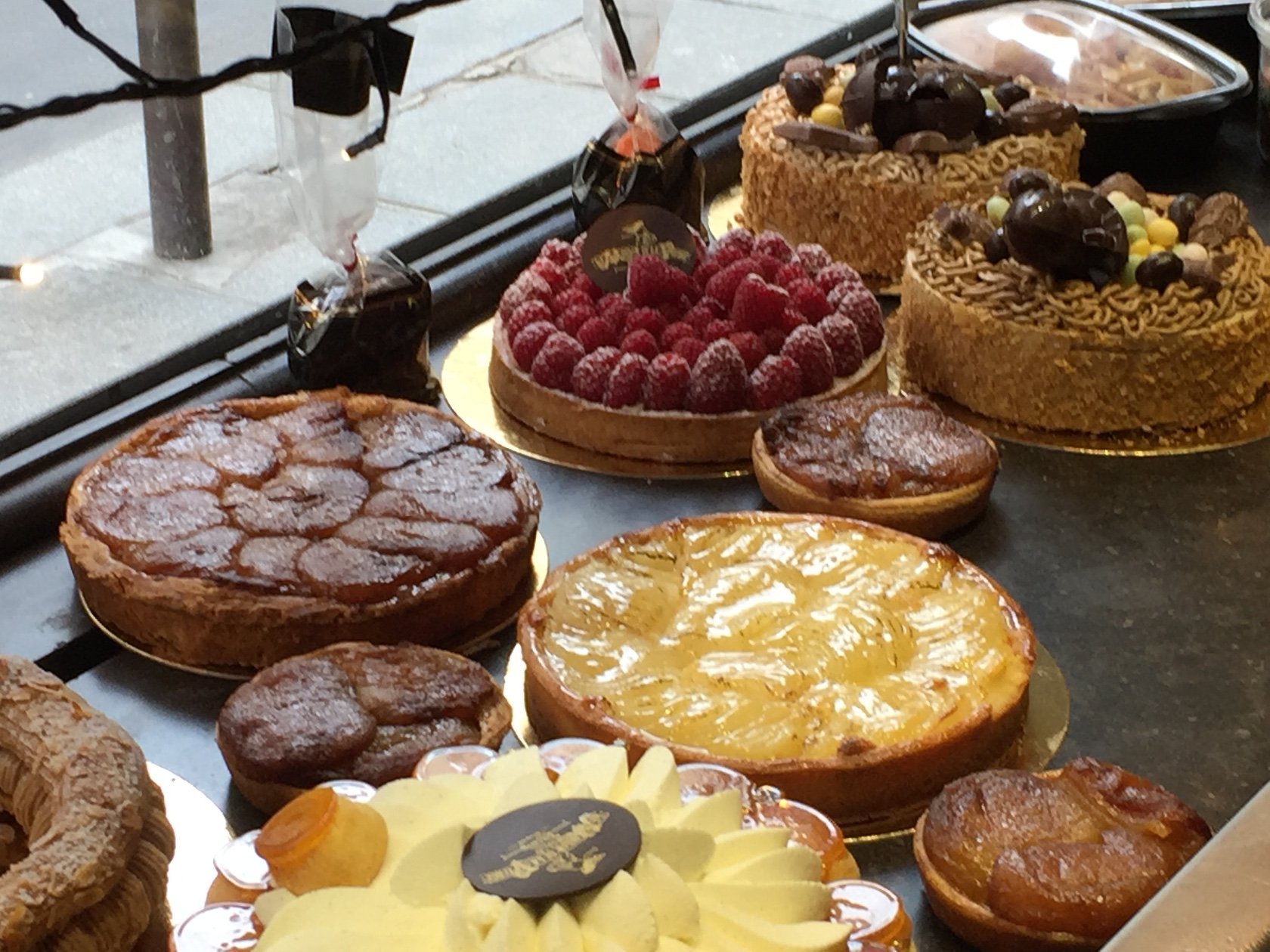 I love the style of Café Central, one of my favorite cafés and brasseries on rue Cler. It reminds me of Midnight in Paris and the 1920s.
If you love my favorite neighborhood as much as I do, consider joining the Paris Perfect fractional club! Read more about Paris Perfect Shared.
Please feel free to email us at [email protected] if you have any questions and would like more information! See our blog answering some of our most frequently asked questions about fractional co-ownership.