Last year we took a day of cooking lessons with acclaimed Italian chef Franco Taruschio.  Here is his recipe for delicious asparagus lasagne below.  It's a hearty dish, a contrast to the traditional meat/tomato lasagna dishes, with a white bechamel sauce flavored with the whites of the asparagus.  I don't think I'll ever have the time to make the pasta, but there are excellent dried brands available everywhere. Italians never waste food and he showed us how to use the asparagus peelings for a tasty asparagus soup.
Franco offers Italian cooking weeks in his home region of Italy, Le Marche.  If you're interested in Franco's cooking course in Italy, the next series will take place from May 19th to 25th 2012 including  luxury accommodation, food and drink at the four star Gallery Hotel Recanati, not far from Ancona Airport.  Le Marche is a beautiful region of Italy– not far from Tuscany with beautiful countryside, rolling hills and lots to do: golf, discount Italian designer outlets, relaxing on the beach, discovering how olive oil is made and touring vineyards.  It's a terrific and relaxing vacation idea. To find out more, click on this link: http://www.gustoinfinito.it/ or email: [email protected]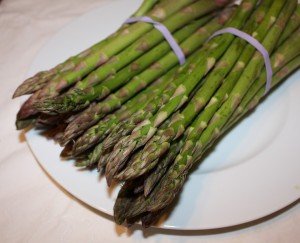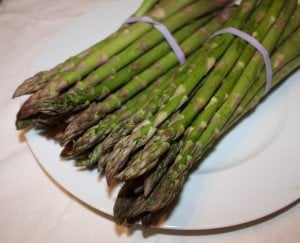 RECIPE FOR LASAGNE AGLI ASPARAGI (LASAGNE WITH ASPARAGUS)
Serves 6-8
INGREDIENTS
PASTA DOUGH — OR USE READY MADE PASTA!
525g flour '00' — look for special pasta flour
5 eggs
Salt
FILLING
Knob of butter, plus extra for greasing and finishing
500g asparagus cut into 3, cooked until al dente
3 basil leaves torn
220ml single cream
40g Emmenthal cheese, freshly grated
BECHAMEL SAUCE
500ml milk
50g butter
50g flour
STEPS FOR PASTA
Salt and freshly ground black pepper
Make the pasta and roll out into wide sheets. The final setting on the pasta machine should be number 1
Bring a large pan of lightly salted water to the boil. Cook the pasta a few sheets at a time, until al dente-about 2 minutes. Drain, drop into cold water and drain again on clean tea towels.
STEPS FOR BECHAMEL SAUCE:
Heat the milk in a saucepan to just below boiling point, then remove the pan from the heat.
Melt the butter in another saucepan, then add the flour and stir well. Add the milk, a little at a time, stirring constantly. Cook the sauce for 15 minutes, whisking occasionally with a balloon whisk to ensure a creamy texture.
Season the sauce with salt and pepper and stir in the grated Emmenthal.
Fold in the asparagus, basil leaves, a knob of butter and the cream.
TO ASSEMBLE THE LASAGNE:
Preheat the oven to 190C/375F/ gas mark 5
Butter a 30cm x 30cm x7.5cm gratin dish.
Cover the base with a layer of pasta, then a layer of asparagus sauce. Continue making layers in this way until all the ingredients are used. Dot the last layer with butter. Hint from Franco if you're using thin pasta sheets:  always crinkle them up a little instead of laying them flat.  This makes the top crisper.  Most important, it allows the sauce and filling to make its way into little pockets, rather than being squeezed out when you cut it into pieces.
Bake the lasagne for 45-50 minutes