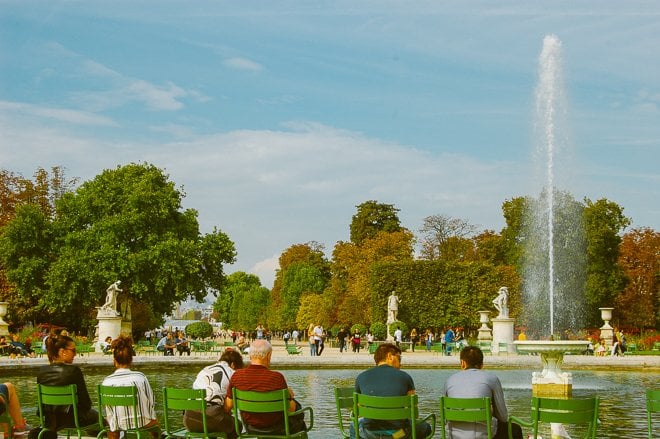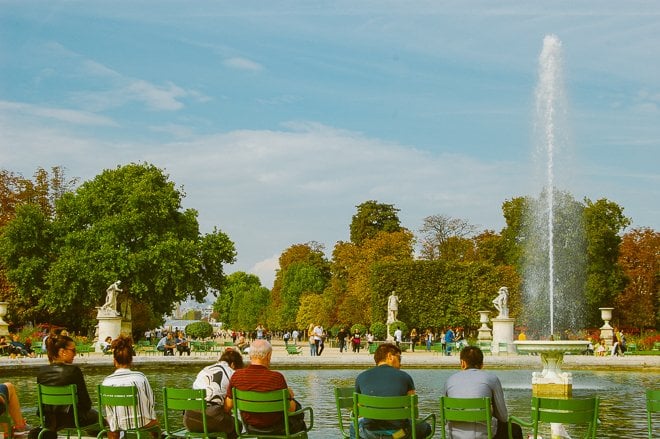 Stash away the floaty sundresses, the ice-cold rosé bottles and the skimpy sandals – we're already in the midst of autumn. In celebration of the season, break out the apple cider, red wine, sweaters, and comfort foods. Breath in the crisp air and soak up the last bits of sun before the trees are bare and Paris takes on a wintry hue. Watch as the leaves change from bright green to yellow and to orange and then brown. It happens suddenly and without warning, and the ground is beautifully littered with crunchy leaves.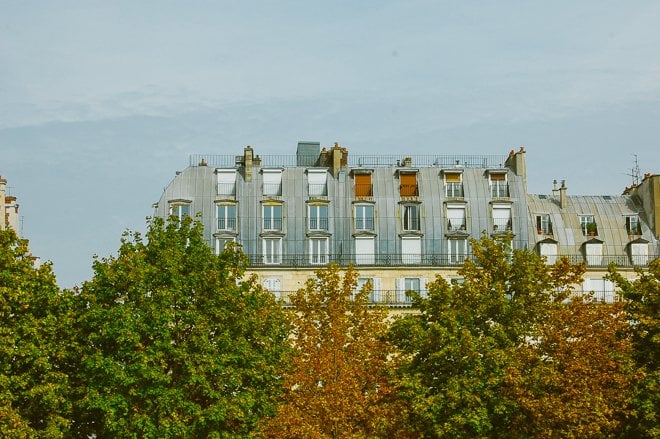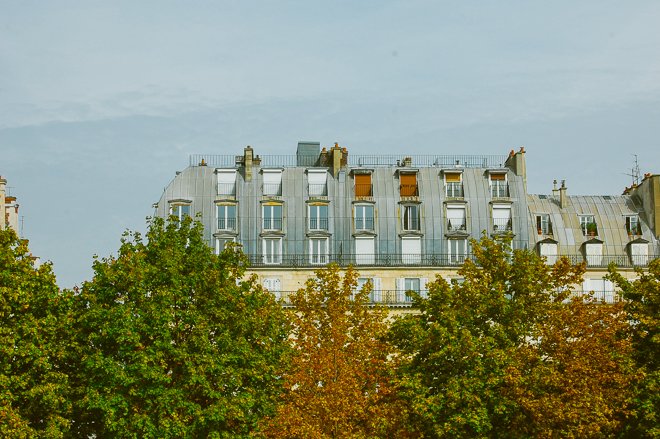 Paris in the autumn is magical and fleeting. The warm colors will only last for a month at most, so having the chance to walk through Parisian parks under orange-toned canopies can be somewhat rare. Luckily, cameras were invented to capture such beauty. The Jardin des Tuileries is one of the best places to experience autumn in Paris. Stretching from the formidable Musée du Louvre to the expansive Place de la Concorde, there is certainly no shortage of trees. This is the quintessential Parisian park, located in the 1st arrondissement and venue to many designer shows of Fashion Week.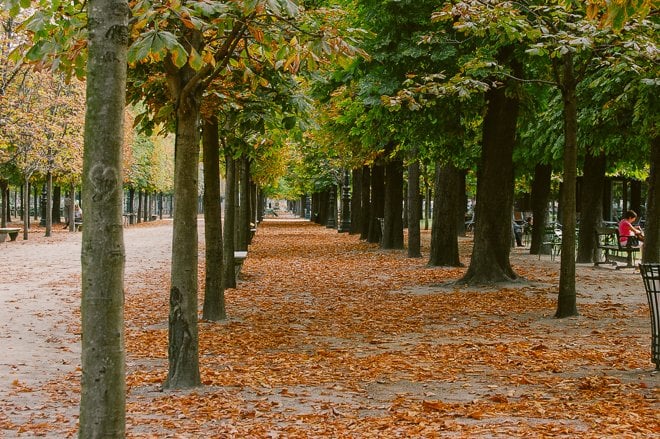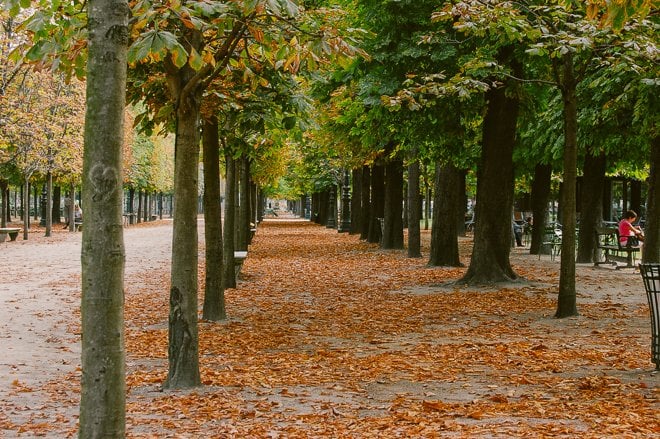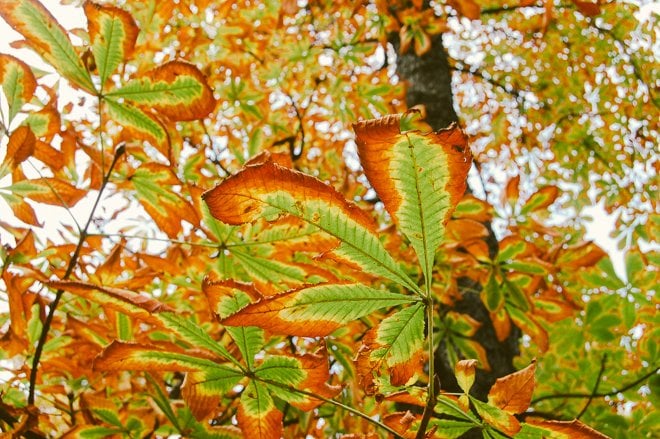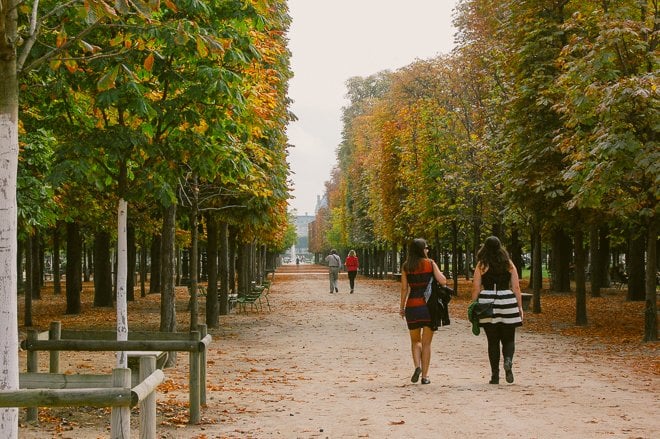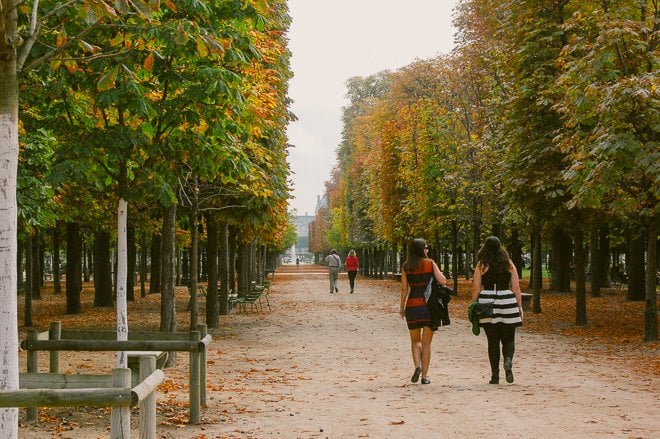 Faithful to Parisian park style, the trees are arranged in elegant lines with the canopies shaped into rectangular "walls." Although the leaves hang well above your head, their orderly arrangement gives the illusion of privacy. The "tree-hedges" outline numerous pathways, all straight, long and elegant.  The perspective lines created by these rows bring a sense of calm and focus. Another wonderful visual effect of the trees occurs when looking outward from beneath, towards the floral garden. Nothing is better than pulling up a classic green Parisian chair and people-watching from a distance. The layering of leafy canopy, chairs, flowers and architecture is divine.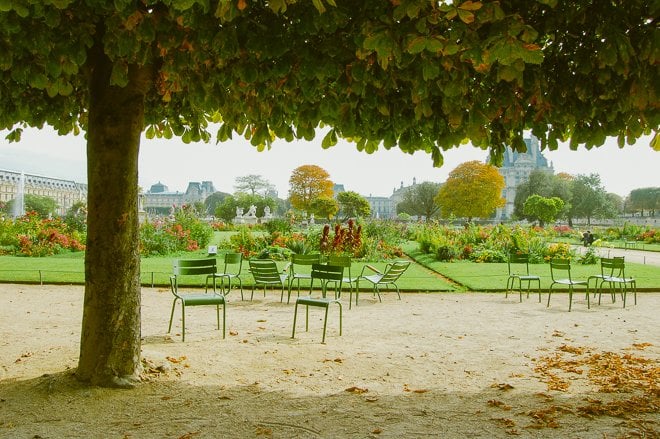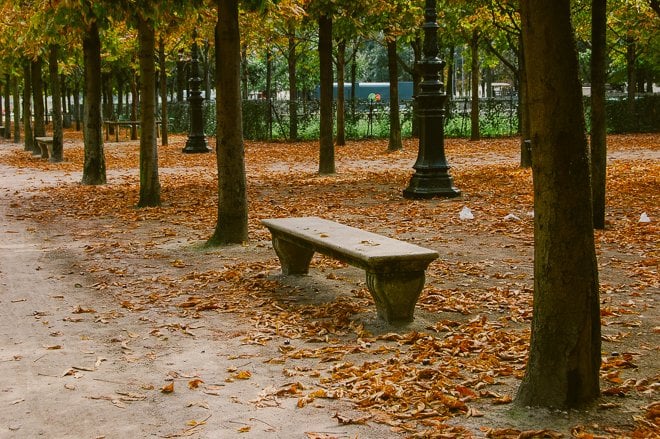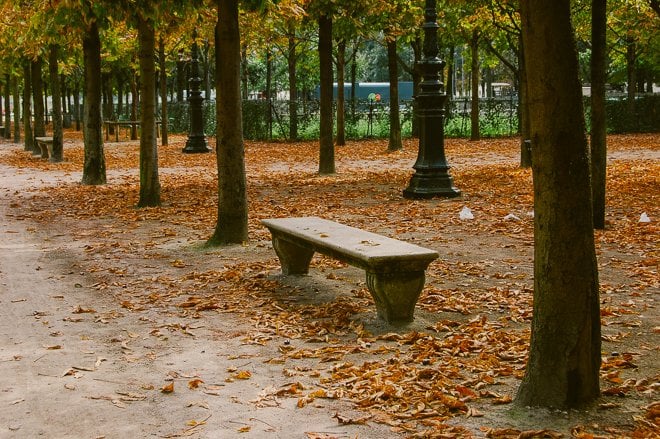 Each season reminds us that everything in life is fleeting, but none so eloquently as autumn. Spring and summer are exciting for their life, renewal, energy and vitality. Winter is when we turn inwards, towards the fireplaces and ovens, to savor time with family and friends. Autumn is the delicious in-between. In autumn, we witness drastic changes: abundance becoming loss and vitality turning into stillness. We start to feel the urge for comfort and community, and we return to work and school for la rentrée.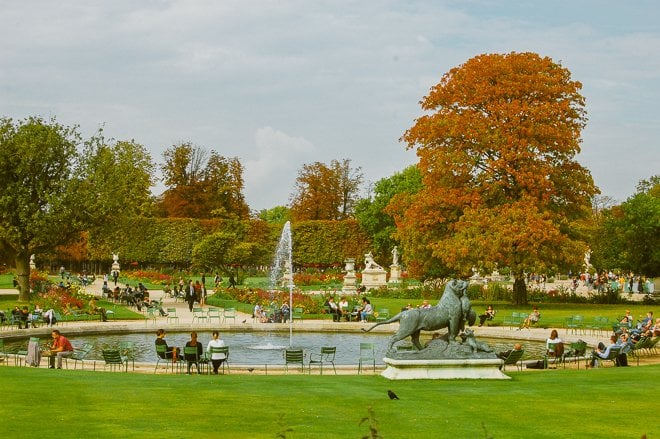 Fortunately, Paris is known for its many parks. They provide a perfect contrast to the business of city streets. Chairs are generally provided, so there's always a place to sit and relax. If you're lucky and the autumn hasn't yet succumbed to winter temperatures, there is still the opportunity for picnics. Get yourself a beverage, preferably wine (I went for a sweet white), some sandwiches, croissants and pretty pastries from a boulangerie. Enjoying a simple meal with friends under the warm colours of autumn – what could be better? Just don't forget the corkscrew!
Excellent Parisian parks for visiting or picnicking in Autumn:
Jardin des Tuileries
75001 Paris
Metro Tuileries, line 1
Parc Monceau
75008 Paris
Metro Monceau, line 2
Jardin du Luxembourg
75006 Paris
RER B station Luxembourg
Place des Vosges
75004 Paris
Metro Saint Paul, line 1
Metro Bastille, lines 1, 5, 8
____________________
Hannah Wilson is a young twenty-something blogger who decided to swap the constant sunshine of her California hometown for the grandeur and charm of Paris. She loves discovering unique shops, parks, cafés and restaurants in Paris, and currently lives in Versailles with her Swedish husband. You can see more of her life at www.FrenchCalifornian.com.
Image credits: All images by the author