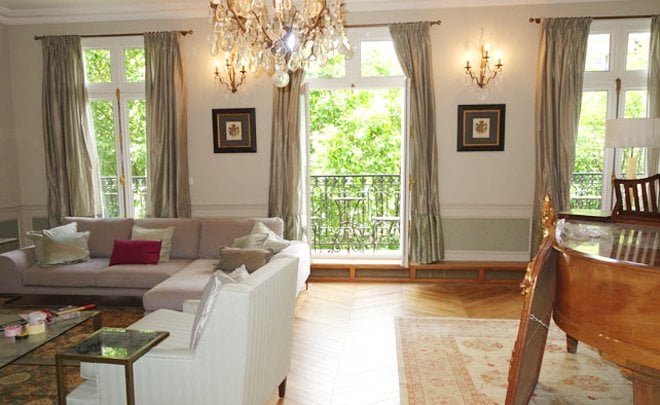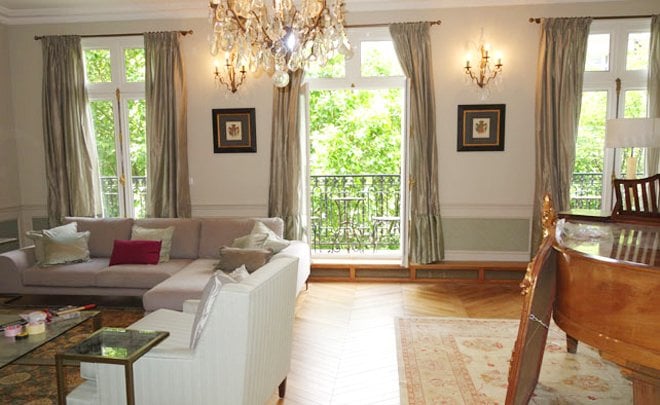 Getting a new apartment Paris Perfect ready means a lot of work! We have a long check list to ensure new apartments are comfortable and finished just right before the first guests arrive. We thought we'd show you a rare sneak peek of one of our newest apartments, the Hermitage, which is just about finished and ready to rent. Soon this stunning three bedroom apartment will be listed on our website, but we couldn't wait to give you a glimpse inside.
We're currently in the process of helping the owners with the finishing touches, including the fabrics, furnishings and colors, which were carefully selected by a young, up-and-coming designer named Jo Cicero. We completely fell in love with the color scheme and are excited to see the end result.
The apartment is simply to die for and features a long balcony and a lovely view of the Eiffel Tower, thanks to a stellar 7th arrondissement location. A sprawling vacation rental by Paris standards, (with more than 2,000 square feet of living space), the apartment features 3 large bedrooms and 2.5 bathrooms, in addition to that extensive balcony which is just steps away. We can already imagine our future guests enjoying a glass of wine at sunset with the twinkling Eiffel Tower light show in the background, or enjoying fresh baked croissants and café au lait in the morning sunshine.
While we were blown away by the views and the ample space, we were equally impressed with the budding design of this new vacation rental. Who would have thought you could combine yellow, red and taupe – and have it turn out so beautifully? It started with the owners buying a Chinese lacquered chest painted red, and then inspiring the adjacent space into a simply beautiful spot to retreat to and relax.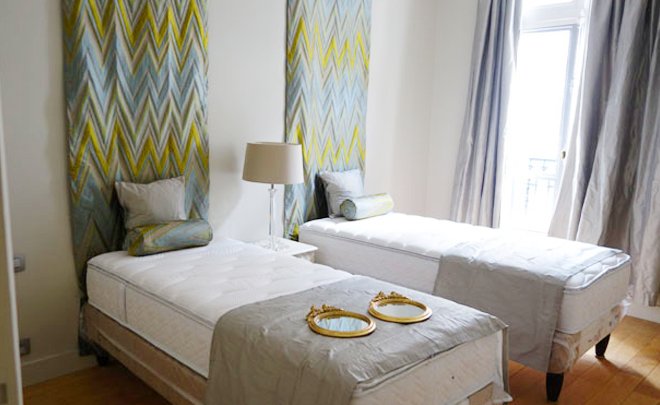 The 2nd bedroom is just as lovely, and we love the pale blue and green silk headboards and with the calming, accompanying gray armchair.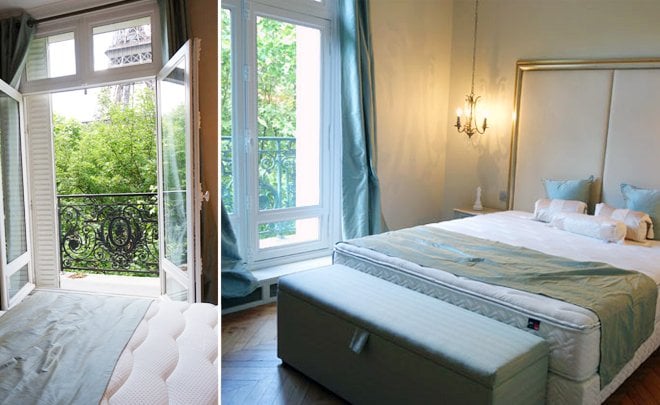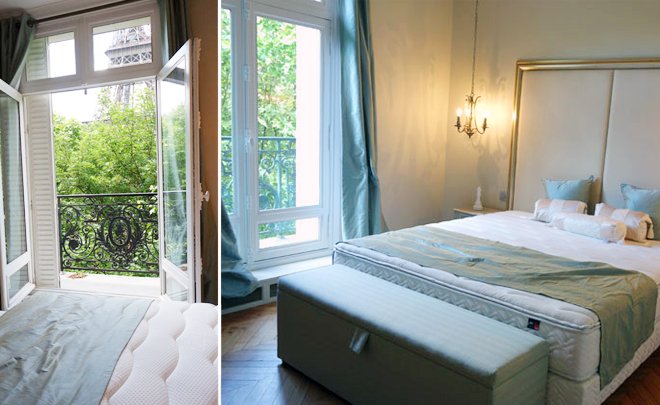 This restful atmosphere is also evident in the master bedroom with pale green highlights and easy access to the en suite bathroom with double sinks and a bathtub shower combination.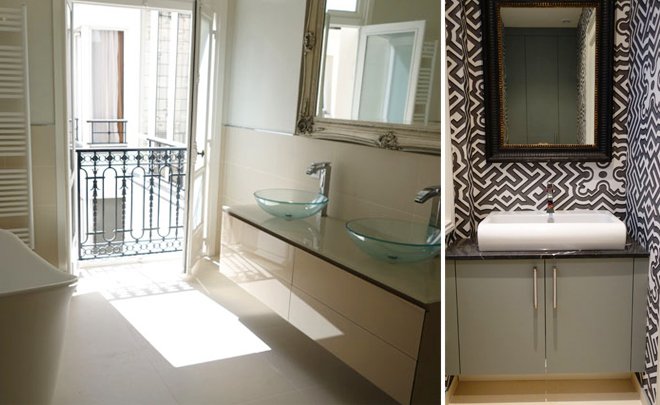 The second bathroom features a designer Starck bathtub, a walk-in shower and double sinks. We like that this room can be bright and sunny for early morning wake-up calls, or perfectly private, depending on whether you choose to close the windows.
Of course, we believe that location is just as important as a charming interior, and we adore this apartment's fantastic setting in the heart of the 7th. An array of attractions and museums are at your fingertips, including the Champ de Mars gardens and playgrounds, the Musée Branly, excellent shopping and the Seine River for romantic evening strolls. All of these sites are a 5 minute walk away or less, which allows guests to easily experience the very best of the Parisian lifestyle.
In addition to the scenic and historic sites, this lovely flat is also surrounded by a beautiful bevy of shops, markets, boutiques, cafes and restaurants. We have a feeling that guests will enjoy multiple trips to the local fromagerie, the rue Cler market street, and the collection of incredible open air markets to pick up armfuls of treats to enjoy on that inviting balcony.
The Hermitage luxury apartment accommodates up to six people and will be available for rent by the end of June. Want to be one of the first guests to experience what is certainly going to be one of our top vacation rentals? Then email us at [email protected] to reserve your stay!