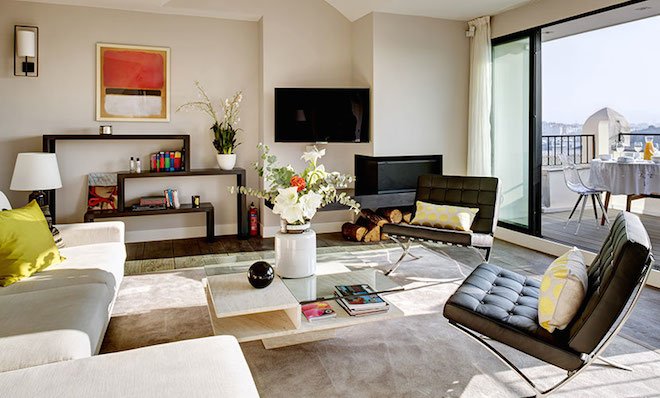 Who doesn't love a vacation rental with an awe-inspiring view? At Paris Perfect, we believe that a Parisian vacation is at its best when you can take in the entirety of the city from a pristine balcony, which is why we adore the Julienas, a stunning 4 bedroom, 3 bathroom apartment complete with crisp modern décor, plenty of space and an enviable location in the center of Paris!
The Julienas is split into two levels of living space, (which makes it easy to find a quiet corner of the apartment to call your own) but what really took our breath away was the outstanding, miles-wide vistas. Walls of windows and slider doors border the central great room, flooding the dining and living areas with light, and showcasing the neighboring rooftops of this chic Parisian neighborhood. Each evening, as the sun sets, the great room is filled with a soft golden glow.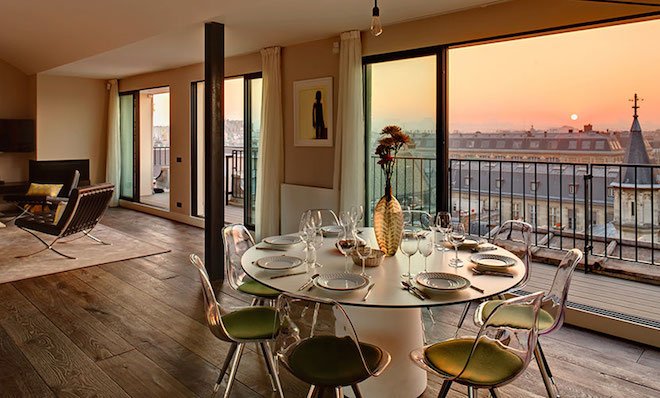 Step outside, and greet the day from the balcony, which features plenty of space for a quiet and intimate meal or a long evening of star-gazing. The Musée des Arts et Métiers is a constant companion at the Julienas, and can be effortlessly admired from a number of interior vantage points.
The innate sense of style at the Julienas also caught our attention, as this vacation rental is expertly outfitted with sleek modern furnishings and striking works of art that complement the world of galleries and museums found in the city streets below. The orange Rothko print on the wall coordinates perfectly with the subtle lime-green pillows while the accent walls of metallic geometric wallpaper contrast perfectly with the textured wood floors.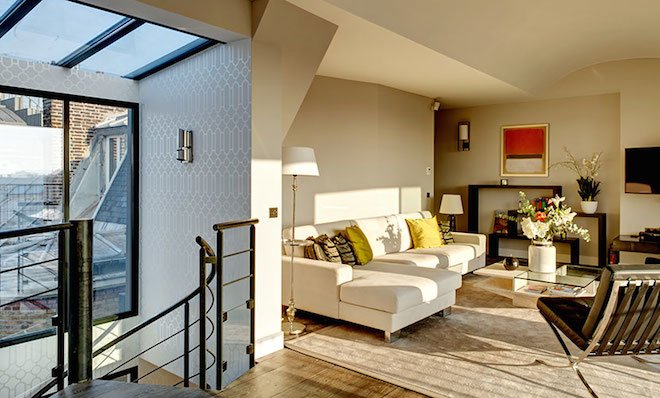 When it's time to rest, visitors can drift off to sleep in one of four well-appointed bedrooms, including two that boast TV and DVD players, and a bedroom with an en-suite bathroom and a decadent step-in tile shower. There's two more bathrooms found at the Julienas, including one with a deep, modern tub and one with a tub/shower combo.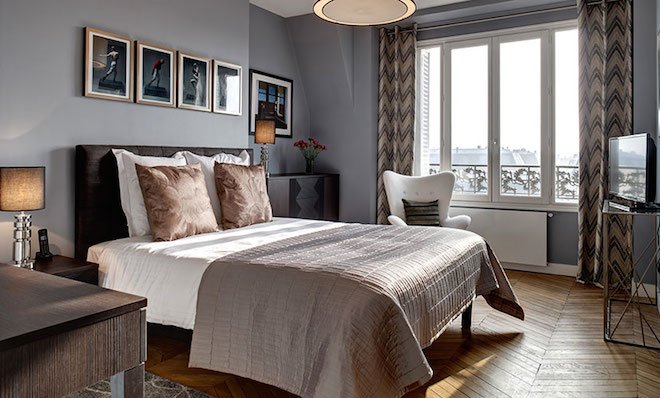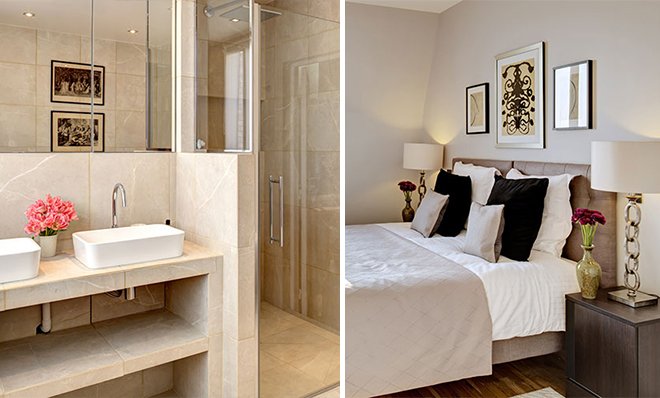 The fully-equipped kitchen is yet another stellar example of modern style and amenities, and features ample light and counter space, a stove top with four burners, dishwasher, fridge with freezer, and all the other extras that modern gourmands require. With enough space for 8 people in this apartment, having a large kitchen is a must. You can enjoy meals together, using ingredients that you picked up from the nearby Marché des Enfants Rouges!
Outside, guests will be delighted to discover that they're just steps away from a wealth of acclaimed attractions, including the Musée des Arts et Métiers, the Pompidou Museum, Rue Montorgeuil, and the famed elite shops, galleries and cafes found along the Rue Saint-Martin and the entire Beaubourg neighborhood. You're also well-situated to explore the chic upper Marais and the newly-popular 11th Arrondissement, with its many coffee shops, specialty cafés and concept boutiques.
With plenty of flair, ample room to stretch out and relax and easy access to some of the most stylish boutiques, galleries, and historic attractions, the Julienas is a perfect portrait of everything this sophisticated city has to offer. Boasting a welcoming but vogue atmosphere that's almost overshadowed by the miles of breathtaking views, we think that a vacation at this Paris Perfect apartment is nothing short of unforgettable.
Click here to see the apartment profile and inquire about booking a stay!
(Image credits: Paris Perfect, Hannah Wilson and Edgardo W. Olivera)