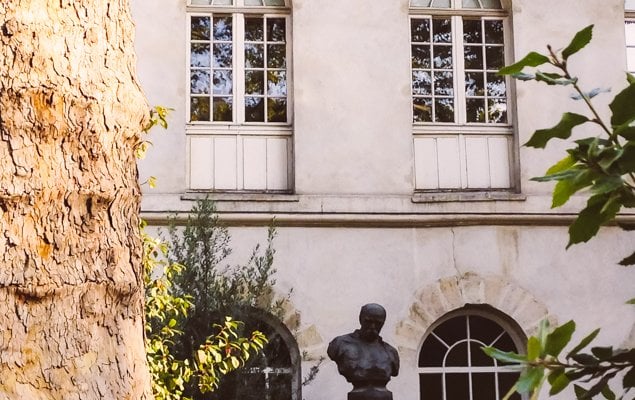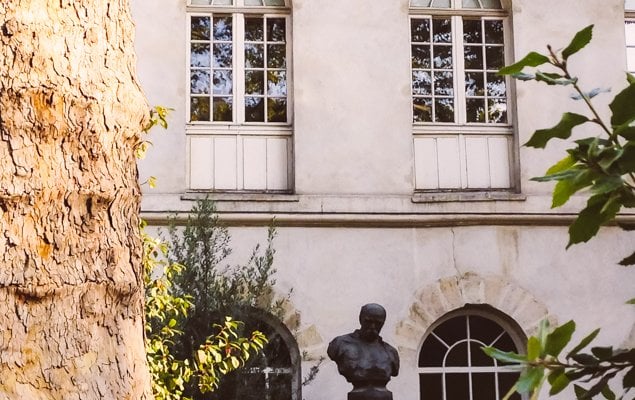 Madelyn here! This is Part II of my Fabulous Life as a Flaneuse series, in which I'll share the things I discover on my constant walks through Paris. There are so many interesting things to see in this city, so come take a walk with me! If you'd like to read Part I of the series, when I unexpectedly fell down the rabbit hole, click here!
---
Last week I had an early appointment to meet the gracious owners of the Corent apartment in Saint-Germain-des-Prés. The owners are an elegant French couple in their 70s and very formal. However, they are very tolerant of my unintentional American informality, which is a good thing, because I decided to kill two birds with one stone and jog to our meeting. They didn't mind me showing up in my exercise gear. They even said I can call them by their first names, which left Philippe feeling shocked, since he still calls them Monsieur et Madame. At our meeting, we shared a cup of tea and I loved their colorful pieces.
Just as I had expected, our meeting went well. I sensed that the day would yield good things. As soon as I stepped outside, I felt the crisp freshness of the first day of Fall. Paris had just finished enjoying a gorgeous long summer. Something about the changing of seasons makes me feel rejuvenated! The temperature had fallen to the 30s overnight and everyone was bustling to school and work, smiling at the sunshine and crispness in the air. It was a perfect morning. Whenever I experience moments like this, I want to convince everyone I encounter to experience Paris, whether it be for a week, a month, a year – or a lifetime.
Since it was a bit chilly, I needed my puffer jacket, but the sunshine provided a little extra warmth. One of my favorite things about mornings in Paris is seeing the golden light of the rising sun, shining warmly on the creamy Parisian limestone. There were a lot of people heading to work that day – just the everyday hustle and bustle of Paris!
As much as I wanted to run for a full 20 minutes (I'm a lightweight when it comes to running), I couldn't resist stopping to take some photos. I always stop to notice pretty or strange details. For instance – what is the purpose of this rectangular hole in the wall? Perhaps it once displayed a small statue? Who knows?
It's hard to express to you the joy I feel when I'm in Paris. One of our apartment owners helped describe it:
"I live in Hawaii, and while I love the weather and lifestyle, I need my contrasts. I adore spending time in my Paris, where everyday I go outside and experience the simple joys of buying a baguette at my favourite boulangerie, where I can explore everything from fashion to food, to art exhibitions. Where I can enjoy all the changes in weather from sunny days to rain and simply enjoy life. Where I can enjoy long walks and discover new areas every single day. I will always have Paris."
I feel the same way — because Paris is a gift for all the senses.
While I hate going to the gym, heading out for an early morning jog in Paris is a treat – it's a reward in itself. I choose a new direction every day, discovering exciting boutiques, merchants, landmarks and even random decorative details that inspire me. I'll always stop and take pictures, promise to come back, and at the end of my run feel more energized than ever. Sometimes, I even stop into the pastry shops! I try my best not to buy anything; I don't want to jeopardize my workout! But how can I resist just a little peek into Pierre Hermé?
Who knows what my next wander through the streets of Paris will yield, but I hope you'll follow along with me when it comes! Until then, à bientôt!