A number of guests have asked if the French have worked their magic on gluten free foods. We're happy to inform you that the City of Light has finally caught on to the gluten-free way of life, and they're taking it to the next step. Below, you'll find our list of handpicked restaurants that cater to your needs in a manner so delicious you'll forget all about your dietary restrictions. However, always remember to communicate your food allergies to your waiter prior to your meal – you can never be too careful! Without further ado, feast your eyes on these Parisian eateries – sans gluten!
Breizh Café – The Best Crêpes in Paris?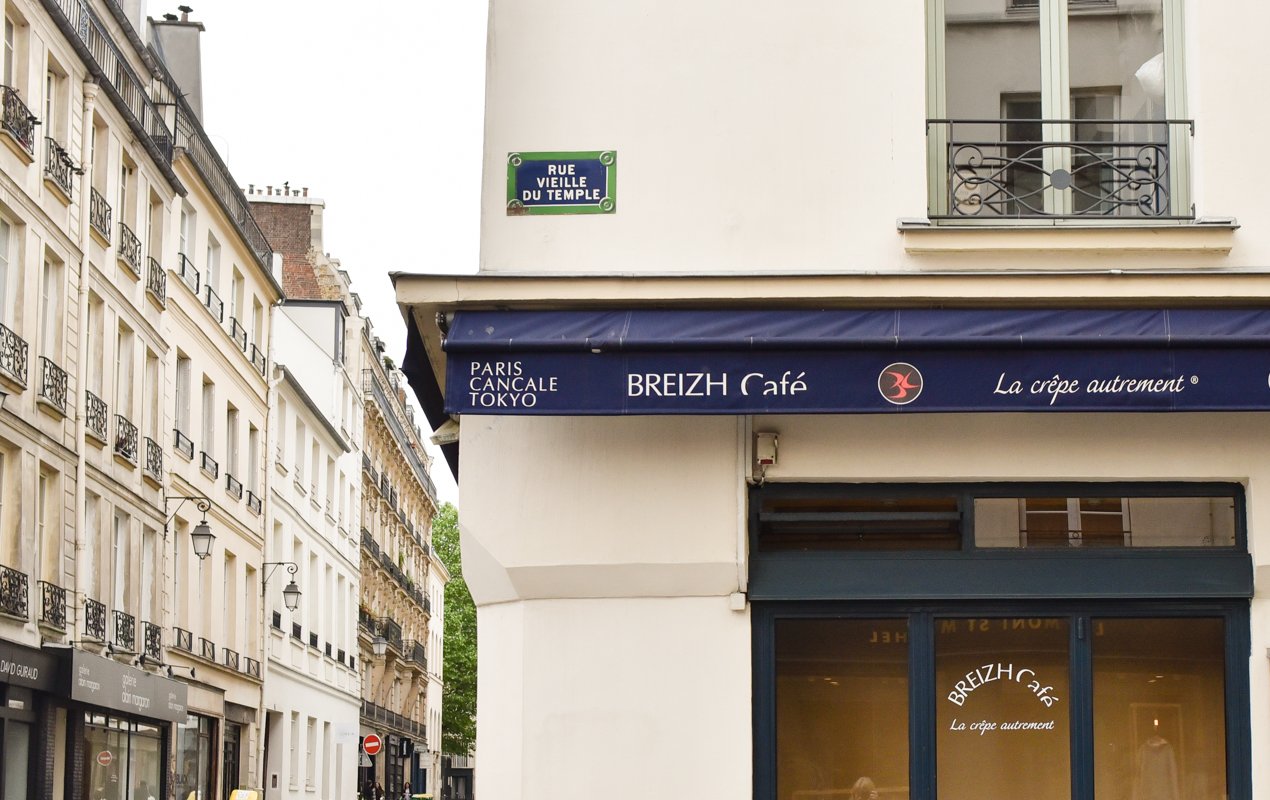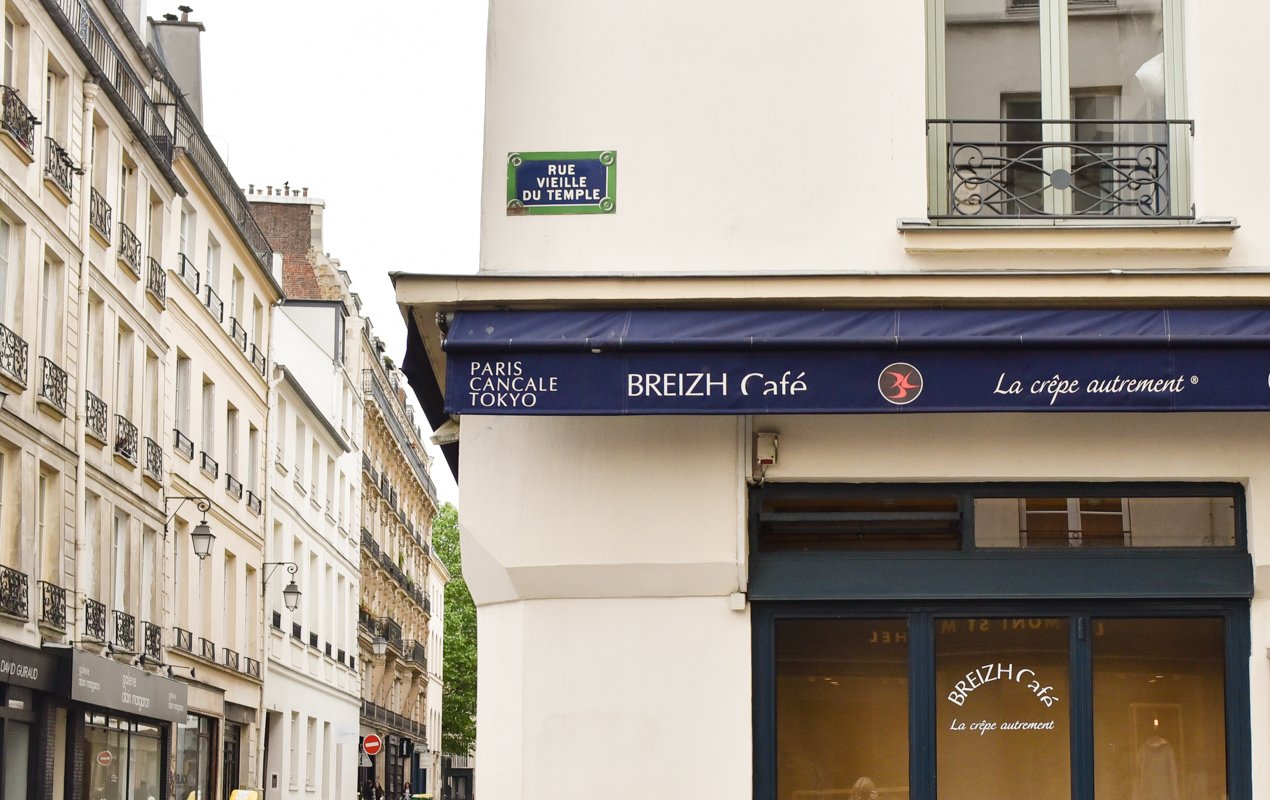 This lovely restaurant in the 3é Arrondissement is a must-visit, gluten allergies or not; we tend to recommend it to most of our guests planning to visit the trendy Marais district, where the Picasso and Carnavalet museums are located. Breizh Café is the best place in Paris to indulge in the pleasure that is the French crêpe. But, you may ask, aren't crêpes made with flour, and isn't flour made from wheat? Most are yes, but not these!
Savory crêpes, according to Breton tradition, are instead made with buckwheat, so your delicate systems need not fear. This no-nonsense menu does away with the frivolities you may encounter, favoring instead the simplicity of its ingredients and quality of their product. There isn't a single thing we wouldn't recommend on the menu, though if you're a little overwhelmed by the choice, we recommend the traditional Complete au Jambon Cru de Savoie. Make sure you stop by their affiliated store next door on the way out and pick up some iconic French confectionaries for later.
Breizh Café
111 Rue Vieille du Temple, 75003
Wed – Sat: 11.30 – 23.00, Sun: 11.30 – 22.00
01 42 72 13 77
Website
Helmut Newcake – French Pastries & Fusion Lunch To-Go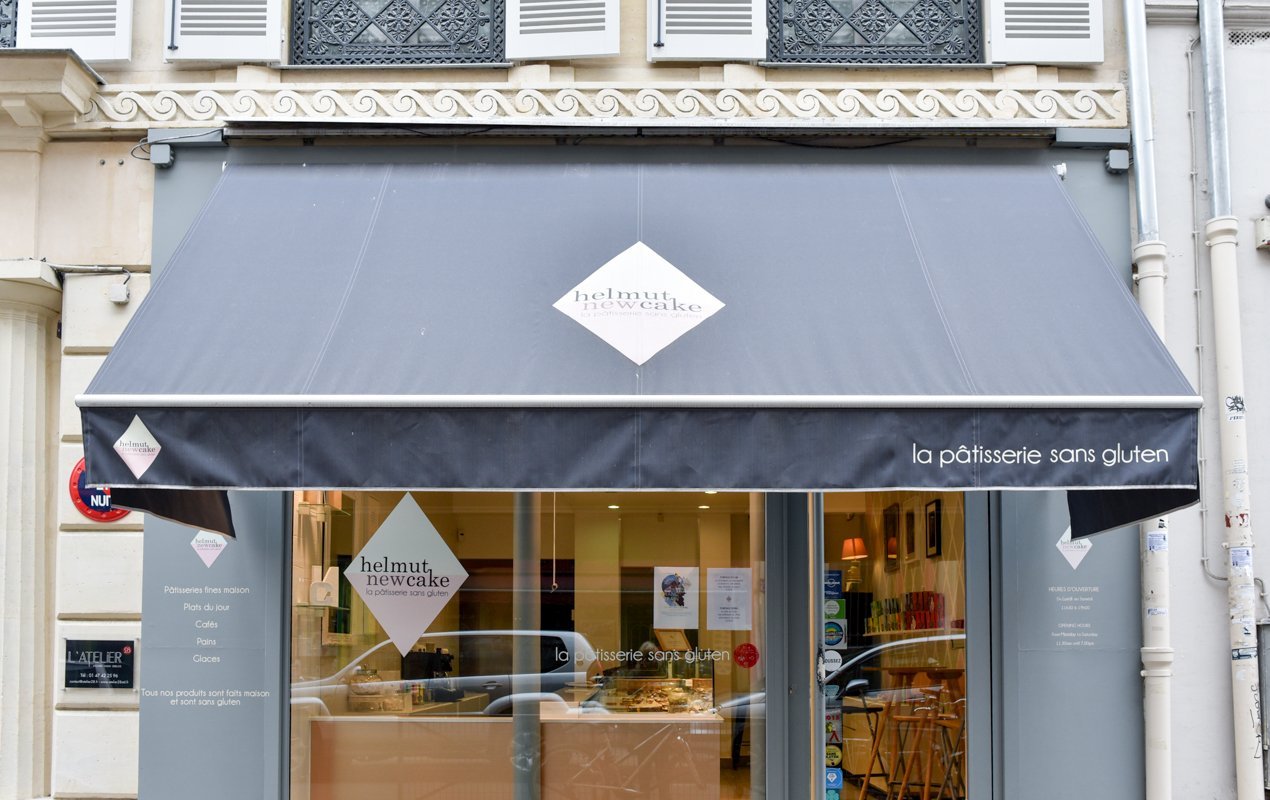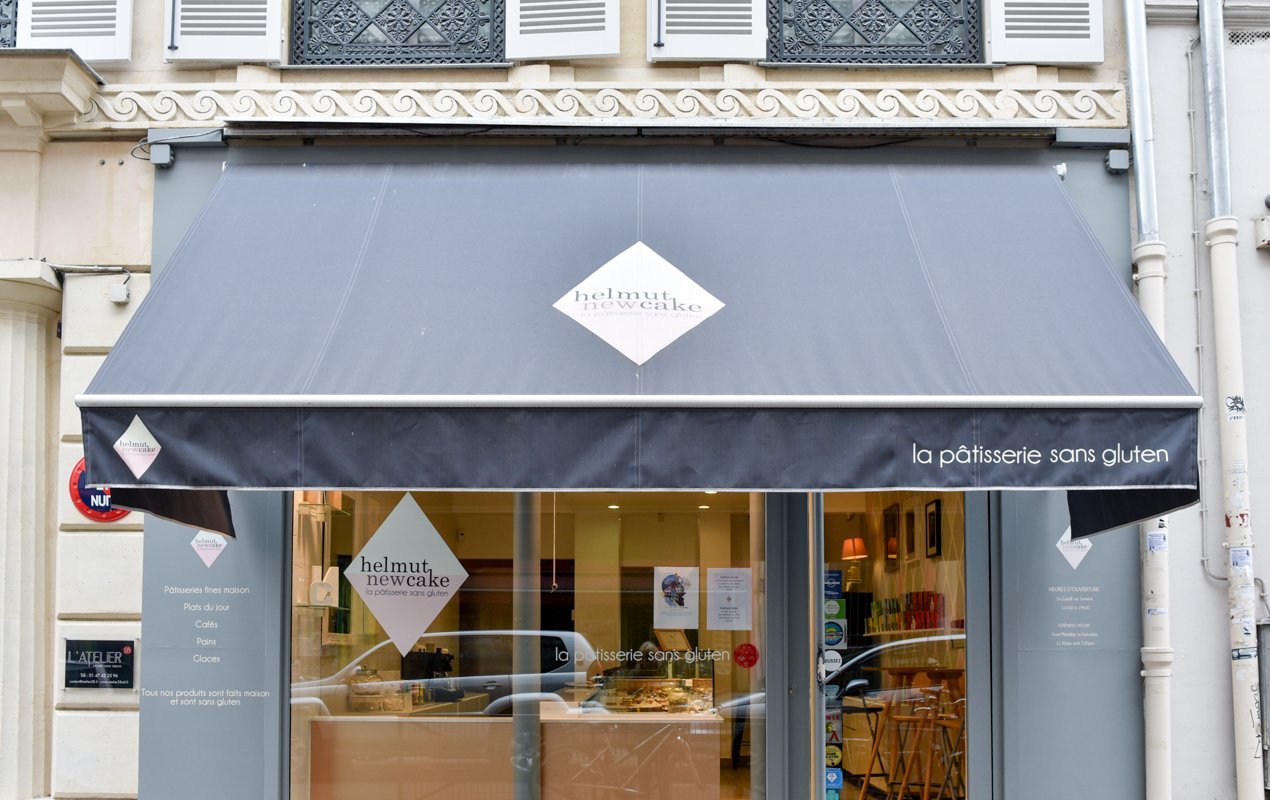 For a café – and nation – that specializes in pastries, you'll be thrilled with the incredible selection of gluten-free pastries and foods on the menu at Helmut Newcake. Indulge in classics like éclairs, religieuses and tartelettes, and you won't feel left out of the Parisian pastry experience.
From 12 to 2:30, lunch is available, but only to-go. Most of the menu consists of amazing fusion dishes such as scallop soufflé, black risotto and chicken stir fry. With a menu that's 100% gluten-free, you are guaranteed to find something you adore, and might even feel compelled to come back again… and again, and again.
Helmut Newcake
28 rue Vignon, 75009
Mon – Sat: 11.30 – 19.00
09 81 31 28 31
Website
NOGLU – Lunch, Dinner & Saturday Brunch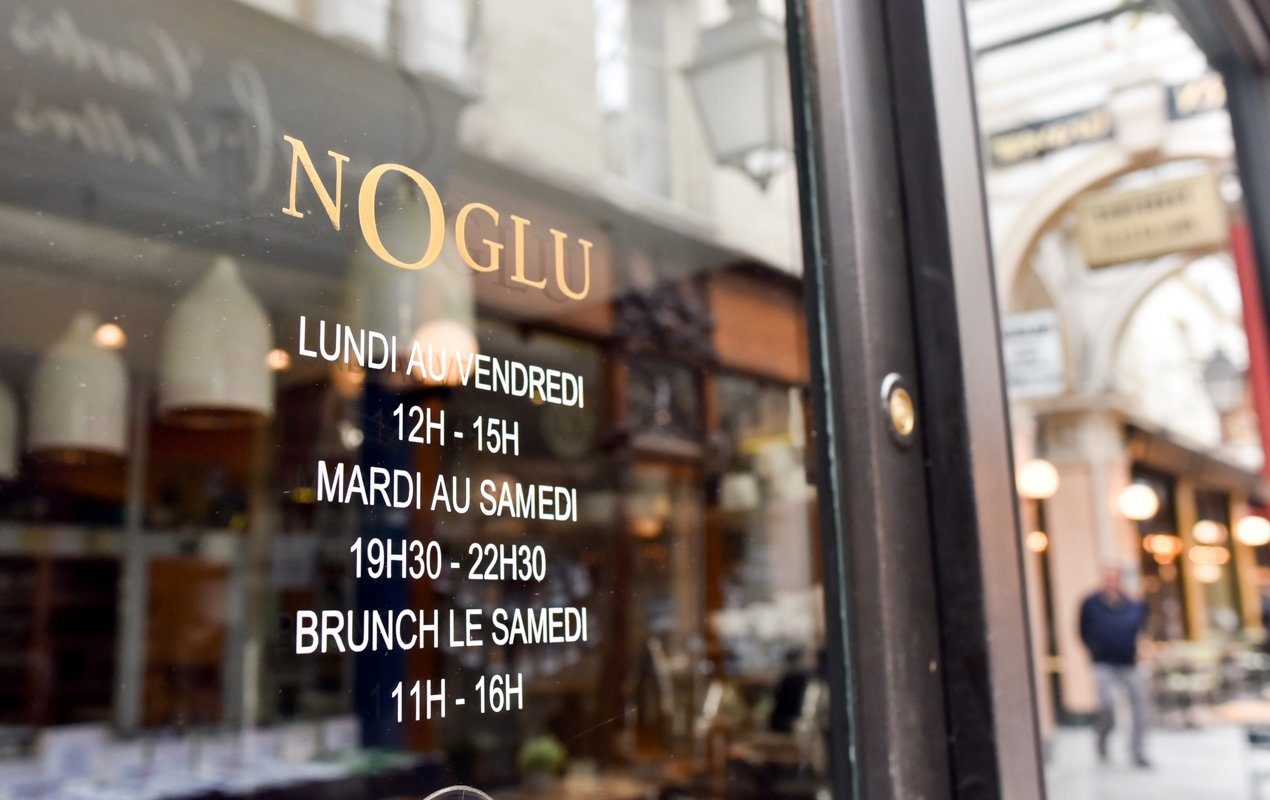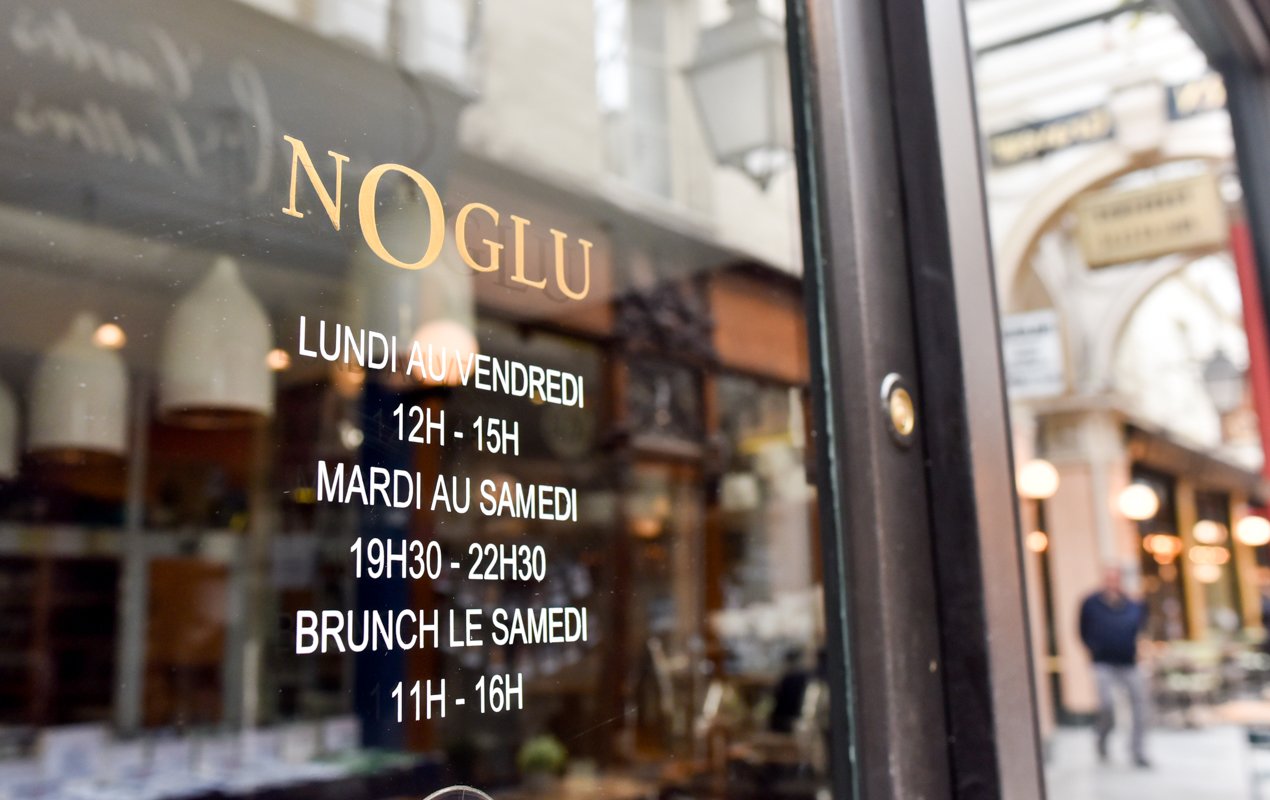 The Passage des Panoramas is one of those gorgeous little Parisian alleys lined with restaurants and old shops. Situated a few blocks away from the Louvre and right next to the Palais Garnier, NOGLU is another fully gluten free eatery. The menu is far from static, with its contents shifting from day-to-day according to what's in-season, and the fancies of the head chef. Whatever the specials of the day are, we guarantee they will be delicious. Saturdays are brunch days at NOGLU, offering an especially indulgent menu until 4PM. Make sure you leave room for desert, though, as nobody can resist the temptation of their incredible Cannelés.
NOGLU
16 Passage des Panoramas, 75002
Breakfast Mon – Fri : 12.00-14.30
Saturday Brunch : 11.00-15.00
Dinner Tues – Sat : 19.30-22.00
01 40 26 41 24
Website
Boulangerie Chambelland – Various Bread & Cakes
At Boulangerie Chambelland, 'well being' and 'enjoyment' go hand in hand! This boulangerie is entirely and naturally gluten free, the bakers and pastry makers use rice and other naturally gluten free flours to make their exclusive recipes a taste sensation! They have an array of breads, biscuits, cakes and pastries on offer – all very eye catching and tempting. They also serve warming soups during Autumn and Winter and delicious salads in the Summer and Spring!
Chambelland
14 Rue Ternaux, 75011
Tues – Sun: 9.00 – 20.00
01 43 55 07 30
Website
O'Sciá – Neapolitan Pizza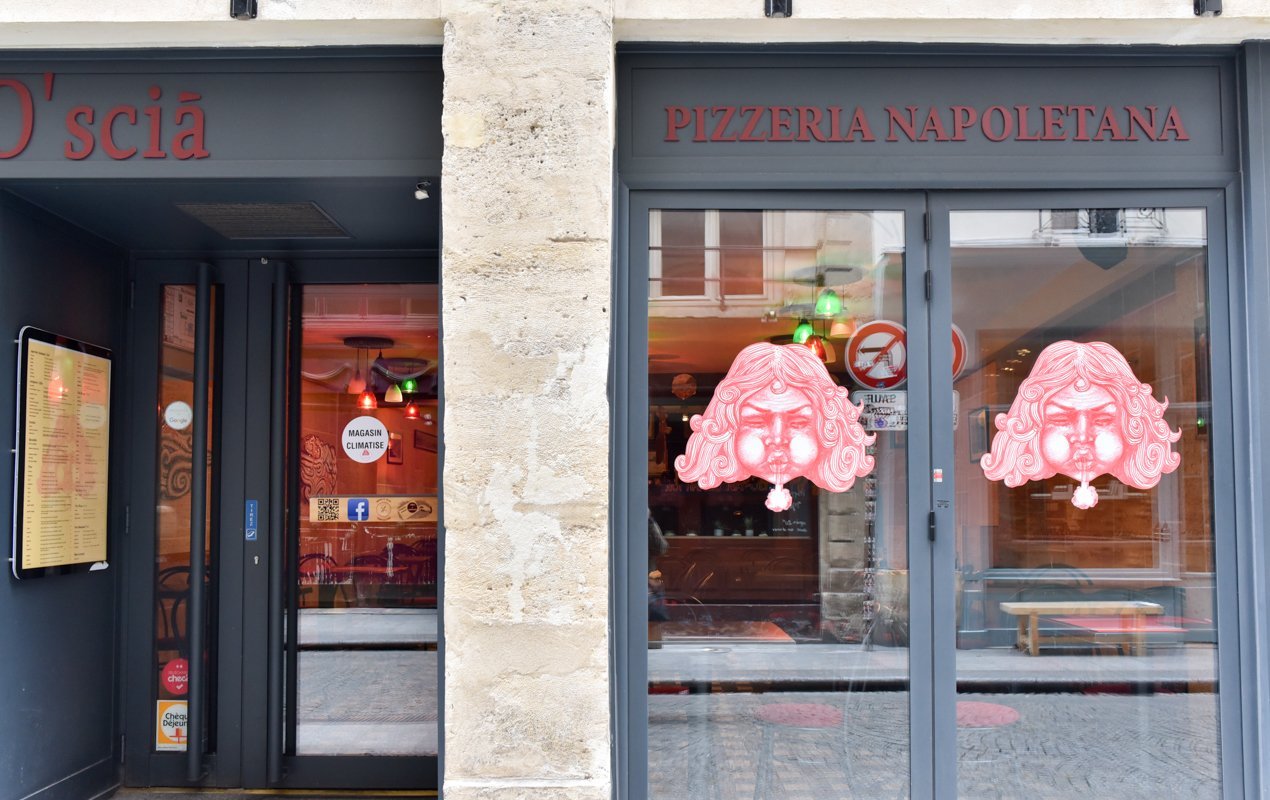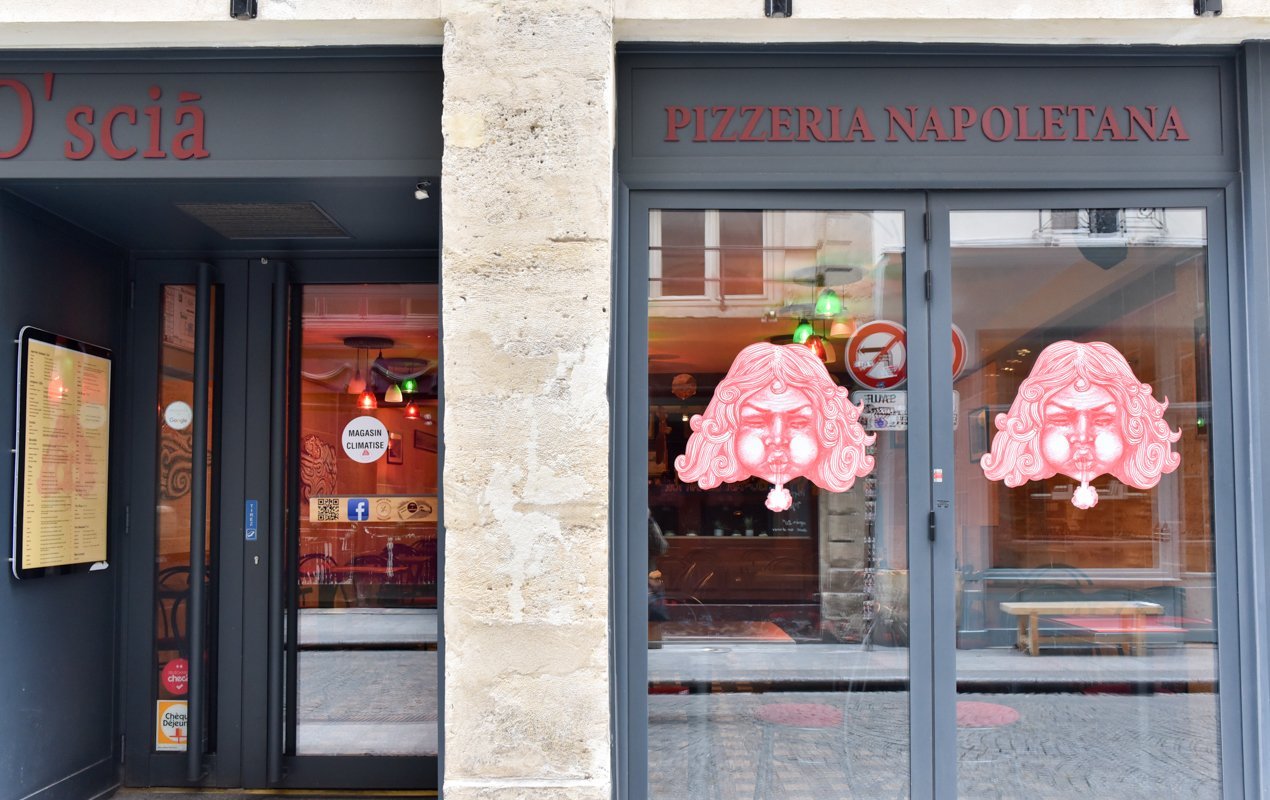 O'sciá is a Neapolitan pizza restaurant, which many will argue serve the best pizza in Paris, so gluten free or not, it's worth a visit!  They offer a special "formula" that includes your choice of pizza, starter and dessert – all gluten free! They only use the very freshest ingredients and the pizzas are huge! This bustling restaurant is situated on the quaint Rue Tiquetonne, very close to Rue Montorgueil market street, which you should definitely explore before or after your meal. O'Sciá can get very busy so it's always best to book ahead, especially on the weekend.
O'sciá
42 Rue Tiquetonne, 75002
Mon – Sat: 12.00 – 14.30 and 19.30 – 23.30
Sunday: 19.30 – 23.30
01 75 77 23 18
https://www.pizzeriaoscia.fr/
Au Ducs de Bourgogne – Inexpensive Breton Crêpes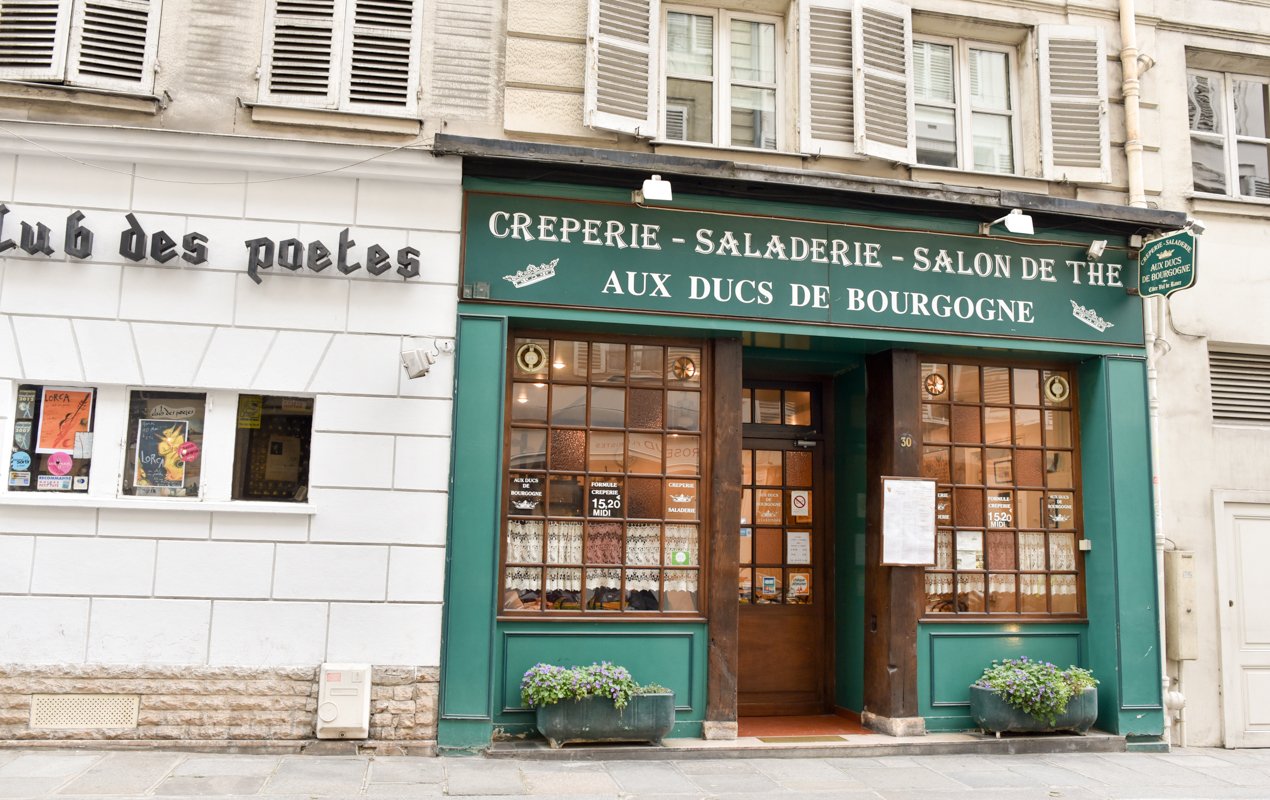 We opened with a crêperie, and close with another, this one slightly closer to home in the 7th Arrondissement. Au Ducs de Bourgogne is a beautifully authentic little restaurant that specializes in the traditional Breton galette. These savory crêpes will make your mouth water if you end up walking past it on your way to the Invalides or the Musée Rodin. Located on the Rue de Bourgogne, you'll find yourself transported to the north of France by simply walking through the door. Make sure you treat yourself and your party to a bottle of delicious cider to accompany whatever you order.
Au Ducs de Bourgogne
30 Rue de Bourgogne, 75007
Mon – Fri: 11.30 – 15.00 and 19.00 – 22.00
01 45 51 32 48
Website
(All images by Hannah Wilson)