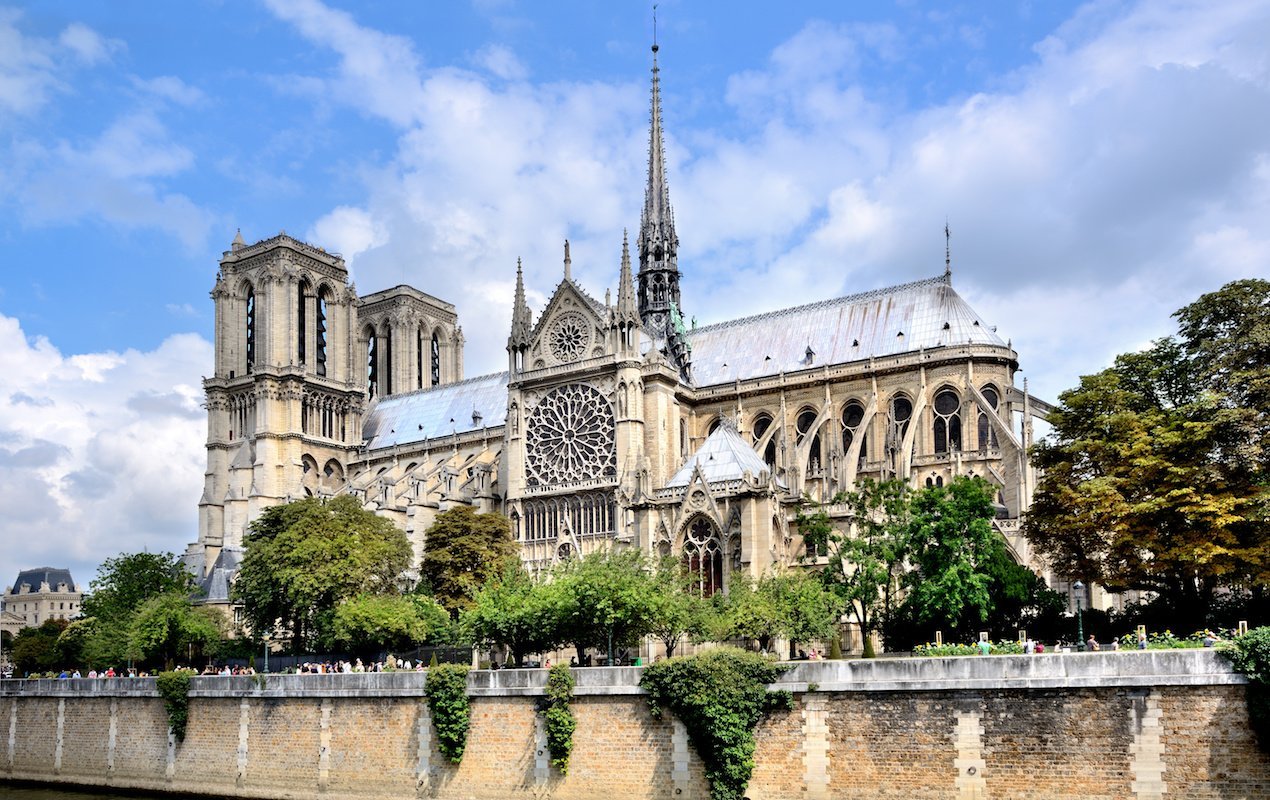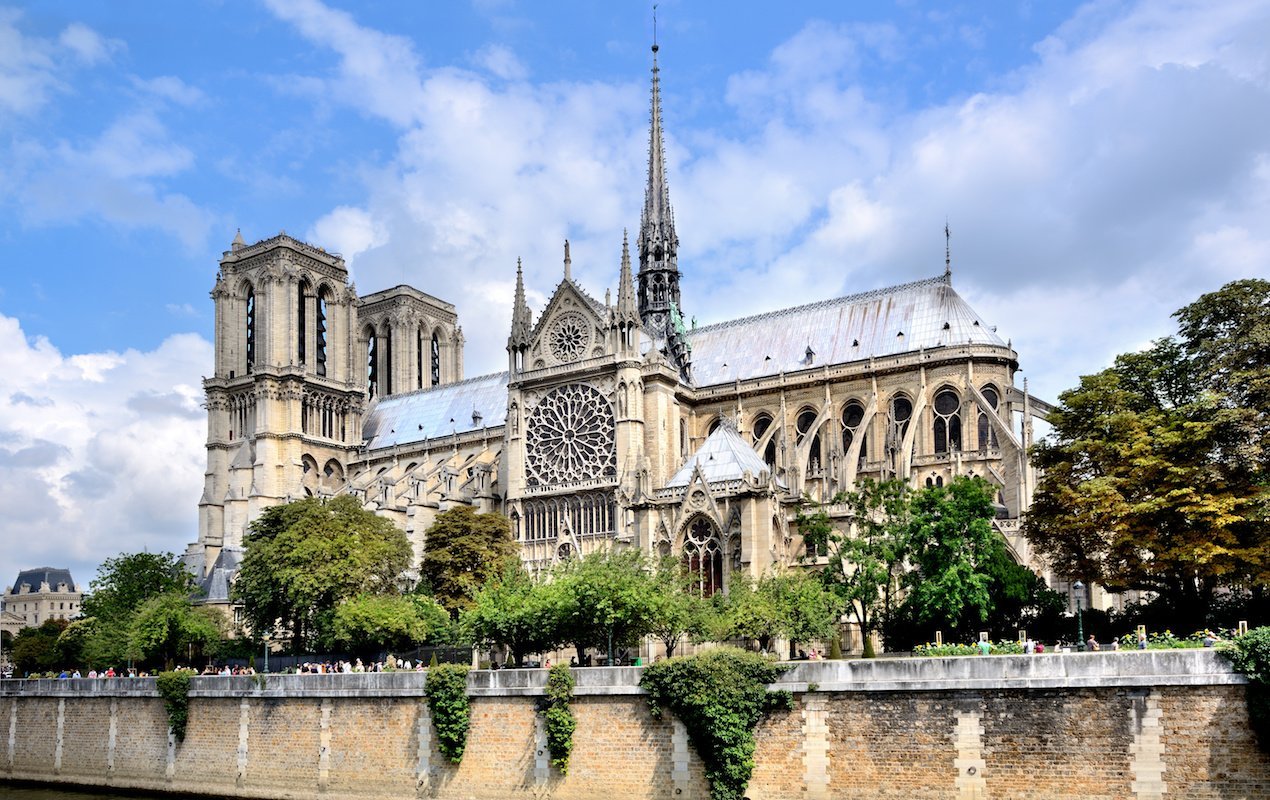 Whether you practice a particular faith or not, the churches and cathedrals of Paris are an impressive sight to see. From lacy Gothic masterpieces to regal Baroque edifices, Paris is home to hundreds of churches that are still used as places of worship today. Some, like Notre Dame, are on the top of travelers' sightseeing lists, while others are only known to the locals, but they all have one thing in common – they're open for free to the public.
Here are eight beautiful churches in Paris, along with their fascinating histories and a little description of their surrounding neighborhoods.
1st Arrondissement
Church of Saint Eustache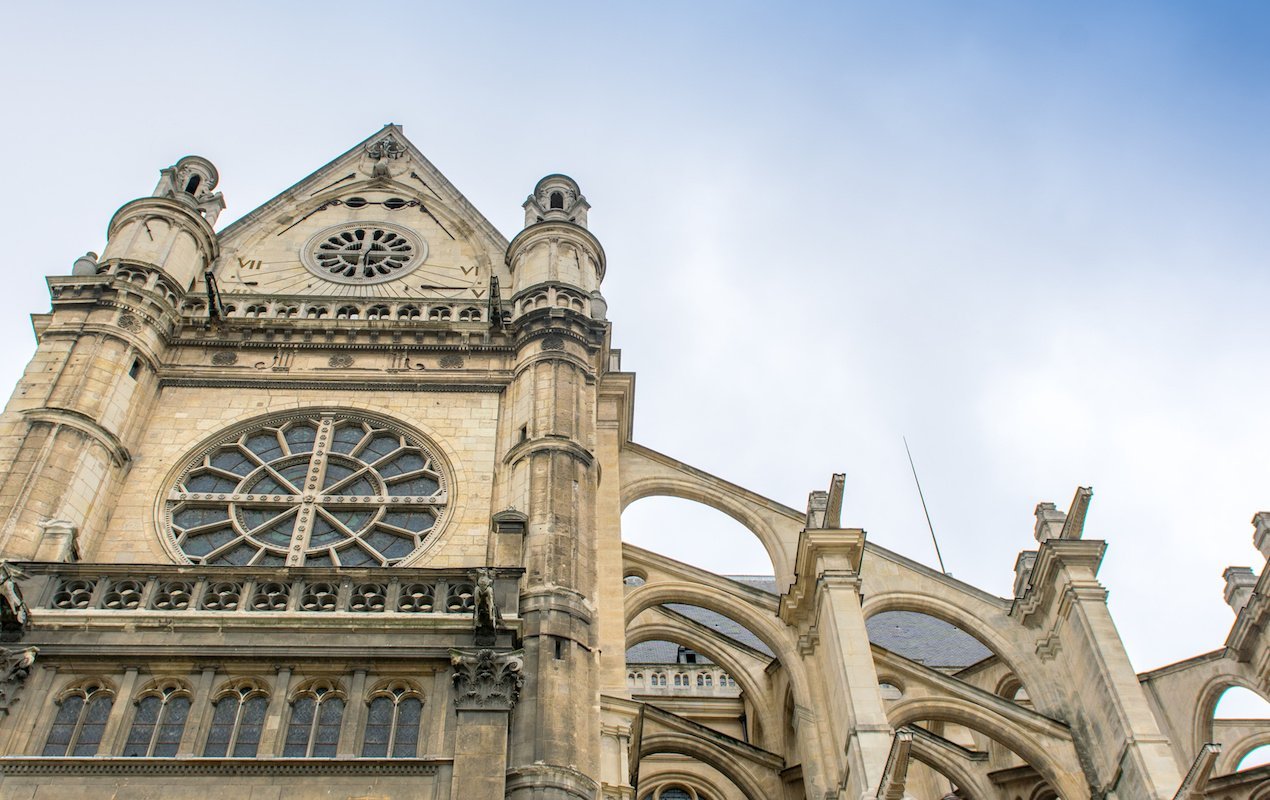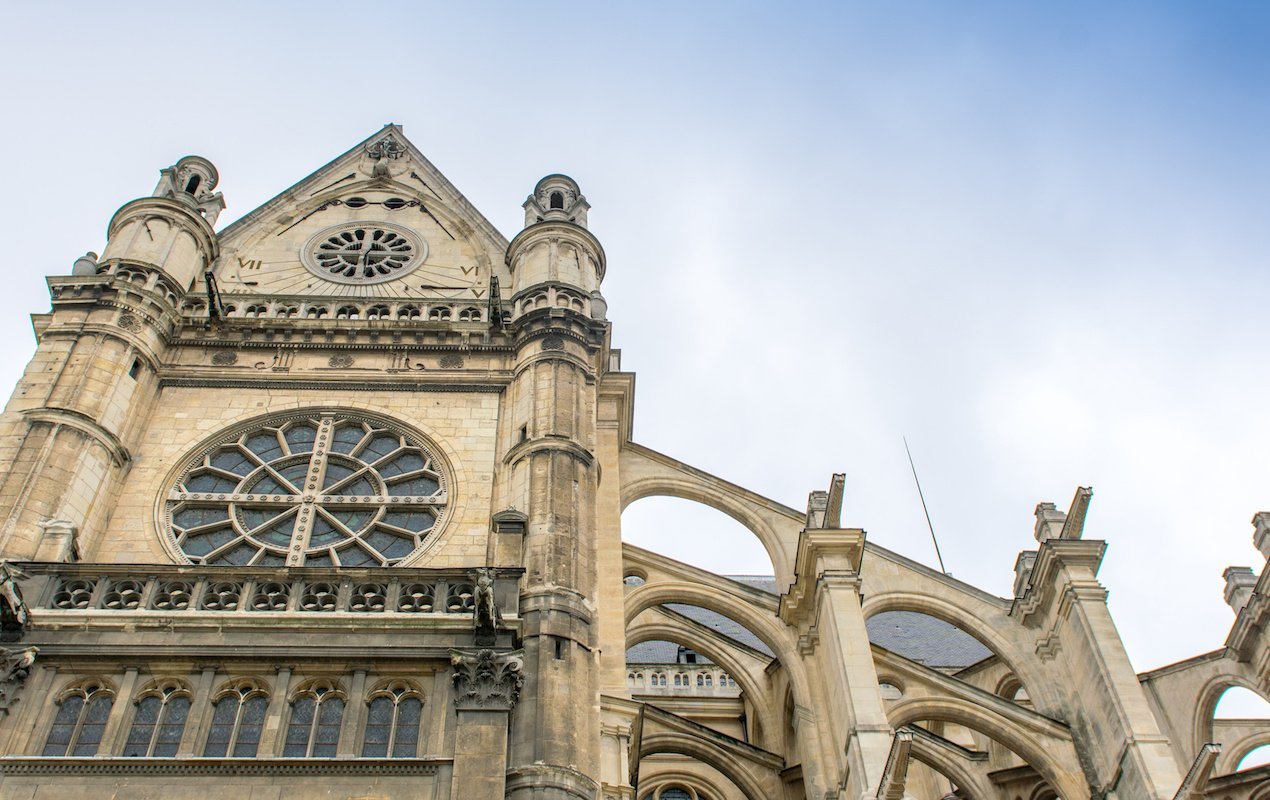 This cathedral has hosted a lot of notable people in the past. From Louis XIV to Molière to Mozart, the list of historical celebrities that have been baptized, married or memorialized here is quite long. The neighborhood around the church once was home to Paris' largest central marketplace, Les Halles, but is now home to a modern commercial shopping center and a collection of boutiques and restaurants. In fact, there's an artistic monument dedicated to the famous old market, tucked away into one of the side chapels – keep an eye out for it. Built during the very late Gothic period, Sections of the interior are painted in brilliant shades of turquoise and gold that shine when the sun streams through the stained glass windows.
Address: 2 Impasse Saint-Eustache, 75001 Paris – Metro Les Halles (Line 4)
Église Saint Roch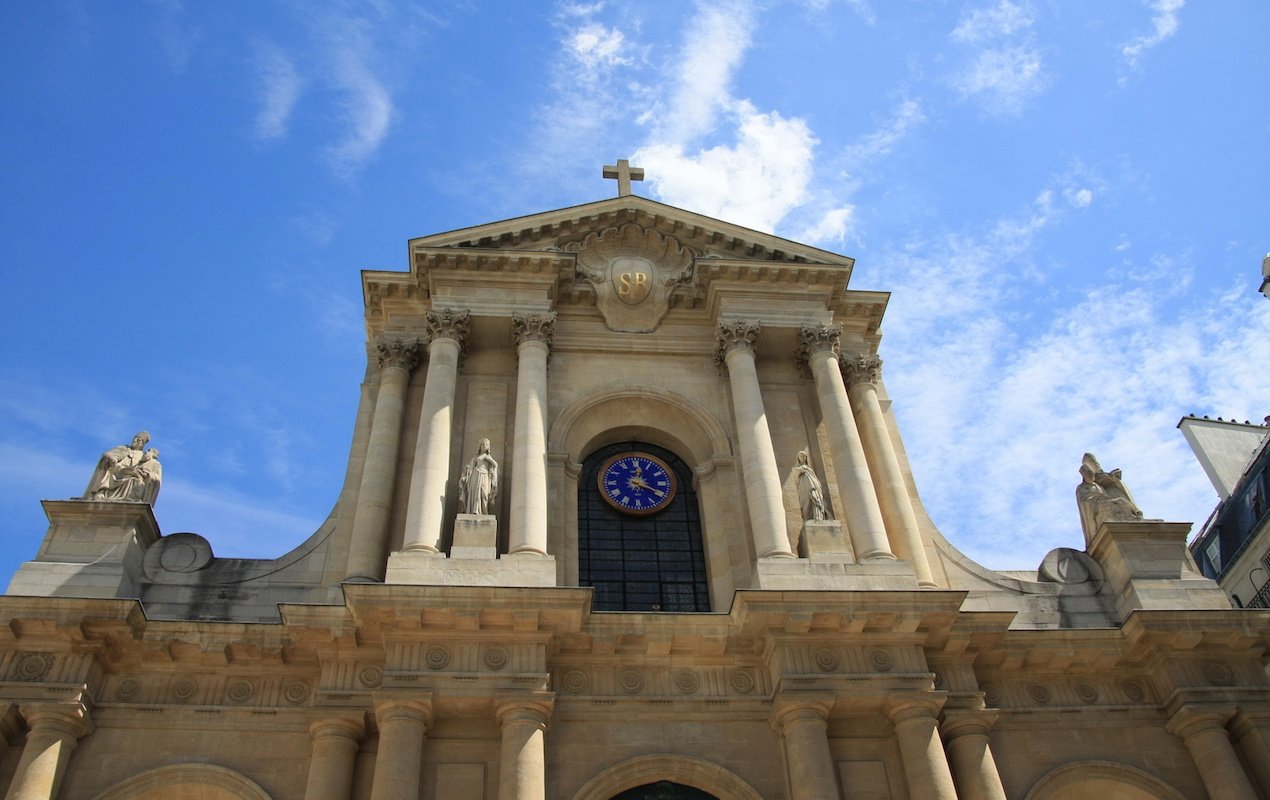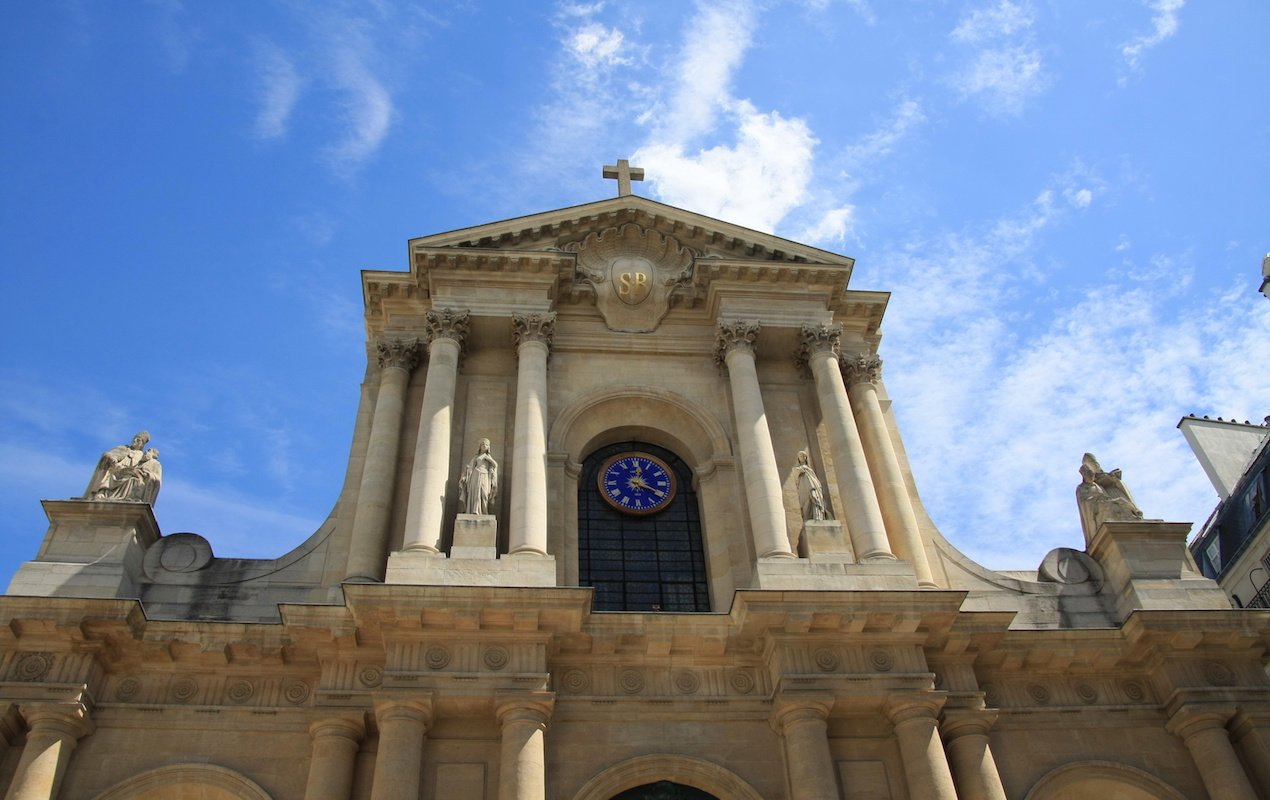 With its impressive Baroque exterior, this church was constructed as a series of chapels. It's also home to the Triumphant Virgin, a three-panel painting that's inside one of the chapels. The 1st arrondissement is bustling and full of action. Within one block of Église Saint Roch you'll find the Louvre museum, Tuileries gardens, Palais Royal and lots of high end shopping along Rue Saint Honoré.
Address: 296 Rue Saint Honoré, 75001 Paris – Metro Pyramides (Line 7 &14)
4th Arrondissement
Church of Saint-Paul-Saint-Louis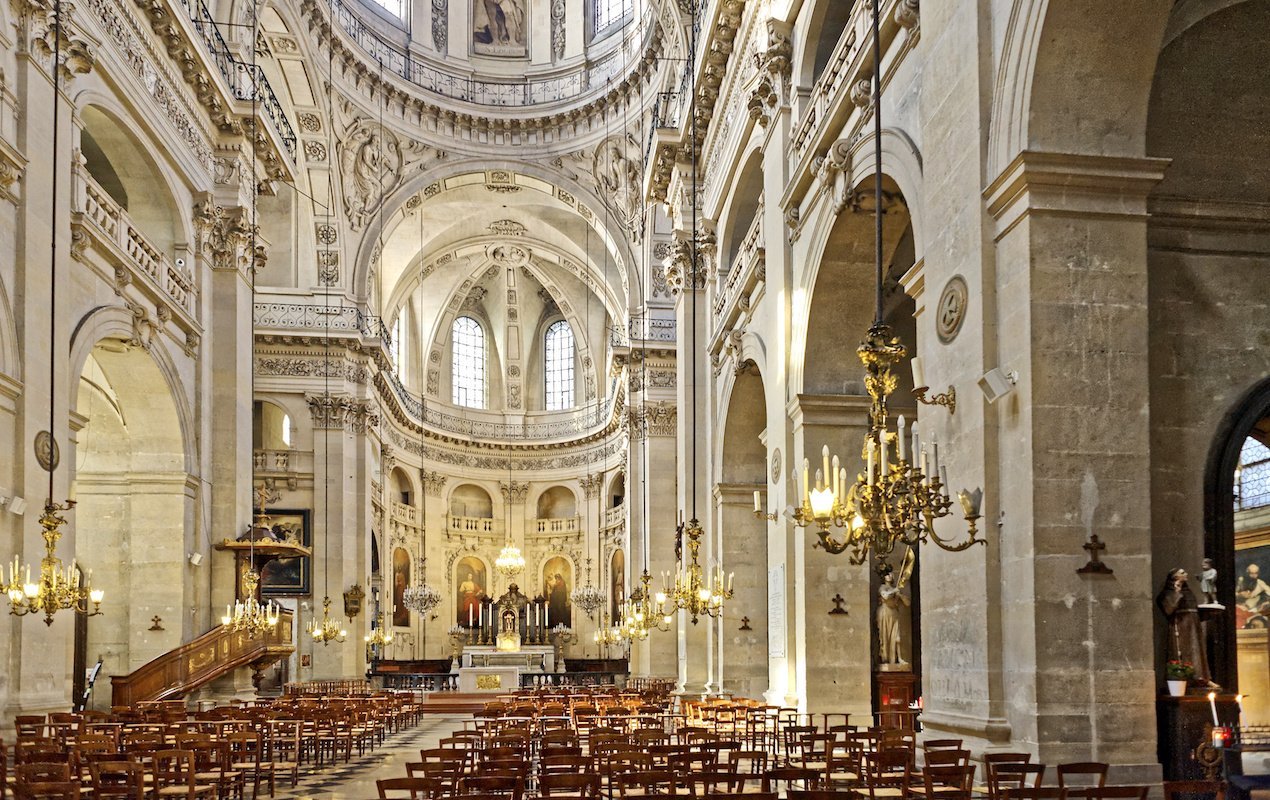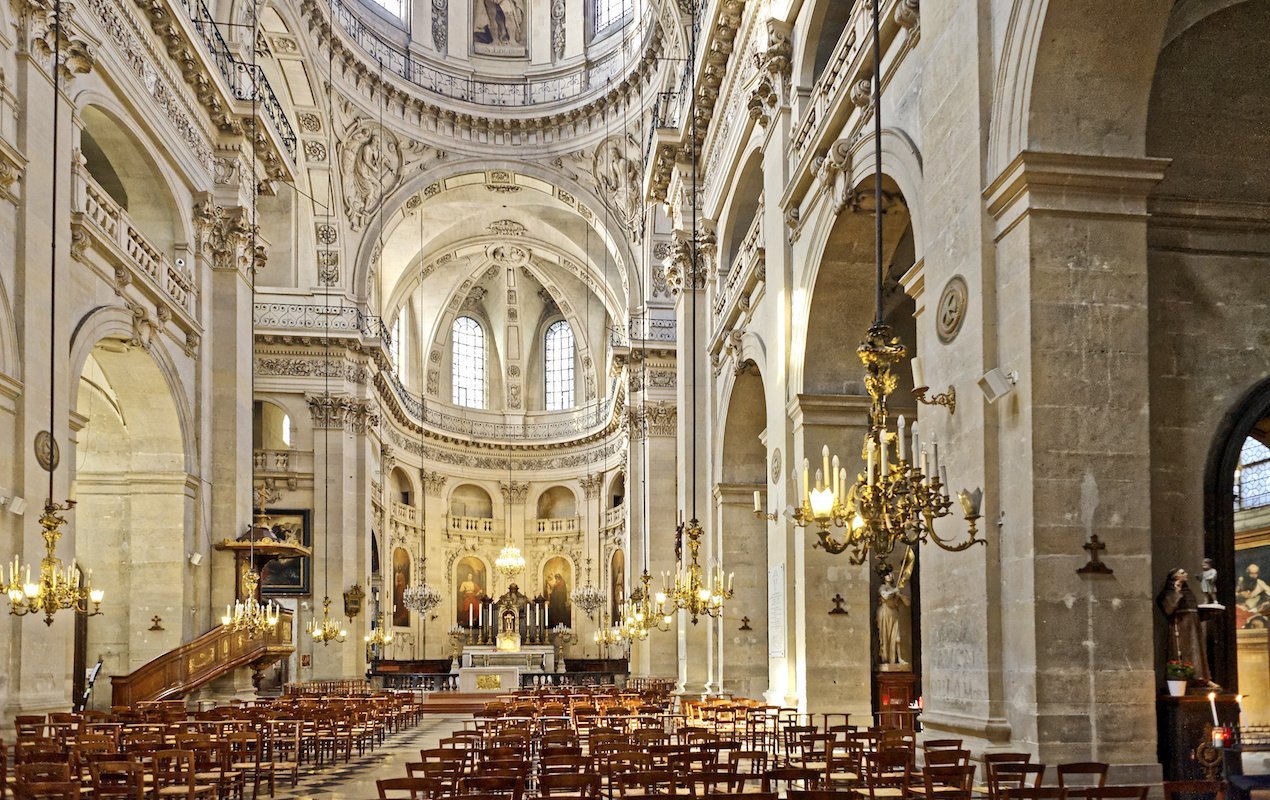 The facade of this church is as impressive as it is detailed. The current building dates back to 1627, when Louis XIII set the first stone, but its dedication to Saint Paul hearkens back to a previous building that no longer exists. The surrounding neighborhood, known to locals as "le Marais," is home to an established Jewish community and is one of the hippest neighborhoods in the city, with narrow medieval streets, unique boutiques and quirky restaurants. The Picasso and Carnavalet museums also reside in this district.
Address: 99 Rue Saint-Antoine, 75004 Paris – Metro Saint Paul (Line 1)
5th Arrondissement – Latin Quarter
Notre Dame Cathedral
Notre Dame Cathedral tops every traveler's to-see list, but many people continue to worship at this church. It is one of the most important sites in the Catholic faith, housing some of the most revered relics: the Crown of Thorns and portions of Jesus' cross. It is situated at Point Zero on the Île Saint Louis, just on the edge of the Latin Quarter. There's no better place to enjoy the Seine river than here, with plenty of space on the concrete banks for a picnic and tons of booksellers lining the top of the riverbanks. Don't miss the view of the architecture from the back garden – you'll be astounded by the detail!
Address: 6 Parvis Notre-Dame – Pl. Jean-Paul II, 75004 Paris – Metro Saint Michel (Line 4, RER B & C)
Saint-Etienne-du-Mont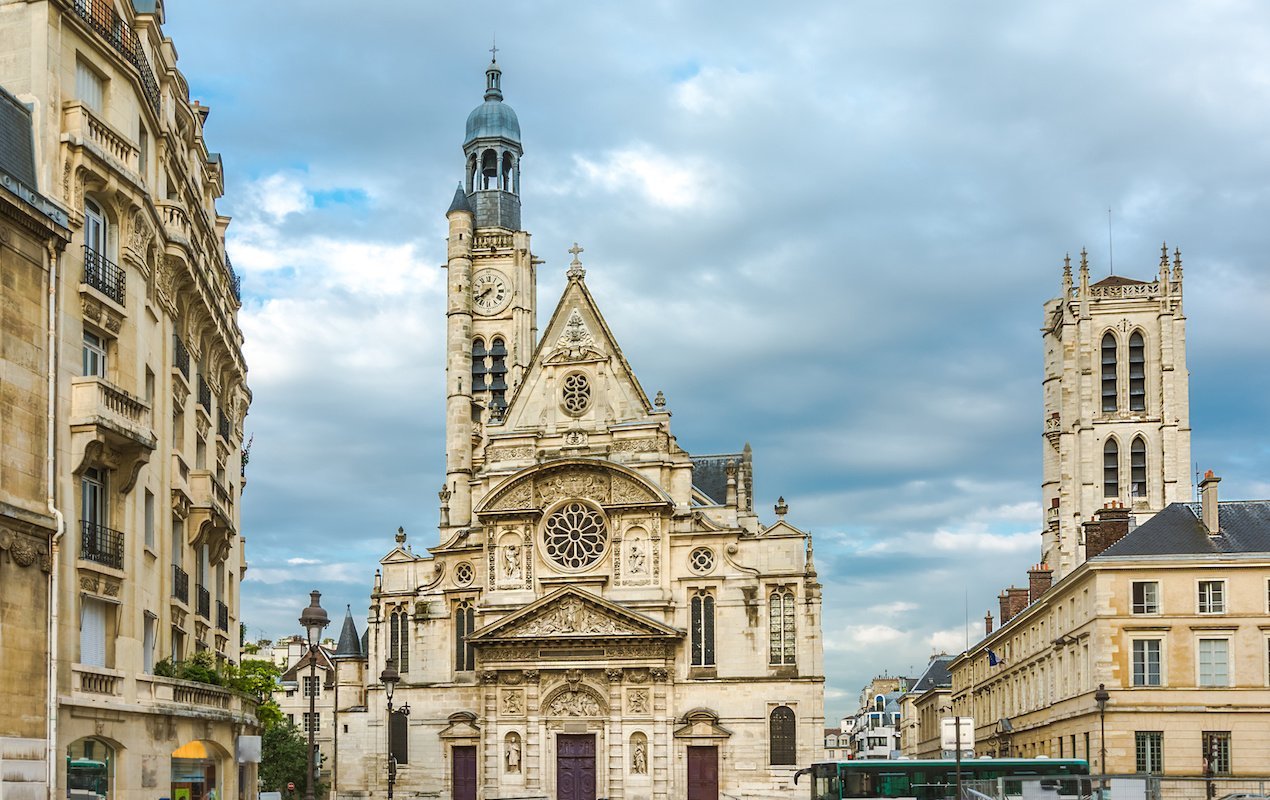 Situated right next to the Panthèon, this church is a beautiful combination of towers, columns and stained glass in an architectural style that is hard to pin down. It took more than a century to build, and is home to an old organ that was restored in the 90s as well as gorgeous rood screen with twin spiral staircases rendered in finely carved stone. This is the only remaining rood screen left in Paris, one of only a handful in the world, and once functioned to separate the secular from the liturgical areas in a church – during the Reformation most of these structures were destroyed.
The surrounding neighborhood has a college-town vibe with lively pubs and bistros that are worth checking out if you're looking for a relatively casual, fun time. The steps to the left of the façade were used as a filming location in Woody Allen's Midnight in Paris.
Address: Place Sainte-Geneviève, 75005 Paris – Metro Cardinal Lemoine (Line 10)
6th Arrondissement
Saint Sulpice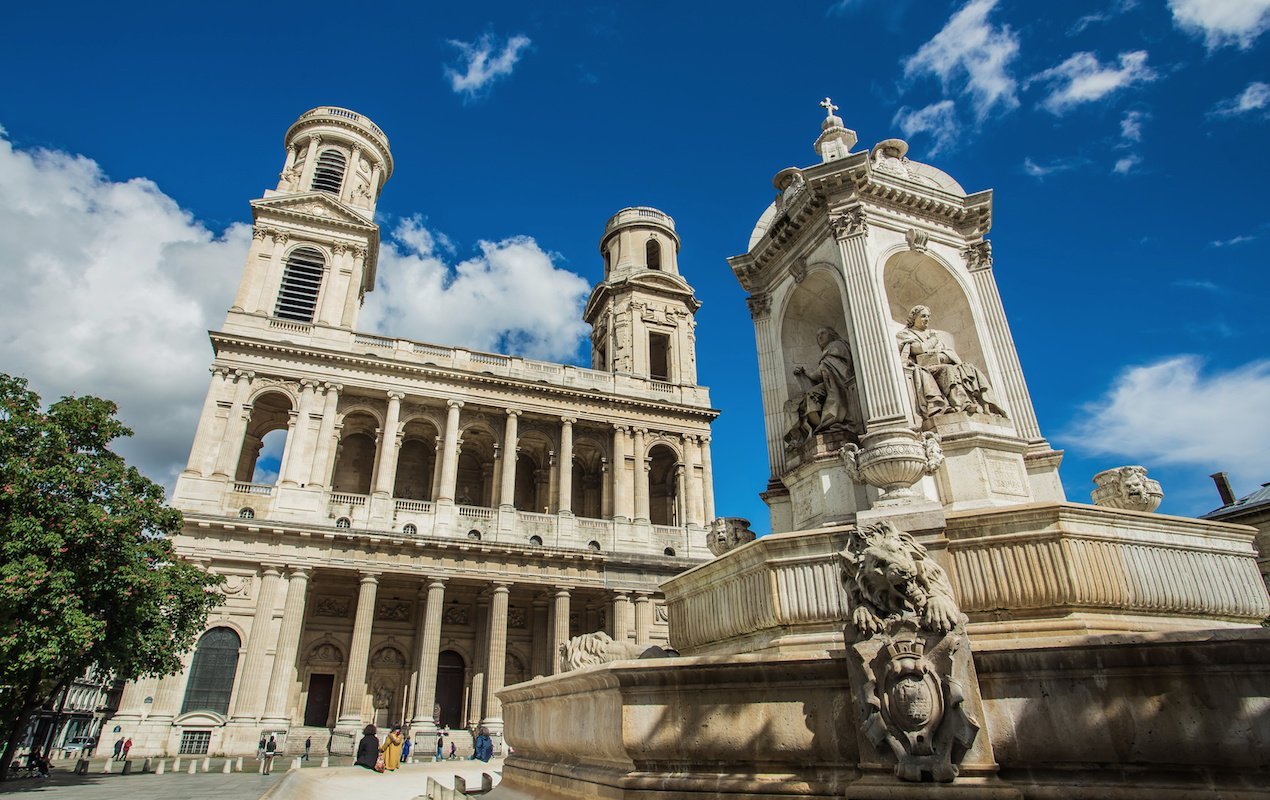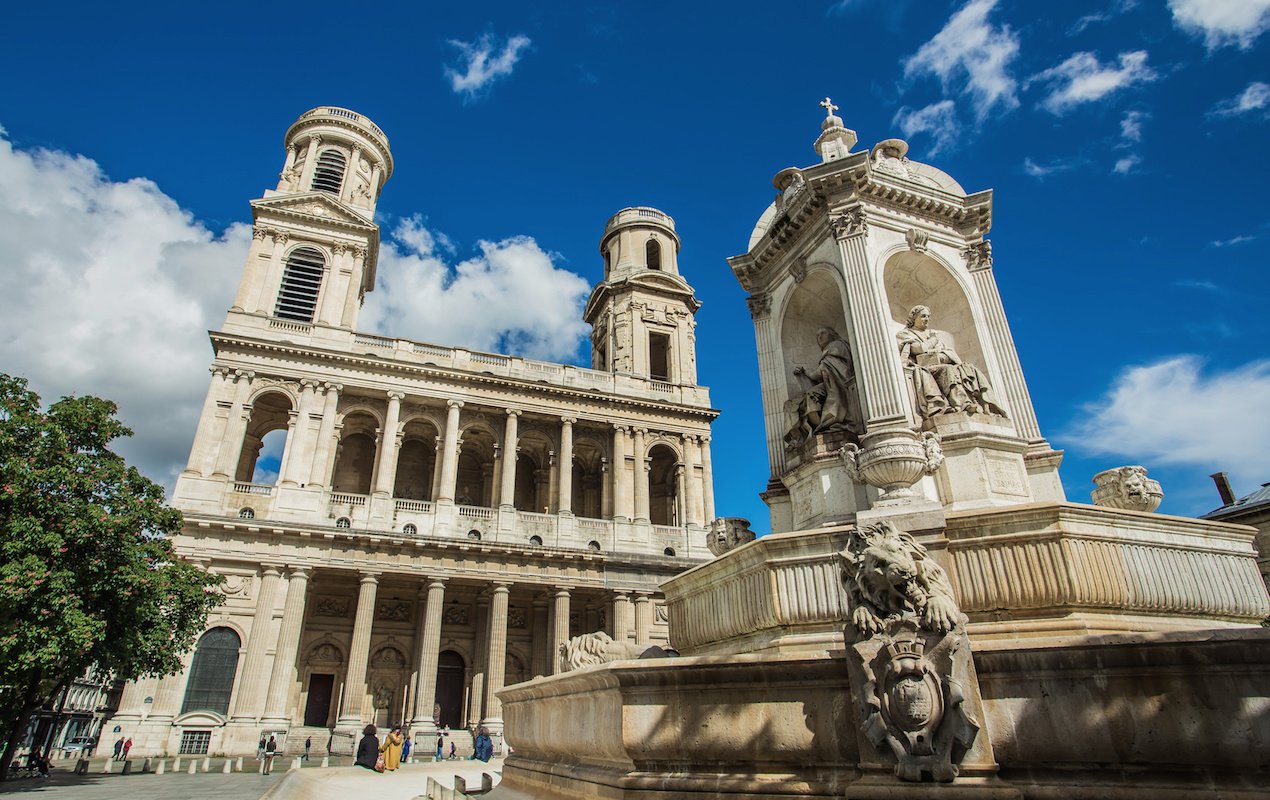 The story of Saint Sulpice's construction is a tumultuous one, changing architects multiple times and at one point running out of funds to continue. This is one reason that the two towers are mismatched. Saint Sulpice is famous for its organ, considered to be organ-maker Cavaillé-Coll's finest creation. Organ recitals are held most Sundays after mass, from around 11:30am, and are completely free to the public. The church had a role in the popular novel The DaVinci Code, which drew crowds of fans to visit, but all references made in the book are completely fabricated, even if they reference real architectural features inside the church itself.
Saint Sulpice is nestled in the 6th arrondissement of Paris, also known as Saint-Germain-des-Prés. There is lots of both high-end and mid-range shopping here, as well as many amazing restaurants. For a more in-depth guide to this neighborhood, see this page.
Address: 2 Rue Palatine, 75006 Paris – Metro Saint Sulpice (Line 4) or Mabillon (line 10)
8th Arrondissement
La Madeleine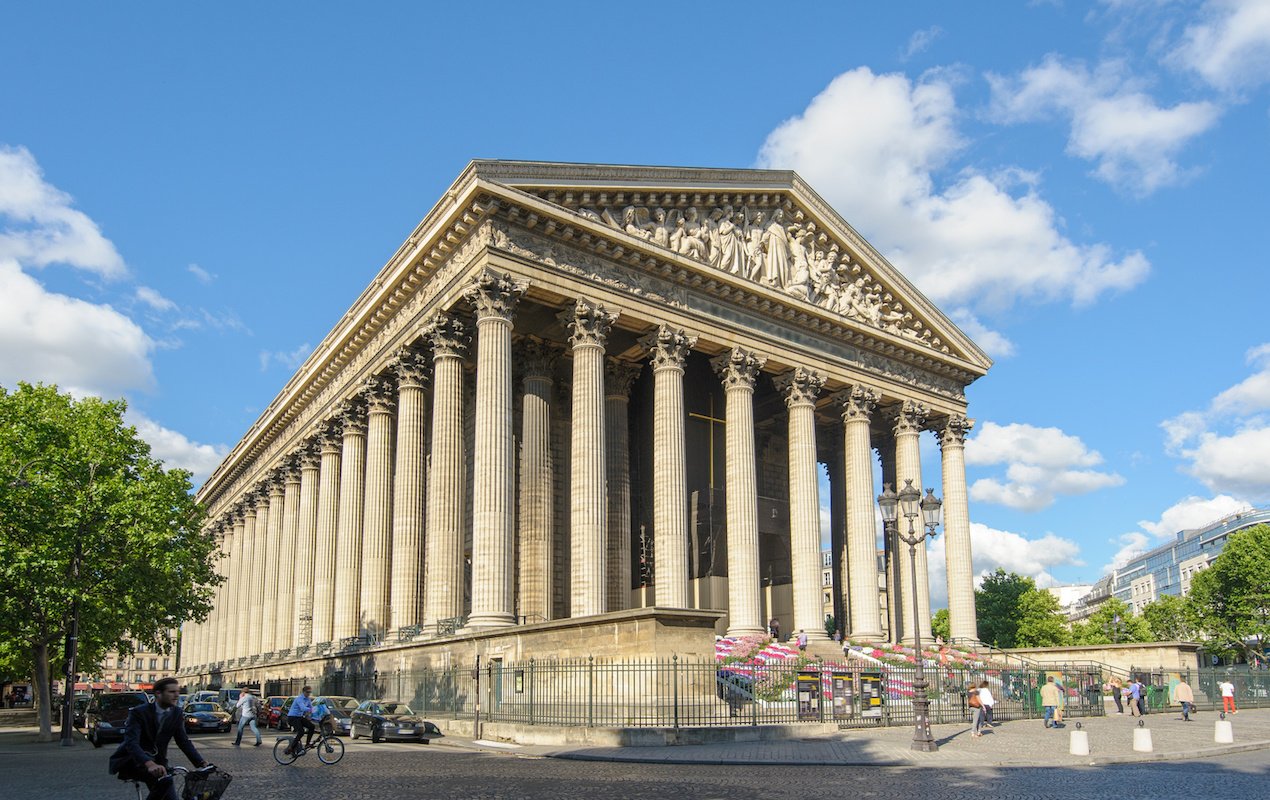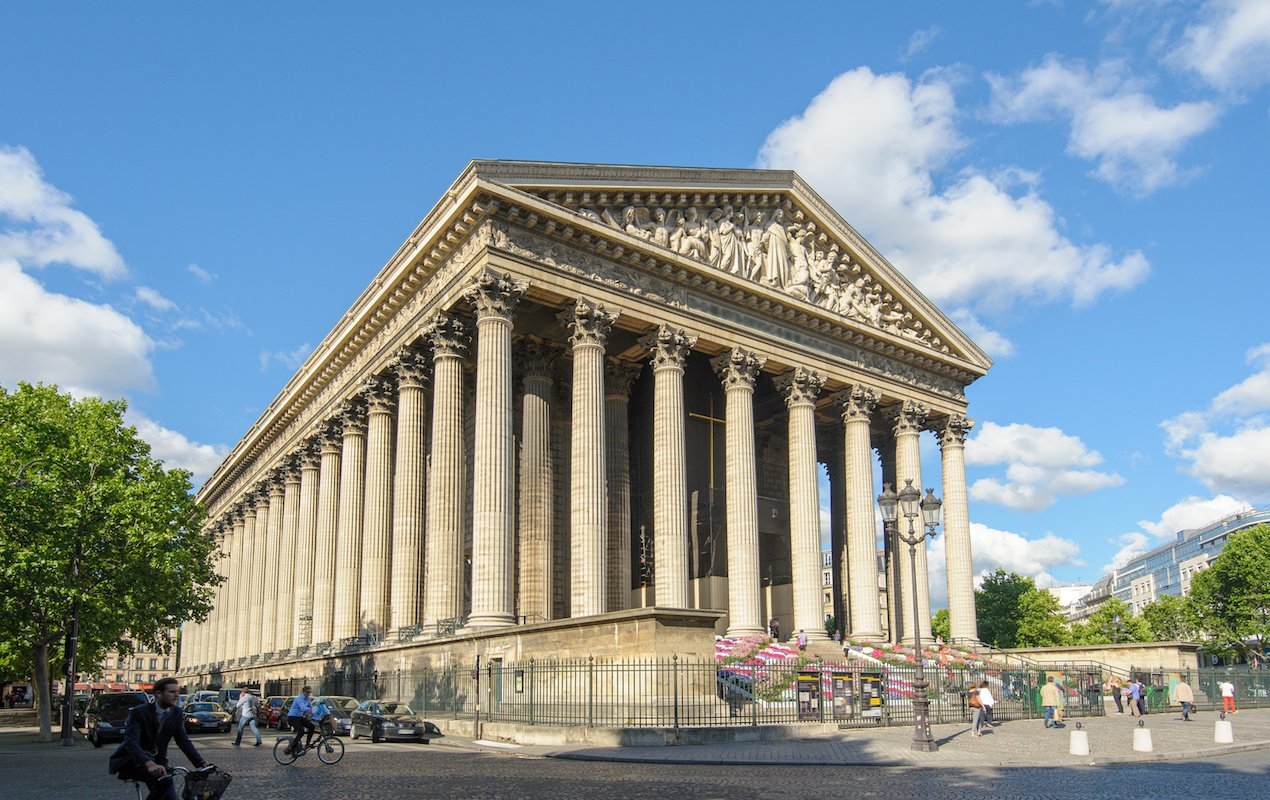 With its Parthenon-like exterior, this impressive structure was originally supposed to be a government building, but it was later designated as a church. With massive columns, two large bronze doors and many sculptures and paintings inside, it's worth a stop. The church also hosts classical music concerts that locals love. The area surrounding the church is fairly wealthy, so you'll find upscale restaurants and shops nearby.
Address: Place de la Madeleine, 75008 Paris – Metro Madeleine (Line 8, 12 & 14)
18th Arrondissement
Basilique du Sacré Coeur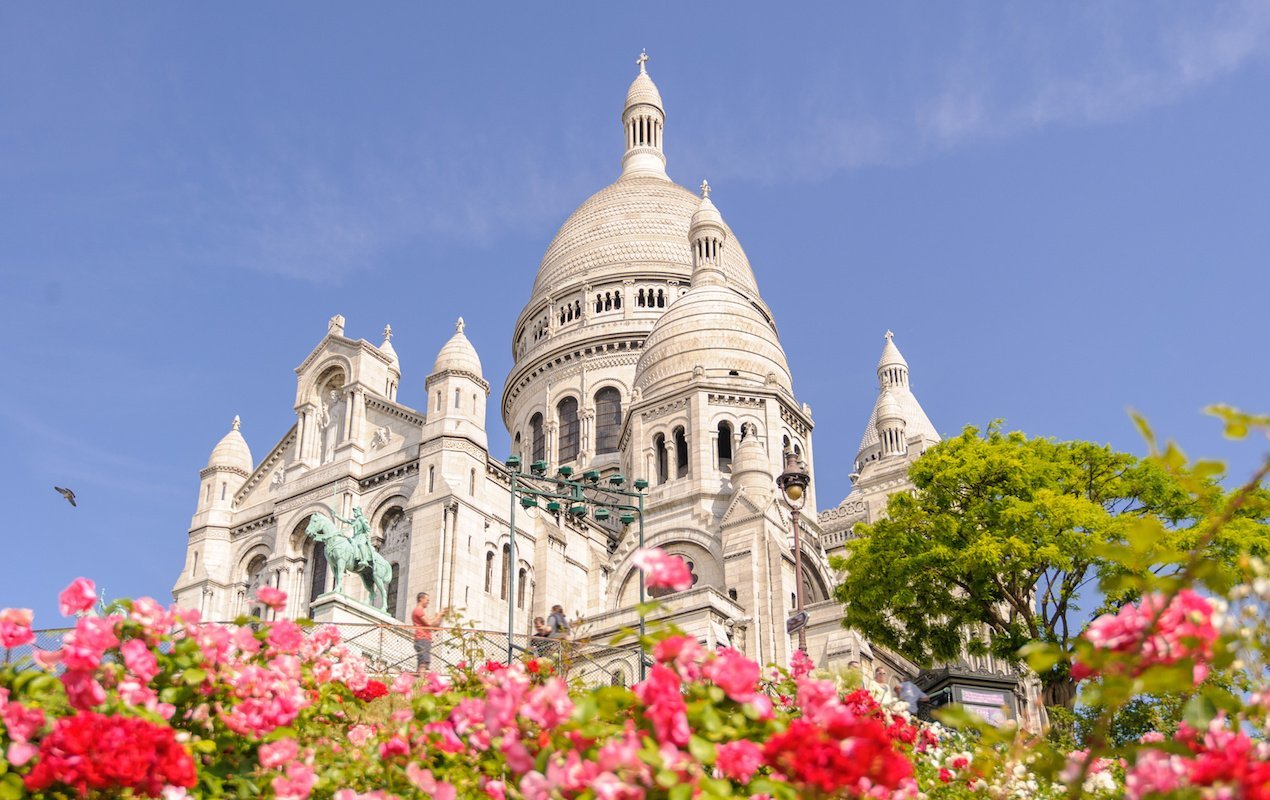 The only church of its kind in Paris, the Byzantine-style Basilica of Sacré-Coeur is the shining trademark of the hilltop neighborhood of Montmartre. Its pointed white domes aren't only pretty to look at, you can also climb to the base of the central dome for amazing 360 degree views of the city. Head inside for stunning golden mosaics or head to the crypt for an eerie tour of the tombs.
The surrounding neighborhood is touristy, but full of artistic spirit. The nearby Place du Tertre is filled with painters and artists selling their canvases while the city's only working vineyard lies behind the Montmartre Museum. For some more ideas of things to see and do in Montmartre, read this blog post.
_____________
While staying in Paris, you'll likely stumble upon a church or two in your neighborhood – there are plenty more that aren't included in this list. Don't be shy, wander inside and check it out. Every church in the city has a story, making it an educational and affordable way to learn about the history of Paris.
(Image Credits: All Images by Paris Perfect.)