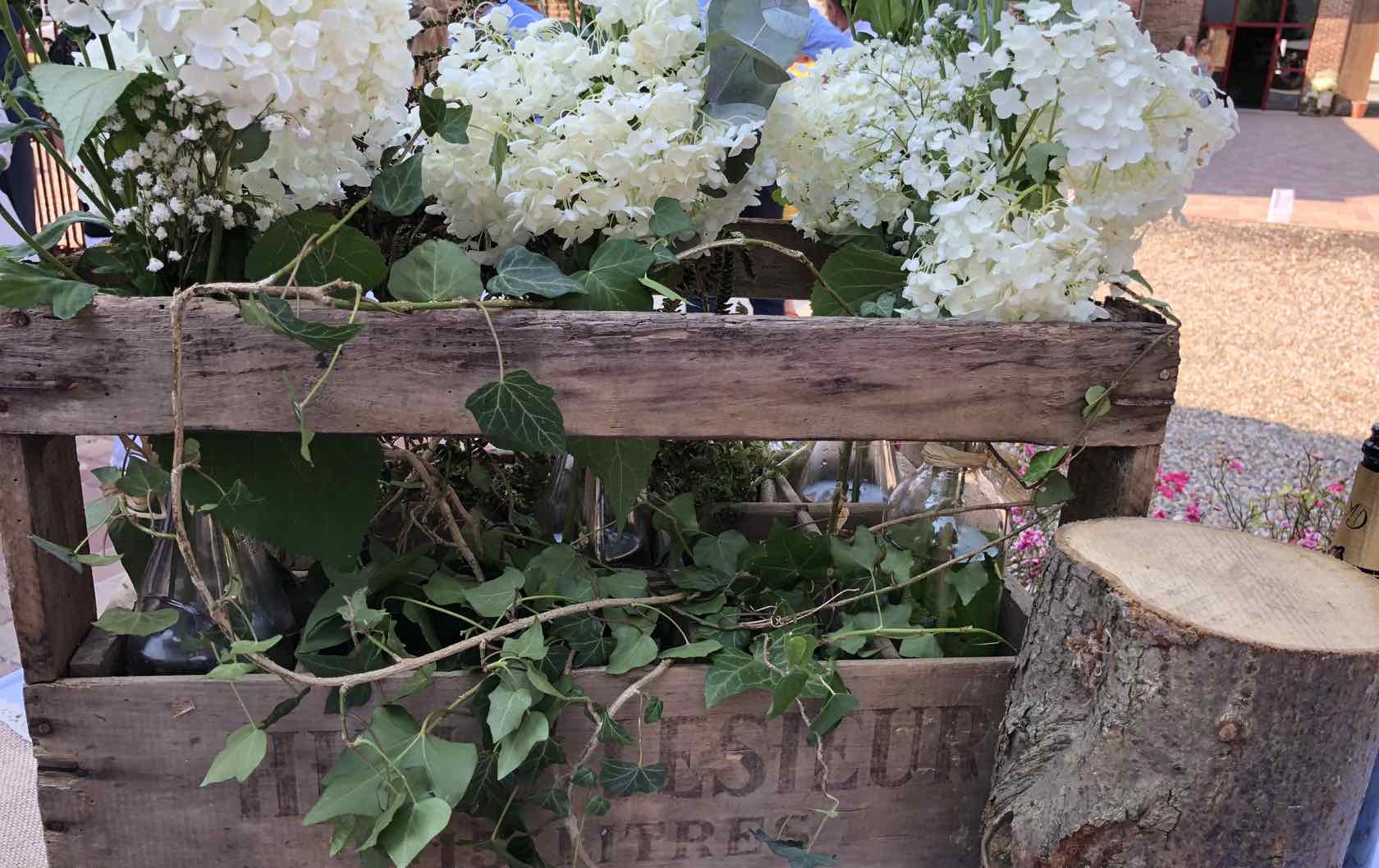 Philippe and I spent a fabulous weekend in Normandy, attending the French country style wedding of our niece, Sophie. It was an unforgettable event,  particularly special for me, as it was my first family-in-France wedding! Sophie and Pierre put on a day to remember in the most beautiful setting in the world–the town of Eu.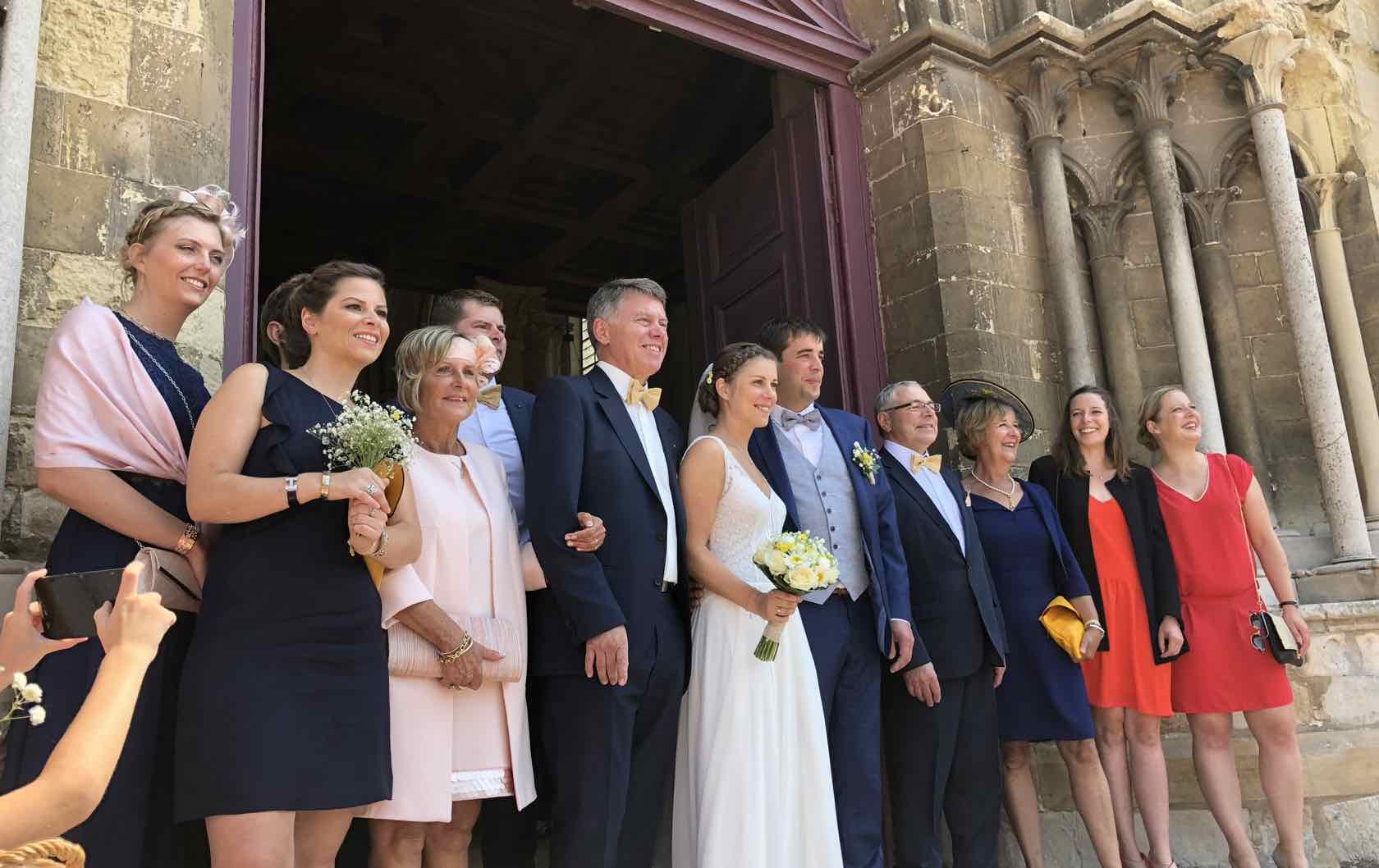 The wedding took place in this medieval cathedral in Normandy — a perfect day!  The beautiful couple, Sophie and Pierre.
What made the day really special was seeing what a true celebration this the love Sophie and Pierre share for each other, for their families and friends.  So much laughter shared that day.  I don't know how Sophie managed to stand for over 12 hours in high heels: at the civil and religious ceremonies, then at the reception, dinner and dancing all night. Bravo Sophie!
And what a perfect day to show off this beautiful little town and cathedral! The civil wedding was held in the former King's chateau, now the Mairie or town hall, as is the normal custom in France. The religious wedding took place opposite on a beautiful cobblestone square, in the stunning Gothic cathedral.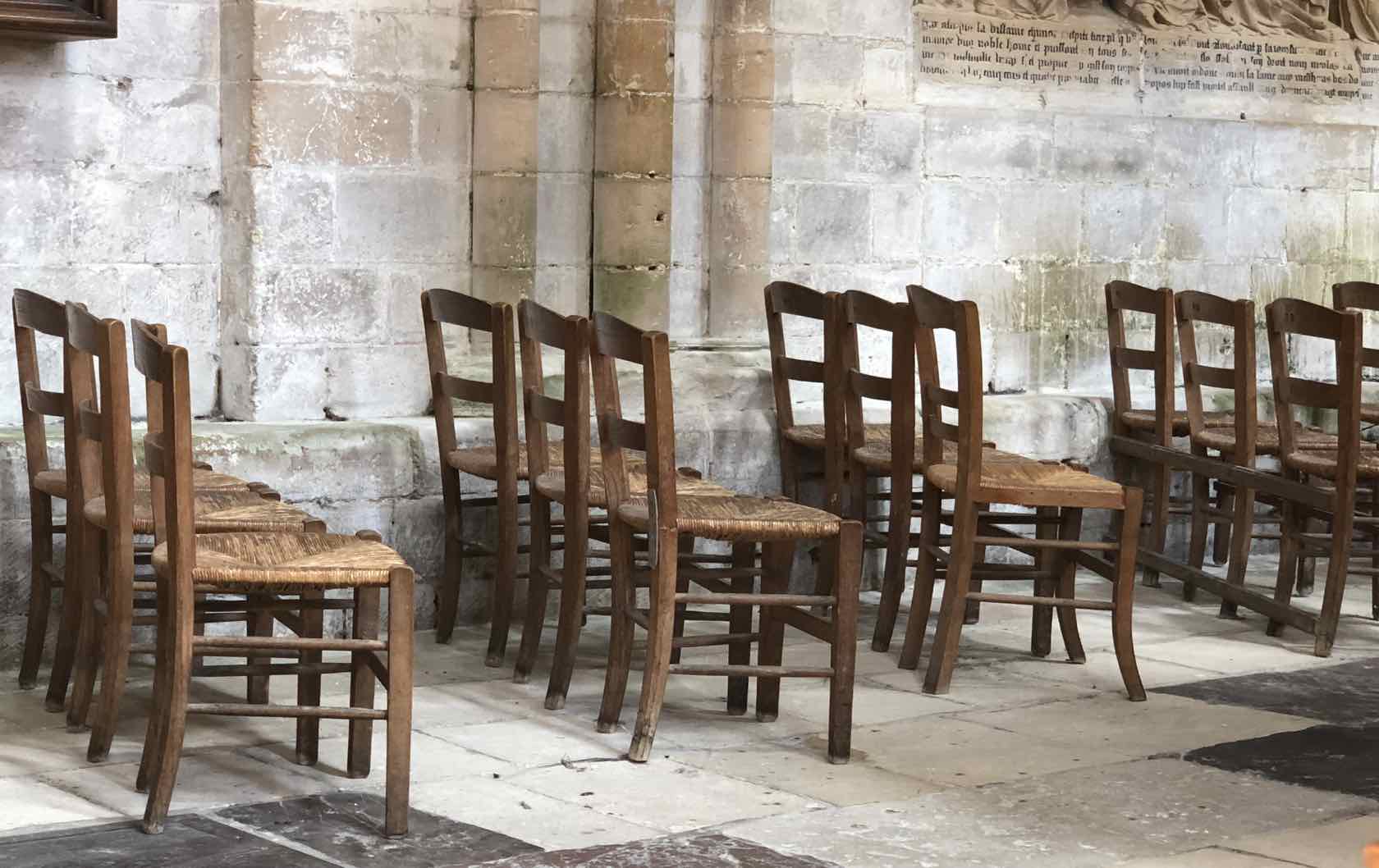 The town of Eu is located in a in a less-visited part of France, the border of Normandy and Picardy. the English Channel or as the French call it, La Manche. Eu's incredibly short name belies the perfectly preserved beauty of this royal town for it was in fact the summer retreat and hunting chateau of the King. The last descendant lived in Eu until his death. That means many noble homes were built there as well, to be near the King. They're still standing along narrow cobblestone streets. Eu was isolated from the Normandy bombings in World War II and we highly recommend a visit.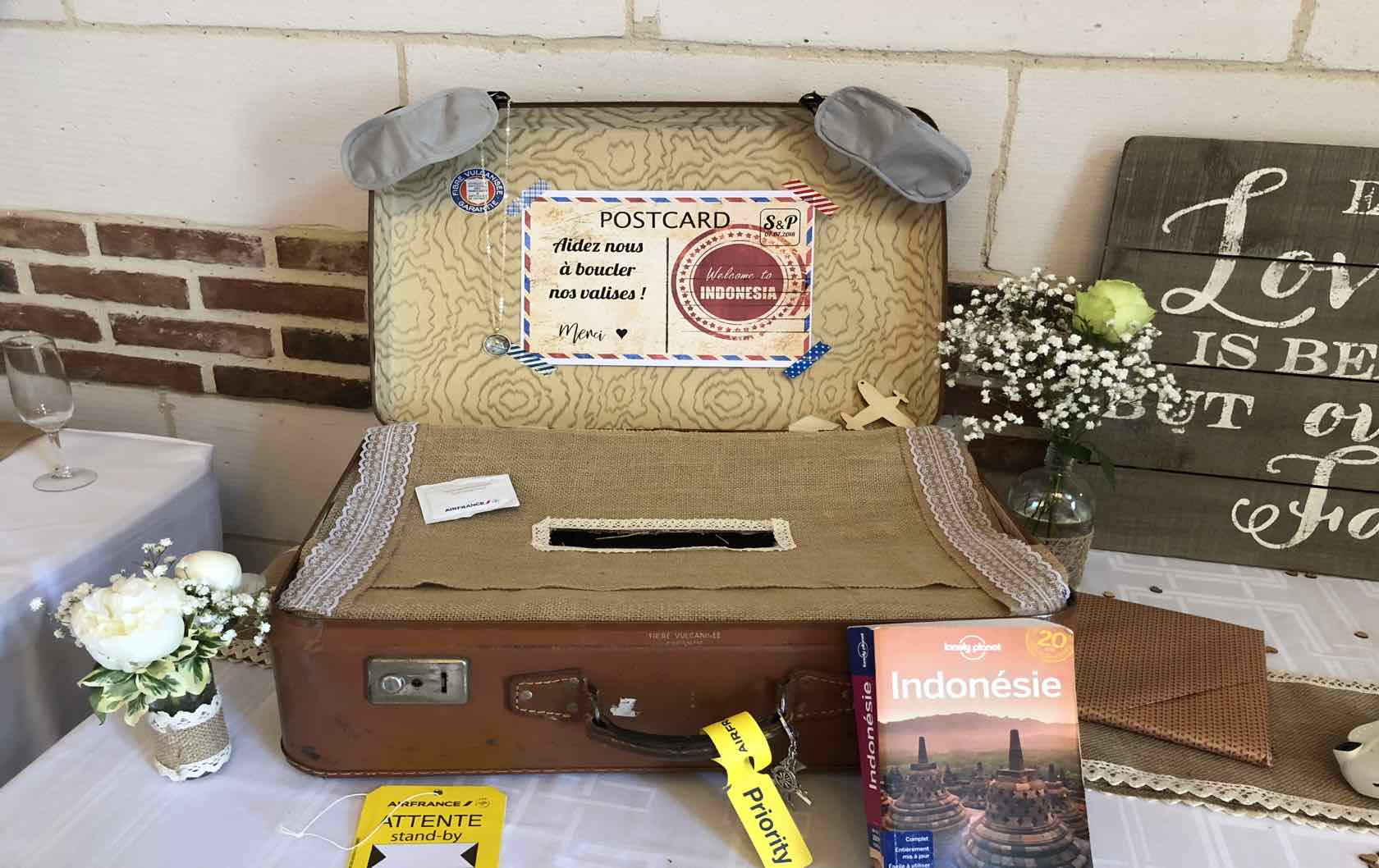 An old leather suitcase found for 2 Euros at a French country antique fair in Normandy.  Repurposed with travel accessories to mark their upcoming honeymoon in Indonesia.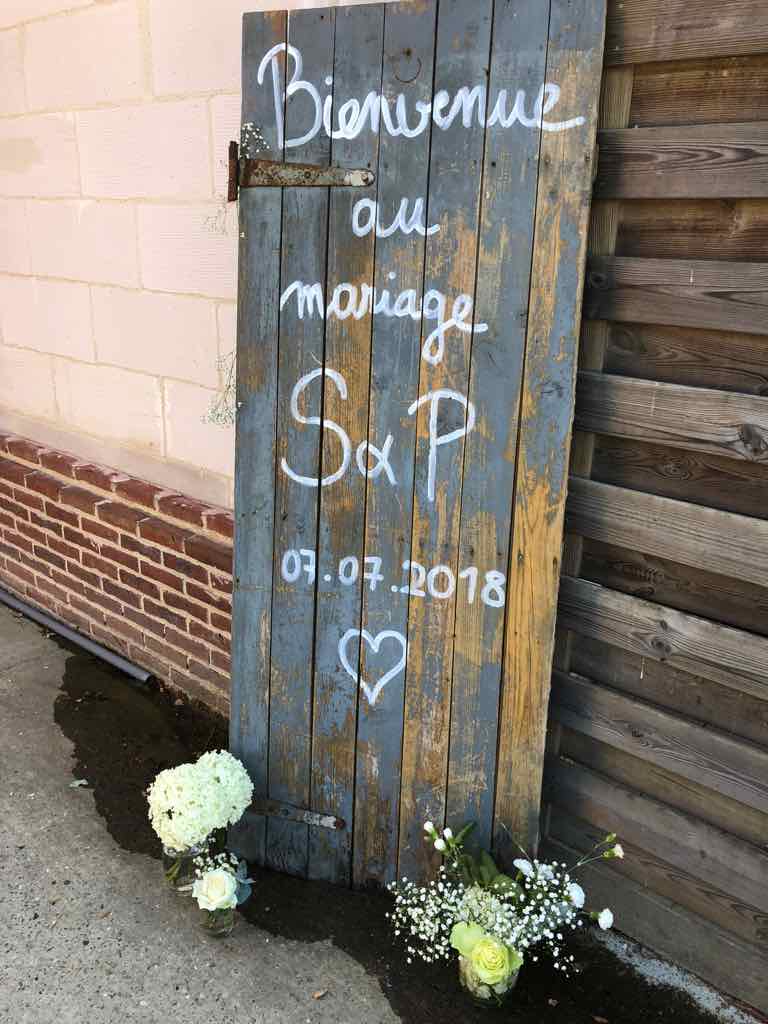 Perfect French country style decor: I love the old wooden shutter re-purposed to a welcome sign! 'Welcome to the marriage of S and P on July 7, 2018'. It's perfect for a French country style wedding reception!  Sophie niece loves the flea markets near her town and has promised to bring me next time I come. I can't wait to find French country  decor that tell a story like this old shutter.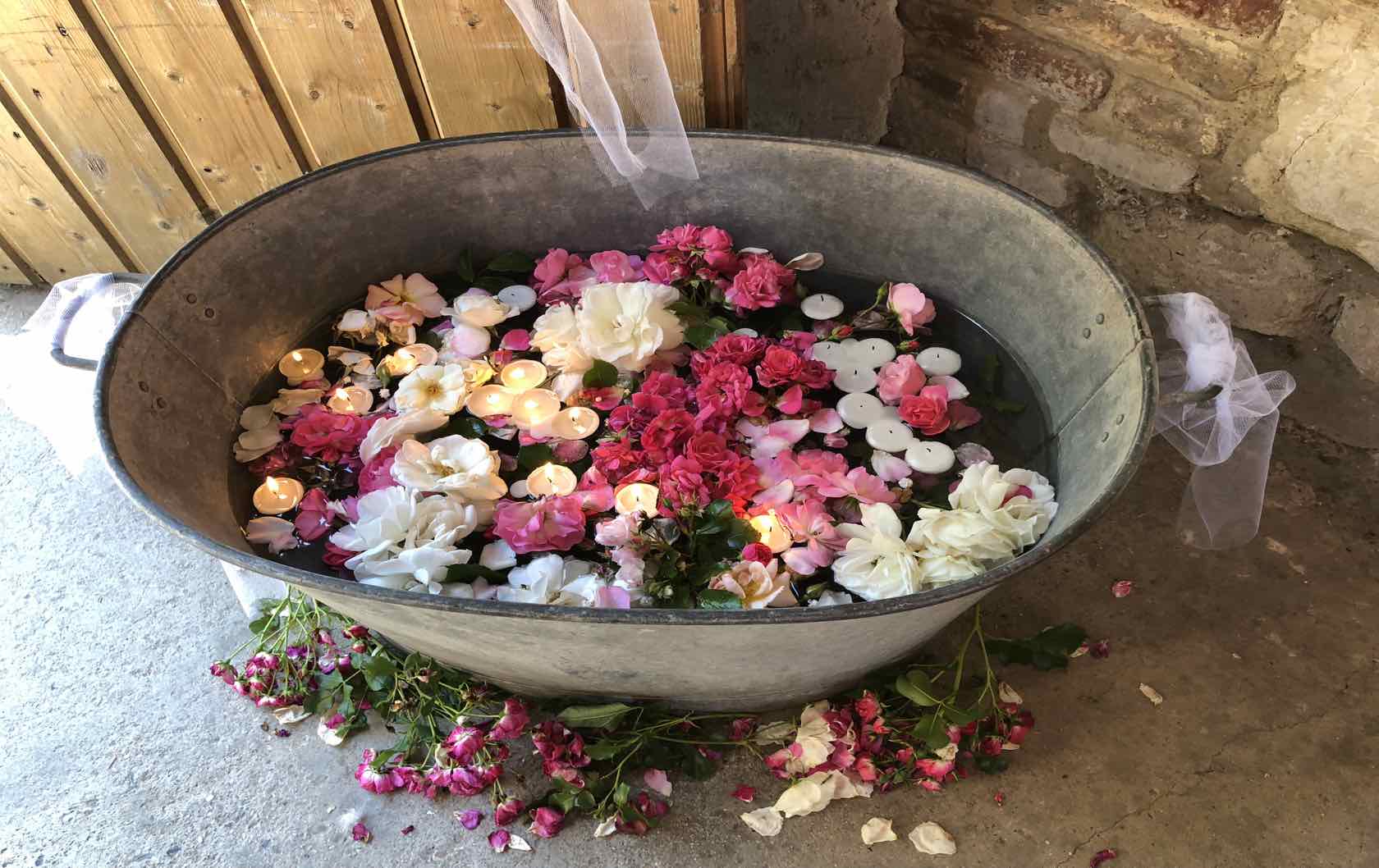 At the reception, naturally in the French countryside, an old zinc bucket was filled with fresh flowers and candles at the farm entrance. The perfect decorating touch — a scattering of flowers on the ground next to it.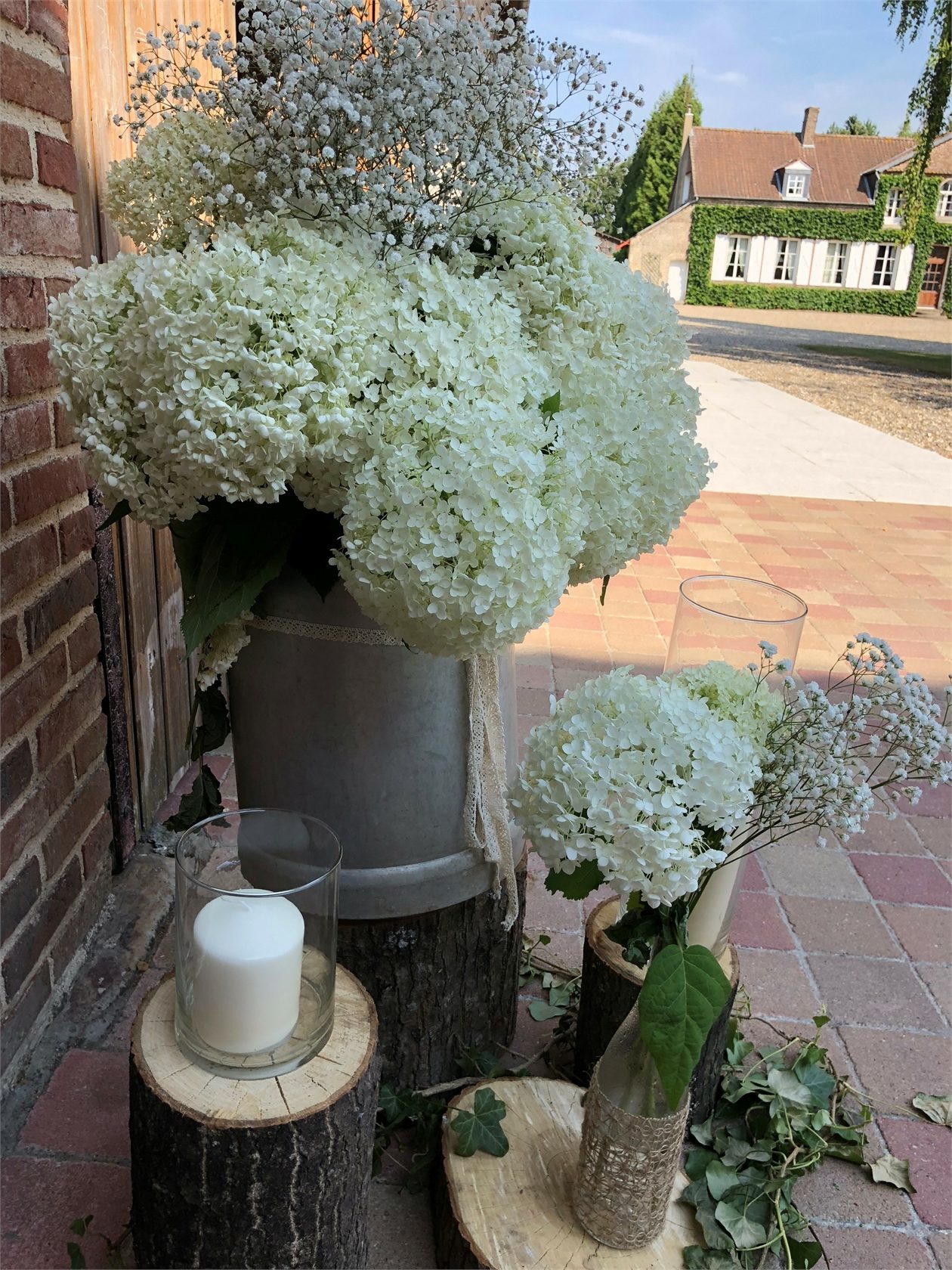 The wedding reception was held in a beautiful farm in the middle of the French countryside. I love the country-style accents created by Sophie. She has a natural touch for re-purposed household items; for example, she filled milk cans with hydrangeas and baby's breath and brought some cut logs from their farm to become stands for candles.  A lovely decorating touch with a French accent.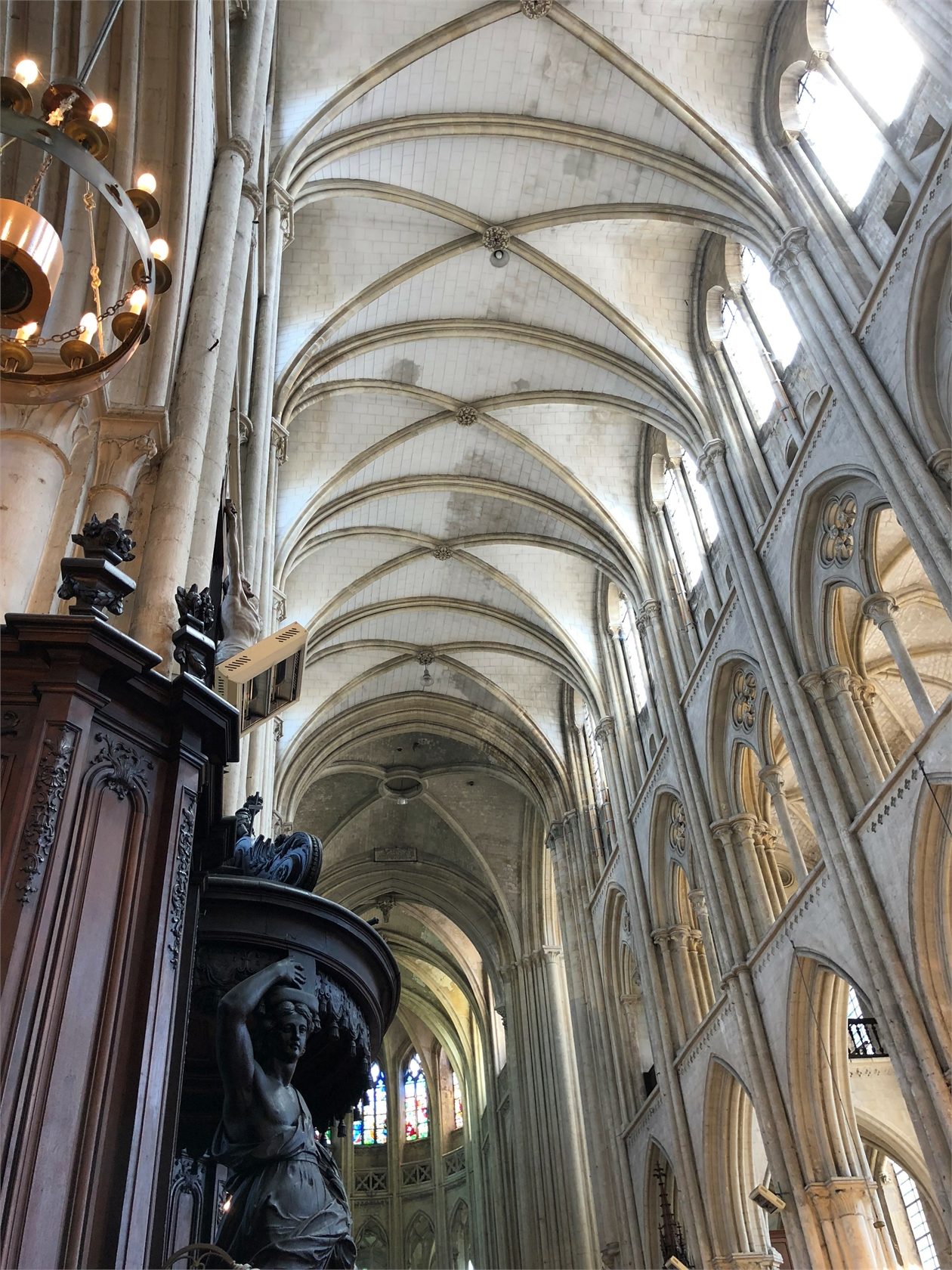 Inside the centuries-old Cathedral of Eu. I love the Gothic arches and sunlight streaming in. Medieval cathedrals are generally dark, but the triple height windows are an extraordinary touch, adding height and much more natural light. Philippe and I were both accidentally carried back to our childhoods when our families attended Sunday mass without fail. My sisters and I going to Italian and American churches and Philippe to French ones. I have to be honest and say Mass was never the high point of my week…nor Philippe's: the long sermons, Latin prayers and screechy songs along with hard benches and kneelers.  I think we were both the family clowns (I was certainly the daughter most in trouble for acting out in church); as ever, we took some irreverent selfies while waiting for the mass to begin.
My mother was a bit of a skeptic, and with six daughters to raise, always asked why nuns were only allowed to sew the priest's clothes, prepare the wine and bake the hosts for communion. That's another story and happily roles are changing today.  The joy and love that united all of us on Saturday was all that mattered on this magic occasion.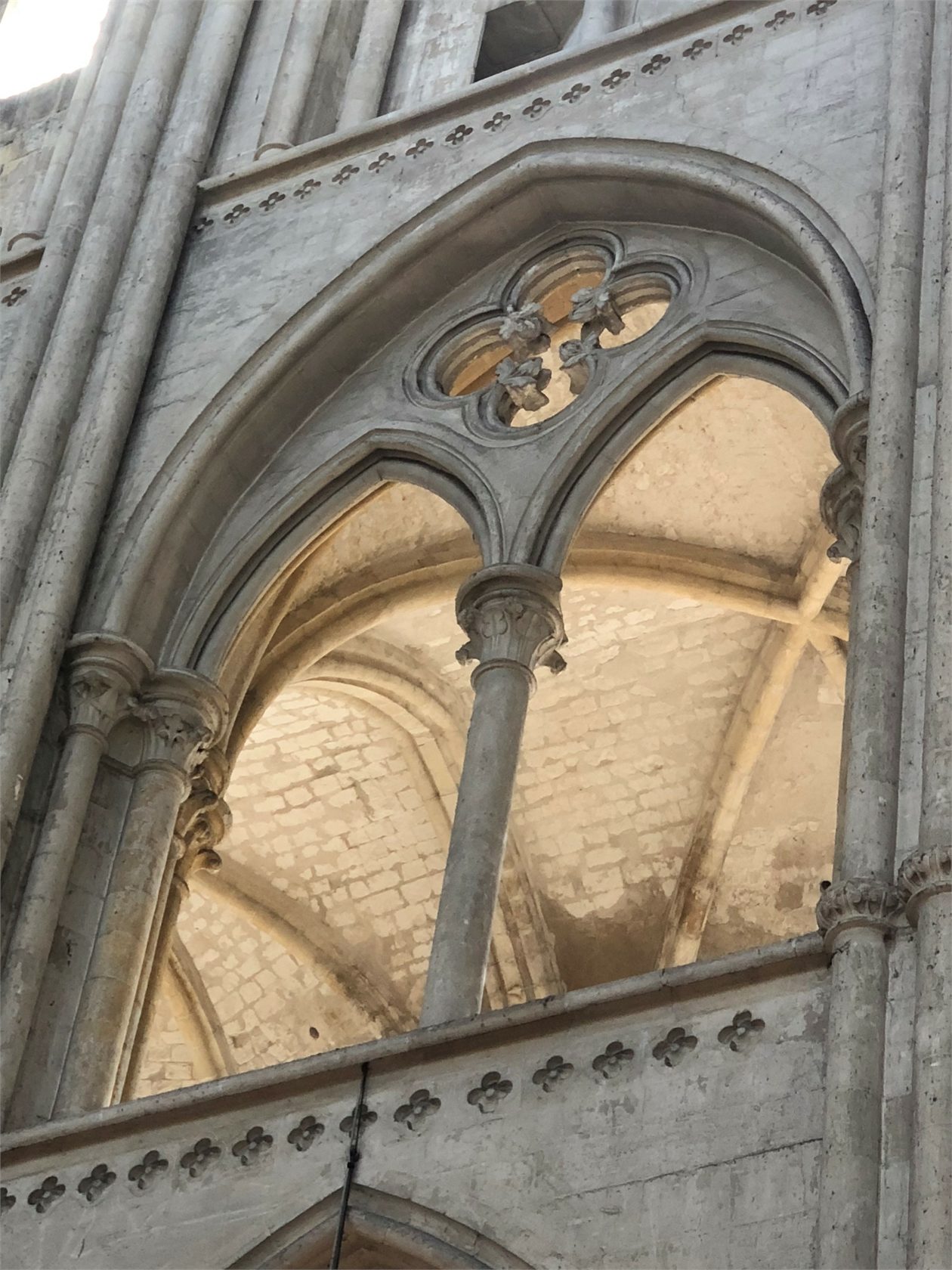 Think about the generations of masons who spent their working lives building a cathedral such as this, who passed on the work to their sons to complete. The Gothic arches have points at the top, which offloaded the weight to the left and the right.
Husband Pierre is a new generation of French farmer, educated in the best agricultural techniques, and owns a 'ferme' near Rouen. His biggest crops are grains and the potatoes he sells to a food company in Spain. Sophie loves collecting French country style collectables such as crates, old wooden ladders, wheels. She and her friends did a beautiful job decorating for the reception. Here are plenty of photos to use as inspiration for an authentic French country style wedding.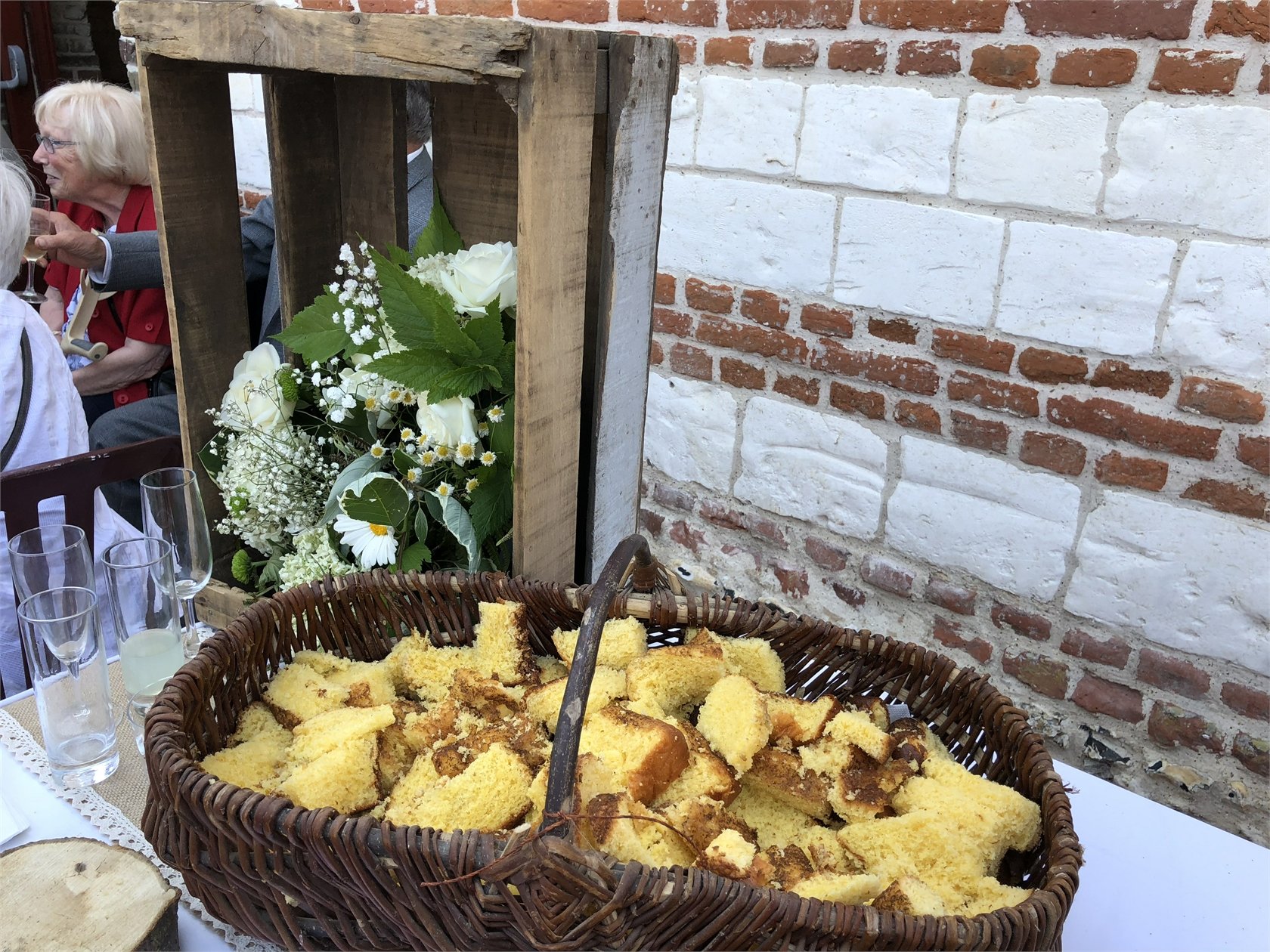 The traditional sweetbread from Normandy was served with Champagne. The basket is in an old grape- pickers basket used to pick the ripe grapes at the perfect moment to make French wine.  Love the old wooden crate with vase of flowers inside.
A perfect day and perfect weekend outside of Paris!  If you're interested in visiting other beautiful areas in the French countryside check out some of the 'Day Trips Outside of Paris'.