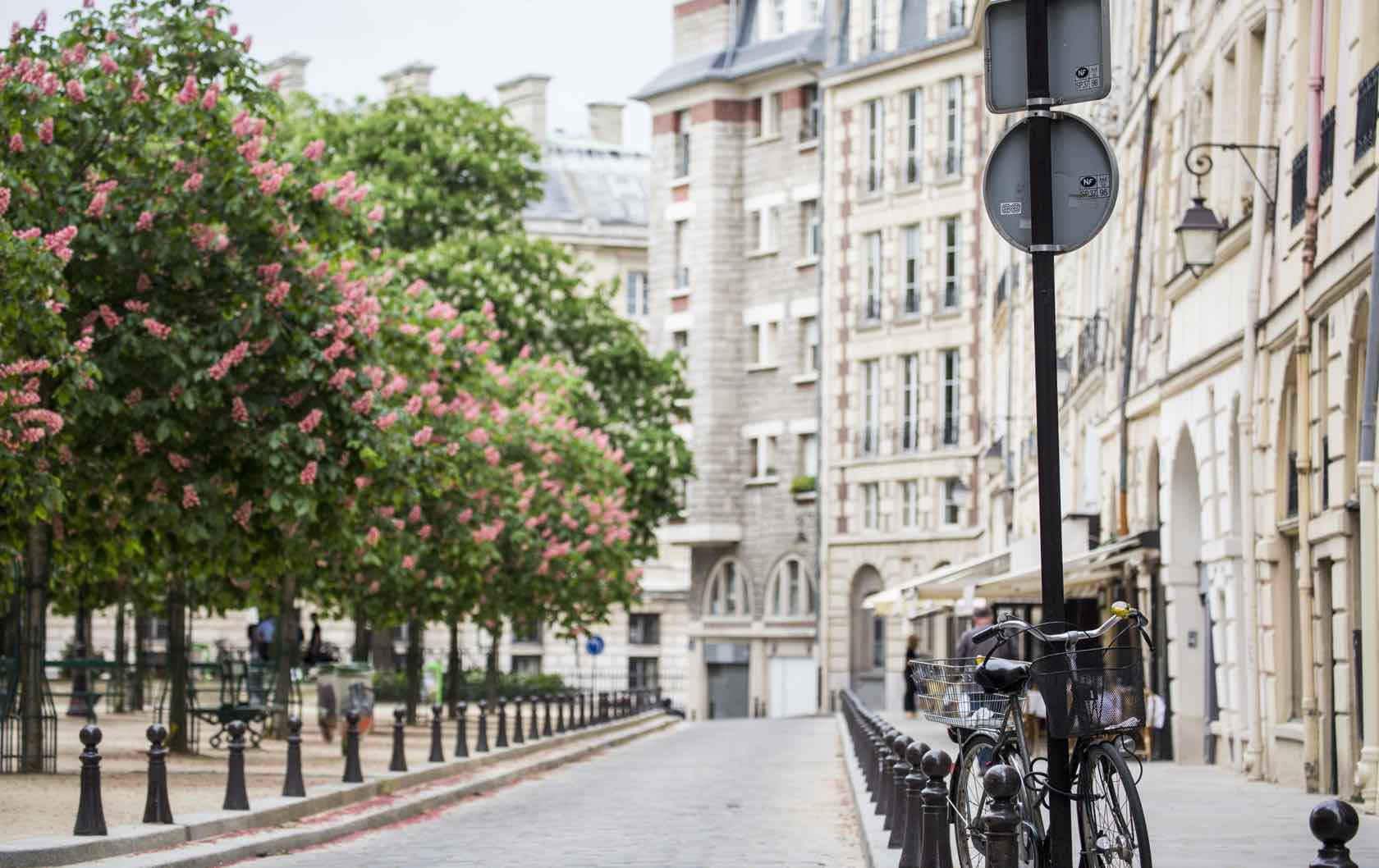 The City of Light is famous for its stunning architecture, but which are the most beautiful squares in Paris? We've rounded up 15 favorites from classic locations to secret spots. Our guide also includes stylish Paris Perfect apartment rentals near must-see squares.
Beautiful Squares in Paris
1st Arrondissement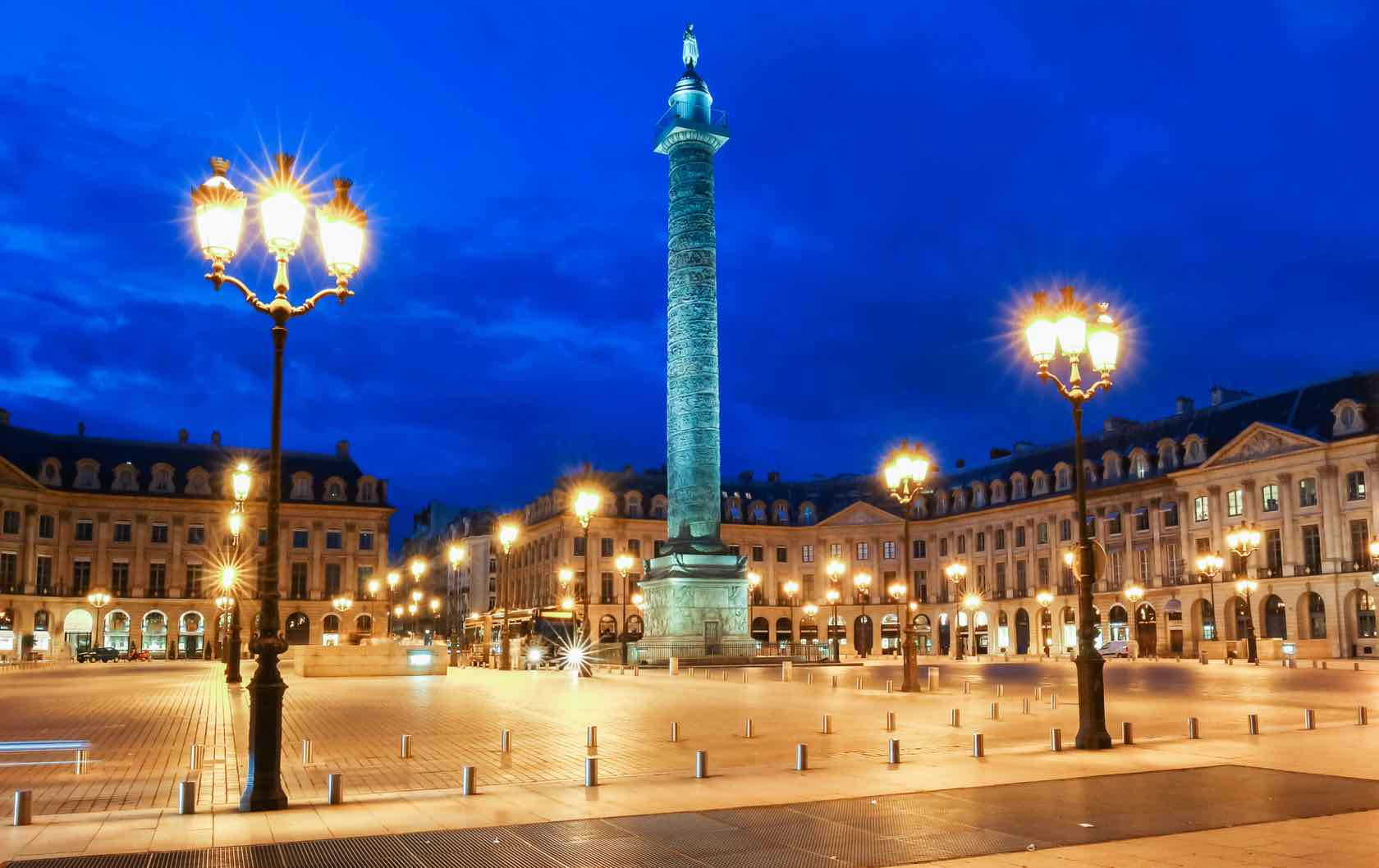 Place Vendôme
Upscale Place Vendôme is one of the classic beautiful squares in Paris. King Louis XIV commissioned this grand octagonal square, but in 1810 Napoleon replaced his statue with a bronze central column made from 1,200 enemy canons. Admire Vendôme's luxe jewellery boutiques and the carved faces on walls.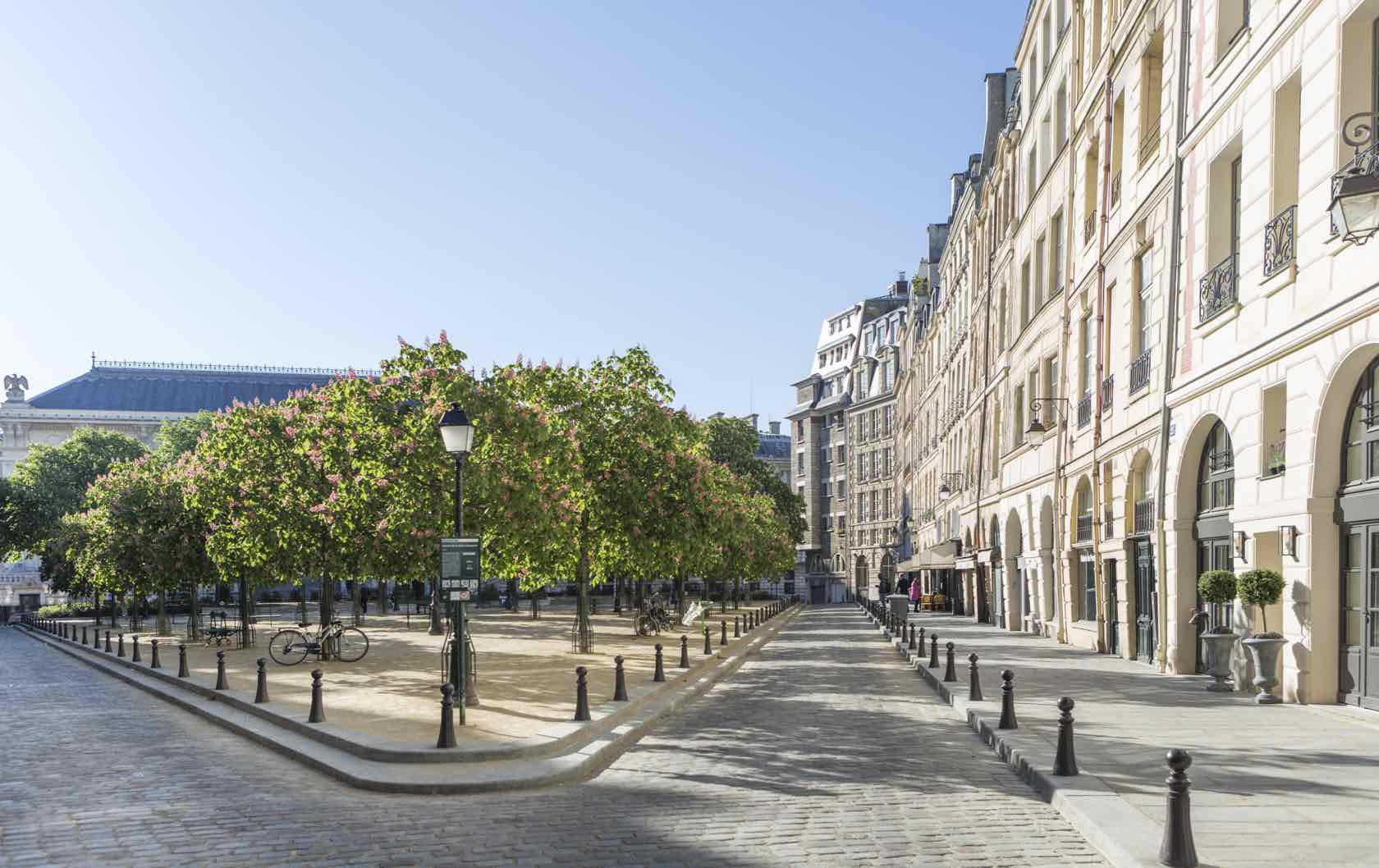 Place Dauphine
At the west end of Île de la Cité, charming Place Dauphine is a tranquil spot. Created for Henry IV in 1607, this triangular haven is lined with elegant buildings, cobblestone streets, cafés and galleries. Its tree-shaded benches are ideal for relaxing, watching pétanque or just soaking up the view.
Stay: La Place Dauphine (five one-bedroom apartments and a two-bedroom duplex)
4th Arrondissement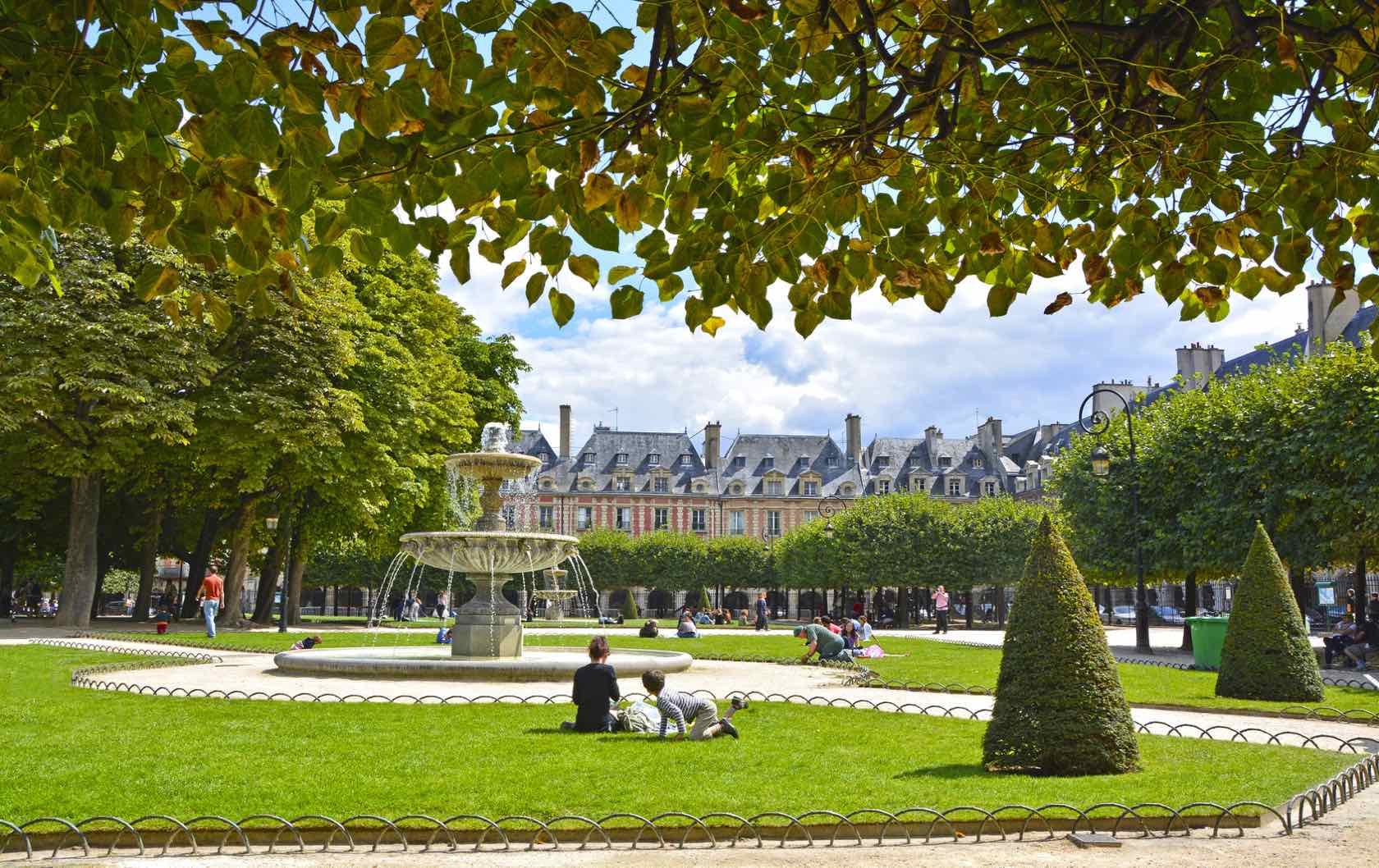 Place des Vosges
High in our list of beautiful squares in Paris, Place des Vosges is the jewel in the crown of the medieval Marais neighborhood. Built by Henry IV in 1605, the city's oldest planned square is flanked by eye-catching red-brick architecture. It offers ornamental trees, shaded benches and a cooling fountain.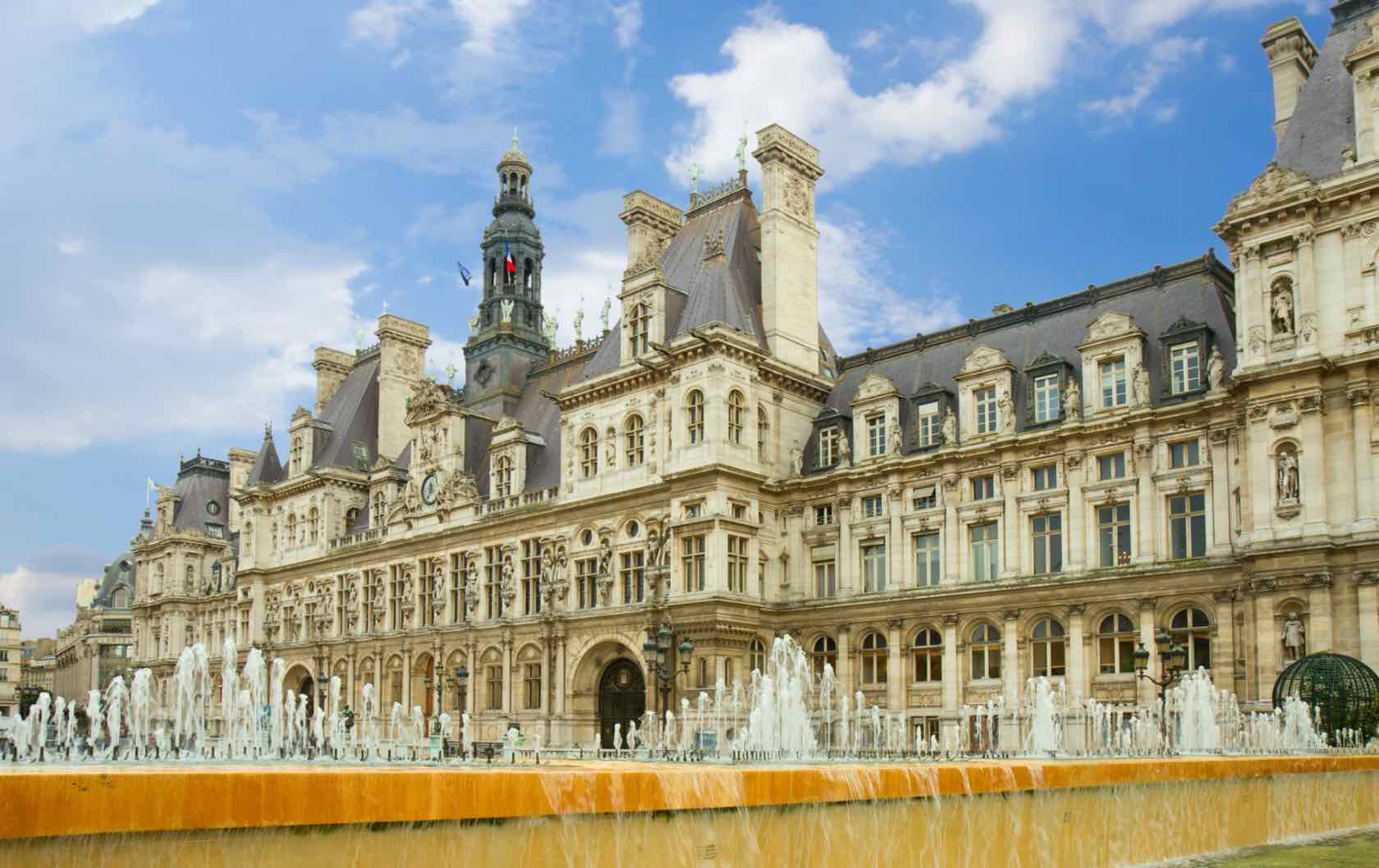 Place de l'Hôtel de Ville
Beautiful squares in Paris don't come more impressive than Place de l'Hôtel de Ville. Home to the massive, 19th-century, Neo-Renaissance town hall building, Hôtel de Ville, this Marais square sits beside the Seine. Traditional lamp posts, water features, flowers and blossoming spring trees punctuate the space, which hosts regular festivals.
Place du Marché Sainte-Catherine
Leafy, bicycle-friendly Place du Marché Sainte-Catherine is a pretty hidden gem in the Marais. This intimate, pedestrianized cobbled square is framed by white buildings and dotted with trees. Relax on a bench or sip coffee at one of the outdoor café terraces. Its fairy-lit bistros are magical at night.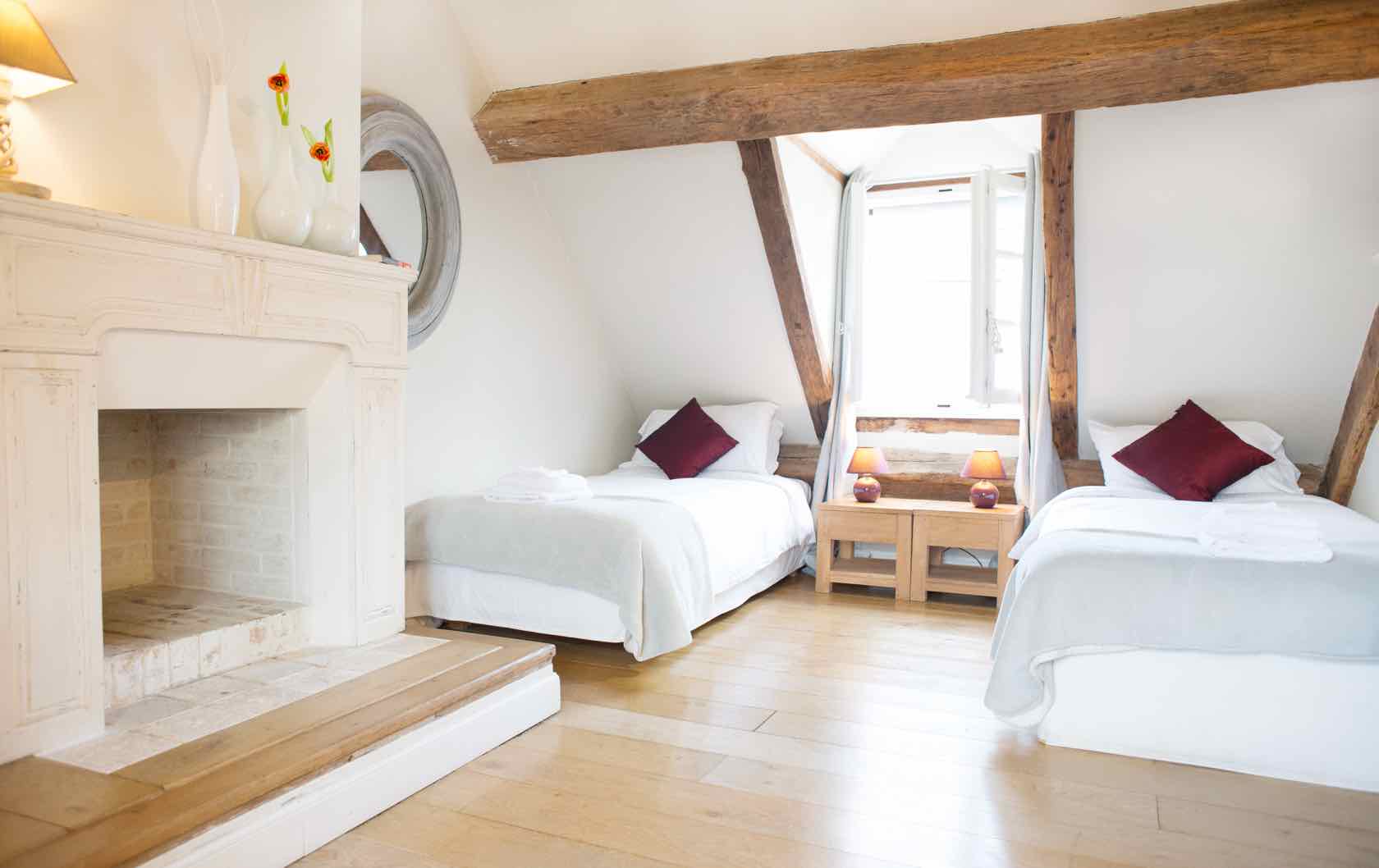 Stay: Brittany (sleeps four), near all three squares
5th Arrondissement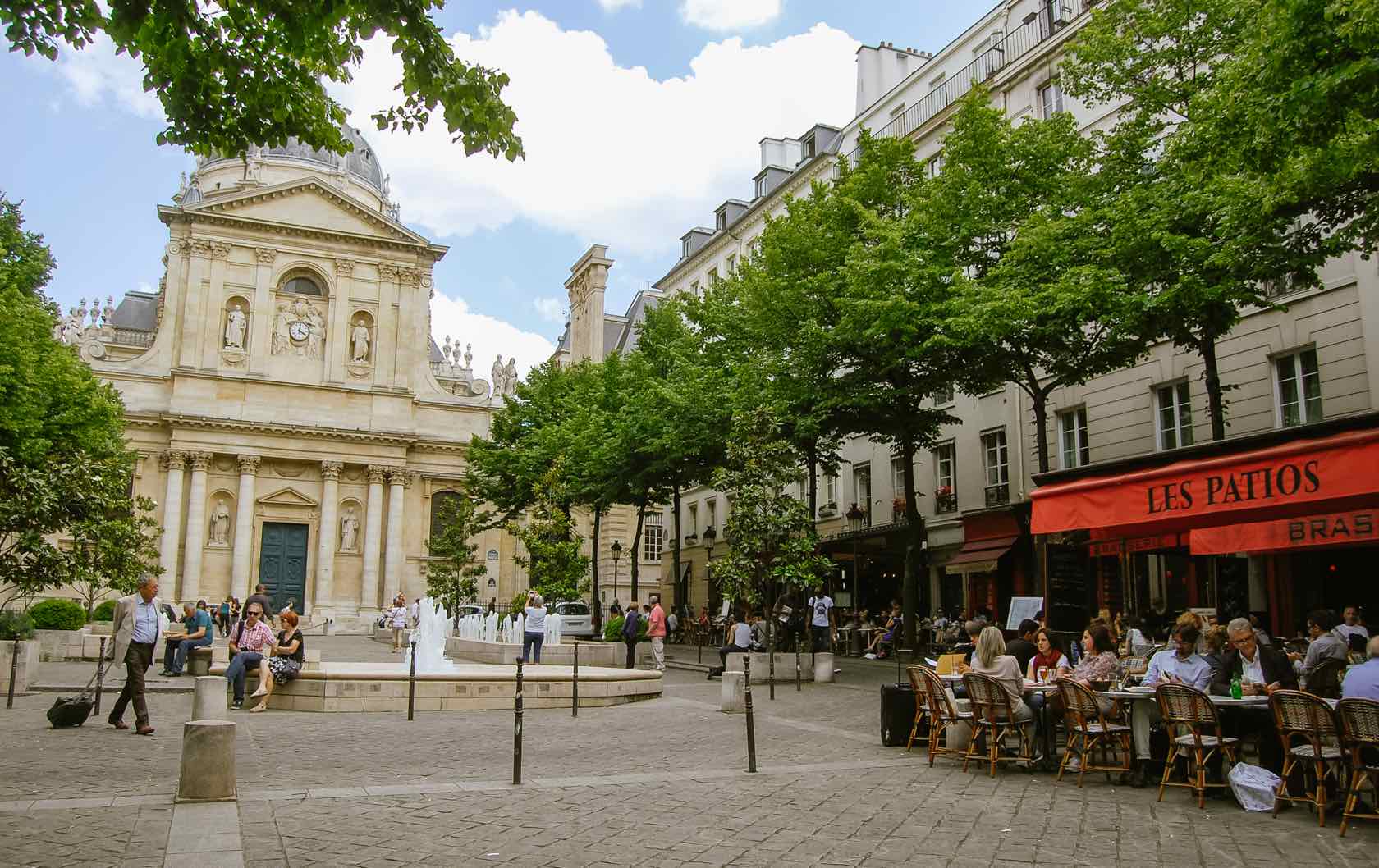 Place de la Sorbonne
Fronting famous university the Sorbonne, the Latin Quarter's Place de la Sorbonne is an iconic city square. Enjoy views of its dramatic chapel, while enjoying the student-thronged cafés fringing this large, tree-lined plaza. Founded in 1639, the square opens onto shop-flocked boulevard Saint-Michel and looks romantic at night.
Place de la Contrescarpe
Little cobbled square Place de la Contrescarpe is an attractive oasis to while away time. There's a tree-shaded fountain in the center and cafés with outdoor seats around the sides. Halfway along popular foodie market strip Rue Mouffetard in the Latin Quarter, it's a top spot to eat your spoils.
Stay: Lussac (sleeps three), near both squares
6th Arrondissement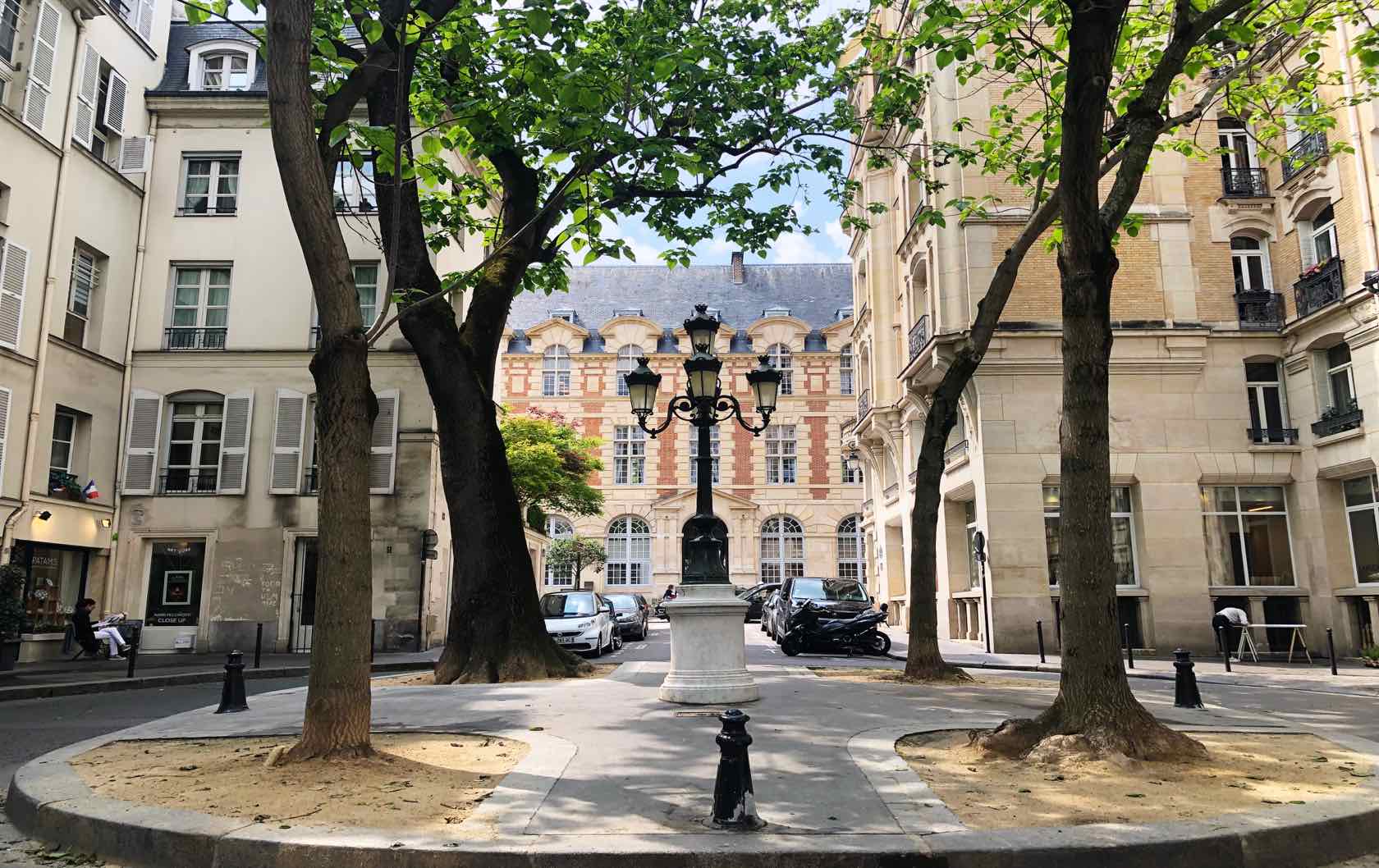 Place de Fürstenberg
Curvy, cute Place de Fürstenberg in historic Saint-Germain-des-Prés is an Instagram favorite. Framing scenic views of Haussmannian architecture down side streets, its central island of spindly trees with a trad five-globed lamp post is a winner. Art museum Musée National Eugène-Delacroix and fab florist Flamant add to the charm.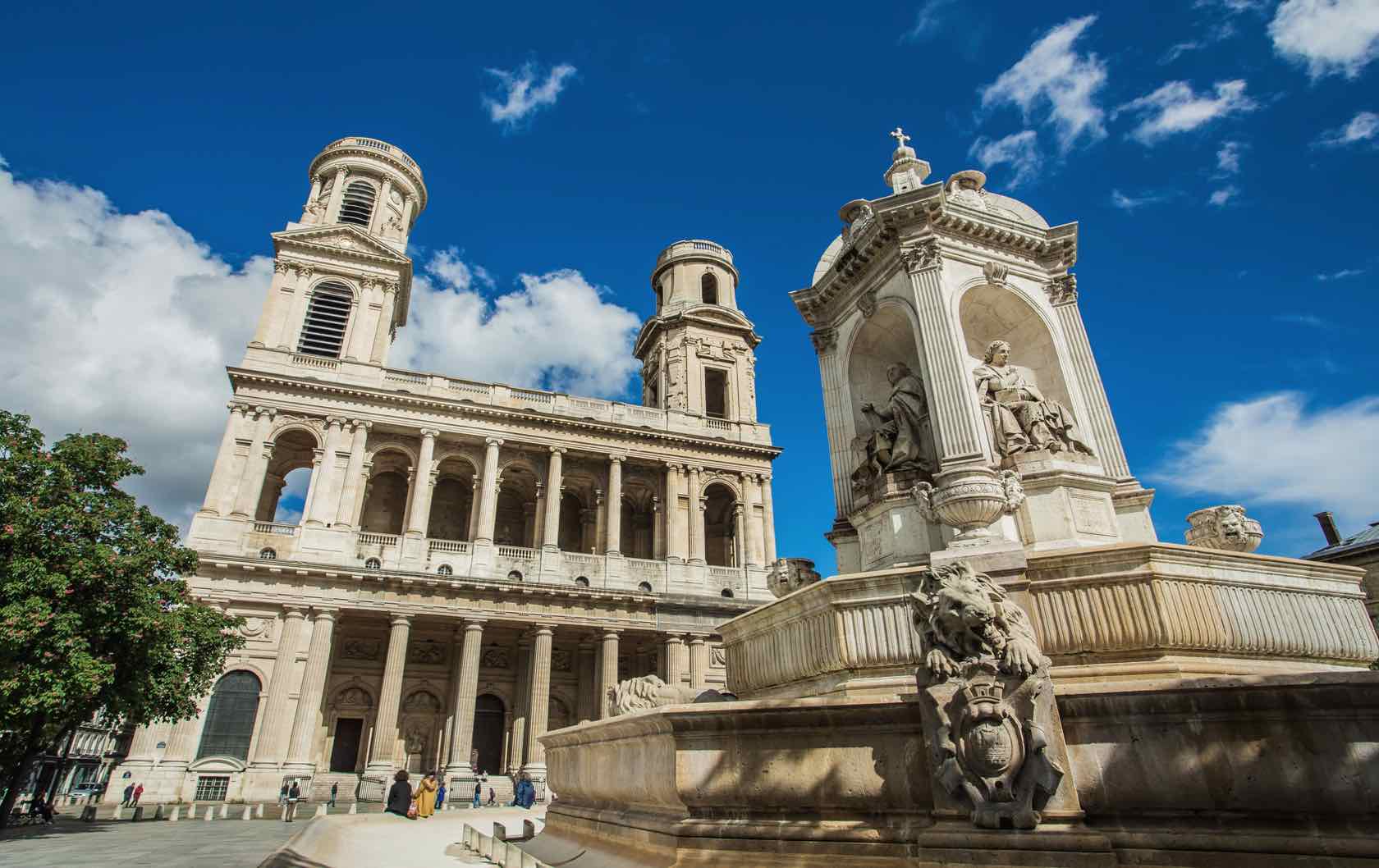 Place Saint-Sulpice
Dominated by Saint-Sulpice church, large public space Place Saint-Sulpice dates back to 1754. Its monumental fountain features four bishops and stone lions. Look out for pink-flowering chestnut trees in spring and the annual antiques flea market.
Stay: Savigny (sleeps six), near both squares
7th Arrondissement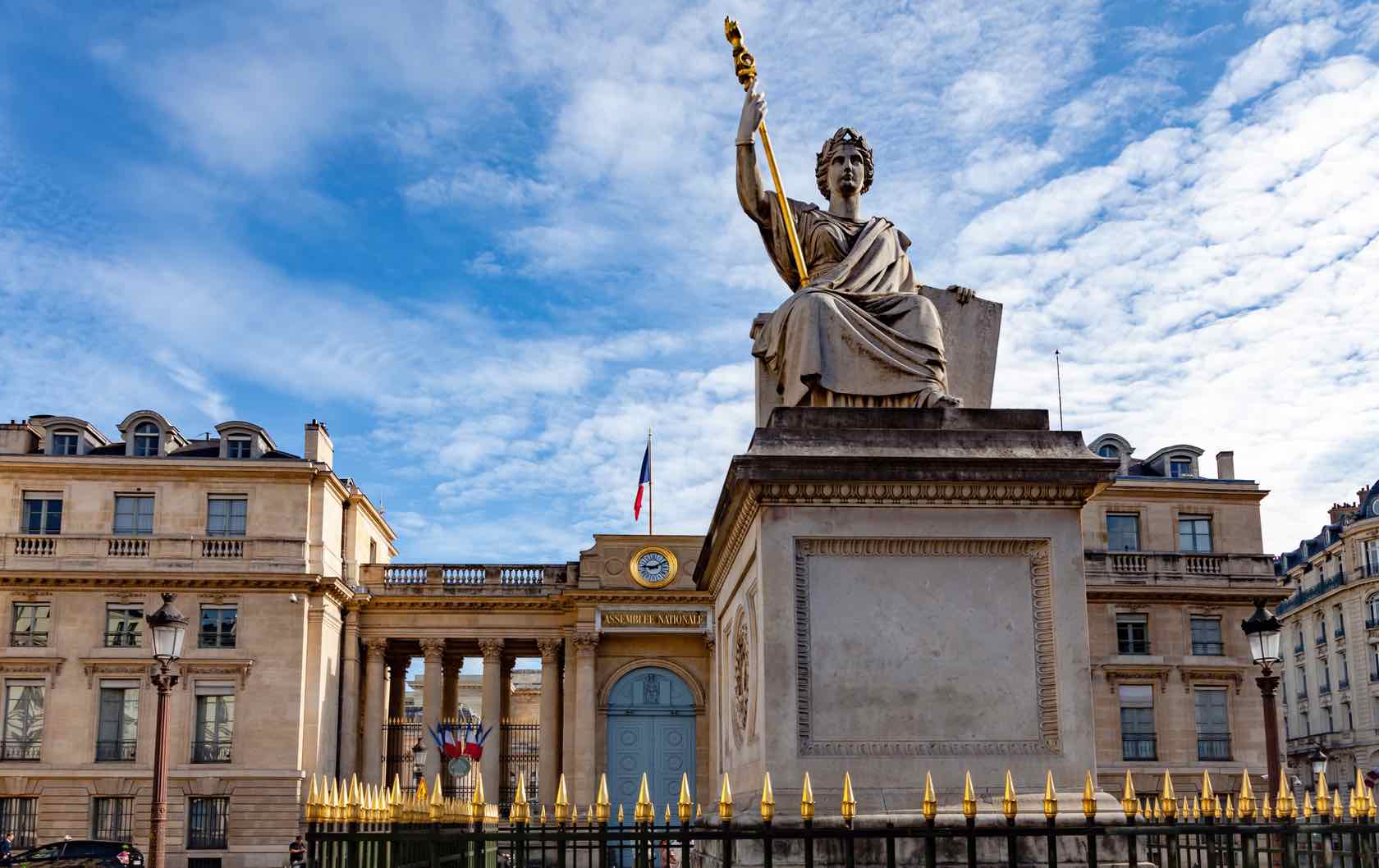 Place du Palais-Bourbon
The Law ('La Loi'), a 19th-century statue by Jean-Jacques Feuchère, holds court over Place du Palais-Bourbon. South of the Assemblée Nationale in the historic Palais Bourbon, this cobbled square has lovely lamps, a gilt clock and giant blue door. Visit on weekends, when government workers are away, for the best shots.
Stay: Marcillac (sleeps four)
8th Arrondissement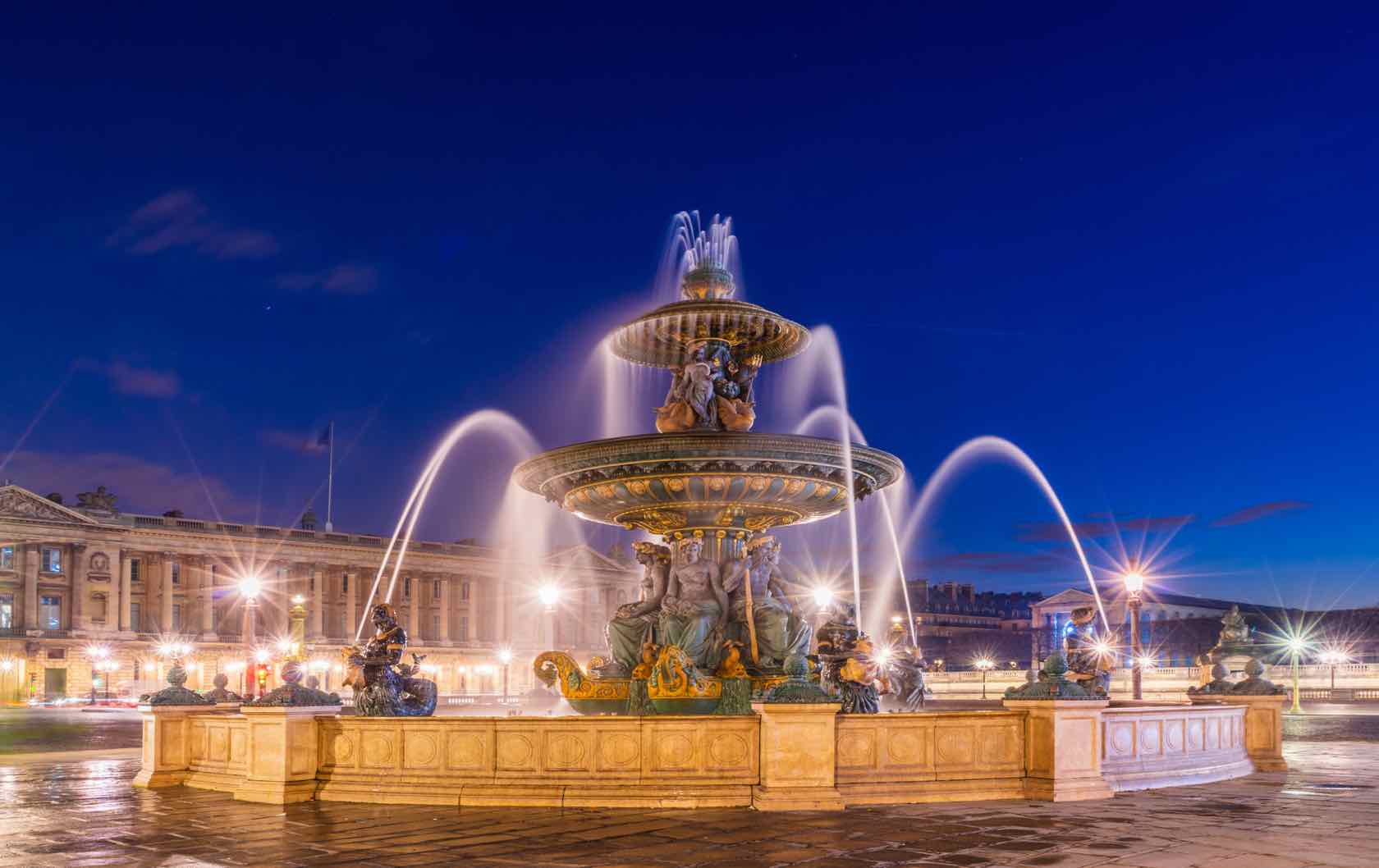 Place de la Concorde
Glorious Place de la Concorde is Paris' largest square, east of Avenue des Champs-Élysées. This 18th-century plaza with its Egyptian obelisk and mighty fountains offers views of the famed avenue and Tuileries Garden. Its cobbled streets also host the finale of the Tour de France bike race.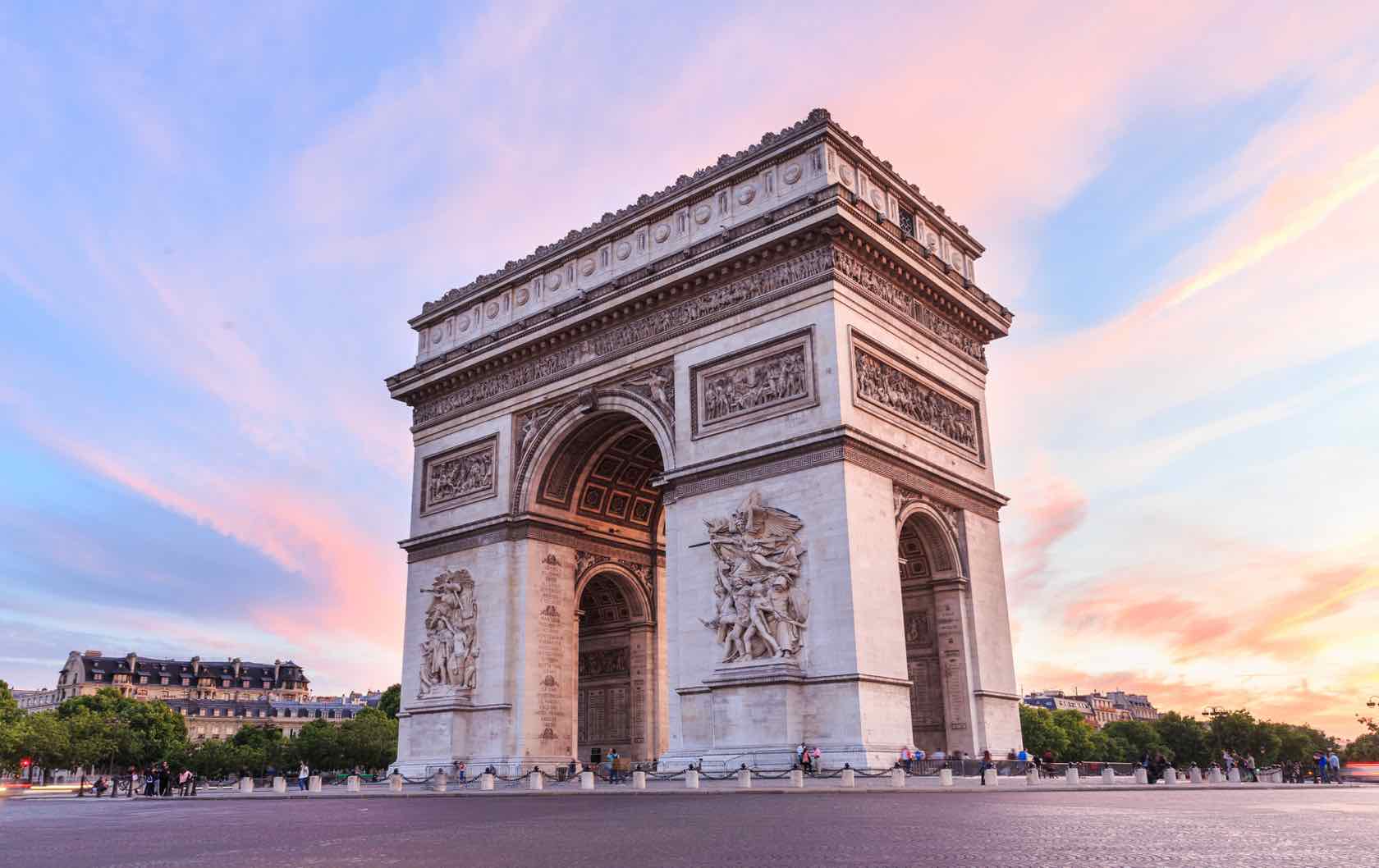 Place de l'Étoile
From Place de l'Étoile (aka Place Charles de Gaulle) 12 avenues fan out in a star shape. West of the Champs-Élysées, its central circle hosts the spectacular Arc de Triomphe, built in 1836 as a monument to Napoleon's army and now a memorial to France's war dead. Its terrace-top offers lofty views.
9th Arrondissement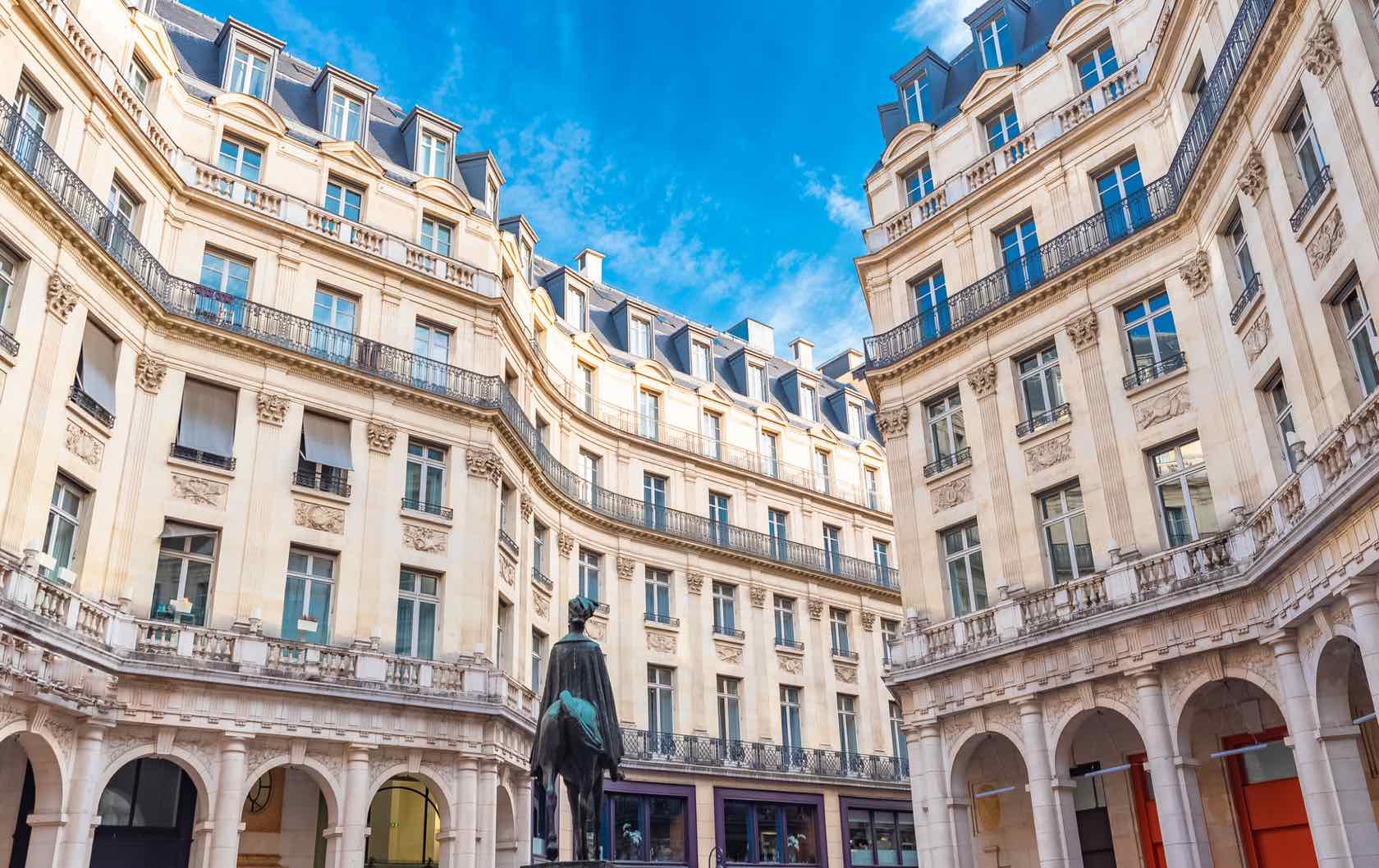 Place Édouard VII
Hidden between Palais Garnier opera house and Madeleine church, Place Édouard VII has symmetry to die for. This small pedestrian plaza is surrounded by arched colonnades and a circle of tall heritage buildings, so look up! It's home to Théâtre Edouard VII and a statue honoring the Francophile British king.
Stay: Saint-Pourçain (sleeps six)
Place Saint-Georges
Bordered by chic Haussmann-style townhouses, circular Place Saint-Georges in the Quartier de la Nouvelle Athènes is an elegant affair. Quaint details include the Metro station sign, old iron railings and lamp posts. The historic fountain by sculptor Denys Puech honors 19th-century, local illustrator Paul Gavarni. Horses originally drank here.
18th Arrondissement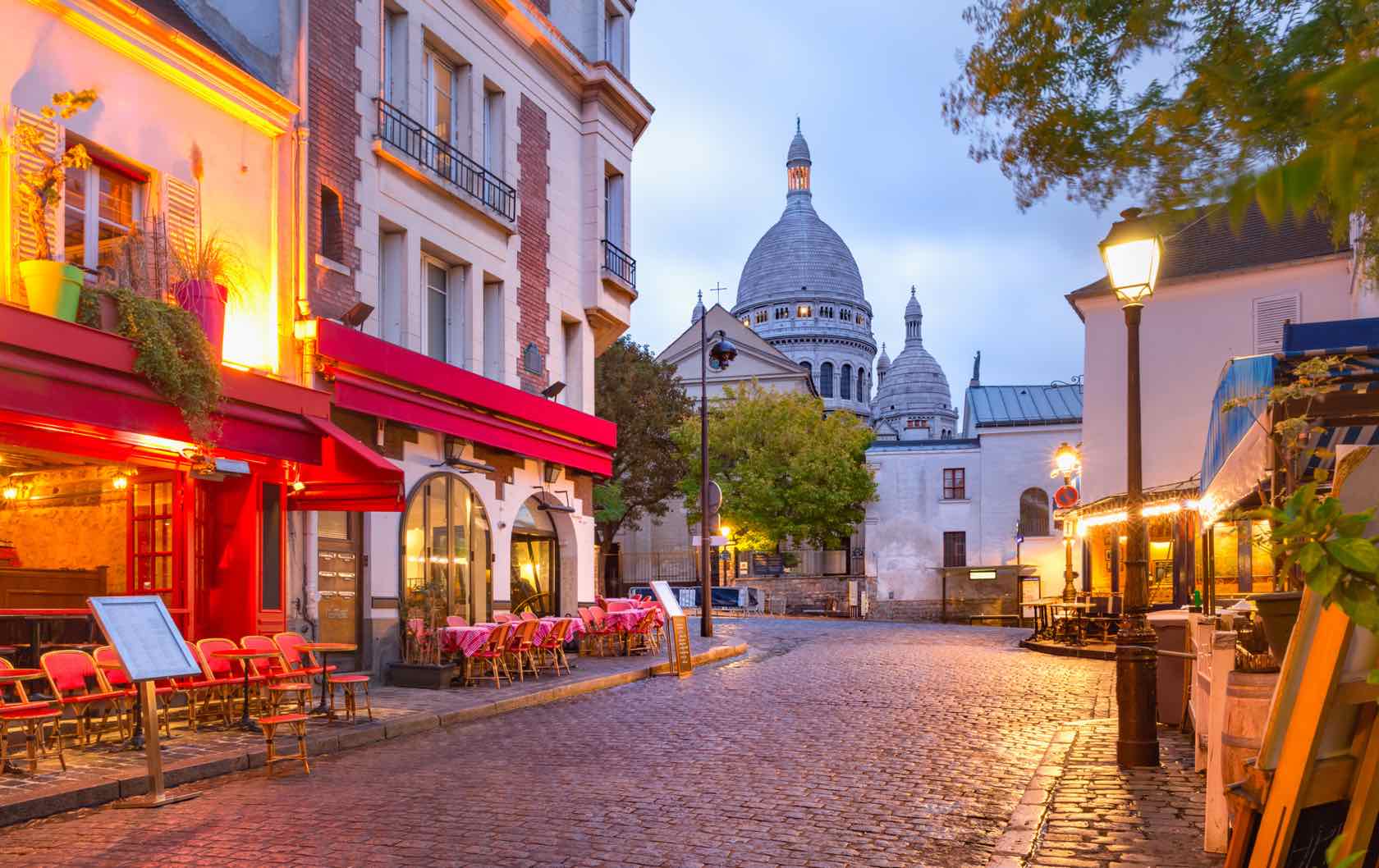 Place du Tertre
A paintbrush throw from Sacré-Coeur Basilica, leafy, cobbled Place du Tertre is touristy but fun. Opened in 1635, it was once Montmartre's village square and a haunt for bohemians. Atop Paris's highest hill, it's crammed with stalls of artists painting portraits, landscapes and caricatures. Cafés beckon for coffee and cake.
Our reservation team is ready to help get your Paris trip started. Give us a call at 1-888-520-2087 from the USA or email [email protected].