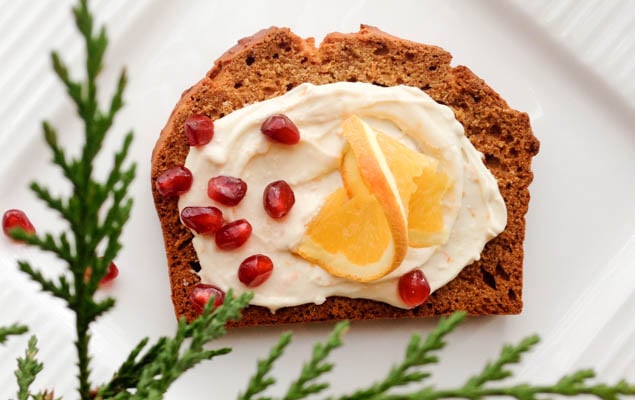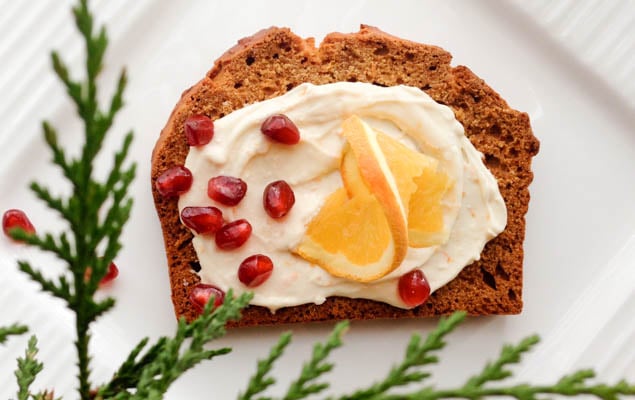 Pain d'épices, although a year-round treat in France, undoubtedly adds an air – and aroma – of festivity to the holiday season. The grownup cousin to gingerbread cookies, this "spiced bread" is baked with an assortment of warming spices and the complementary flavors of sweet citrus and honey. Bridging the gap between quick-bread and cake, you can enjoy pain d'épices all day long; as a morning breakfast with a swipe of butter, an afternoon snack with cheese, or as a sweet after-dinner treat. For a light dessert, we suggest topping slices with an orange cream cheese spread and fresh fruit. The recipe for the spread can be found below.
Pain d'épices keeps excellently in the fridge, where its aromatic flavors are given time to bloom and come into their full strength. Or, if you're overloaded with holiday sweets, it can be stored for a few months in the freezer.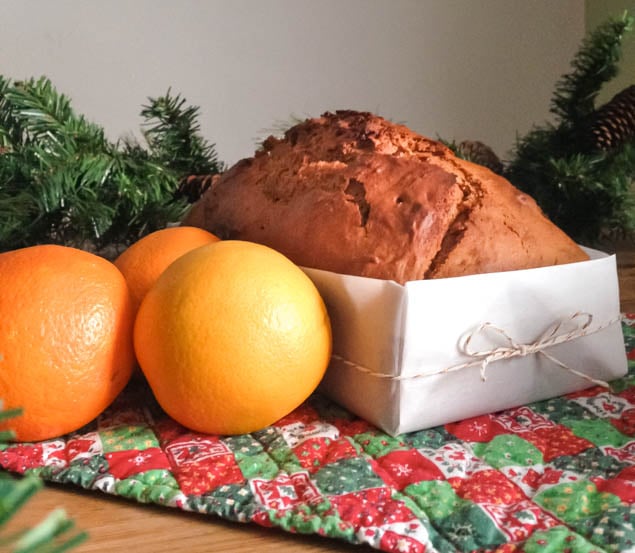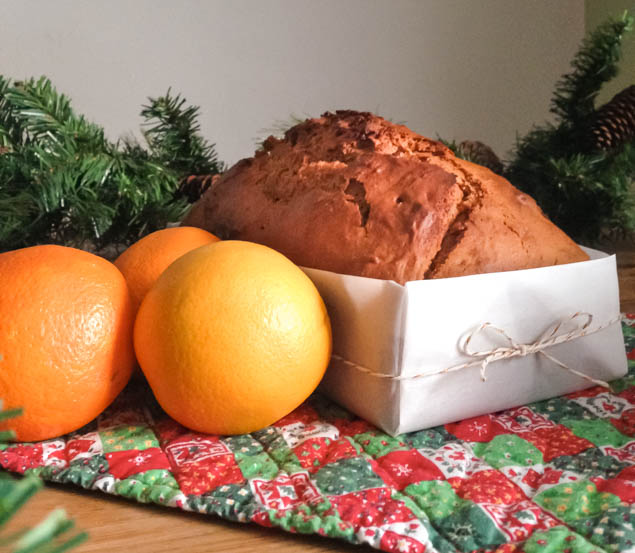 Pain d'Épices
Yield: one loaf
Ingredients:
4 cups flour
2 1/2 teaspoons baking soda
1 1/2 teaspoons ground cinnamon
1 1/2 teaspoons ground ginger
1/4 teaspoon ground nutmeg
1/4 teaspoon ground cloves
1/2 teaspoon whole anise seeds
1/2 teaspoon salt
4 oz (one stick) unsalted butter at room temperature
1 large egg
1 cup honey
1 tablespoon orange zest
1 cup warm water
Instructions:
1. Preheat the oven to 350 degrees F (180 degrees C). Prepare a loaf pan by buttering and then dusting with flour, tapping out the excess.
2. Sift flour, baking soda, and spices in a bowl. Add salt and whole anise seeds and stir to combine.
3. In the bowl of a stand mixer, or by hand in a large bowl, whip the butter until smooth. Mix in the egg, honey, and orange zest. Add in the water, stirring constantly until combined.
4. Add the flour mixture to the wet ingredients in thirds, stirring until evenly combined after each addition. The dough should be thick, but too sticky to handle. Transfer to prepared loaf pan, being sure to spread the dough into the corners of the pan. Bake for about 60 minutes, or until a knife inserted into the center comes out clean.
5. Remove from oven and let cool for 15 minutes before taking the loaf from the pan. Let it cool completely before slicing.
Orange Cream Cheese Spread
Serves about 4; scale recipe according to your needs
4 oz cream cheese, softened
2 tablespoons creme fraiche or sour cream
2 tablespoons honey
2 teaspoons orange zest
Mix all ingredients in a bowl until combined. Spread generously on slices of pain d'épices. Cover and store excess in the fridge.
We hope this recipe brings comfort and cheer to you, your family and your friends this holiday season!